This sous vide turkey is the most tender and delicious turkey you will ever taste! If you're looking to free up your oven on Thanksgiving, then this is the perfect turkey recipe for you.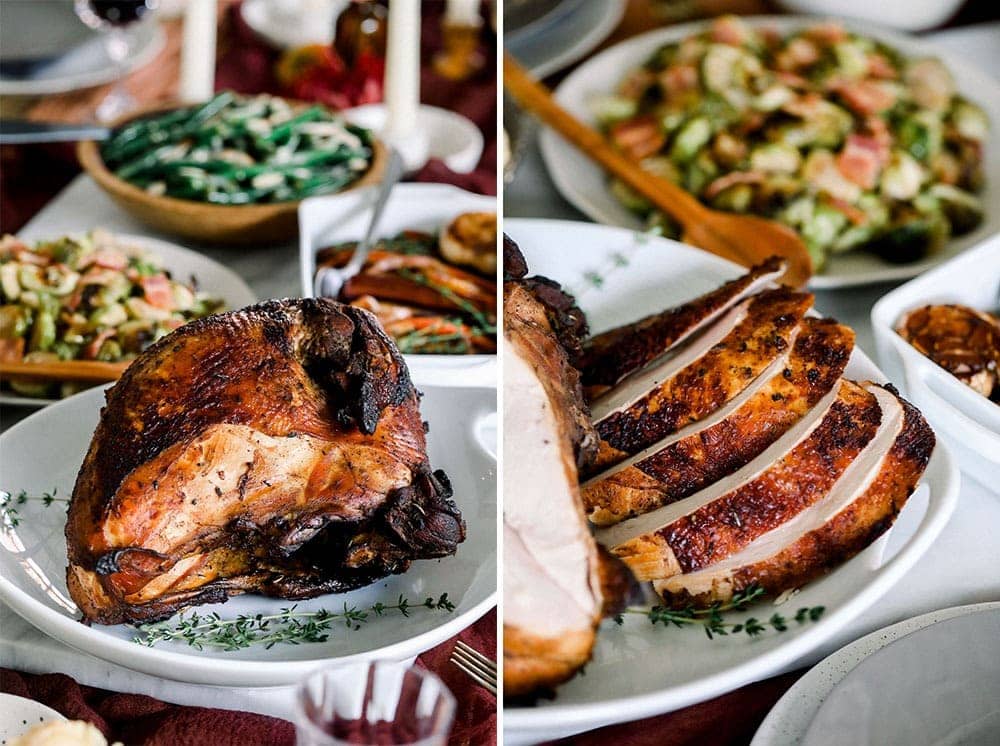 Have no fear, you'll never have to serve dry turkey again. Our sous vide turkey recipe is perfect for your next small holiday gathering. Don't forget to serve it with some of our favorite sides such as roasted brussels sprouts with bacon or honey balsamic roasted carrots!
Never Another Dry Turkey
We will never prepare turkey any other way after making this sous vide turkey recipe. There have been some great turkey dinners in our lives, but when Thanksgiving rolls around, the turkey is usually dry and chalky.
Dry turkey NO more, thanks to Honeysuckle White. We used the Honeysuckle White Bone-In Young Turkey Breast for this recipe and it turned out to be the juiciest turkey we've ever had. Why did we use a bone-in turkey? Here's why!
Bone-in turkey breast is great for smaller gatherings (4-6 people).
When cooking a turkey in the sous vide, you have to cook the white meat and the dark meat separately. So using this bone-in turkey breast allows for you to focus on one cook time and one temperature because it's all white meat.
Sous vide bone-in turkey breast (even though it's all white meat) turns out tender and juicy because of the sous vide method.

How to Choose A Turkey
Whether you are having a Friendsgiving, Thanksgiving, or just a fun turkey dinner party, knowing what turkey to buy can be hard.
1.5 lbs. of turkey per person
On average for a bone-in turkey, you should account for 1.5 lbs. per person.
Because there are bones and other portions of the turkey that you will not consume, counting 1.5 lbs. per person is a guideline to help you find the right turkey for you and your guests. Don't worry, each guest won't be eating 1.5 lbs. of turkey on their own.
For example, if you are feeding 4 people, you would multiply 1.5 lbs. x 4 = 6 lbs. That means you would look for a 6-lb. bird! Easy, peasy.
Honeysuckle White Turkeys
We use Honeysuckle White turkeys because their birds are raised without growth-promoting antibiotics, and come at a great price. Another amazing perk of Honeysuckle White is that the turkeys are raised ethically on family farms — not on factory farms!
Where Can I Find this Honeysuckle White Turkey?
If you live in the midwest or western United States, find your Honeysuckle White Young Bone-In Turkey Breast by using this product tracker! If you live in the eastern part of the US, find your Shady Brook Farms Young Bone-In Turkey Breast (Honeysuckle's sister brand!) here.
Reasons to Sous Vide Turkey
Now that you know what turkey to buy, it's time to talk cooking method. It's obvious by this post that we are all about the sous vide!
Tender + Juicy
Sous vide turkey cooks at the perfect and consistent temperature for at least 12 hours. Cooking the Honeysuckle White Bone-In Turkey Breast for that long allows the turkey to break down and tenderize while retaining adequate moisture.
Flavor Packed
We decided to go with a dry rub turkey seasoning for this sous vide turkey recipe. Massaging a dry rub into the turkey before cooking allows the meat to absorb the flavors throughout the cooking process.
We also love using a homemade turkey seasoning because when you sear meat with a dry rub (which we do in this recipe) it crisps and flavors the turkey skin.
Free up the Oven
Using a sous vide instead of roasting a turkey frees up your oven, leaving much-needed space in the oven to prepare delicious holiday sides.
We also love preparing this recipe the day before your gathering, so all you have to do is heat the turkey up for your meal. The options are endless!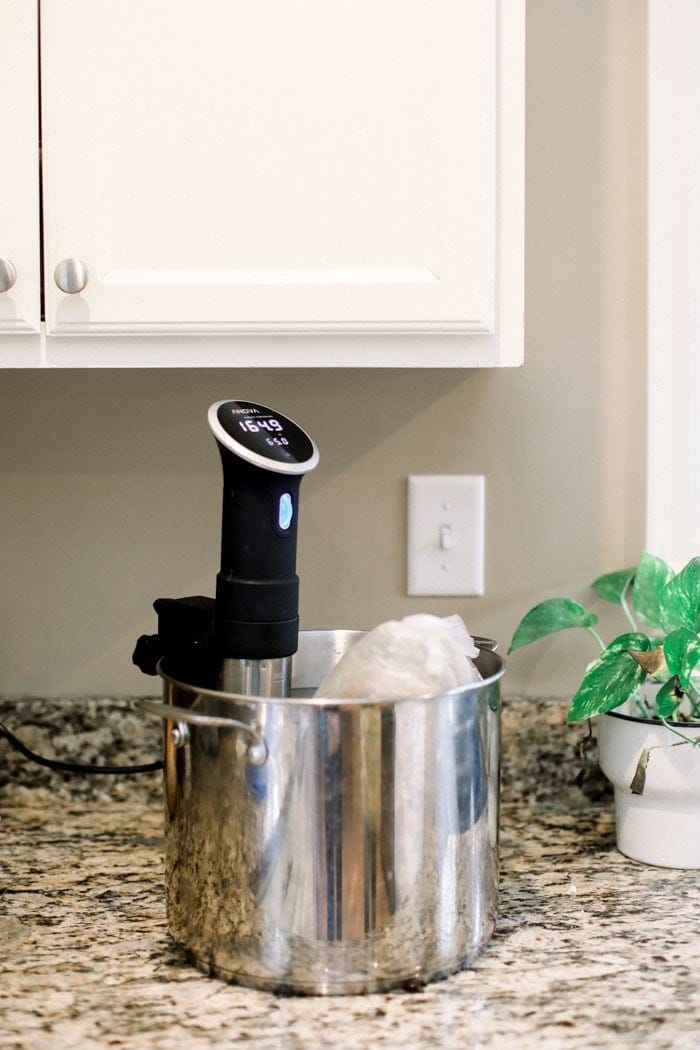 Can you sous vide a full turkey?
You can sous vide a whole turkey, but we do not recommend it. We did not sous vide a whole turkey for this recipe, we cooked a young bone-in turkey breast, which is basically a whole turkey without legs.
A young bone-in turkey still looks like a whole bird but is all white meat.
We do not advise using a full turkey in the sous vide because the white meat and dark meat have different cook temperatures and cook times.
This is why using a Honeysuckle White Bone-In Young Turkey Breast is amazing. It eliminates the need to separate the white meat from the dark meat before cooking in the sous vide.
Is sous vide turkey safe?
Sous vide turkey is safe. Just like any other meat in the sous vide, you bring the meat to a safe cook temperature, and then let it sous vide to tenderize the meat to juicy deliciousness.
Can I use oven bags for sous vide?
We have never used an oven bag in the sous vide. We use a food saver vacuum sealer and food saver bags.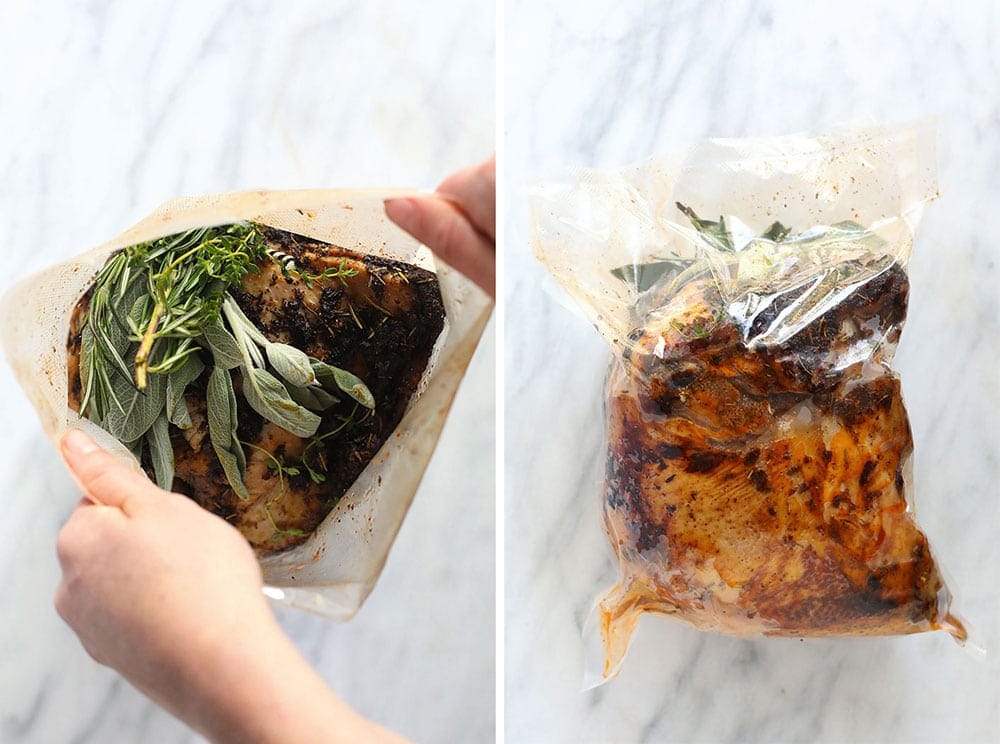 Can you sous vide turkey overnight?
Yes! We recommend that you sous vide turkey overnight or for at least 12 hours if you are using a bone-in young turkey breast.
How do I get crispy skin on my turkey if I sous vide it?
The key to getting crispy skin and delicious flavor for sous vide turkey is to sear the turkey BEFORE and AFTER you sous vide it as well as a quick roast in the oven.
Sear it Twice
Before you sous vide turkey, rub the turkey with the delicious homemade turkey seasoning and let sit for at least 20 minutes (the longer the better). Then, heat a large cast-iron skillet over high heat and add butter or olive oil.
When butter is fragrant, lay the turkey down on one breast. Sear for around 4 minutes and then flip to the other side and sear for an additional 4 minutes.
Remove from the cast iron and add it to the FoodSaver bag.
Repeat the searing process for the second time after you sous vide it for 12 hours. The second sear will really help you get it super crispy.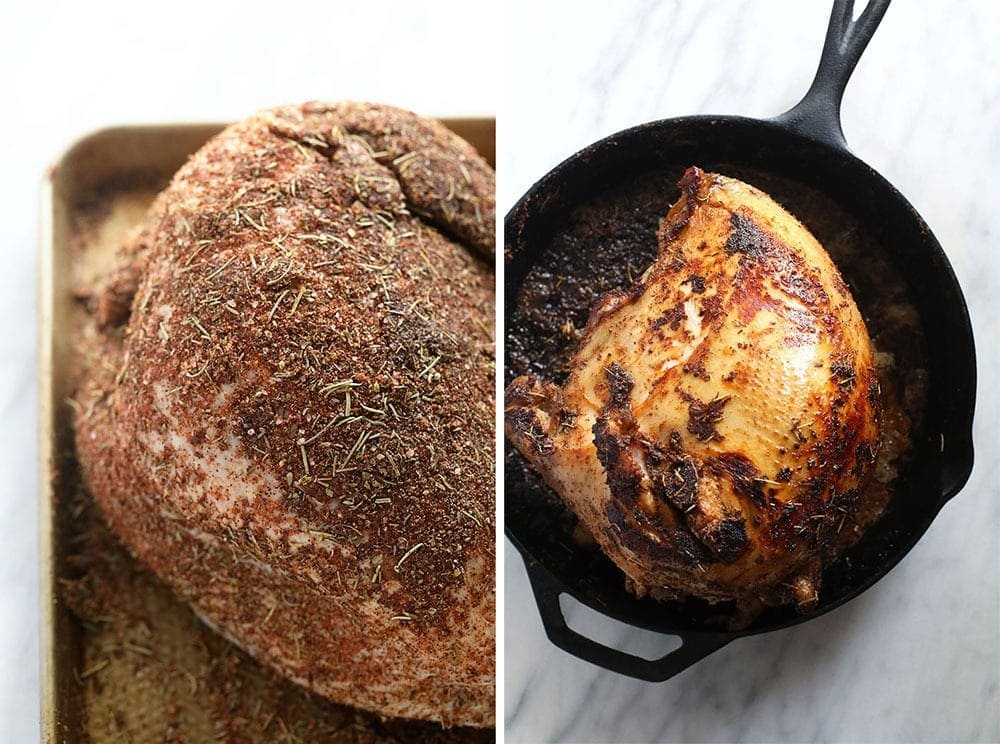 Post-Sous Vide Roast
Last, after the second sear, we suggest roasting your turkey in the oven at 400ºF for around 20 minutes, while basting every 5 minutes.
We tested this recipe many times and the final roast really does make a difference for crispy skin! You can absolutely skip this step if you are short on time or don't have room in your oven because the turkey will be fully cooked at this point. However, you will not be disappointed if you do this part.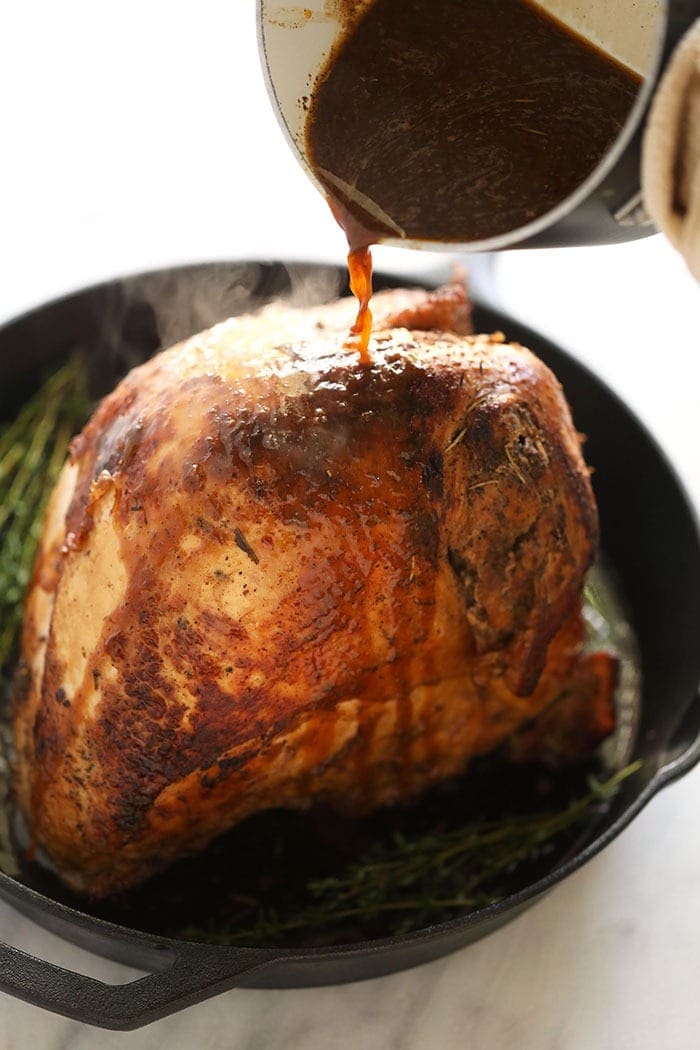 Sous Vide Turkey Sides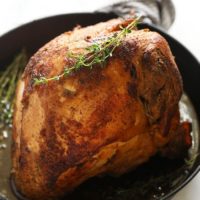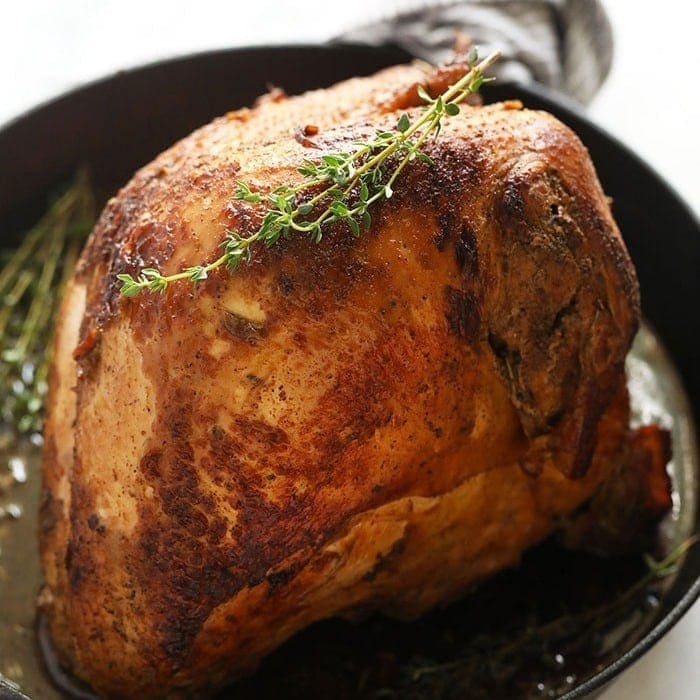 Sous Vide Turkey
This sous vide turkey is the most tender and delicious turkey you will ever taste! If you're looking for a turkey recipe that you can prepare before Thanksgiving day or friends giving, then this sous vide turkey is for you!
Total:
12

hours
40

minutes
Instructions
First, prepare sous vide water bath by filling a 14 qt. pot (or larger) with water. You'll want enough water to cover your turkey when submerged.

Set the sous vide to 165ºF and bring water to temperature.

Next, remove thawed turkey breast from the refrigerator and remove gravy packet. Use paper towel to remove any excess moisture from the turkey breast and set aside.

Place dried thyme, rosemary, oregano, brown sugar, garlic powder, salt, pepper, chili powder, and paprika into a small bowl and mix until combined.

Next, sprinkle the dry rub over the turkey breast and use your hands to rub it into every part of the turkey until all meat is generously covered.

Let the turkey sit with the dry rub for at least 20 minutes or up to 2 hours (for a more intense flavor, let sit for longer).

Next, sear the turkey by placing 3-4 tablespoons of butter into a large cast-iron skillet.

When butter is fragrant, place turkey skin side down onto the cast-iron skillet. Let cook for 3-4 minutes on each side.

Remove from the cast iron skillet and place turkey breast into a large food saver bag. We used an 11-inch food saver roll, and it fit an 8 lb. turkey perfectly.

Make an herb bundle with the fresh rosemary, fresh thyme, and fresh sage and then add it to the bag along with white wine.

Use your food saver machine to remove as much air out of the bag as possible and then seal. Double bag your turkey by placing it into another 11-inch bag to prevent tears and leaking. Remove air and seal.

Place the turkey into the sous vide water bath and clip it into place so it doesn't move. Make sure the turkey is submerged in water. If it's not, we suggest placing a pot on top of it to hold it under water.

Let the turkey breast cook in the sous vide at 165ºF for at least 12 hours or up to 24 hours.

Once your turkey is fully cooked, remove it from the bag and set it aside.

Then, preheat oven to 400ºF.

Discard herbs from the bag, but pour the excess liquid from the plastic bag through a sieve and into s bowl and set aside.

Check the internal temperature of the turkey and make sure it is between 163º and 165ºF.

Then, melt 3-4 tablespoons of butter in a large cast iron skillet.

When butter is melted and very hot, place the turkey breast into the pan, skin-side down. Sear for 3-4 minutes or until browned, and then repeat on the other side.

Turn heat off and pour sauce over the turkey breast.

Next, place the cast iron skillet and turkey into the oven and roast at 400ºF for 20 minutes, basting the turkey with the sauce every 5 minutes.

Once golden brown, remove turkey from oven and let rest for 10-15 minutes before slicing and serving.

Transfer sauce from cast iron skillet and thicken as desired, or serve as-is on top of the sliced turkey breast.
Nutrition facts
Calories:
306
kcal
Carbohydrates:
12
g
Protein:
25
g
Fat:
16
g
Fiber:
1
g
Sugar:
7
g
Hosting Friendsgiving
You don't need a reason to host a Friendsgiving! Whether you are away from family for the holidays or just want to celebrate with friends, hosting a Friendsgiving is a great way to get your favorite people together and enjoy delicious food and good company.
Another great way to celebrate Friendsgiving is by helping to feed hungry U.S. kids in need. Friendsgiving for No Kid Hungry presented by Honeysuckle White and Shady Brook Farms is a way to not only host an amazing get-together but also is a way to help the one in seven U.S. kids who live with hunger today.
And this year, we did just that! We partnered with Honeysuckle White to host a fun and delicious Friendsgiving for No Kid Hungry, and we wanted to share our favorite Friendsgiving tips and tricks with all of you.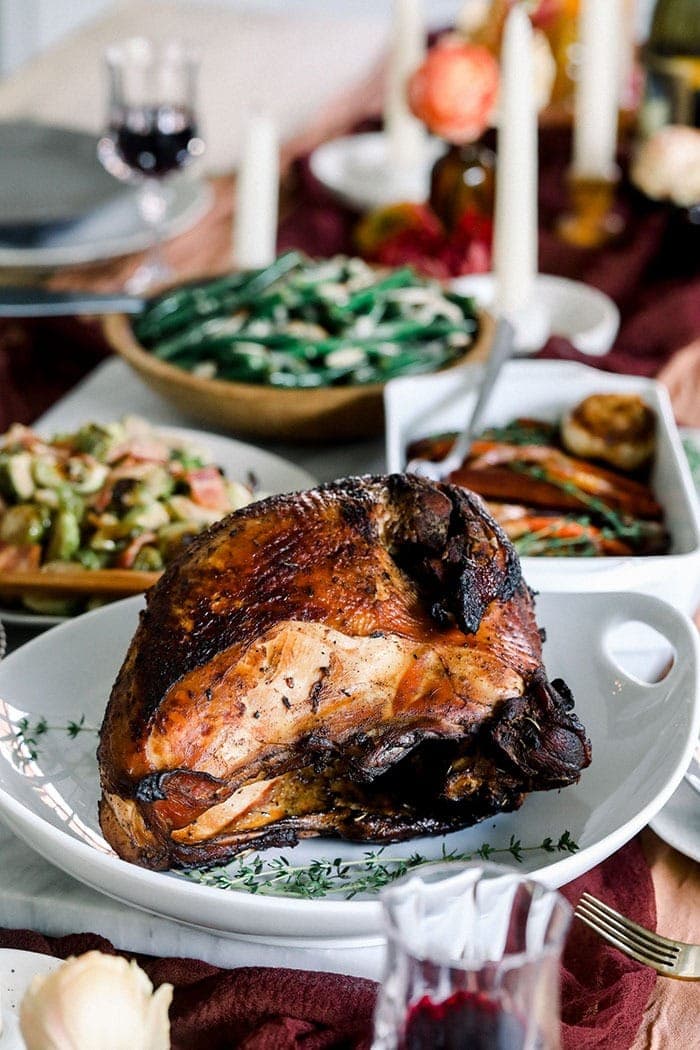 Make Cooking Easy
Free up your oven! By cooking the turkey in a sous vide, your oven will be open to help bake and reheat any other sides you're serving at Friendsgiving.
Meal Prep: To save time and stress, make your side dishes the day before Friendsgiving, and reheat them before your guests arrive.
Seasonal Veggies: Take advantage of seasonal vegetables! Root vegetables, such as carrots, parsnips and potatoes make great side dishes to accompany your turkey.
Decor and Smells
Flowers Rule: Decorate with FRESH flowers! You don't have to go overboard on decorations. The best Friendsgiving decor is simple fresh flowers. Pick up a couple of bouquets of flowers at your local farmers' market or Trader Joe's, and divvy them up between small mason jars or vases. Classic, beautiful, and simple!
Delicious Spices: Enhance the Fall smells in your home by preparing homemade apple cider on the stovetop before guests arrive. Pour apple cider into a dutch oven or pot and add sliced oranges, cinnamon sticks, and whole cloves, and bring it to a boil. Turn heat to low and let simmer. The Fall fragrance will leave your house smelling amazing just in time for guests to arrive.
Leftovers & Dessert
BYOT: Share your leftovers with guests by sending out a note beforehand asking people to bring their own Tupperware. Guests will leave happy, and nothing will go to waste!
Dessert: Don't forget dessert! A simple seasonal dessert that can be prepared the night before is the way to go, friends! We recommend pumpkin cheesecake bars, candied nuts or an apple crisp.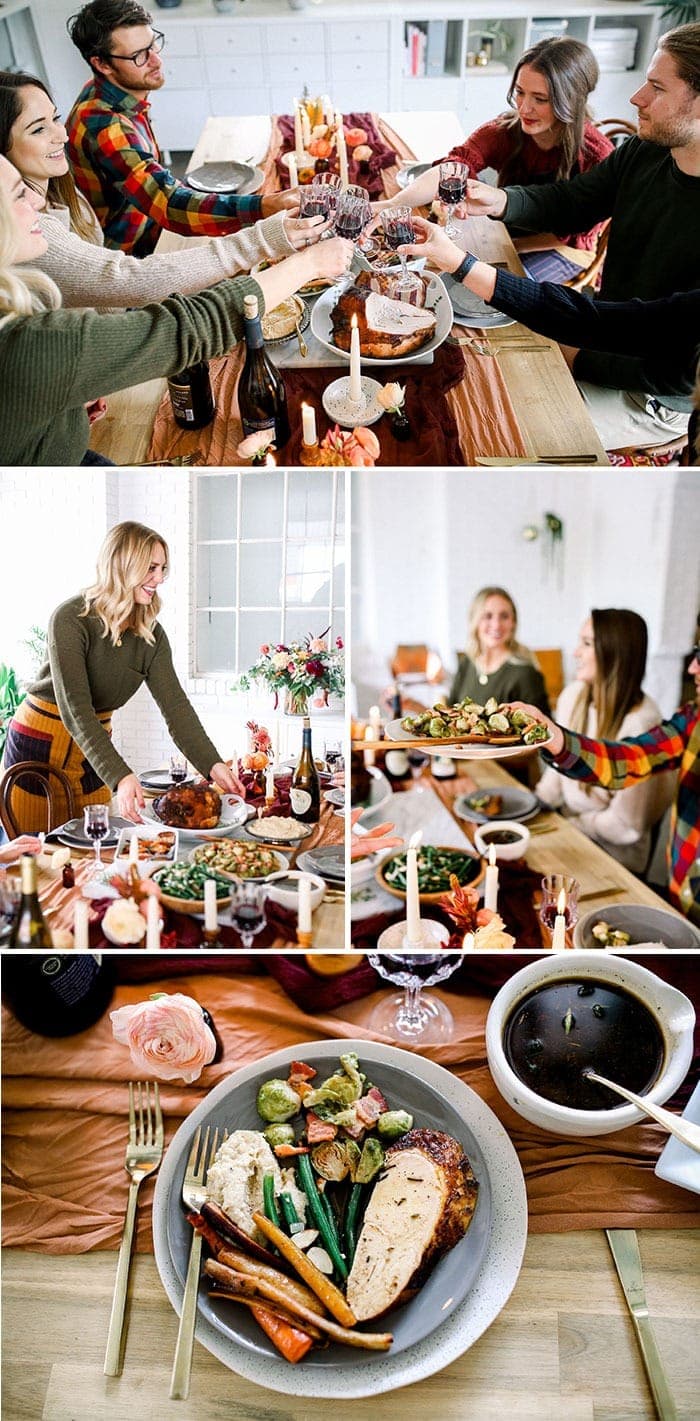 This post is sponsored by Honeysuckle White. I was compensated and all opinions are my own.