Add these healthy mashed potatoes to your Thanksgiving dinner. They're made with better-for-you ingredients such as Greek yogurt, milk, and fresh herbs!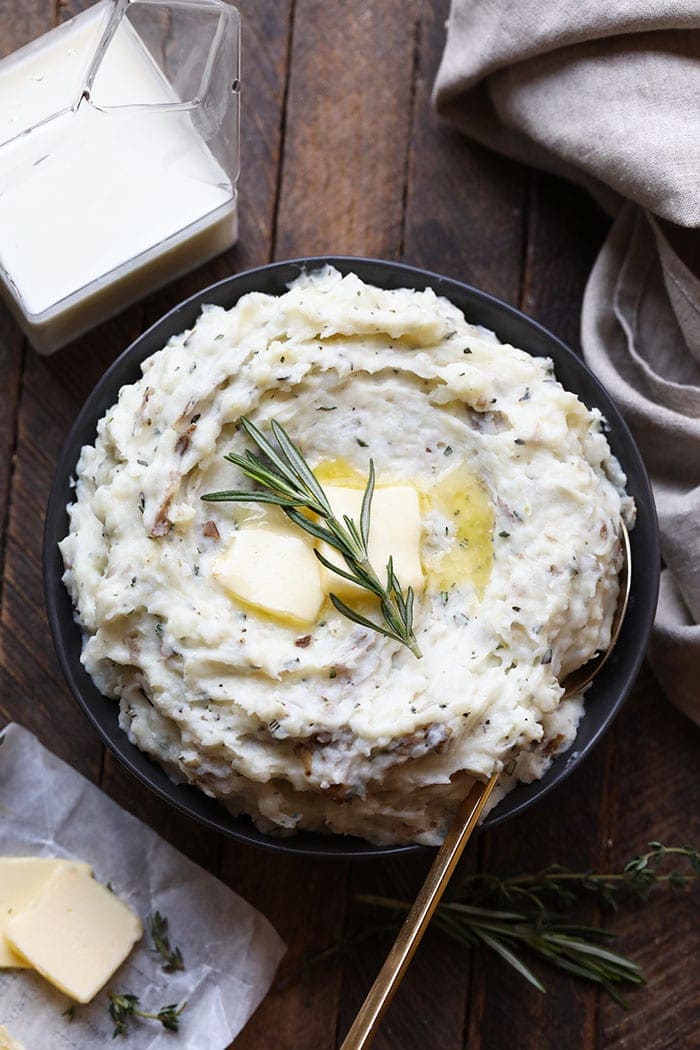 Best Ever Healthy Mashed Potatoes
Hello, best ever healthy mashed potatoes! Mashed potatoes are truly my favorite holiday side dish. I love them at Thanksgiving, Christmas, heck even my birthday!
This specific mashed potato recipe is a twist off of Mama Kay's mashed potatoes which are classically made with tons of butter, sour cream, and a little cream cheese. I love getting inspired by family recipes and making them my own.
Nonetheless, these mashed potatoes would be so delicious served at Thanksgiving next to our Sous Vide Turkey and topped with our homemade mushroom gravy.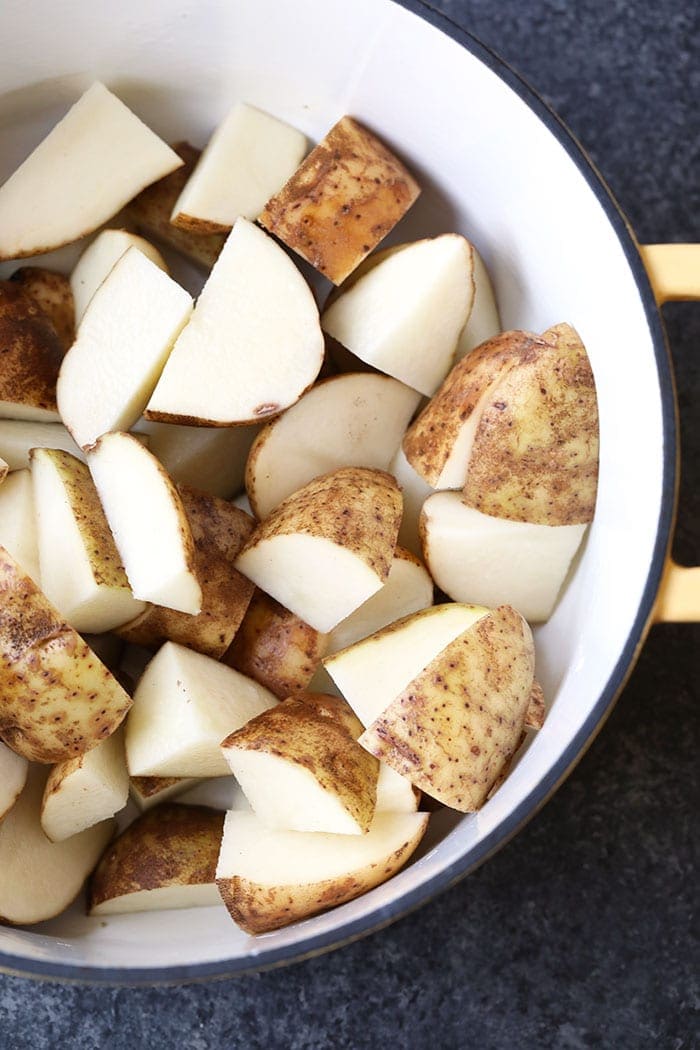 What You Need
Sometimes the most simple things in life are the best. Here's what you need:
Russet potatoes- we're using 3 lb. russet potatoes in this recipe, but you can also use Idaho or golden potatoes.
Greek yogurt – any fat percentage of Greek yogurt will work. Just make sure you are using plain and not flavored.
2% milk – a little milk is used to help thin out your potatoes to make them nice and creamy. Feel free to sub chicken broth or veggie broth if you want instead.
Butter: a mashed potato recipe without butter would be a sin!
Fresh thyme and rosemary: the real stars of the show are fresh herbs! These are seriously so yummy.
Best Potato for Mashed Potatoes
These healthy mashed potatoes call for 3 lbs. of russet potatoes. I just love how creamy they get and the skin is delightful. Did I mention that potatoes are extremely in-expensive as well? Heck yes!
I am confident that this recipe would work with 3 lbs. of pretty much any kind of potato your heart desires. Try using: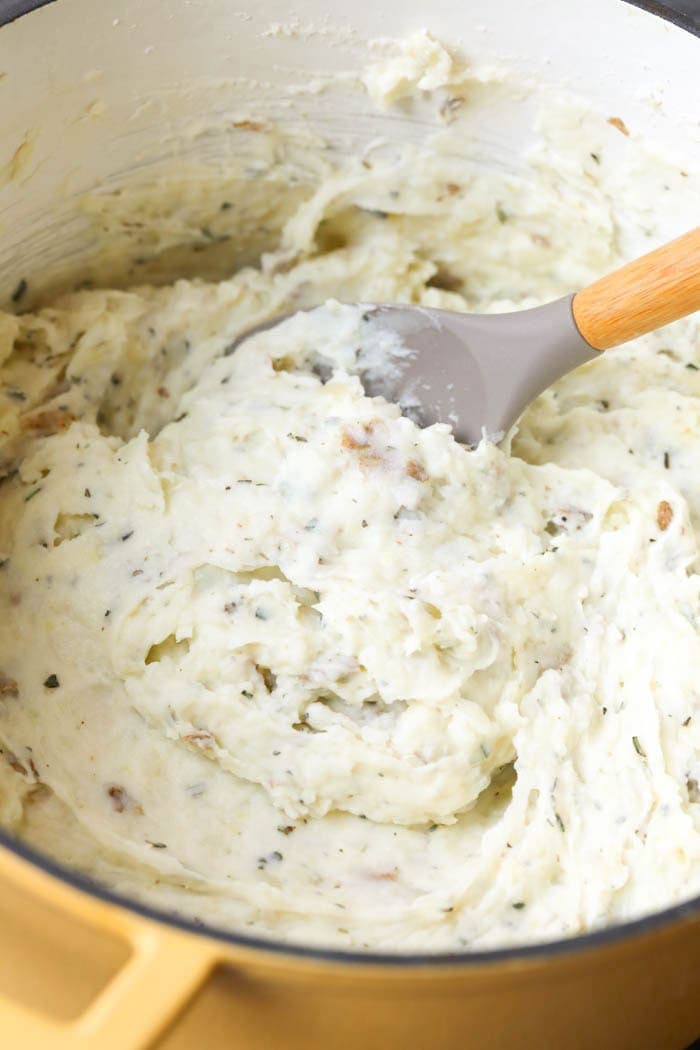 Easy Instructions
Mashed potatoes are easier to make than you think! Here's a quick rundown:
Quarter potatoes
First, run your potatoes under warm water and pat them dry. Then, use a sharp knife to quarter them so that they're all around the same size.
Boil potatoes
Place potatoes in a large pot or Dutch oven and submerge them in water. Then, add salt. Turn the burner to high and boil potatoes until they're fork-tender.
Mash Potatoes
Drain potatoes and then transfer them into a large bowl (or right back into the pot). Add salt, pepper, butter, Greek yogurt, and herbs.
Use a potato masher or hand mixer to mash potatoes. They should be relatively easy to mash and if they're not, you likely didn't cook them long enough.
Add Milk
Add milk by the 1/4 cup and continue to mash until they've reached your desired consistency.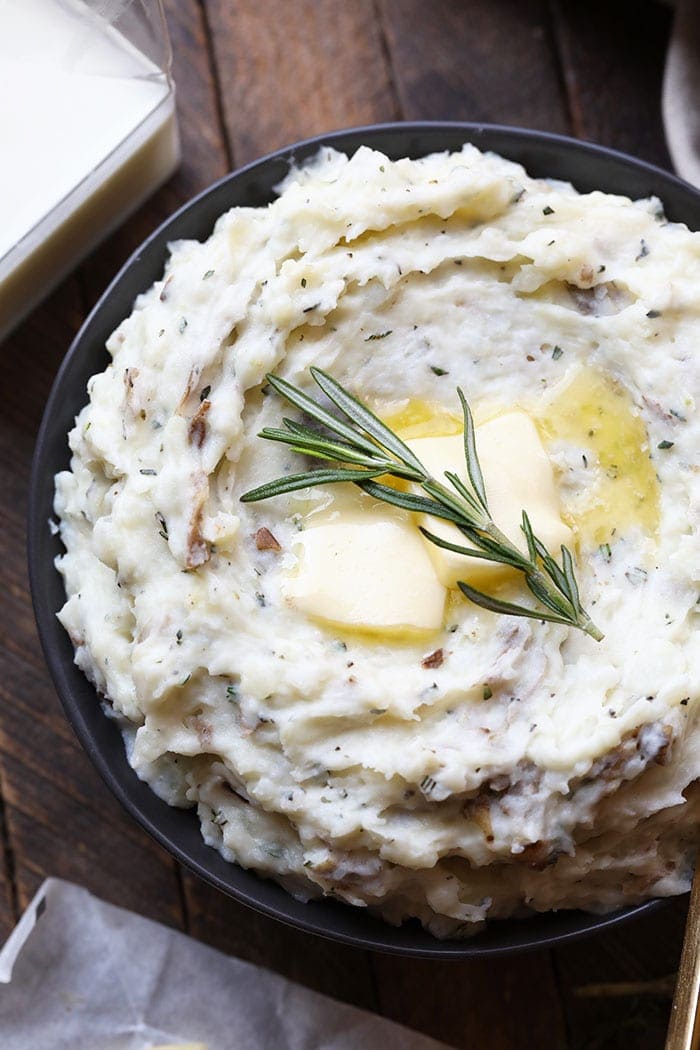 Healthy Mashed Potatoes FAQ
Mashed potatoes calories?
In our healthy mashed potatoes recipe, there are around 242 calories per serving. Note that this recipe serves 8.
How long to boil potatoes for mashed?
Boil your potatoes for around 20-25 minutes or until you can easily pierce them with a fork. You'll notice that we quartered our potatoes and this was on purpose so that they boil faster. If you leave your potatoes whole, you'll likely need to boil longer.
Carbs in mashed potatoes?
Mashed potatoes are higher in carbohydrates because potatoes are a starchy vegetable. This mashed potato recipe comes in at around 39g carbs/serving.
Are mashed potatoes healthy?
We're firm believers that everything in moderation is okay. While mashed potatoes are high in carbs and usually high in fat, they're still made with a vegetable base and are one of the most delicious sides known to man.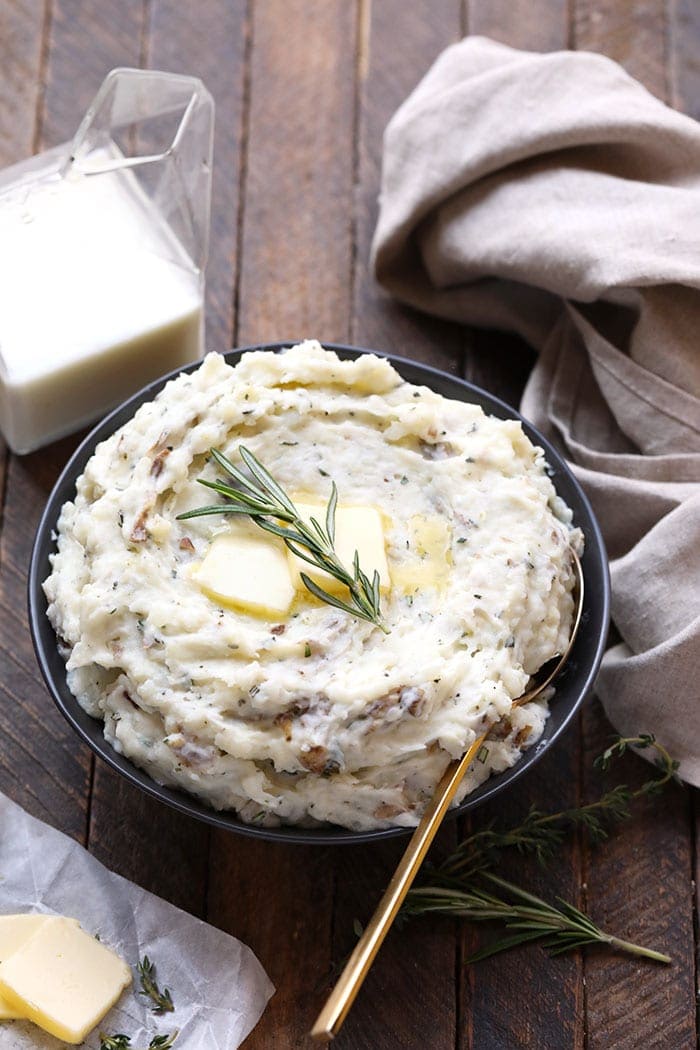 Can you freeze mashed potatoes?
Yes, you can freeze mashed potatoes. We recommend freezing your mashed potatoes in a freezer-safe gallon-sized bag. Let mashed potatoes fully cool and then transfer them into the bag. Remove as much air as possible from the bag and then seal. Freeze for up to 3 months.
What to do with leftover mashed potatoes?
There are so many fun ways to use leftover mashed potatoes. My two favorite ways? Potato pancakes and potato soup (just add milk or cream), Or, you can stay basic and make a leftover turkey sandwich and use your mashed potatoes in place of hummus or mayo.
Storage
Store leftovers in an airtight container in the fridge for up to 3-5 days.