Add these healthy mashed potatoes to your Thanksgiving dinner. They're made with russet potatoes, Greek yogurt, a little bit of butter, and tons of fresh herbs for the most perfect mashed potatoes with skin on (just the way I like it!).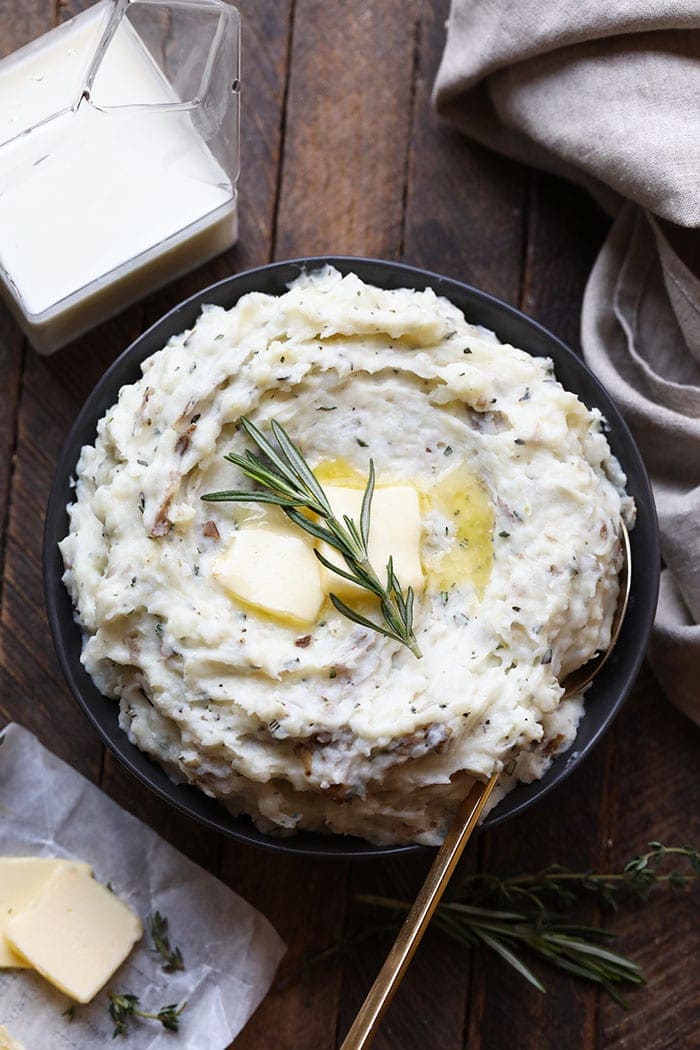 Today's post is the start of a small series on Fit Foodie Finds that we're calling Fit Foodie Family Holiday. Linley, Emily, and I are all choosing a classic holiday recipe that our families make every year. Of course, we're putting our own Fit Foodie twist to them and making them better-for-you without sacrificing flavors.
This specific recipe is a twist off of Mama Kay's mashed potatoes which are classically made with tons of butter and sour cream. My mom's taters are amazing served at Thanksgiving or Christmas next to our Sous Vide Turkey and topped with mushroom gravy.
Favorite Side Dish = Mashed Taters!
If you asked me as a kid what my favorite part about Thanksgiving was, I would tell you it was the mashed potatoes. Not much has changed, I'm still the same spud loving girl I used to be.
As I've gotten older and my palate has developed, I've grown to prefer mashed potatoes with skin on as opposed to peeled. It gives your mashed potatoes a nice texture and uh, hellooooooo, that's where a lot of the nutrients live! In this recipe, we kept the skin on and added lots of fresh herbs for more fall flavor.
Don't worry, we didn't forget the butter. Friends, mashed potatoes aren't mashed potatoes without real butter.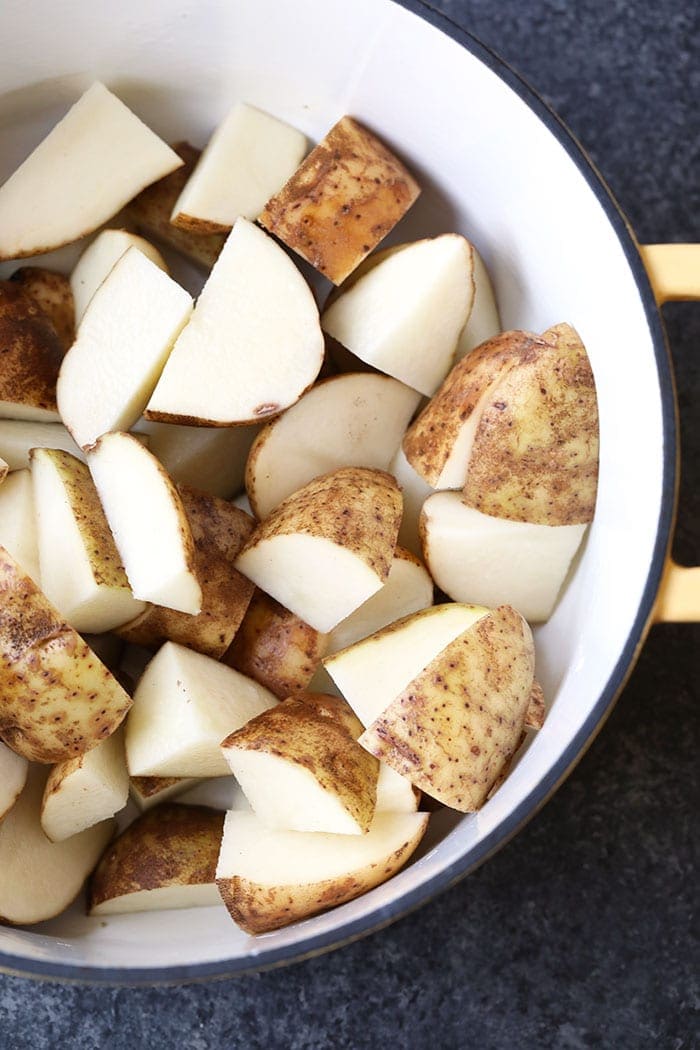 Healthy Mashed Potato Swaps
If you love the classic mashed potatoes recipe with either cream cheese or sour cream…I'm totally with you! My mom uses sour cream, but cream cheese is equally as delicious. In this recipe, however, we're lightening things up with a few healthier swaps! Check it out–
Greek yogurt – swap some or all of the cream cheese or sour cream with Greek yogurt. Greek adds protein but will keep that tang and creamy texture.
Milk – lots of mashed potato recipes call for heavy cream. While this is delightful, you can get the same effect with milk. Use almond milk, cow's milk, or any kind of milk your heart desires!
Skin on – traditionally, mashed taters call for peeled potatoes, however, we're keeping the skin on to get as many nutrients as possible. Plus, the texture rocks!
Best Potato for Mashed Potatoes
These healthy mashed potatoes call for 3 lbs. of russet potatoes. I just love how creamy they get and the skin is delightful. Did I mention that potatoes are extremely in-expensive as well? Heck yes!
I am confident that this recipe would work with 3 lbs. of pretty much any kind of potato your heart desires. Try using Yukon gold, red potatoes, fingerling, or even sweet potatoes. Speaking of sweet potatoes, we have an amazing Mashed Sweet Potato recipe that you need to try, as well!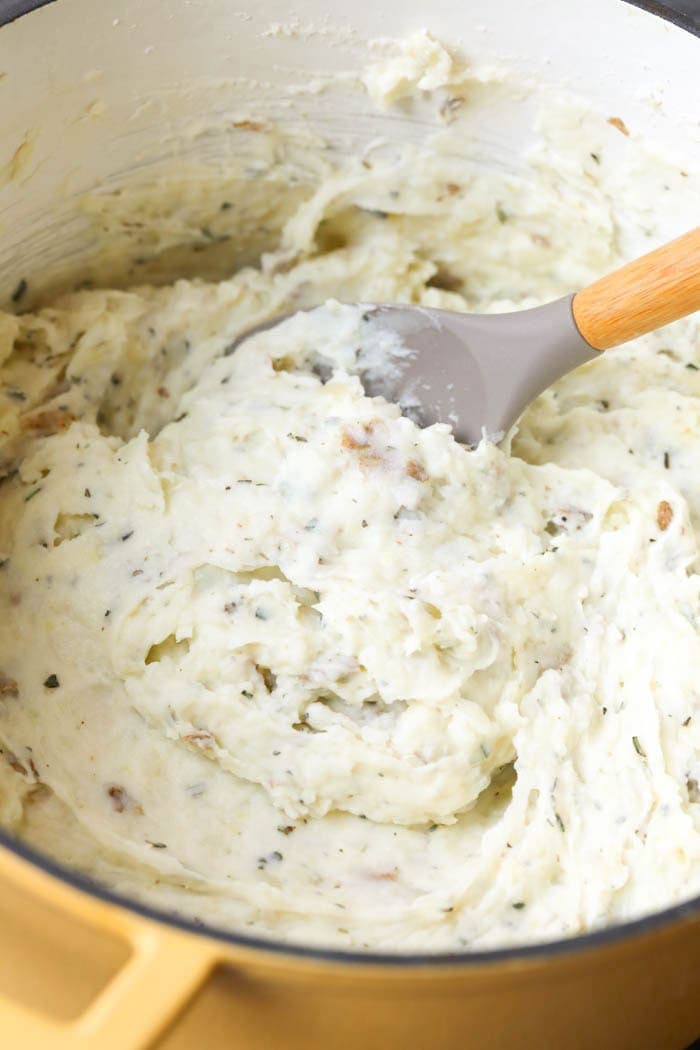 Healthy Mashed Potatoes FAQ
Mashed potatoes calories?
In our healthy mashed potatoes recipe, there are around 242 calories per serving. Note that this recipe serves 8.
How long to boil potatoes for mashed?
Boil your potatoes for around 20-25 minutes or until you can easily pierce them with a fork. You'll notice that we quartered our potatoes and this was on purpose so that they boil faster. If you leave your potatoes whole, you'll likely need to boil longer.
Carbs in mashed potatoes?
Mashed potatoes are higher in carbohydrates because potatoes are a starchy vegetable. This mashed potato recipe comes in at around 39g carbs/serving.
Can you freeze mashed potatoes
Yes, you can freeze mashed potatoes. We recommend freezing your mashed potatoes in a freezer-safe gallon-sized bag. Let mashed potatoes fully cool and then transfer them into the bag. Remove as much air as possible from the bag and then seal. Freeze for up to 3 months.
What to do with leftover mashed potatoes?
There are so many fun ways to use leftover mashed potatoes. My two favorite ways? Potato pancakes and potato soup (just add milk or cream), Or, you can stay basic and make a leftover turkey sandwich and use your mashed potatoes in place of hummus or mayo.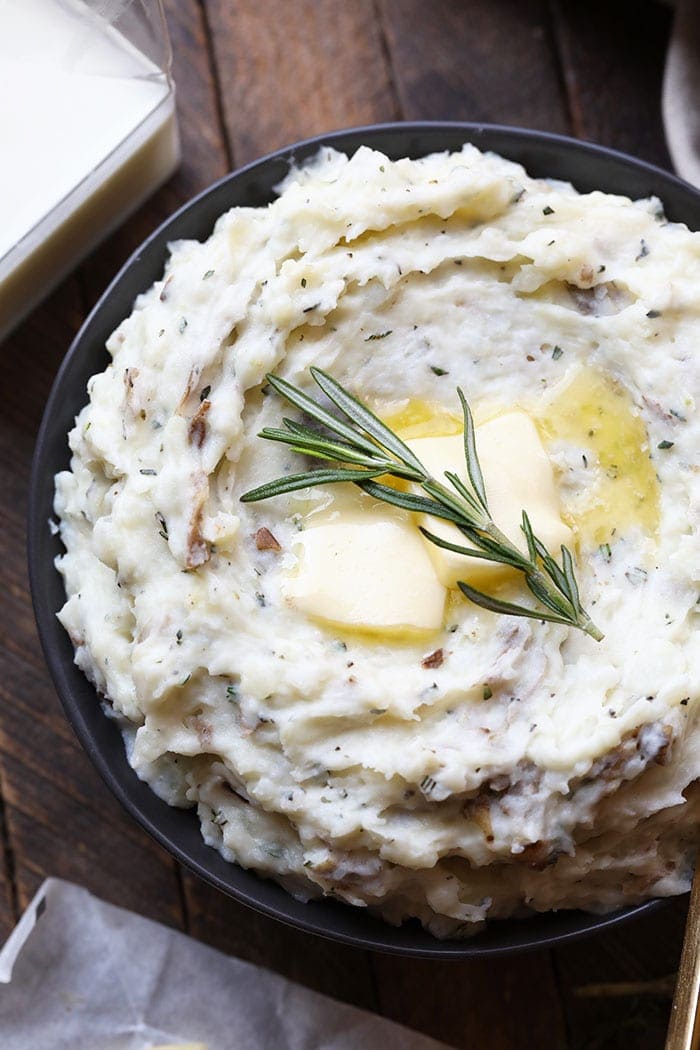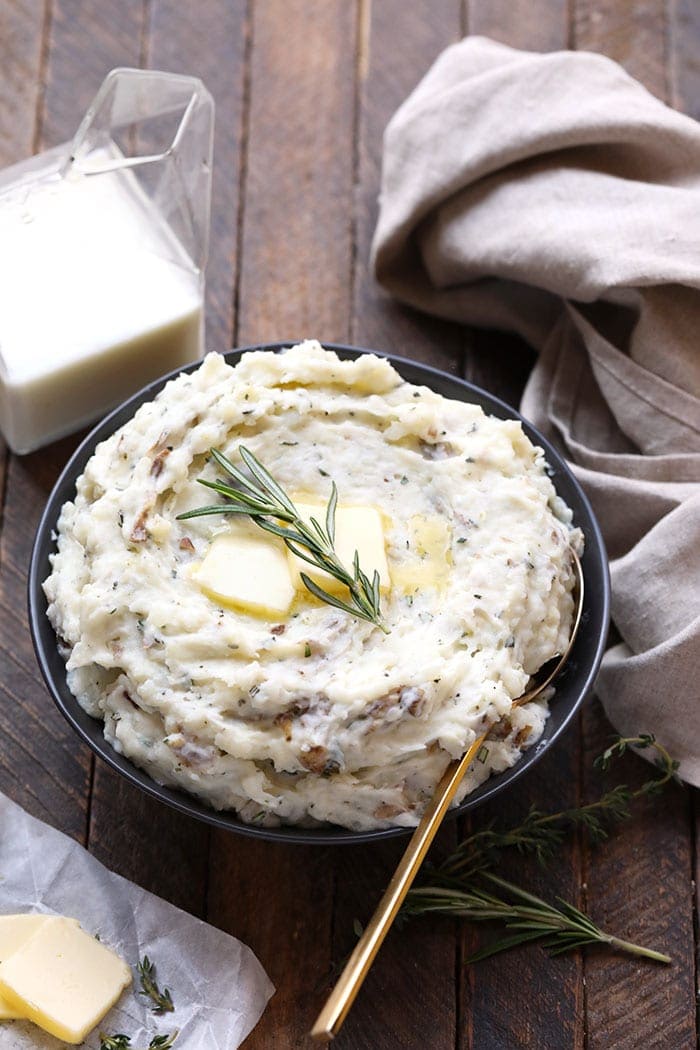 Flavor Tip
If all of these delicious fresh herbs still aren't enough, try adding some roasted garlic to your mashed potatoes. We suggest using around 6-10 cloves, mashing them, and then stirring them in right at the end!
More Holiday Sides
How to Make Mashed Potatoes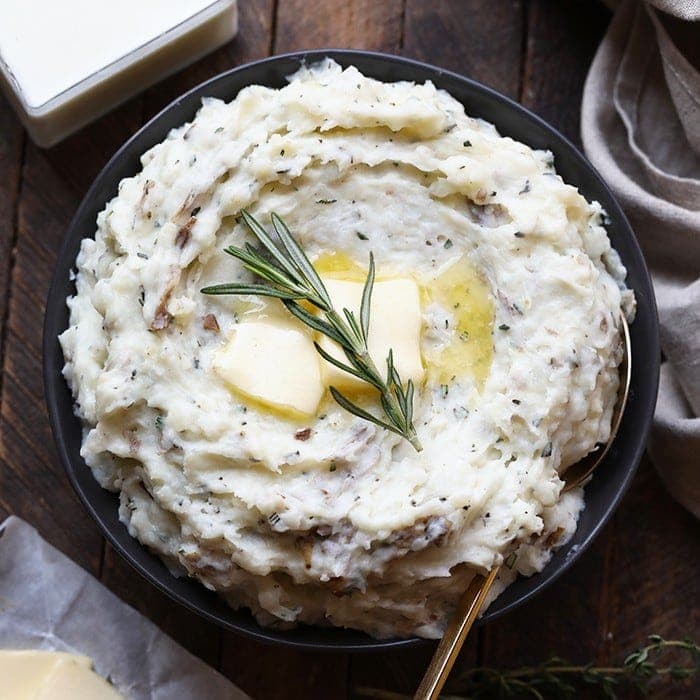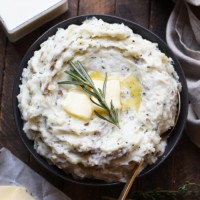 Healthy Mashed Potatoes
The most flavorful healthy mashed potatoes on the internet. These mashed potatoes are made with Greek yogurt, a little bit of butter, and tons of fresh herbs!
Prep:
20 minutes
Cook:
25 minutes
Total:
45 minutes
Ingredients
3

lbs. russet potatoes, quartered

1/2 teaspoon

sea salt

1/8 teaspoon

black pepper

1/2 cup

nonfat Greek yogurt

1

 cup 2% milk

1/4 cup

butter

1 tablespoon

fresh thyme, minced

1 tablespoon

fresh rosemary, minced
Instructions
Begin by preparing your potatoes. Wash and pat dry. Then use a sharp knife to quarter.
Place in a large pot and fully submerge with water. Add about a 1/8 teaspoon of salt.
Turn to high heat and bring to a boil for 20-25 minutes or until you can easily pierce the potatoes with a fork.
Strain potatoes and place them back in the pot. Add salt, pepper, butter, Greek yogurt, and herbs. Use a hand mixer (a potato masher will work!) to mash potatoes and slowly add in milk until you've reached the desired consistency.
Serve with another square of butter and enjoy!
Nutrition Facts
Serving Size:
1/8
Calories:
242
Sugar:
5
Sodium:
157
Fat:
6
Carbohydrates:
39
Fiber:
4
Protein:
7
Category:
Side
Method:
Stove-Top
Cuisine:
American
Keywords: healthy mashed potatoes