This Healthy Green Bean Casserole is about to be your new favorite Thanksgiving recipe! It's made with fresh green beans, a homemade mushroom gravy, and delicious crunchy onions.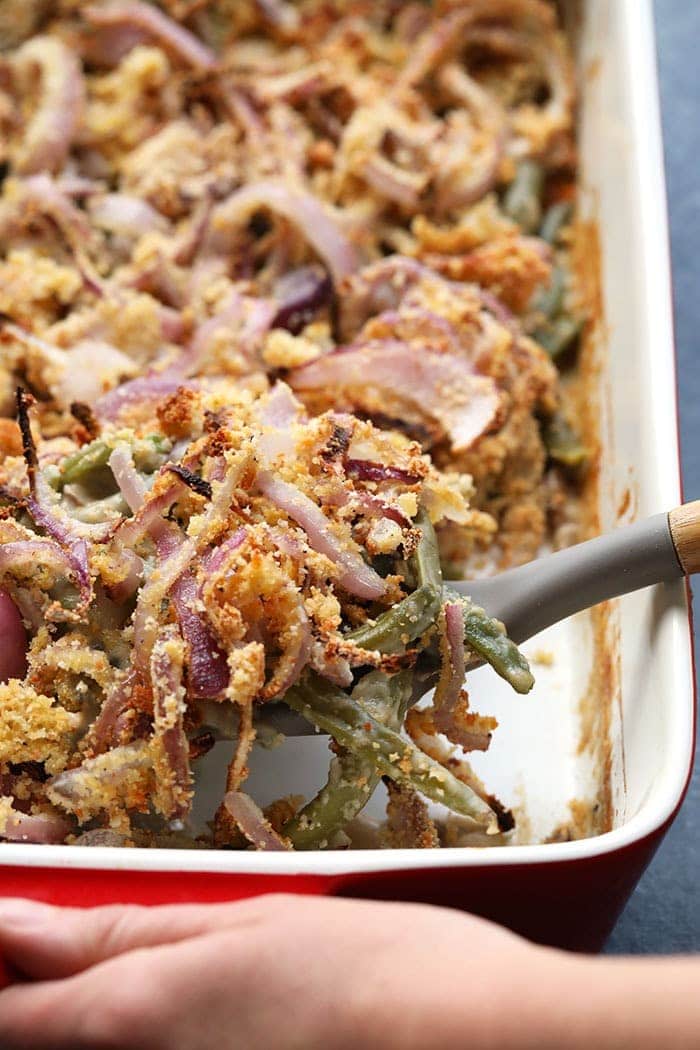 Best Healthy Green Bean Casserole
One of my favorite healthy Thanksgiving recipes is green bean casserole! My family used to make it the old-fashioned way with canned green beans, Campbell's cream of mushroom soup, and crunchy onions (or Funyons).
We wanted to develop a healthy green bean casserole from scratch where the green beans were still creamy and the onions still had crunch, but that it was overall, much better for you.
This delicious Thanksgiving side is perfect served next to turkey breast, healthy mashed potatoes, cornbread stuffing, and vegetarian mushroom gravy.
Is green bean casserole healthy?
In our opinion, homemade green bean casserole is not only better for you, but also tastes better too! This is why our healthy green bean casserole is made completely from scratch with fresh ingredients.
There is no creamy mushroom soup involved or soggy canned green beans or Funyons. Instead, we used better quality ingredients and put a little elbow grease into making a better-for-you sauce. Check out our swaps compared to the classic recipe:
Healthy Swaps
Canned Green Beans >> canned green beans are easy, we get it, but fresh green beans are so. much. better. Give them a good wash and snip the ends off with a pair of scissors and you're good to go!
Creamy Mushroom Soup >> swap out the store-bought creamy mushroom soup for homemade mushroom gravy. We'll teach you how to make an easy roux so that you have a thick, flavorful mushroom gravy.
Funyons >> make your own homemade Funyons by coating sliced onion in egg followed by whole-wheat breadcrumbs and parmesan.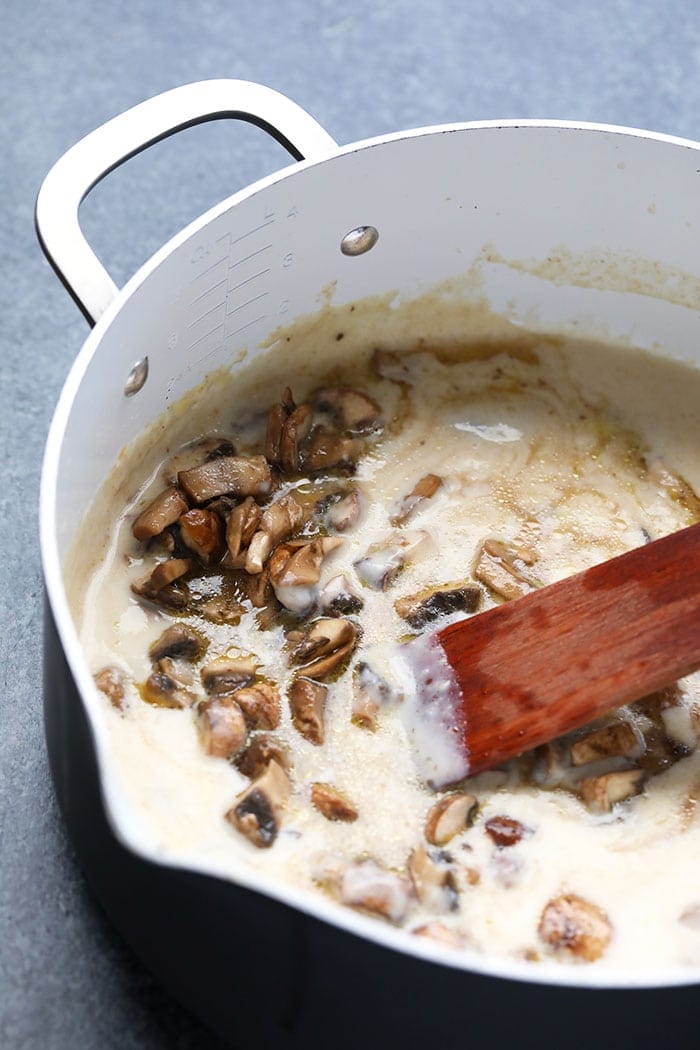 What You Need
Like we mentioned above, everything you need for this healthy green bean casserole recipe is fresh and/or from scratch. Check it out:
olive oil
crimini mushrooms
fresh green beans
butter
white whole wheat flour
milk
chicken broth
red onions
egg
whole wheat bread crumbs
parmesan cheese
Make it gluten-free
Want to make a healthy and gluten free green bean casserole? All you need to do is swap out 2 ingredients from our list above. Check it:
White whole wheat flour — use an all-purpose gluten free flour mix 1:1.
whole wheat breadcrumbs — simply swap these breadcrumbs for gluten free bread crumbs
How to Make Green Bean Casserole
Now that you know what you need, let's get down to business on how to make green bean casserole.
Onion Topping (AKA Homemade Funyons)
Ditch the Funyons and let's make a real crunchy onion topping. These crunchy onions are basic, but totally make the recipe, so whatever you do, do not skip this step.
Thinly slice 2 large red onions. Then, place them in an egg wash and make sure they're all coated.
Mix together bread crumbs, parmesan cheese, salt, and pepper, and coat the onions with the mixture. Then, transfer everything onto a baking sheet for roasting.
Roast for 20 minutes. Then, toss and roast for 20 more minutes. Finish off with a 2-3 minute broil to make your onions EXTRA crunchy.
Can I use yellow or white onions instead? Use whatever kind of onion you have on hand. We love the color contrast between the green beans and the red onions.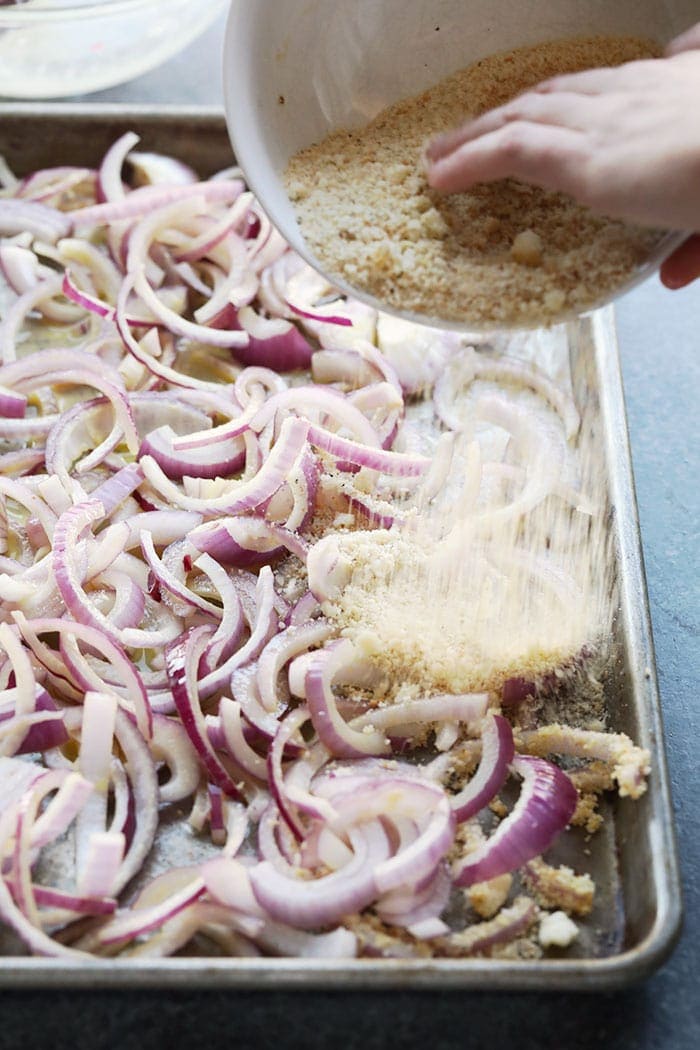 Mushroom Gravy
We've been loving mushroom gravy over here in the Fit Foodie Kitchen. We even came up with the most delicious Vegetarian Mushroom Gravy to top your holiday sides with.
This gravy, in particular, is super simple to make and only requires a few ingredients and steps.
First, cook down your mushrooms a bit with some olive oil and salt. This not only brings out the flavor but also releases a lot of moisture from the mushrooms. Set aside.
Then, your roux. Heat butter in a large saucepan. When fragrant, add flour. Whisk until a paste forms. Add milk and continue to whisk until thick.
Remove from heat and then add the broth, cooked mushrooms, and salt.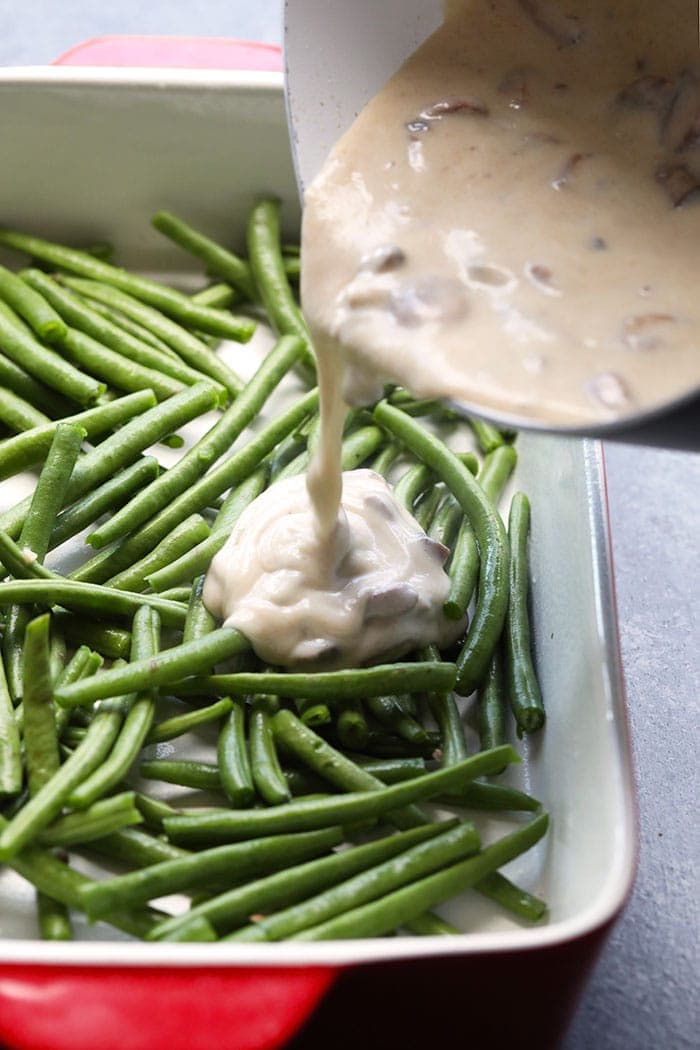 Top & Bake Casserole
Now it's time to assemble all that goodness into one dish!
Place raw green beans on the bottom of a greased casserole dish.
Then, pour in the mushroom gravy and toss everything together.
Bake at 350ºF alongside your crunchy onions and bake for 40 minutes.
Once your onions are perfectly crunchy, transfer them on top of the casserole and serve immediately.
What Goes with Green Bean Casserole?
We suggest serving your green bean casserole recipe next to all of your favorite Thanksgiving (or any holiday) dishes! Here are some ideas for you: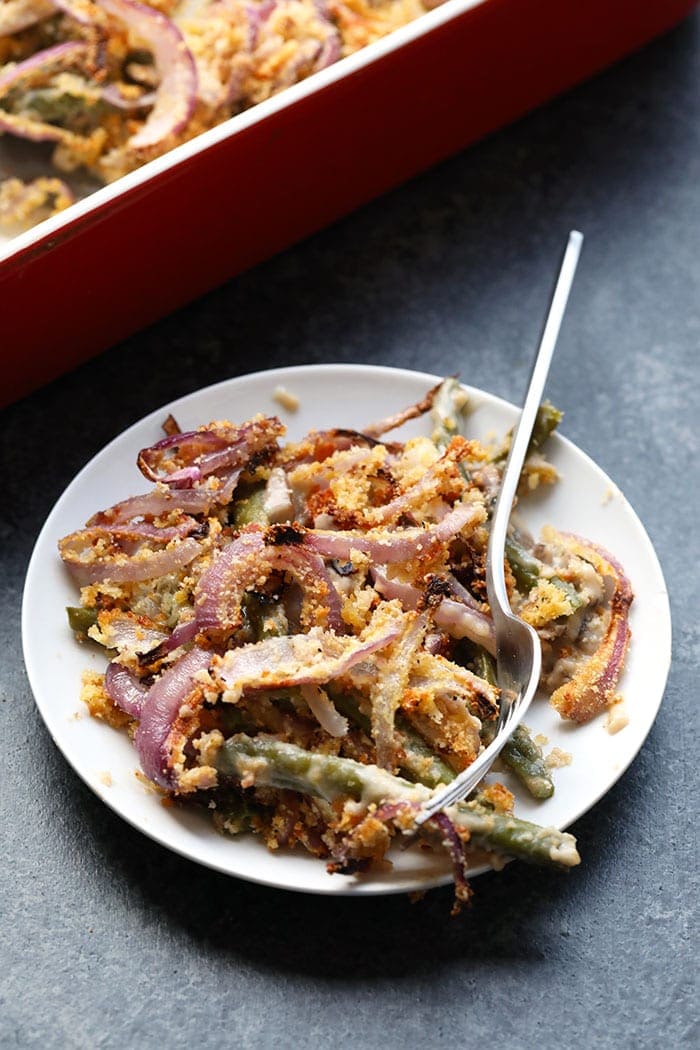 Can I make healthy green bean casserole ahead of time?
If you are planning to prepare this ahead of time, we suggest waiting to do the onions until the day of so that they are perfectly crunchy! However, you can prepare the mushroom gravy and toss the uncooked green beans with the gravy in a casserole dish. Place that in your refrigerator until you're ready to bake the day of.
Storage
Got leftovers? Transfer your casserole into an airtight container and seal. Refrigerate for up to 3-5 days.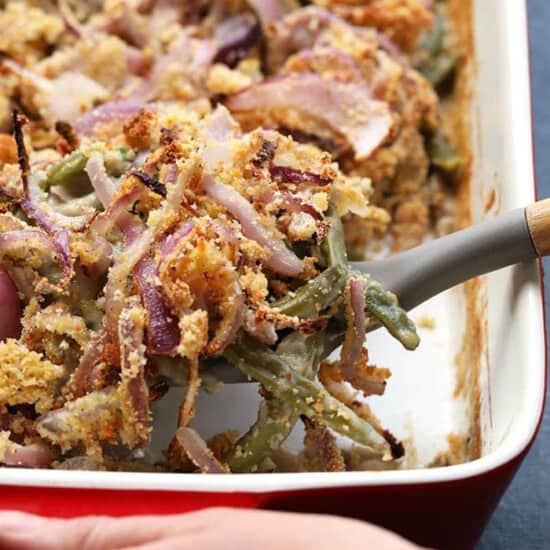 Healthy Green Bean Casserole Recipe
This Healthy Green Bean Casserole is the best on the internet! It's made with fresh green beans, a homemade mushroom gravy, and delicious crunchy onions.
Ingredients
For the Onions
1

large egg

2

tablespoons

water

3/4

cup

whole wheat bread crumbs

1/4

cup

grated parmesan cheese

1/8

teaspoon

table salt

1/8

teaspoon

ground pepper

2

large red onions

sliced
For the Green Bean Casserole
1.5

tablespoons

olive oil

2

cups

chopped crimini mushrooms

3

tablespoons

unsalted butter

1/4

cup

white whole wheat flour

or gluten-free flour

1.5

cups

2% milk

1/4

cup

chicken broth

or vegetable broth

1/4

teaspoon

sea salt

separated

1

pound

fresh green beans

washed and ends removed
Instructions
Preheat the oven to 350ºF and spray a 9x11-inch casserole dish and a standard-size baking sheet with cooking spray. Set aside.

First, prepare onions. Whisk together one egg and 2 tablespoons of water in a large bowl. In a separate bowl, mix together bread crumbs, parmesan, salt, and pepper.

Then, slice 2 large onions. Add sliced onions to the egg mixture. Stir mixture until all of the onions are coated with egg.

Pour the breadcrumb mixture on top of the onions and gently fold everything together.

Spread onions out onto a baking sheet and set aside.

Next, prepare green bean casserole. Heat a large saucepan over medium/high heat. Add olive oil. When olive oil is fragrant, add mushrooms and 1/8 teaspoon of salt and saute for 4-6 minutes. Remove from heat and transfer mushrooms into a separate bowl. Set aside.

In the same saucepan, prepare the roux. Melt butter over medium/high heat. Add flour to butter and mix until a paste is created.

Slowly add milk while continually whisking the milk, butter, and flour together. Whisk until mixture is thick. Remove from heat.

Add broth, cooked mushrooms, and the last 1/8 teaspoon of salt to the roux and mix well.

Place uncooked green beans into the casserole dish and then pour the roux over green beans and toss so that the beans are coated.

Place both the green bean casserole and onions in the oven at the same time.

Bake at 350ºF for 20 minutes. Then toss the onions and bake for an additional 20 more minutes.

Remove casserole from oven and then turn the oven to high broil. Broil the onions for 3-5 minutes for extra crispy onions*.

Once onions are crunchy, use a spatula to gently transfer onions on top of the green bean casserole.
Tips & Notes
Extra crunchy onions - this part is optional, but highly recommended. All ovens are different, so make sure to keep an eye on your onions in the broiler!
Nutrition facts
Calories:
176
kcal
Carbohydrates:
17
g
Protein:
7
g
Fat:
10
g
Fiber:
3
g
Sugar:
6
g