This Cornbread Dressing from Scratch is super flavorful, easy to make, and packed with savory veggies and wild rice! Make your own cornbread, or use store-bought and you're off to the most delicious cornbread dressing you've ever had!
Cornbread Dressing > Everything
We're big dressing (or are you on team stuffing?!) fans over here, and the cornbread croutons really step this classic dish up a notch (or 7!) in terms of taste and texture. And now that we've perfected this recipe, we're cornbread dressing fans for life.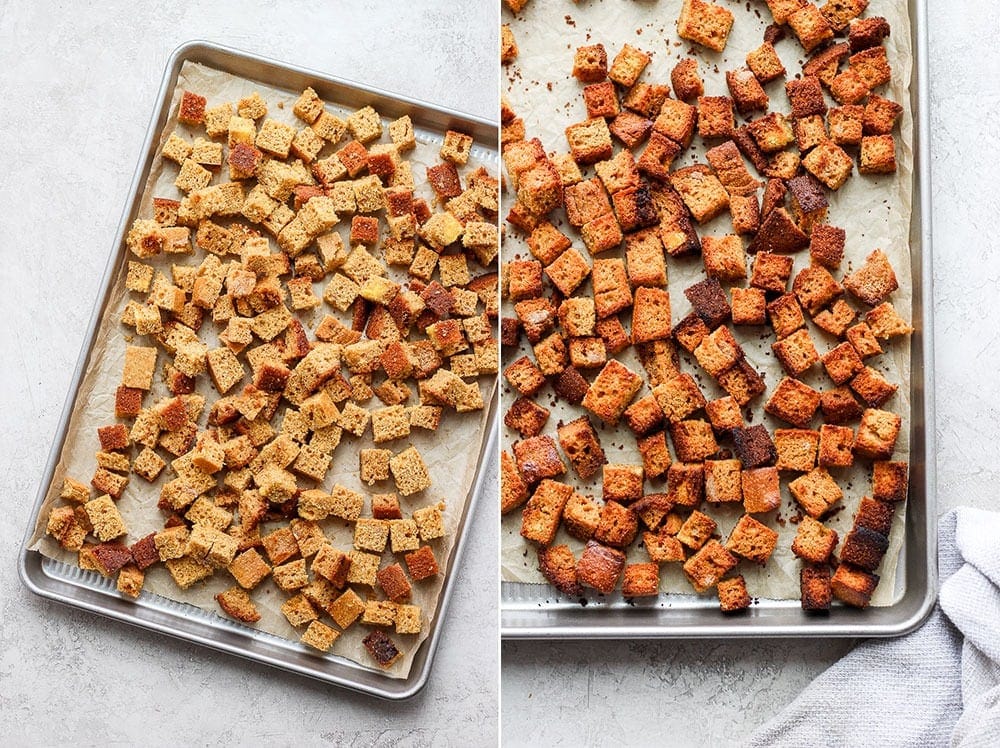 #1 Dressing Tip – Dry Out That Cornbread
Drying out your cornbread before making the stuffing is key! Simply cut the cornbread into 1-inch chunks and place on a baking sheet, and dry out in the oven at 400ºF for 10 minutes. Then, toss the chunks and roast for another 10 minutes.
You'll know the cornbread chunks are good to go when they're golden brown and resemble texture of a large crouton.
Can You Use Store-Bought Cornbread For This Dressing?
Absolutely! If you're looking to save time on this recipe, and don't want to make your own cornbread, we recommend using a store-bought cornbread and following the instructions here for drying out the cornbread chunks into croutons before making your dressing.
Please note that cook time to create the croutons may differ based on the ingredients in your store-bought cornbread.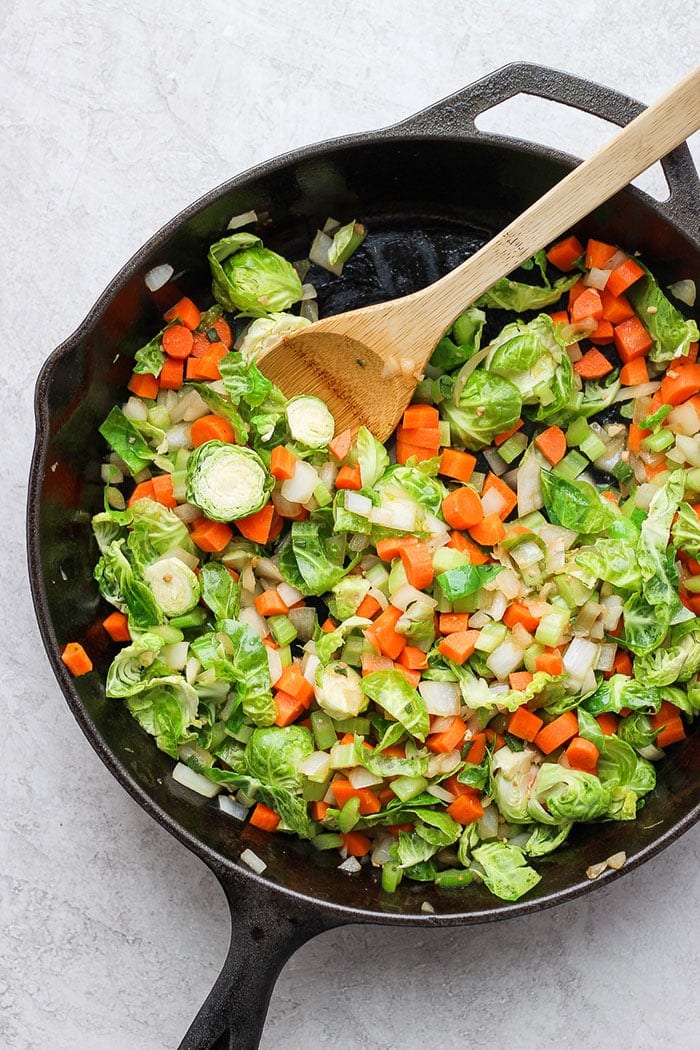 Sautéed Veggies are Key!
The sautéed veggies bring out such delicious flavors in this dressing, which is why we would not recommend just placing the raw veggies in the casserole dish for baking.
By sautéing the onions, shallot, celery, carrots, brussels sprouts + garlic, sage and thyme before baking, you're not only starting the cooking process for the veggies, you're also bringing out all the lovely flavors, which will make this dressing oh so much more flavorful.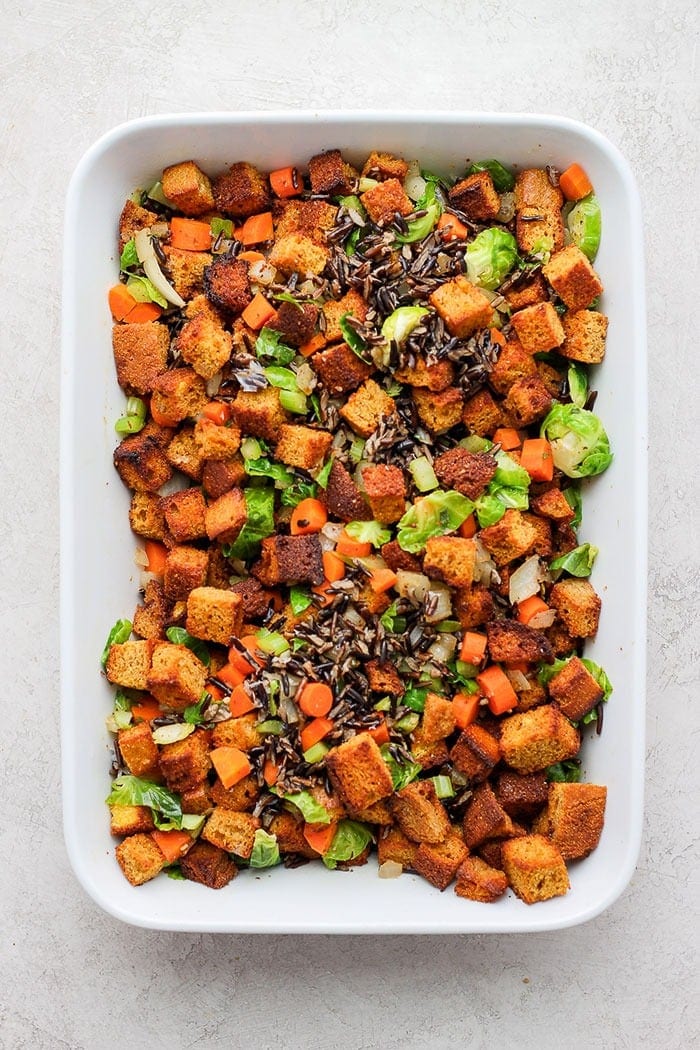 Wild Rice Hack
If you have time to make wild rice (we have a step-by-step wild rice recipe for both the stove top and Instant Pot!), that's great! But if you're looking to save some time making a finicky rice, we recommend the pre-cooked or microwave wild rice packets sold at major grocers. THIS microwaveable wild rice packet from Target is one of our faves.
Reheating Cornbread Dressing
This cornbread dressing reheats super well! First, add 2-3 tablespoons of vegetable broth (chicken broth will also work!) to the casserole dish and then place dressing in the casserole dish. This will help keep the dressing moist and delicious.
Cover the casserole dish with aluminum foil, and bake at 325ºF for 10-15 minutes or until completely warm. This will come in super handy for those leftover Thanksgiving meals 😀
If you don't have enough leftover dressing warrant reheating inside the original casserole dish, feel free to use an oven safe large bowl or baking dish when reheating. Want to reheat individual servings? We love reheating in oven safe soup bowls.
Can you Freeze Cornbread Dressing?
Yes! First allow the dressing to cool completely, and then place in an air-tight container and store in the freezer. This cornbread dressing will keep for up to 3 months when stored in an air-tight container in the freezer.
When thawing: allow the dressing to thaw completely before following the reheating instructions above.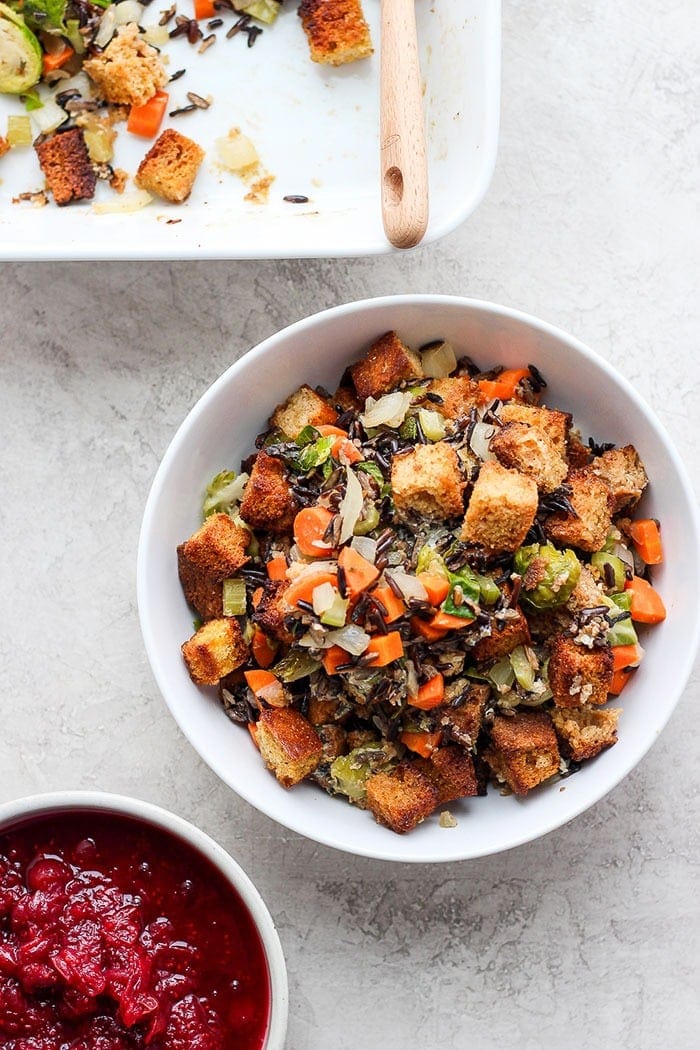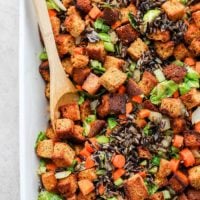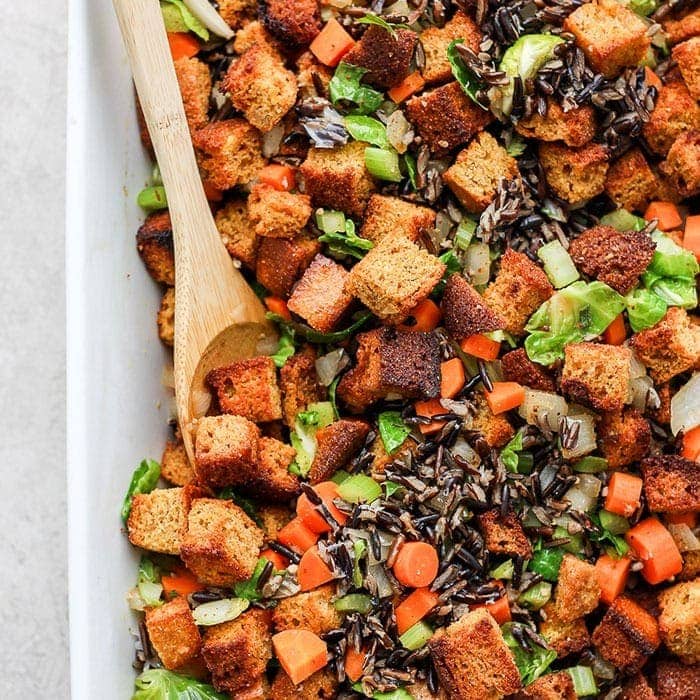 From Scratch Cornbread Dressing
This Cornbread Dressing from Scratch is packed with savory veggies and wild rice! Make your own cornbread, or use store-bought.
Prep:
20 minutes
Cook:
50 minutes
Total:
1 hour 10 minutes
Ingredients
8 cups

1-inch cornbread cubes

2 tablespoons

olive oil

1/2

white onion, diced

1/4

minced shallot

1 tablespoon

minced garlic

3

medium carrots, diced (~

1 cup

)

3

celery stalks, diced (~

1 cup

)

2 cups

shredded brussels sprouts

1 tablespoon

fresh thyme

1 tablespoon

fresh sage

1/4 teaspoon

salt, separated

2

large eggs

2 cups

vegetable broth

1.5 teaspoons

garlic powder

2 teaspoons

maple syrup

1.5 cups

cooked wild rice

3 tablespoons

butter, melted
Instructions
First, preheat the oven to 400ºF and cut the cornbread into 1-inch squares and then bake them at 400ºF for 10 minutes. Then, toss and roast for another 10 minutes. Remove from the oven when crutons are golden brown and turn the oven temperature down to 375ºF.
Meanwhile, heat a large skillet over medium/high heat and add olive oil. When olive oil is fragrant, add onion and shallot to the pan and cook for 2 minutes. Add garlic, carrots, celery, and 1/8 teaspoon salt and cook for an additional 3-4 minutes.
Then, add brussels sprouts, thyme, and sage to the pan and cook for 2 more minutes and remove the pan from heat. Set aside.
Next, whisk eggs, vegetable broth, garlic powder, 1/8 teaspoon salt and maple syrup together. Set aside.
Add the cornbread, wild rice, and vegetable mixture to a greased 9×13-inch casserole dish. Mix until combined.
Pour the egg mixture over the cornbread stuffing and combine until everything is combined and soaked in the egg mixture.
Drizzle the melted butter over the top of the cornbread dressing and place the oven and bake at 375ºF for 50 minutes.
Remove and enjoy!
Nutrition Facts
Serving Size:
1/10
Calories:
208
Sugar:
3
Sodium:
424
Fat:
8
Carbohydrates:
12
Fiber:
3
Protein:
4
Category:
Sides
Method:
Oven
Cuisine:
American
Diet:
Vegetarian
Keywords: cornbread dressing
Photos by: The Wooden Skillet