You are going to love these Healthy Apple Pie Bars. They're made with a delicious green apple filling and a buttery sugar cookie crust.
Love crumble bars? You'll love these too >> Strawberry Oatmeal Bars, Lemon Blueberry Crumble Bars, and Healthy Carmelitas.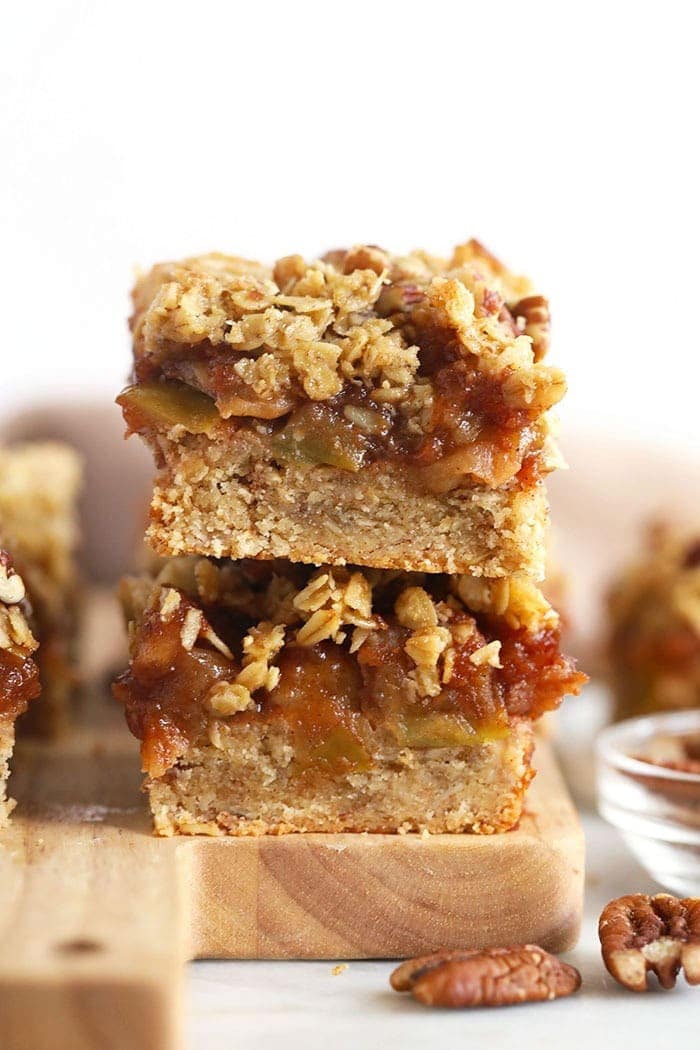 Say hello to your new favorite fall dessert. These heavenly apple pie bars are taste just like apple pie but are in bar form. BONUS – they're made with wholesome ingredients like almond meal, rolled oats, and maple syrup.
Perfect for YOU
While there are a good million of one reason why you should make these apple pie bars, there are a few that stick out to me. This dessert bar recipe is perfect for those that…
are gluten-free
love apple pie!
want a dessert made with real ingredients
love to bake
How to Make Apple Pie Bars
Step 1: Better-for-you crust
Part 1 of this recipe is all about the crust and we're using our famous sugar cookie crust for this bar. What I love about this crust is that it's nutty and slightly sweet. It's also made with some of my all-time favorite baking ingredients.
Almond meal: made from raw almond, almond meal is great for grain and gluten-free baking! It's high in protein, vegan, paleo, and keto!
Rolled Oats: oatmeal is a 100% whole grain and adds great texture to our sugar cookie crust.
Maple Syrup: in addition to the sweet flavor of maple syrup, it's an all-natural sugar great for baking!
Coconut Oil: coconut oil is slightly nutty and my absolute favorite fat to bake with!
Spices: cinnamon and nutmeg give this crust the perfect amount of spice to give it personality, but not over flavor it.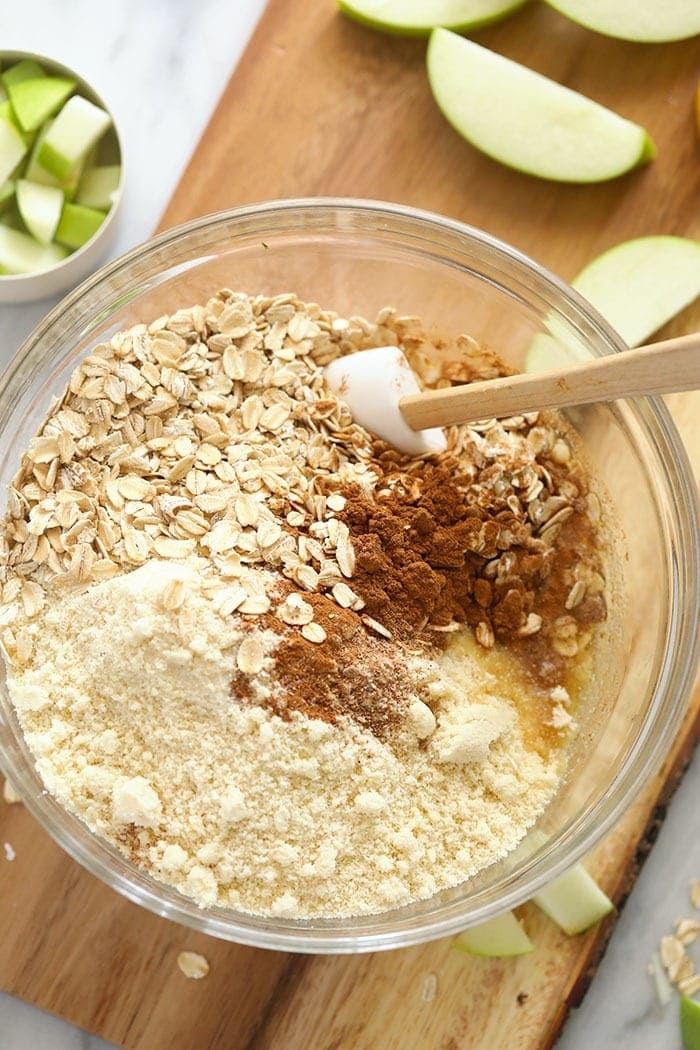 Step 2: Green Apple Filling
This apple pie filling is made with the basis of sliced apples, lemon juice, and maple syrup. Why go red when you can go green?! We chose to use green apples, but any kind of apples will work.
The Key: the key to a perfect apple pie filling is making sure you cook the apples down enough. In order for the apples to hold their shape, they need to cook down enough to release as much liquid as possible and become thick enough to stick.
There is no need for a thickener like cornstarch, just make sure to take your time cooking down the apples.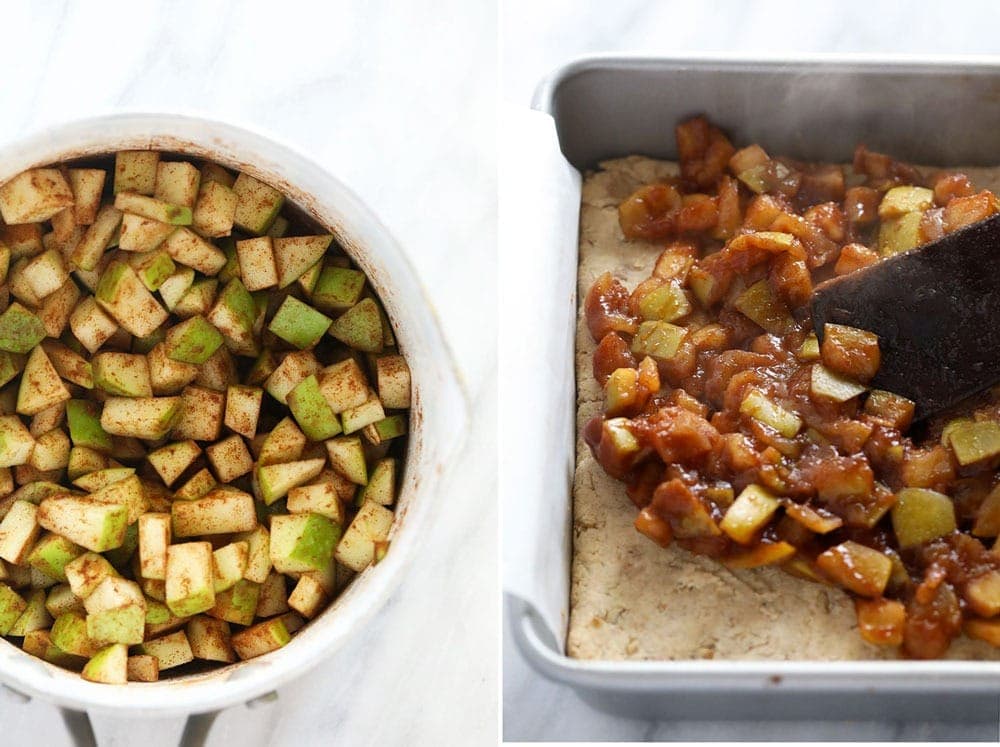 Step 3: Crumble Topping
Once you've got the crust and filling under control, it's time for the glorious >> crumble topping!
Made with rolled oats, butter, brown sugar, and pecans, this basic crumble topping with for sure make this recipe.
Crumble Swap Recommendations
Butter – feel free to swap coconut oil 1:1 for the butter.
Brown sugar – the only sugar we record swapping the brown sugar with is coconut sugar 1:1.
Pecans – don't have pecans? Try walnuts or almonds!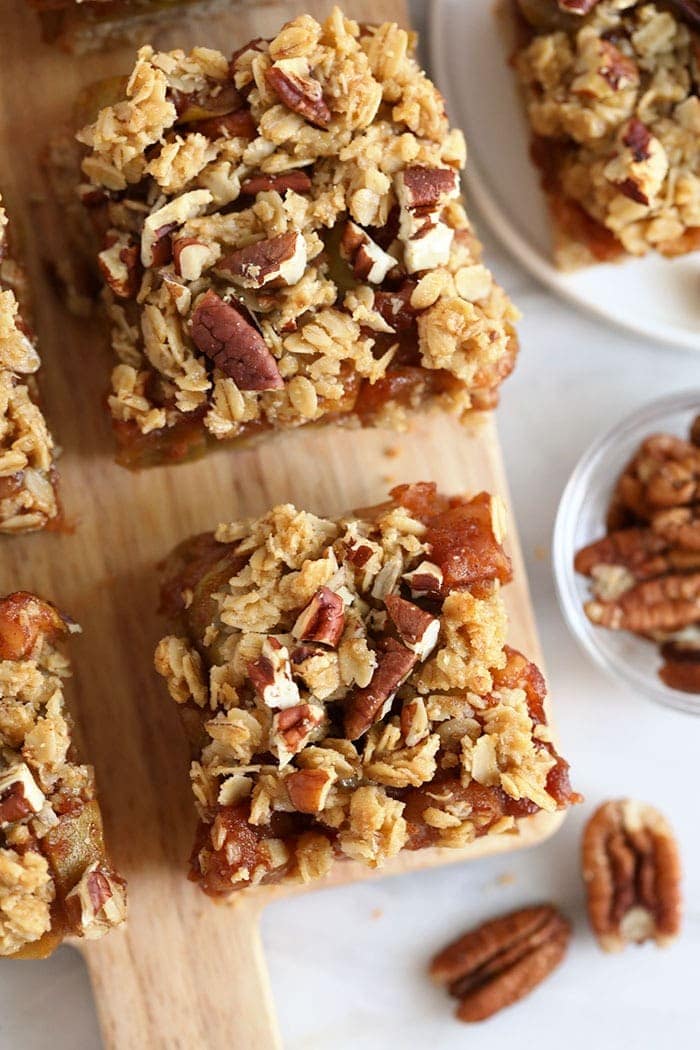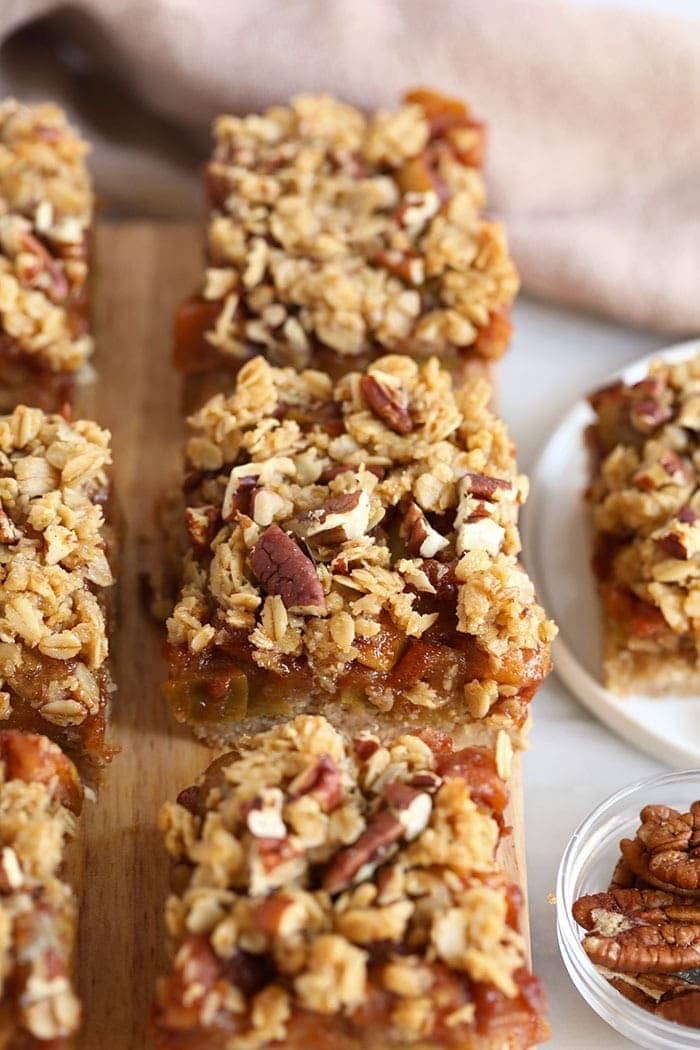 More Apple Desserts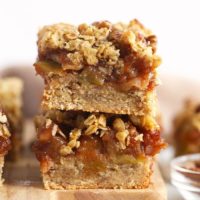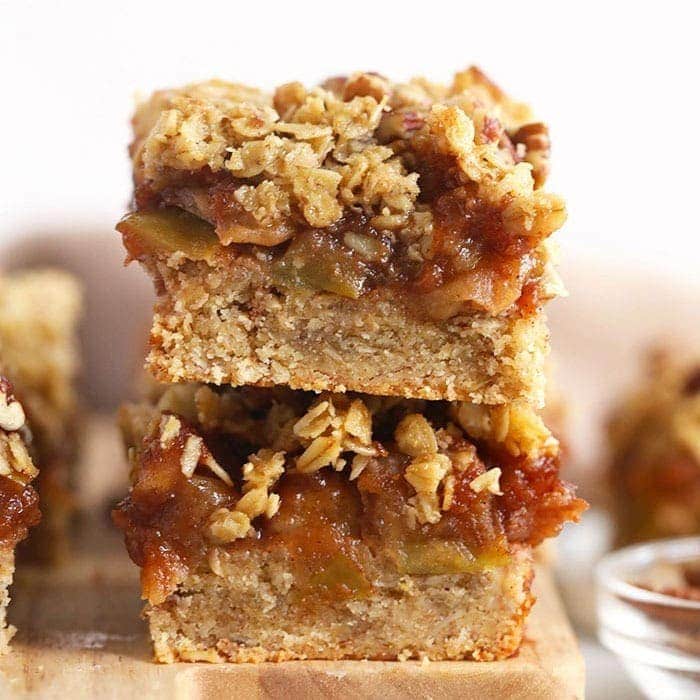 Healthy Apple Pie Bars
You are going to love these Healthy Apple Pie Bars. They're made with a delicious green apple filling and a buttery sugar cookie crust.
Ingredients
Crumble Topping
2/3

cup

rolled oats

3

tablespoons

butter

room temperature and sliced

2

tablespoons

brown sugar

1/4

cup

chopped pecans
Instructions
Preheat the oven to 350ºF and spray an 8-inch x 8-inch baking dish with cooking spray or line it with parchment paper. Set aside.

Next, prepare crust. Place all ingredients for the crust into a large bowl. Mix until it forms a crumble and can hold its form.

Transfer crust into the baking dish and flatten the crust evenly to the bottom of the pan using a spatula.

Bake at 350ºF for 15-17 minutes or until golden brown.

While crust is baking, cook down the apples by placing all of the ingredients for the filling into a medium-sized pot.

Turn heat to high and bring to a boil.

Once boiling, turn heat to low and let simmer for 7-9 minutes or until the filling has reduced and thickened*. Stir every so often.

Remove apples from heat and use a fork to mash the apples so that the filling is a combination of apple mash and apple chunks.

Transfer apple pie filling over the crust and set aside and use a spatula to evenly spread out. Set aside.

Next, prepare crumble topping. In a medium bowl, add ingredients for the crumble topping and cut the ingredients with a fork until it forms a crumble.

Evenly distribute the crumble topping on top of the apple filling.

Bake at 350ºF for 26-28 minutes or until crumble topping is golden brown.

Remove from the oven and let cool for 10-15 minutes. Then, refrigerate for at least an hour before slicing.
Tips & Notes
If apples are having a hard time thickening, option to add 1 to 2 tablespoons of cornstarch to help thicken.
Nutrition facts
Serving:
1
/12
Calories:
435
kcal
Carbohydrates:
41
g
Protein:
9
g
Fat:
27
g
Fiber:
6
g
Sugar:
22
g