This delicious apple crisp is made with all of your favorite fall ingredients and is ready in under an hour! Grab your favorite apple and make an apple crisp for the week!
We are loving apple recipes right now! If you have leftover apples try making our easy cinnamon apple bread or these delicious apple cinnamon muffins.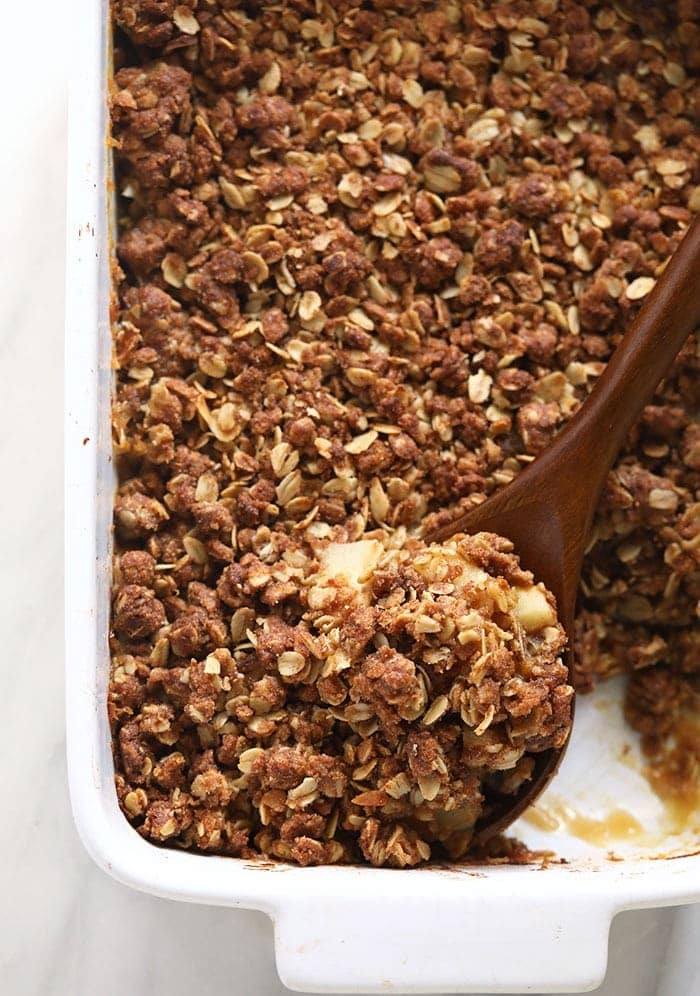 The Best Apple Crisp Ever
Can you think of anything more cozy and fall-like than Apple Crisp? The answer is, unequivocally, no! We know there are Apple Crisp recipes aplenty, but this one might take the cake, errr, crisp!
So, here's to one of life's most simple pleasures: warm Apple Crisp on Fall days equally as crisp but not as warm.
Apple Crisp 101
Apple crisp is such a nostalgic dessert recipe for so many people. I didn't realize how easy it was to make apple crisp until later into my adult life! Apple crisp is an approachable dessert that anyone can make!
My favorite thing to do is whip up at apple crisp and get it in the oven right before guests come over. Your house will smell amazing and dessert is ready in under an hour. Two birds, one stone.
This apple crisp recipe is a classic apple crisp recipe that is foolproof and delicious! We understand that not everyone knows how to make the perfect apple crisp, so let's dig a little deeper on how to make the perfect apple crisp.
What is the difference between apple crisp and apple cobbler? Apple crisp is usually made with an oat crumble topping and apple cobbler is typically made with a thick biscuit topping.
What can I do with lots of apples? There are so many delicious apple recipes out there! We have healthy apple recipes that will keep you in the kitchen all apple season long. Here are some of our favorite apple recipes;
Should apple crisp be refrigerated? We recommend letting your apple crisp cool completely before covering it and storing it in the refrigerator for up to 7 days.
How to Make Apple Crisp
Step 1
First things, first. Choose your apples!
Any apple will do for an apple crisp. As long as they are firm apples they will do the trick. The most important thing is that no apples are wasted, so even if the apples aren't ideal for a crisp or a pie, give them a try!
After choosing what apples to use, peel them and chop them into small chunks. Place them in a greased 8×8  and sprinkle them with flour and orange juice. Mix until all of the apples are coated in four and juice. Set the apples aside for later.

Step 2
The second step to making the perfect apple crisp is combining the rest of the ingredients you have to make a buttery crumble for your apple crisp topping.
Place oats, flour, cinnamon, sugar, and salt into a bowl. Place softened butter into the bowl and use a fork to cut and combine all of the ingredients until a crumble is formed.
Here's a tip–> If your butter isn't quite room temperature, try cutting it into thin squares and then place it in the bowl. From there it should be easier to work with.
Step 3
Finally, pour the crumble topping over the apples and evenly spread the crumble topping over the apples. Place apple crisp in the oven and bake for 40 minutes at 375ºF.
Remove the crumble when the crumble topping is of your desired golden brown consistency!

Healthy Dessert Recipes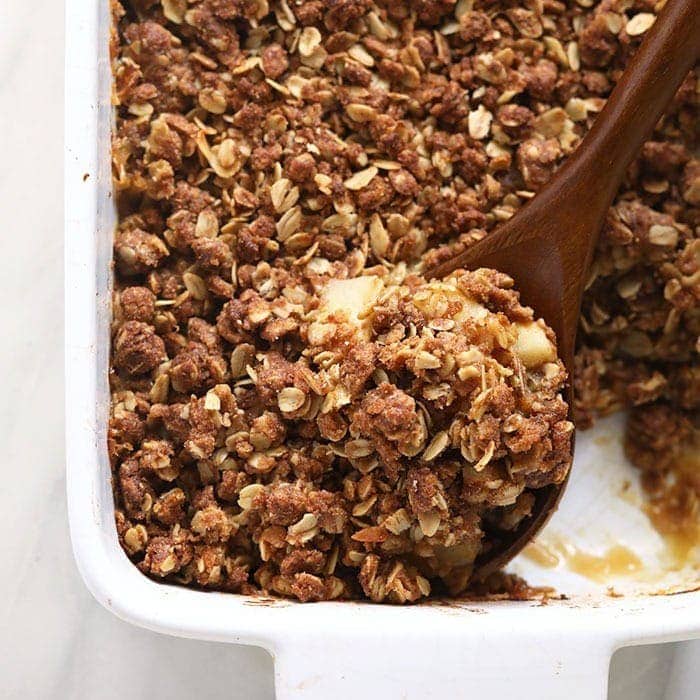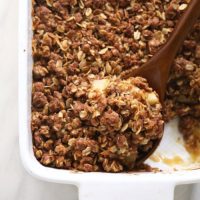 Apple Crisp
This delicious apple crisp is made with all of your favorite fall ingredients and is ready in under an hour! Grab your favorite apple and make an apple crisp for the week!
Prep:
20 minutes
Cook:
30 minutes
Total:
50 minutes
Ingredients
Apple Filling
5

medium Gala apples, peeled

2 tablespoon

s white whole wheat flour

1/3 cup

 orange juice (option to sub water or lemon juice)
Crisp Topping
1.5 cup

s rolled oats

1/2 cup

 white whole wheat flour (any kind of flour will work!)

1/2 cup

 brown sugar (option to use coconut sugar)

1 teaspoon

 cinnamon

1/8 teaspoon

 salt

1/2 cup

 unsalted butter, softened (option to use coconut oil or half and half)
Instructions
First, preheat oven to 375ºF and spray a cake pan (or any casserole dish) with nonstick cooking spray. We used a casserole dish.
Then, prep apples by peeling and dicing into small pieces. Then transfer them to the bottom of the casserole dish and pour in orange juice and sprinkle on four. Toss and set aside.
In a separate large bowl, mix together crumble topping. Place rolled oats, white whole wheat flour, brown sugar, cinnamon, and salt.
Then, add in a stick of softened butter and use a fork (or your hands) to cut the butter into the dry ingredients until it forms little crumbles.
Evenly spread crumble topping over the apples in the casserole dish.
Bake at 375ºF for 40 minutes or until the apple filling begins to bubble, the apples are at the desired consistency, and the crumble topping begins to brown.
Nutrition Facts
Serving Size:
1/6
Calories:
287
Sugar:
35
Fat:
4
Fiber:
7
Protein:
5
Category:
Dessert
Method:
Oven
Cuisine:
American