This delicious apple crisp recipe is made with a simple apple filling and a delicious crumble topping. Make this healthier, fall-inspired dessert today!
We are loving apple recipes right now! If you have leftover apples try making our easy cinnamon apple bread or these delicious apple cinnamon muffins.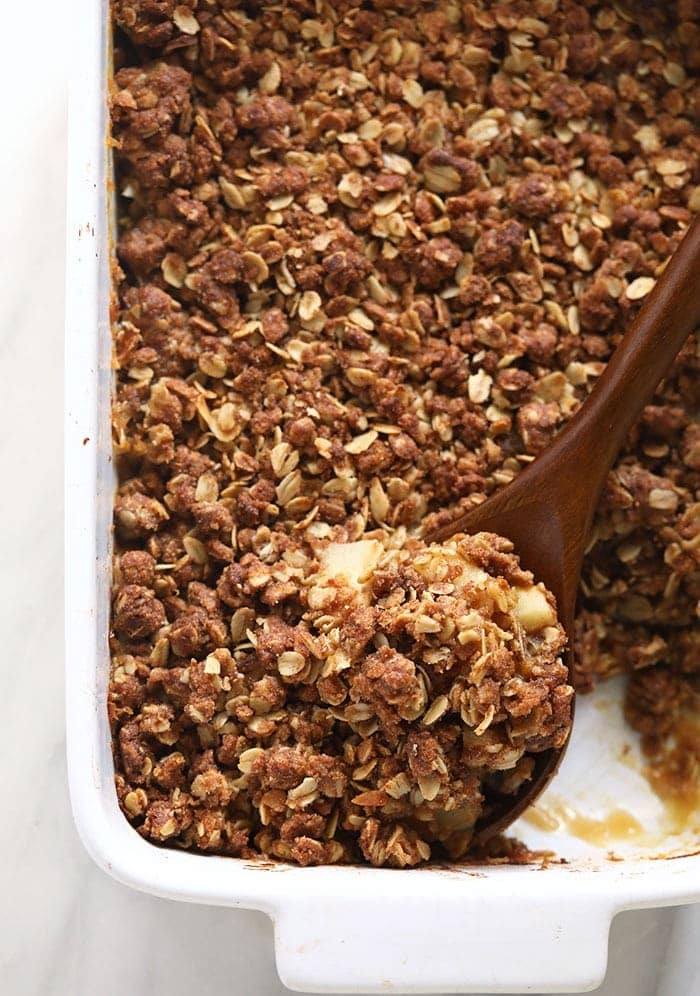 The Best Apple Crisp Recipe
Can you think of anything cozier and fall-like than Apple Crisp? The answer is, unequivocally, no! We know there are Apple Crisp recipes aplenty, but this one might take the cake, errr, crisp!
This easy apple crisp recipe is a classic crisp recipe that is foolproof and delicious! We understand that not everyone knows how to make the perfect apple crisp, so in this post, we'll give you the nitty-gritty.
Our signature apple crisp recipe is made with a simple apple filling and a golden brown, perfectly sweetened oatmeal crisp topping.
All the Toppings
Made with whole ingredients
Seasonal
Healthier
Ready in no time!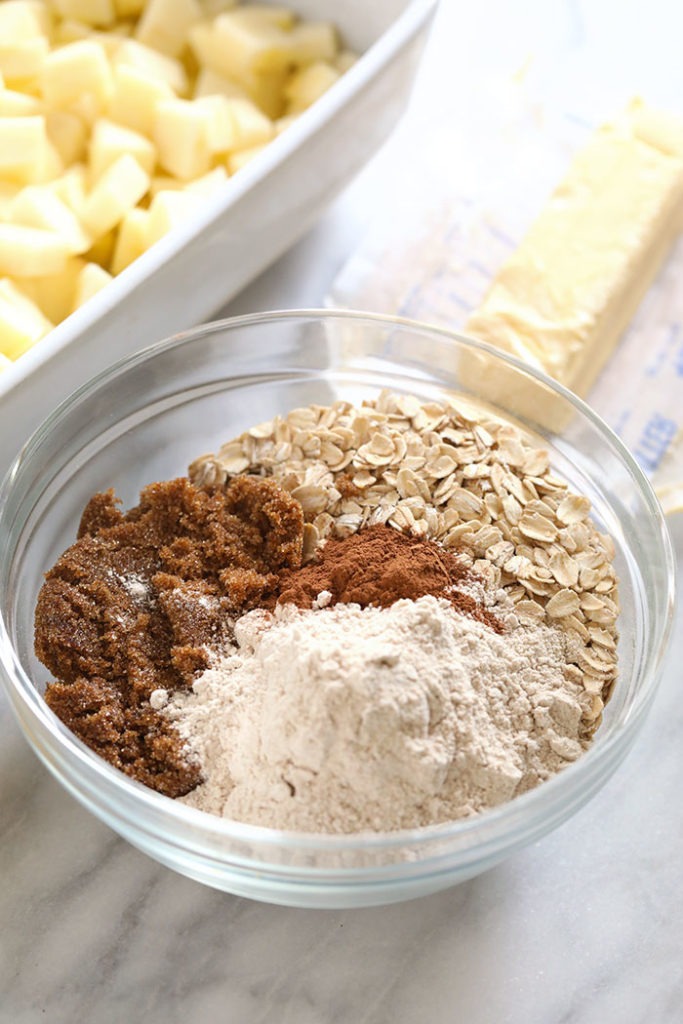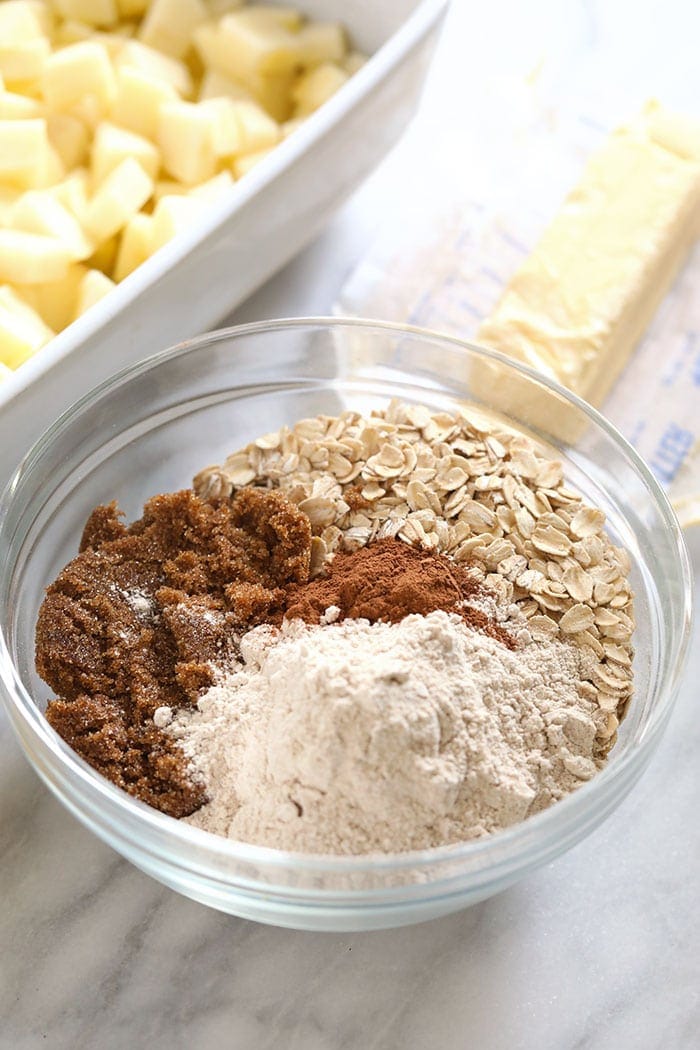 How to Make Apple Crisp
Step 1: Apple Filling
First things, first. Choose your apples! Most apples will work for apple crisp. Our favorite variety to use is Gala because it's sweet and crisp. Here are a few other favorites to try:
Golden delicious
Braeburn
Honeycrisp
Granny smith apples
After choosing what apples to use, peel them and slice them into small chunks. Place them in a greased 8×8-inch baking dish and sprinkle them with flour and orange juice.
Mix until all of the apples are coated and set aside for later.
Orange juice? Really?
Yes, you read that correctly. We love adding orange juice to our crisp recipes because a little bit of citrus really does make a difference. Just trust us!
Step 2: Oatmeal Crisp Topping
The second step to making the perfect apple crisp is combining the ingredients you have to make a buttery crumble for your apple crisp topping.
Here's what you need:
Rolled oats: we love using rolled oats because it gives your crisp topping a nice texture. However, you can also use quick-cooking oats, too.
White whole wheat flour: flour is used to thicken the apple filling. We like to use white whole wheat flour, but all purpose works too.
Light brown sugar: our sugar of choice when it comes to crisp recipes, is light brown sugar. Feel free to use coconut sugar, too. Just note that your crisp topping with be darker.
Ground cinnamon: there is nothing like apples + cinnamon. If you're feeling fancy, you can use a pumpkin pie spice or even chai spice.
Unsalted butter: butter adds so much amazing flavor and also helps brown the crust.
Optional: adding a chopped nut to this crisp topping is just delightful (speaking from experience). Try adding 1/3 to 1/2 cup of chopped walnuts or pecans.
Here's how to make it:
Place oats, flour, ground cinnamon, brown sugar, and salt into a bowl. Stir to combine.
Add the softened butter into the bowl and use a fork to cut and combine all of the ingredients until a crumble is formed.
Here's a tip!
If your butter isn't quite room temperature, try cutting it into thin squares and then place it in the bowl. From there it should be easier to work with.
Step 3: Bake
Finally, sprinkle the crumble topping over the apples so that it is easily spread out. Then, place apple crisp in the oven and bake for 40 minutes at 375ºF.
Bake until the crumble topping begins to turn golden brown and the apples start to bubble.
Serve your dessert with vanilla ice cream or fresh whipped cream.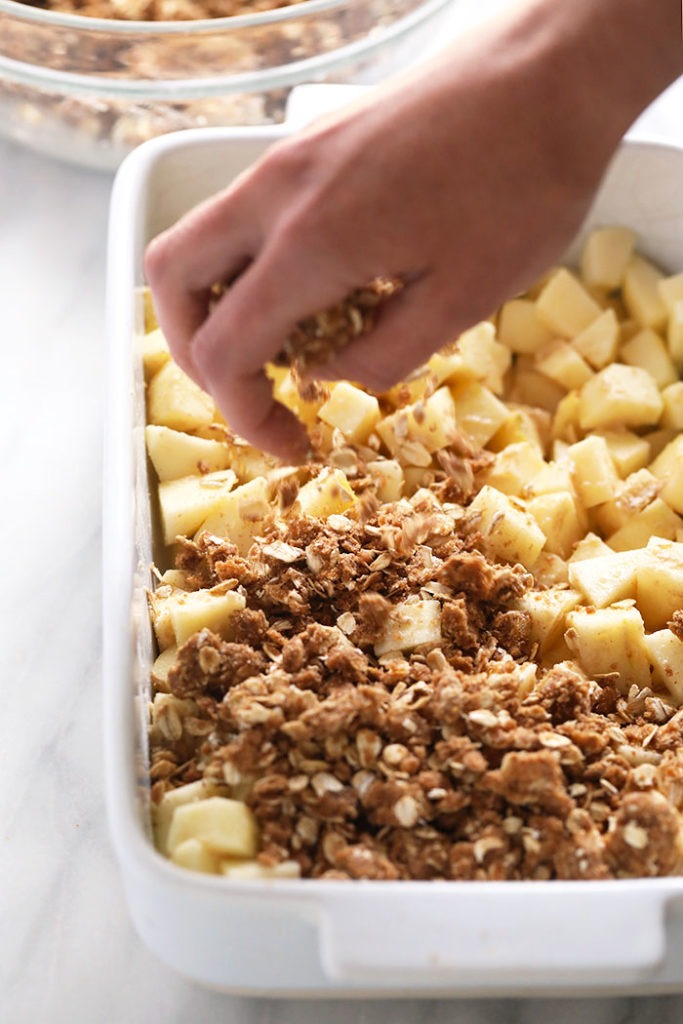 Apple Crisp 101
Apple crisp is such a nostalgic dessert recipe for so many people. I didn't realize how easy it was to make apple crisp until later into my adult life! Apple crisp is an approachable dessert that anyone can make!
My favorite thing to do is whip up an apple crisp and get it in the oven right before guests come over. Your house will smell amazing and dessert is ready in under an hour. Two birds, one stone.
What is the difference between apple crisp and apple cobbler? Apple crisp is usually made with an oat crumble topping and apple cobbler is typically made with a thick biscuit topping.
What is the difference between apple crisp and apple pie? Apple crisp and pie have similar fillings, but a crisp has a crumble topping and a pie has a pie crust topping.
What can I do with lots of apples? There are so many delicious apple recipes out there! We have healthy apple recipes that will keep you in the kitchen all apple season long. Here are some of our favorite apple recipes:
Should apple crisp be refrigerated? We recommend letting your apple crisp cool completely before covering it and storing it in the refrigerator for up to 3-5 days.
Is apple crisp gluten free? If you're hoping to make this recipe gluten-free, feel free to sub the white whole wheat flour for gluten free all-purpose flour. Also, make sure that your oats are certified gluten free.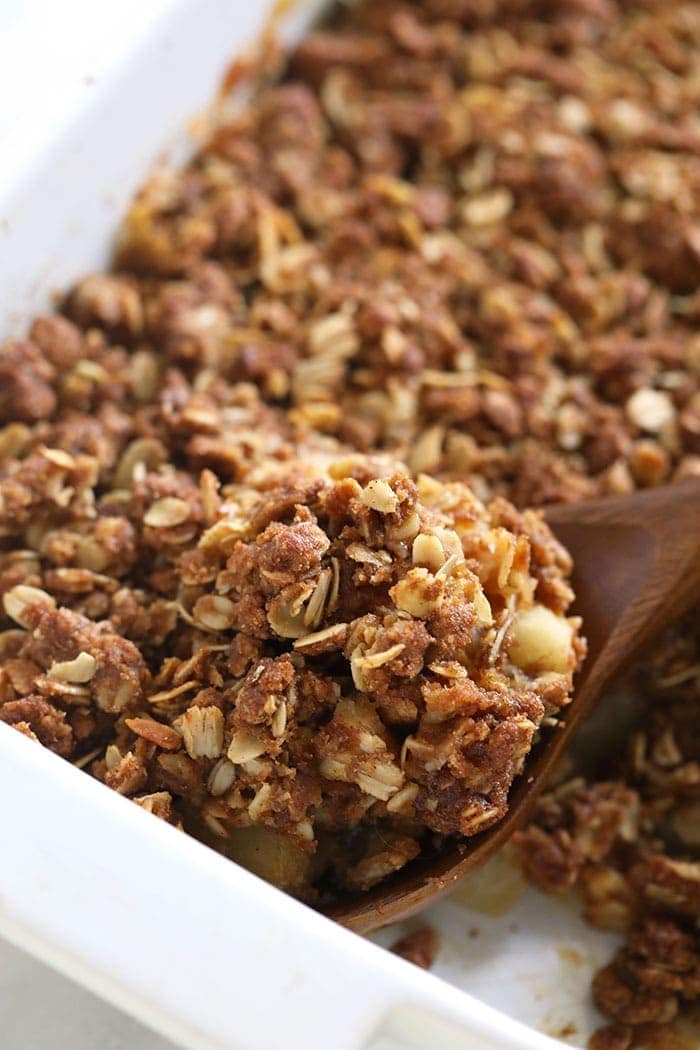 Variations
Are you a homemade apple crisp pro and want to mix things up a bit? Here are a few variation ideas!
Add a berry: Add 1/2 cup blueberries, strawberries, or blackberries to the apple filling to give your crisp a twist.
Spice up the crisp topping: In addition to ground cinnamon, try adding a few other warm spices such as nutmeg, cardamom, or allspice.
Make it vegan: to make this recipe vegan, swap the butter for vegan butter or coconut oil.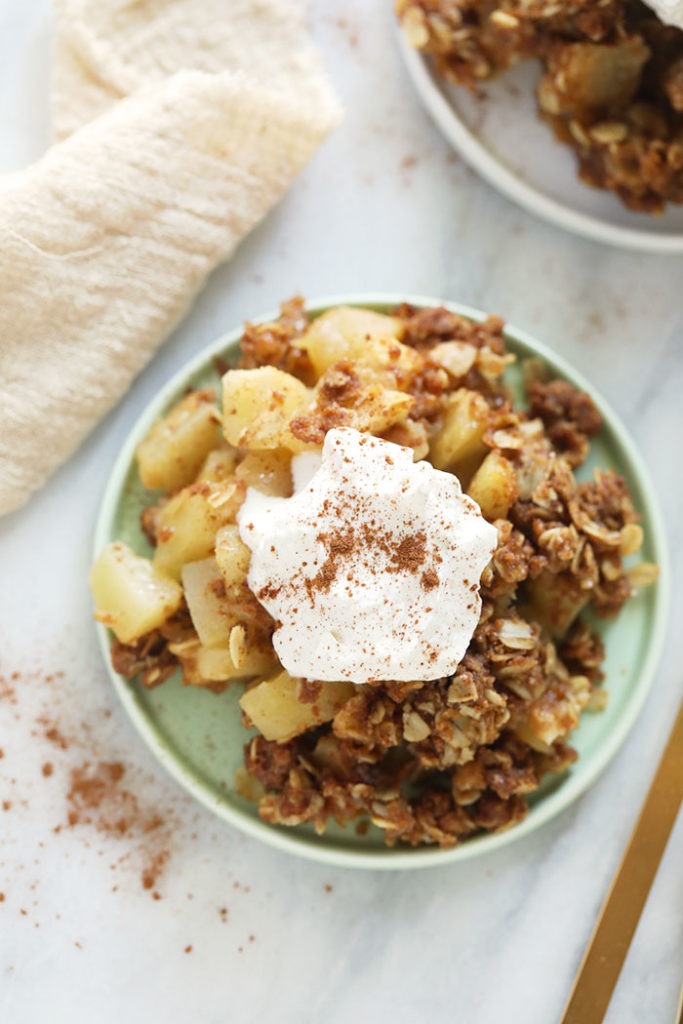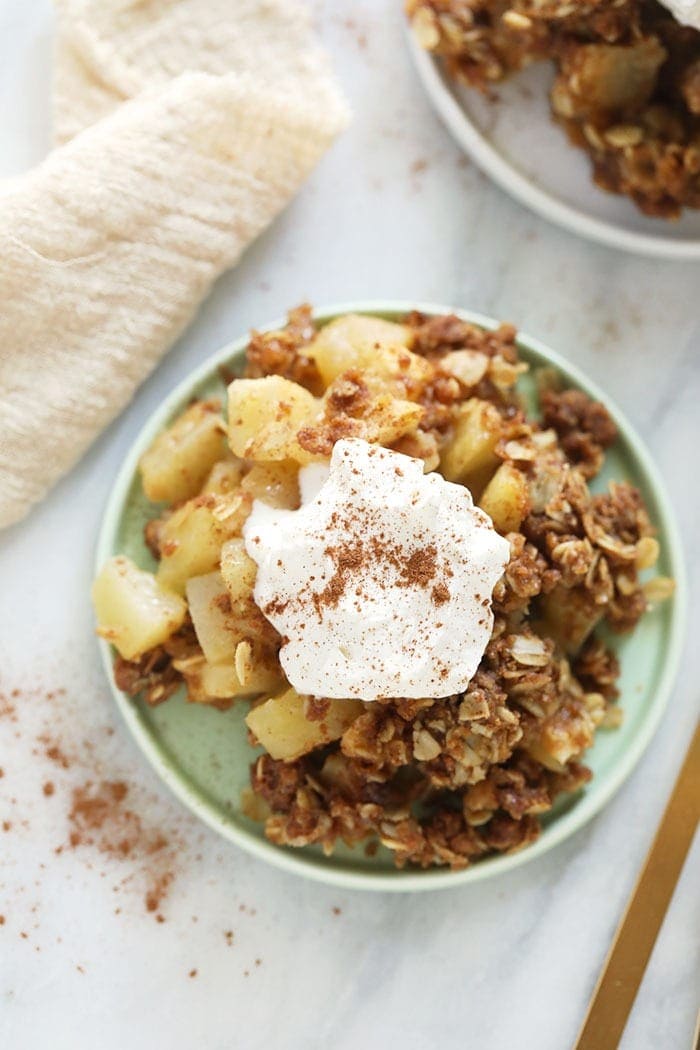 Storage
Let your dessert cool completely. Then, transfer it into an airtight container and cover. Refrigerate for 3-5 days.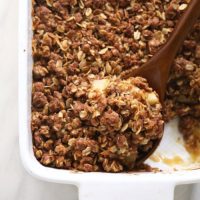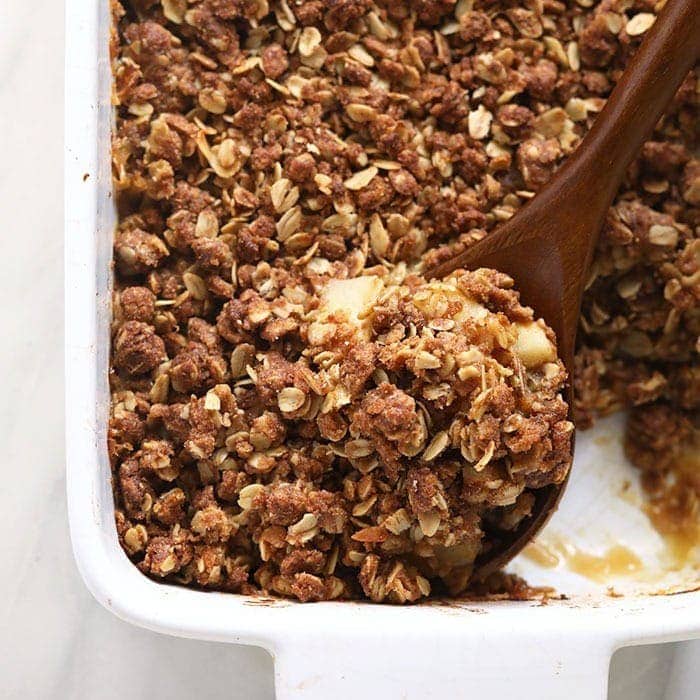 Easy Apple Crisp Recipe
This delicious apple crisp is made with all of your favorite fall ingredients and is ready in under an hour! Grab your favorite apple and make this easy apple crisp for the family.
Ingredients
Apple Filling
5

medium Gala apples

peeled (any kind of apple works)

2

tablespoons

white whole wheat flour

1/3

cup

orange juice

option to sub water
Instructions
First, preheat the oven to 375ºF and spray a 9x9-inch baking dish with nonstick cooking spray. You can also use a bigger casserole dish such as a 9x13-inch. Either will work.

Then, prep apples by peeling and dicing into small pieces. Then transfer them to the bottom of the casserole dish and pour in orange juice and sprinkle on four. Toss and set the mixture aside.

In a separate large bowl, mix together crumble topping. Place rolled oats, white whole wheat flour, brown sugar, cinnamon, and salt.

Then, add in a stick of softened butter and use a fork (or your hands) to cut the butter into the dry ingredients until it forms little crumbles.

Evenly spread crumble topping over the apples in the casserole dish.

Bake at 375ºF for 40 minutes or until the apple filling begins to bubble, the apples are at the desired consistency, and the crumble topping begins to brown.

Serve with fresh whipped cream or a scoop of vanilla ice cream.
Nutrition facts
Calories:
287
kcal
Protein:
5
g
Fat:
4
g
Fiber:
7
g
Sugar:
35
g