Learn how to make the fluffiest whipped cream. All you need are 3 ingredients, a stand mixer, and dessert to serve it with.
Once you've made this whipped cream serve it on top cakes, pies, apple crisp or these pumpkin pie bars.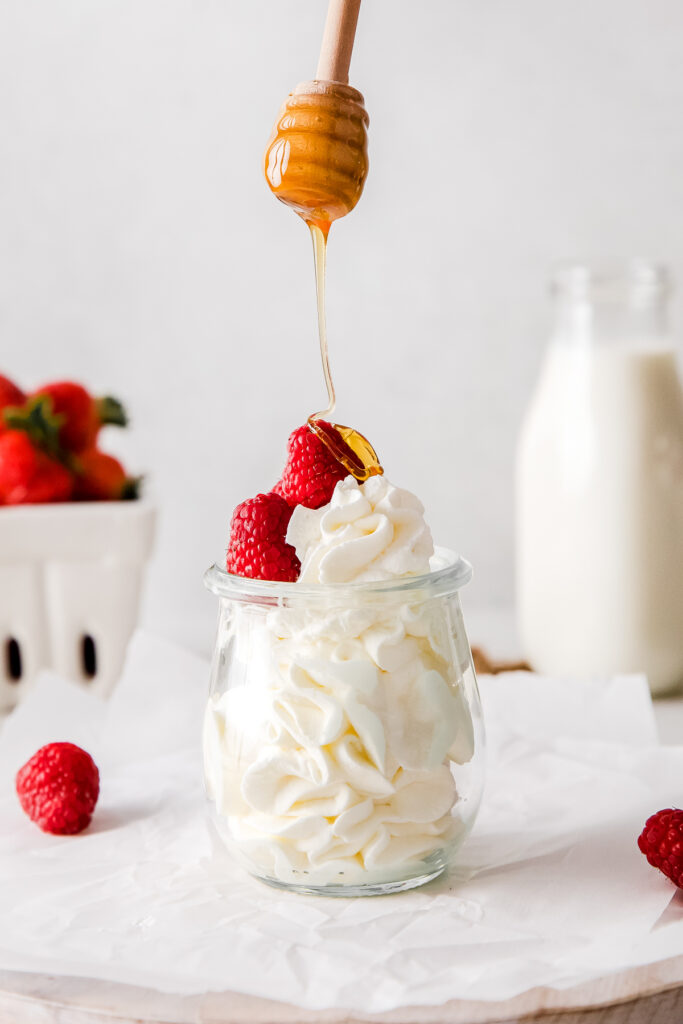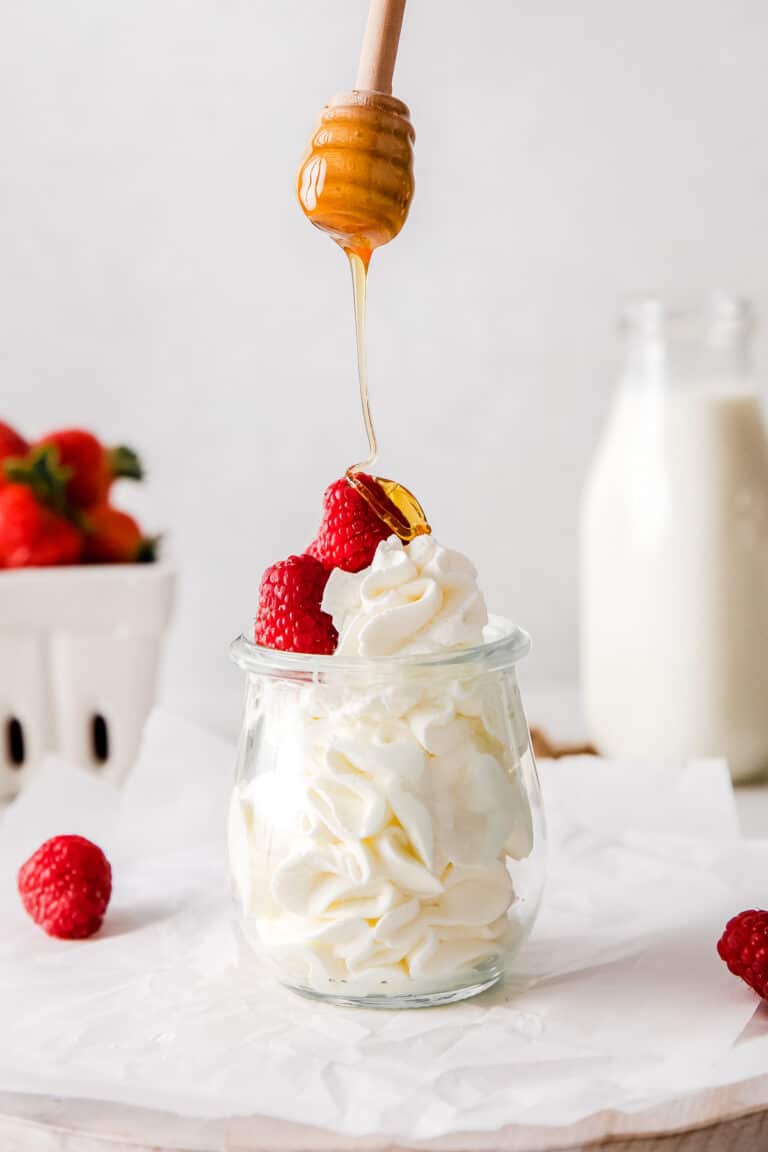 The Perfect Homemade Whipped Cream
Everyone loves a delicious and fluffy dollop of homemade whipped cream. My oh my. Is there anything better than berries and whipped cream or a big scoop of whipped cream on top of a skillet cookie or on a hot fudgey brownie? NO!
We are going to show you how to make the most perfectly whipped cream that you can make for a last minute dessert any day of the week.
A Few quick tips
Learn how to make homemade whipped cream with just a few ingredients. Start with these tips before trying a few tricks.
What tool to use. You can definitely try to hand whisk your whipped cream but it is easiest to make whipped cream with a hand mixer or stand mixer.
Cold is best. Be sure your heavy whipping cream is very cold. We also suggest that you chill the mixing bowl you are going to use.
What bowl you use matters. Be sure you have a big enough mixing bowl so the heavy cream wont splatter all over.
Think slow. Whisk your whipped cream on medium/high speed, not high speed. You don't want to over whisk.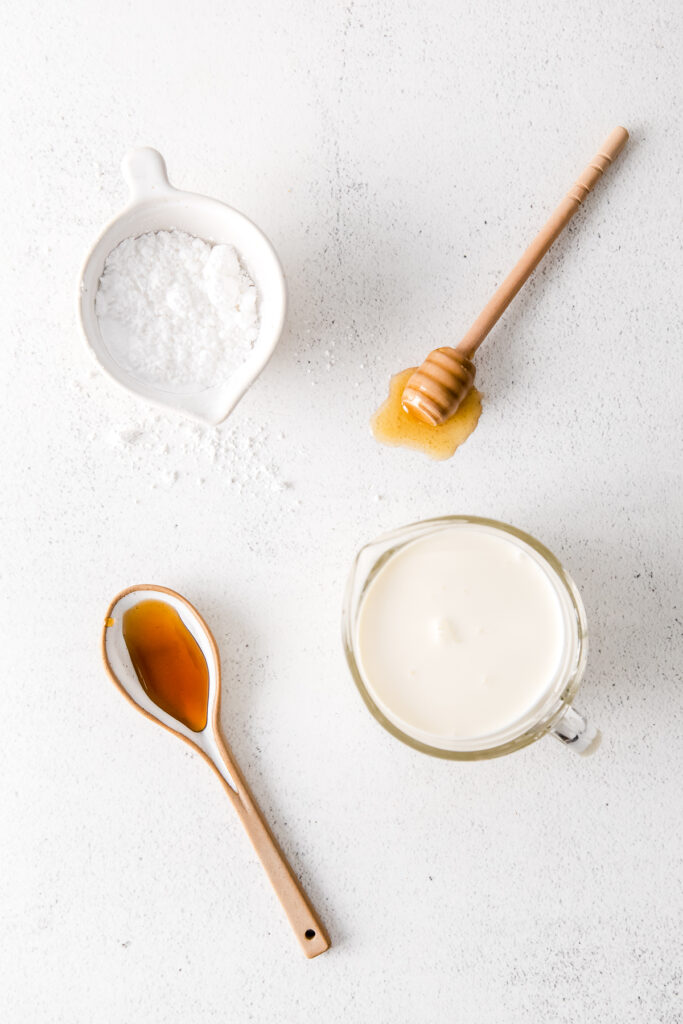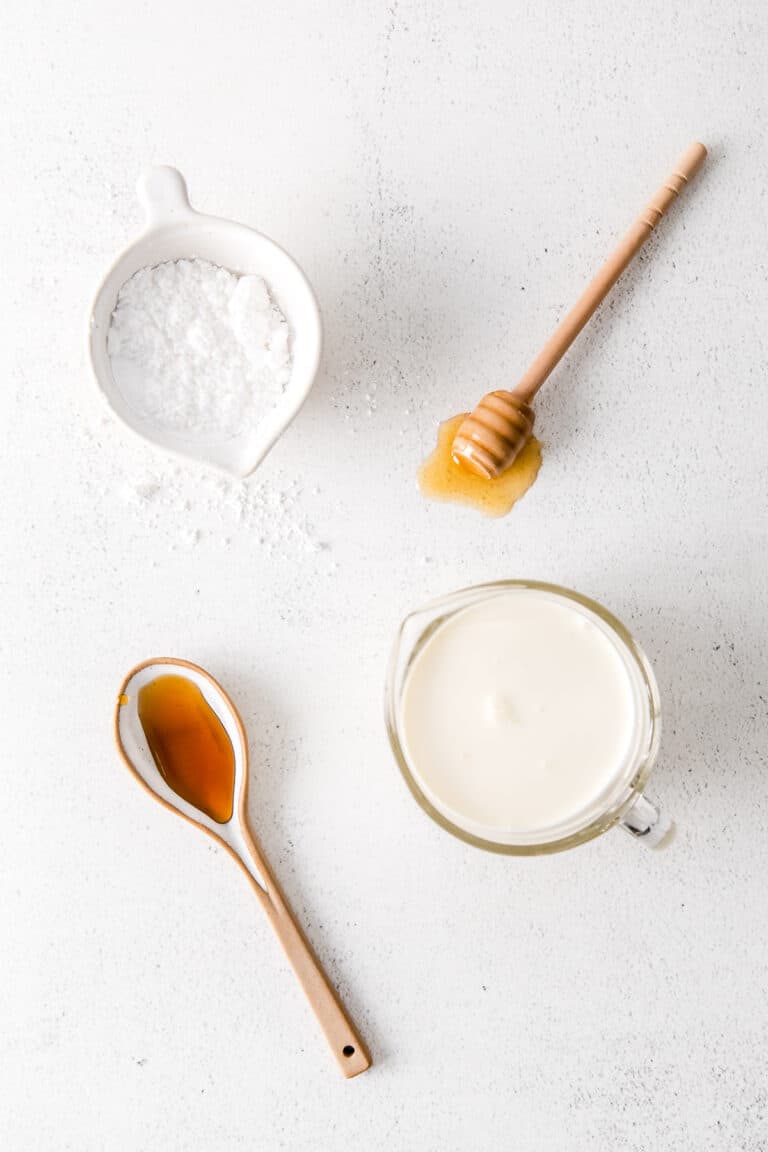 3 Ingredients You Need
Heavy Whipping Cream or Whipping Cream
You can use both whipping cream or heavy whipping cream for you homemade whipped cream. We use 1 cup heavy whipping cream for this recipe.
Heavy whipping cream and heavy cream have has a higher fat content of 36% and whipped do a thick and delicious cream that holds up well when stored in the refrigerator.

Whipping cream and light whipped cream has a lower fat content of 30-35% and whipped just fine. You will get a less rich whipped cream that doesn't store well in the refrigerator.
Sweetener
How people sweeten their whipped cream is a personal preference. We have three favorite sweeteners to use when we use whipped cream. You can use a tablespoon of any of the sweeteners together for this recipe.
Honey
Powdered sugar
Maple syrup
Vanilla
We prefer to use pure vanilla extract or fresh vanilla bean for this whipped cream recipe.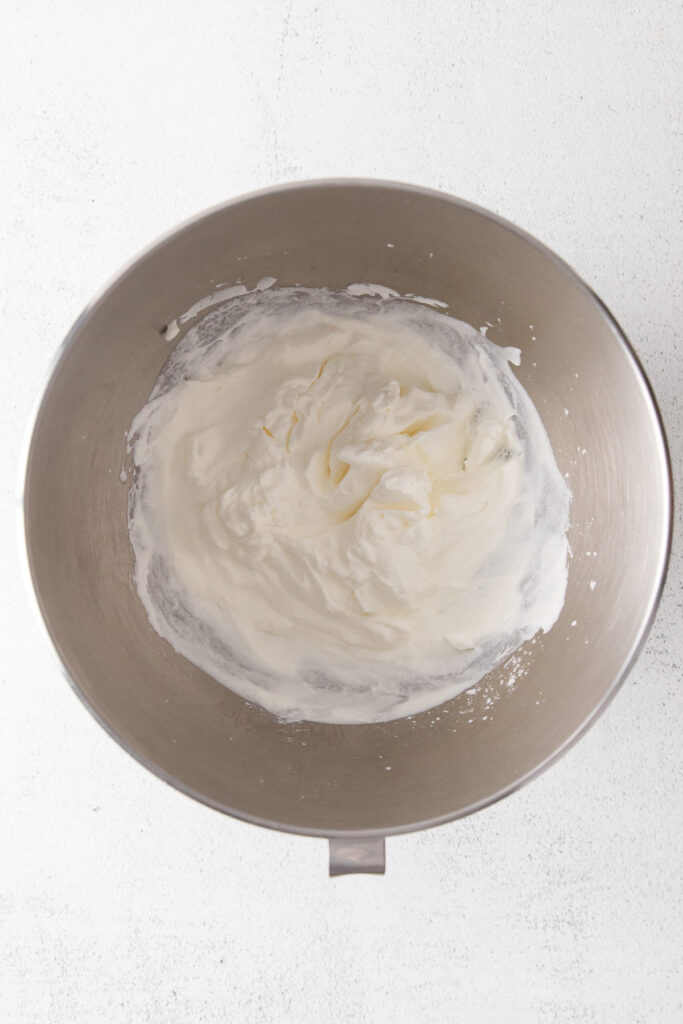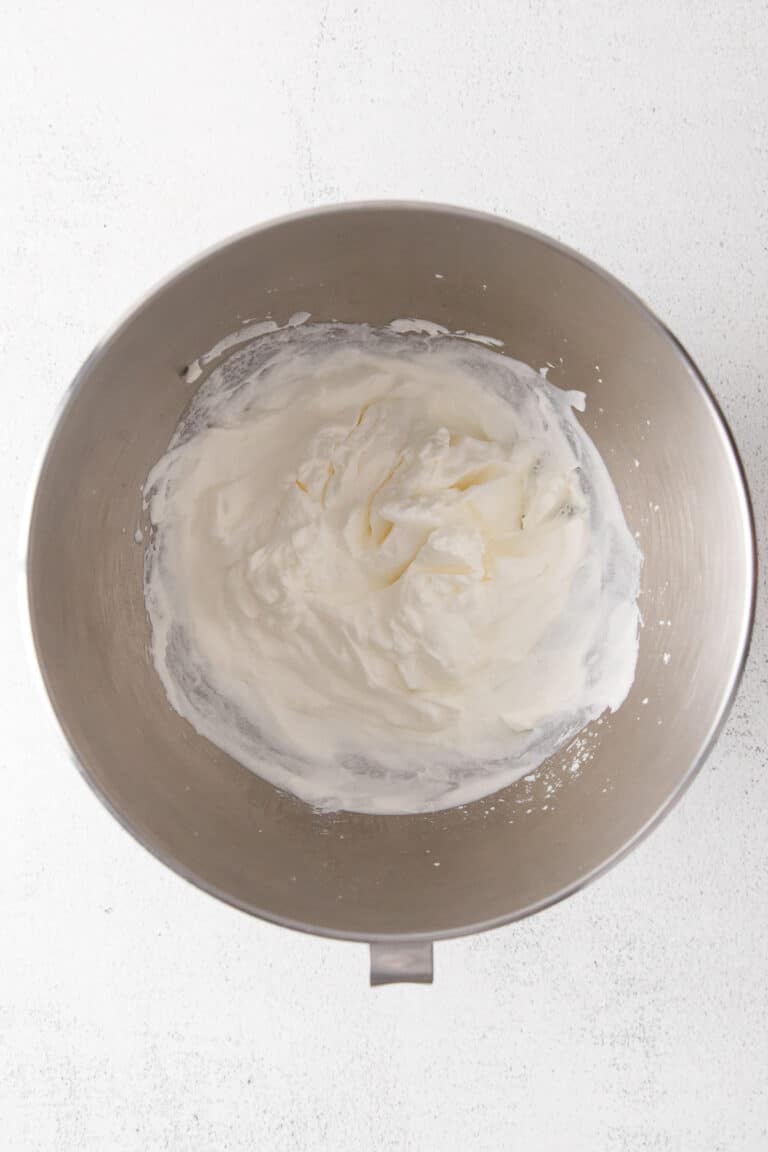 How to Make Whipped Cream
Before a quick look at directions on how to make whipped cream, remember that your whipped cream turns out best if it is cold. If you have time, go one step further and put your mixing bowl and whisks in the fridge to keep that cold too.
Pour the cold heavy cream into a mixing bowl and begin whisking the whipped cream on medium/high for about 30 seconds.
Add the sweetener of your choice and vanilla to the bowl and begin to beat the whipped cream until soft medium peaks begin to form.
You may need to scrape the sides of the bowl a few times while you whip your whipped cream. Scrape the sides of the bowl until soft peaks form and then serve your whipped cream with all of your favorite desserts.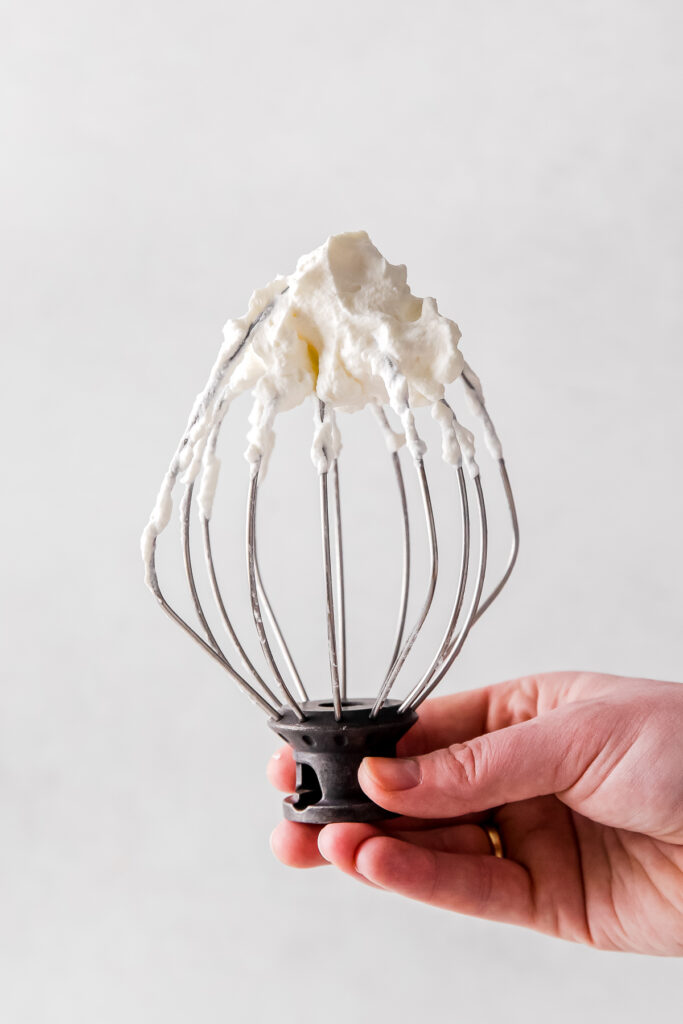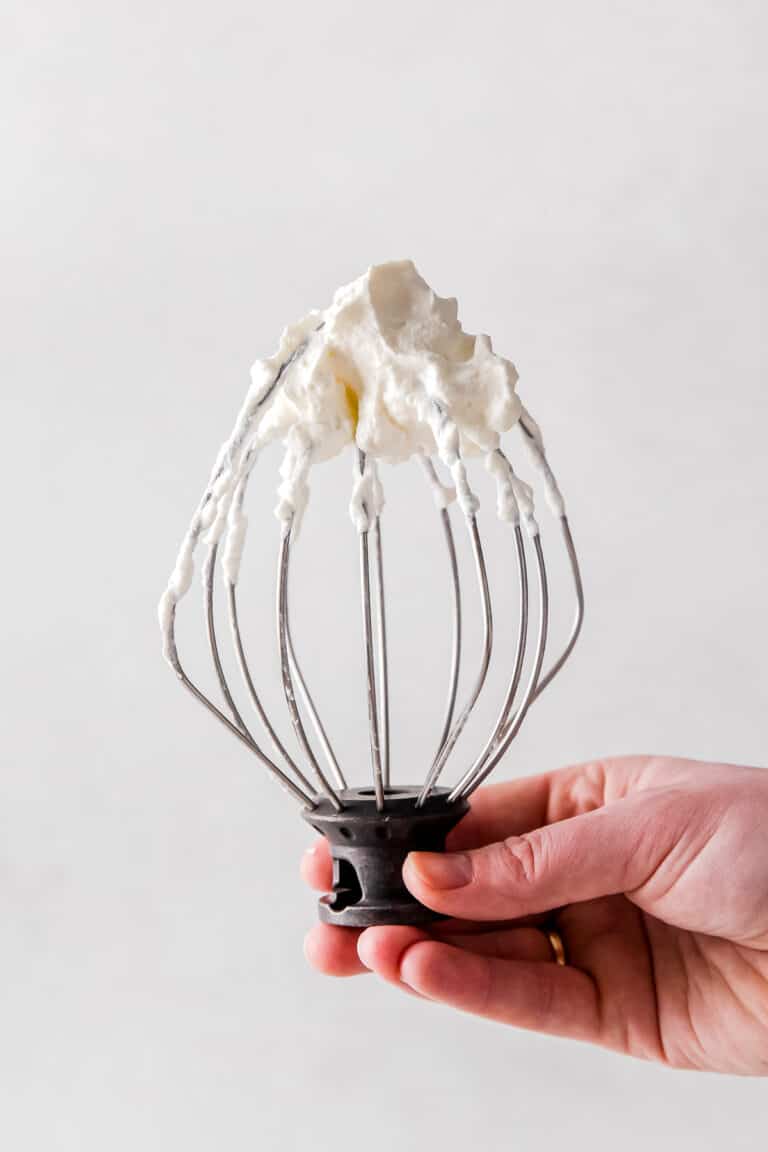 Do Not Over Mix!
Hey, YOU, don't over whip that whipped cream. We prefer soft peaks for our whipped cream. If you beat your whipped cream on high for too long you will end up curdling your whipped cream and you will be very sad.
How to Store Whipped Cream
If you used heavy whipped cream or heavy cream your whipped cream will last a day or so in the refrigerator. Store the whipped cream in an air tight container or jar, leaving a bit of air in the container.
Can You Freeze Whipped Cream?
Yes, you can freeze whipped cream. It is actually pretty fun.
Line a plate or a baking sheet with parchment paper and scoop 1 tablespoon of whipped cream at a time on to the parchment paper into little dollops. Repeat until all the whipped cream is scooped.
Place the lined plate in the freezer until completely frozen.
Place the frozen whipped cream dollops into a freezer safe bag.
Serve the frozen whipped cream on hot chocolate, coffee, or other drinks that require cream. It is SO GOOD.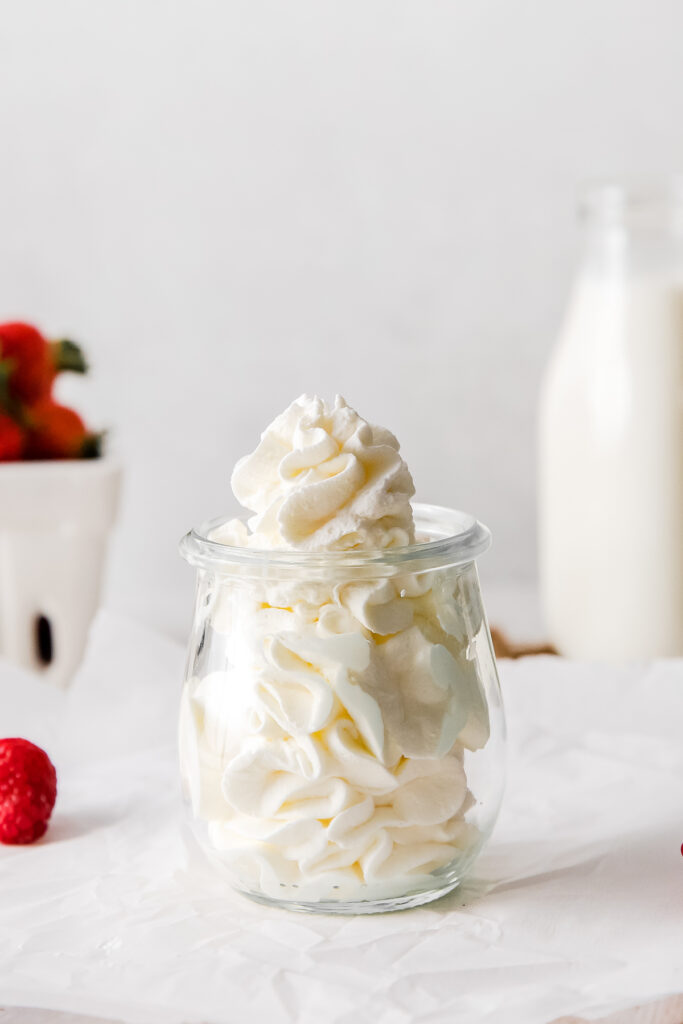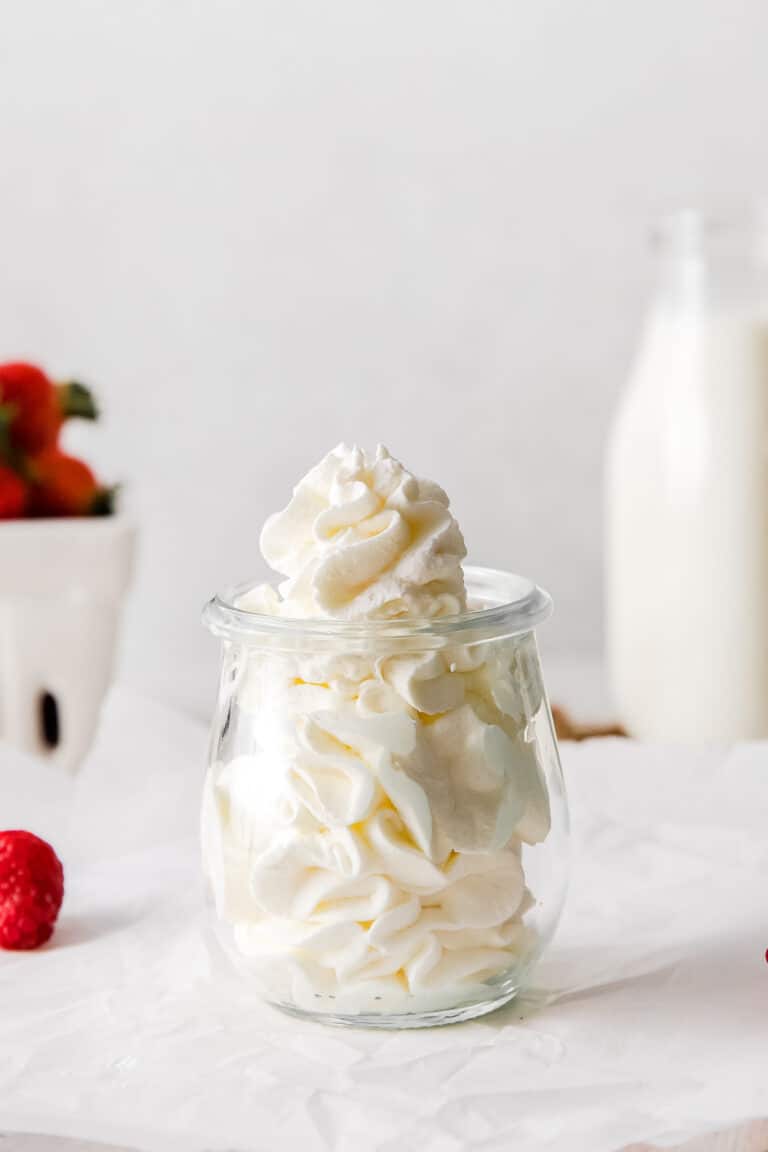 How to Flavor Whipped Cream
We kept of whipped cream simple because we want to dessert we serve it with to shine! However, there are instance where you may want to flavor your whipped cream. Below are a couple different ways you can flavor your whipped cream.
Extracts
You can change the flavor of you whipped cream by simply changing what extract you use. Base what extract you use by what dessert you are serving with the whipped cream.
Try almond extract, peppermint extract, orange extract, or any other extracts that get you excited.
Jams
A fun way to add flavor and color to whipped cream is to add 1-2 teaspoons of jam to this whipped cream recipe. You can add raspberry jam, strawberry jam, blueberry jam, or any jam in-between.
Cocoa powder
A chocolate whipped cream sounds like a dream. Add 1-2 tablespoons of cocoa powder to this whipped cream recipe for a super chocolatey whipped cream recipe.
What Do I Serve with Whipped Cream?
Oh boy, the options are endless when it comes to what can serve with whipped cream. You can top breakfast recipes, desserts, and snacks with this fluffy whipped cream. Our FAVORITE dessert is serving this whipped cream with fresh berries.
If you're looking for other recipes to serve with whipped cream, below are some of our favorites.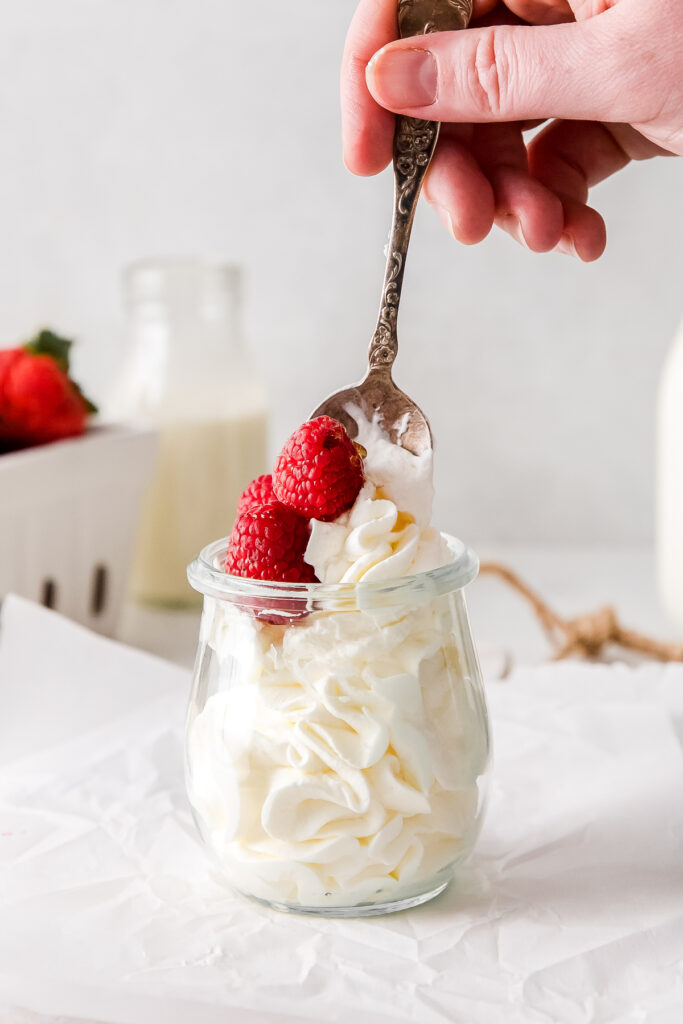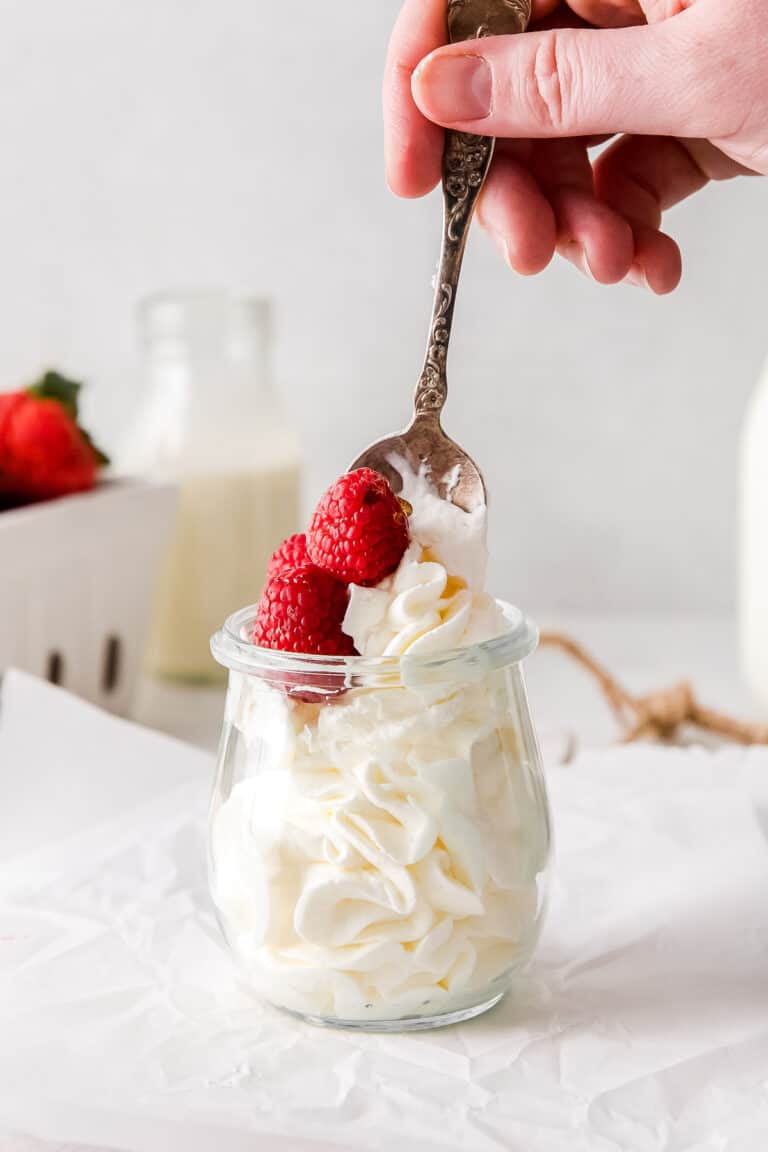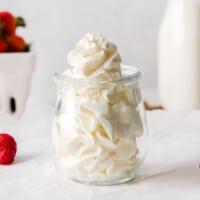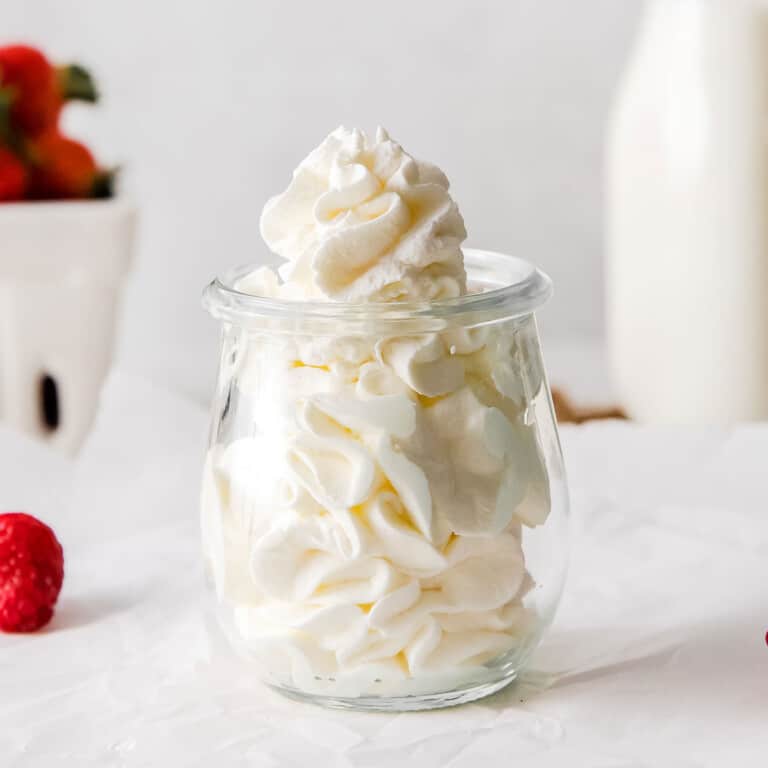 How to Make Whipped Cream
Learn how to make whipped cream in just a few simple steps. You only need a few ingredients and a stand mixer.
Ingredients
1

cup

heavy whipping cream

1

tablespoon

honey

maple syrup, or powdered sugar

½

teaspoon

vanilla extract or paste from half a vanilla bean

For serving: blueberries

strawberries, and raspberries
Instructions
Place a metal stand whisking bowl and whisking attachment in the refrigerator (for best results). 

When the bowl is cold, remove it from the refrigerator and place it under the standing mixer. 

Add heavy whipping cream to the bowl and whisk on medium/low speed until the cream begins to thicken (3-4 minutes). Add sweetener of choice and vanilla extract. 

Continue whipping on medium/low speed until peaks begin to form (5-7 minutes). 

Use the whipped cream on or in your favorite desserts.
Tips & Notes
Yields: ~2 cups whipped cream.
Nutrition facts
Calories:
54
kcal
Carbohydrates:
1
g
Protein:
0
g
Fat:
6
g
Fiber:
0
g
Sugar:
1
g