We made you the Fudgiest Healthy Brownies of your dreams! Made with a combination of coconut flour and almond flour, these healthy brownies taste like the real deal, but are actually grain-free, dairy-free, and gluten-free!
We love healthy dessert recipes! Similar to our sweet potato brownies, these fudgy paleo brownies are made with no grains and sweetened naturally with maple syrup!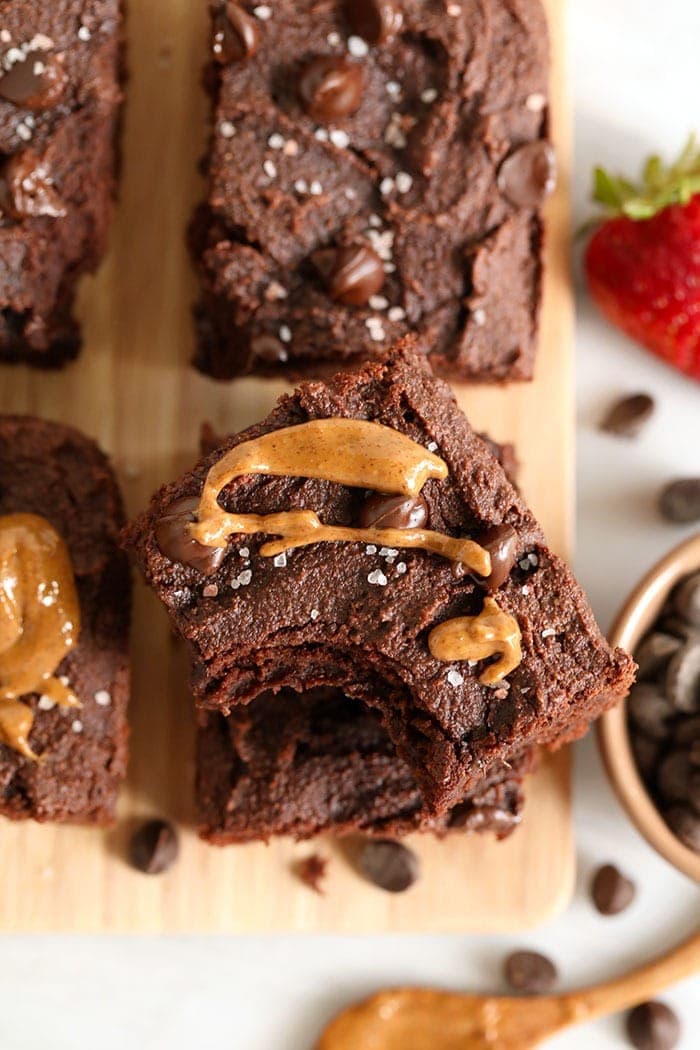 My motto with this healthy brownie recipe is "go chocolate or go home." These brownies are naturally sweetened with maple syrup, are grain-free & paleo, and are so FUDGY.
What Makes these Healthy Brownies?
Most brownies are made with a combination of flour, butter, sugar, and chocolate. While we LOVE all of those things, we thought we'd take it upon ourselves to get the same fudgy, chocolatey texture and flavor, but with better-for-you ingredients.
Here's the down low on these healthy brownies:
Gluten and grain-free – this healthy brownie recipe is made with a combination of almond flour and coconut flour.
All-natural sweetener – Instead of using white or brown sugar, we used maple syrup for the sweetener, which is plant-based and unrefined.
Minimal added oil – most brownie recipes call for 1/2 to 1 cup of butter or vegetable oil and this healthy brownie recipe only calls for 1 tablespoon of coconut oil. A lot of the fat (and fudginess for that matter) comes from almond butter!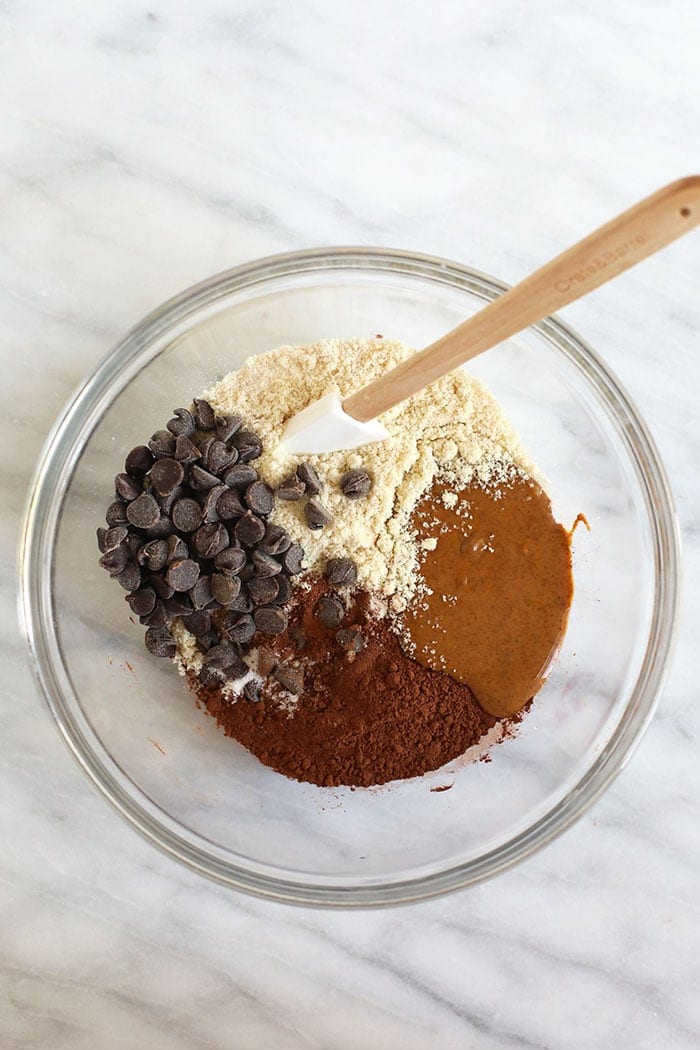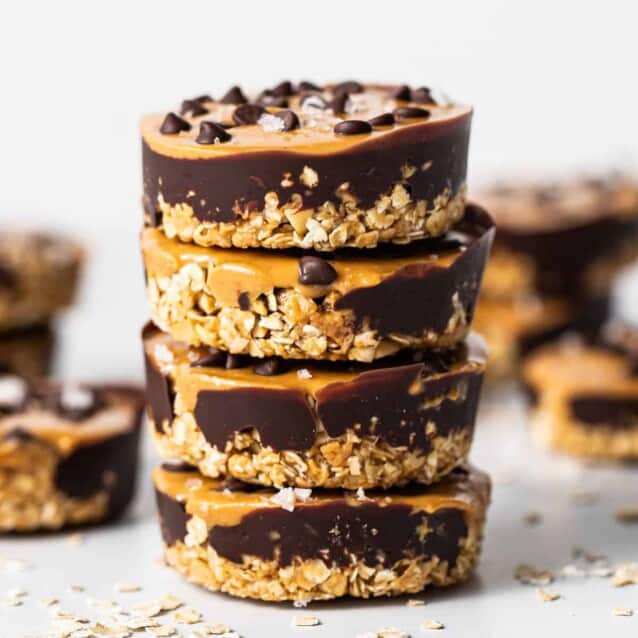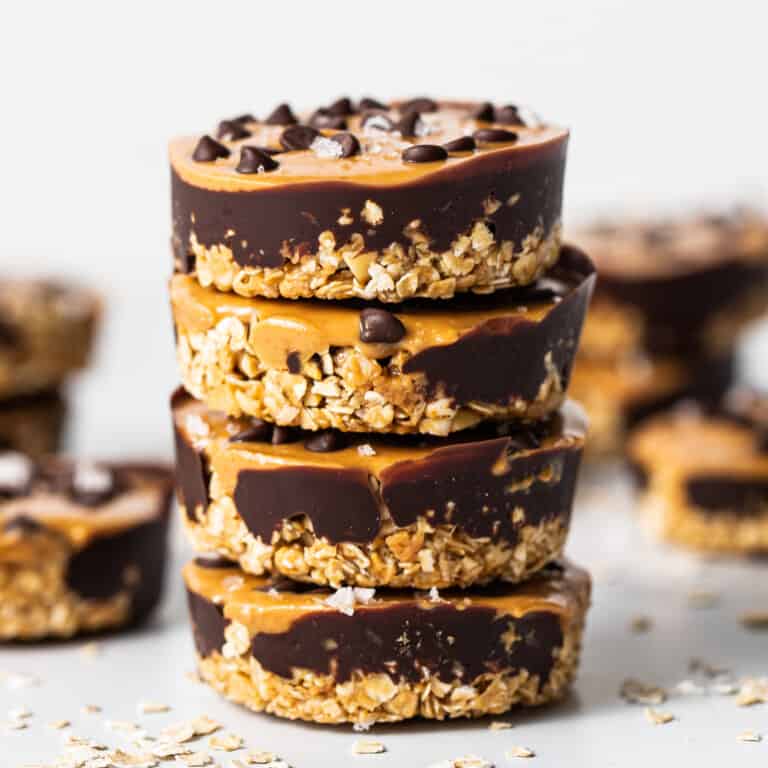 Subscribe!
Love desserts? Us too! Subscribe to our emails and get all of our best desserts straight to your inbox.
Our Flour Combination
For these little fudge delights, we used a mixture of grain-free flours. After a few tests, we figure out the perfect ratio of each flour to make them moist and fudgy. Don't worry, they aren't chalky whatsoever.
almond meal: when baking, always make sure to use the superfine ground almond meal. We prefer Bob's Red Mill.
coconut flour: a little goes a long with coconut flour. Make sure to only use the suggested amount. It does not swap 1:1 with any other flour.
cocoa powder: cocoa powder isn't technically a "flour," but we did use it in this recipe as one of the dry ingredients. Make sure to buy unsweetened cocoa powder.
Once you've got your grain-free flour combination ready to go, you can start adding your other ingredients. Here's what else you need:
Other Ingredients
baking powder: you only need 1/2 teaspoon of baking powder for this recipe. If you use more, things will get a little cakey and we want these to be fudgy instead!
chocolate chips: feel free to use dark, semi-sweet, or dark chocolate chips for these babies.
egg: in the past we've used more than one egg in our brownie recipes, however, you only need 1 large egg for this recipe. This will help decrease the cakey-ness and make them extra fudgy.
almond butter: almond butter is the key ingredient to these healthy brownies. Why? Almond butter is high in fat, which helps with the moisture content! It's also…DELICIOUS. Feel free to swap out for cashew butter if need be.
maple syrup: don't have maple? Feel free to swap for honey! Unfortunately, we don't recommend swapping for a granular sugar or extract like stevia. You'll need something liquid so you can swap 1:1 with no problems.
almond milk: Any kind of nut milk will work for this, even soy! So, pick your poison.
sea salt: this is like the cherry on top for these healthy brownies. Sprinkle a little Himalayan sea salt on top after they come out of the oven for a sweet and salty piece of heaven.
#1 tip for fudgy brownies
Our number 1 tip for fudgy brownies is —
DO NOT OVER BAKE!
Over baking your brownies isn't good for anyone. It takes away the fudginess and there is seriously nothing better than an ooey-gooey brownie!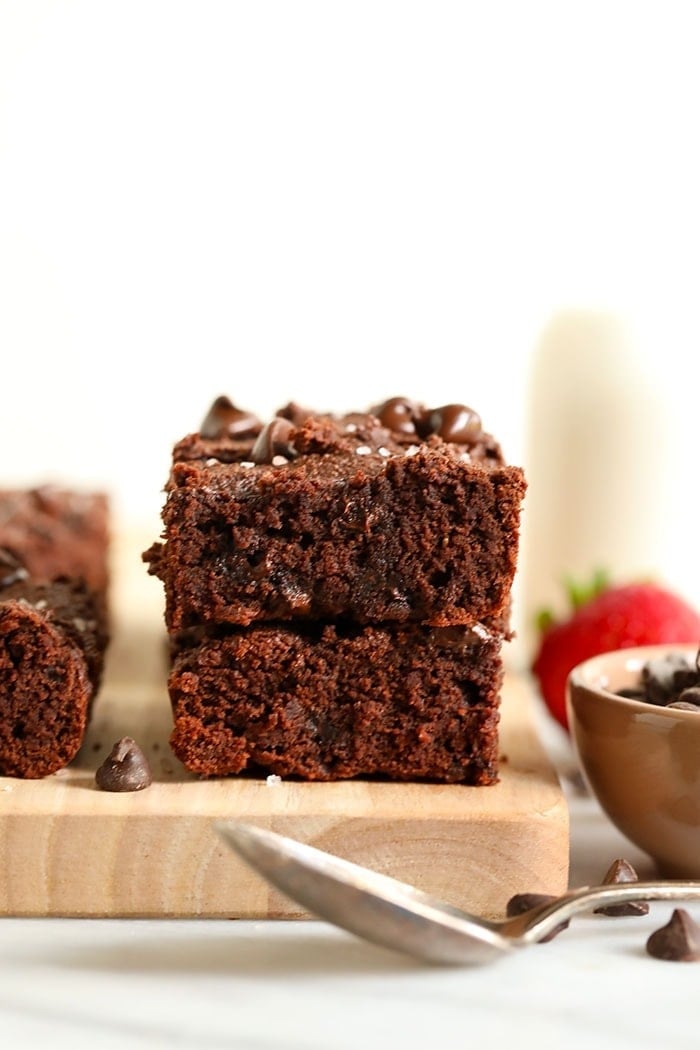 Storage
Can't eat all of these brownies in one sitting? Don't worry, we've got storage solutions for you! However you choose to store them, we recommend giving them a little nuke in the microwave for 15-20 seconds to warm them up and remelt the chocolate chips!
Counter: store in an airtight container on the counter for up to 3-5 days.
Fridge: store in an airtight container in the fridge for up to 5 days.
Freezer: let cool completely, then, wrap each brownie in a piece of plastic wrap and then again in a piece of tin foil. Store in the freezer for up to 3 months.
We recommend eating one of these lovely brownies warm with a cup of coffee. If you're feeling sassy, you can top it with a little almond butter or even a scoop of ice cream!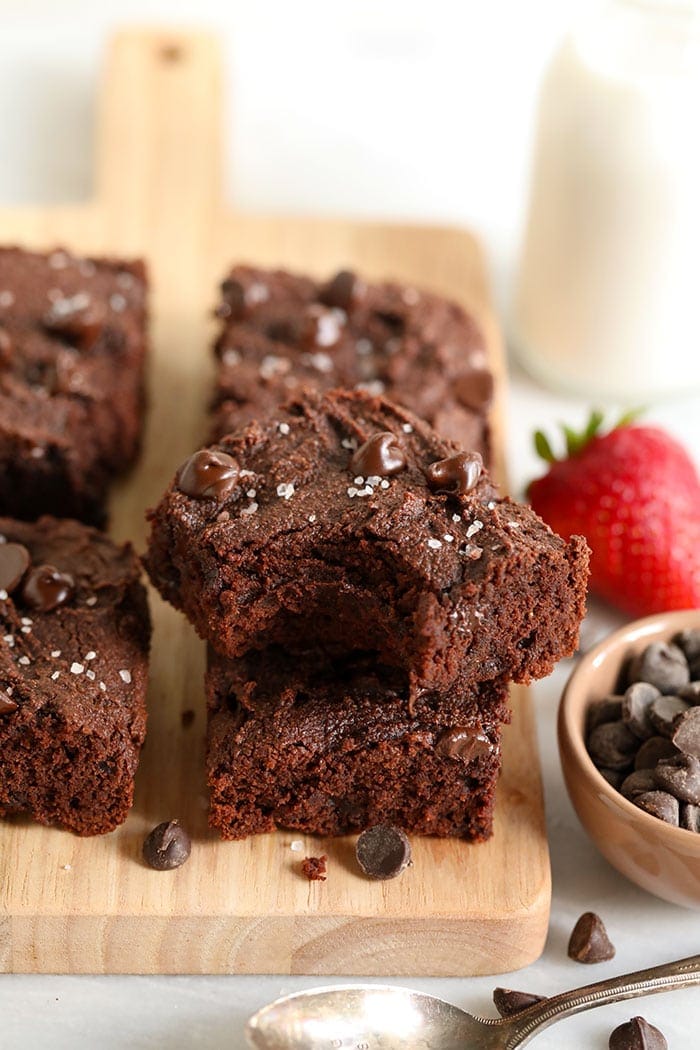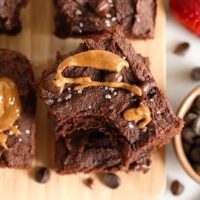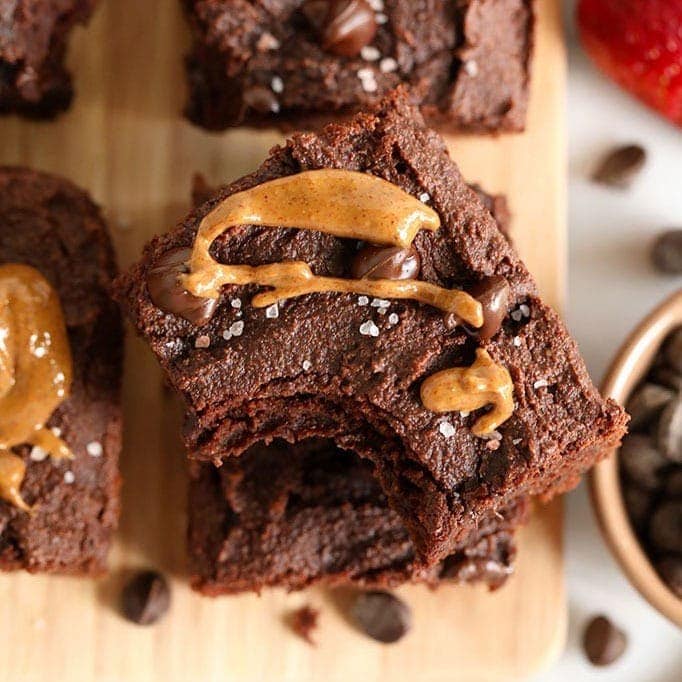 Best Healthy Brownies
Looking for a healthy brownie recipe that doesn't taste"healthy?" These healthy brownies are fudgy, chocolatey, and you'd never know they were HEALTHY!
Instructions
First, preheat oven to 350ºF. Then spray a bread pan with coconut oil cooking spray.

Place almond flour, coconut flour, cocoa powder, baking powder, and chocolate chips into a large bowl. Whisk until there are no more lumps.

Then, Add in an egg, almond butter, maple syrup and almond milk and milk until combined. Add in melted coconut oil and mix one more time. Your batter should be fudgy thicker than normal brownie batter.

Transfer batter into bread pan and top with a few more chocolate chips. Bake at 350ºF for 16-18 minutes, making sure not to over bake!

Remove brownies from oven and sprinkle on some sea salt. Let cool for at least 5 minutes before slicing and serving.
Tips & Notes
This recipe was updated on 6/11/2019.
Nutrition facts
Serving:
1
/6
Calories:
270
kcal
Carbohydrates:
25
g
Protein:
9
g
Fat:
23
g
Fiber:
5
g
Sugar:
15
g