These are the ultimate flourless brownies made with a cashew butter base, no refined sugar, no butter, and of course, no flour!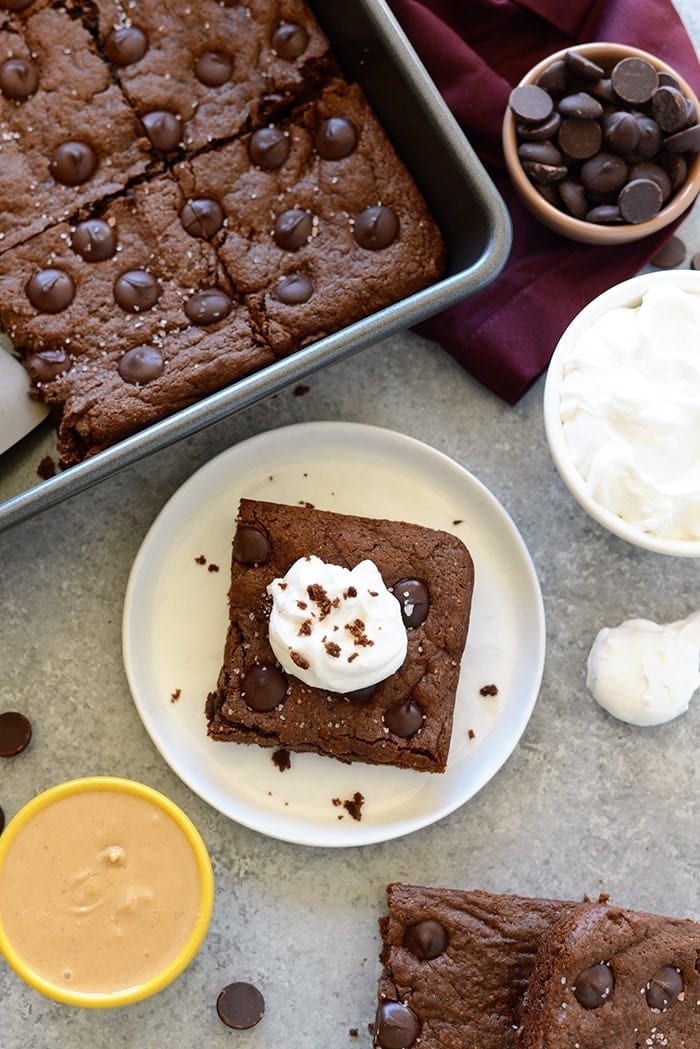 Lin and I get asked all the time how we come up with recipes for FFF. Being that we're not trained chefs or RD's, a lot of our inspiration comes from traveling or eating at amazing restaurants here in the Twin Cities. How can we take those recipes and make them a bit better for you and easier to recreate in your own kitchen? That's the goal, right? Fit Foodie Finds is almost 6 years old, so we've got an amazing database filled with delicious recipes inspired from all around the world. Want to know a secret?
A lot of FFF recipes are just spin offs of one another with a bit of a twist to create a whole new masterpiece. Think of it like ice cream flavors. They all stem from the same boring vanilla, but are tasty in their own beautiful ways! This brownie recipes is actually derived from our Grain-Free Chocolate Chip Cookie Bars. Can you see the similarities? Nut butter, coconut sugar, eggs, coconut flour, etc. Of course we modified a few things such as using cashew butter instead of almond butter and added in cocoa powder to make them brownies. Friends- I ain't that much of a genius (in a southern accent).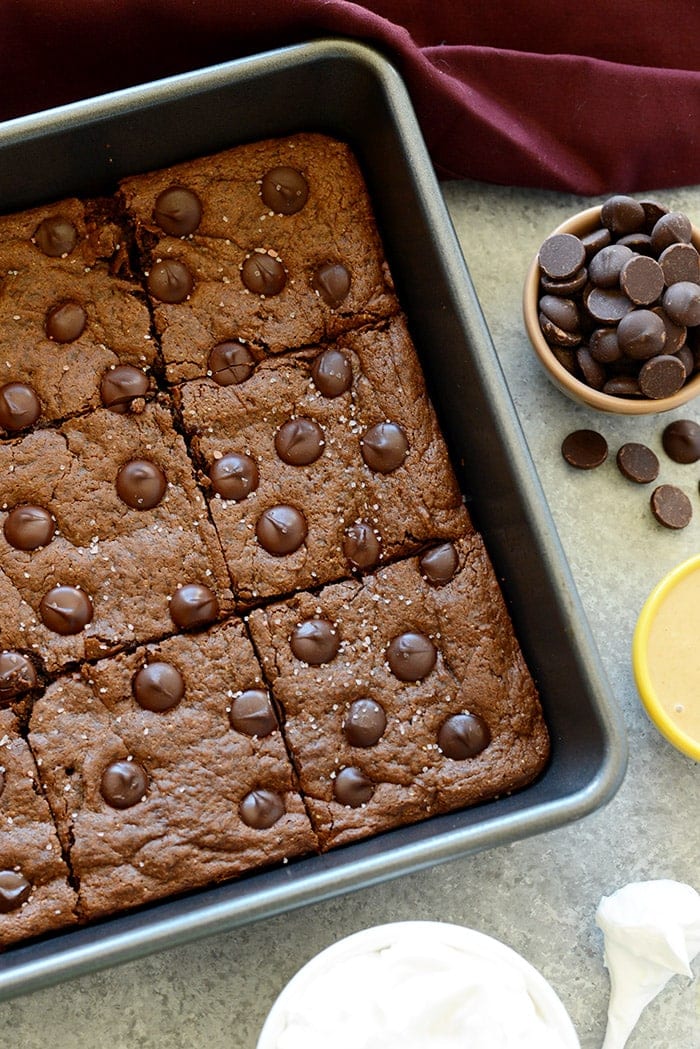 Speaking of southern accents. Ever since Lin and I have been working together every day…we pretty much solely talk in accents to each other. I frequent the southern man accent, which is actually quite hilarious. I catch myself talking in my southern man accent to Mark all the time…and have even done it in social settings, which can be a little awkward if you don't know me. ITSHAPPENED The southern man accent is also the accent I use when I'm trying to impersonate Mark. I don't now why, it just is. It's sort of hilarious because he's born and raised in Wisconsin…FAR FROM anything southern.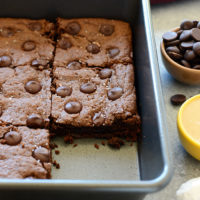 Flourless Cashew Butter Brownies
These are the ultimate flourless brownies made with a cashew butter base, no refined sugar, no butter, and of course, no flour!
Ingredients
Wet
1

cup

creamy cashew butter

unsalted (if you're using salted, omit additional salt from recipe)

2

eggs

large

1

tablespoon

maple syrup

1

teaspoon

pure vanilla extract
Instructions
First, preheat your oven to 350ºF and spray a 9x9 inch cake pan with coconut oil cooking spray.

Place wet ingredients in a large bowl and mix until combined. Then, add dry ingredients to wet and mix until combined. Your batter should have a cookie dough consistency (it should be thick!).

Transfer dough into a 9x9-inch pan and use your fingers or a spatula to evenly spread out onto the pan. If you notice that there is a lot of oil on the top of your dough, this is normal! Simply use a piece of paper towel to blot as much of it off it as possible.

Bake at 350ºF for 14-16 minutes (less for gooier brownies).

Let cool for at least 30 minutes before cutting.
Nutrition facts
Serving:
1
/9
Calories:
253
kcal
Carbohydrates:
24
g
Protein:
6
g
Fat:
16
g
Fiber:
3
g
Sugar:
13
g
PS: the day after we shot these photos, my new photography boards from Erickson Woodworks came in the mail. I got 2 double-sided boards. My favorite surfaces are for sure dark and light concrete (pictured below!). So what did I do? I made a brownie sundae with some coconut whipped cream and shot this beaut!