These double chocolate flourless peanut butter cookies are made sans flour, gluten, refined sugar, and butter! They're ooey gooey and taste like a cross between a peanut butter cookie and a brownie!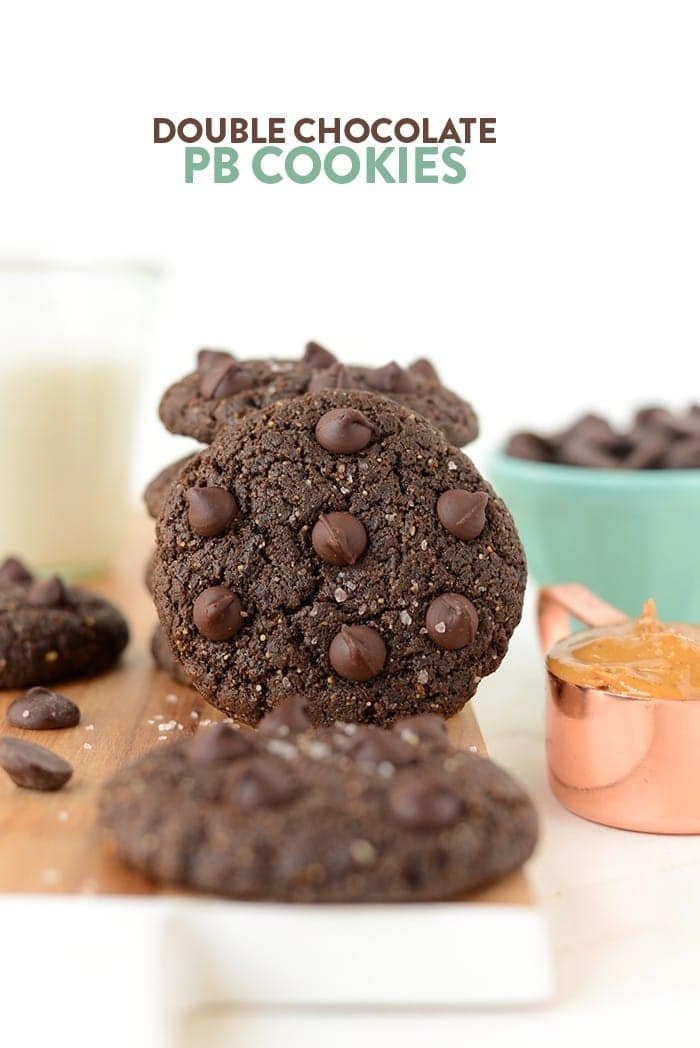 Hi hi hi hi hiiii!
I'm sitting on my couch right now (yesterday), chomping on one of these cookies that was waiting for me in the freezer. I've been gone for 23 days and it's bittersweet to be home. I actually thought I would be a lot more excited to be back at home and working, but I feel like I've become accustomed to being gone. I've also grown to REALLY ENJOY spending 24/7 with Man Candy and am sad to be so far apart from him after 2.5 weeks together. Sappy sappy, but it's just the truth! This was the first time Mark and I had traveled together and let's just say we went big off the bat. Honestly, I wouldn't have done it any other way- when you love someone you just have to jump right in. I'm so excited to blog about our entire trip abroad…going through the pictures makes my heart so happy!
I got back to Minneapolis on Sunday after spending 2 nights at my parent's house following Europe. I'm really happy I decided to take those two days with my parent's in Chicago before heading back to Minneapolis because I don't get very much one on one time with them. Actually- Mark's parents met my parents for the first time on Saturday. Our moms knew each other back when we were in high school, but our dads had never met one another. Mark and I have been friends since 2007 and it's strange to me that our families hadn't met yet! Anyways- I loved having everyone in one room (minus my sister and brother). I wish we could all live in the same place instead of a triangle (Minneapolis > Milwaukee > Chicago).
SO THESE COOKIES. Lin and I made 6 flipping batches of these damn cookies before I left for Europe to make sure they would be PERFECT for you. Also- we love cookies and any excuse to make more cookies is a good excuse.
These really do taste like a cross between a peanut butter cookie and a brownie. They're grain-free, made with coconut flour, coconut sugar, all natural peanut butter, and DARK cocoa powder. If you are wondering why the cookies look dark brown, it's because of the cocoa flour. Good thing for you- any kind will work, but I prefer the dark stuff! The flavor is richer and that's the way I like it.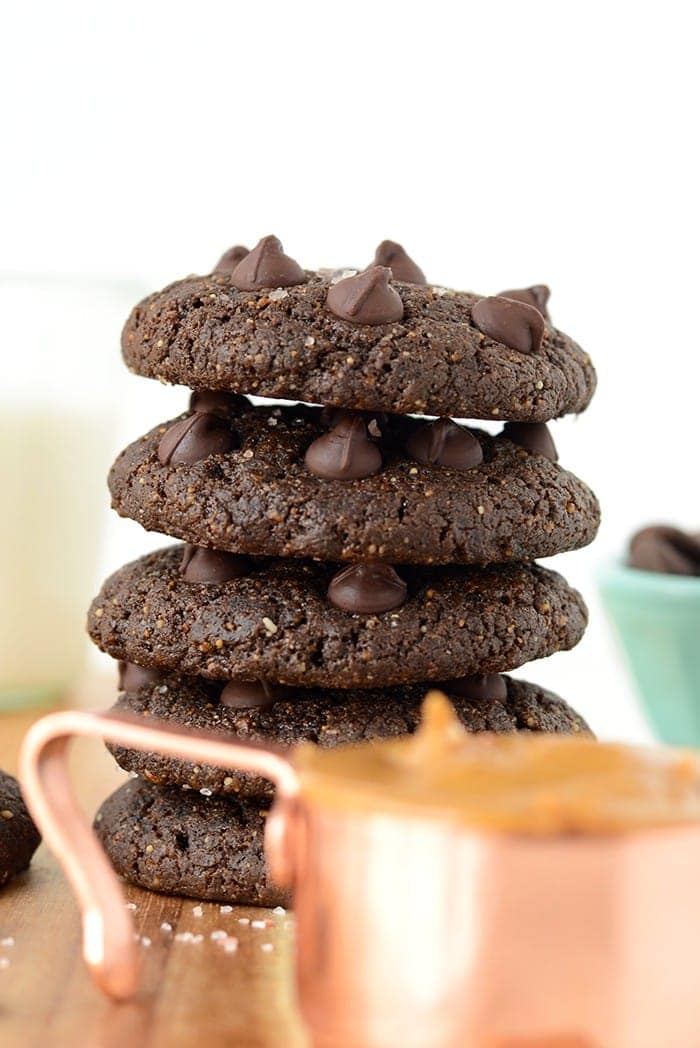 I've got a handful of flourless cookies on FFF (Grain-Free Peanut Butter Blossoms, Protein Peanut Butter Cookies, Paleo Cashew Butter Cookies, Inside Out Grain-Free Oreos, Paleo Hot Cocoa Cookies, High-Protein Chocolate Peanut Butter Cookies) and any of these can be subbed with any kind of nut butter you prefer. Obviously my preference is peanut butter. Duh.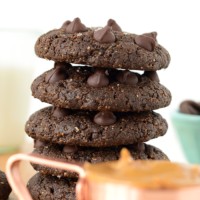 Double Chocolate Flourless Peanut Butter Cookies
These chocolate flourless peanut butter cookies are a healthy dessert idea made without flour.
Ingredients
Wet Ingredients
1

cup

creamy peanut butter

2

eggs

large

1

teaspoon

pure vanilla extract
Dry Ingredients
⅔

cup

coconut palm sugar

1

tablespoons

coconut flour

2

tablespoons

dark cocoa powder

but any kind will work!

1/2

teaspoon

baking soda

sea salt

sprinkled on top
Toppings
1/3

cup

dairy-free chocolate chips

sea salt
Instructions
First preheat oven to 350ºF and spray a cookie sheet with coconut oil cooking spray. Set aside

Place wet ingredients in a large bowl and mix until combined. Then, add dry ingredients and mix again until you've formed a cookie dough.

Using a 1 tablespoon cookie scooper, scoop out dough. Then roll between your hands and lightly flatten (the cookies will not expand much). Place on cookie sheet and then top with chocolate chips and sea salt.

Bake at 350º for 10 minutes. Let cool for at least 30 minutes.
Nutrition facts
Calories:
225
kcal
Protein:
6
g
Fat:
14
g
Fiber:
2
g
Sugar:
11
g