These delicious chocolate Protein Cookies are under 200 calories and pack in 10g protein per cookie. They're gluten-free, grain-free, and made with your favorite protein powder.
Oh, did we mention that the chocolate + peanut butter combo really makes these the BEST protein cookies on the internet?!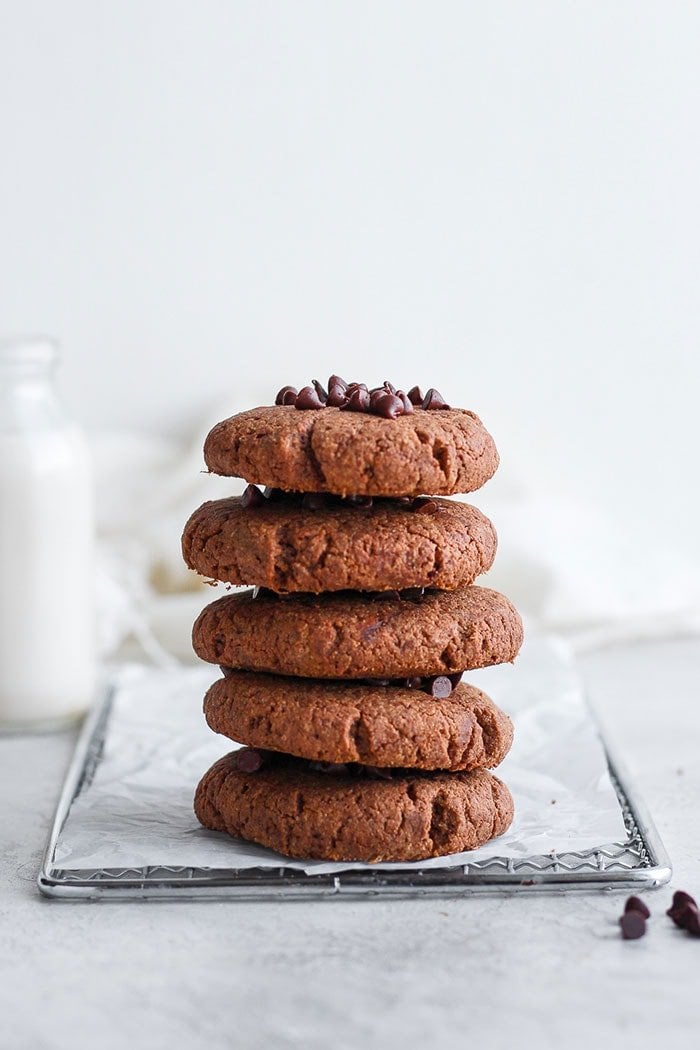 BEST Protein Cookies
All I have to say is that I've made this protein cookie recipe so many times and I just can't get enough! Homemade nut butter-based protein cookies are the best thing that ever happened to the internet and that's a fact.
Today we're teaching you how to make the most delicious Chocolate Protein Cookies made with just 5 ingredients. AND, they are just under 200 calories each with a whopping 10g protein per cookie. Let me repeat:
5 Ingredients
Less than 200 calories
10g protein/cookie!
This protein cookie recipe is actually a spin-off recipe of our Grain-Free Protein Peanut Butter Cookies, but we decided to use slightly less sugar and add in that chocolatey goodness.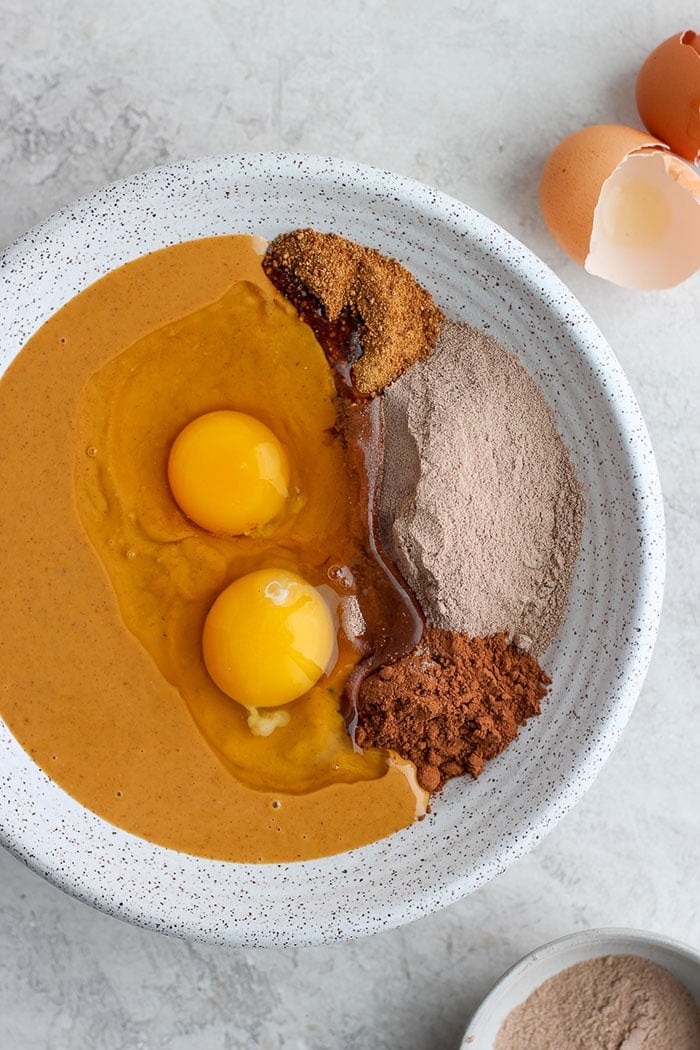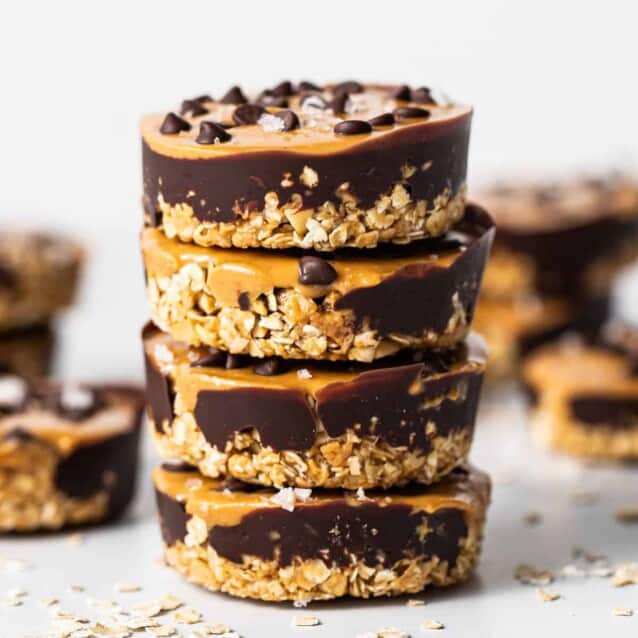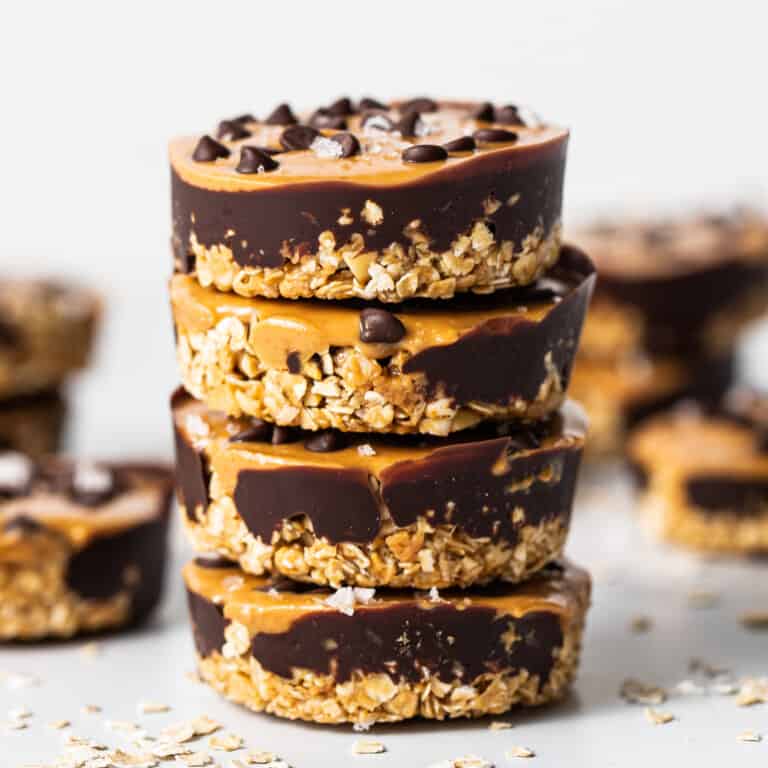 Subscribe!
Love desserts? Us too! Subscribe to our emails and get all of our best desserts straight to your inbox.
Chocolate Protein Cookies Ingredients
As mentioned above, the basis of these protein cookies is nut butter. The fat and creaminess in the peanut butter is really what makes them soft and chewy and the eggs allow you to omit any kind of flour. Here's what you need:
All-Natural Peanut Butter: make sure that you use all-natural, drippy peanut butter. Our favorite brands include 365, Smuckers, and the Fresh Thyme brand. Can't have peanut butter? No worries! These cookies will work with any drippy nut butter such as cashew or almond butter.
Can I swap the peanut butter for something lower in fat?
ABSOLUTELY NOT. I repeat, do NOT swap the nut butter for something such as peanut flour or almond flour. The nut butter is the basis of his recipe and you absolutely can NOT omit it.
Coconut Sugar: coconut sugar is a lower glycemic sweetener that is derived from the coconut. If you so must, you can likely get away with swapping coconut oil for brown sugar, but we haven't tested this.
Cocoa Powder: make sure to use unsweetened cocoa powder so that there is no added sugar!
Eggs: The eggs in this recipe not only add protein but also act as a bind for your cookies.If you're looking to omit or swap the eggs, I suggest finding a whole different recipe that is made without eggs altogether!
Check out some of our favorite vegan cookies: (vegan peanut butter banana cookies and oatmeal banana cookies).
Protein Powder: We've made this recipe with both a plant-based protein powder as well as a whey protein powder and they both work.
Our recommendation? Whey protein powder takes the gold medal here because it leaves your protein cookies with the best texture.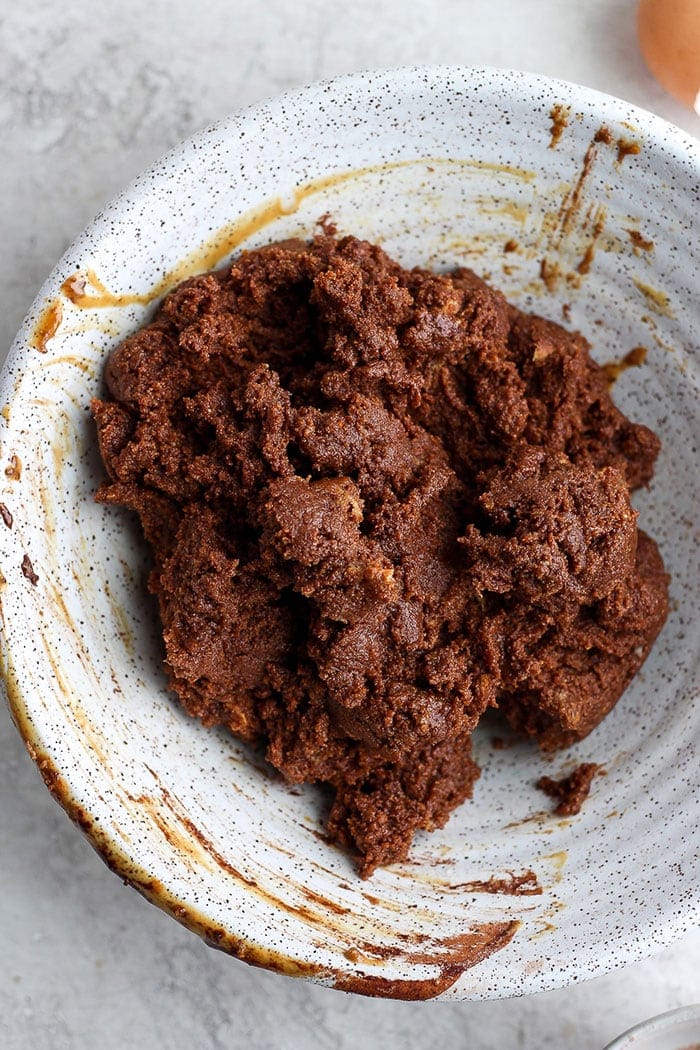 More on Protein Powder
I thought I'd take a second to chat all things protein powder. We've done an extensive protein powder review on Fit Foodie Finds and I don't want you to miss it! Protein powder is such a great way to amp up your protein intake if you find yourself not able to eat enough during the day.
That's why YOU NEED to make these protein powder cookies ASAP.
remember…
Make sure you like the taste of the protein powder you are using as well as how sweet it is because it can definitely change the taste of your chocolate peanut butter protein cookies.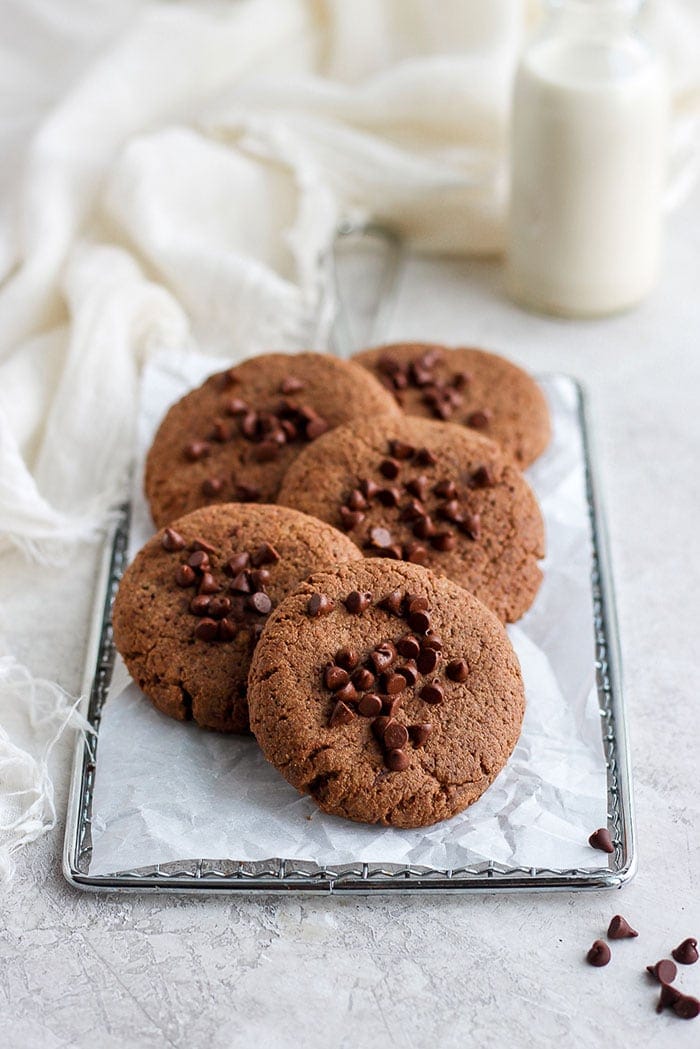 Protein Cookies Storage
Protein cookies will stay best stored in the refrigerator or freezer, but will also last up to 3-5 days in a cool, dark place.
Let your protein powder cookies cool completely and then transfer them into an airtight container.
Freezer Directions
If you're a single lady or don't want to have these little bites of heaven sitting on your countertop, I highly recommend storing these in the freezer. That's what I do, at least.
Place your cooled chocolate protein cookies on a baking sheet and place them in the freezer for one hour. After they've hardened, transfer them to a freezer-safe gallon-size bag for later.
These cookies should last up to 3 months, frozen.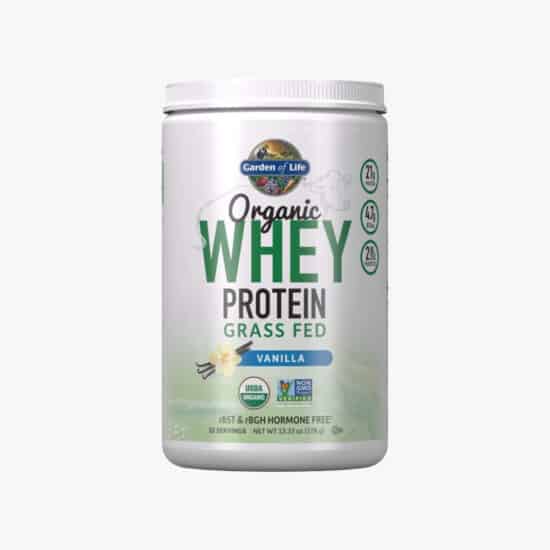 5 Stars
Garden of Life Whey Protein Powder
21g protein // 2g sugar// 120 calories// $2.50 per serving// gluten-free// non GMO // grass-fed // organic
Buy now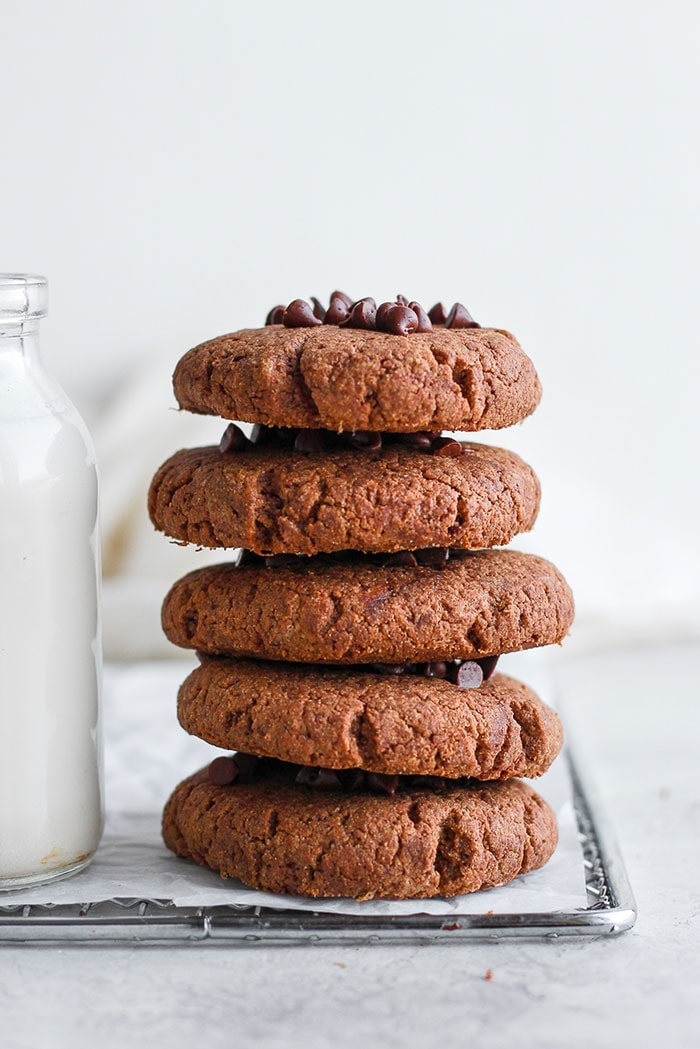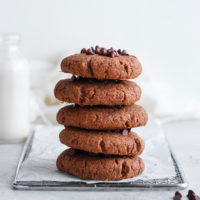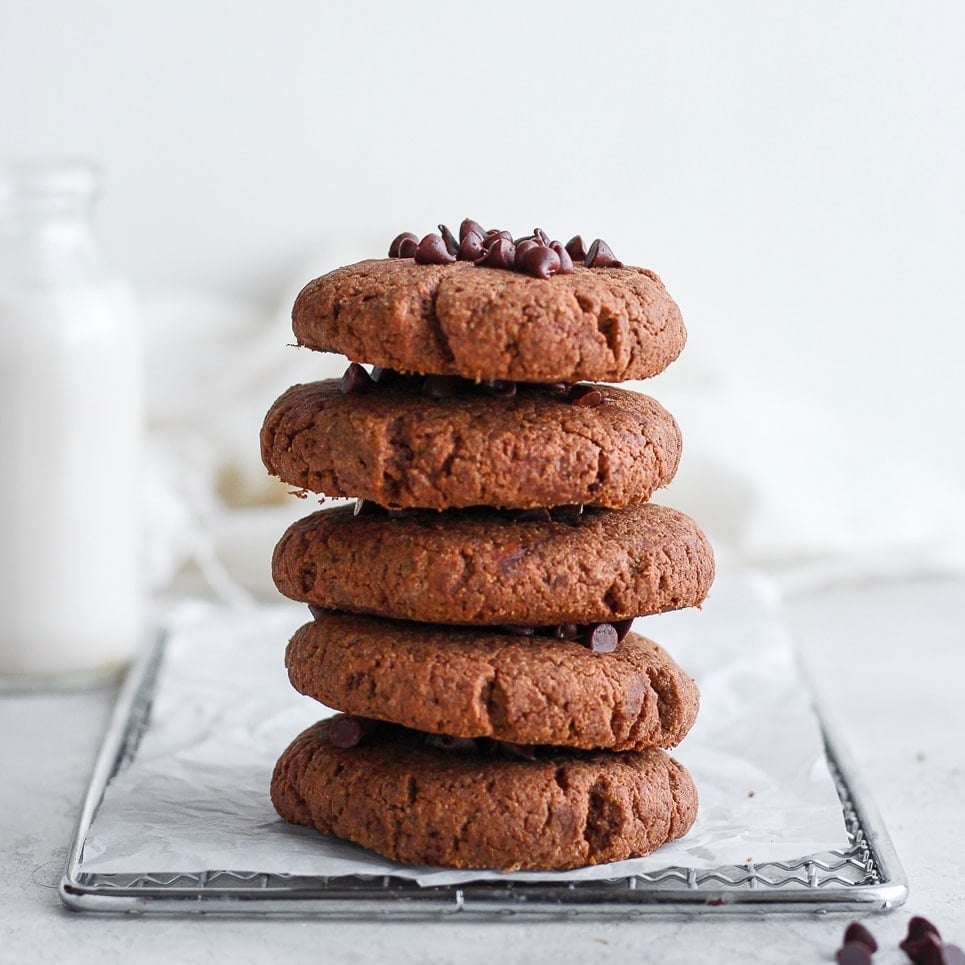 Chocolate Peanut Butter Protein Cookies
Delicious 5-ingredient chocolate peanut butter protein cookies that are less than 200 calories with 10g protein per cookie!
Ingredients
1

cup

all-natural creamy peanut butter

drippy*

1/2

cup

coconut palm sugar

1/2

cup

chocolate whey protein powder*

2

tablespoons

unsweetened cocoa powder

2

large eggs

optional: 1/3 cup mini chocolate chips
Instructions
First, preheat the oven to 350ºF and spray a baking sheet with coconut oil cooking spray.

Place all ingredients in a medium-sized bowl and mix to combine. The consistency should be similar to cookie dough. It should NOT be crumbly and if it is, this is a sign your peanut butter is not drippy enough and we recommend adding 1-2 teaspoons of melted coconut oil.

Spoon out 2 tablespoons of dough into your palms and roll into a ball. Flatten cookie dough between your palms creating a cookie shape and place it on a baking sheet. Note that your cookies won't expand a lot, so flattening is important.

If desired, place mini chocolate chips on top of each cookie.

Bake chocolate peanut butter protein cookies at 350ºF for 10-12 minutes.

Let cool for 15 minutes before removing from the pan so that the protein cookies can set. If you remove them too soon, they may break in half.
Tips & Notes
Peanut butter: make sure that you use a drippy, all-natural peanut butter such as Smuckers, 365 or Kirkland.
Protein Powder: for this recipe, we recommend whey protein. Our favorites include Tera's Whey and Organic Valley. We HAVE tested this with plant-based protein powder, but we much prefer the texture whey gives these cookies.
Nutrition information is without chocolate chips. the protein per cookie will vary based on the protein powder you choose to use.
Nutrition facts
Calories:
199
kcal
Carbohydrates:
15
g
Protein:
10
g
Fat:
12
g
Fiber:
2
g
Sugar:
11
g
Photography: photos taken in this post are by Erin from The Wooden Skillet.