All it takes are 3 simple ingredients to make these naturally sweetened Banana Oatmeal Cookies.
Plus, this banana cookies are kid-friendly, gluten free, and made in under 20 minutes!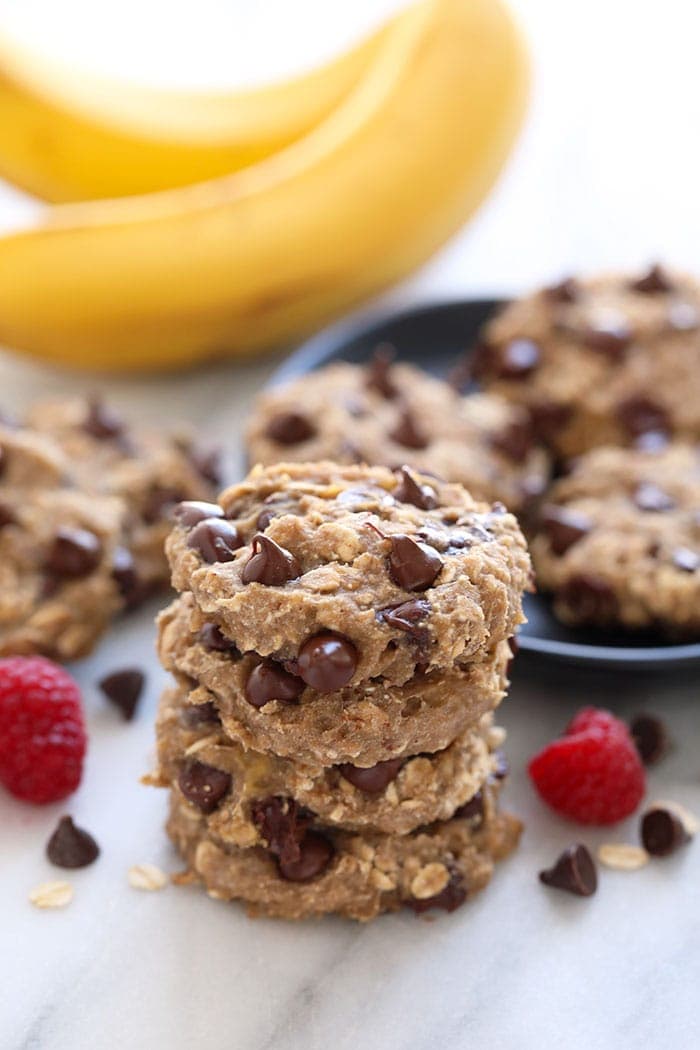 These healthy cookies are a close relative to our vegan peanut butter banana cookies, but even more simple because they are made without a flax egg.
3 Ingredient Banana Oatmeal Cookies
We love these banana oatmeal cookies because they're made with 100% whole grains and naturally sweetened from bananas.
You could even make this a 2 ingredient cookie by omitting the chocolate chips (not recommended :P). That means, these cookies are vegan, gluten free, and refined sugar free.
What You Need
banana
ground oat flour
chocolate chips
You'll see that there are 4 ingredients listed above, but you can actually make your own ground oat flour at home by grinding your oats into a flour. This is such an easy trick and believe me, a lot cheaper too!
homemade ground oat flour
Place around 1.5 cups of rolled oats (quick-cooking works too!) inside a high-speed blender and blend on high until a fine powder has been made.
Storage: store ground oat flour in an airtight container in a cool, dark place for up to 6 months.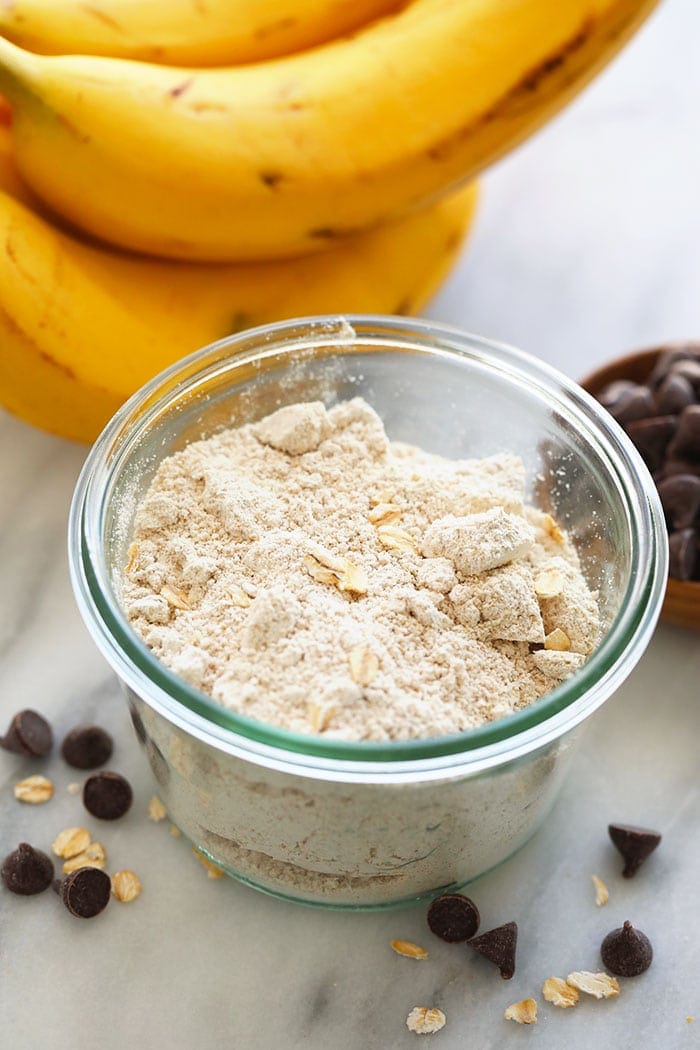 Instructions
Once you've got your ground oat flour made, it's time to mash your banana. We recommend using a ripe banana so that it's a little bit on the sweeter side. Use a fork to mash your banana as best you can so that there are little to no chunks in it.
Mix it with the oat flour and rolled oats until combined. You'll notice that this batter is a little bit wetter compared to traditional cookie dough. This is A-okay! Finally, add in your chocolate chips and give your batter one last stir.
Make the Cookies
When forming your cookies on the cookie sheet it is important to note that these cookies will not expand. We opted not to use an egg or egg replacement and did not use a leavening agent, either.
We did this specifically for the simplicity aspect of these banana oatmeal cookies. With that said, you'll need to form a cookie shape with your hands and we recommend get your hands a little bit wet so that the dough doesn't stick to you.
Lightly flatten your dough into the shape of a cookie and then add more chocolate chips if desired.
Bake Time
Your banana oatmeal cookies only need about 8 minutes in the oven before they're ready to eat! If you can't wait that long, don't worry! These cookies are 100% vegan and you can safely eat the batter.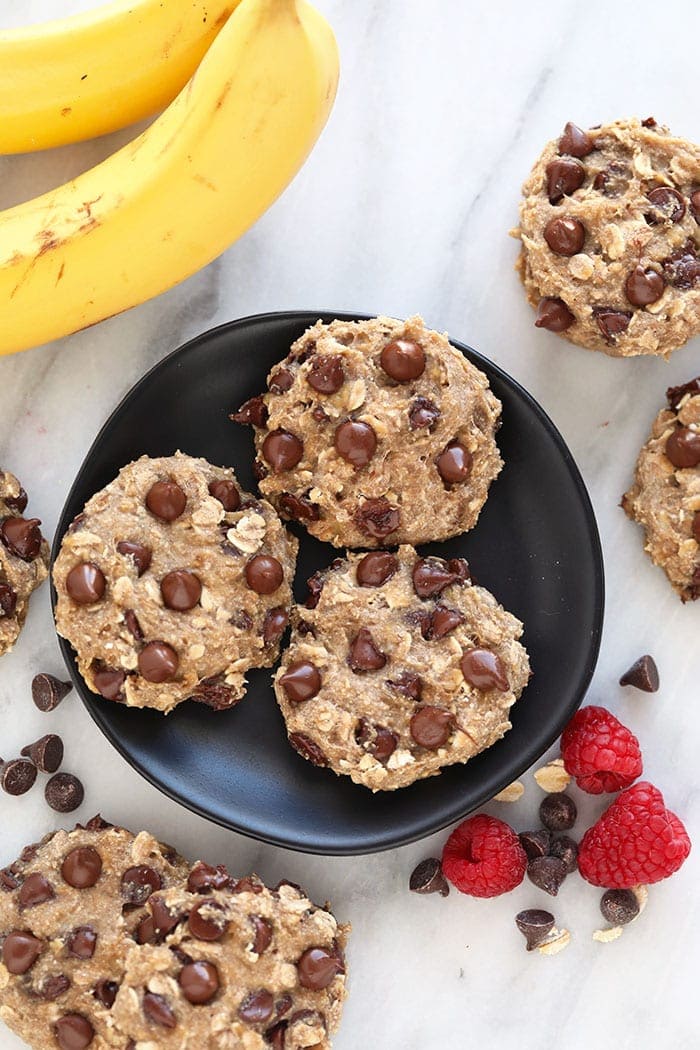 Banana Oatmeal Cookies Add-In Ideas
The beauty of this recipe its simplicity, however, if you're feeling fancy you can totally add more add-ins than we did! Here are some suggestions to switch up the flavors a little bit:
spices: cinnamon, homemade chai spice, vanilla extract, etc.
dried fruit: cranberries, raisins, coconut, etc.
seeds: flax, chia, pumpkin, etc.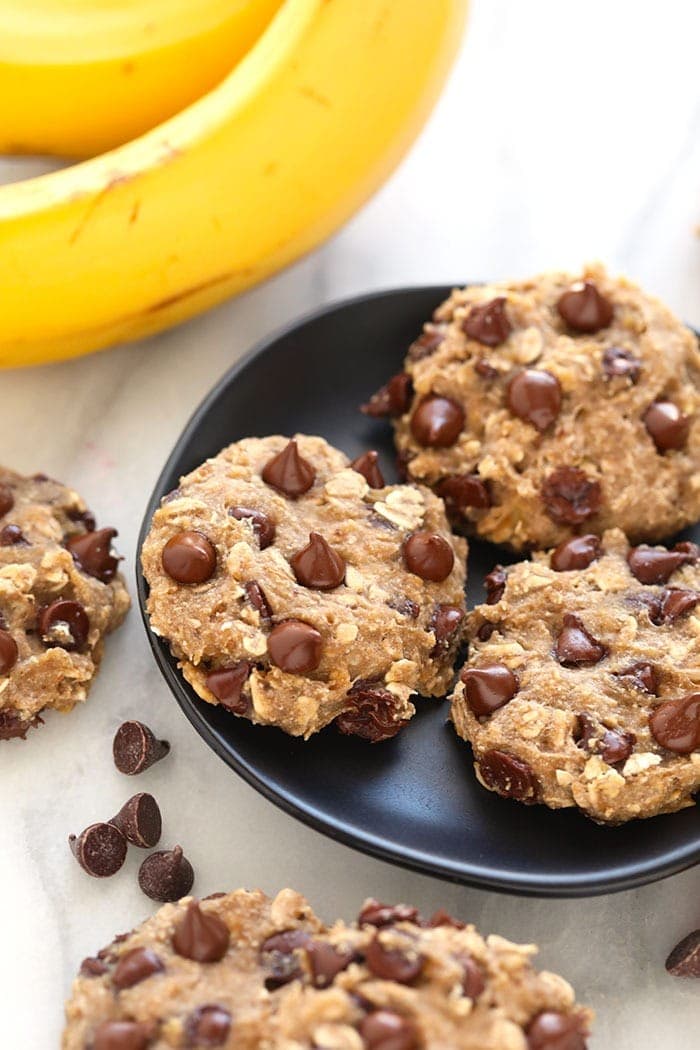 Storage
Let cookies cool completely. Then, transfer them into an airtight container and store in the fridge for up to 5 days.
Freezer Instructions
Let cookies cool completely.
Transfer them back onto a baking sheet and place in the freezer for 30 minutes.
Once they are partially frozen, transfer them into a gallon-size plastic bag and freeze for up to 3 months.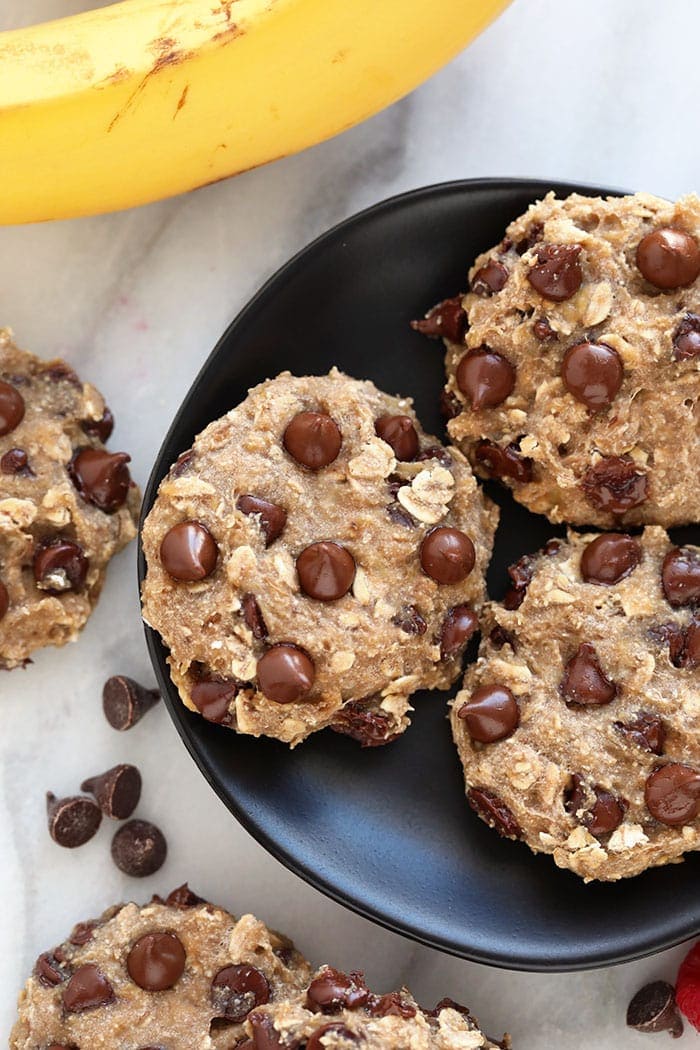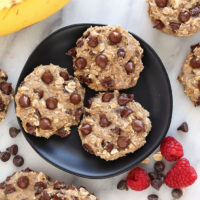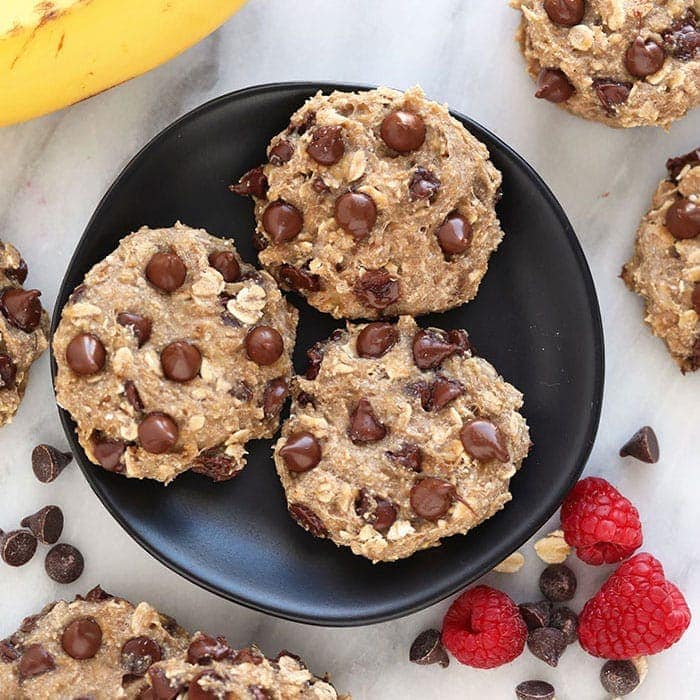 Oatmeal Banana Cookies
All it takes are 3 simple ingredients to make these naturally sweetened oatmeal banana cookies. Plus, these healthy banana oatmeal cookies are kid-friendly, gluten free, and made in under 20 minutes!
Instructions
First, preheat oven to 350ºF and spray a baking sheet with nonstick cooking spray. Set aside.

Next, place 1 large banana in a medium bowl and use a form to mash until a pureed has formed.

Add ground oat flour and rolled oats and mix until combined. The texture should be a little wetter than normal cookie dough.

Finally, add in chocolate chips and mix one more time.

Slightly wet hands and then use a cookie scoop to scoop out the dough. Form a cookie shape with the dough (it will not expand during baking) and then place on cookie sheet. Option to add more chocolate chips

Bake at 350ºF for 8-10 minutes.

Let cool for about 5 minutes and then transfer onto a cooling rack to continue cooling.
Tips & Notes
If you can't find ground oat flour at the store no fear! You can make your own! Just place rolled oats in your food processor or Vitamix and process until a flour has formed.
Nutrition facts
Calories:
122
kcal
Carbohydrates:
20
g
Protein:
3
g
Fat:
4
g
Fiber:
3
g
Sugar:
6
g