What's better than cheesecake for breakfast? NOTHING! You're going to love this Strawberry Cheesecake Protein Smoothie. It's made with just a few simple ingredients: frozen strawberries, bananas, vanilla protein powder, Greek yogurt, and almond milk. Don't forget to crush some graham crackers on top to really top off this healthy protein smoothie recipe!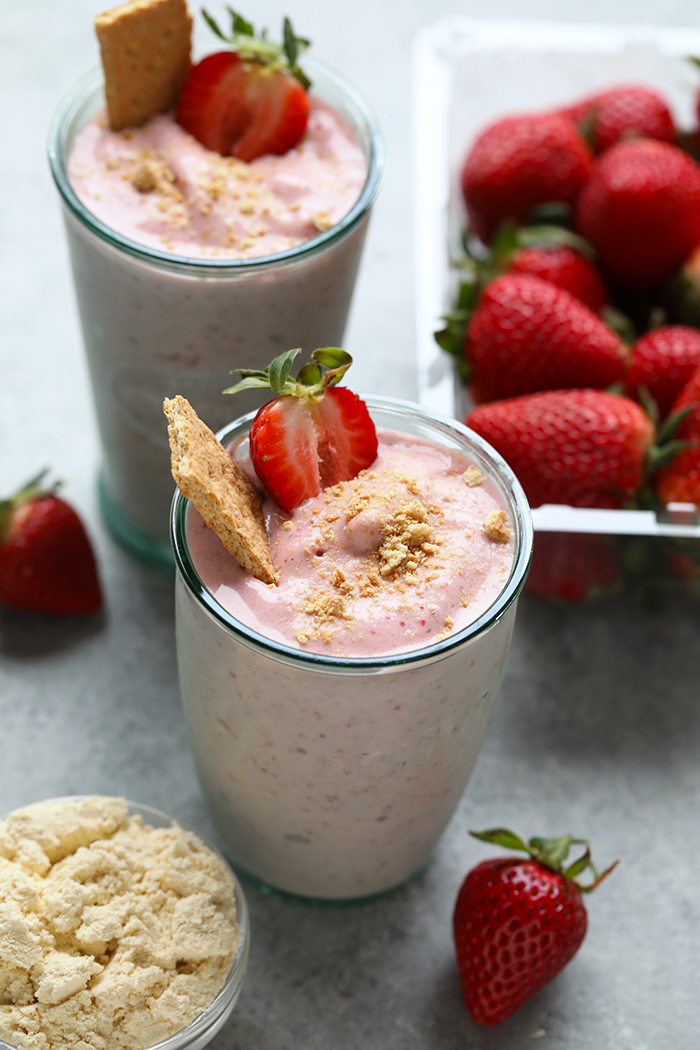 Talk about a hella tasty protein smoothie. We love smoothies at  Fit Foodie HQ and we're so excited about this Strawberry Cheesecake Protein Smoothie recipe. We get asked all the time how to eat enough protein and protein powder is such a great way to sneak it in. The great this about this recipe is that you can use any kind of protein powder you like. For example vegan, whey, pea, etc! We used Organic Valley Vanilla Whey Protein Powder because we were craving dairy, but any kind will do it.
A little secret– this recipe is very similar to a strawberry banana protein smoothie, but obviously the graham cracker topping made it a little more cheesecakey. So did the Greek yogurt addition, too! A little bit of tang goes a long way.
If you are a protein smoothie lover like me, check out some of our other popular protein smoothie recipes below!
Fit Foodie Finds Protein Smoothie Recipes
Recipe
Strawberry Cheesecake Protein Smoothie
Ingredients
1.5 cups whole frozen strawberries
1/2 cup frozen sliced banana
1/4 cup vanilla protein powder (any kind will work)
1/3 cup nonfat Greek yogurt
1 cup unsweetened almond milk
Optional topping: crushed graham crackers
Instructions
Place all ingredients (minus the graham crackers) into a high-speed food processor and blend until smooth. Add more almond milk if it's too thick!
Similar
After 4 full (FULL) days in LA I think it is safe to say that Southern California is Heaven on Earth. Legitimately. When you wake up the weather is perfect and when you go to bed the weather is perfect. The sun is somehow always shining and the birds are always chirping. It's just perfect.
I can't begin to tell you how amazing of an experience the Propel Ambassador Shoot was. I feel like I've been best friends since kindergarden with the 6 other ambassadors that went. There was an instant connection,  so much laughter, and such great energy!
I haven't had time to go into detail just yet on the past for days in LA with the Propel Team…but here are some iphone photos and a little behind the scene look. You can also do some stalking on Instagram.