Try this post-workout strawberry coconut protein smoothie after a tough sweat session for a delicious, refreshing way to get an extra boost of fiber and protein!
I am so excited for the next few days.
1.- Fit for HER Minneapolis is on Saturday. I wrote a post about this a few weeks ago, but it's our second annual fitness event to raise money for the Her Initiative. If you are based in Minneapolis/St. Paul, we'd love to have you attend! It's $30 and all proceeds go to the Her Initiative in order to give clean water and provide health education to 3rd world countries.We've got a few spots left and would love to have you!
You'll also have the opportunity to shop local, as we are bringing in a handful of local pop up shops including my favorite online jewelry boutique Paisley and Sparrow (more on them tomorrow!). Get more information on the event inside of our Facebook event page and buy your tickets HERE.
2. Mark is coming to town on Saturday! EEeeeeee. We're still doing the distance thing (blah), but it's gotten a lot easier now that Mark is able to work remote 1 week out of every month here in Minneapolis with me. Yayayayaya. It's a nice little taste of what life would be like if we lived in the same city. Soon enough!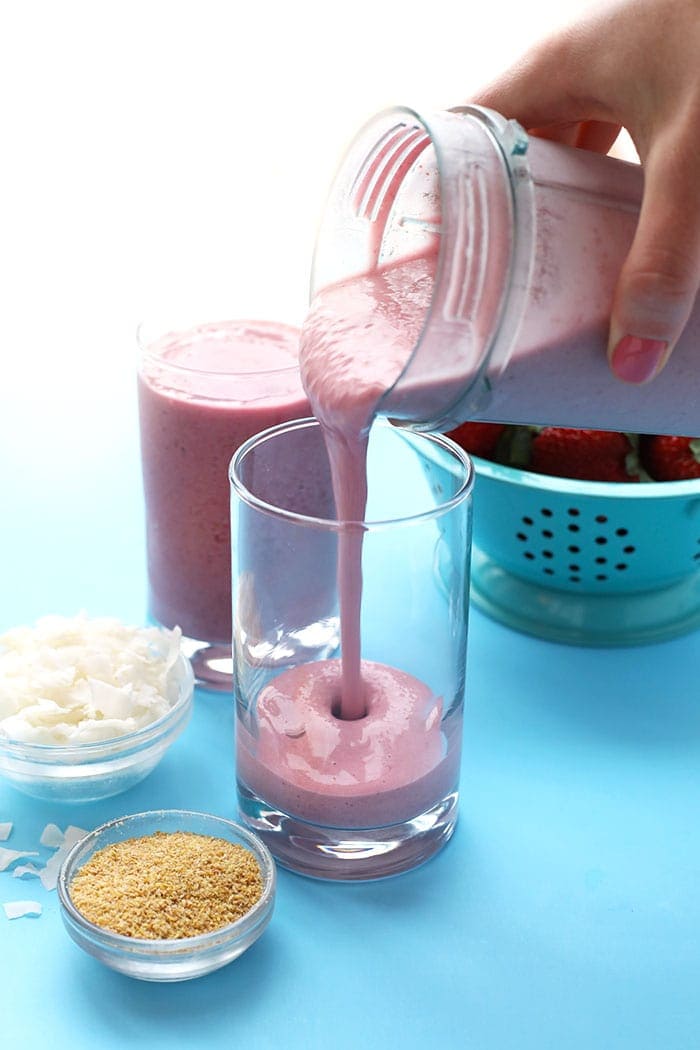 My Go-To Protein Smoothie
I go in smoothie phases. Anyone else? Pretty much it's when I drink a smoothie a day for like 2 weeks straight and then I take a break. Then I do it again and REPEAT. This strawberry coconut protein smoothie has been my go-to lately. I almost always have a bag of frozen fruit in the fridge ready to use in smoothies because when in doubt.
I picked up a gorgeous bag of organic frozen strawberries from Lunds and Byerlys, which are a little bit more tart than normal strawberries. Yum yum yum! We blended them up with some coconut milk, a hint of honey, and protein powder.
Why Go With Whey?
Can we talk about protein powder for a second? I get this question all the time. I've been a Designer Protein fan for years and I use a variety of their products. My all time favorite is Designer Protein French Vanilla Whey
. You can purchase it online here.
Whey protein powder is what I prefer because I love the flavor and silkiness of it, but I also like plant based, as well! I don't currently have a favorite plant based protein powder, so I would love to know your thoughts and what you use if you're a plant-based kind of girl. For this recipe specifically, you can use any kind of protein powder such as whey, soy, or plant based.
Recipe
Strawberry Coconut Protein Smoothie
Ingredients
1 cup

frozen strawberries

1 cup

cartoned coconut milk

1

scoop (1/4 cup) vanilla protein powder (any kind will work)

2 teaspoon

s honey

1 teaspoon

vanilla extract

1 teaspoon

ground flax seed
Instructions
Place all ingredients in a food processor and blend until smooth!
Notes
-in order to keep this recipe vegan, use a plant-based protein powder.
Nutrition
Serving Size:

1 smoothie

Calories:

270

Sugar:

22

Fat:

7

Carbohydrates:

31

Fiber:

8

Protein:

21
Similar