With just a few simple ingredients you can make peanut butter protein bars in your own kitchen with 13g protein in each bar!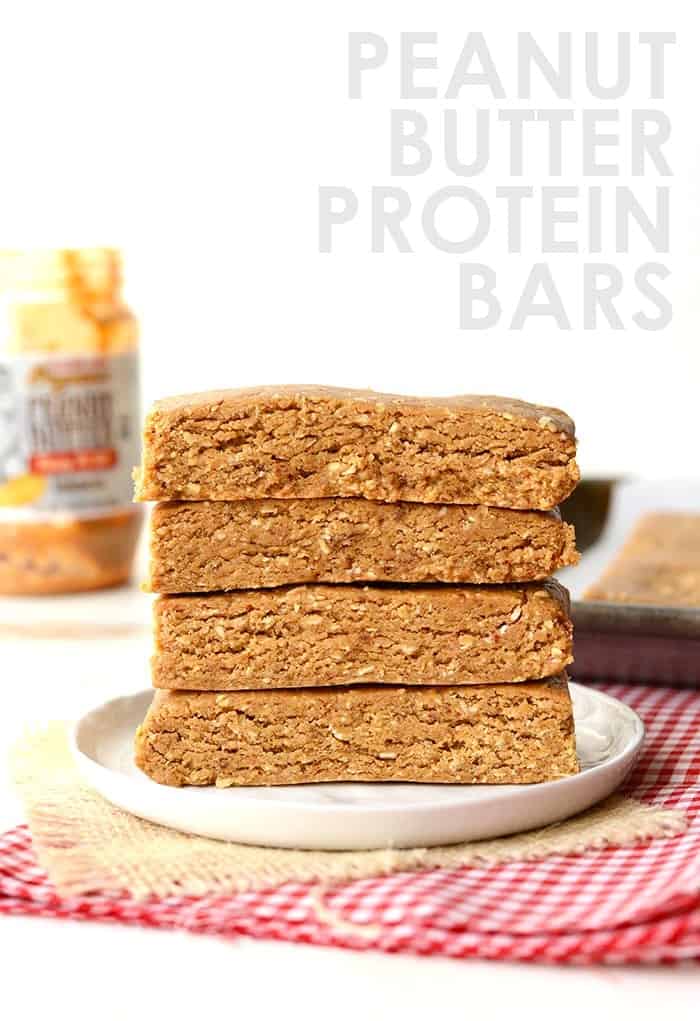 This is one of those recipes that just got slung across my content calendar with no respect. Poor guy has gotten pushed back like 14 times. WELL, FOLKS- it's here and I've made these like 142 times already. And when I'm not just grabbing a
Perfect Bar
on the go, these are the alternatives I'm whipping up at home!
I say made THESE 142 times, but the last 140 times I actually turned them into balls. Why balls? Because they're the best 🙂 And smaller in portion size! I gave this recipe to Mama Hersh to make and she loved them too. I mean, why wouldn't she?
I tested this with a few different kinds of peanut butter (all drippy): Smuckers All Natural Peanut Butter
, Trader Joe's Creamy Peanut Butter
, and Kirkland Peanut Butter
. The reason I wanted to specify is that drippy peanut butter is the shit and the key to success when making this recipe.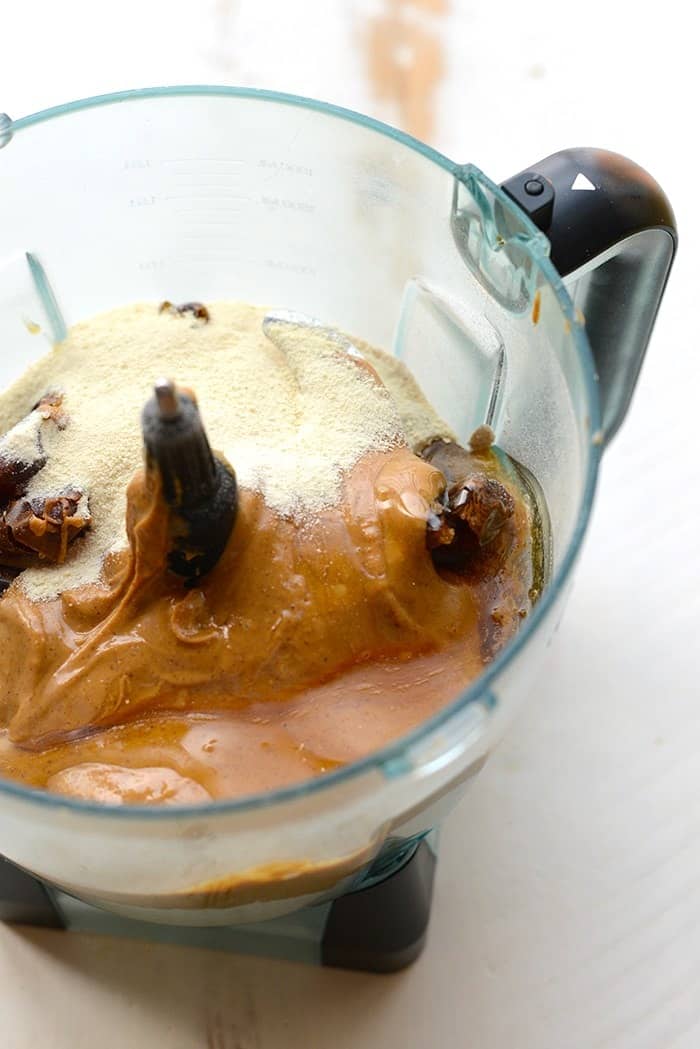 I say this almost every week but…
PLEASE INVEST IN A GOOD FOOD PROCESSOR. YOUR LIFE WILL BE CHANGED. YOU WILL FALL IN LOVE. AND MAYBE MARRY AN INANIMATE OBJECT.
Just do it and don't ask questions.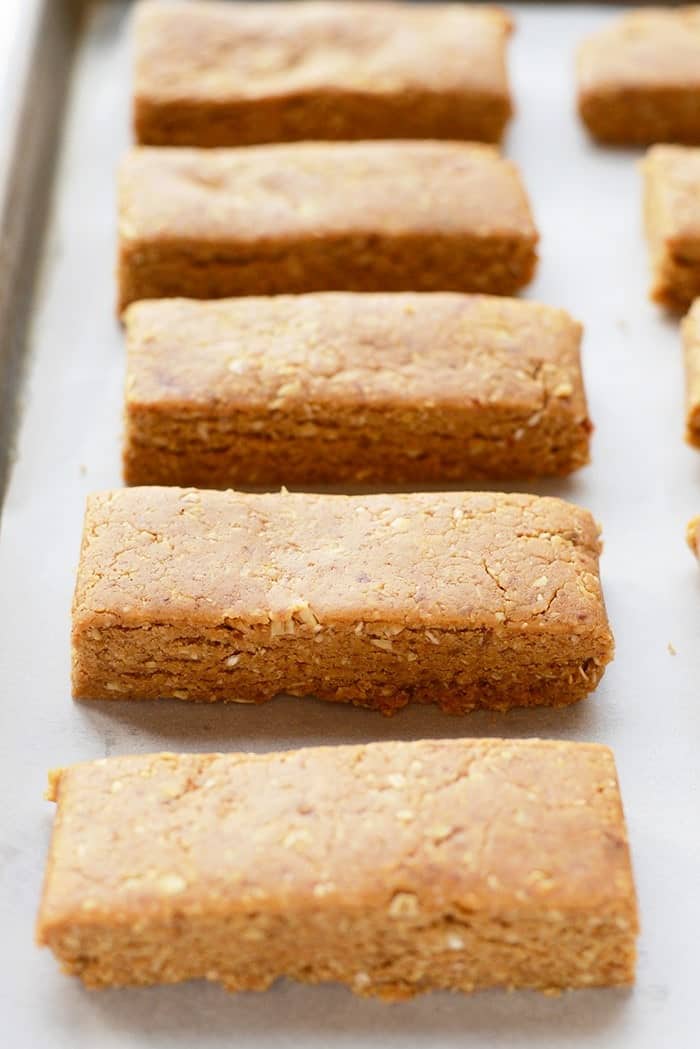 Let's talk protein powder really quick. I like many different kinds of protein powder, but if I had the choice…I'd choose whey every time. I love the texture and the taste best out of the hundreds (yes, hundreds) I've tried. My good friends at Designer Protein sent me a GIANT delivery of protein powder. Like…I don't think I will run out of protein powder for the next 100 years. In this recipe, I used their Designer Whey French Vanilla
. It's my favorite! You could totally sub out for any whey flavor (chocolate would be delish).
I do want to note…that I have NOT tried this recipe with any other kind of protein powder such as plant-based, soy, pea, etc!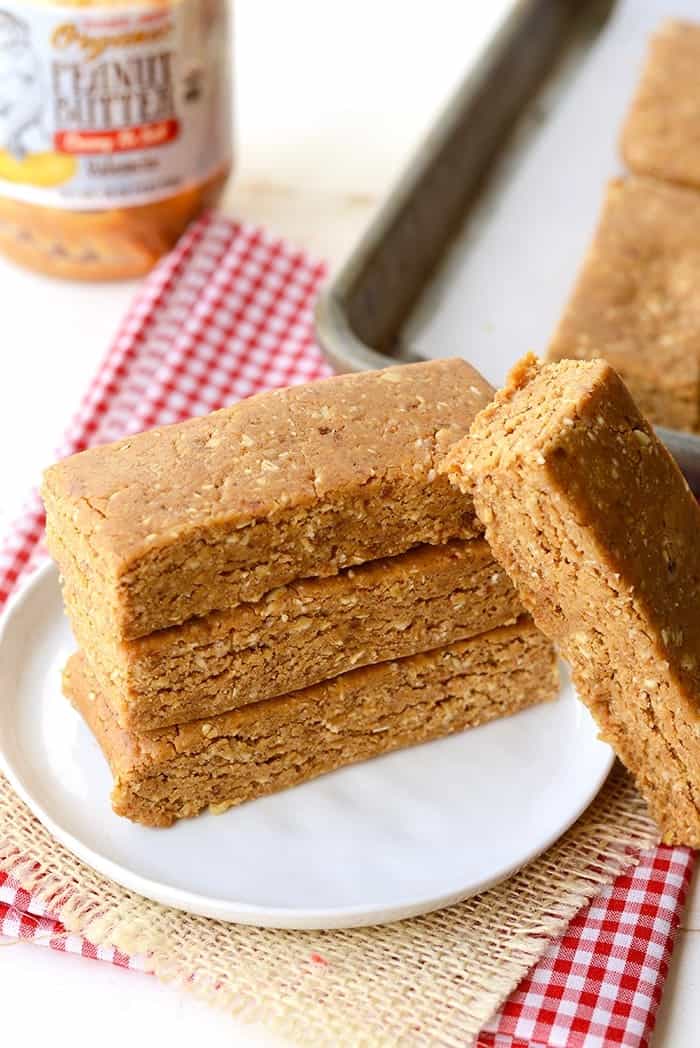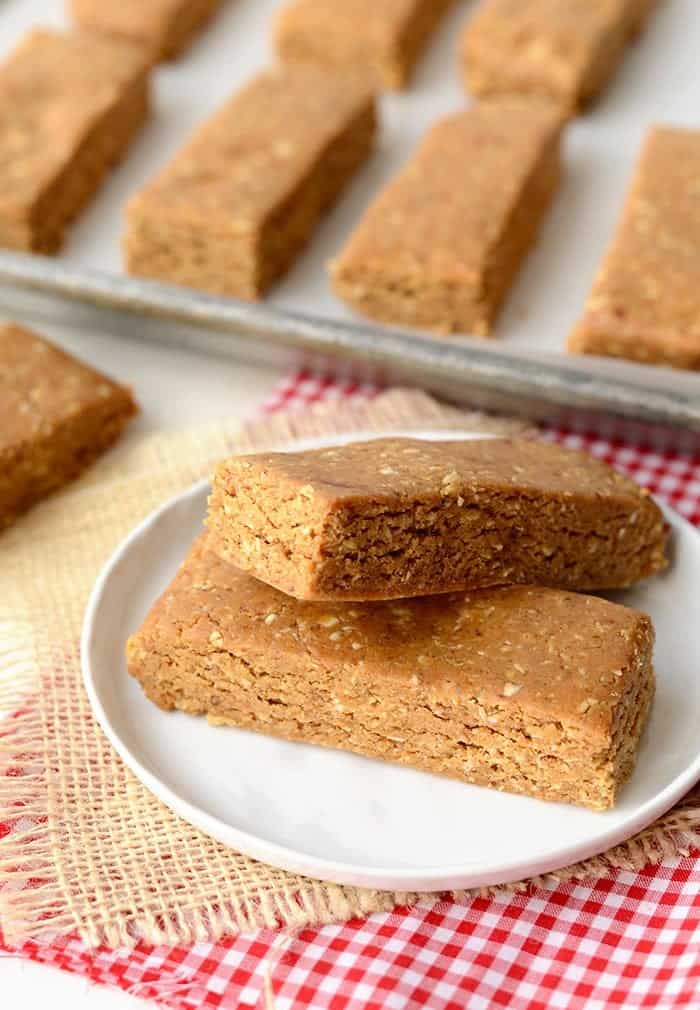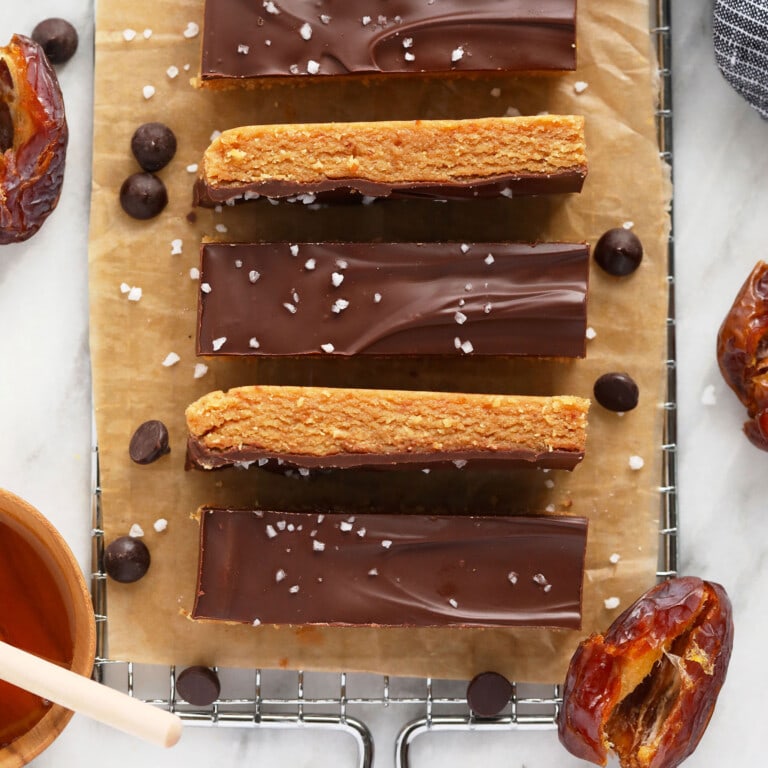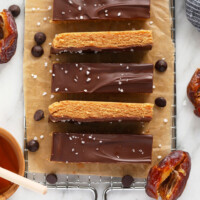 Peanut Butter Protein Bar Recipe
These are seriously the best homemade protein bars! Naturally sweetened and made with simple ingredients, this peanut butter protein bar recipe is easy to make and cheaper than store-bought protein bars!
Prep:
1 hour
Total:
1 hour
Fat
14
Carbs
47
Protein
13
Ingredients
Optional Topping
3/4 cups

dark chocolate chips

2 teaspoons

coconut oil
coarse sea salt, to taste
Instructions
First, line either a 9×9-inch baking dish or a 9×13-inch baking dish with parchment paper. Really any size will work, but the smaller the dish, the thicker the bars will be.
Next, place Medjool dates, peanut butter, oat flour, honey, vanilla extract, and protein powder into a high-speed food processor.
Process on high for 2-3 minutes, stopping to scrape the sides as needed.
Add water by the tablespoon and continue to process on high until a cookie dough-like batter has formed and the Medjool dates have disappeared into the dough. You want your batter to be able to hold shape and be similar to cookie dough, but not be too runny. This is all dependant on how drippy your peanut butter is. You may need to use less than 1/4 cup or more than 1/4 cup of water. 
Once your dough has formed, transfer it into a parchment-lined 9×9-inch square baking dish (for thicker bars) or a 9×13-inch baking dish (for thinner bars). Either work! Set aside.
Prepare chocolate topping by placing dark chocolate chips and coconut oil into a microwave-safe bowl. Microwave in increments of 15 seconds and stir until melted.
Pour chocolate topping onto protein bars and use a spatula to evenly spread it out. Then, sprinkle on coarse sea salt.
Place bars into the freezer to set for 30 minutes to an hour or until the chocolate has fully hardened.
Slice and store in the fridge for up to 7 days or in the freezer for up to 3 months.
Tips & Notes
This recipe was updated on January 16, 2021. Click HERE for the original recipe. 
Medjool Dates: make sure your Medjool dates are soft or they will not break down. If your dates are hard, you can soak them in hot water to soften them.
Peanut butter: the peanut butter we used was very drippy. We suggest using the following brands: Kirkland, Smucker's All-Natural, or Good and Gather All Natural.
Nutrition Facts
Serving Size:
1 bar
Calories:
342
Sugar:
30
Fat:
14
Carbohydrates:
47
Protein:
13
Category:
Snack
Method:
No-Bake
Cuisine:
American
Diet:
Gluten Free
Keywords: homemade protein bars, protein bar recipe

I stored these guys in individual plastic baggies in the freezer. They're an easy grab-and-go snack or meal replacement. If you keep them in the freezer, they will stay longer. Just a little tippy tip!
Happppppppy Friday!