Peanut butter protein balls are the perfect high-protein snack to munch on post-workout or mid-day when you need something to tide you over!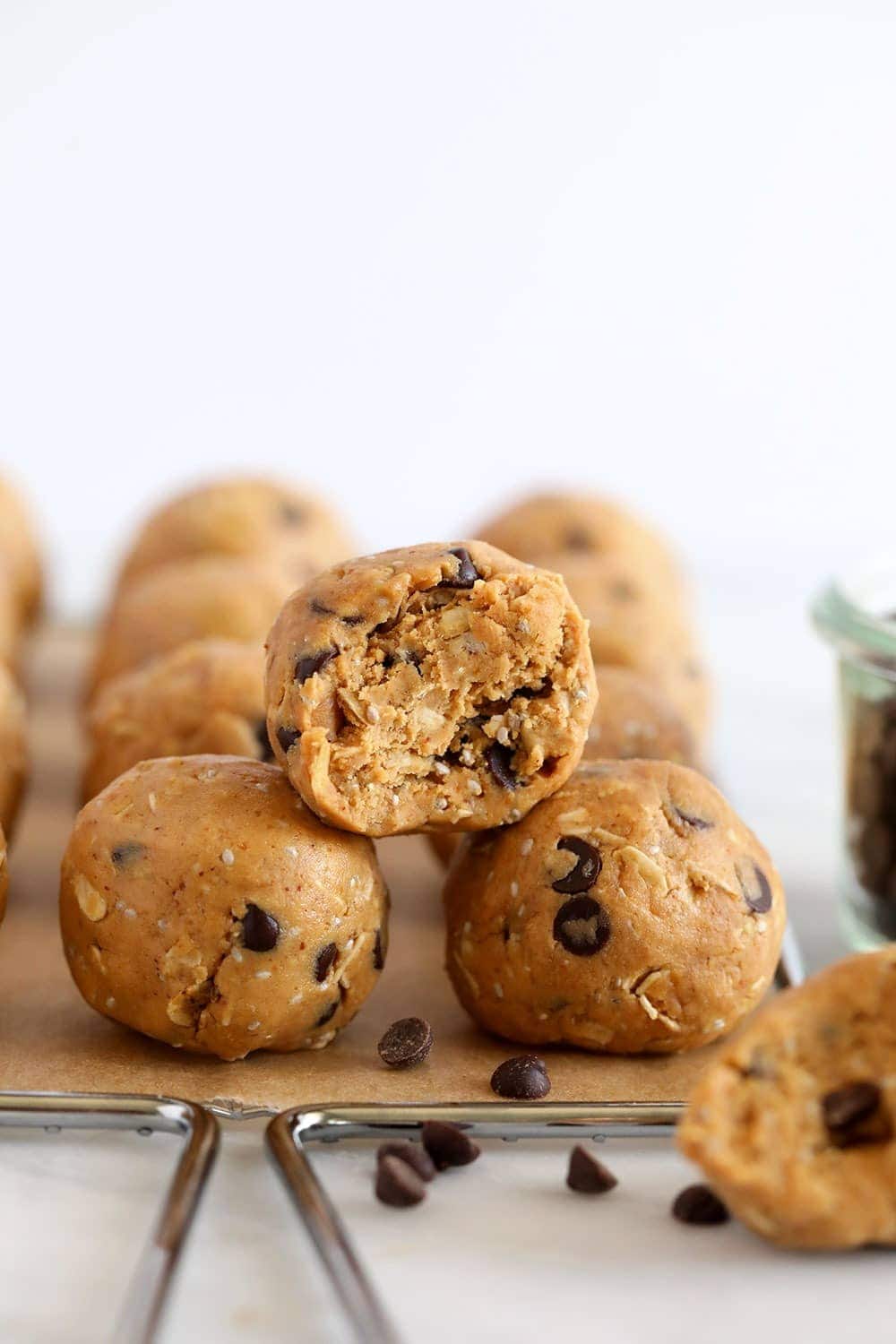 Protein Balls = The Best Snack Around Town
What is better than a healthy snack that tastes good and is ready for you whenever you have a craving for a little something sweet?
We are BIG fans of protein balls here on Fit Foodie Finds. We love to mix up a double batch of balls and have them on hand all week long. These PB protein balls, specifically, are our all time fav. Here's why:
Protein Balls Quick Facts
Gluten-Free
9g protein/ball
Lower in sugar
140 calories/ball
No food processor necessary!
No Food Processor Necessary!
This may be one of the main differences between this protein ball recipe and the other protein ball recipes on our site! You don't need a food processor to mix these bad boys up. Generally, we use dates in our ball recipes which requires a food processor.
Though we love our food processor (and dates), sometimes it's just nice to use one bowl and a spoon, do you feel me? Our chocolate no bake peanut butter balls are the other ball recipe on FFF where there is no food processor needed.
We wanted to up our protein snack game so now we have these amazing and now we have these simple peanut butter protein ball!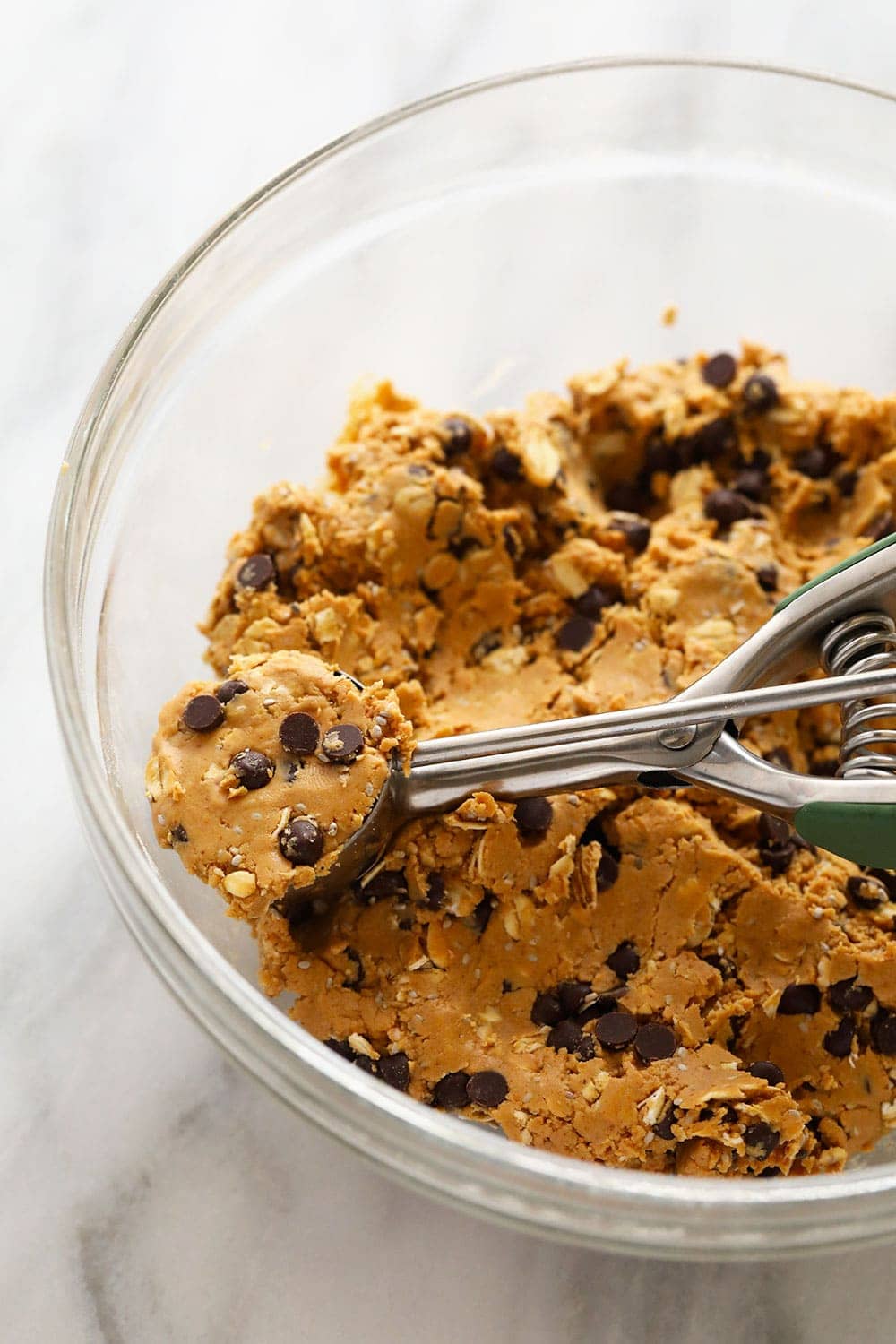 Peanut Butter Protein Ball Ingredients
These peanut butter protein balls are packed with nutrient-dense ingredients that go perfectly together and will keep you satisfied all. day. long.
Let's go over everything you need for these protein balls.
Peanut Butter- Though peanut butter adds a whole bunch of amazing flavor to this recipe, it also acts as a nice binder as well has adds moisture to this ball recipe. So, when you are deciding what peanut butter to use in this recipe, make sure it is DRIPPY peanut butter!
Protein- Not to scare you, but what type of protein powder you use will dictate how chalky your protein balls are! We used Garden of Life protein powder in these balls and you can barely tell that there is protein powder.
Now, don't go crazy and buy a ton of protein powder (unless you want to), just be prepared to add a little more water or honey to your balls. Or? Just have chalky protein balls with a big glass of water! They will still taste amazing!
guide to protein powder
Looking for the best protein powder to buy? Check out our Guide to Protein Powder where we share our top plant-based and whey protein powders.
Rolled Oats- Oats not only add a healthy dose of fiber to these balls, but they give these protein balls a nice bite and act as a great binder to soak up extra moisture.
Honey- Honey is both the sweetener and the glue that holds these balls together! Don't skip it!
Chia Seeds- These protein balls are a great source of protein AND fiber and omega 3 fatty acids because of these chia seeds!
Chocolate Chips- I mean, is there a better combination than peanut butter and chocolate? I didn't think so. Add the mini chocolate chips! Feel free to replace the chocolate chips with vegan chocolate chips or even chopped up chocolate bar!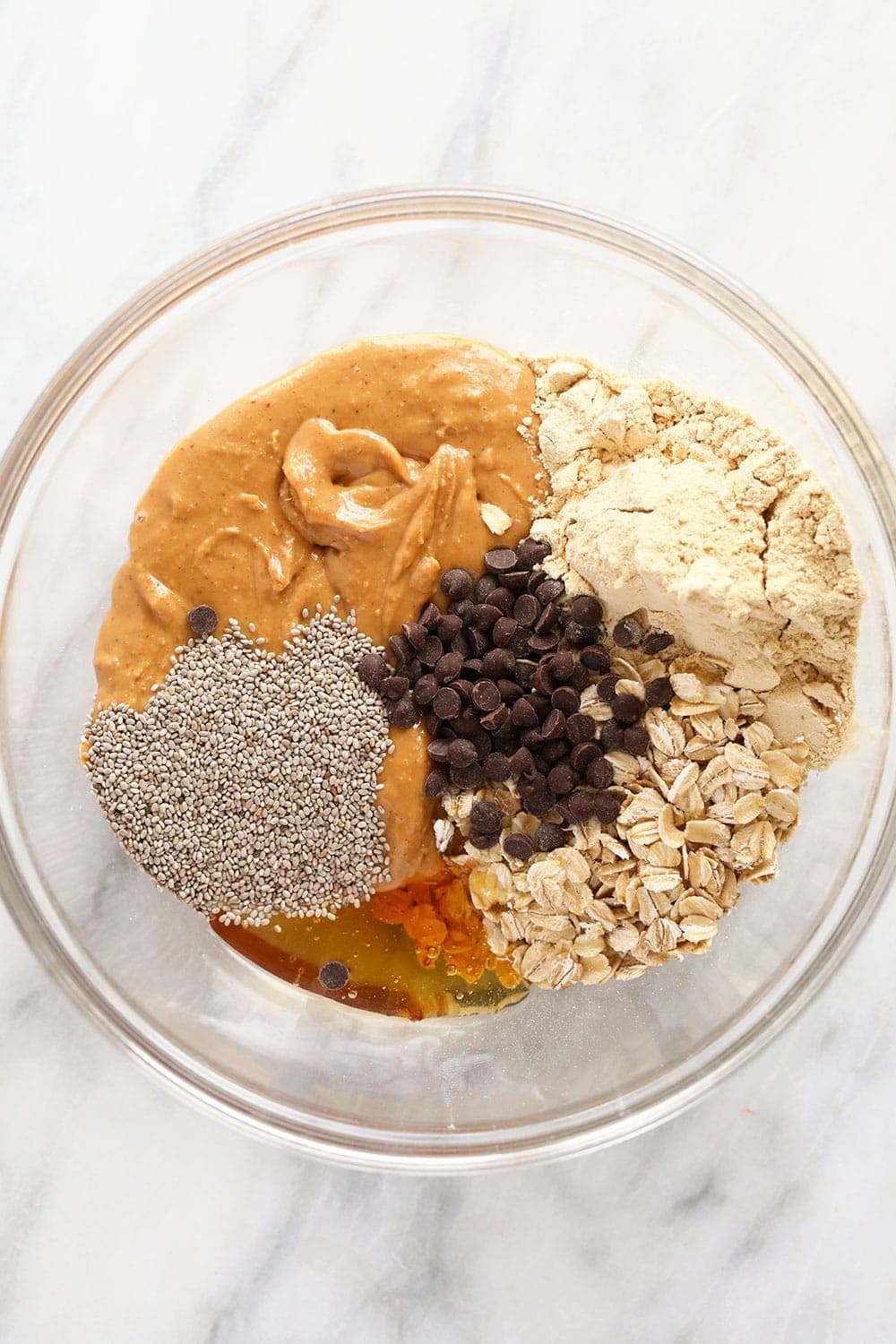 Peanut Butter Balls 101
Are protein balls good for you?
Yes is the short answer to this question. Protein balls are good for you if you eat them in moderation! Have one protein ball as a snack, for breakfast, or right after a workout.
Why aren't my protein balls sticking together?
If your protein balls are not sticking together you probably need to add a little bit more moisture. Add a teaspoon of water at a time until your protein balls stick together to form a ball!
Is there a good nut butter substitute for peanut butter?
If you don't have peanut butter on hand you can substitute the peanut butter with any other DRIPPY nut butter. Just be sure it's DRIPPY.
Cashew Butter
Almond Butter
Sunflower Seed Butter
How many calories is in one peanut butter protein ball?
There are some pretty nutrient dense ingredients in these protein balls and for that reason they are a bit more calorie dense! There are about 141 calories per ball!
How do I make protein balls all the same size?
You can make sure all your protein balls are the same size by using a cookie dough scooper or a tablespoon!
Can I store my protein balls in the freezer?
Yes, after you make your protein balls, freeze them on a cookie sheet to harden them and then place them all in a freezer safe bag and store them in the freezer!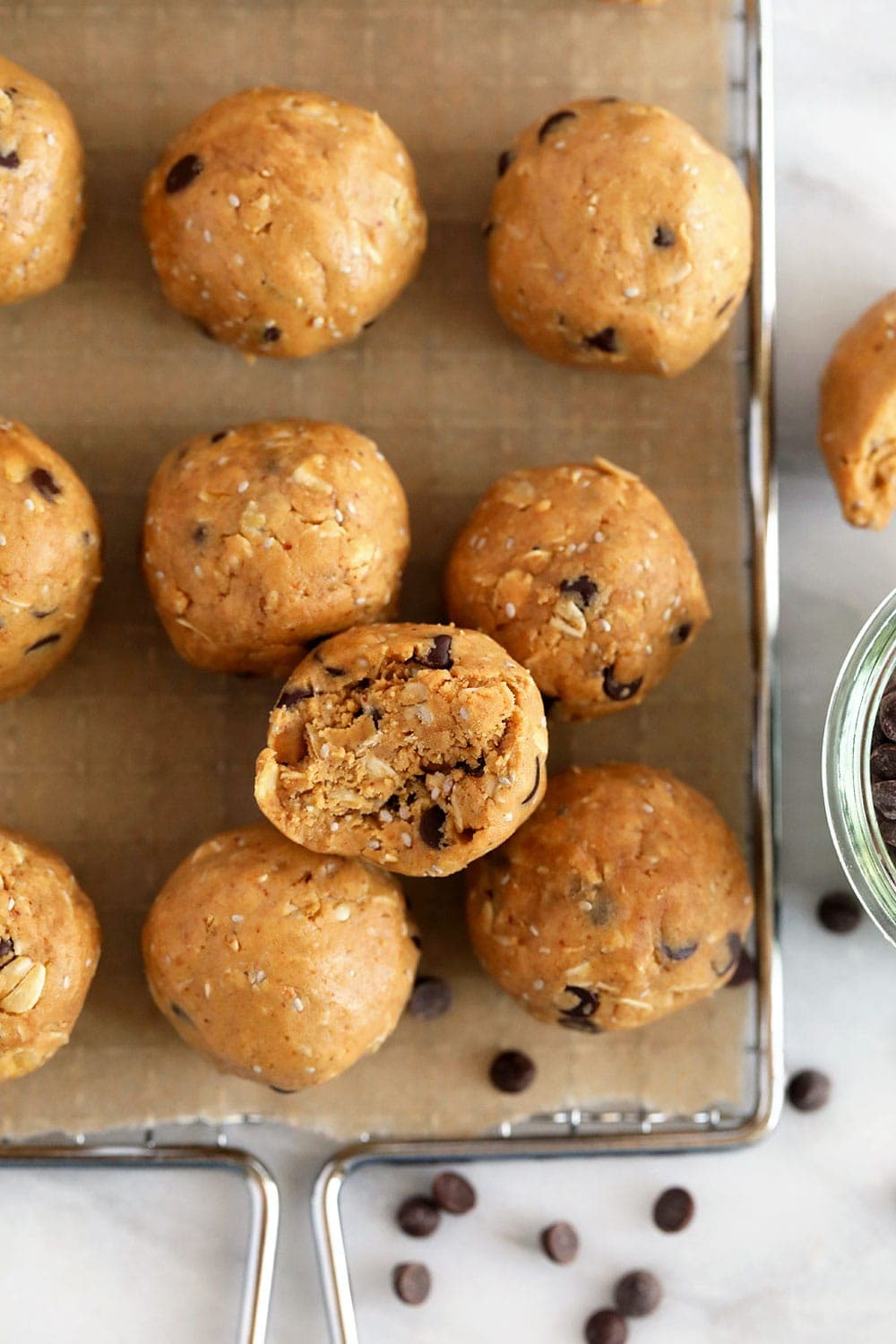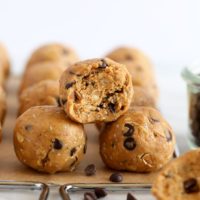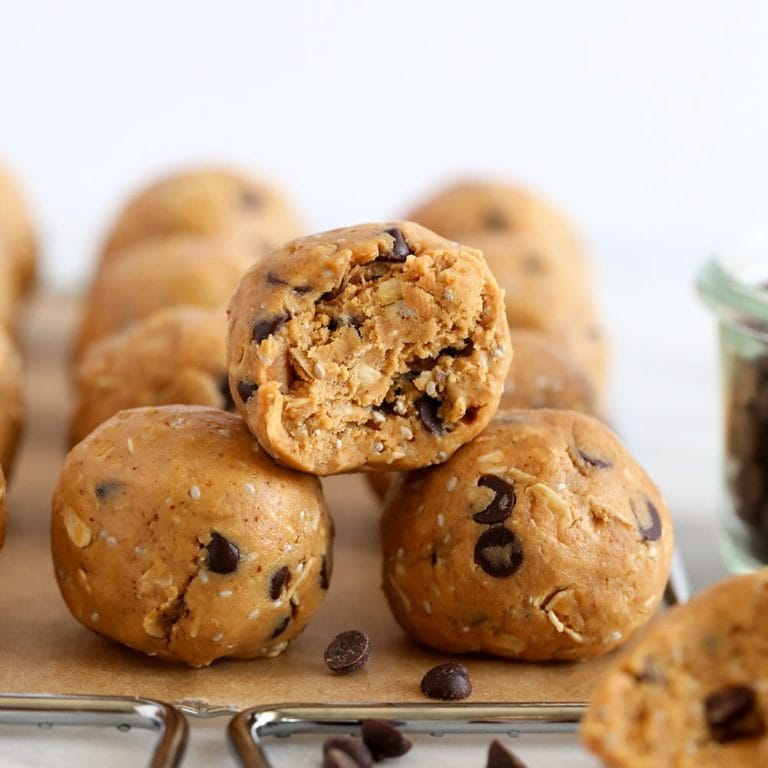 Peanut Butter Protein Balls Recipe
Peanut butter protein balls are the perfect high-protein snack to munch on post-workout or mid-day when you need something to tide you over!
Instructions
Place peanut butter, protein powder, rolled oats, chia seeds, honey, and mini chocolate chips into a medium bowl.

Use a wooden spoon or your hands to mix the dough together. At this point, begin to add water by the teaspoon.

Depending on how drippy your peanut butter is, you'll need to add more or less water. The water not only helps moisten things so your balls hold shape, but they actually help your balls become less chalky.

Use a 1 tablespoon cookie scoop to scoop dough into your palms. Roll into balls until all dough is gone. You should get somewhere between 14-16 balls.

Store in the refrigerator for up to a week or in the freezer for up to 3 months.
Tips & Notes
Protein powder: if you use a whey or collagen-based protein powder, you will likely need more than 1/3 cup. We tested with Bulletproof Vanilla Collagen Protein Powder and needed to use an extra 2.5 tablespoons of protein powder and no water.
Nutrition facts
Calories:
141
kcal
Carbohydrates:
8
g
Protein:
9
g
Fat:
7
g
Fiber:
2
g
Sugar:
3
g