Healthy buckeyes, is this real life? It sure is! Give the classic buckeye recipe a twist by adding protein powder and sweetening with honey, for a healthy treat!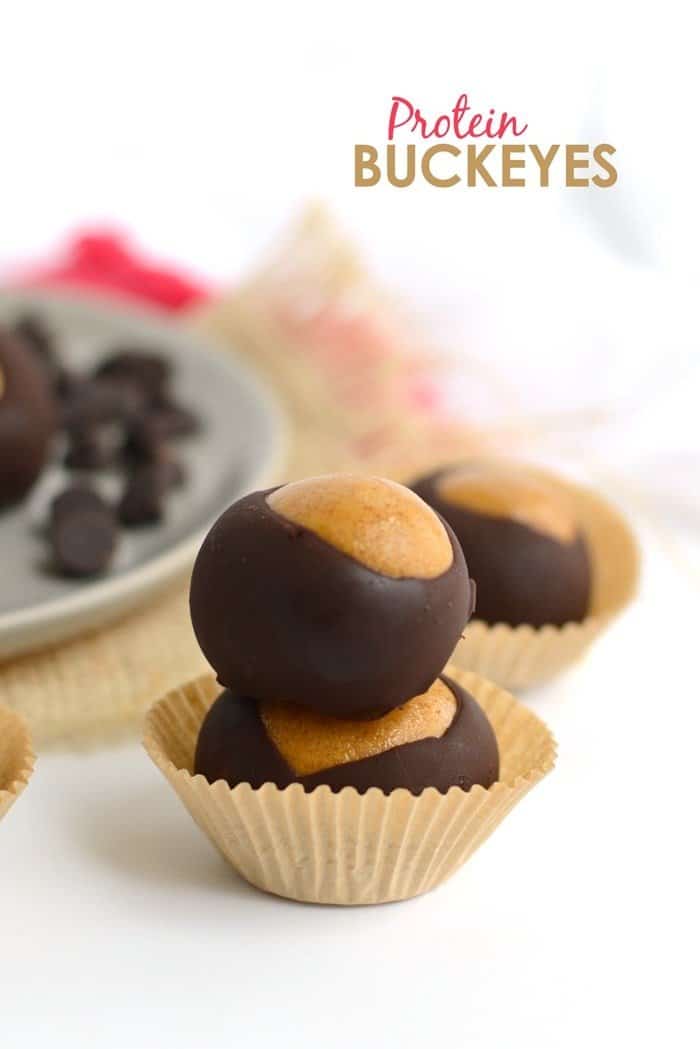 You guys know how I feel about peanut butter and chocolate.
It's the most perfect match made in heaven. It really is.
Some of the most popular FFF recipes involve the duo: Healthy Peanut Butter Cup Smoothie, Healthy Peanut Butter Cups, Healthy Peanut Butter Brownie Balls. I actually really think people just freakout when they see a chocolate pb recipe that's "healthy." That means you can eat 5, right?
So- I've been working on different photography techniques. When I was in Toronto a few months ago visiting Davida, I got to see how she shoots all of her recipes. I've always been a side lit girl with a bounce, but she inspired me to try backlit. The first time I tired it, it was a major fail. The 2nd time was a major win. I ove the background glow effect backlit gives a photo. You can totally see the difference between side lit (first photo) and back lit (second photo).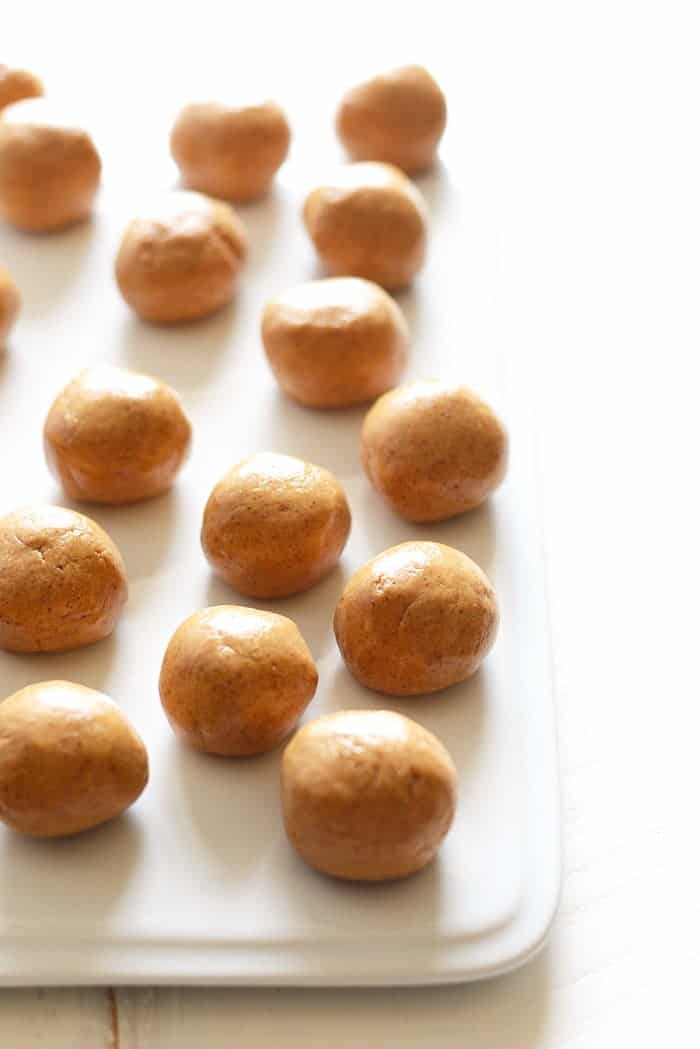 I definitely think there is a certain aura a backlit photo gives off. It has a much bigger personality and is moody.
It's fun playing around with different photography styles. I feel like photography is like makeup. You do you makeup a certain way and you most likely won't change things up for the next few years (that's me at least!). Trying out different techniques really challenges me, and that's one of the best parts about my job! It's a clear second behind being able to call eating peanut butter and chocolate a job task.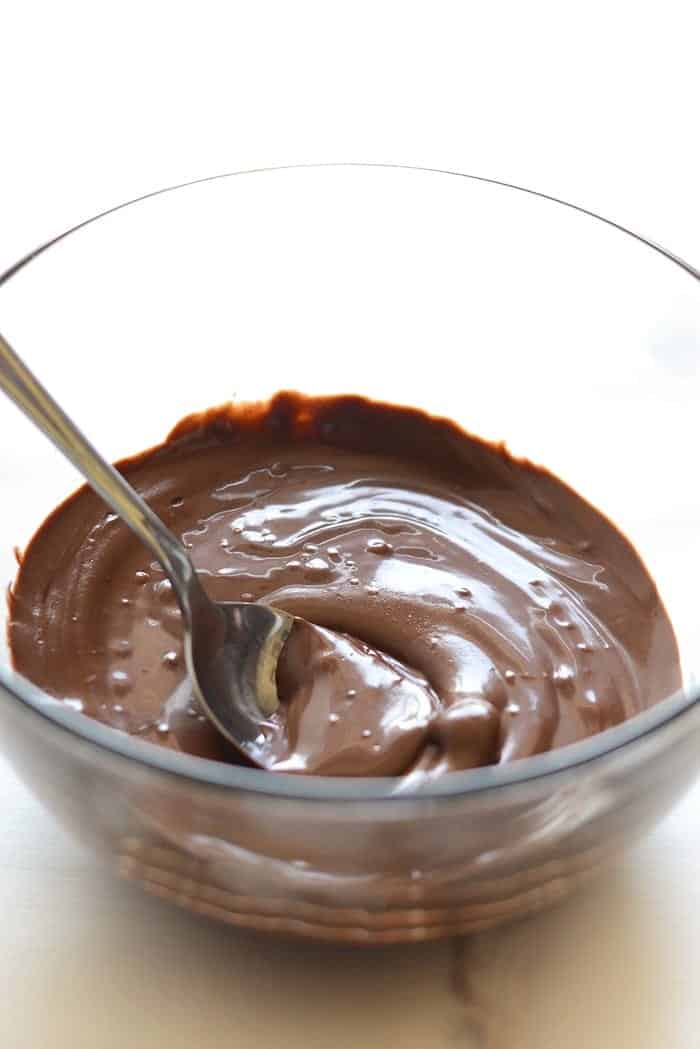 For this recipe, I used dark chocolate chips and thinned things out with a little bit of coconut oil
. The first batch I made didnt' turn out so well because the chocolate stayed super thick. Then, I added too much coconut oil, and it was too think slash melted.
Finally- I got it just right. By that time, I had mastered how to make these things look like balls instead of balls with a ring at the bottom. Actually- I got a really great tip from my bloggin' pal Amanda from Heart Beet Kitchen. She said to place the ball on a fork. Dip, and tap your wrist, getting as much chocolate off as possible. Then, you finish things off with a toothpick. You slide the ball off the form with your toothpick, getting any access chocolate off the fork.
It takes some serious talent to make a buckeye.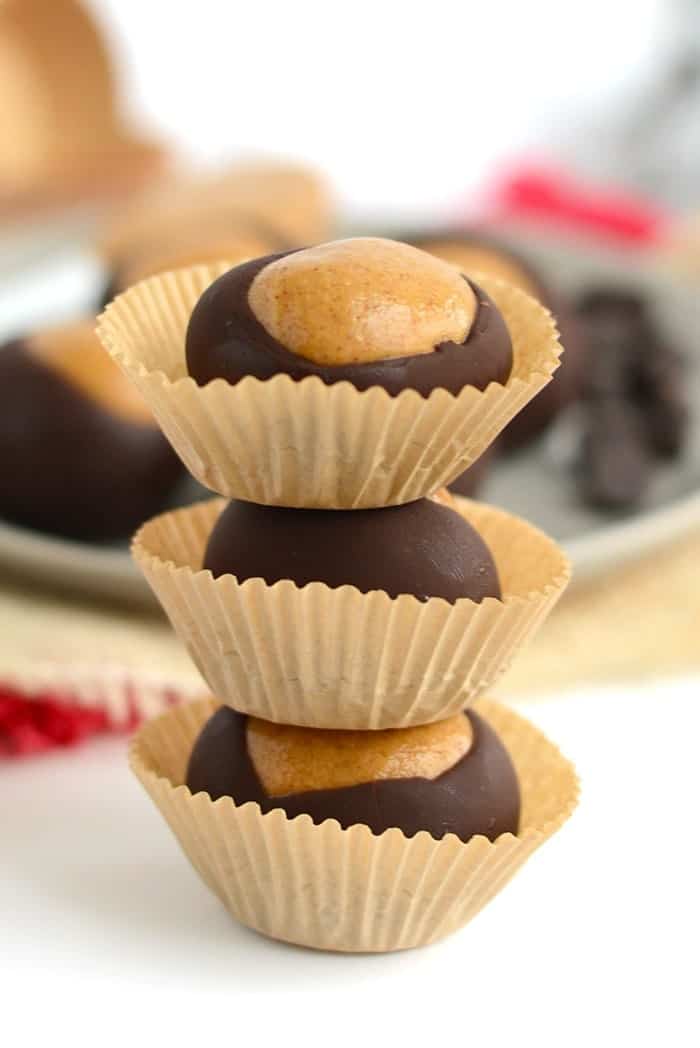 The addition of protein powder is just perfect for my afternoon snack. It makes me feel a little less bad that I'm eating chocolate 😛
In this recipe I used Designer Whey Vanilla
. Note that if you use a plant based protein powder, the recipe will likely need to be altered.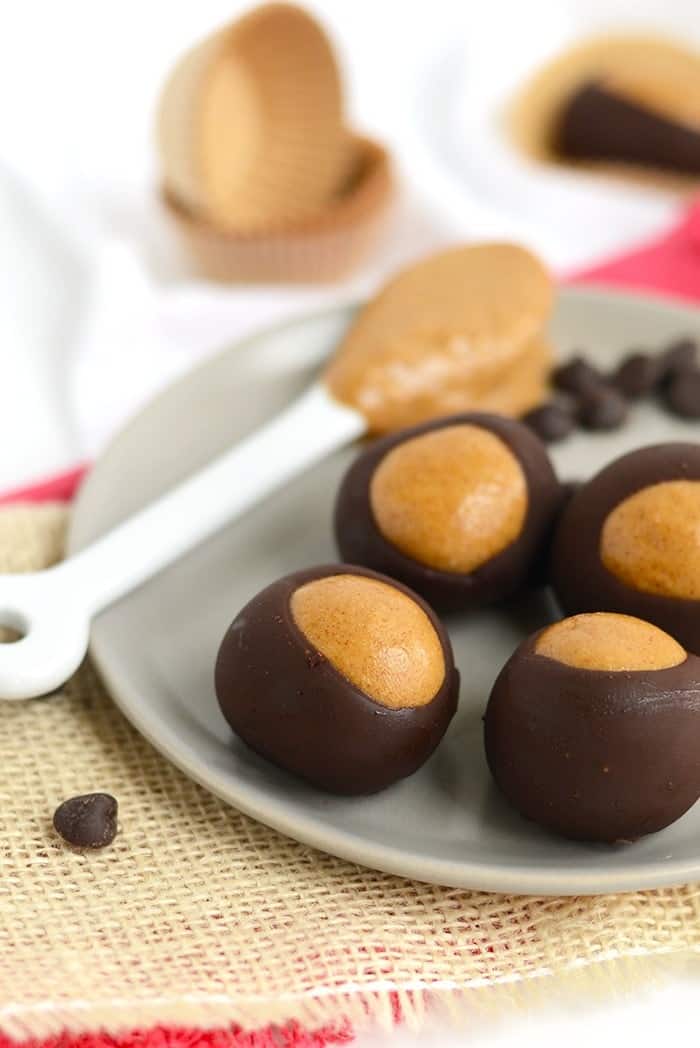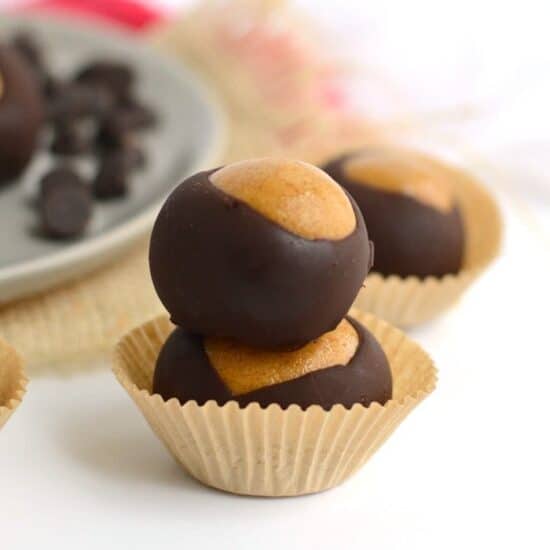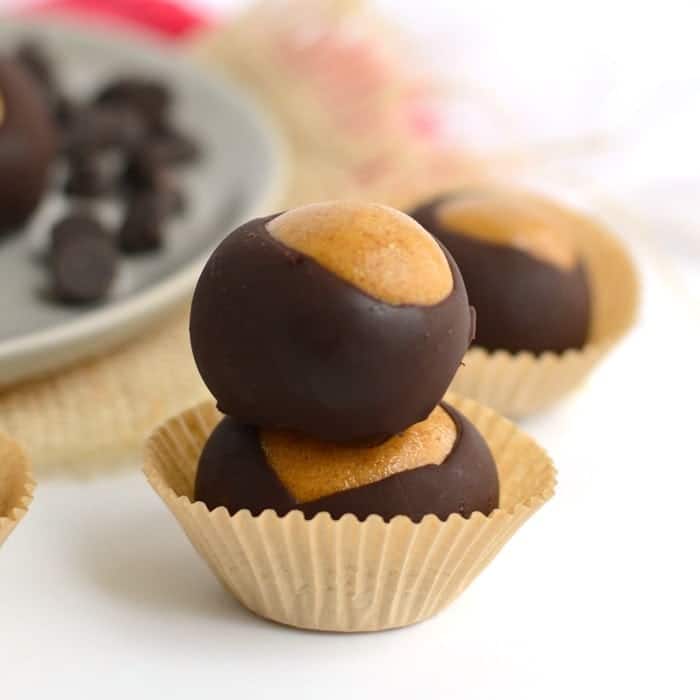 Healthy Protein Buckeyes
Instructions
Combine peanut butter, vanilla, protein powder, and honey in a medium-size bowl. Mix until the texture is like cookie dough.

Next, line a baking sheet with parchment paper. Using a 1 tablespoon cookie dough scooper, scoop dough into your hand. Roll into a ball and place on paper. Repeat.

Place baking sheet in freezer for about 30 minutes, or long enough for the balls to settle and firm up a bit.

While your balls are chilling. Place 1 cup chocolate chips in a small bowl. You want it to be big enough to fit the chocolate chips, but small enough so that you can dip the balls. Microwave for about 60 seconds. Then, add in coconut oil and mix.

Once your balls have firmed up, it's time to dip and place on a cookie drying rack to prevent any rings from forming. Place a ball on the end of a fork. Dip ball into chocolate, leaving a ring at the tip. Hold your fork with your left and and use your right hand to tap your wrist, so that any extra chocolate drips off. Finally, use a toothpick to slide the ball off the fork onto your drying rack. Repeat.

Place cookie rack into the freezer to speed up the drying process.

*Best eaten frozen!
Tips & Notes
Storage: will stay good in your freezer for up to 1 month.
Nutrition facts
Calories:
153
kcal
Carbohydrates:
12
g
Protein:
6
g
Fat:
11
g
Fiber:
2
g
Sugar:
8
g