Made with 100% almond meal, this gluten free almond biscotti is the ultimate Christmas cookie recipe to make this holiday season!
Where did this year go? It's the middle of December and I'm already scheduling posts out for 2017. It doesn't feel real. I know that I say this and feel this way every year, but for some reason 2017 came faster than 2016! I've already started outlining my favorite Fit Foodie Finds Recipes of 2016 and the list just keeps getting longer and longer and longer. So, stay tuned for that in January.
More importantly, it's December 15th and all all we should be talking about is CHRISTMAS COOKIES! I think Team Fit Foodie has shared almost every cookie recipe on the planet on our Facebook page…including Ambitious Kitchen's Healthy Christmas Cookie Week, which I can't get enough of. While searching for yummy cookie recipes to share, I came across an old FFF recipe Gluten Free Almond Biscotti. Sound familiar? I published this very same recipe back in 2013. Well, not the very same recipe, but a recipe called Gluten-Free Almond Biscotti. Here's the thing, the old Gluten-Free Almond Biscotti recipe was made once and only once. Way back when I was a newerish blogger, I didn't test things properly…especially if it worked the first time (this homegirl was working a full time job and blogging only on the weekends)! Turns out, the 2013 recipe sucked (I mean that in the nicest way). Not only has it been a major fail for many readers, but for us too when we retested!
That's why…we decided to reduce, reuse, and recycle this bad boy into a brand new Gluten-Free Almond Biscotti recipe that's been signed, sealed and delivered.
Tested and perfected 3 times…we present you a new an improved Gluten-Free Biscotti recipe that we know you will love.
>> Can we just pause for a minute and reflect on 6 years? I have been blogging for 6 years. WE have been in a virtual relationship for 6 years. For those of you that have been reading my posts and making FFF recipes since the beginning, holy smokes. That's the longest relationship that I've ever been in (other than with Linley of course). <<
So, what exactly was wrong with my first recipe? Well, the biscotti didn't have very good flavor and the gluten-free all-purpose flour made them really chalky. We wanted to be able taste the almond flavor under the chocolate, so we added a little bit of almond extract as well as orange zest. It made a world of a difference. We played around with flours and decided to nix the gluten-free flour and stick with 100% ground almond flour. The new combo of ingredients didn't let us down. As a girl who grew up in a very Italian family, biscotti should not be overly sweet and it should for sure have a nice crunch to it.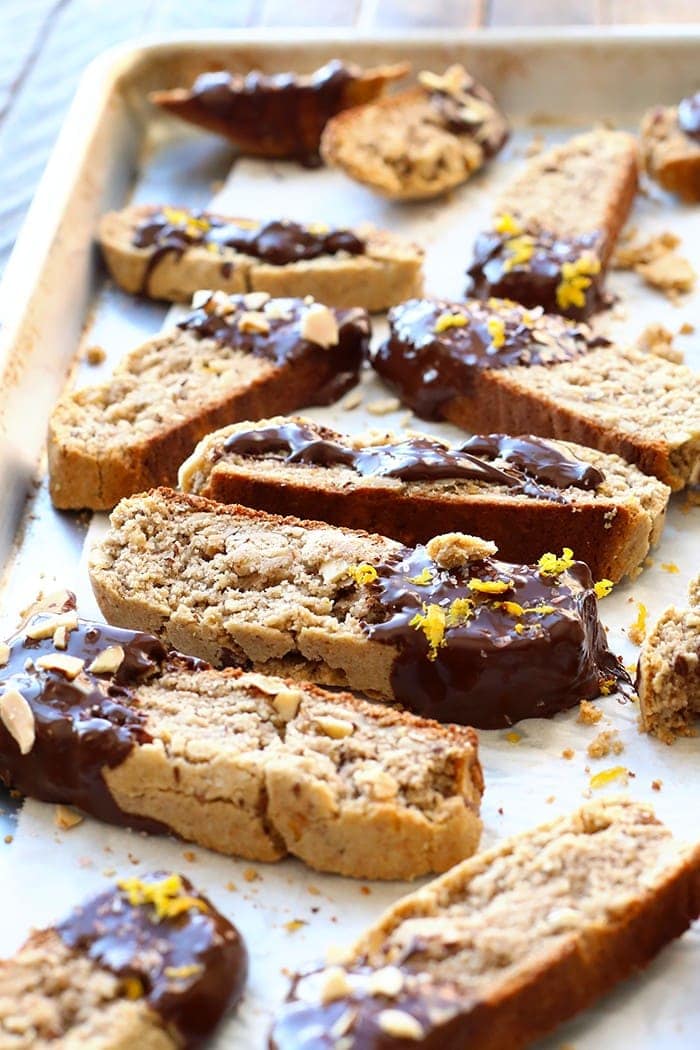 A few reminders when making Biscotti:
Be patient. There are many variables that play into making the perfect biscotti (oven temperature, gas or electric oven, consistency of flour, etc.)
When forming the biscotti into logs, try to form them as evenly as possible.
When you remove the biscotti from the oven after it's first round of baking, letting the logs cool is VERY important. If you try to cut the logs into cookies while they are warm, you will have a crumbly mess.
Make sure you have a very SHARP knife when cutting the logs into cookies.
How crunchy you like your biscotti will affect the bake time. For your second round of baking, the longer you leave the cookies in the oven, the crunchier your biscotti will be.
Dipping your biscotti in coffee is an absolute DREAM
Happy Baking!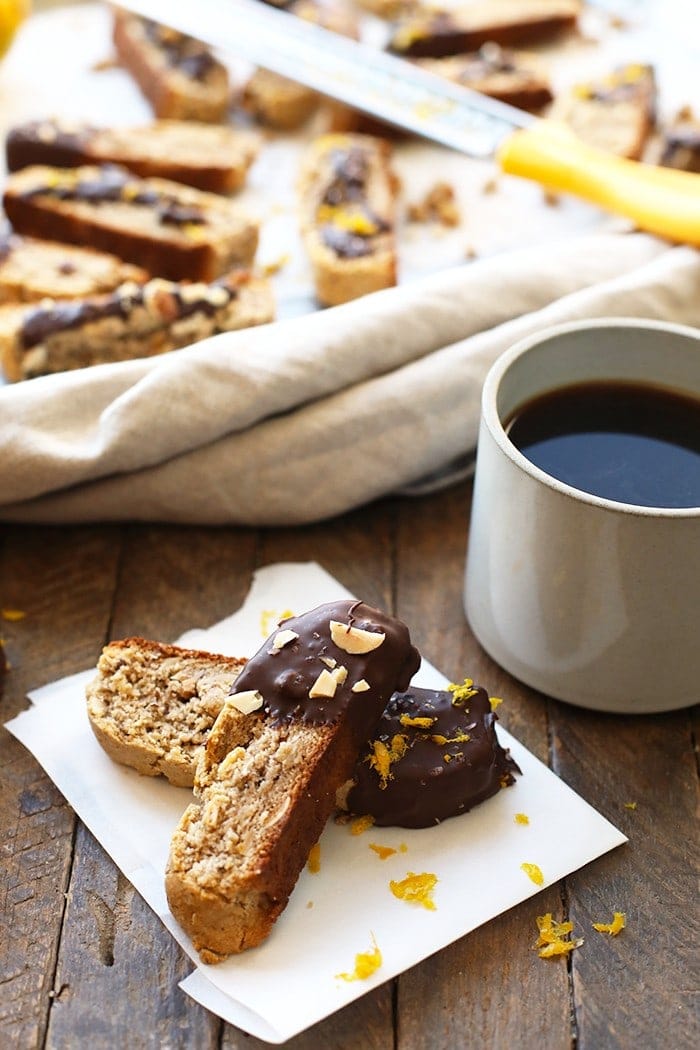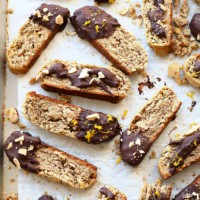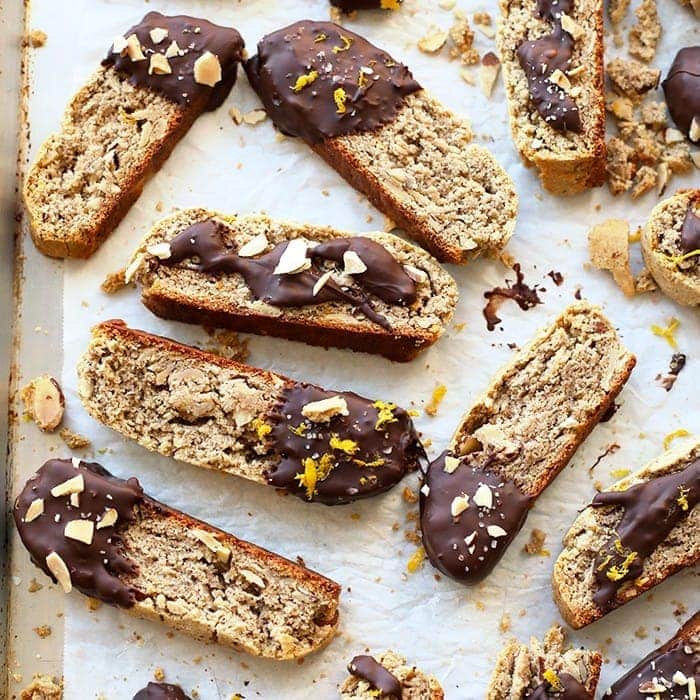 Repost - Gluten-Free Almond Biscotti
Made with 100% almond meal, this gluten free almond biscotti is the ultimate Christmas cookie recipe to make this holiday season!
Ingredients
Other toppings
orange zest

sea salt

slivered almonds
Instructions
Preheat oven to 340º and lay parchment paper on a cookie sheet.

Mix together dry ingredients in a bowl, set aside.

Next, place wet ingredients (minus the coconut oil) in a large both and slowly mix together with a hand mixer.

Add dry ingredients to wet ingredients and mix again. Finally, add coconut oil and mix until everything is combined.

Split the dough in half and form into logs about 4 inches wide and 1/2 to 3/4 of an inch thick.

Bake for 20-25 minutes.

When the logs are golden brown on the edges, remove from oven and let cool for 15min. Reduce oven temperature to 300º.

Once cooled (it is VERY important that they are cool), cut loaves evenly into 1/2 - 3/4 inch cookies.

Place back on cookie sheet and bake for another 20-30 minutes, depending on how crunchy you would like your biscotti.

Remove from oven, let cool for 30 minutes.

Dip in melted chocolate and sprinkle on orange zest, sea salt, and slivered almonds.
Tips & Notes
Nutrition facts include chocolate drizzle, but do not include other toppings listed
Nutrition facts
Serving:
1
/24
Calories:
168
kcal
Carbohydrates:
11
g
Protein:
6
g
Fat:
12
g
Fiber:
2
g
Sugar:
6
g
FFF's FAVORITE Christmas Cookie Recipes
Paleo Hot Cocoa Cookies with Vanilla Bean Frosting 
Double Chocolate Flourless Peanut Butter Cookies 
Chocolate Ginger Molasses Cookies