Have a healthy and sweet morning all at once with this delicious dark chocolate berry oatmeal bake. This recipe serves a crowd and is the perfect meal to share amongst friends and family!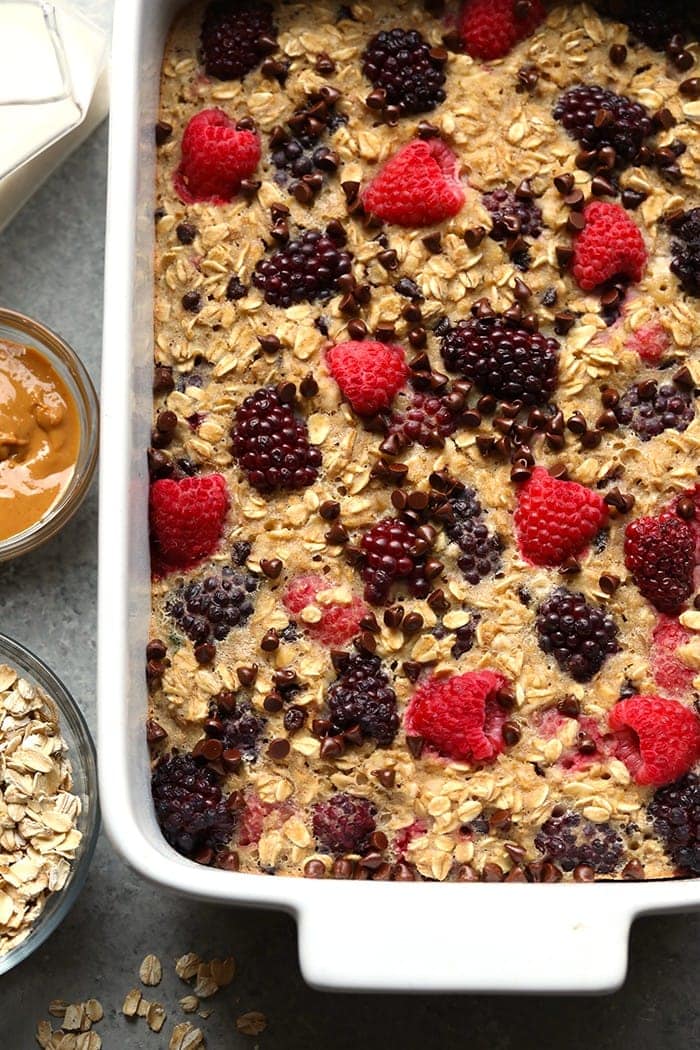 This may or may not be in my top three breakfasts ever created on
Fit Foodie Finds
. Okay, okay…it is! I know you guys love oatmeal (almost) as much as me, which is why I thought creating a delicious dark chocolate berry oatmeal bake would be the perfect Christmas morning breakfast for you and your family. Today we are partnering with our friends at
Driscoll's
 for another healthy and delicious berry-filled recipe. You may be thinking it's a little odd to post about berries in December, but Driscoll's follows the sun to grow berries year round! I can get on board with this.
This dark chocolate berry oatmeal bake features two Driscoll's berries: raspberries and blackberries. Raspberries and blackberries are lower calorie fruits that are packed with essential vitamins and minerals. Blackberries are 43 calories per cup and raspberries are 52 calories per cup. This makes them both super nutrient dense foods AKA superfoods. Both berries are currently growing in Mexico, closer to the equator. It's cool to see these berries everywhere right now in Minnesota. Check your local Trader Joe's, Target, Fresh Thyme, and Whole Foods. These are the places where I've seen them recently.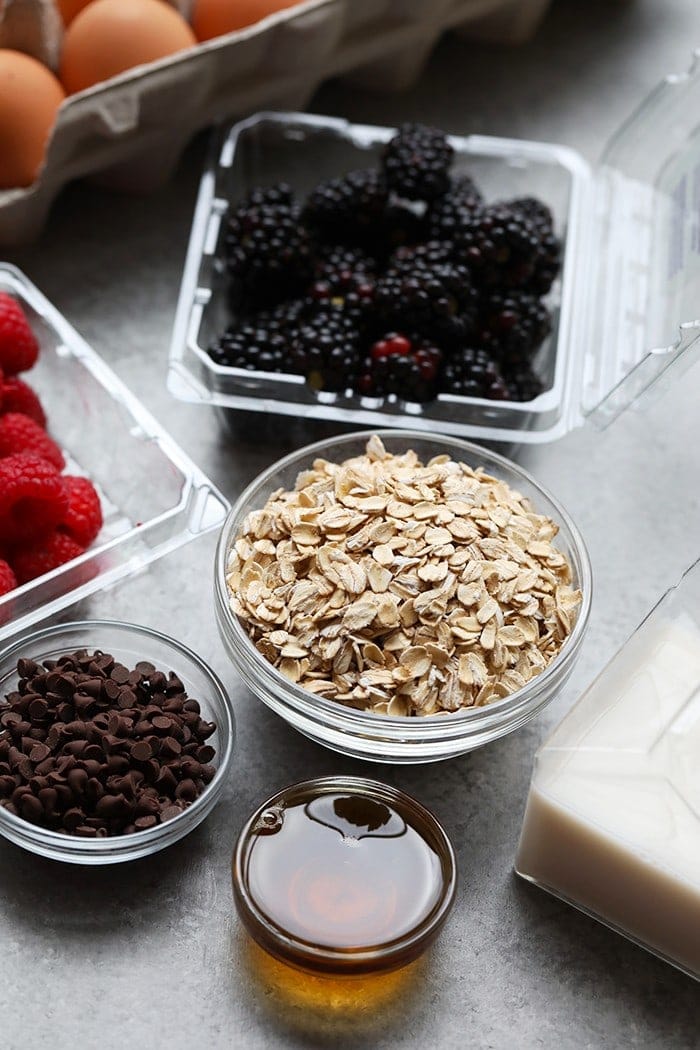 Whenever my family gets together for the holidays (or any time of year!) we love cooking together. I'm usually in charge of breakfast because I'm always the first one up. You know what they say, the early bird catches the worm…or makes breakfast for the whole family! I've been making breakfast for my family since I was about 5 years old. I was the first one awake back then, too! A meal to share is always my go-to for family breakfast affairs. If I can mix a whole bunch of things together, put it in a casserole dish, and into the oven, then I'm a happy camper. This oatmeal bake hits all of these things on the head!
Here's what you'll need:
banana
eggs
chocolate chips
maple syrup
almond milk
I love that this recipe is all naturally sweetened with the mashed banana, maple syrup, and berries. I did add a few dark chocolate chips, but chocolate doesn't count, right? I also love that this is a year-round kind of breakfast! Now that we know berries are always in season, why not make this for all occasions?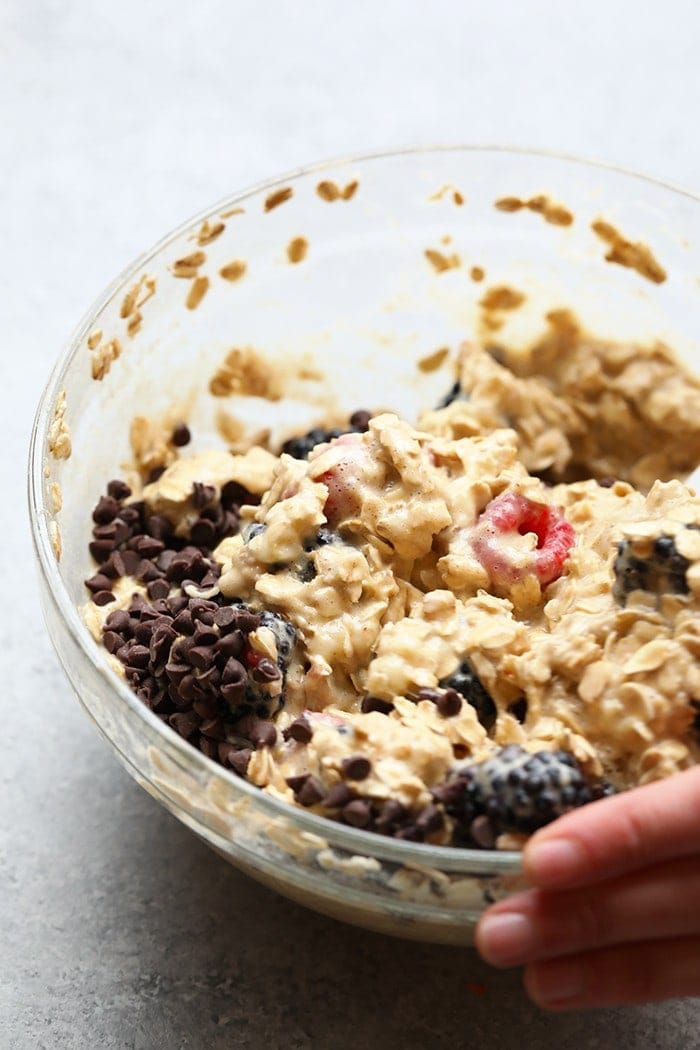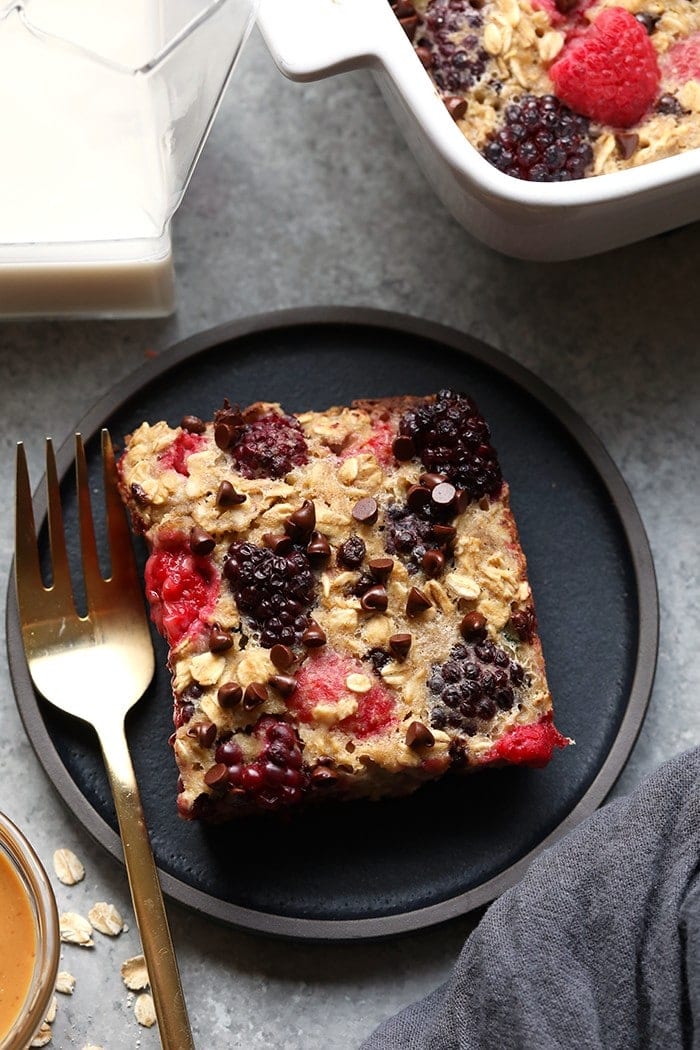 As always, if you make this recipe on Instagram, don't forget to use the hashtags #fitfoodiefinds and #berrytogether!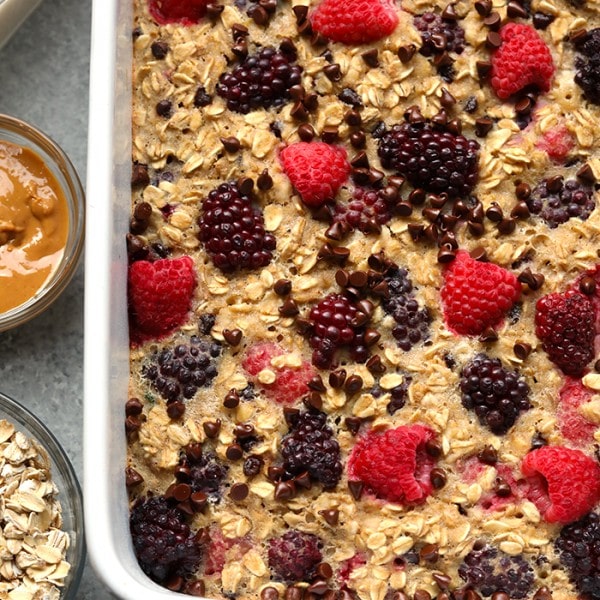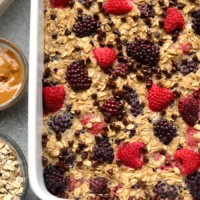 VIDEO: How to Make a Dark Chocolate Berry Oatmeal Bake
Have a healthy and sweet morning all at once with this delicious dark chocolate berry oatmeal bake. This recipe serves a crowd and is the perfect meal to share amongst friends and family!
Prep:
10
Cook:
30
Total:
40 minutes
Instructions
Preheat oven to 350ºF and spray a 10-inch by 7-inch casserole dish with nonstick cooking spray.
Place banana in a large bowl and mash with a fork. Then, add the rest of the wet ingredients and mix until combined.
Add rolled oats, white whole wheat flour, baking powder, berries, and a pinch of salt and mix. Then, add mini chocolate chips and mix again.
Transfer batter into casserole dish and use a spatula to spread evenly. Add additional berries to the top, if desired.
Bake at 350ºF for 30 minutes. Then, add more chocolate chips if desired and bake for an additional 5 minutes.
Tips & Notes
The topping on this oatmeal bake is all-natural peanut butter.
Nutrition Facts
Serving Size:
1/6 recipe
Calories:
342
Sugar:
19
Fat:
9
Carbohydrates:
52
Fiber:
12
Protein:
9
Category:
Breakfast
Method:
Oven
Cuisine:
American

Check out more recipes featuring Driscoll's: Harvest Blackberry and Butternut Squash Massaged Kale Salad and Raspberry Mulled Wine.
This post is sponsored by Driscoll's. I was compensated and all opinions are my own. Thank you for supporting Fit Foodie Finds and making this website possible!