This Peanut Butter Banana Baked Oatmeal is perfectly sweetened with mashed banana and a little bit of maple syrup and gluten-free made with ground oat flour and rolled oats.
Make this on the weekend for the family or during the week for a healthy breakfast meal prep recipe.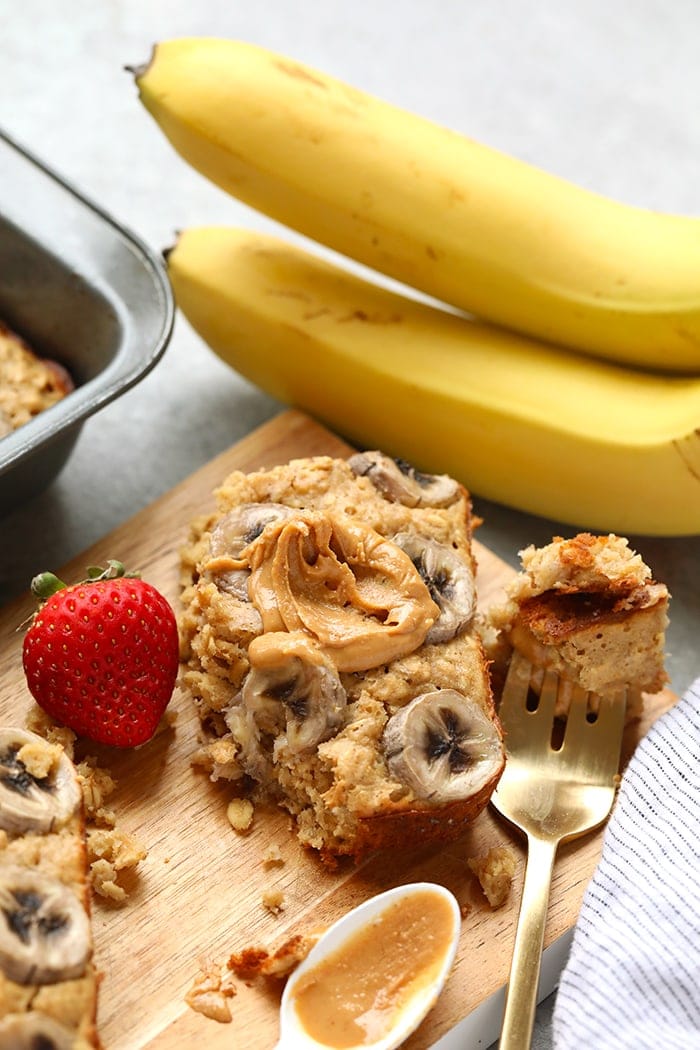 Is it bad that sometimes I base friendships off of the foods people like and dislike? For example…if you like peanut butter, I automatically like you. If you like olives…you're going to have to work really hard to make me like you (cough Emily and Linley). Honestly – my biggest fear in life is that my children are either going to despise peanut butter or worse off, be allergic to it. #thehorror
The good thing is that I haven't met many people who voluntarily don't like peanut butter. It's the food of the Gods if you ask me. It's Friday and we're sharing a recipe video! I know, I know…we don't normally share videos on Friday, but we're doing this for your own good. Why? Becuase you NEED to make this baked oatmeal recipe this weekend. It screams Sunday morning.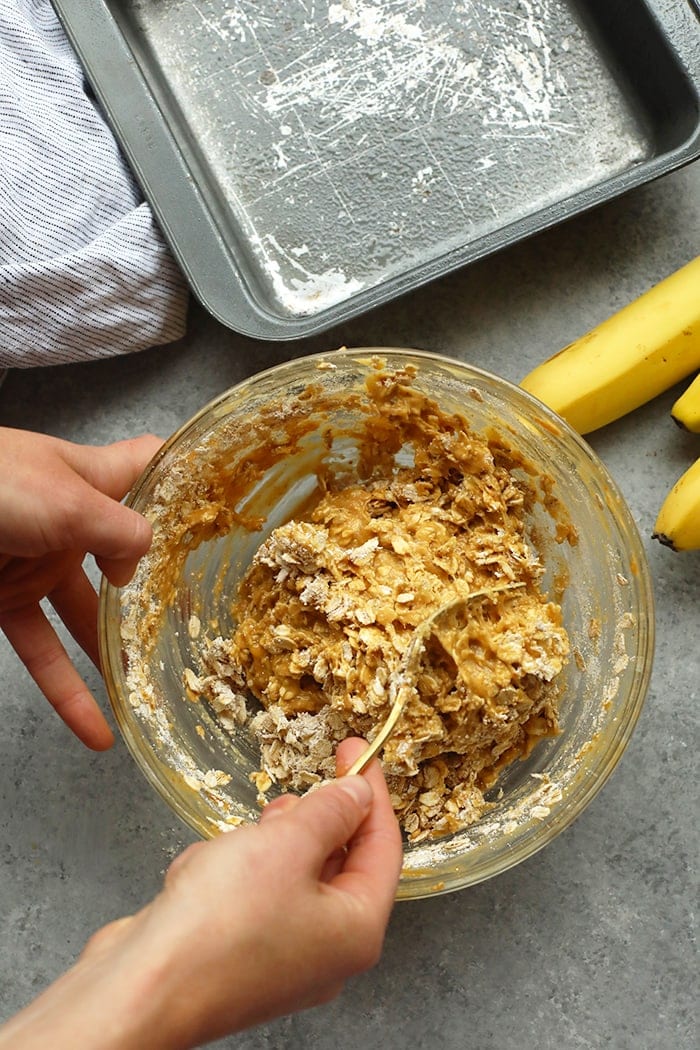 This particular oatmeal bake recipe is wonderful for so many reasons. First, it's 100% gluten-free! It's made with rolled oats and ground oat flour. Great for those that can't gluten or that are allergic. Second, oatmeal bakes are just an all-around winning breakfast. They taste like dessert, but are actually good for you! Third, this peanut butter banana oatmeal baked recipe combines all of my favorite things…peanut butter, banana, and oats. LOLZ.
Here's What You Need
banana
eggs
vanilla
maple syrup
almond milk
You can't go wrong with that ingredient list, people. Plus, if you're sick of overnight oats, baked oatmeal is the PERFECT substitute!
Can we talk about the ripeness of bananas for a hot second?
Not too green, not too brown…just right. I like my bananas perfectly yellow. That's IF I'm eating the banana by itself or on top of something. Anyone who says they like green bananas is just…FILLINTHEBLANK. I heard that if you eat a green banana…you can straight up eat the peel, too. No idea if that's true or not, but it is Friday so I thought I'd share that fun fact. When it comes to extremely ripe bananas I gag at the thought of eating it on its own. However, when it comes to mashing an overly ripe banana for sweetness in baked goods or smoothies….I'M ALL FOR IT. This delicious recipe is a close cousin of one of my favorite FFF recipes, the Peanut Butter Banana Overnight Oats.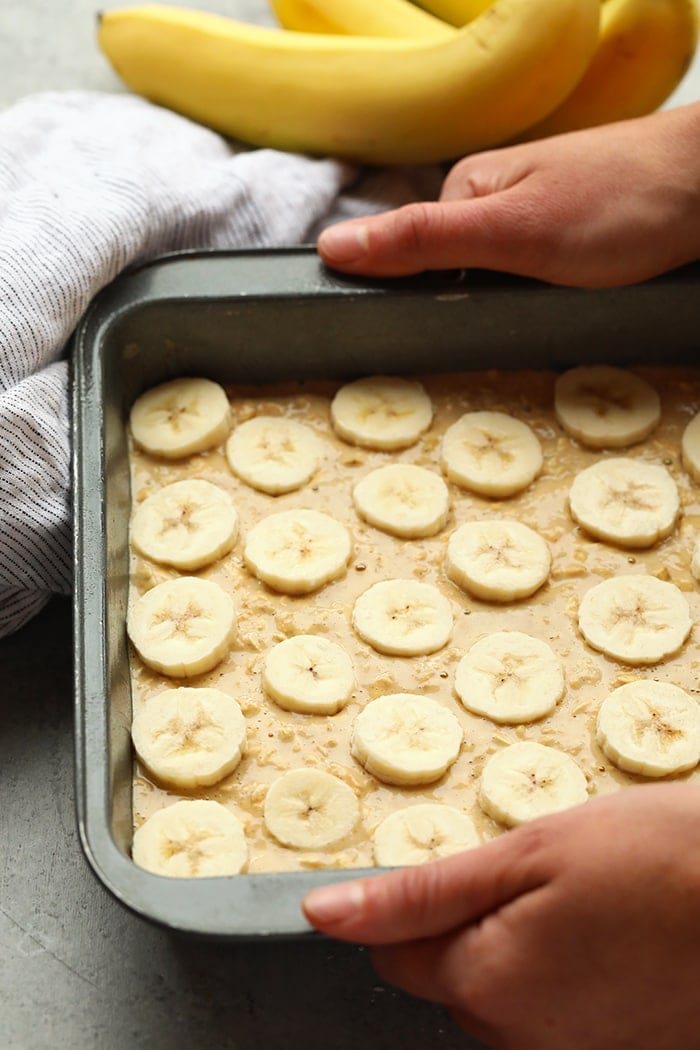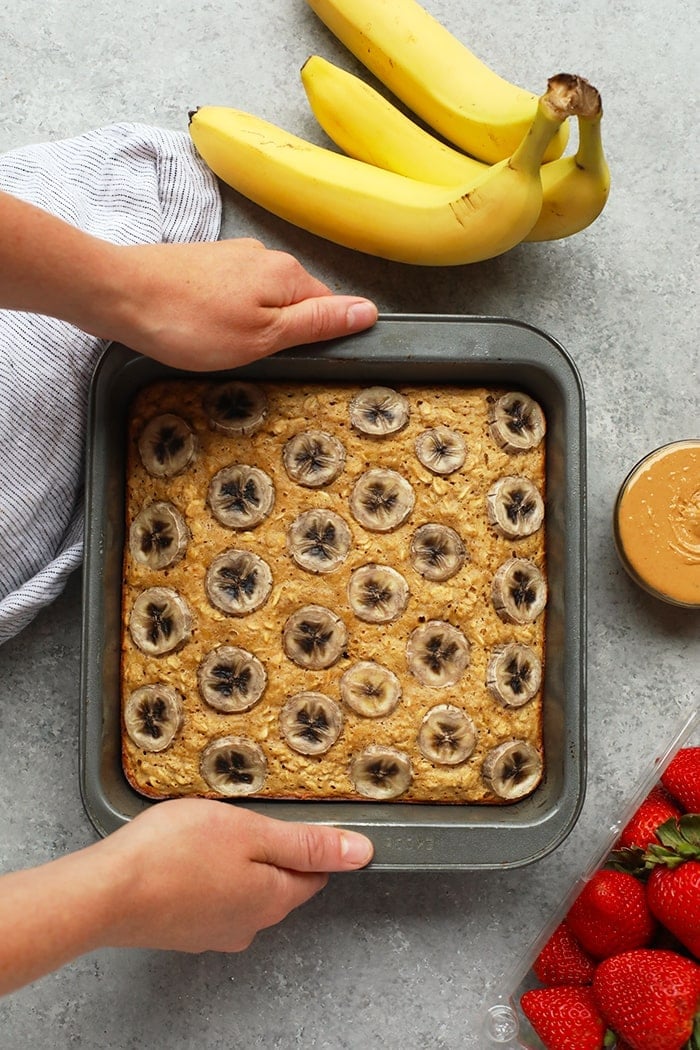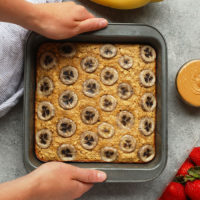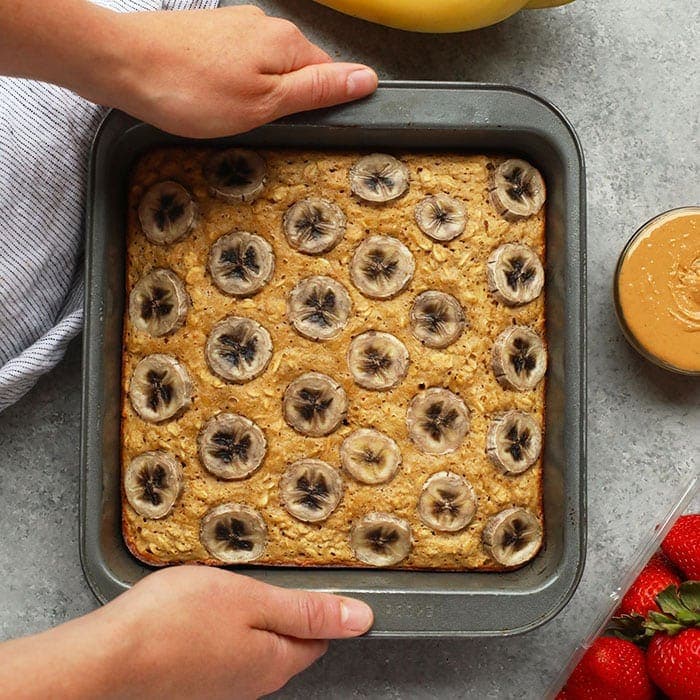 Peanut Butter Banana Oatmeal Bake
This Peanut Butter Banana Baked Oatmeal is perfectly sweetened with mashed banana and a little bit of maple syrup and gluten-free made with ground oat flour and rolled oats.
Prep:
10 minutes
Cook:
40 minutes
Total:
50 minutes
Fat
15
Carbs
44
Protein
14
Instructions
First, preheat oven to 375ºF and spray a medium-size baking dish or cake pan with coconut oil cooking spray. I used a 1.5 qt. baking dish, but a 9×9 inch cake pan will also work!
In a large bowl, mash 1 very ripe banana until liquidy. Then, add in eggs, peanut butter, vanilla extract, maple syrup, and almond milk and mix until smooth.
Add rolled oats, flour, baking powder, and salt, and mix until everything is thoroughly combined.
Transfer batter into baking dish and slice a few bananas on top.
Bake at 375º for about 30-40 minutes (it will depend on the size and depth of your baking dish) or until firm.
Nutrition Facts
Serving Size:
1/4
Calories:
364
Sugar:
11
Sodium:
97
Fat:
15
Carbohydrates:
44
Fiber:
6
Protein:
14
Category:
Breakfast
Method:
Oven
Cuisine:
American
Keywords: banana baked oatmeal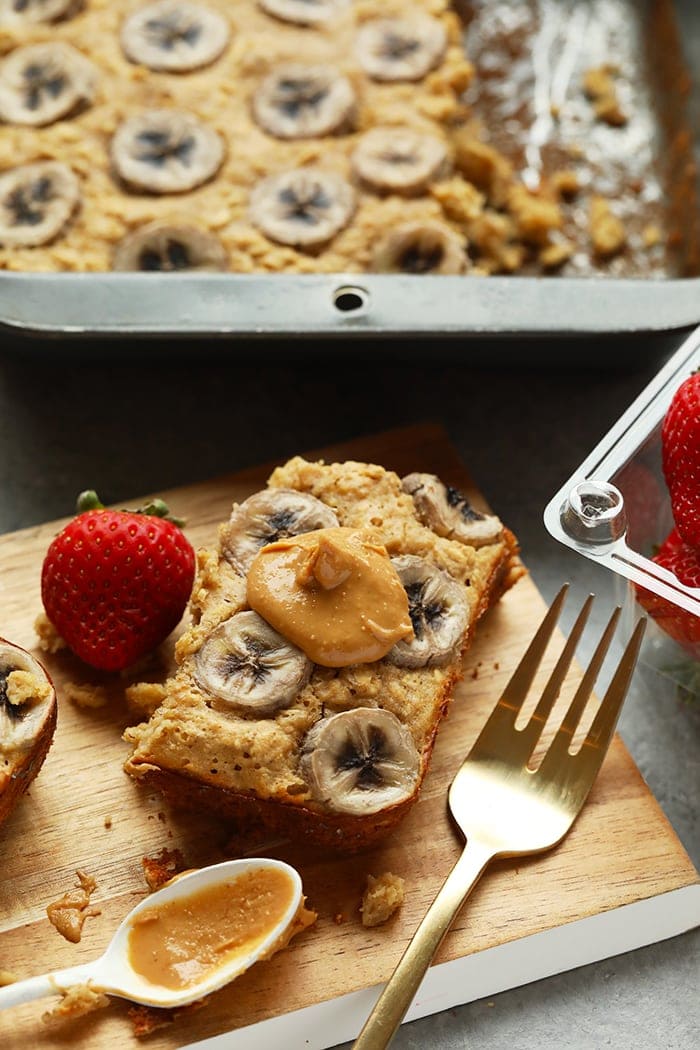 This recipe has been updated and slightly tweaked from the original which was posted in 2016.