Chai tea is traditionally a blend of tea, spices, and milk. Learn everything you need to know about how to make a perfect Chai tea latte in the comfort of your own kitchen.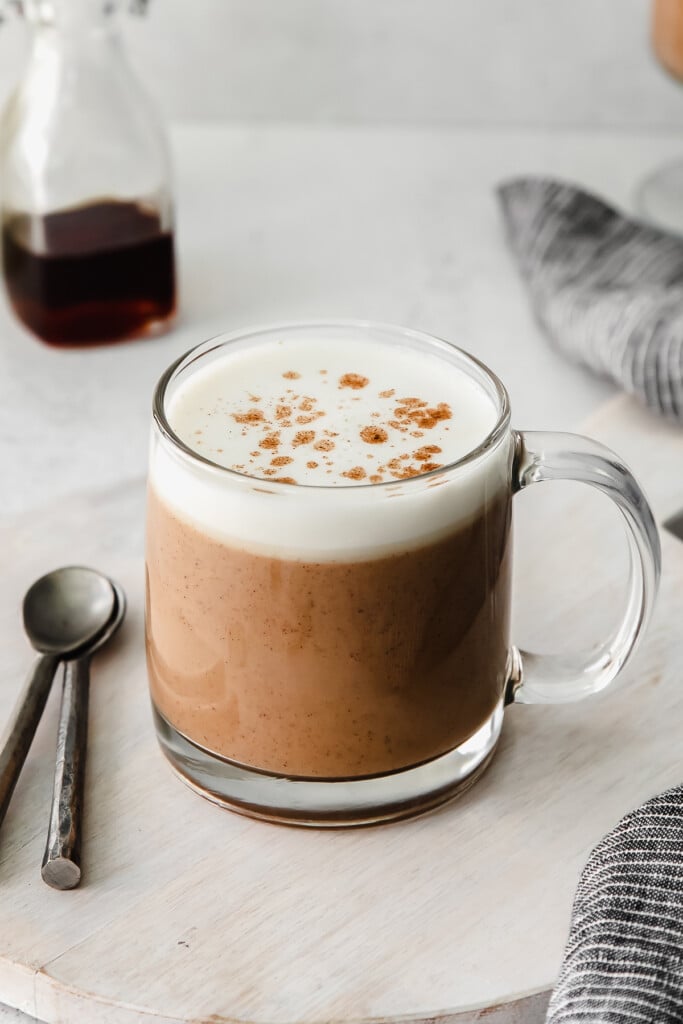 Chai Tea Latte at Home
There is truly nothing better than a warm and spicy chai tea latte. We've been ordering them at local coffee shops with almond milk or oat milk and they are just so yummy.
Since chai tea lattes are made with black tea, this morning drink does contain a bit of caffeine. But, in this post, we'll teach you how to add even more caffeine to get that morning jolt you know and love.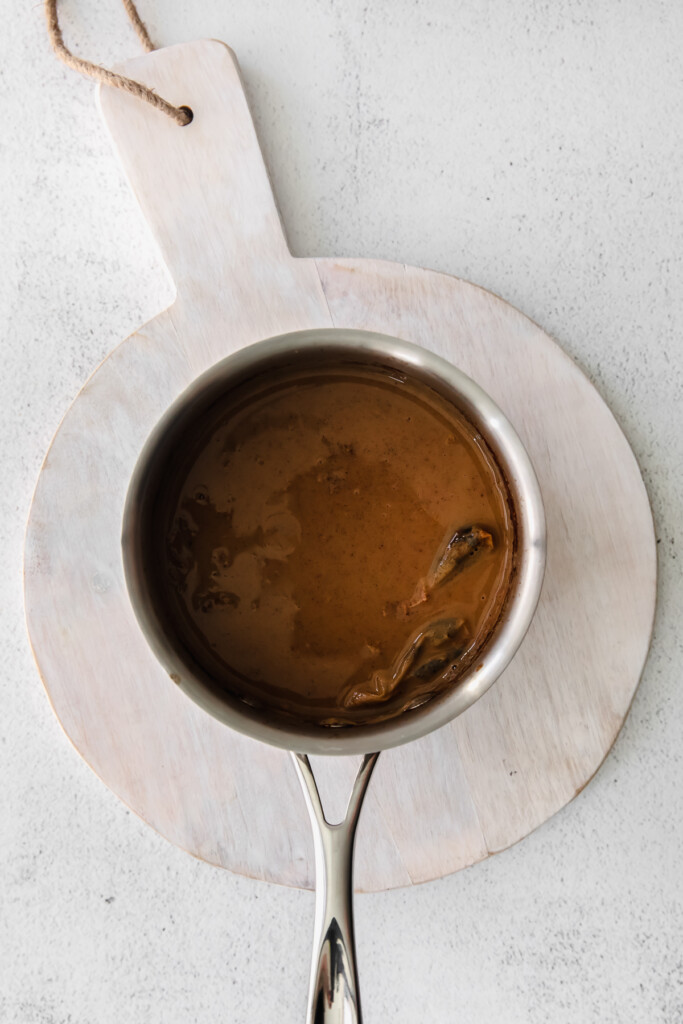 Ingredients You Need
Here is everything you need before you start whipping up a chai tea latte at home–>
Milk– you can use whatever milk you would like. We prefer non-dairy milks such as oat milk for a hot latte and almond milk for an iced latte. Soy milk would work, too!
Black or Chai Tea Bags- you're more than welcome to use a plain black tea bag becuase a lot of the flavor comes from the chai spice mix. However, you can also use a pre-made chai tea. Chai tea brands vary in flavor, spice, and sweetness. Make sure you find a chai tea bag that aligns with your pallet.
Chai Spice– Our recipe calls for a chai spice blend and this is to add even more delicious warmth to your chai tea latte recipe.
Maple Syrup– a little sweetness balances out the spice of the chai in this recipe. We love to use maple syrup or honey as a sweetener for this recipe.
Espresso (optional)– if you want to make a dirty chai latte, add a shot of espresso!
What Spices are in Chai Tea?
Chai tea typically has a black tea base and a blend of warm spices such as:
Cardamom
Allspice
Nutmeg
Cinnamon
Cloves
Ginger
When you order a chai tea latte at a coffee shop they typically use an already brewed chai tea. Our favorite is Gray Duck Chai (it's kind of like a chai concentrate), not only because it is Minnesota brewed, but because it's the perfect balance of spicy + sweet.
Instead of using an already brewed chai tea, we steep our own black tea and use our DIY Chai Spices to make the perfect at-home chai tea latte. Heck yes, we make our own chai tea spices.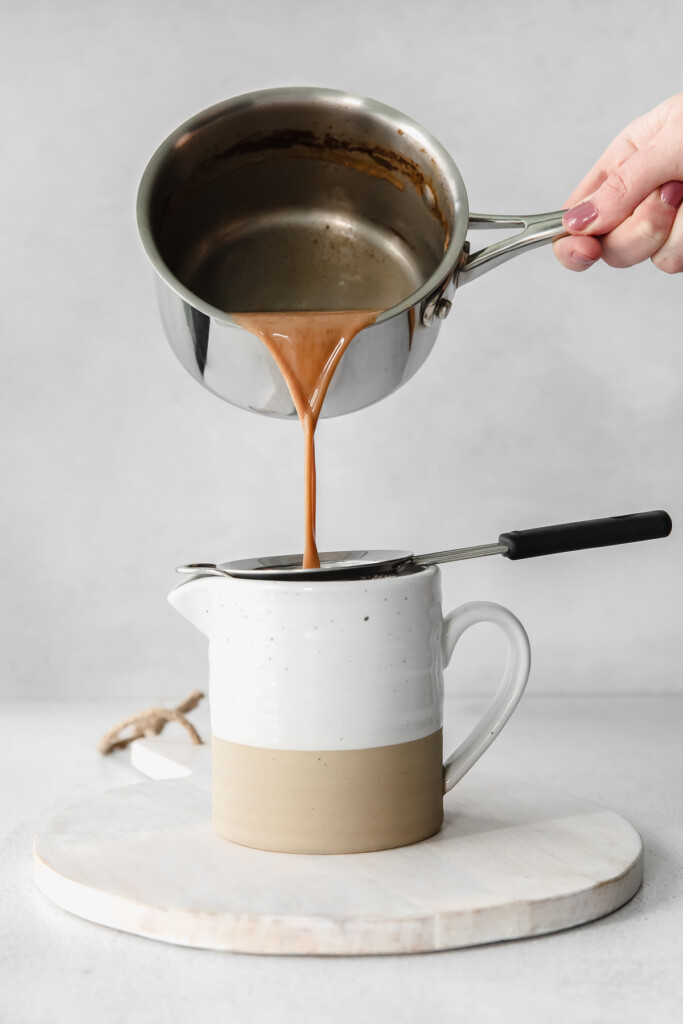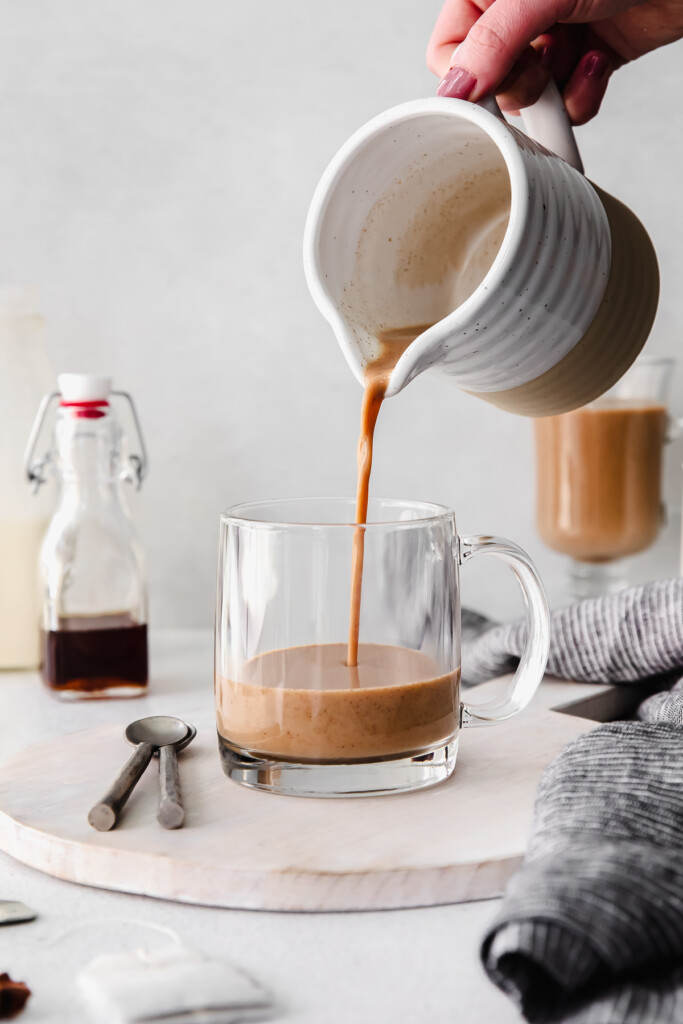 Chai Tea Health Benefits
Not only is chai tea delicious, but it also has a slew of health benefits! If you are looking to de-bloat or become a little more regular in the loo, add a cup of chai tea to your daily routine!
Good for digestion- Chai tea spices are a combination of some amazing digestive spices that promote healthy bowels, people!
Cinnamon and ginger are said to calm the stomach while spices like cardamom and allspice have properties that help decrease bloating.
Reduced Caffeine- Yes, black tea does have caffeine, but it has half the amount of caffeine than a cup of black coffee.
If you are looking to cut back on your caffeine intake try black tea instead of coffee! Or? Make yourself a delicious chai tea latte, duh!
Antioxidant-rich Black tea is the base of most chai tea and black tea is antioxidant-rich, (especially in flavonoids) which support heart health!
Anti Inflammatory Ginger and cinnamon are two of the main ingredients in our DIY chai spices and both ginger and cinnamon are known for their anti-inflammatory properties!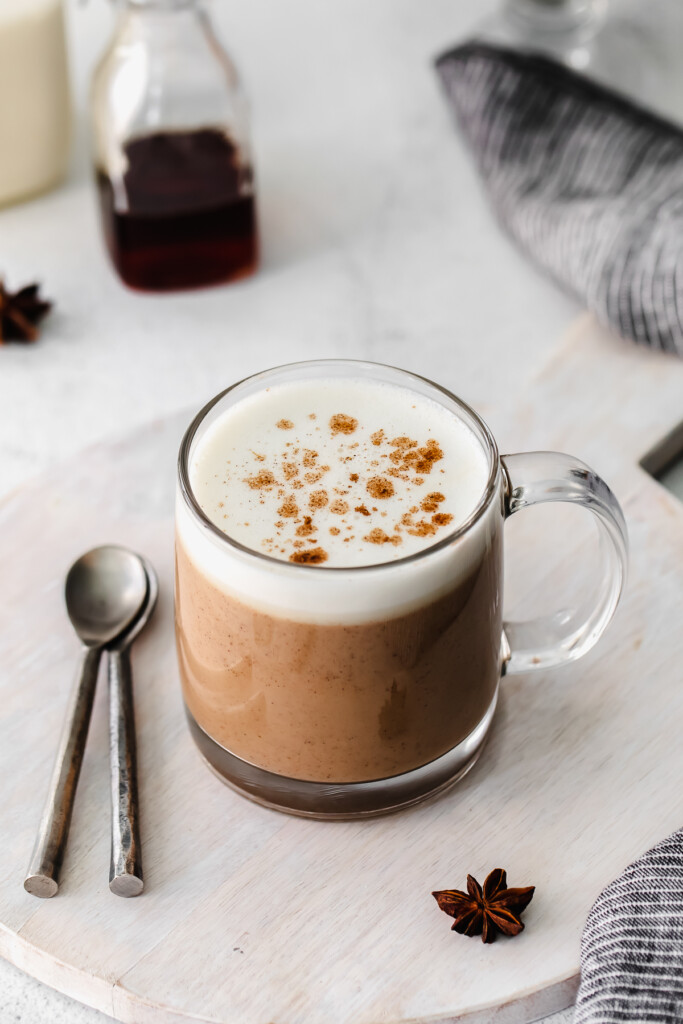 How to Make Chai Tea Latte
Mix chai spices: Before mixing up this chai tea latte recipe choose a chai spice mixture and black tea. We used our DIY Chai Spices and two bags of Earl Grey tea (because it's our favorite). Feel free to choose any kind of black tea- caffeinated or non-caffeinated.
Heat and remove: Next, place almond milk, tea bags, maple syrup, and chai spices into a sauce pan and bring to a boil and immediately remove from heat. Let steep for at least 3 minutes or longer if you would like it stronger.
Sieve: Remove tea bags and pour the whole mixture through a fine sieve into a mug (if you don't have a sieve just be sure to not pour the sediment at the bottom of the pot into the mug.
Serve immediately.
Iced Chai Tea Latte Directions
Looking to drink an iced chai tea latte? Simply let the mixture cool for around 10-15 minutes. Then, serve it over ice. It's as easy as that!
Why is my chai tea latte gritty? The reason why your chai tea latte is gritty is probably that the chai spices settled at the bottom of your cup. This is why we used a fine sieve to remove the sediment so that there is no grittiness!