It is so nice to have honey simple syrup on hand at home! This honey simple syrup is easy to make and is great in cocktails, lemonade, and even in some baking recipes!
After you make this honey simple syrup, use it to sweeten up this Homemade Strawberry Basil Lemonade, these Spicy Grapefruit Margaritas, or this Easy Red Wine Sangria recipe!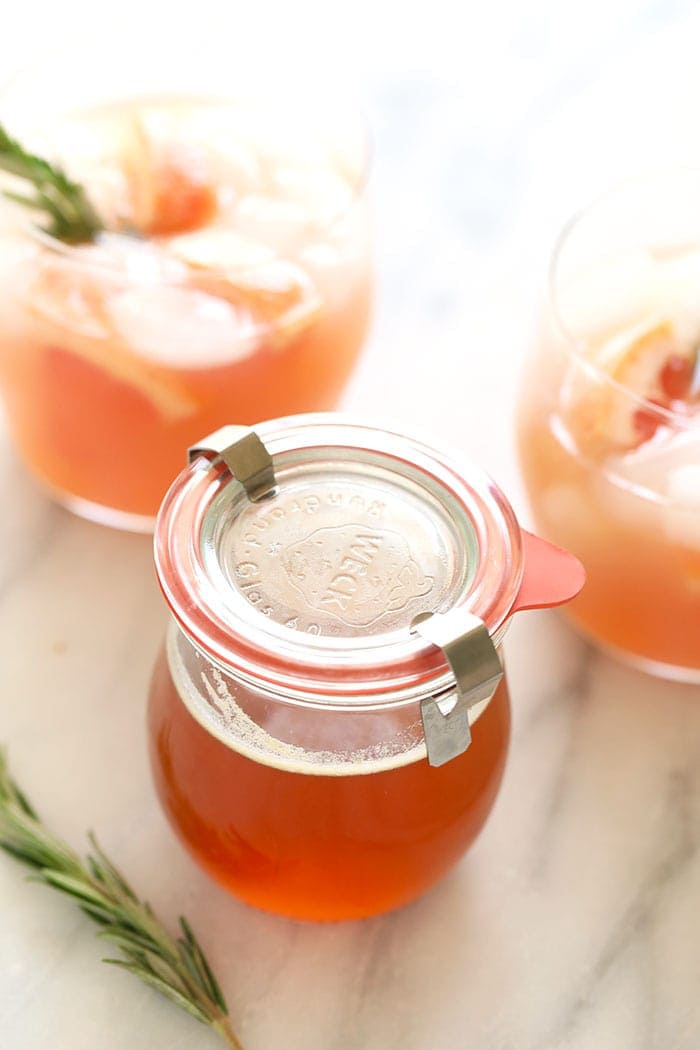 Just a Little Sweetness
I think sweet treats have started to get a bad reputation, am I right? Anything with sugar is automatically bad for you and blah blah blah. I am here to tell you that a little sweetness is good and we still live by the moto; It's all about balance.
We tend to use natural sweeteners in our cookies, muffins, and oatmeal. Sweeteners like honey, maple syrup, agave, and coconut sugar. Any sugar that is not processed, we are on board.
Don't get us wrong, we will never turn down grandma's cookies or a taste classic vanilla cupcake, but we love making classic desserts just a little healthier!
DRINKS. Drinks tend to have a lot of added sugar and sometimes it's too much! Most of the time lemonade, cocktails, sweet tea, coffee shop drinks and everything in between are overly sweetened with white sugar that you automatically give you a sugar rush.
We're here to tell you that you CAN have sweet drinks without the headaches and the answer is this honey simple syrup.
How to Make Simple Syrup
What is simple syrup?
Simple syrup is a sweetened syrup made from a 1:1 ratio of water:sweetener. Traditionally, simple syrup was made with granulated white sugar and water. These days, you can make a simple syrup with many different sweetener types and flavor combinations!
We have incorporated simple syrup in recipes like this Honey Lavender Lemonade and it cuts the tartness of the lemonade and adds the perfect amount of sweetness!
Try adding this honey simple syrup to the drinks below!
Simple Syrup Flavor Combos
This honey simple syrup is the perfect neutral simple syrup that is a great addition to any drink! However, if you would like to add flavor to your simple syrup, you can!
All you have to do is add the below ingredients to the saucepan (in step one in the recipe card), let them boil and simmer and discard them before storage!
Honey + Cayenne
Rosemary + Thyme
Mint + Ginger
Lemon + Basil
Things to Keep in Mind
Consistency- When you make a simple syrup with white sugar it turns out a bit thicker like syrup. Keep in mind that the consistency of this honey simple syrup is not super thick, so don't freak out. You are making more of a concentrate rather than a thick syrup.
Boil Time- Do not boil the honey simple syrup for long! You don't want the honey to burn, so right when the simple syrup comes to a boil, turn heat to low and simmer rather than boil.
Storage- After the simple syrup has boiled, let it cool completely before pouring it into an airtight container in the refrigerator for 7- 10 days.
Fun Drink Recipes
Honey Simple Syrup Video
Recipe
Honey Simple Syrup
It is so nice to have honey simple syrup on hand at home! This honey simple syrup is easy to make and is great in cocktails, lemonade, and even in some baking recipes!
Prep Time:

5 minutes

Cook Time:

1 minute

Total Time:

6 minutes
Ingredients
2/3 cup

water

2/3 cup

honey
Instructions
Place honey and water into a small saucepan.
Bring to a boil, while stirring occasionally. Then, turn the heat down to low and let simmer for an additional 10 minutes, stirring consistently.
When the syrup has reduced and thickened a little bit, remove from heat, pour into a jar, and place in the fridge to cool.
Notes
The ratio for this simple syrup is 1:1 honey to water. Feel free to make as much as you want!
Storage: store in glass, airtight container in the fridge for up to 2 weeks.
Nutrition
Serving Size:

1 tablespoon

Calories:

43

Sugar:

12

Fat:

0

Carbohydrates:

12

Fiber:

0

Protein:

0
Similar