This grapefruit margarita is taking your classic margarita recipe and putting a spin on it with grapefruit juice and jalapeño infused tequila! It's refreshing and spicy all at the same time!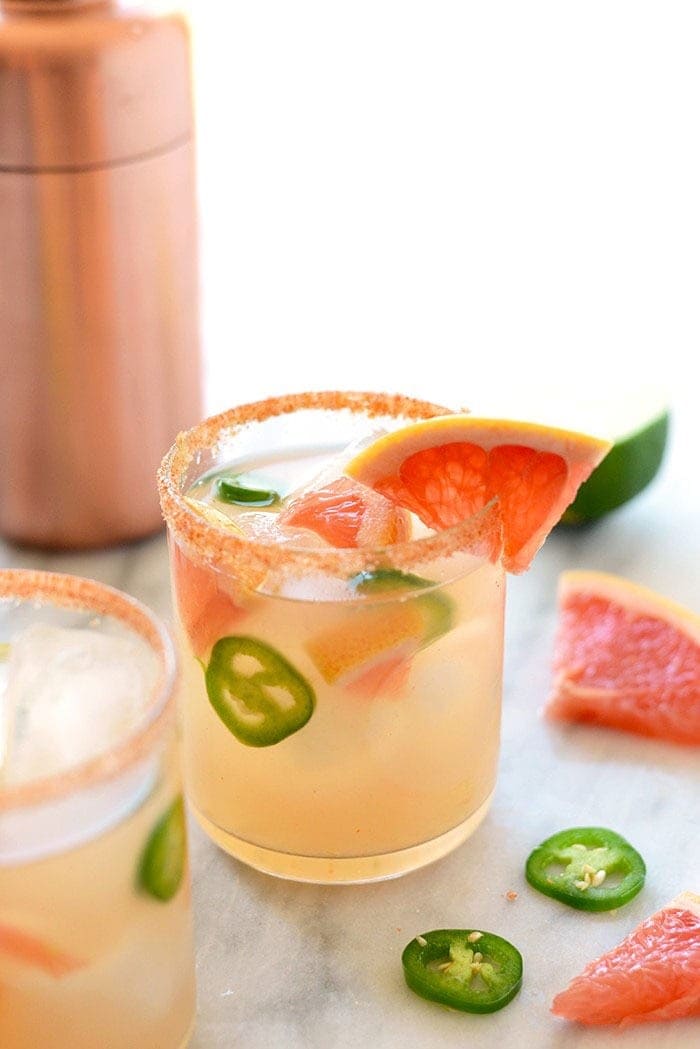 We are big fans of margaritas and fun cocktails on Fit Foodie Finds! Check out our delicious frozen margarita or some of our most popular vodka cocktails if you're looking for more delicious drinks to serve alongside this grapefruit margarita!
A Margarita Love Story
2 years ago, Linley, Davida, and I ventured to San Miguel, Mexico! Guess what happened? I fell in love with margaritas. HARD. I love all things citrus when it comes to cocktails and citrus really is the star of a good margarita.
In San Miguel, we stayed with Linley's in-laws during and let's just say that Mary, Lin's mother-in-law, is a margarita GODDESS. I mean straight up margarita genie. Mary is who gave us the inspiration for this very recipe.
The Secret to Spicy Margs
Her margarita recipe is the perfect mixture of spicy, sweet, and citrus. Want to know her secret? Infusing tequila with jalapeños and using extra fresh limes. Once you do those two things, your margarita drinking will be taken up a notch
We wanted to deviate a little bit from Mary's classic margarita recipe…so? INSERT —> freshly squeezed grapefruit juice. Seriously there is nothing better than the sweet and sour flavors of grapefruit. Plus, the color is everything.
Basically, this grapefruit margarita recipe is too good for words.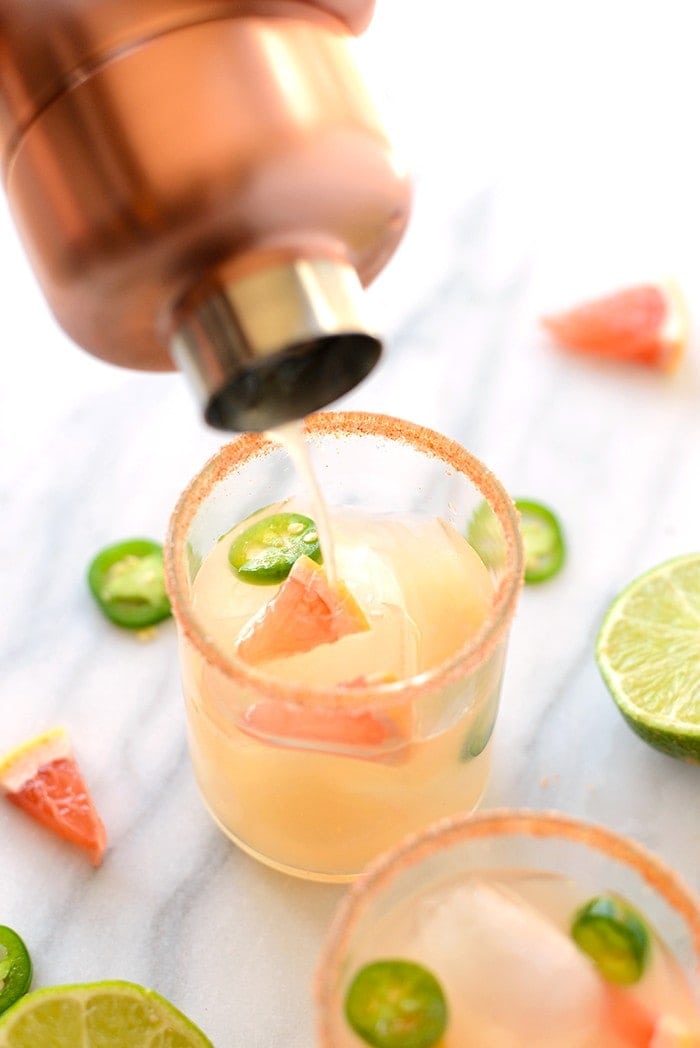 How to Infuse Tequila
This recipe does require you to make your own jalapeño tequila, but it's quite simple.
All you need to do is chop up some jalapeños and let them sit in your tequila for at least 30 minutes or overnight (for super spicy tequila). I promise this extra step is worth it!
Spicy not your thang? Simply skip this step! Your grapefruit margs will be equally as delicious!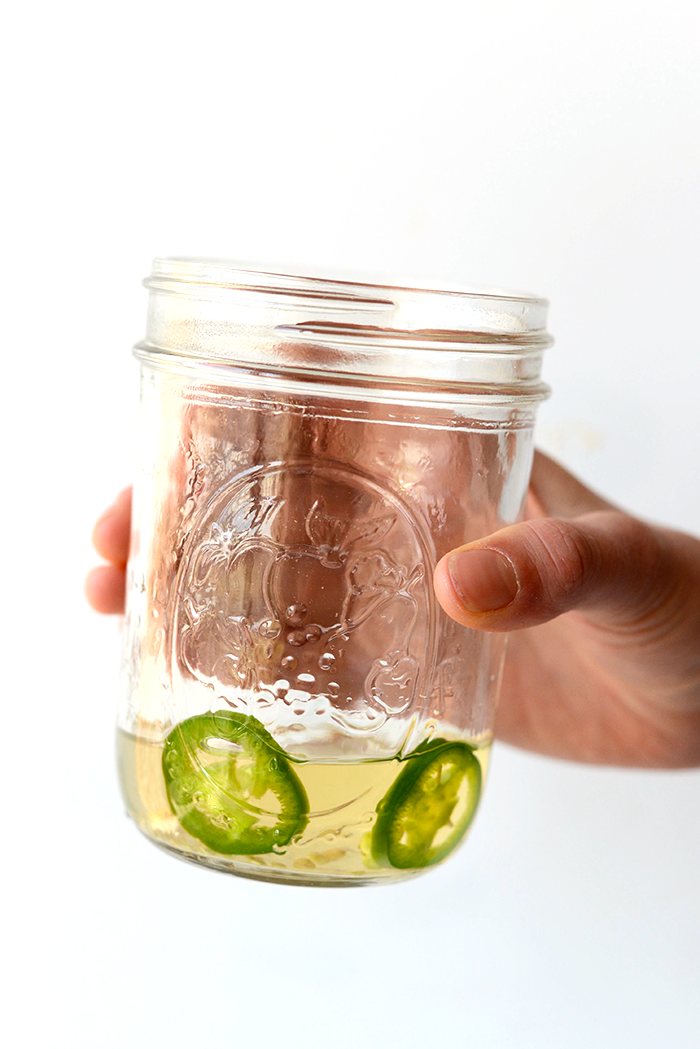 Grapefruit Margarita Ingredients
What else do you need for these lovely citrusy, spicy margs? Not much, it's simple!
Tequila – obviously the higher quality the tequila the better-tasting your margs will be.
Freshly squeezed grapefruit juice – we recommend freshly squeezing your grapefruit instead of buying grapefruit juice. I promise it's 100x better!
Freshly squeezed lime juice – while you can probably get away with skipping the lime because of the grapefruit, every margarita deserves some lime juice!
Jalapeños – be careful when slicing jalapeños! Make sure to thoroughly wash your hands!
Simple syrup – want a refined sugar-free option? Try our honey simple syrup!
Ice – I promise, you're going to want these to be ice cold!
Just a Few Tips
Make sure that you are using freshly squeezed citrus. Like, DON'T BUY THE WEIRD BOTTLED LIME JUICE…it's just not the same as squeezing your own.
The quality of your tequila matters! Ever had a tequila hangover? Yeah, they ain't fun! So, do your self a favor and get some nice tequila…your head will thank you.
Get crafty! We got super creative with the salt rims in these photos —> sea salt + paprika + cayenne + coconut sugar. So good. Get pumped up and fancy with your own fun rim mixture!
Make a pitcher! If you're looking to make more than just 2 margs, of course, you can! This recipe can easily be doubled, tripled, quadrupled, etc! Mix it up in a pitcher and serve it to a crowd.
Infuse a whole bottle of tequila! I suggest making a big batch of the spicy jalapeño tequila because that shit is good! Cut a whole jalapeño and place it in a whole bottle of tequila to use whenever you want!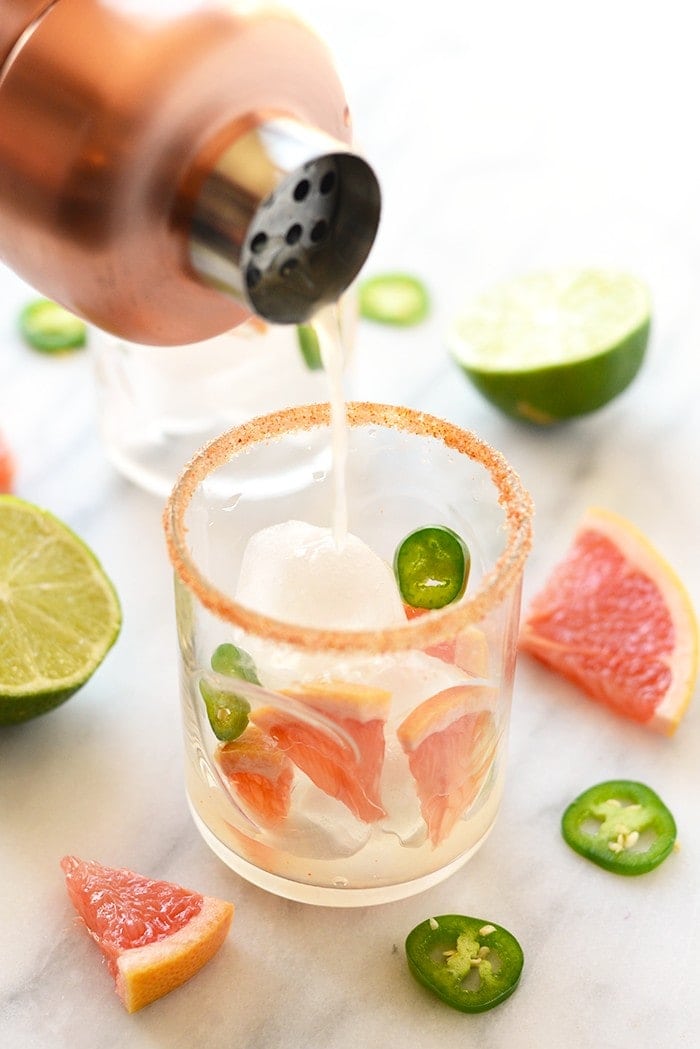 More Drink Recipes
Spicy Grapefruit Margarita Recipe
This grapefruit margarita is taking your classic margarita recipe and putting a spin on it with grapefruit juice and jalapeño infused tequila! It's refreshing and spicy all at the same time!
Ingredients
2

oz.

tequila

2

oz.

grapefruit juice

2

oz.

lime juice

2

jalapeño slices

+ more for serving

1

oz.

simple syrup

1 - 2

cups

ice
Instructions
Place tequila in a jar or cup. Then, add in a couple of slices of jalapeños plus the seeds. Let sit for at least 30 minutes so that the tequila can get infused with the spice.

Add 1 to 2 cups of ice to a cocktail shaker and then pour in the infused tequila. Add the rest of the ingredients. Option to add more simple syrup, depending on your preference.

Give the shaker a good shake so that everything gets mixed together.

Serve over ice with fresh grapefruit slices, jalapeño slices, and a salty rim.
Nutrition facts
Calories:
125
kcal
Carbohydrates:
14
g
Protein:
0
g
Fat:
0
g
Fiber:
0
g
Sugar:
10
g