This Strawberry Peach Frosé recipe is such a fun frozen drink to make for a crowd. Yes, it requires a full bottle of rosé wine and yes you need a straw!
This easy frose recipe is simple and calls for a full bottle of rosé, frozen strawberries and peaches, rum, and agave nectar!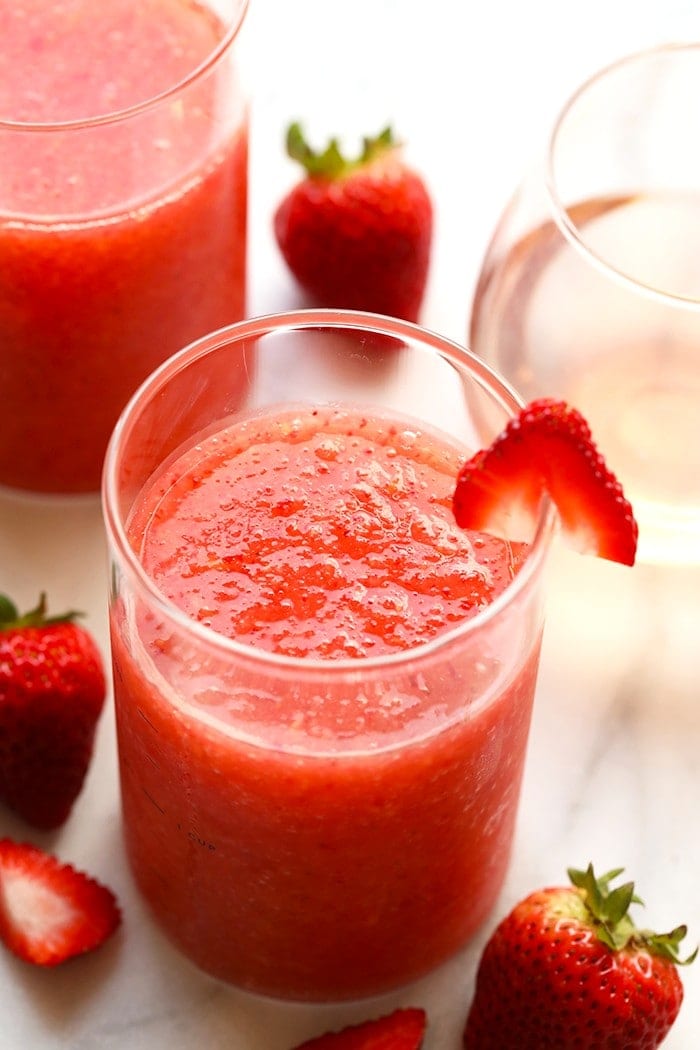 Whether you call these wine slushes, frozen rosé, frozé, or simply frosé, you are going to adore this fresh and sassy adult beverage!
What is Frosé?
Frosé also known as frozen rosé is a wine slushie dream in a cup. Yes, you do need a full bottle of rosé and yes you do need about 5 girlfriends to help you drink this recipe. In addition to rosé, most frose recipes call for hard alcohol of some kind, frozen fruit, and a sweetener of choice!
PS: want another boozy slushie? Try our Sex on the Beach Slushies!
Best Rosé for Frosé
Any brand of rosé works, but my personal favorite is Gerard Bertrand Cote Des Rose Rosé. We were introduced to this wine when at the grocery store in Las Vegas. It runs you about $20 a pop, but I like to snag it when it's on sale.
For a cheaper option, Yes Way Rosé is fabulous. It'll run you about $13 a bottle and still has really great flavor! Target carries it, which also makes this very convenient.
All in all, you can use ANY kind of rosé you have on hand. Just make sure you have a full bottle.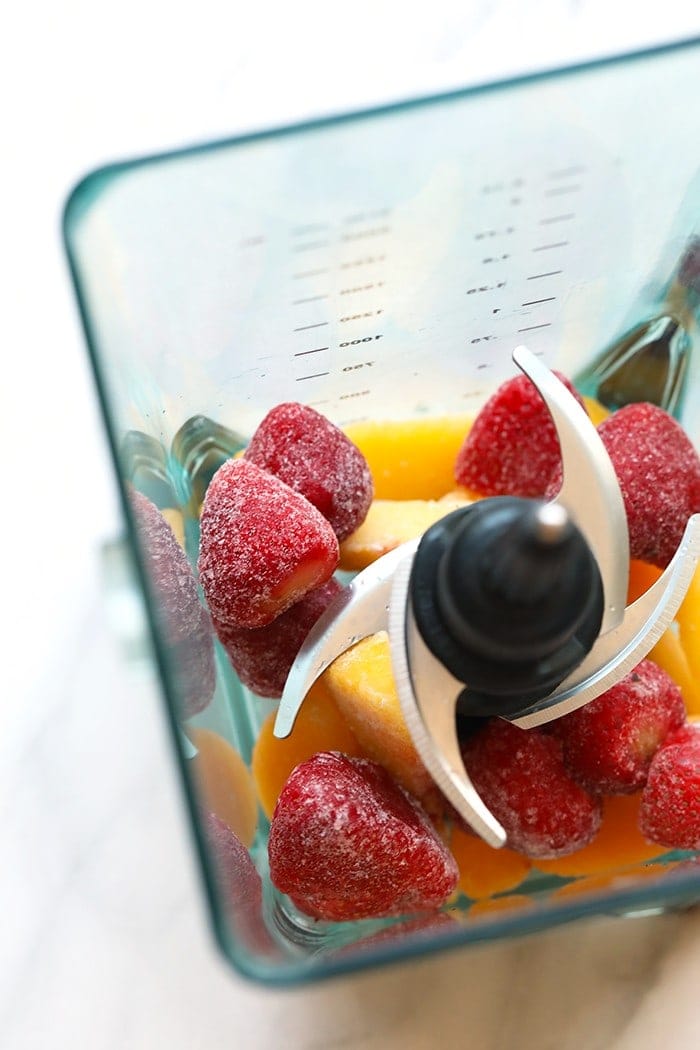 How to Make Frosé
Ever wonder how to make frosé? Girl, let me tell you. It's easy as pie! The basis of frosé is super simple. Rosé + frozen fruit + booze + sweetener + a blender = a whole lot of fun.
What you need
Rosé: As mentioned above, any kind of rosé wine works. So grab your fav and let's go!
Frozen fruit: in this particular recipe we are using frozen strawberries and peaches, but your options are endless. Pretty much any berry or frozen fruit would work.
Booze: I recommend white rum or vodka. I think rum is a little more subtle than vodka, which is why we used rum. If you like a sweeter wine slushie, you could go with a fruit-based schnapps!
Sweetener: agave nectar was our choice for this recipe, but you can also use maple syrup, honey, or a simple syrup. If you don't like things too sweet, skip it!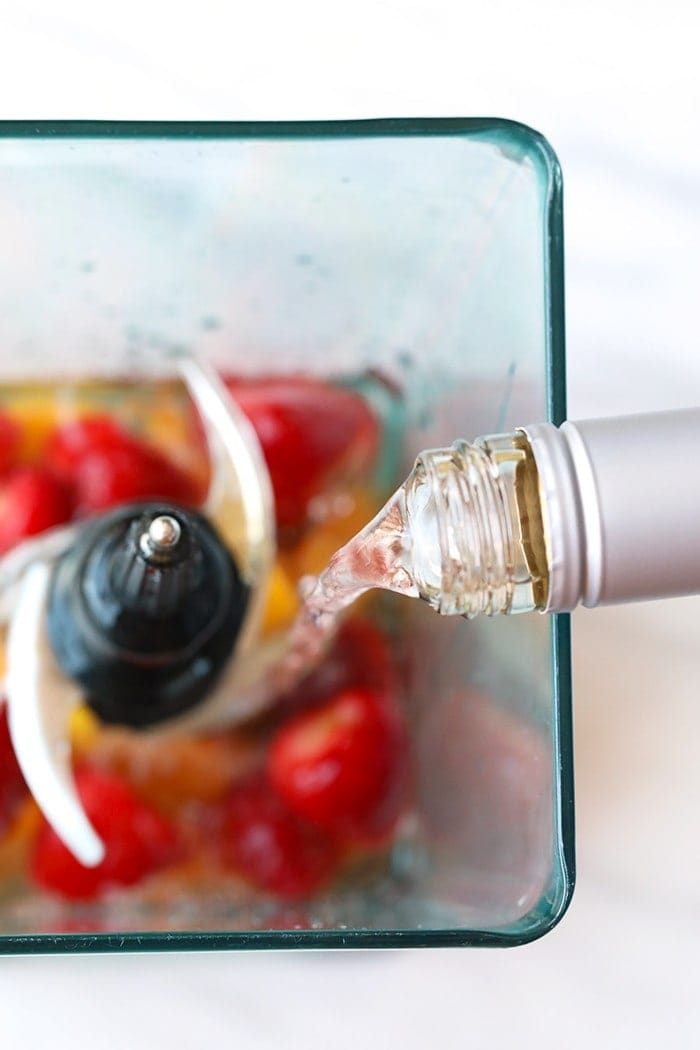 Instructions
Once you've rounded up all of your ingredients, place them into a blender and blend away! As always, we recommend a high-speed blender for this so you can really blend everything together into a yummy slushy.
The goal here is to remove any and all chunks. We recently invested into a Vitamix and it really is a game-changer!
Frosé Variations
The main ingredients in frozen rosé (other than the rosé) are easy to swap for different flavor variations! The main things to change up the frozen fruit and booze.
Triple Berry: Use around 20 oz. of frozen triple berries. Your frosé will turn out darker, but have a deep berry flavor!
Green Monster: Turn your frosé GREEN! Blend in a handful of spinach and you've got yourself Green Monster frosé.
Orange Peach: Use only frozen peaches and add in a cup of OJ! This would be delightful with vodka instead of rum.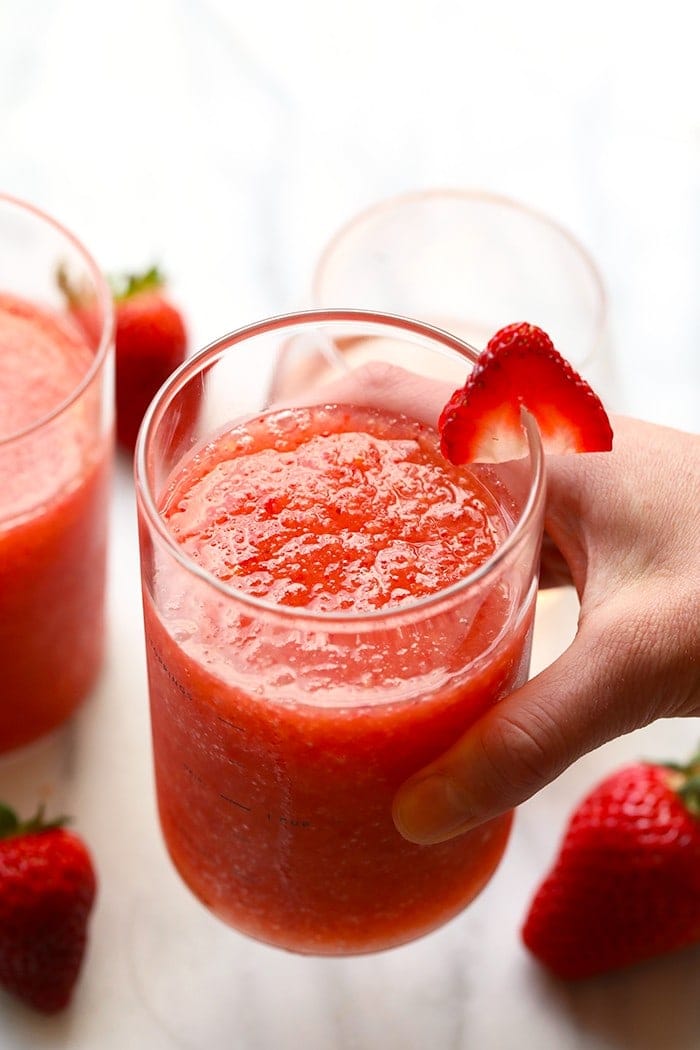 Frosé for Later
If and when you don't finish this recipe (like if you make this by yourself) we came up with a solution for you!
All you need to do is pour your leftover frosé into an ice cube tray and freeze for later.
Once you're ready to drink, just blend it with a little bit more rosé wine and you're ready to go!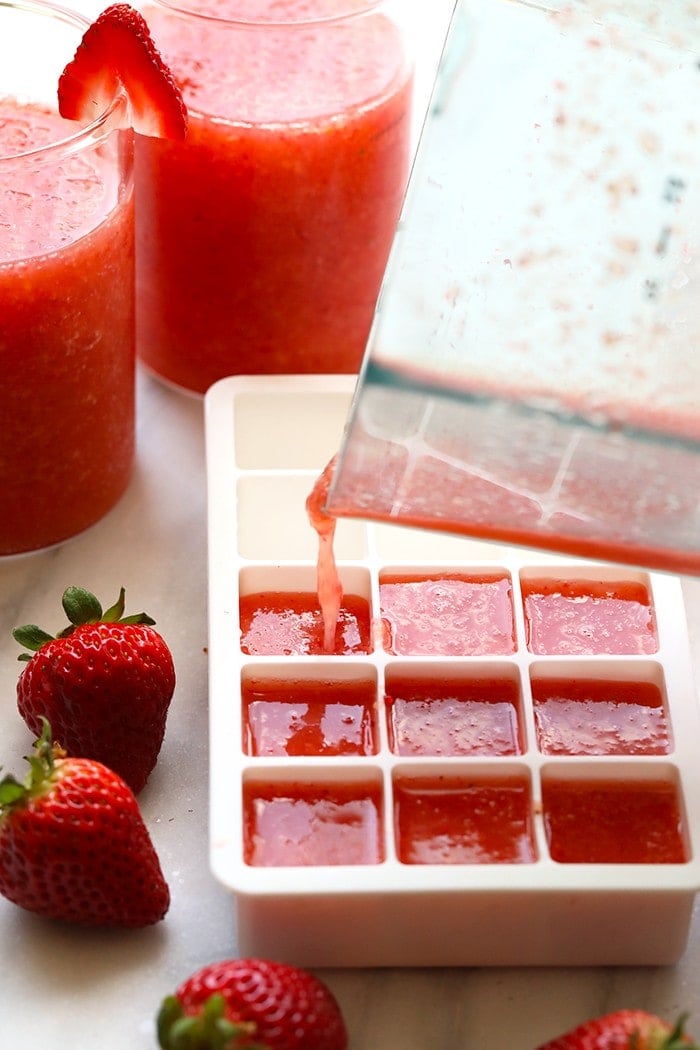 More Summer Cocktail Recipes
Easy Frose Recipe Video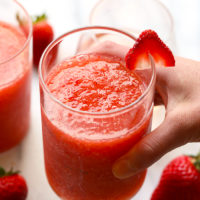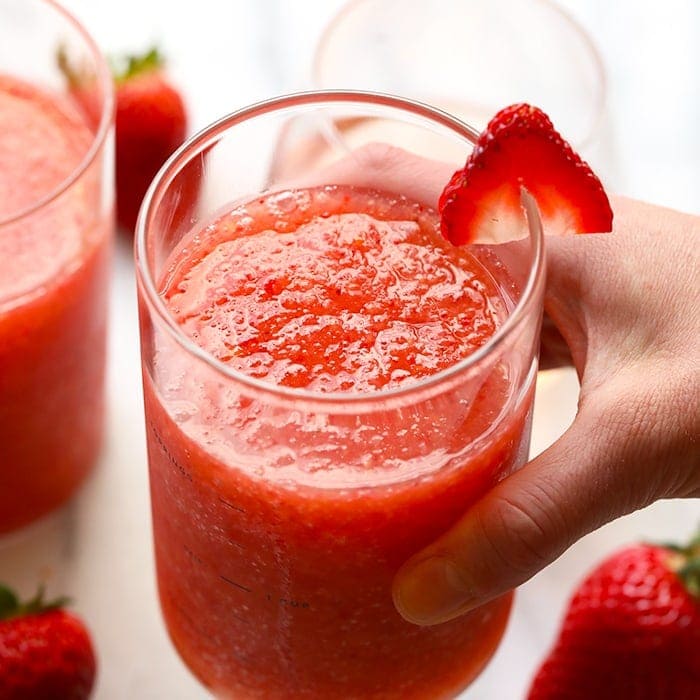 Strawberry Peach Frose Recipe
The most delicious summer drink you ever did see! This Strawberry Peach Frose Recipe is such a fun frozen drink to make for a crowd. This blended frose recipe calls for a full bottle of rose, frozen strawberries and peaches, rum, and agave nectar!
Prep:
10 minutes
Cook:
0 minutes
Total:
10 minutes
Ingredients
2 cups

frozen peaches (

10 oz

.)

2 cups

frozen strawberries (

10 oz

.)

6

-oz. white rum (

3/4 cup

)

2 tablespoons

agave nectar

1

bottle rose (

750

ml)

1

–

2

cup ice
Instructions
Place all ingredients in a high-speed blender and blend until smooth.
Serve frosé immediately.
Tips & Notes
What to do with leftover frosé: Make frosé cubes! For frosé cubes, pour into an ice cube tray and freeze for at least 4 hours or overnight. When ready to serve, blend with more rosé!
Nutrition Facts
Serving Size:
1/6
Calories:
123
Sugar:
13
Sodium:
1
Carbohydrates:
16
Fiber:
1
Protein:
1
Category:
Drinks
Method:
Blender
Cuisine:
American
Diet:
Gluten Free
Keywords: frose recipe, frose