We're sharing an easy sangria recipe that you are going to love! Red wine sangria is made with your favorite Spanish red, orange juice, rum, and tons of sliced citrus.
This sangria wine is a great drink for parties and get-togethers. If you're having a holiday party, be sure to check out our Festive Hot Toddies and Raspberry Mulled Wine recipes as well.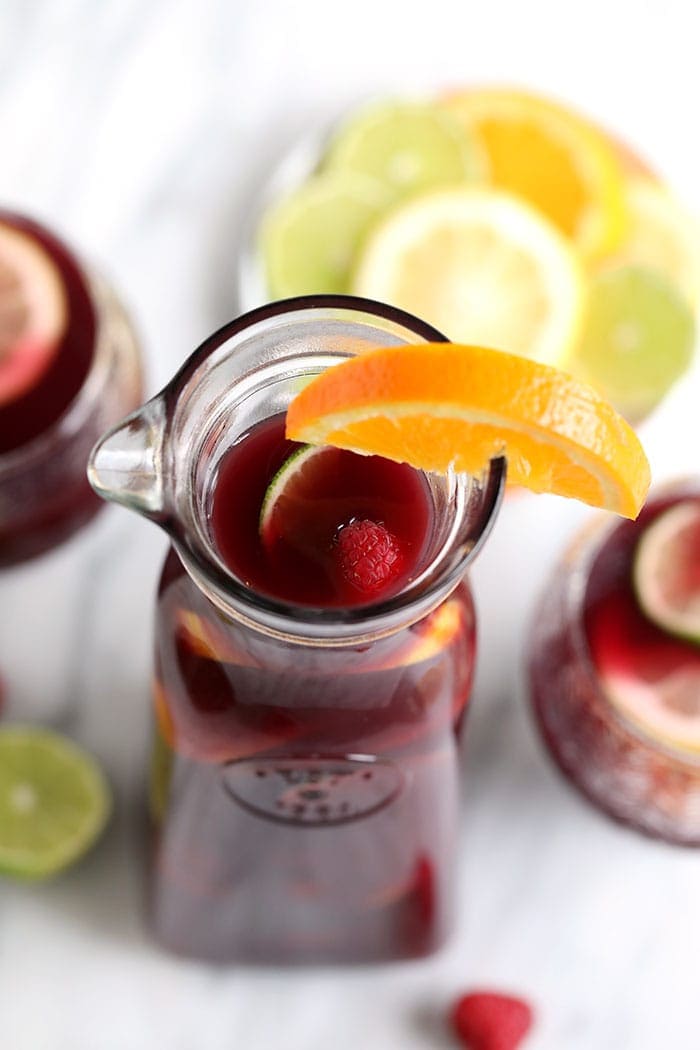 Nothing tastes more delicious than a citrusy red wine sangria over ice. I made a triple batch of this sangria recipe with rum for a get together this weekend and it was a crowd-pleaser!
But, watch out…it doesn't taste as strong as it is 😛
Let's Talk Sangria
Sangria is a Spanish drink made with a dry red wine, fruit, and other delicious add-ins such as liquor, sugar, and citrus. We love homemade sangria because you can really make it your own based on what you have in your own kitchen.
Since sangria is such a versatile drink/punch, we thought we'd share the basis of what sangria ingredients you should include:
Wine: whether you're making a rose sangria or a red wine sangria, you're going to need an entire bottle! In most cases, whatever kind of wine you are using, you're going to want it to be on the drier side because typically the things you add in bring the sweetness. We love using a tempranillo, garnacha, zinfandel or cabernet. And because you're mixing the wine with other ingredients, feel free to buy an inexpensive wine for this red wine sangria recipe.
Booze: Next comes the alcohol. The type of booze depends on the type of wine you use. I prefer my red wine sangria with a white rum, but you can also use dark rum, brandy, or or an orange liqueur like triple sec or cointreau!
Citrus: IMO, sangria isn't sangria without the citrus! This is what gives it that punchy flavor and takes away the "alcohol" flavor. Srynotsry
Other Flavors: Think spices and other fruit such as apple, cinnamon stick, berries, and pears.
Sweetener: Some sangria recipes call for a sweetener such as simple syrup, hone or maple syrup, or even brown sugar. Some recipes nix it…it's all up to you!
Fizz: typically club soda or ginger ale isn't mixed into sangria, but oftentimes used as a topper. Everyone loves a little bubbly.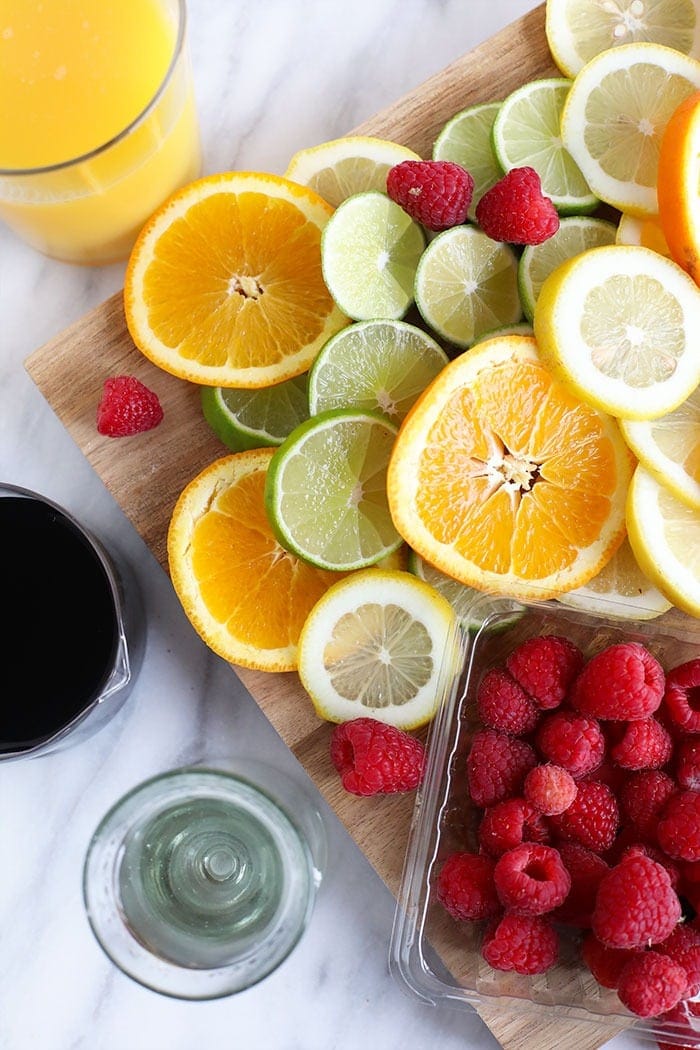 Types of Sangria
While red wine sangria or Spanish sangria is the most well-known of the sangrias, there are many different types of sangria wine that you can either buy at the store or make at home.
It all really depends on the base wine that you use along with the booze and fruit add-ins. Here are some other kinds to try!
White Wine Sangria
Moscato Sangria
Cider Sangria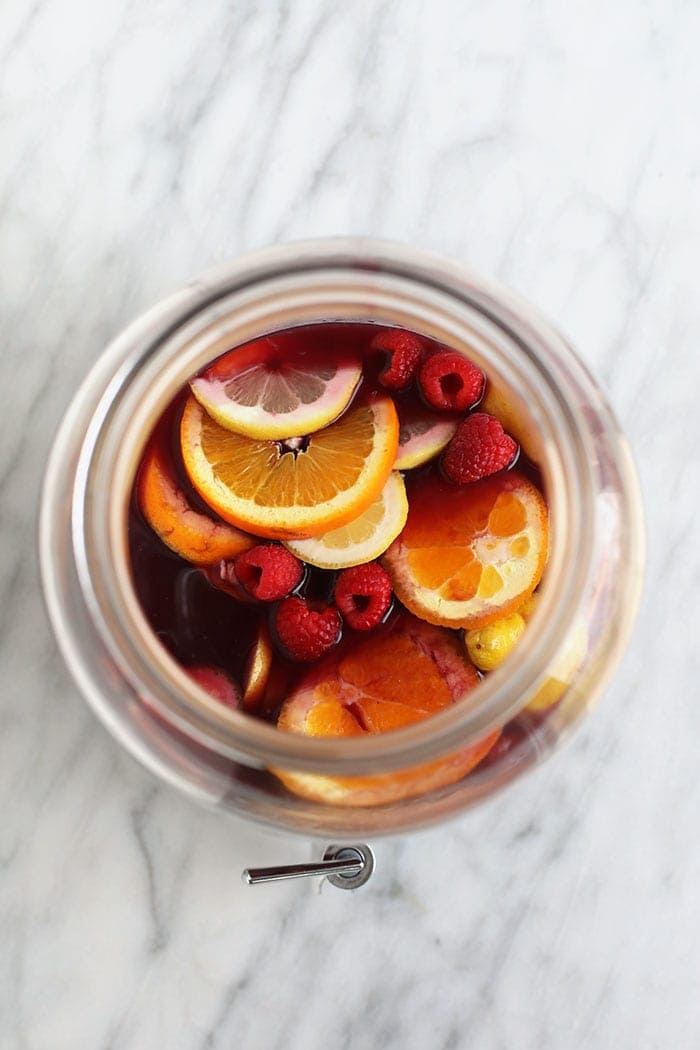 How to Make Red Wine Sangria
Red wine sangria is simple and you only need a few ingredients to get started with this recipe. First and foremost, grab your favorite dry bottle of red. We recommend a dry Spanish wine, but you can also use a cabernet or house/table red wine of sorts. Just make sure that it's on the drier side because the orange juice is going to balance it out!
dry red wine
orange juice
white rum
oranges
limes
lemons
raspberries
Once you've got everything mixed together it's time to let the magic happen! Let everything soak for at least 2 hours or even overnight for the best results.
You do this to let the fruit steep in the wine mixture. That way, all of the flavors really get infused into one another!
What red wine is good for sangria?
We suggest using a dry red wine such as a Cabernet Sauvignon, Merlot, or Pinot Noir. Obviously no one wants to drink super cheap wine, but my rule of thumb is to aim for something around $15!
the booze
If you look at other recipes on the internet, you'll notice that a variety of different alcohols can be used in sangria. We prefer making red sangria with rum because it's a bit softer than other alcohols and goes down smoother.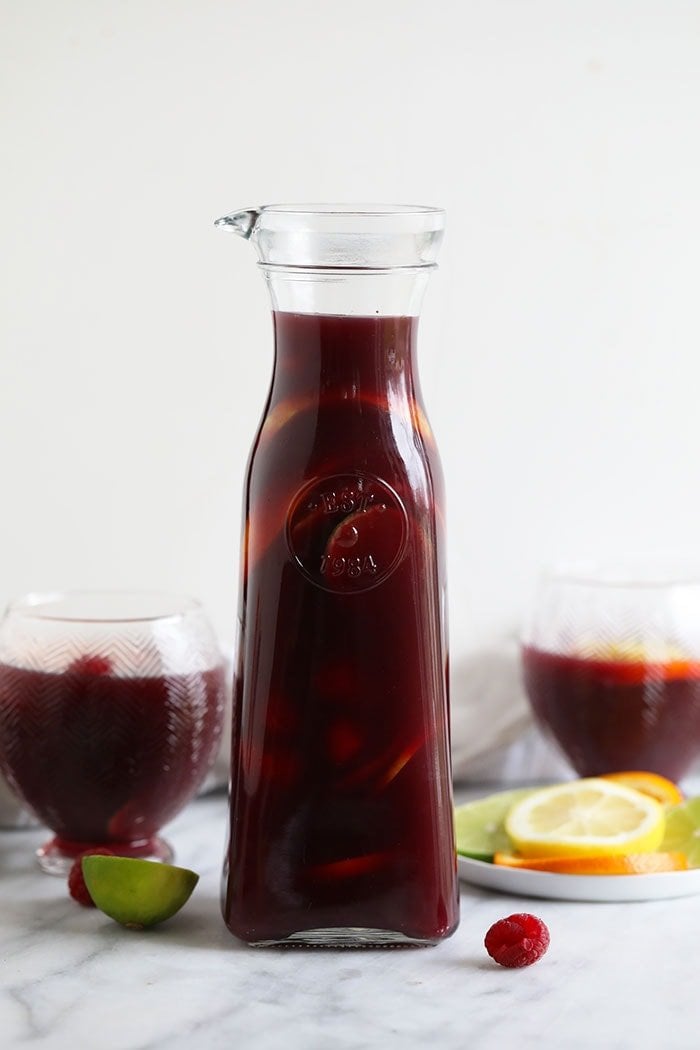 So, how alcoholic is sangria?
Sangria is actually secretly super boozy. The orange juice and citrus does a great job of masking how alcoholic sangria really is!
If you're looking to tame it down a bit, feel free to reduce the amount of rum in this recipe.
Best Sangria Fruit
You've probably figured out that I am biased towards all citrus fruit when it comes to red wine sangria, but you can totally use any kind of fruit you have on hand! Here are some other ideas:
Strawberry + Lime
Apple + Orange
Pear + Cranberries
Blueberry + Lemon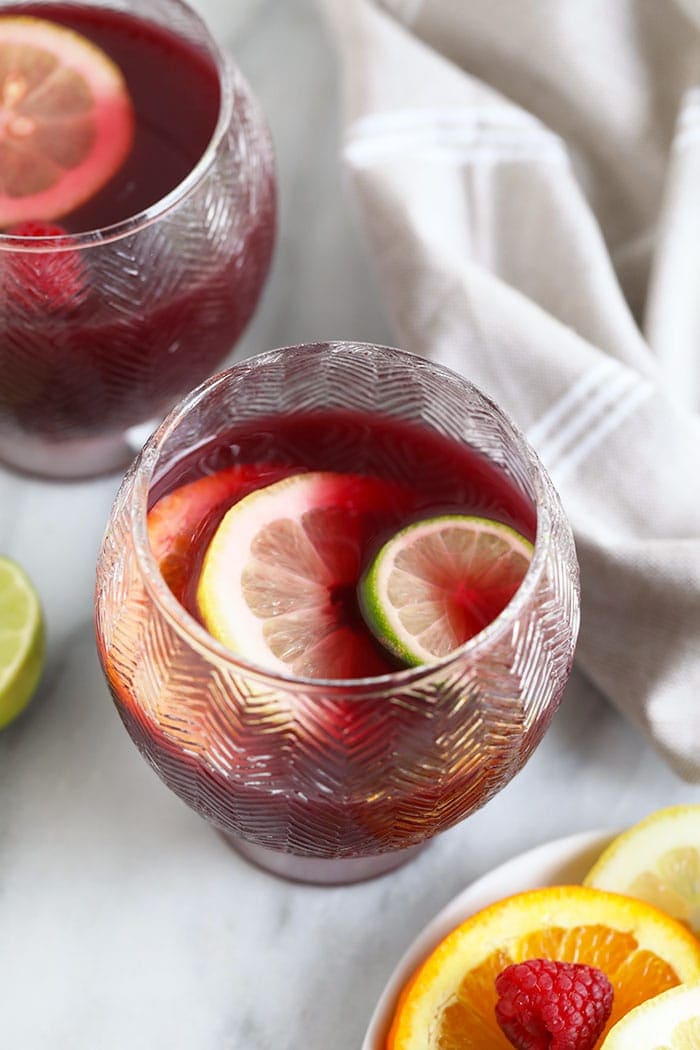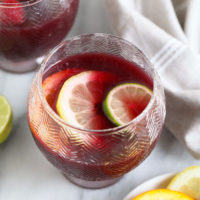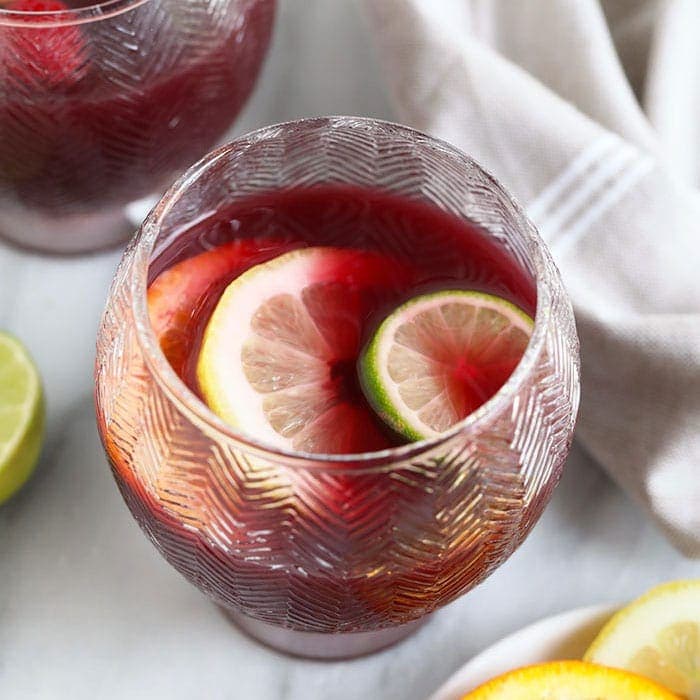 Easy Red Wine Sangria
We're sharing an easy sangria recipe that you are going to love! Red wine sangria is made with your favorite Spanish red, orange juice, rum, and tons of sliced citrus.
Ingredients
1

750 ml bottle of dry Spanish red wine

2

cups

100% orange juice

9

oz.

white rum

about 1 cup

2

oranges

sliced

2

lemons

sliced

2

limes

sliced

1

pint

raspberries
Optional
Top off with kombucha or fizzy water before serving.
Instructions
Place red wine, orange juice, white rum, and sliced fruit into a large pitcher or punch bowl.

Stir and mix well, cover, and place into the refrigerator.

Let sangria sit for at least 6 hours (or overnight) and serve on top of ice. Option to add a splash of bubbly water or kombucha for a little fizz.
Tips & Notes
For best results, let sangria sit overnight.
This recipe doubles and triples really easily. Feel free to do so!
yields: 1 cup
Nutrition facts
Calories:
227
kcal
Carbohydrates:
9
g
Protein:
1
g
Fat:
0
g
Fiber:
0
g
Sugar:
7
g