Do you love Starbucks Vanilla Sweet Cream Cold Brew? US TOO. This homemade vanilla sweet cream cold brew is made with homemade cold brew, homemade vanilla sweet cream, and mixed together for a delicious at home coffee drink.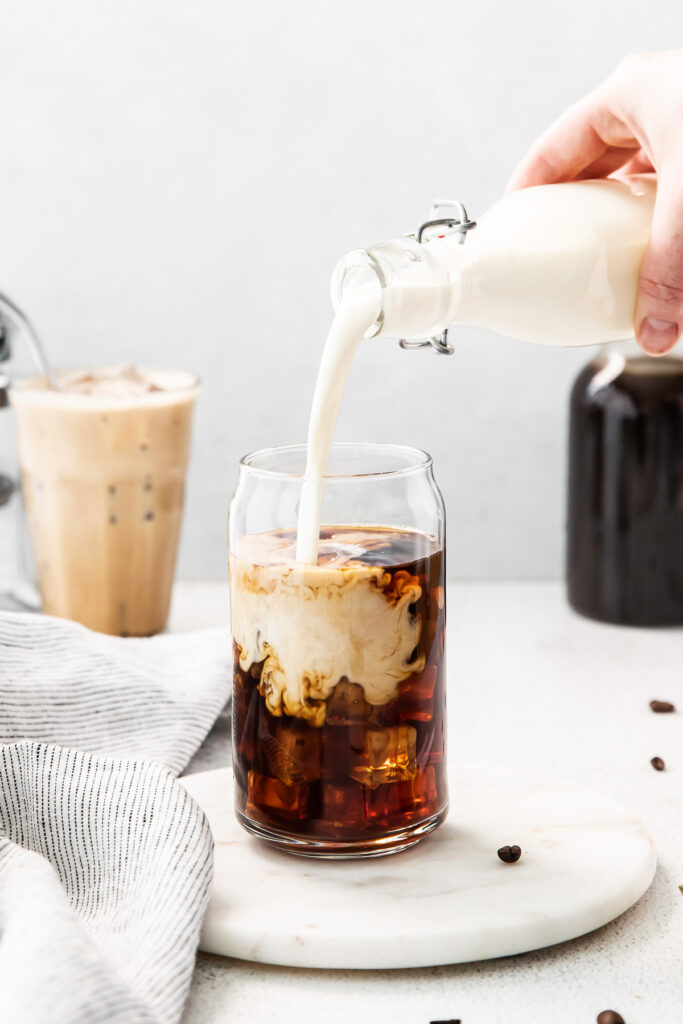 Vanilla Sweet Cream Cold Brew
Raise your hand if you splurge and buy a fancy coffee drink during the week? We do! Sometimes you just want to get out of the house and treat yourself to a fancy latte.
Often times that means heading to Starbucks for a vanilla sweet cream cold brew (OH-MY-GAH).
What is Starbucks Vanilla Sweet Cream Cold Brew?
If you haven't been introduced to the Starbucks Vanilla Sweet Cream Cold Brew, let us introduce you. It is a semi-sweet coffee drink that is a delicious combination of cold brew coffee and vanilla sweet cream.
We were heading to the coffee shop so often for this tasty treat that we decided to make it at home!
reasons we love this drink
Whether you are making this homemade vanilla sweet cream cold brew or enjoying a takeout version you're going to seriously enjoy this iced cold treat. Here are all the reasons we love this drink!
Cole brew is light, sweet, and easier on your tummy than regular coffee.
It is a sweeter coffee drink but is not overwhelmingly sweet.
It tastes just like the Starbucks vanilla sweet cream cold brew.
You save money by making it at home.
You can make a big batch and drink it all week long.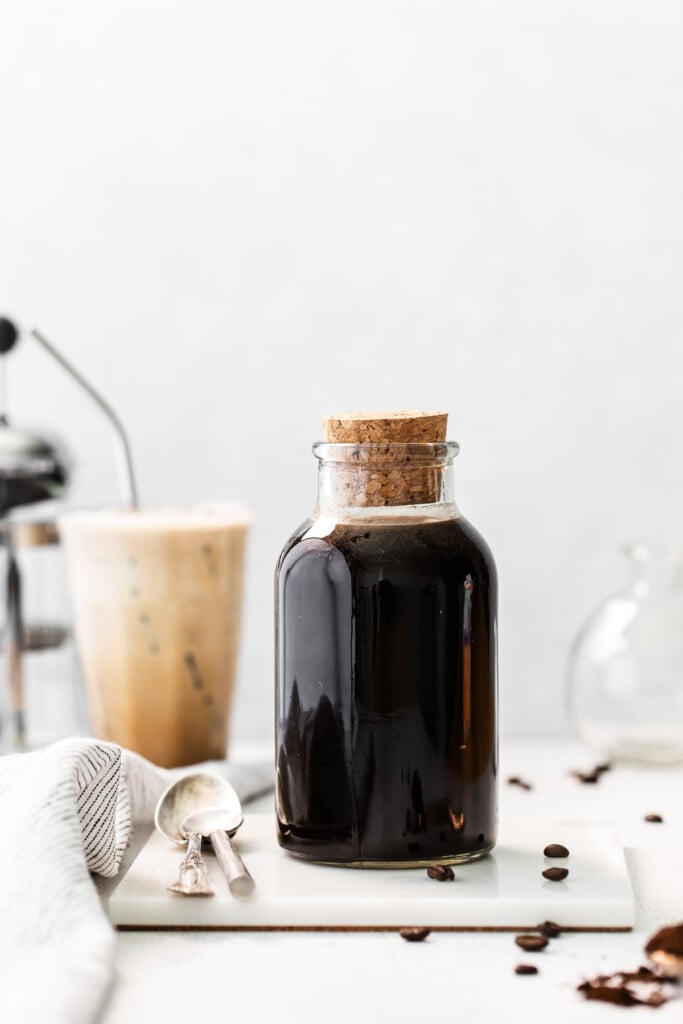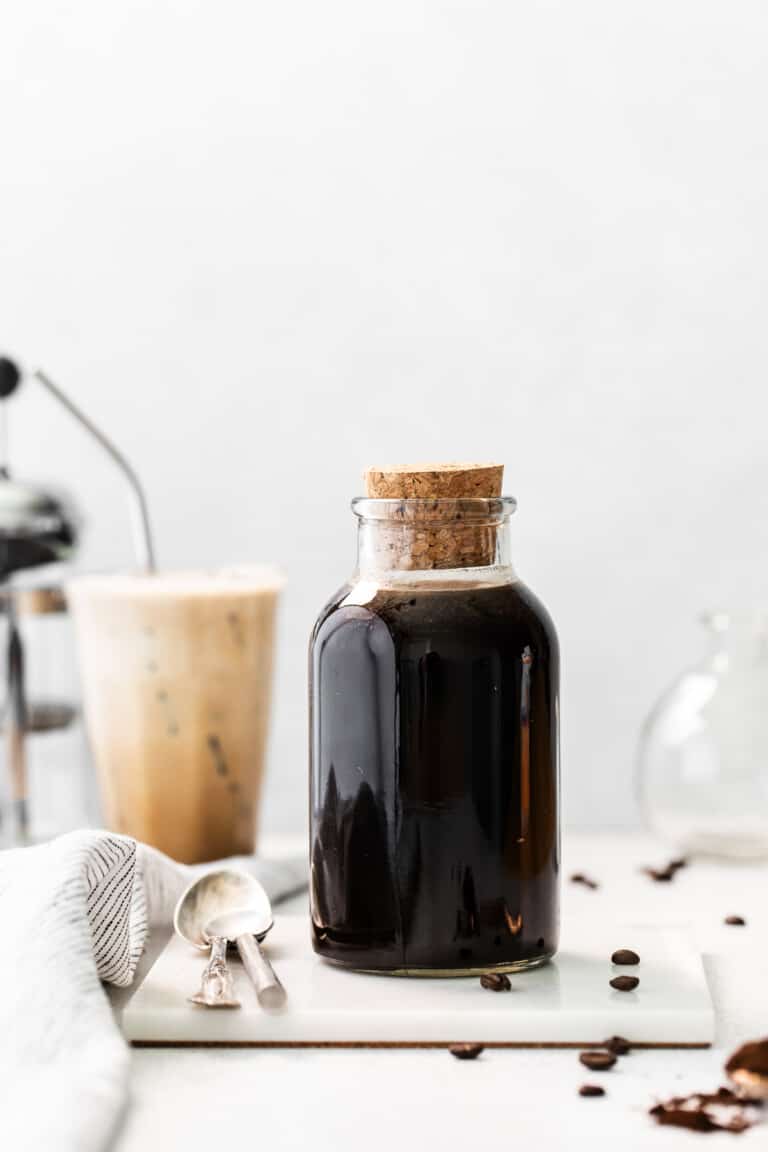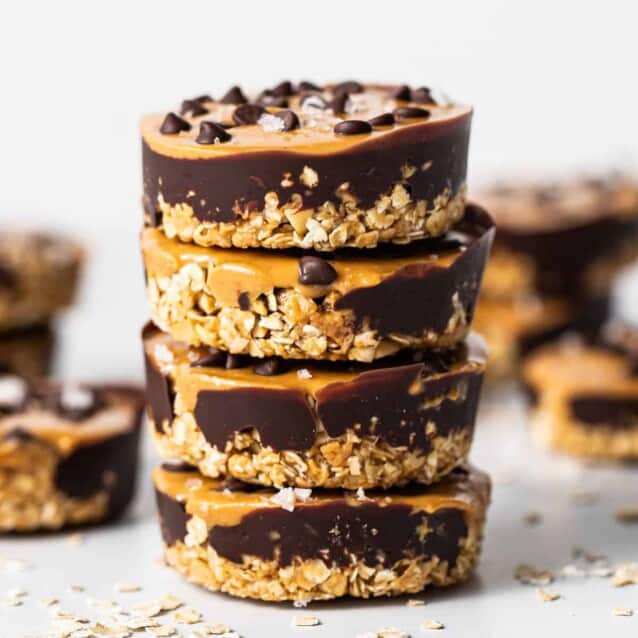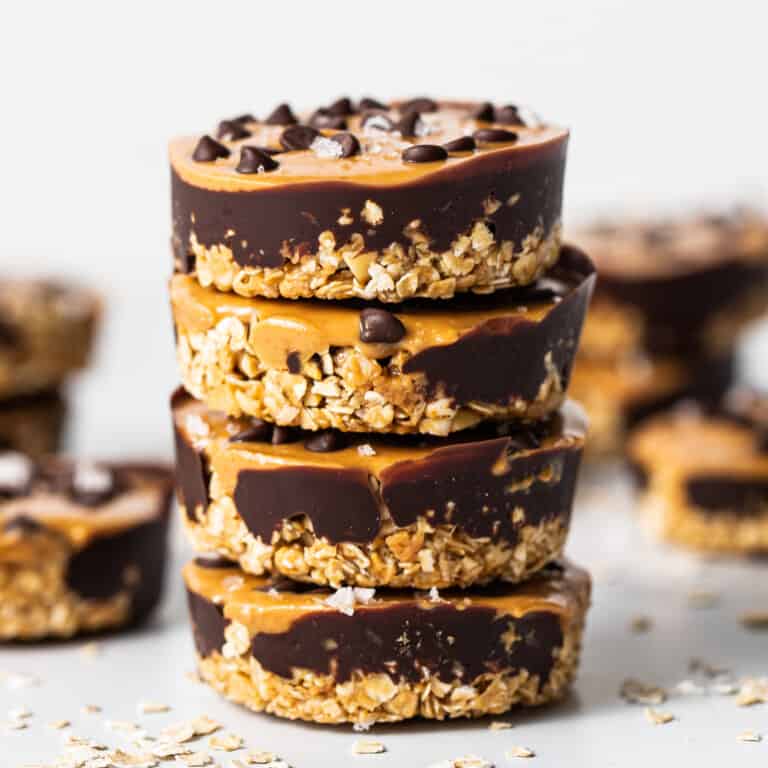 Get our Top 10 5-Star Recipes!
Join our email list for new recipes and BONUS: get our top 10 ⭐️⭐️⭐️⭐️⭐️ recipes e-book!
Ingredients You Need
The base of this coffee drink is cold brew coffee, not espresso. You have two options when it comes to what kind of cold brew coffee you will use.
Homemade cold brew coffee- we have a delicious cold brew coffee recipe on FFF. If you are going to take the homemade cold brew coffee route be sure that you make it the day before. Homemade cold brew coffee takes between 12-18 hours to make.
Store bought cold brew coffee– if you don't have the time to make homemade cold brew coffee feel free to use store bought cold brew concentrate. There are so many great brands out there.
Heavy cream
The vanilla sweet cream is a combination of a few ingredients. The heavy cream in this recipe adds the delicious richness you're looking for in this copycat recipe.
2% milk
You combine heavy cream and 2% cream to make the vanilla sweet cream because if you were to just use heavy cream to your cold brew it would mostly likely clump.
Vanilla Bean
Oh baby, it doesn't get much better than fresh vanilla bean. Scrape out every bit of fresh vanilla bean paste and shake it up into your vanilla sweet cream.
Can I use vanilla extract instead? Yes, you can use 1/2 teaspoon to 1 teaspoon of vanilla extract instead.
The simple syrup just sweetens up this drink just enough!
If you don't want to use simple syrup, but still want to make your sweet cream sweet, here are a few ideas:
Maple syrup
Stevia (not recommended)
Salt
Why salt? A pinch of salt to the vanilla sweet cream enhances every single ingredient in this drink!
Ice
You serve this drink cold and serve it over ice.
can i make this dairy free?
Though we recommend making this vanilla sweet cream with dairy milk you can use some creamier milk substitute and still be left with a delicious drink.
Substitute either oat milk or pea milk for the heavy cream and milk for a creamy non-dairy option.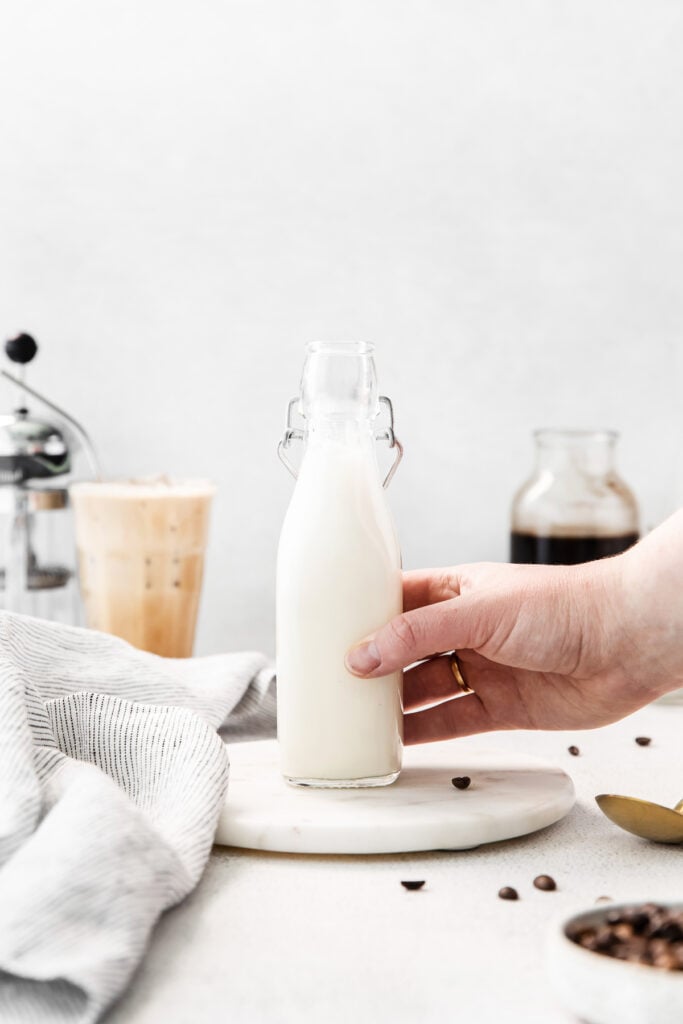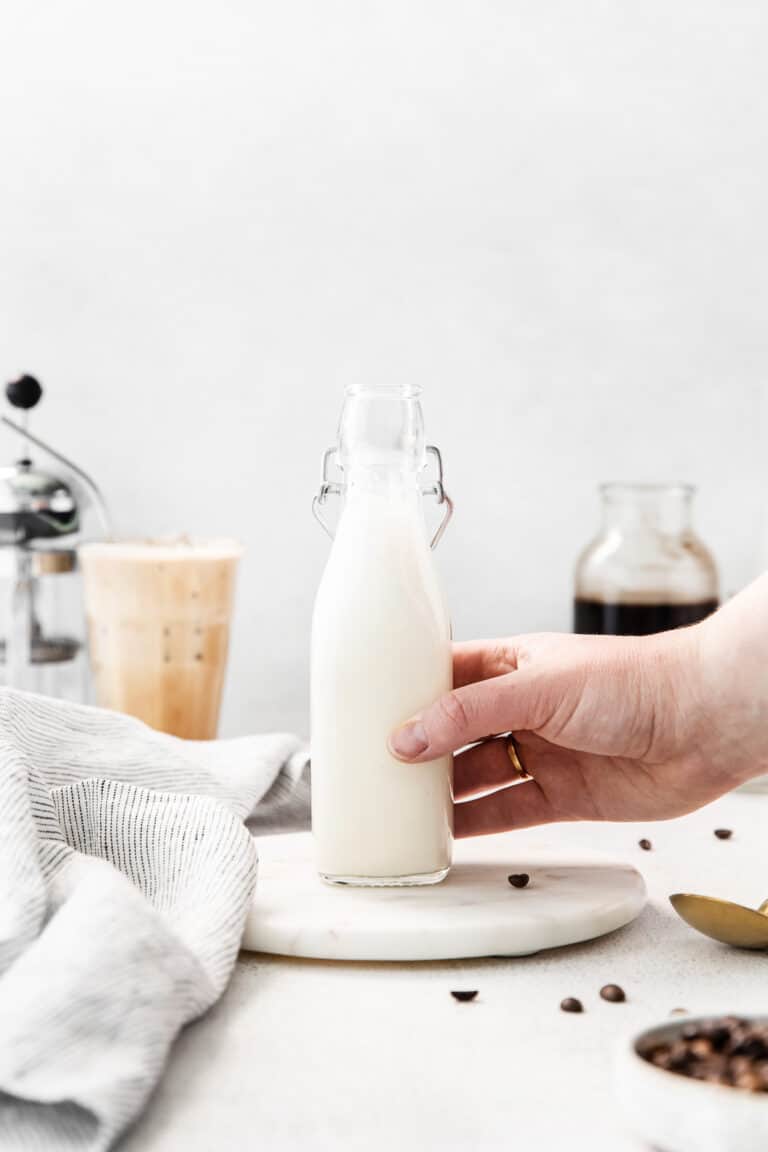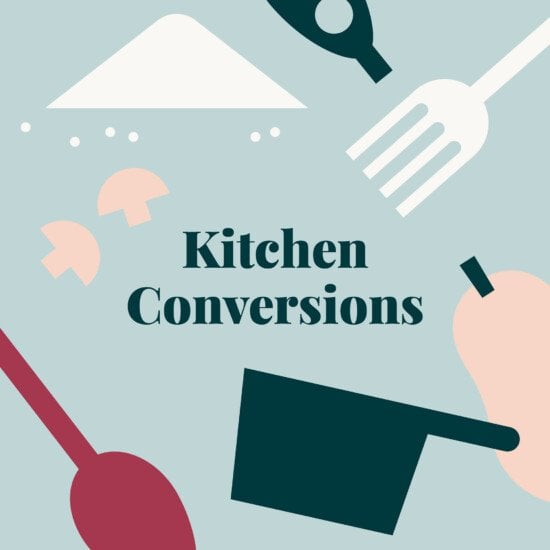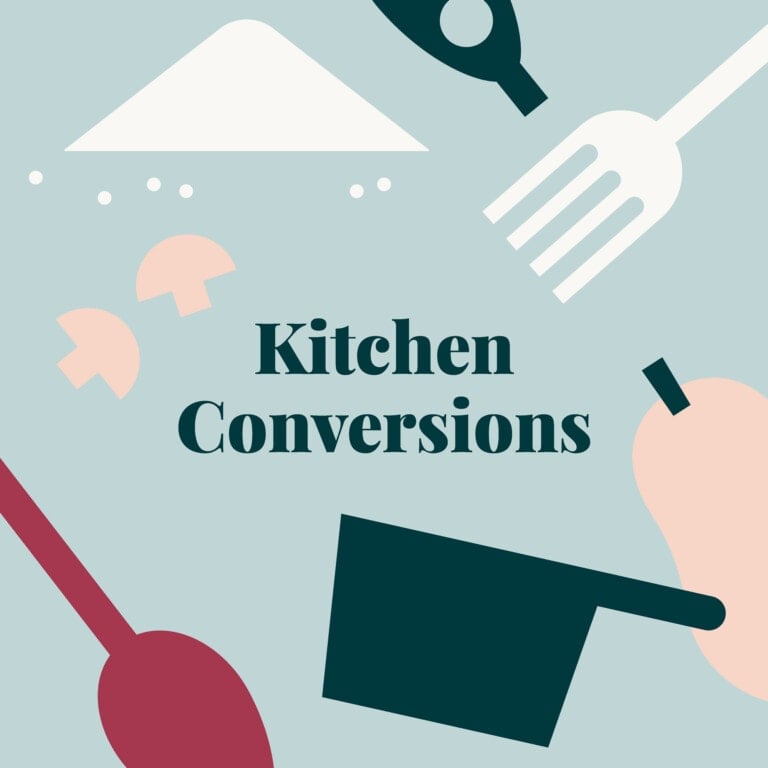 make it easy
Print Your Own
Keep common kitchen conversions like tablespoons to teaspoons and Fahrenheit to Celsius on hand at all times with our u003cstrongu003eprintable kitchen conversions chart.u003c/strongu003e
get it now
Learn More Kitchen Conversions
Make the Cold Brew
If you are using homemade cold brew you have to let it sit in the refrigerator for up to 18 hours so be sure to make it a day before. Here is the short version of how to make homemade cold brew
Combine– Add 1 cup of coarsely ground coffee beans to 3 cups of water. Stir until mixed together.
Refrigerate– Place the cold brew in the fridge for at least 12 hours.
Strain- Pour the cold brew through a sieve or coffee filter and discard the grounds.
For a more tips and tricks on how to make cold brew check out this post!
Prepare the Vanilla Sweet Cream
Scrape vanilla bean: first, use the back of a butter knife to scrape the vanilla bean paste from the vanilla bean. Add that into a small jar.
Add ingredients to jar: Place the rest of the ingredients into the jar.
Mix: Put the cap on the jar and mix to combine everything together.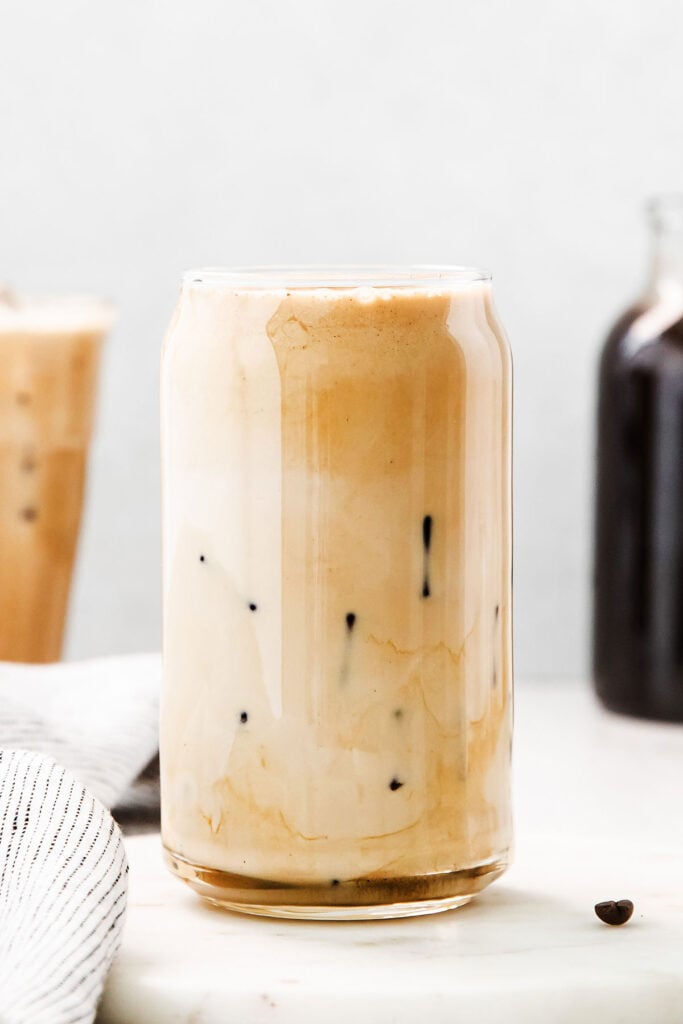 Things to Know- Sweet Cream Cold Brew
Make a foam
Some people like to add the vanilla sweet cream right to the cold brew coffee as is and some people like to make it light, frothy, and foamy!
To turn the vanilla sweet cream into a foam, use a frother to froth it for 15-20 seconds.
Serve over ice
We recommend hands down serving this drink over ice. The cold brew that you use will most likely be a concentrate and tends to be better ice cold! Pour the cold brew over ice and then add the sweet cream!
Can I make it hot?
We do not recommend making this drink hot, but if you must go for it!
Heat your cold brew in the microwave and then add the vanilla sweet cream to the hot coffee.
Storage preferences
We recommend storing the vanilla sweet cream separate from the cold brew coffee and mixing them together right before you are ready to enjoy your drink.
Store the sweet cream in an air tight container. in the refrigerator and store the cold brew in a separate air tight jar.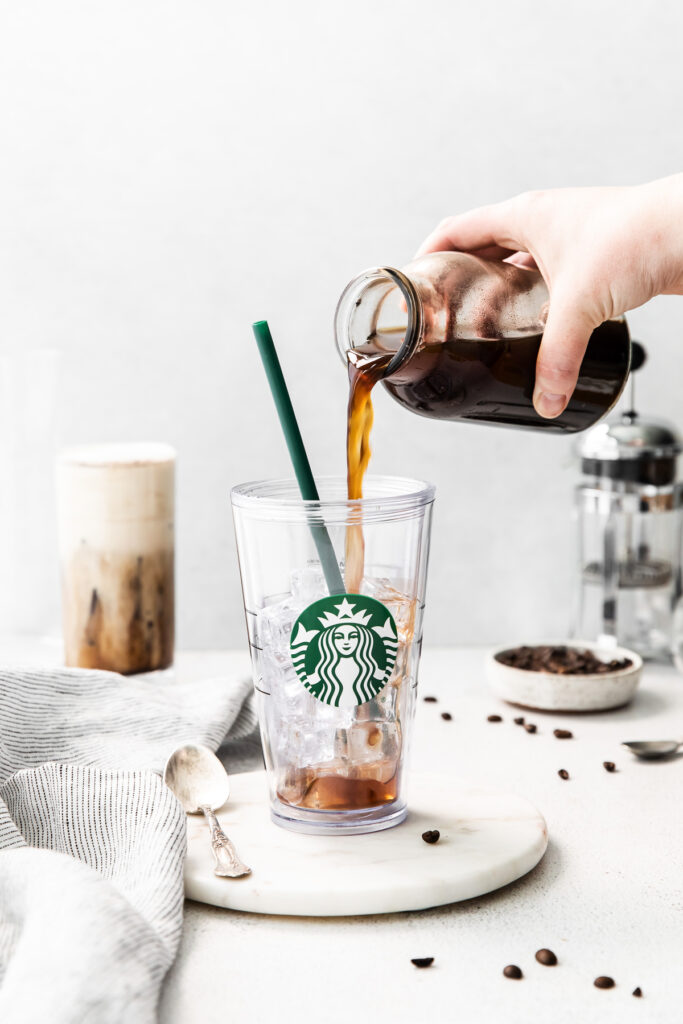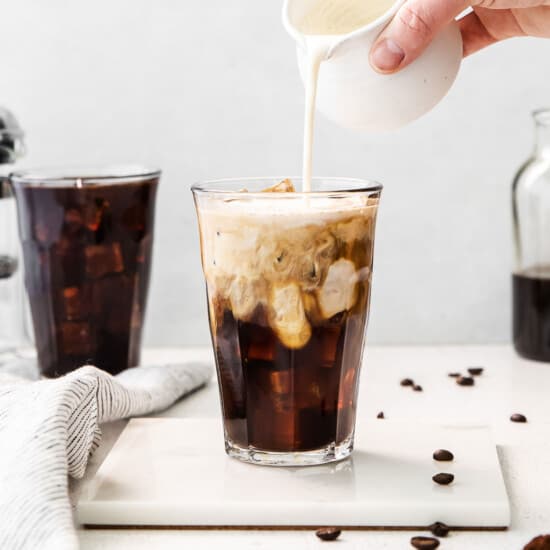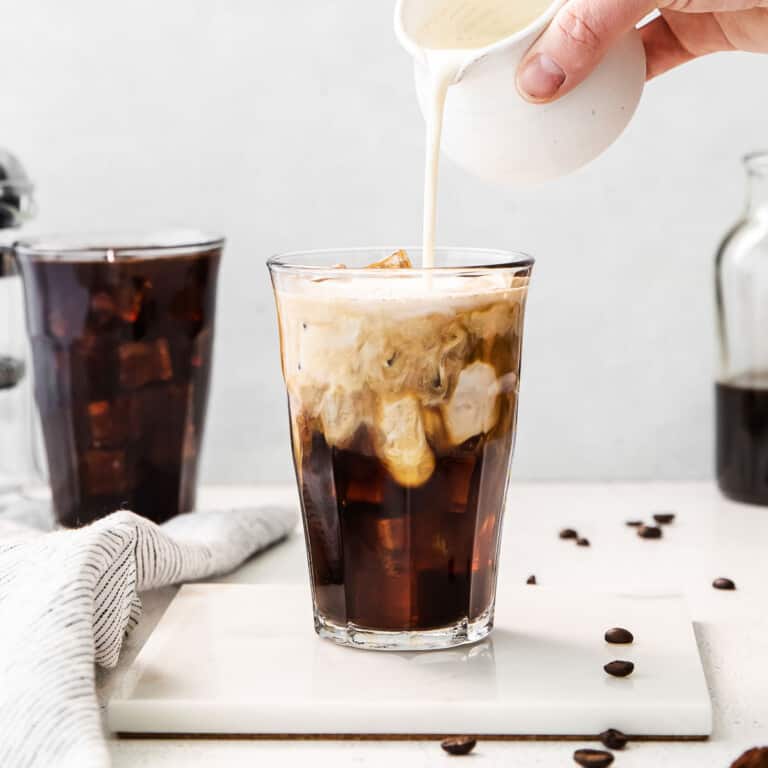 How to Make
Cold Brew Coffee
Check out this super simple tutorial on how to make your own cold brew coffee at home with just 2 ingredients!
Get Recipe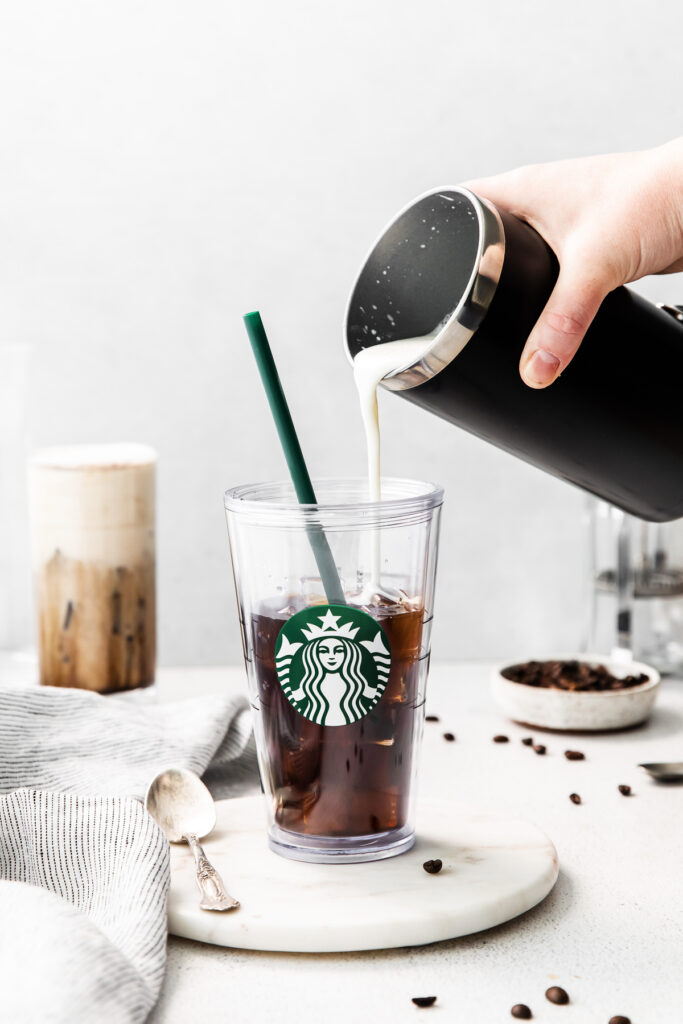 Vanilla Sweet Cream Cold Brew
This is a homemade vanilla sweet cream cold brew recipe that is inspired by the popular Starbucks cold brew drink! Yo make your own cold brew coffee, sweet cream, and serve. 
Ingredients
4

cups

cold brew coffee

½

cup

heavy cream

¼

cup

2% milk

½

vanilla bean

paste scraped out

1

–3 teaspoons simple syrup

or more, to taste

Pinch

of salt

Ice

for serving
Instructions
First, prepare the vanilla sweet cream.

Use a butter knife to scrape out the paste from ½ a vanilla bean. 

Then, place the cream, milk, vanilla bean paste, simple syrup, and salt into a mason jar. 

Cover the jar and shake until all of the ingredients are combined. 

To turn this vanilla sweet cream into "foam" use a hand-held frother to froth for 15-30 seconds until foamy.

Fill a glass with ice. 

Then, pour in 1 cup of cold brew coffee.

Pour 1/4 cup of the vanilla sweet cream on top of the cold brew and use a tall stirring spoon to combine the cold brew and sweet cream.

Serve immediately.
Tips & Notes
Storage: we recommend storing leftover cold brew and sweet cream separately in an airtight container in the refrigerator. Cold brew will last up to 5-7 days and sweet cream will last up to 3.
simple syrup: start with less and ad more, to taste.
Nutrition facts
Calories:
45
kcal
Carbohydrates:
3
g
Protein:
1
g
Fat:
3
g
Fiber:
1
g
Sugar:
1
g