Treat yourself to an iced matcha latte for a refreshing caffeine boost! This iced matcha latte is sweetened with maple syrup and ready in less than 5 minutes.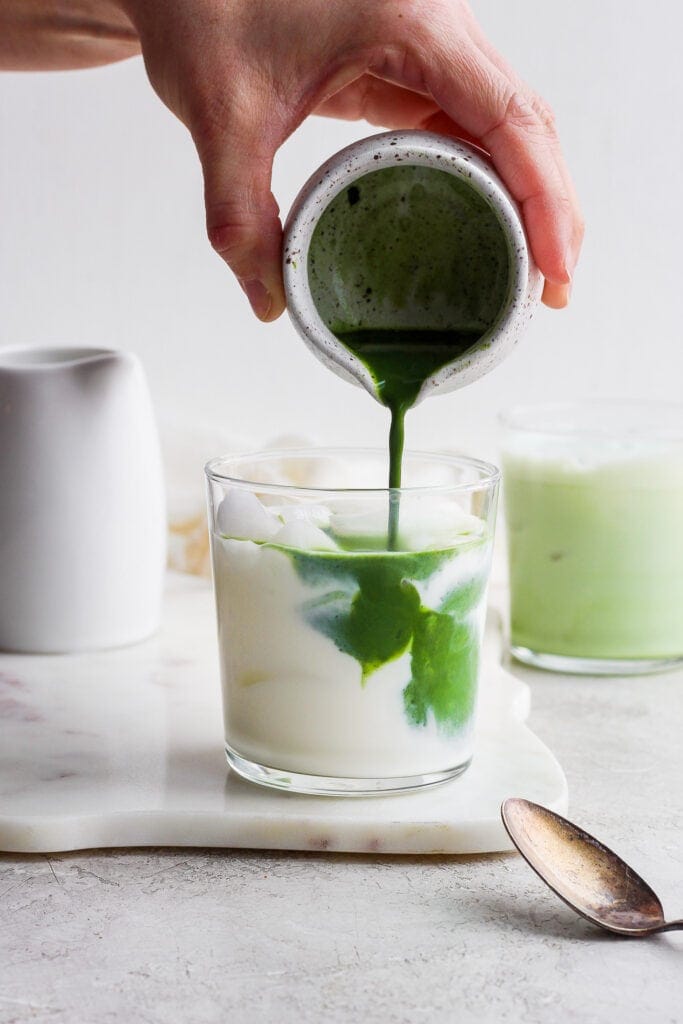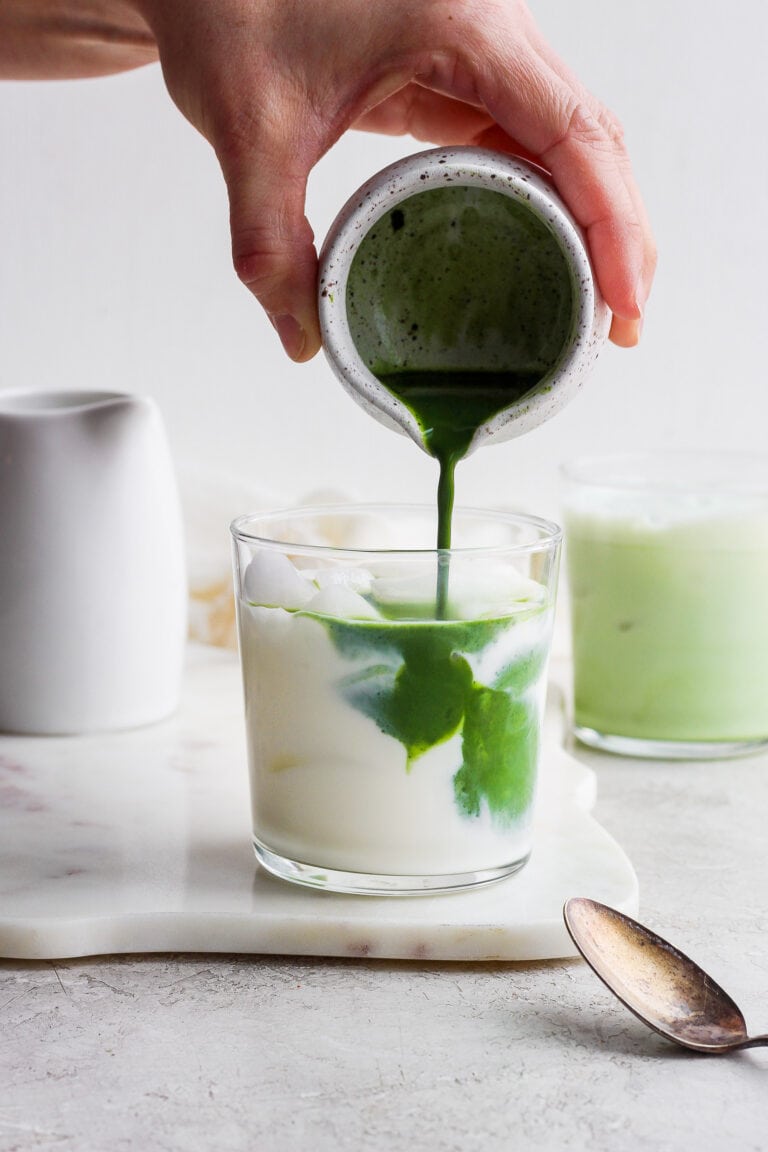 Homemade Iced Matcha Latte
How much does an iced matcha latte go for at a coffee shop? You could spend your whole paycheck if you satisfied every single matcha latte craving by buying it at coffee shop every week.
Have no fear, making a homemade iced matcha latte is just as easy and (even more importantly) just as delicious! You only need a few ingredients before you'll have yourself a coffee shop quality iced matcha latte.
You Only Need 4 Ingredients
Here is everything you need to make this iced matcha latte. There are a few substitution options when it comes to mixing up this tasty iced treat.
Matcha powder- There are so many different types of matcha powder on the market. Make sure you buy pure matcha that sources their green tea leaves from Japan. Our favorite is Matchabar and you can buy it on Amazon.
Hot water
Almond milk- We love using almond milk for iced lattes, but feel free to use whatever milk or milk alternative that you would like.
Maple syrup– The sweetener in this latte is maple syrup. It is a great vegan option that offers a warm flavor. Feel free to use honey or any other sweetener of your choice.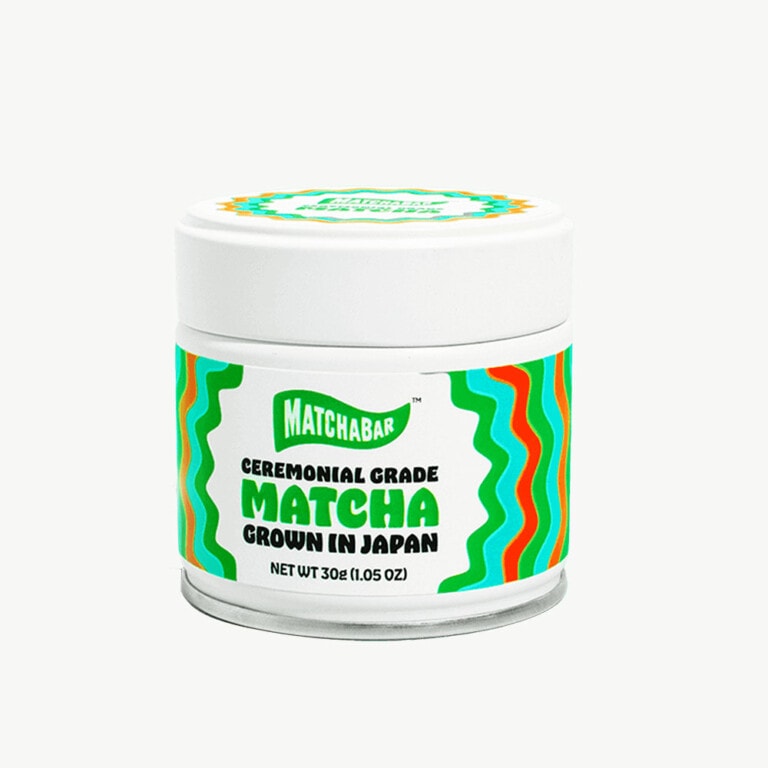 the best
Matcha Powder
This is our go-to pure matcha powder that you can use in any recipe that calls for matcha powder.
Try It!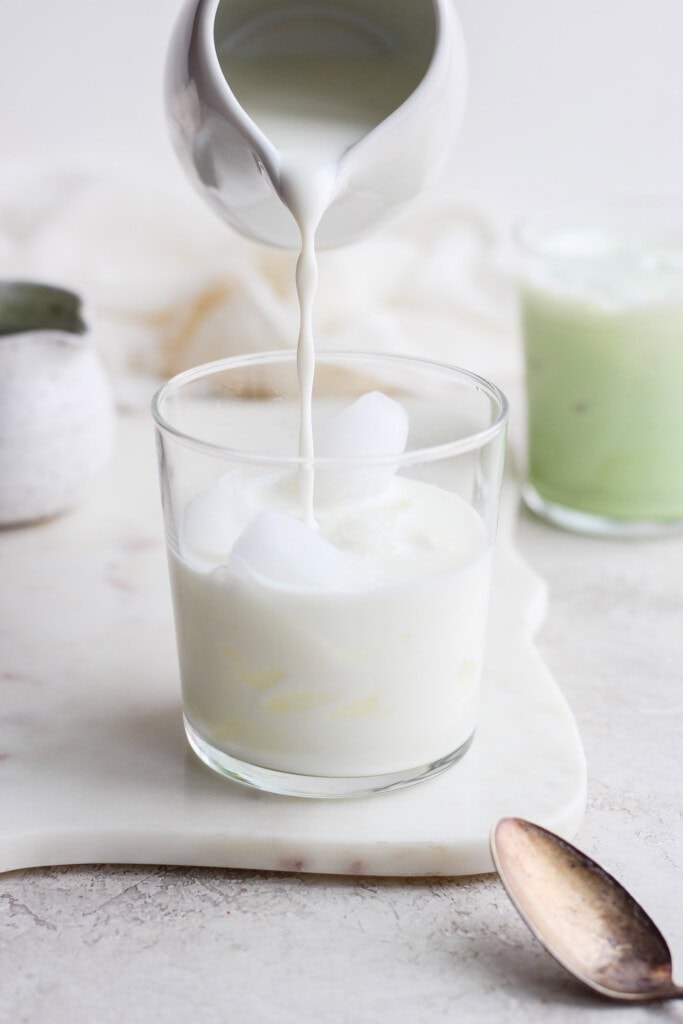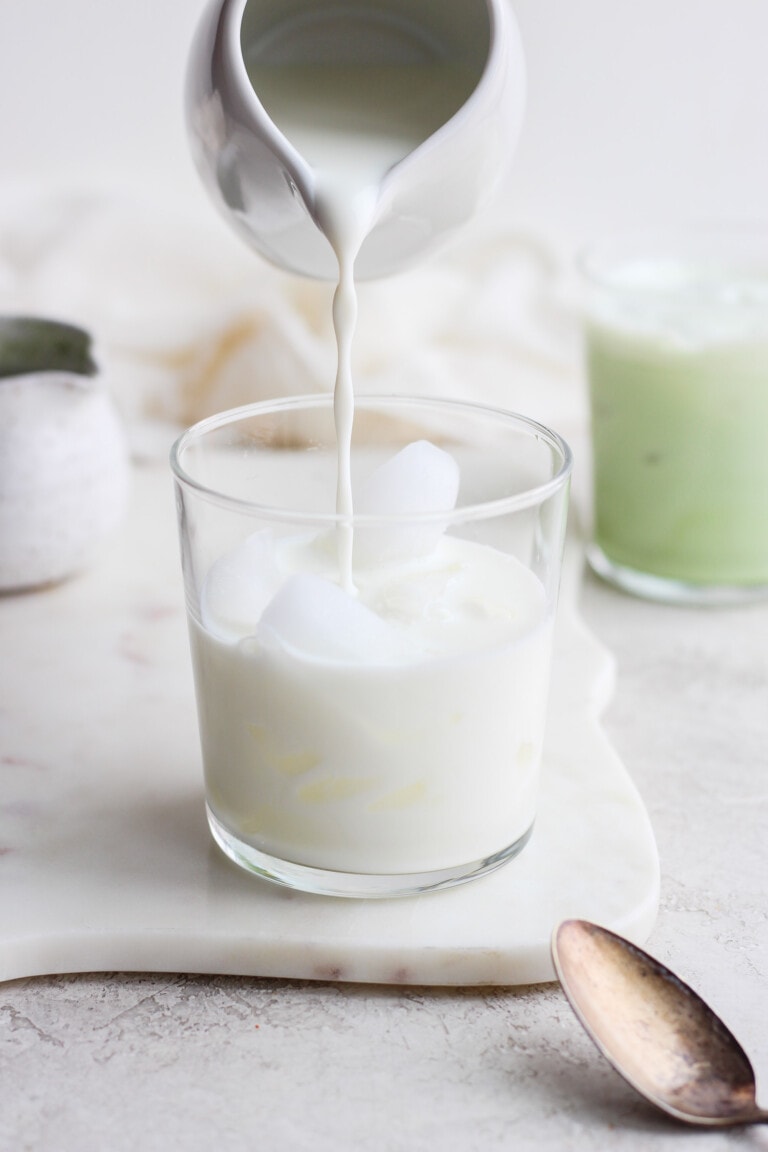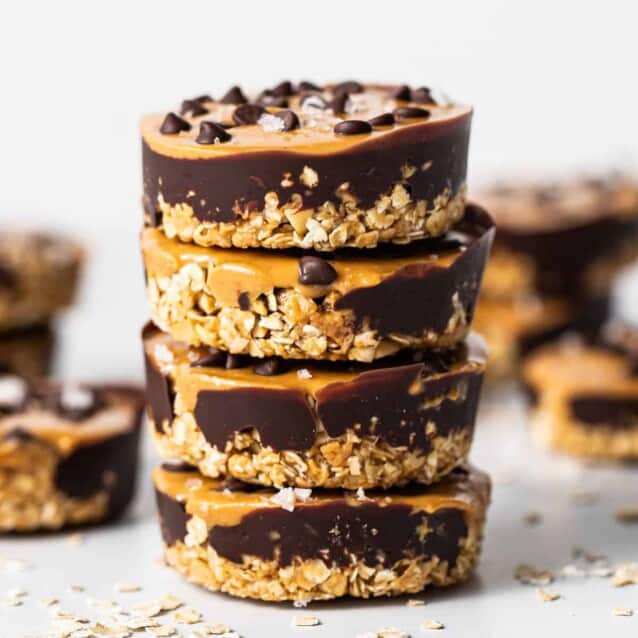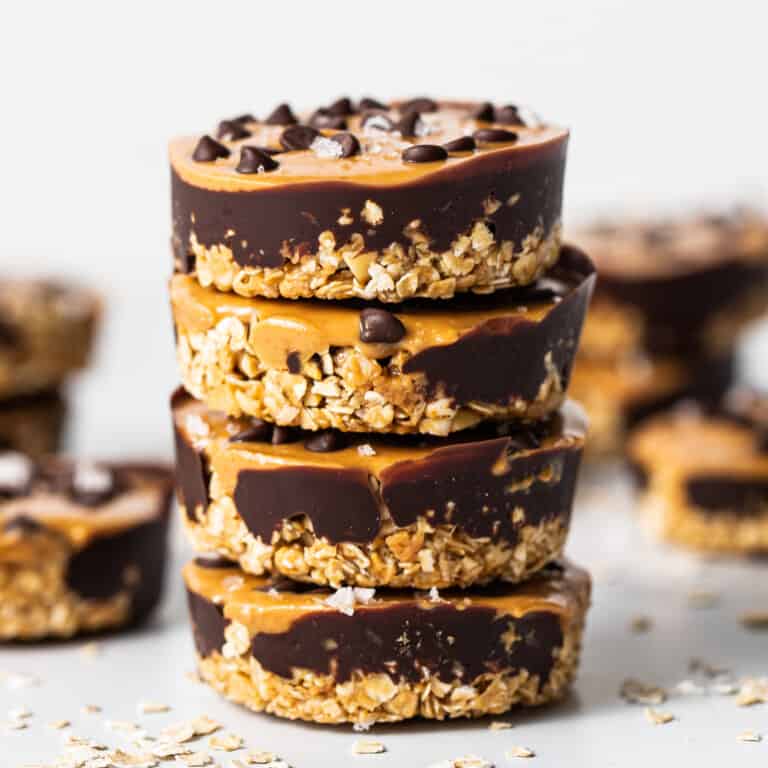 Get our Top 10 5-Star Recipes!
Join our email list for new recipes and BONUS: get our top 10 ⭐️⭐️⭐️⭐️⭐️ recipes e-book!
How to Make an Iced Matcha Latte
The first thing you are going to want to do is prepare the glass you will use. Fill the glass with ice.
Add almond milk and maple syrup to a glass with ice and mix the two ingredients together with a long spoon.
Next, add a teaspoon of matcha powder to a glass or a bowl and add the hot water to the bowl. Whisk the two ingredients together until there are no matcha powder lumps.
Pour the matcha mixture into the almond milk mixture and stir until combined.
the most important step
Making sure that your matcha powder completely dissolves into warm water is the most important step to making an iced matcha latte.
If your matcha powder is not dissolving in the hot water add a teaspoon of hot water at a time until there are not clumps of matcha.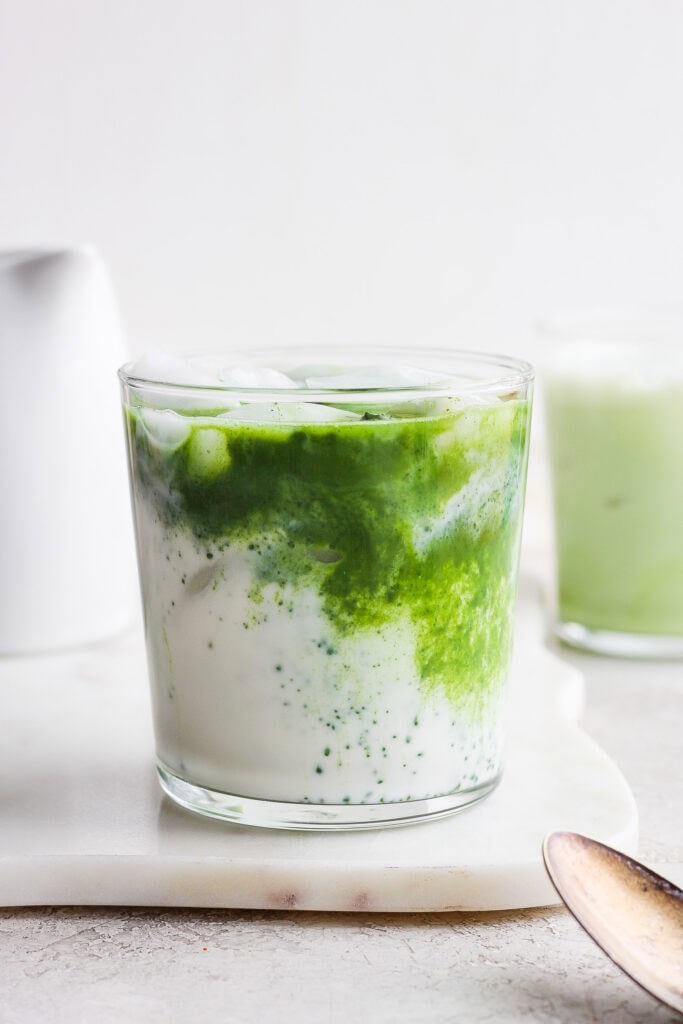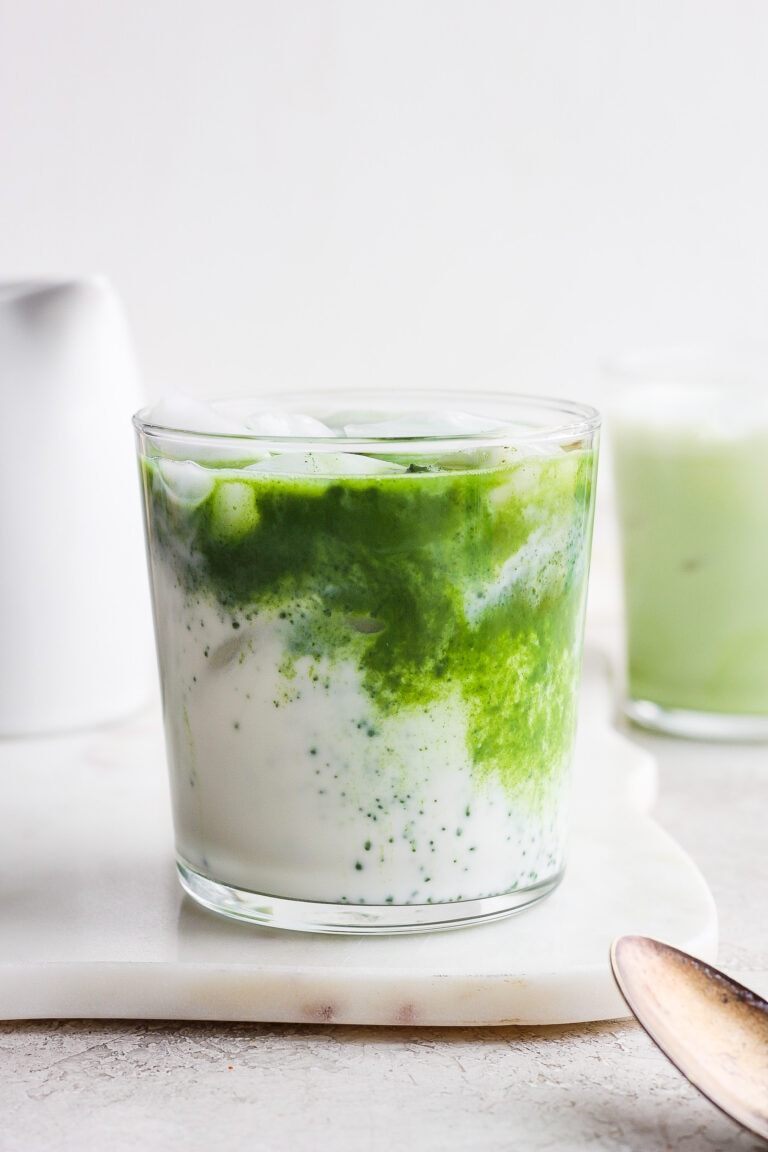 Matcha Powder 101
What is matcha powder?
Matcha powder is made up of ground green tea leaves that are typically grown in Japan.
Is matcha powder healthy?
Just like anything, drink everything in moderation. Matcha powder is known to be healthy. Matcha is high in catechin called EGCG that is known for having cancer fighting affects.
Matcha powder is also packed with antioxidants and has a little bit of caffeine that helps boost energy levels.
What are good milk alternatives for an iced matcha latte?
If you aren't into almond milk, we highly recommend oat milk! Feel free to use dairy milk or soy milk. They will both work.
What else can I make with matcha powder?
You can use matcha powder in so many recipes. We use matcha powder in this delicious banana matcha smoothie and these matcha waffles. They are also great in cookies, energy balls, and many other recipes.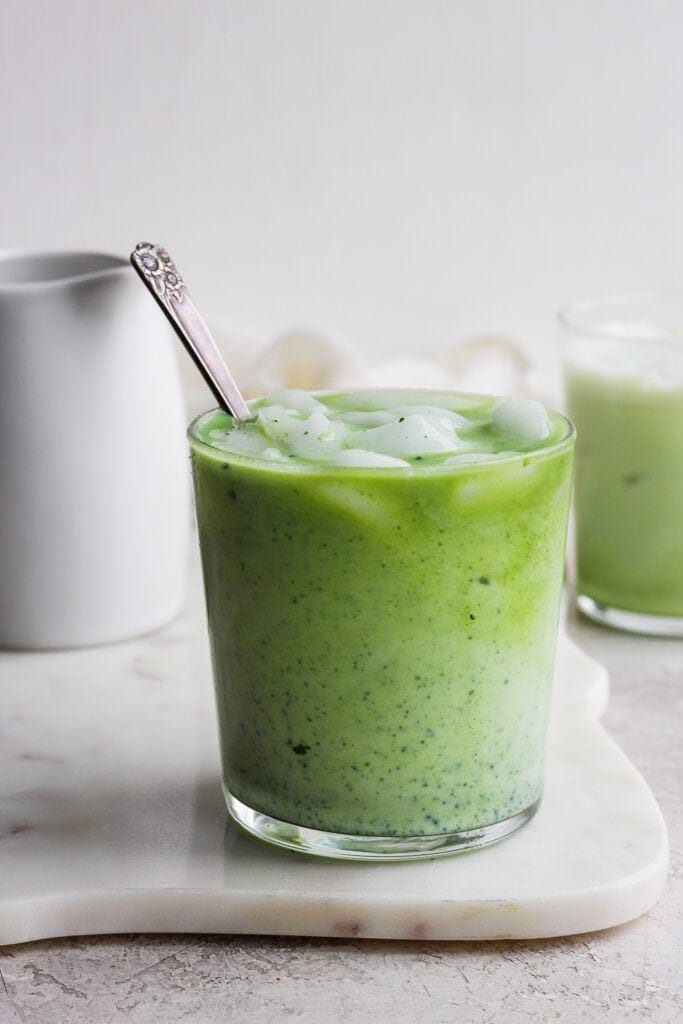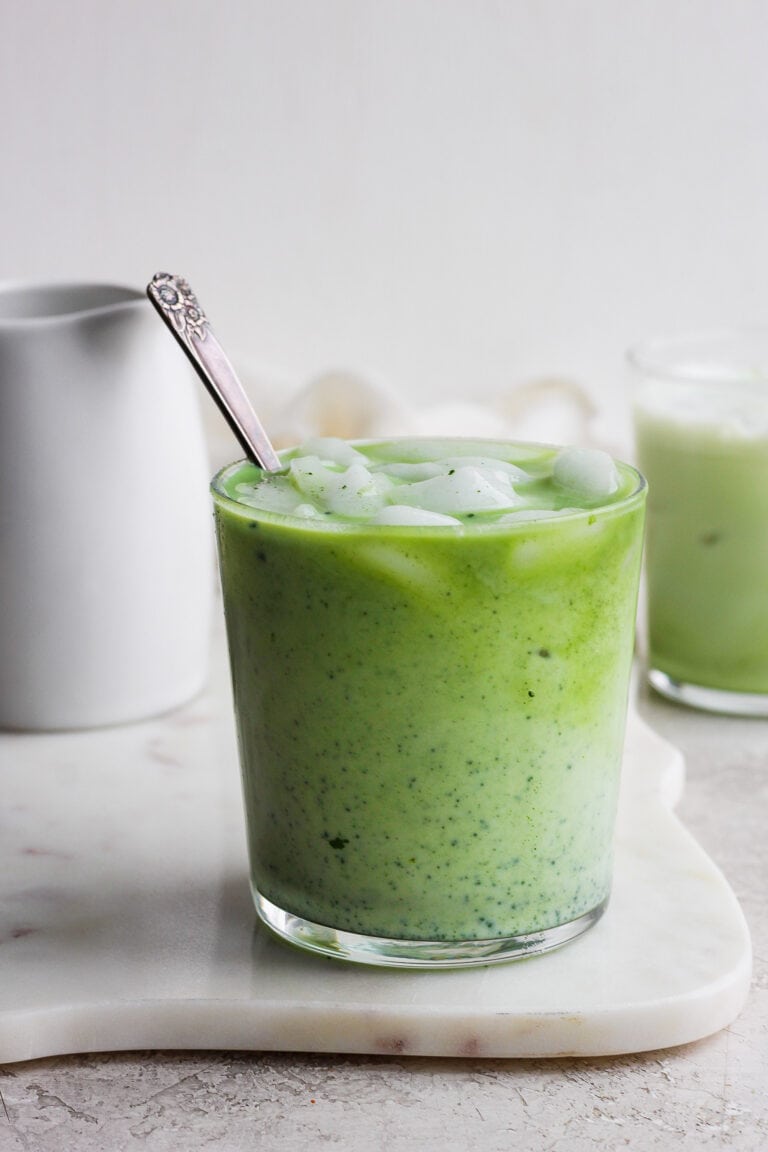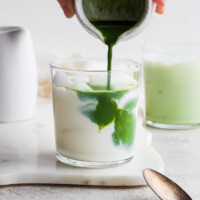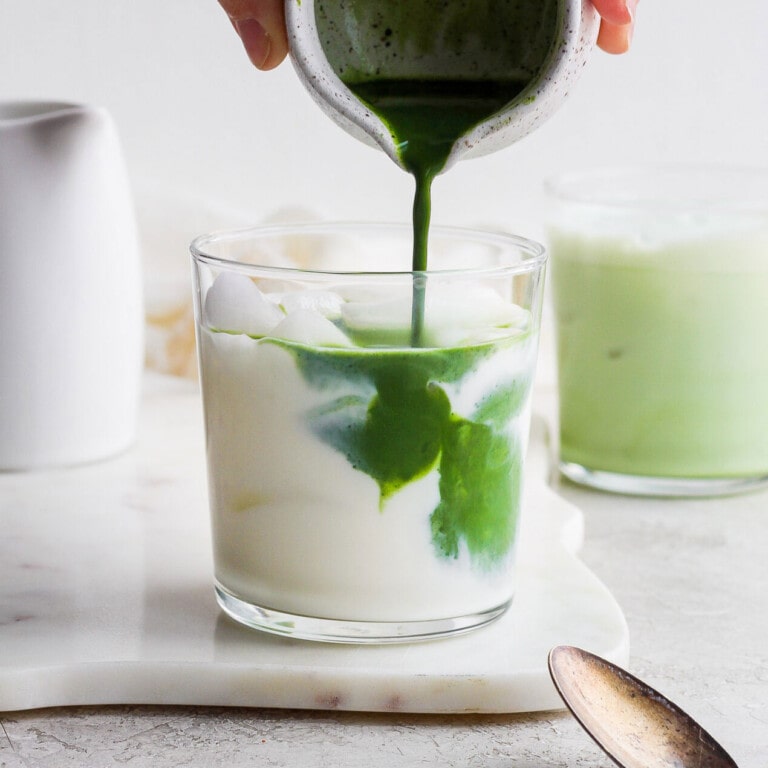 Iced Matcha Latte Recipe
Treat yourself to an iced matcha latte for a refreshing caffeine boost! This iced matcha latte is sweetened with maple syrup and ready in less than 5 minutes.
Ingredients
1

teaspoon

matcha powder

1

tablespoon

hot water

¾

cup

unsweetened almond milk

any kind of milk works

1 - 1.5

tablespoons

maple syrup

depending on how sweet you like it

ice

to taste
Instructions
First, add matcha powder to the bottom of a cup or Pyrex and then add hot water. Use a whisk or hand-held electric milk frother (this is actually what we use) to whisk matcha powder and water until all lumps have dissolved. 

Next, fill a glass with ice and add milk and maple syrup. Stir to combine.

Finally, add matcha mixture to the iced milk and use a spoon to combine. 

Serve immediately! 
Nutrition facts
Calories:
113
kcal
Carbohydrates:
24
g
Protein:
1
g
Fat:
2
g
Fiber:
2
g
Sugar:
19
g
Photography: photos taken in this post are by Erin from The Wooden Skillet.