Made with lavender-infused honey simple syrup, this lemonade is perfectly refreshing and made with no refined sugars!
I LOVE LEMONADE AND LEMONADE LOVES ME.
There, I said it.
---
---
I am a total sucker for lemonade. Like at the Wisconsin State Fair…I bypass the damn milk stand and bolt right for the lemonade. SO. GOOD. The best part is when I can taste the sugar crystals MWAAHAHAHA. Speaking of State Fairs…I've lived in MN now for 8 years and have never been to the Minnesota State Fair. I just can't get myself to cheat on Wisconsin. I feel like I've grown up in a little Midwest bubble…that I don't even know if all other states have state fairs. SoCal State Fair? Phoenix State Fair? Do those exist or is it just a midwest thing? Also- I feel like there are two types of state fair goers. The ones that go 5 times and eat ONE OF EVERYTHING OR the ones that go once for 2 hours and have to get the eff out of there before they see another child on a leash (ME).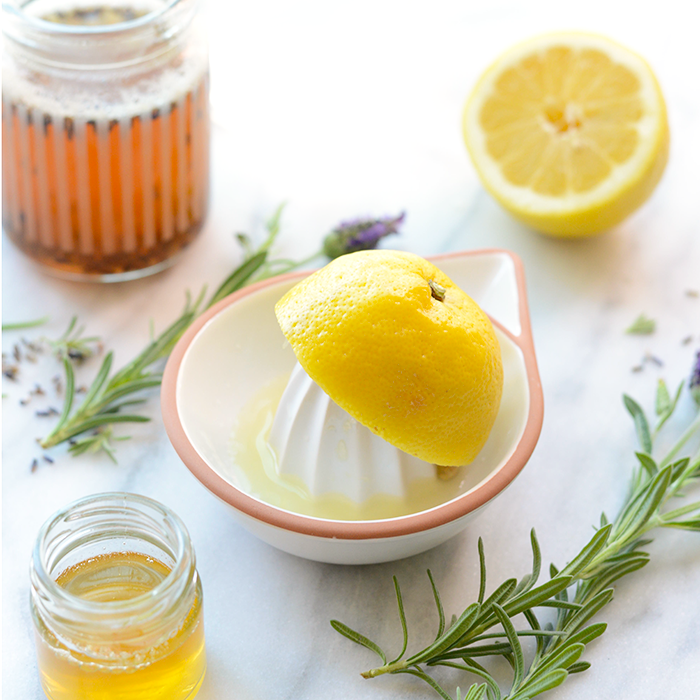 So dis lemonade rocks my socks. When Davida was in town, we shot a whole bunch of content for SHEuncovered. I made a sugar scrub (not posted yet) that required dried lavender, which I had never purchased before. Like always…I bought wayyyy too much. What to do with so much dried lavender? Insert —> lemonade.
Lin and I decided we wanted the lemonade to be made with honey instead of refined sugar, so we did a little research (THANK YOU MARTHA) on how to make a honey simple syrup. NOT HARD AT ALL. All you do is boil honey + water, reduce to low, and let simmer. This is where we added in the dried lavender. From there- we let the honey lavender simple syrup sit in the fridge overnight to REALLY infuse.
The rest of the recipe is pretty straight forward…
shit ton of lemon juice
a wee bit of water
lavender-infused simple syrup
ICE ICE BABY
o0o man I'm sassy today.
Honey Lavender Lemonade
Prep Time:

5 mins

Cook Time:

10 mins

Total Time:

15 minutes

Author:
Yield:

4
Ingredients
For the Lavender-Infused Honey Simple Syrup
1/2 cup filtered water
1/2 cup all-natural honey
1 tablespoon dried lavender
For the Honey Lavender Lemonade
1 cup lemon juice, freshly squeezed
1 cup filtered water
3/4 cup lavender-infused honey simple syrup
Instructions
For the Lavender-Infused Honey Simple Syrup
Place all ingredients in a small saucepan and turn to medium/high heat.
Bring to a boil, then reduce to low and let simmer for 5 minutes. Stirring consistently until honey dissolves into water.
Place into a container and into the fridge. Let sit overnight or for at least 8 hours to let the lavender infuse even more. Strain lavender before serving.
For the Honey Lavender Lemonade
Place all ingredients into a pitcher and mix. Depending on how sweet you like your lemonade, add more simple syrup.
Serve over ice.
Notes
You might have a little simple syrup leftover depending on how sweet you like your lemonade.
Nutrition
Serving Size:

1/4

Calories:

203
Fill me in…do you have a state fair where you are from? What kind of state fair person are you?