From green smoothie recipes to a basic strawberry smoothie, we've got all the smoothie inspiration you need right here!
Check out 100+ healthy smoothie recipes and learn how to make your own unique healthy smoothies at home with our basic smoothie equation.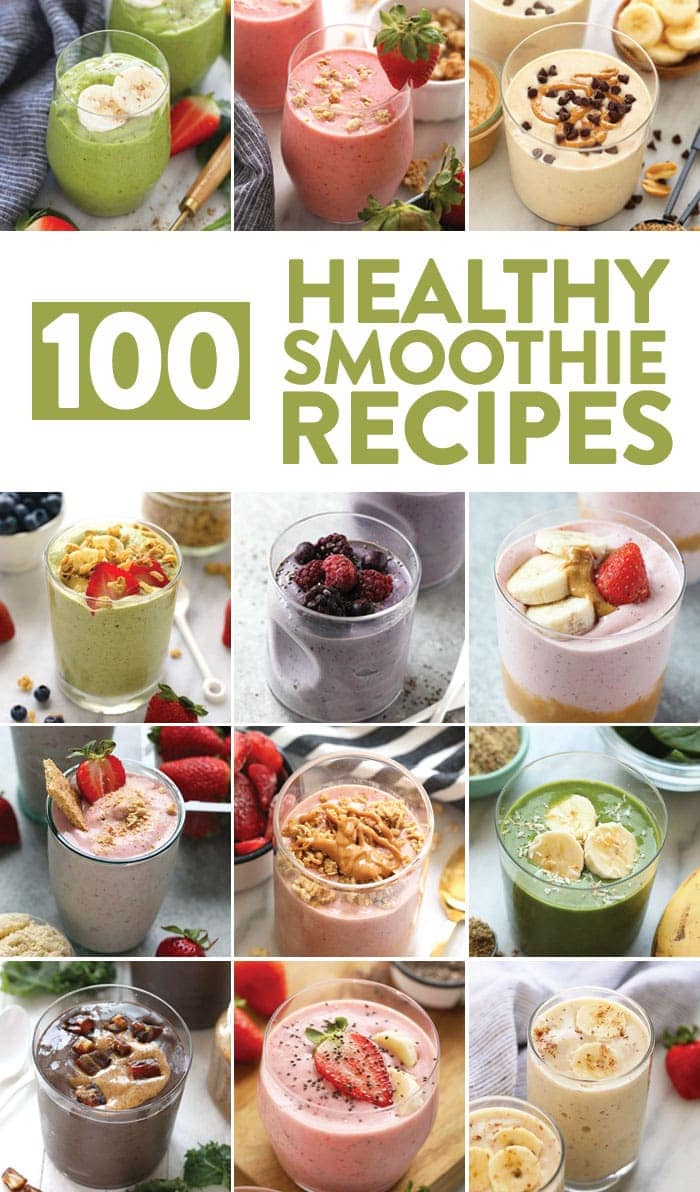 Say hello to the most beautiful smoothies on the internet! Smoothies are such a great healthy breakfast idea, snack, or even dinner! In less than 5 minutes you can enjoy multiple servings of fruit, veggies, healthy fats, and more!
PS: Check out our best Protein Shake Recipes, too!
What is a smoothie?
A smoothie is a cold, blended drink made up of frozen fruit, liquid such as juice or milk, and other nutritional add-ins such as nut butter, protein powder, and protein powder.
Smoothies are a great way to pack in the nutrition without a lot of effort. There are many varieties of smoothies such as green smoothies, fruit smoothies, smoothies bowls, and more.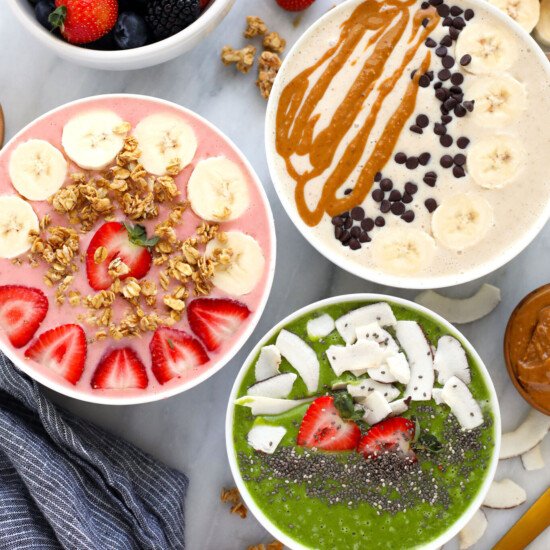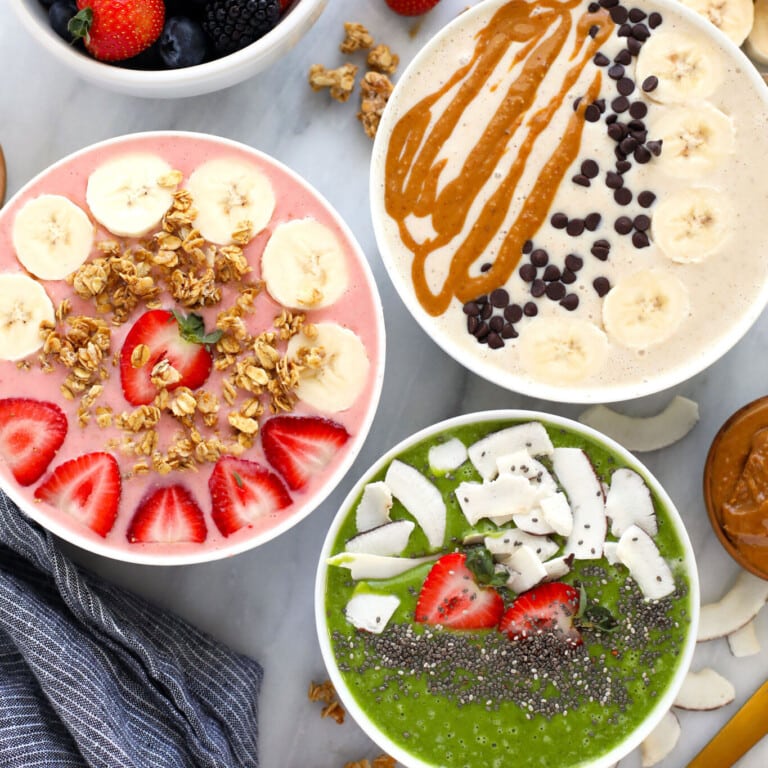 Three
Smoothie Bowl Recipes
3 easy smoothie bowl recipes that come together in less than 10 minutes. Choose from: strawberry smoothie bowl, green smoothie bowl, or peanut butter banana smoothie bowl.
Get Recipes
Best Blender for Smoothies
First things first, let's talk about the blender situation. I know there are hundreds of blenders on the market and it can be very daunting to find the right one for you. One thing I have learned with the handful of blenders that I've owned is that quality matters. Usually, quality and price coincide and it's totally true.
I've found that the more expensive and higher quality blender I have, the more success I have with what I am making…especially smoothies. The most recent and BEST blender I have ever had is a Vitamix.
We have the Vitamix 5200 and it runs you about $430 on Amazon. I do not have a single bad thing to say about this beast. It's super powerful, easy to clean, and it makes making smoothies along with other things a breeze. I can tell you right now that this is the best blender I have ever owned and there's no turning back.
More
Smoothie Blender Recommendations
I did want to share some other great blenders that I have personally owned and recommend depending on your price point.
Low cost: Ninja BL480D Blender $99 — this is a great single serve blender for those that want to conserve space. Plus you can't beat the price point.
Medium cost: Ninja Kitchen System $229 — I've owned the Ninja Kitchen System for about 5 years and I love that it's interchangeable between a blender, food processor, and single-serve smoothie blender. For $229, you really do get it all! 
High cost: Vitamix 5200 $429 — at the highest price point, the Vitamix is THE BEST kitchen appliance I've ever owned. It will literally crush, pulverize, mix, or puree anything and everything because it's so powerful! I highly recommend, 10/10!
guide to protein powder
Looking for the best protein powder to buy? Check out our Guide to Protein Powder where we share our top plant-based and whey protein powders.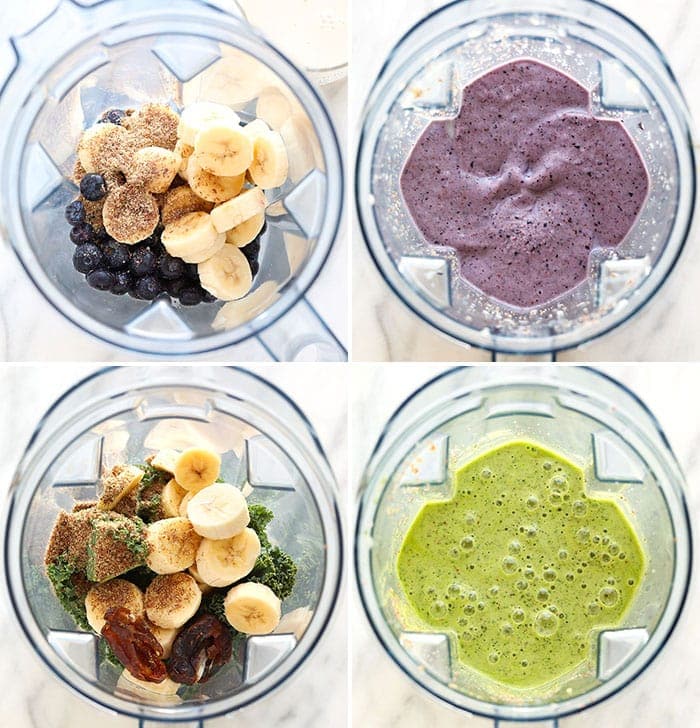 Basic Smoothie Tutorial
If you're wondering how to make a smoothie, don't worry, you're not the only one Googling this! Smoothies are such a great thing to know how to make if you are in college, need a quick breakfast, or have "nothing in your cabinets." I'm going to walk you through exactly how to make the perfect smoothie every single time.
We thought it would be useful to create an equation of sorts so that you can use what you have at home!

Step 1: Assemble Ingredients
Smoothies are all about finding that perfect ratio of fruit to liquid. That's why you'll see in our basic smoothie recipe, we have about 1 cup of liquid to 2 cups of frozen fruit. You'll also see that we don't use ice in our smoothies because we find that ice dilutes the flavor and defeats the purpose of using frozen fruit!
2 cups frozen fruit (banana, strawberries, mixed berry, pineapple, tropical blend, etc.)
1 cup liquid (orange juice, almond milk, coconut water, coconut milk, water)
We say 2:1 with a grain of salt because everyone has their own preference. Some people like to drink smoothies with a straw and others like it thick enough to be eaten with a spoon. So, start with 1 cup of liquid and add more as you wish.
In addition to the 2:1 ratio of fruit to liquid, you can also add other ingredients such as protein powder, greens, Greek yogurt, seeds, etc.
Step 2: Blend
Now it's time to add all of your ingredients to your blender. Remember that you can always add more liquid, but you can't take it away! We suggest blending on high until everything is smooth.
If you are using something like kale or spinach, it may take some time for the blender to do it's just, you just need to be patient. Depending on how frozen your fruit is, you may need to stop your blender and scrape the sides with a spatula and/or add more liquid!
Step 3: Serve
Once you've got your smoothie recipe at the desired consistency, it's time to serve. You've got choices: cup or bowl. Smoothie bowls are all the rage right now, but you can always keep it classic with a cup or glass.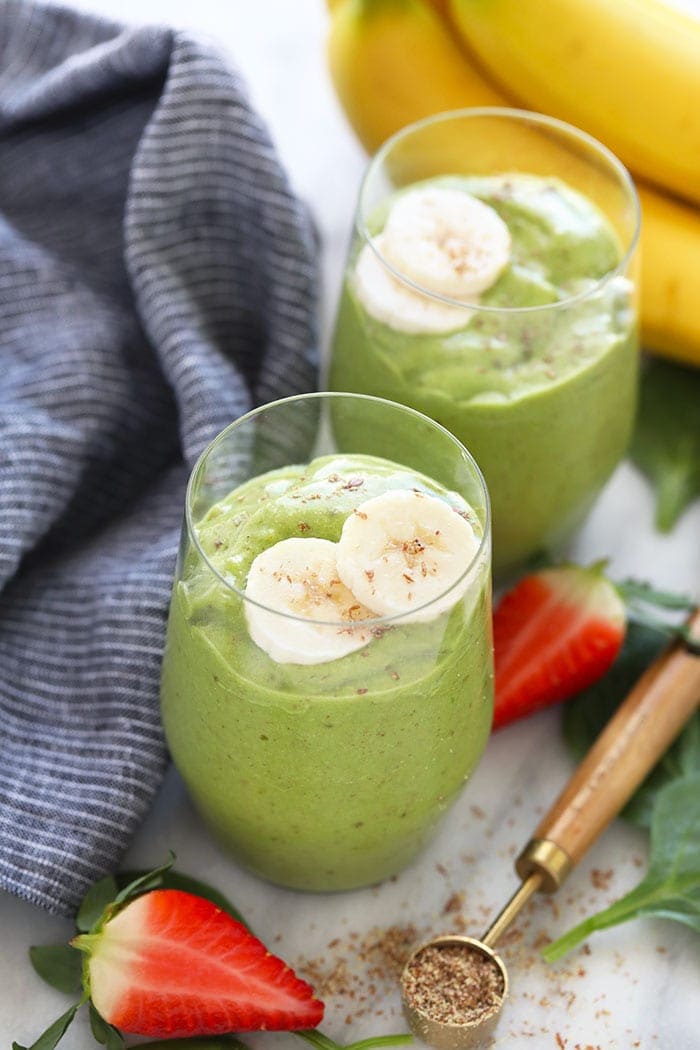 Smoothie Toppings Ideas
Don't forget about the toppings. If you're anything like me, you don't skimp when it comes to toppings. Here are some of my favorites:
nuts: almonds, walnuts, cashews
seeds: flax or chia
fresh fruit: berries, banana slices, etc.
Greek yogurt
FAQ
What are the best things to put in a smoothie?
Start off with frozen fruit and then add a liquid 2:1, frozen fruit to liquid. From there, add your favorite flavors such as peanut butter, protein powder, and greens.
Are smoothies good for weight loss?
Smoothies are a great way to get a lot of nutrition very easily. Pack in the greens, frozen fruit, and even frozen veggies into your smoothies!
Do smoothies need yogurt?
You do not have to use yogurt in order to make a delicious smoothie recipe.
How do you make a good smoothie?
A good smoothie starts with a ratio of 2:1 frozen fruit to liquid. From there, other delicious ingredients such as Greek yogurt, peanut butter, and protein powder are added for flavor and nutrition.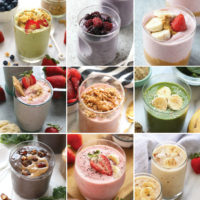 How to Make a Smoothie
Looking to make healthy smoothie recipes? With just 2 basic ingredients you can make yourself any flavor combo of smoothie in the whole wide world. Here is an "equation" for a basic smoothie recipe that will never disappoint.
Ingredients
2

cups

frozen fruit

any kind

1

cup

liquid

almond milk, orange juice, water, etc.
Optional add-ins
1/2

cup

nonfat Greek yogurt

or any kind of yogurt

1/2

tablespoon

ground seeds

flax or chia

1/4

cup

protein powder

whey, plant-based, soy, etc.

handful of greens

spinach, kale, etc.
Instructions
Place frozen fruit, liquid, and any optional add-ins into a high-speed blender.

Blend on high until smooth. You may need to add a little bit more liquid depending on how thick you like your smoothie.

Serve immediately and top with your favorite toppings.
Tips & Notes
Nutrition information was calculated with 2 cups of frozen mixed berries and 1 cup of unsweetened plain almond milk.
Nutrition facts
Calories:
85
kcal
Carbohydrates:
18
g
Protein:
2
g
Fat:
2
g
Fiber:
4
g
Sugar:
11
g
Best Healthy Smoothies
Here are some of my favorite Fit Foodie Finds healthy smoothie recipes as well as the best of the best from around the web! Enjoy.