Grab a spoon and make this thick and delicious Pineapple Upside-Down Strawberry Smoothie for a breakfast treat or post workout snack!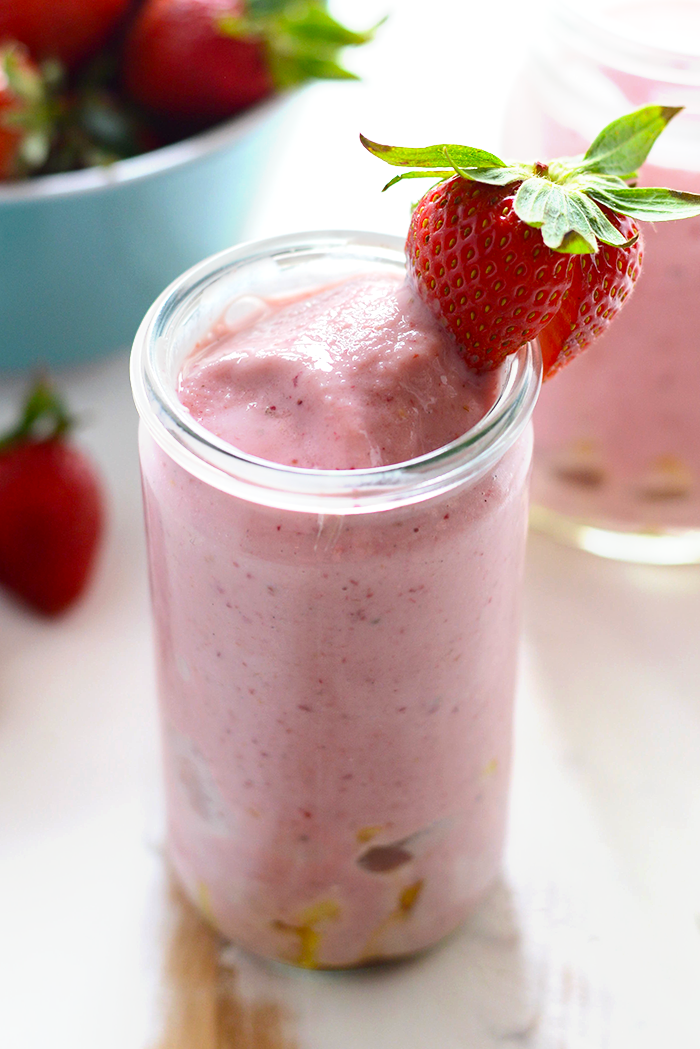 What's better than a strawberry smoothie with delicious chunks of sweetened pineapple on the bottom? A Pineapple Upside-Down Strawberry Smoothie that's EATEN WTH A SPOON. That's right- this smoothie is SO THICK you MUST eat it with a spoon.
Let's get real, it's the only way I eat smoothies. Thick n creamy n with a spoon!
I've been wanting to make a cold, fruity beverage ever since I got home from our cruise, and this hit. the. spot.
Blake and I were all about the fruity drinks during the day (and night!). I think we tried almost everything on the menu :P This is more of a smoothie than a drink…but hey, add some rum and you've got yourself a little somethin' somethin'!

I am a huge fan of mixing hot and cold, hence broiling the pineapple before laying it with a strawberry smoothie. I even added some coconut sugar for a little more sweetness because….why not?!
If you're feelin' the need for some protein, feel free to add a scoop of vanilla or strawberry. My favorite is Designer Whey
.



Recipe
Pineapple Upside-Down Strawberry Smoothie
Prep Time: 5 minutes
Cook Time: 3 minutes
Total Time: 8 minutes
Ingredients
3/4 cups pineapple, fresh and sliced
2ish teaspoons coconut sugar
1 cup frozen banana
1 cup frozen strawberries
1/2 cup vanilla Greek yogurt
1 teaspoon vanilla extract
1.5 cups almond milk, unsweetened
Instructions
For the Pineapple
First, preheat your oven to high broil. Then, place sliced pineapple on a cookie sheet and sprinkle with coconut sugar. Once the oven is preheated, place sheet in oven and cook for about 3 minutes, just enough to melt the coconut sugar and heat the pineapple. Remove.
For the Smoothie
Place the rest of the ingredients in a blender and mix until smooth.
Layer the pineapple at the bottom of 2 glasses and pour on smoothie. Eat immediately.
Similar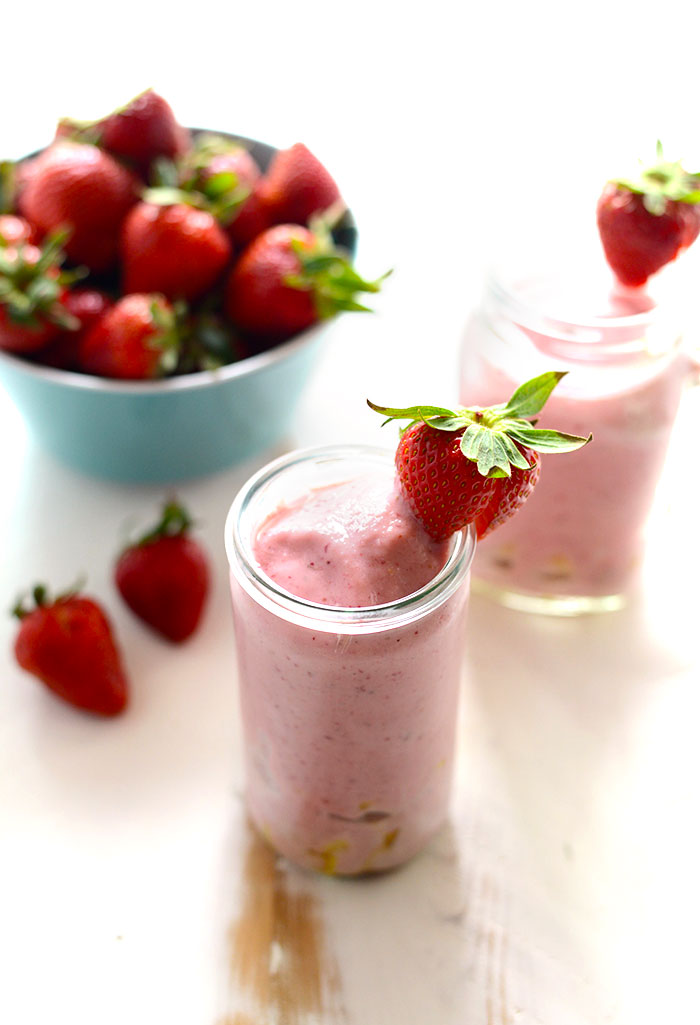 This girl is spending the weekend with one of her besties, Sam, out West (I'm actually here right now!). You guys know Sam…from my 4th of July vacation to Oregon last year! The lovely lady is getting married and I'm flying out to Boise and then road tripping to Portland to go dress shopping! I know lots of FFF readers live in Portland SO- if you have 1. restaurant/coffee shot or 2. studio/gym recommendations…holla at your girl!

This post is sponsored by Princess Cruises. I was compensated and all opinions are my own.