We love green smoothie recipes because you can drink your breakfast smoothie and get a serving of greens all in the same sitting. Don't be intimidated by the color, I promise there are many green smoothie recipes out there that hide the bitter taste of power greens but give you all of the benefits at the same time!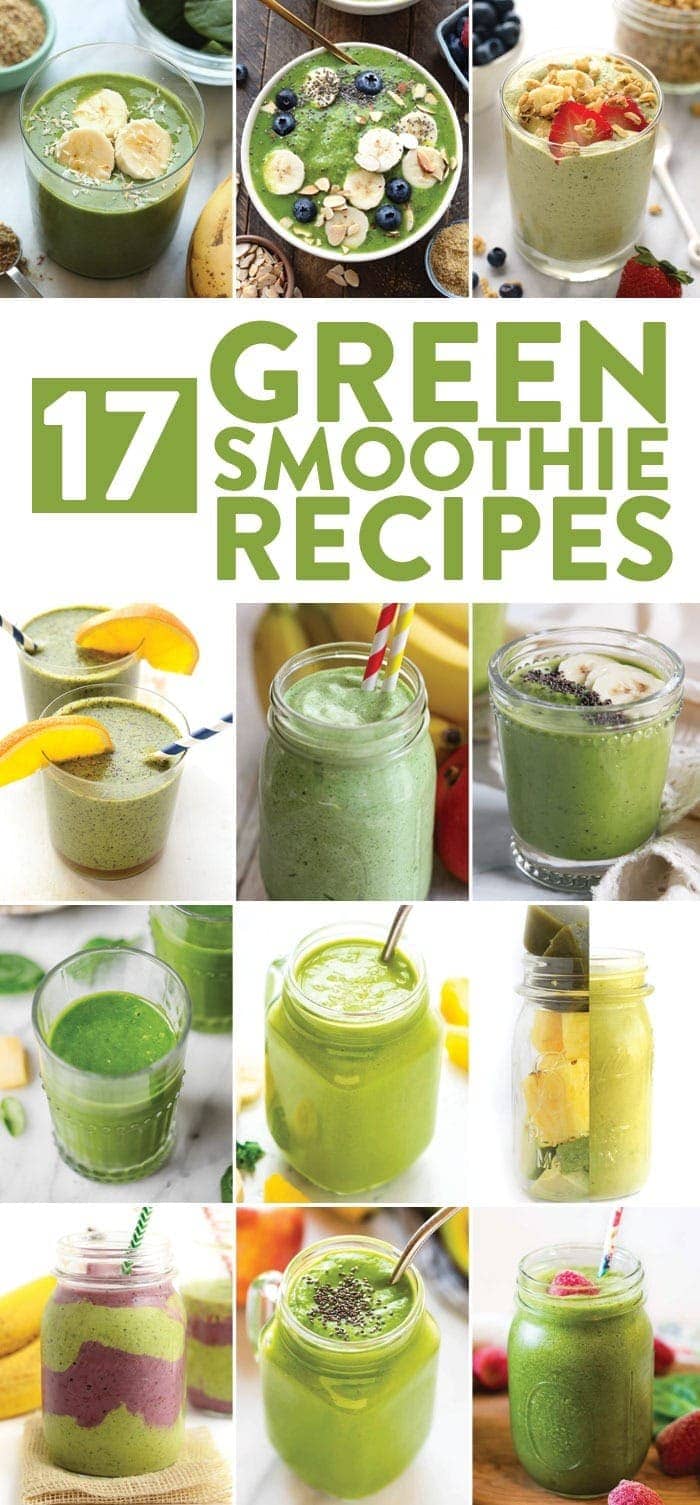 How to Make a Green Smoothie
Let's break down exactly what you need to make the perfect green smoothie! In the Fit Foodie Kitchen, we use a basic recipe that we deviate from depending on what's in the fridge and what our bodies are craving. So…what's the base of a green smoothie?
Frozen Fruit – we like to use frozen fruit in order to omit ice from our green smoothies so that you can get a smoother, creamier smoothie. We recommend banana, berries, mangoes, pineapple, etc. For a single serving, shoot to use around 1 cup of frozen fruit.
Greens- obviously every green smoothie has some kind of green! Whether it's spinach, kale, or micro green, any kind of green will work! Pro tip: instead of throwing out greens that are about to go bad, freeze them and use them later in a green smoothie! Try and pack in as many greens as you can…no less than 1 cup!
Milk/Liquid- you're going to need some kind of liquid for your green smoothie and our favorite is almond milk. While you can use any kind, we found that unsweetened almond milk isn't super overpowering and a great base milk for pretty much any smoothie. Use anywhere from 1/2 cup to 1 cup for a single serving.
Seeds- because why not amp up your green smoothie with more nutrition! We try and get around 1/2 tablespoon of ground seeds such as flax or chia per smoothie.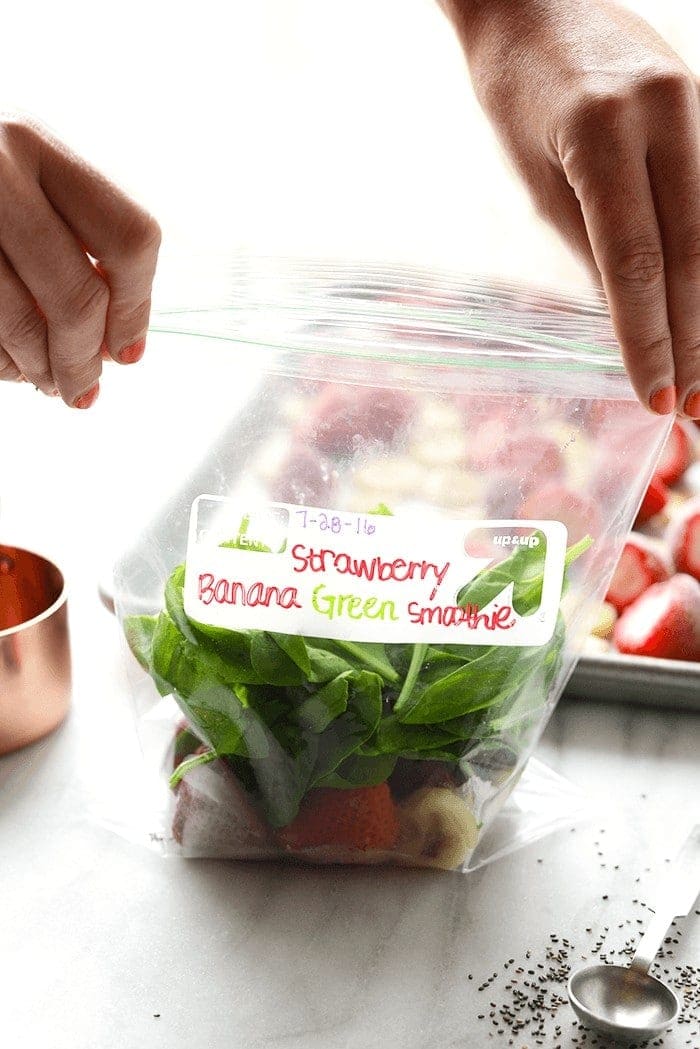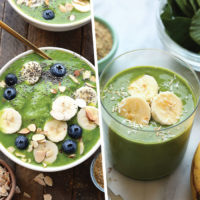 Basic Green Smoothie Recipe
Looking for a basic green smoothie recipe? Check out our favorite green smoothie base recipe and then deviate from it with your favorite add-ins to get a green smoothie of your own.
Prep:
5 minutes
Cook:
0 minutes
Total:
5 minutes
Ingredients
1 cup

frozen fruit (banana, mixed berries, tropical mix)

1 cup

of fresh greens (spinach, kale, or arugula)

1/2

–

1

cup milk (almond, soy, coconut, cows, etc.)

1/2 tablespoon

ground seeds (flax, chia, etc.)
Instructions
Place all ingredients into a high-speed blender and blend until smooth. We recommend starting with 1/2 cup of milk and going up from there depending on how thick you like your smoothies.
Tips & Notes
Our favorite frozen fruit to use for green smoothies is banana because they're sweeter than the average fruit and add a delightful flavor.
Nutrition Facts
Serving Size:
1
Calories:
146
Sugar:
14
Fat:
3
Carbohydrates:
30
Fiber:
5
Protein:
3
Category:
Breakfast
Method:
No-Bake
Cuisine:
American
Keywords: green smoothie recipes, green smoothie
Greens for a Green Smoothie
I was totally that girl that was intimidated to drink green smoothies because of the color. Also, the thought of ground up greens is kind of gross when you think about it. I thought I'd chit chat about the different kinds of greens you can add into your green smoothie…especially for those starting out vs. expert green smoothie drinkers!
Spinach
Green smoothie newbie- I'd definitely suggest starting out with fresh or frozen spinach as your green of choice! Spinach has a very mild taste compared to a lot of other greens and if you do it right, you won't even be able to taste it!
Kale
Green smoothie princess: Not a beginner, but not an expert? Try kale! Fresh or frozen kale is a great step up from spinach, but not an overkill. We suggest buying kale on the stalk, not the kind prepackaged for the best results.
Arugula
Green smoothie queen- If you're a green smoothie maven, then I suggest arugula as your next green of choice! Arugula is spicy, flavorful, and packed with so many antioxidants!
Green Smoothie Add-Ins
We shared our basic green smoothie above, but don't let that stray you away from adding other amazing ingredients to your smoothie! There are so many other things you can add to your smoothie to give it a different flavor or to help it serve a different purpose for your health and wellness journey. Here are some green smoothie add-in suggestions:
Greek yogurt
nuts
nut butter
extracts
matcha
cold brew
coconut oil
spices
fresh herbs
I also wanted to note that you can totally take your favorite smoothie recipe (mine is our breakfast smoothie recipe) and simply add a handful of greens to that! It's as easy as that.
Bowl vs. Glass
And now, the real question…do you go bowl vs glass? Well, there are benefits to bowl!
Green Smoothie Bowl
You can use a spoon! Anyone else obsessed with eating smoothies with a spoon or is it just me?
Toppings on toppings. Toppings are a great way to turn your green smoothie recipe into more of a complete and hearty meal! Add toppings such as granola, fresh fruit, nuts, and seeds to complete your bowl.
Classic Green Smoothie
On-the-Go. Green smoothies in a glass are great for on the go. You can even find to-go, reusable smoothie cups these days to make your green breakfast smoothie a breeze.
Straws: There is definitely a crazy straw following of people who love eating and drinking through a straw. Well, then you're likely a classic green smoothie kind of girl who loves to drink her smoothie from a glass!
And now, check out 17 of the best green smoothie recipes from Fit Foodie and around the web! Leave a comment letting us know what your favorite green smoothie recipe is.
17 Green Smoothie Recipes