We present to you, a green smoothie that doesn't taste green! This peanut butter green smoothie is a fan favorite. It is packed with protein, greens, and peanut butter goodness!
It's Easy to Eat Your Greens
If you are trying to make a change and eat a bit healthier, usually the first thing people tell you to do is "eat your greens". One easy way to get those greens in is with a green smoothie!
If you love the classic green smoothie with kale, spinach, and orange juice, go for it! We have so many traditional green smoothie recipes on FFF and they do taste like your good ole fashion green smoothie!
This peanut butter green smoothie recipe is a bit different! You are going to taste more peanut butter banana than you do green. However, you are still getting all of the green goodness you would get from any other green smoothie!
The 5 Ingredients You Need
This delicious peanut butter green smoothie can be ready in under 5 minutes and only uses 5 ingredients! I know, so simple!
Frozen Bananas
Peanut Butter
Peanuts
Unsweetened Almond Milk
Spinach
The ingredient combination in this smoothie just works! Some would think that it is a bit weird to combine spinach with peanut butter, but the strong flavors of the peanut butter and frozen bananas cover the spinach flavor!
A big win for those of you who don't want to taste the green flavor of the spinach!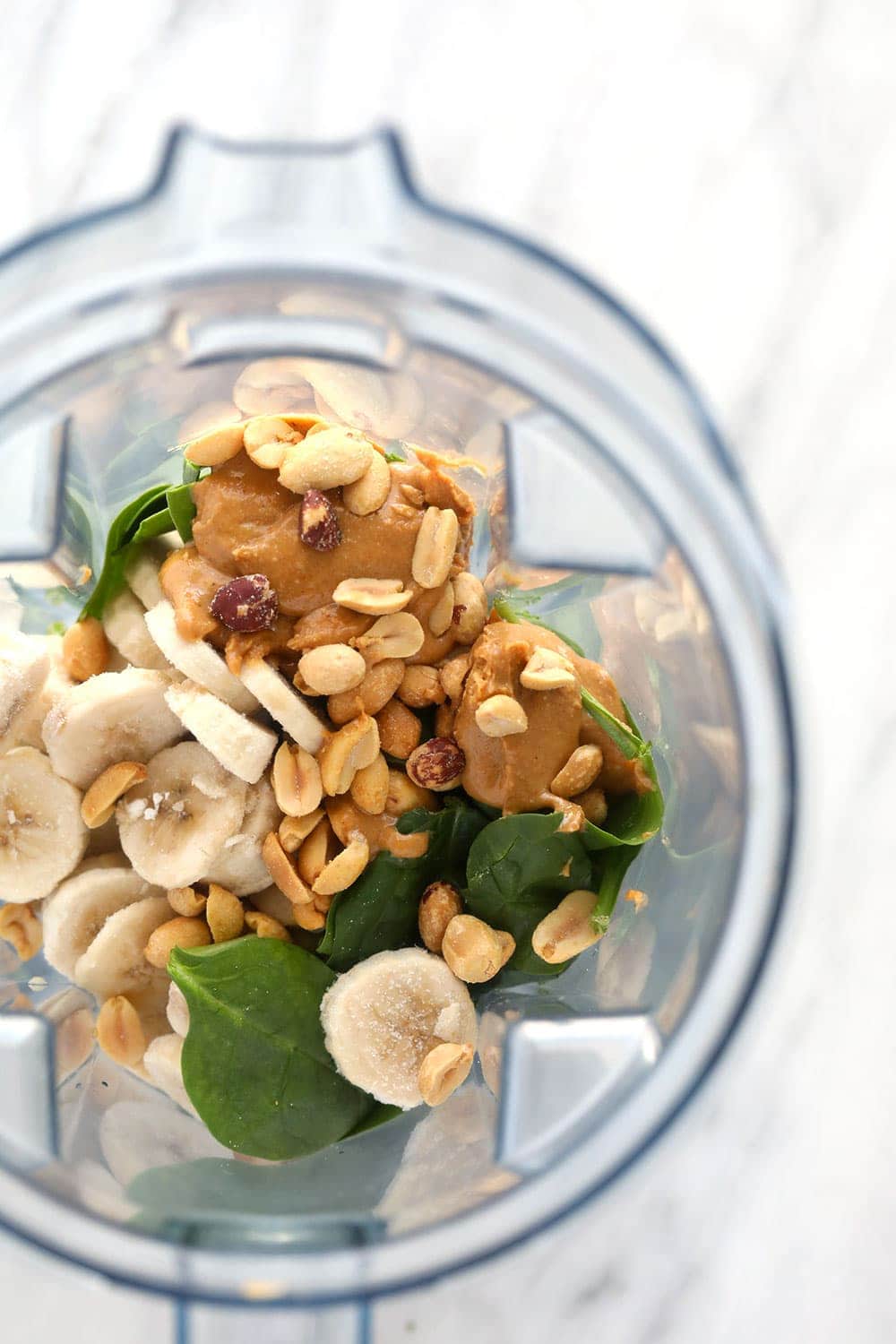 How to Make a Thick + Creamy Smoothie
There is nothing worse than a watery smoothie. We prefer smoothies that are thick and creamy! Sometimes it can be hard to blend a smoothie to a perfect consistency, but here are some of the tricks we use to produce the perfect smoothie!
Use frozen fruit, not ice. We highly recommend using frozen fruit over fresh fruit! Fresh fruit tends to omit more liquid than frozen fruit. We also HIGHLY recommend avoiding ice, if possible! Ice also tends to produce a more watery smoothie.
Keep a stash of frozen fruit in you freezer at all times or freeze extra berries or fruit that you have at home for DIY frozen fruit. You only need to freeze your fruit for 30-60 minutes for it to be smoothie ready!
Frozen Bananas are a dream. We are big fans of using frozen bananas as a base for many of our smoothie recipes. Not only are bananas cheap, but when they are frozen and then blended, they are so delicious and creamy!
Check out our post on how to freeze bananas for all of the best tips and tricks!
Add a little liquid at a time. No matter how many times we test a recipe, human error is still a factor when people make our recipes! For smoothie recipes there are so many variable that determine how creamy a smoothie can be or how a smoothie can taste!
One of the main tips we give people when making a smoothie is add the recommended amount of liquid a little bit at a time until the smoothie reaches your desired consistency. Adding all of the liquid at once could leave you with a watery smoothie!
Blenders matter. We know that not everyone has the same blender, but we do recommend finding a high quality, high speed blender if you plan on making smoothies frequently! The higher quality blender, the creamier your smoothie will be and the longer your blender will last!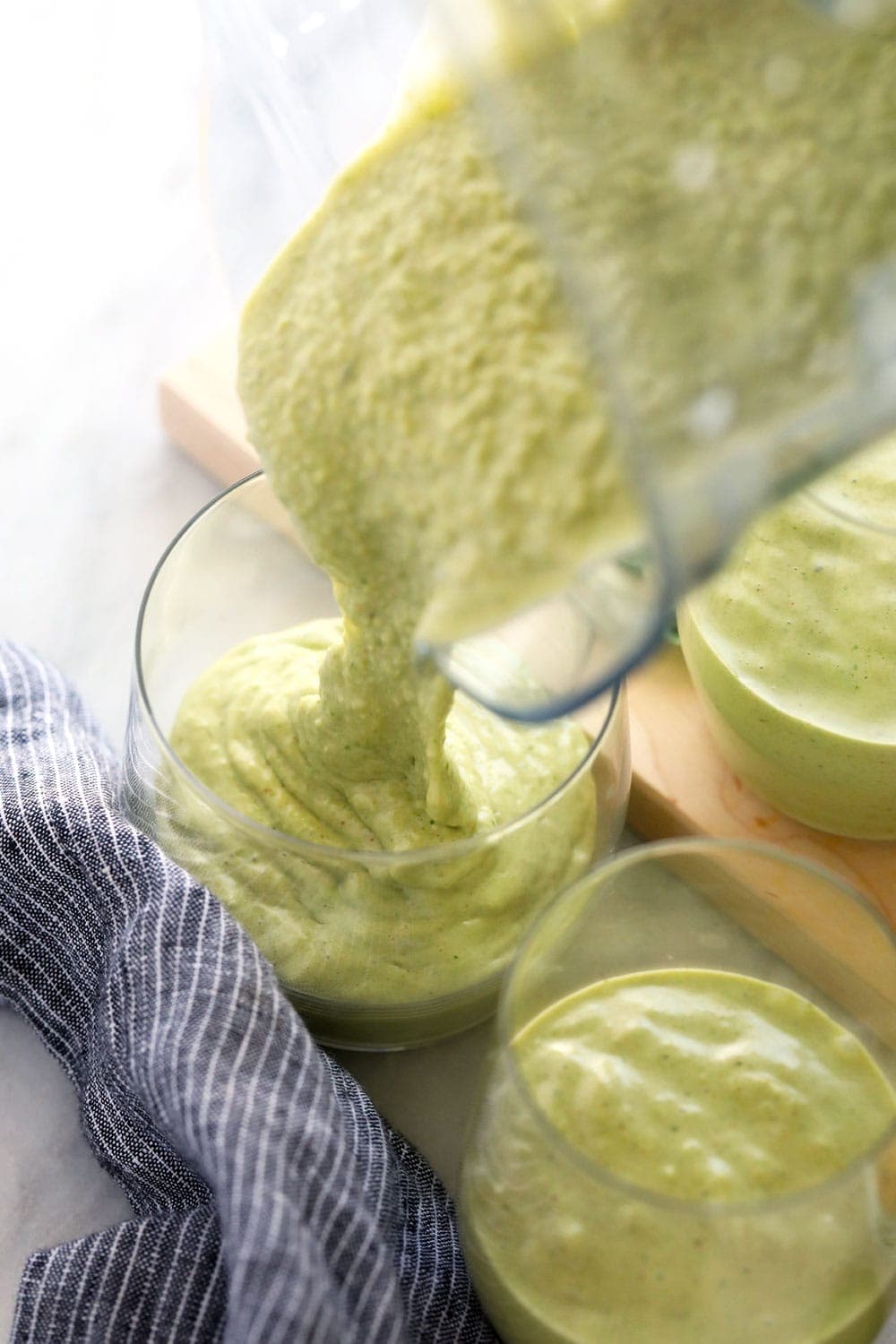 Make this Smoothie Even Healthier!
Do you want to make this smoothie even healthier? You can definitely do that! , or more vitamins by adding some of these delicious add-ins!
Add-Ins
Toppings
Granola
Hemp hearts
Chocolate chips
Fresh berries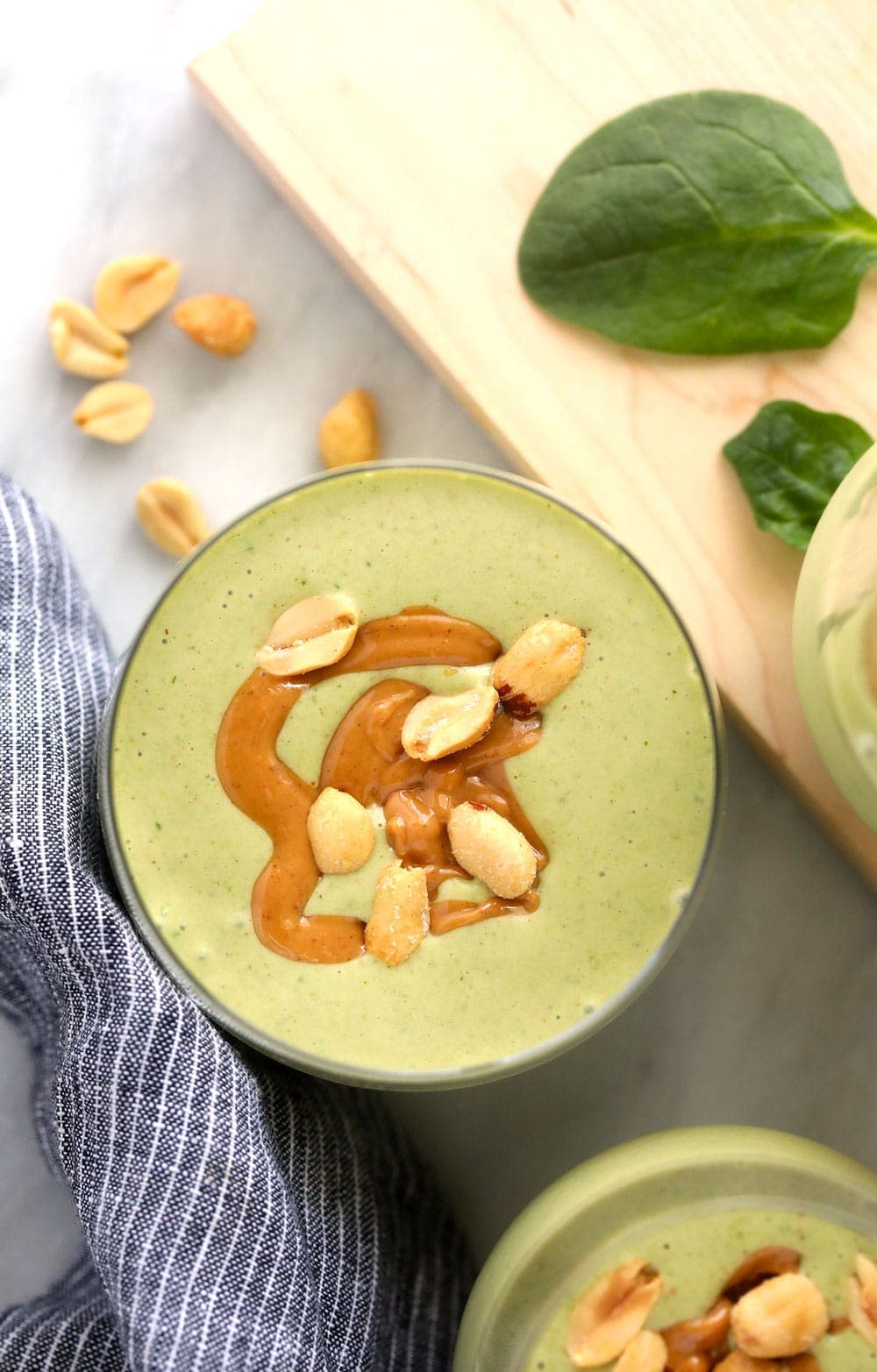 More Green Smoothie Recipes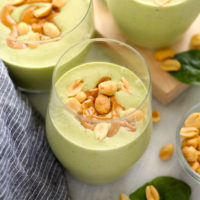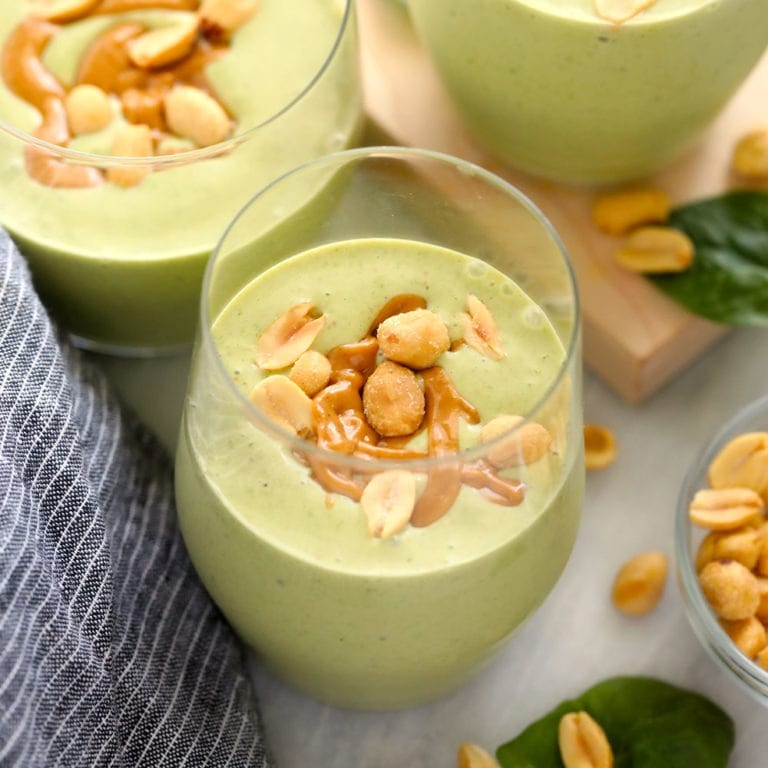 Peanut Butter Green Smoothie
We present you, a green smoothie that doesn't taste green! This peanut butter green smoothie is a fan favorite. It is packed with protein, greens, and peanut butter goodness!
Ingredients
2

cups

sliced frozen bananas

3

tablespoon

all-natural peanut butter

2

tablespoons

salted peanuts

1.5

cups

unsweetened almond milk

1

cup

spinach

packed
Instructions
Place all ingredients for your smoothie into a high-speed blender.

Blend on high for 1-2 mintues or until smooth. Option to add more almond milk to thin things out as needed.

Top with your favorite topping such as peanut butter and roasted peanuts.
Tips & Notes
This recipe was slightly updated on February 19, 2020.
Nutrition facts
Calories:
332
kcal
Carbohydrates:
38
g
Protein:
10
g
Fat:
19
g
Fiber:
7
g
Sugar:
18
g