Avocado + Mint = Love! Make this delicious minty avocado banana smoothie for a refreshing, flavorful smoothie that will keep you fuller longer (thank you healthy fats!).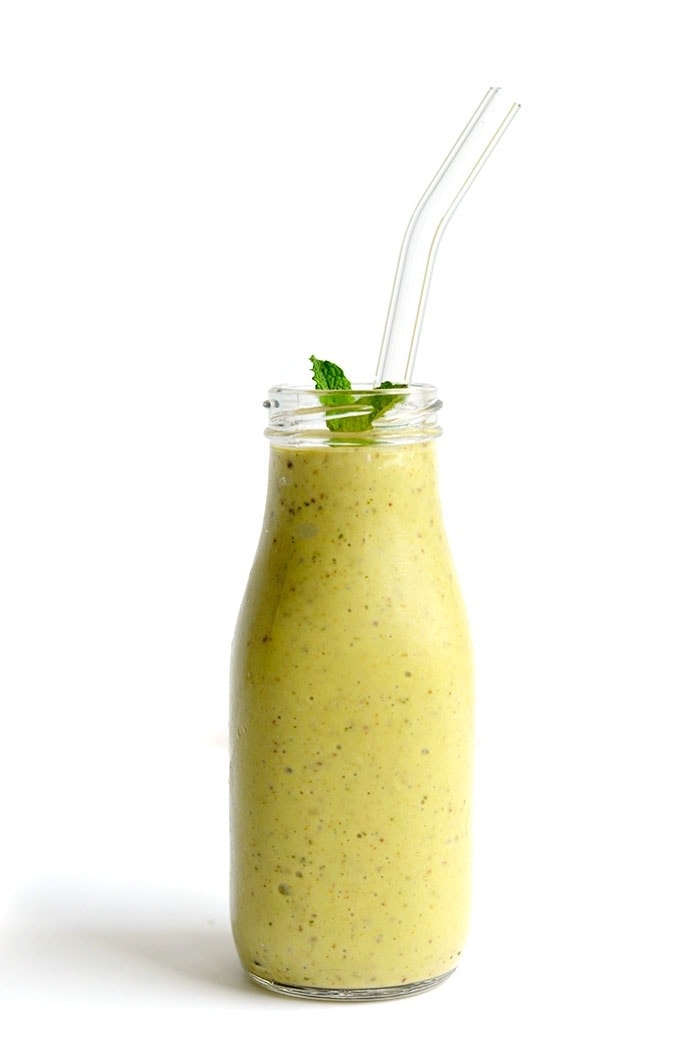 Healthy Avocado Smoothie – All the GOOD Fats
I've always been a good eater, interested in different flavors, and a lover of food. In high school I loved making my family dinner, especially stir fry (see my favorite stir fry recipes here)!
Things are still relatively the same. Stir fry is my JAYUM and I'll pretty much cook for anyone. One of the best parts about growing up has been experiencing my love for food become even more intense. i just love food.
I know I've been a food lover since the womb, but never in a million years did I think I'd be drinking avocado-based smoothies! One, because avocados are vegetables, right? (jk they are fruit) and two because avocados are full of fat.
That's right. I use to be one of "those." A fraidy f(c)at! Guess what, that's not me anymore. I am all about those healthy fats and feeding my body the nutrients it needs to survive and make sure I am strong enough to climb those hard routes at the climbing gym.
This Avocado Banana Smoothie was born out of my desire to make a green smoothie that had some personality. IE: wasn't actually made with "greens" but other ingredients to make it green!
Insert: AVOCADO + MINT + CHOCOLATE CHIPS + Banana
Now, beore you go BANANAS over this avocado smoothie, let's chat about the best fruit from the fruit gods—> AVOCADO.
Avocado Smoothie Q & A
Is an avocado a fruit or is an avocado a vegetable? It's a fruit, people. A savory, creamy, delicious fruit that is packed with monosaturated fatty acids (the good fat).
Avocados are great on toast, smashed into guacamole, and in smoothies! We know you have questions when it comes to avocados, so here are some answers!
Can you taste avocado in smoothies? Every taste pallet is different! The flavor of an avocado smoothie is very heavily based on what else you include in the smoothie. If you only add almond milk and avocado, you will end up with an avocado tasting smoothie.
We love to incorporate a little something sweet like bananas, maple syrup, dates, or honey into avocado smoothies to offset the earthiness of the avocado. In this Green Smoothie Recipe we use avocado, cauliflower, and spinach and because we added a little sweet you would never know you're drinking a glass of vegetables. #boom
What fruits go well with avocado? When making an avocado smoothie, it is all about your personal taste pallet. Bananas and avocados go very well together because the sweetness of the bananas off set the earthiness of the avocado.
However, get creative and throw an avocado into any of your favorite fruit smoothies. Adding avocado gives a smoothie the creamiest and most delicious texture!
Do you peel avocados for smoothies? YES, never eat the peel of an avocado!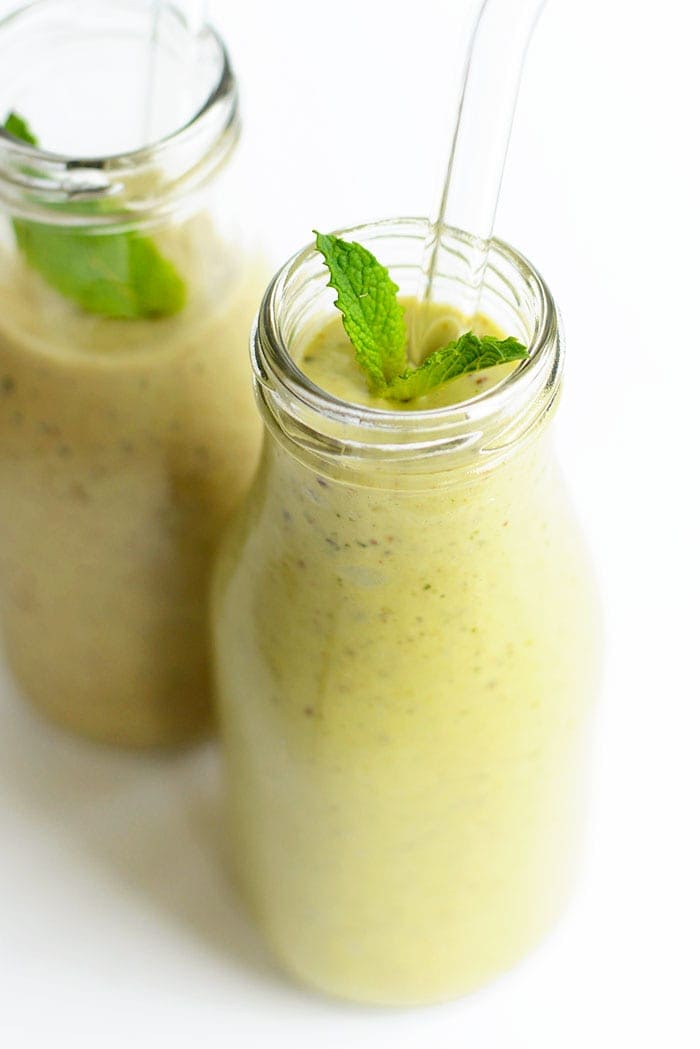 Healthy Green Smoothie Recipes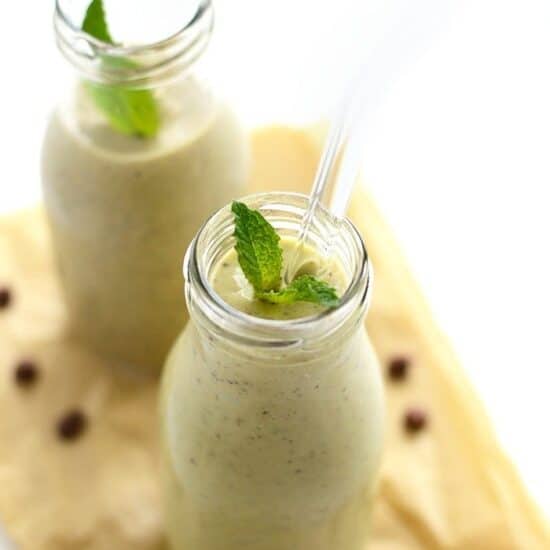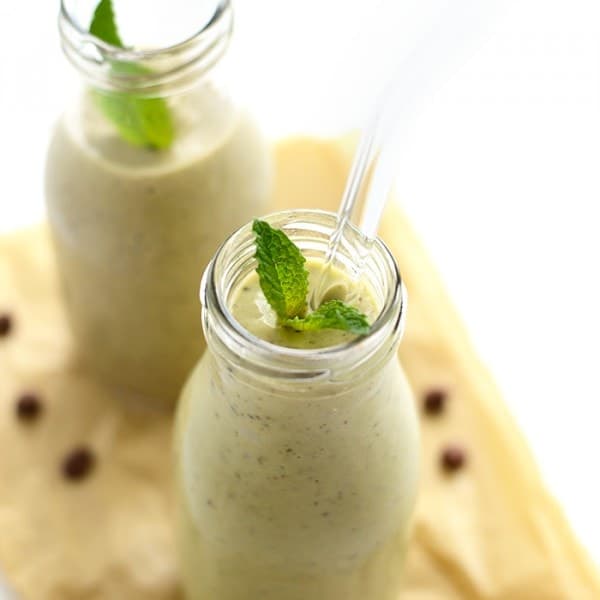 Minty Avocado Banana Smoothie
Avocado + Mint = Love! Make this delicious minty avocado banana smoothie for a refreshing, flavorful smoothie that will keep you fuller longer (thank you healthy fats!).
Prep:
10 minutes
Cook:
0 minutes
Total:
10 minutes
Ingredients
1 cup

frozen sliced banana

1/2

medium avocado, peeled and pitted

3

Medjool dates, pitted

4

–

6

leaves of mint

1 tablespoon

dark chocolate chips

1 cup

unsweetened plain almond milk
Instructions
Place ingredients into a high-speed blender.
Blend on high until smooth.
Serve immediately.
Nutrition Facts
Serving Size:
1/2
Calories:
303
Sugar:
41
Sodium:
86
Fat:
9
Carbohydrates:
57
Fiber:
8
Protein:
3
Category:
Drink
Method:
No Bake
Cuisine:
American
Keywords: avocado smoothie, avocado banana smoothie