This is hands down the BEST homemade guacamole recipe on the internet and it's made with juicy avocados, lime juice, cilantro, garlic, and salt.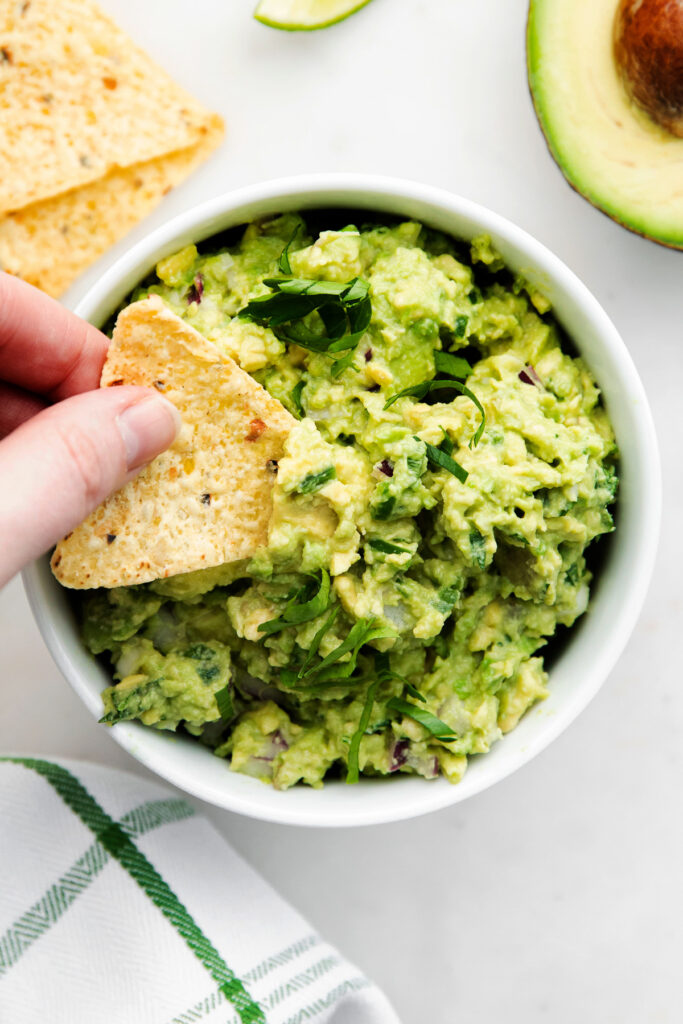 Not only do we love eating homemade guacamole with salty tortilla chips, but it's a favorite topping, dip, and spread so many of our favorite meals such as chicken burritos, steak fajitas, and rice bowls.
Best Homemade Guacamole
Is there really anything better than eating guacamole with tortilla chips? Just make sure you have one of our homemade frozen margaritas to compliment it.
In 2015, Linley and I went on an incredible avocado tour in Uruapan, Mexico where we learned all about avocados — how to grow them, how they're processed and shipped all over the world, etc. More importantly, we learned how to use avocados to make guacamole from the true experts – the people of Mexico.
While our recipe is very similar to authentic guacamole, there is one major difference- we use garlic and our friends from Uruapan do not.
I was surprised too…mostly because I add garlic to everything. Nonetheless, this really is the best guacamole recipe and I can't wait for you to make it.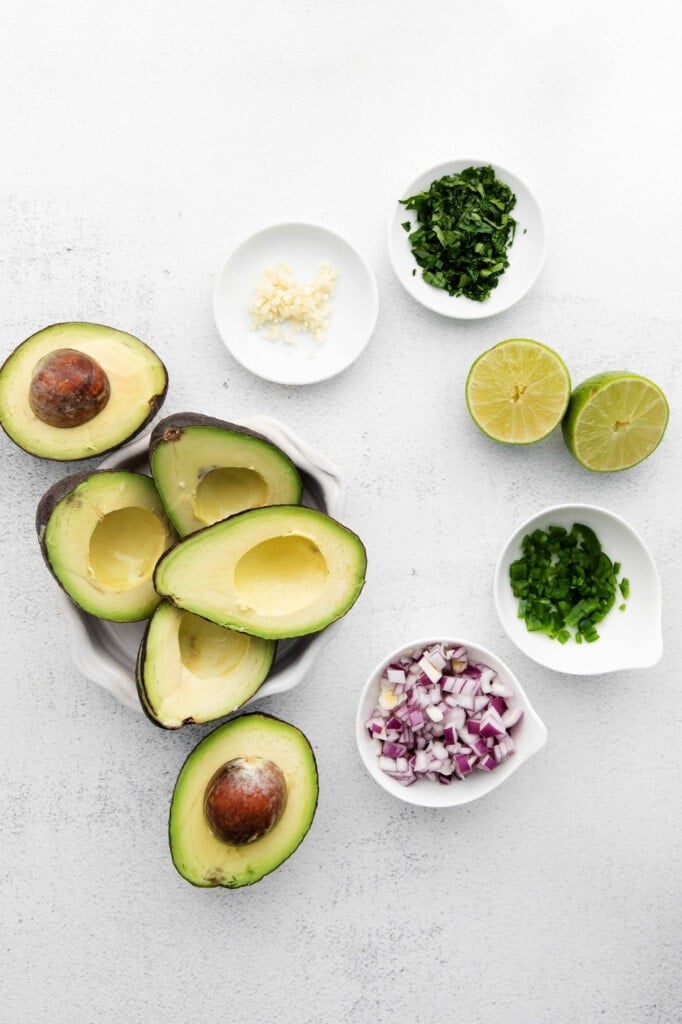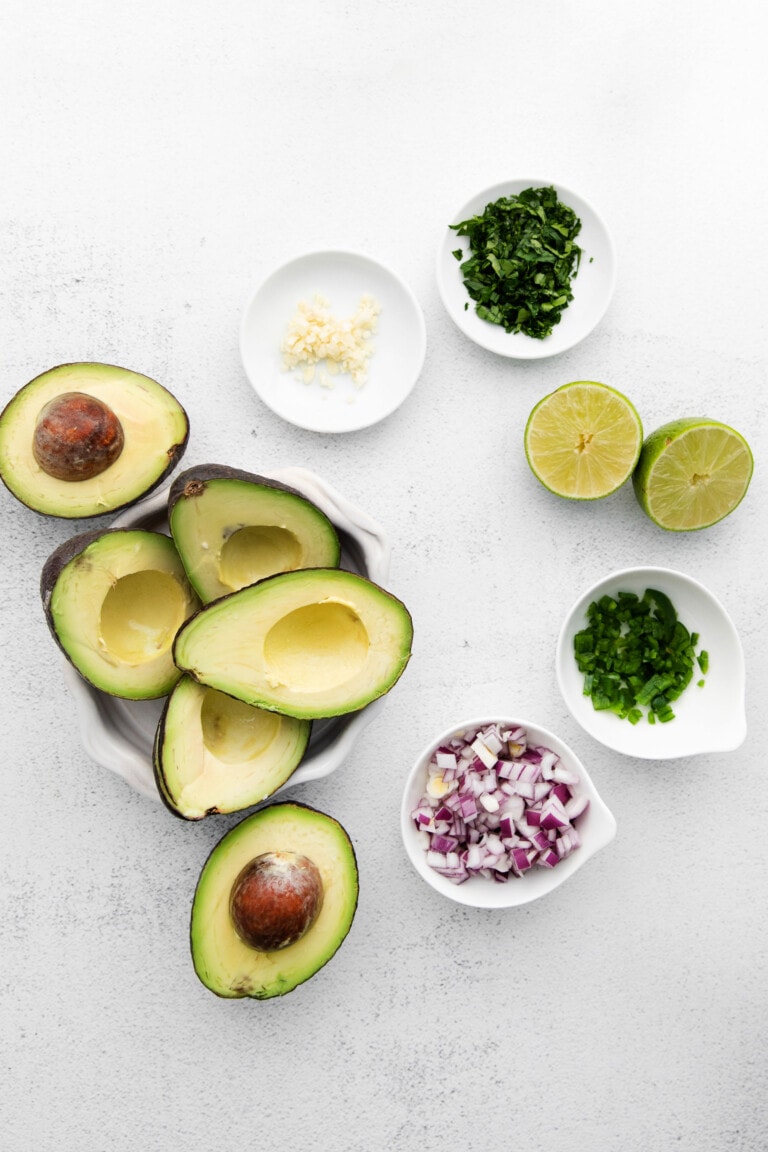 What You Need for Homemade Guacamole
Avocado: ripe avocados are key to amazing guacamole! Give your avocados a little squeeze, they should be slightly soft, but not too mushy. Have extra avocado? Learn how to freeze avocado HERE.
Cilantro: To love or to hate cilantro? Cilantro is a key flavor in homemade guacamole. Make sure to use freshly chopped cilantro as dried cilantro just isn't the same.
Garlic: our signature guacamole recipe is made with 3 cloves of garlic. Feel free to use around a tablespoon of pre-minced garlic if you have that instead.
Red onion: I LOVE raw onion and this recipe calls for just a little bit of minced red onion. It goes a long way!
Lime Juice: A little bit of fresh citric acid is really going to make your guacamole shine. Make sure to use the real stuff, from the fruit not the bottle!
Sea salt: getting the salt just right in guacamole is very important. If it's under-salted, you won't be able to taste all of the fresh flavors as well and if it's over-salted, well, no one wants to eat it!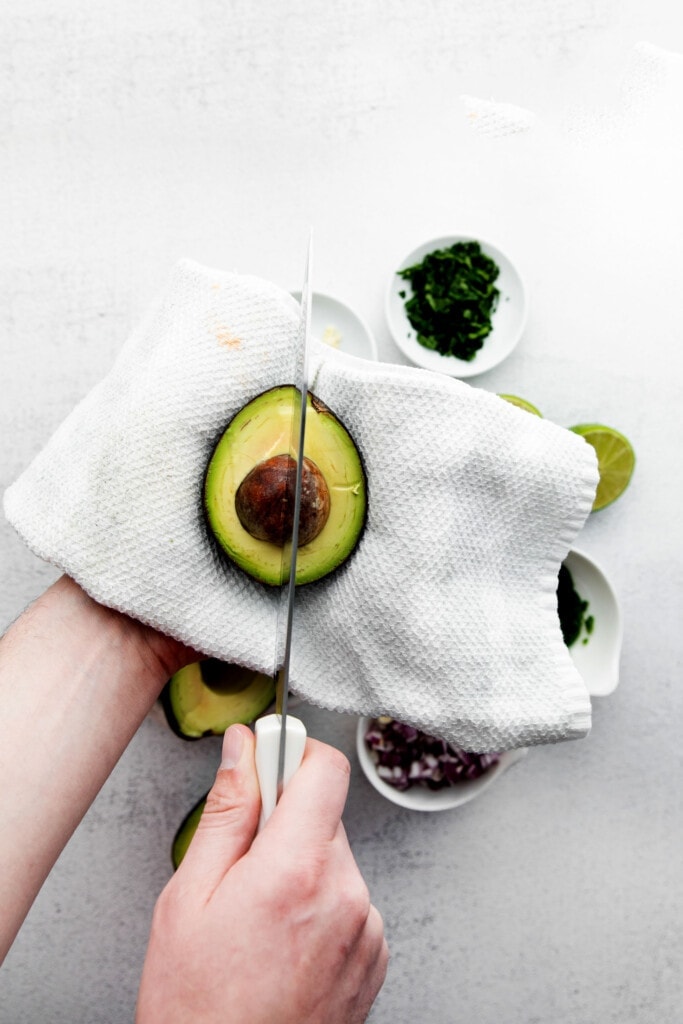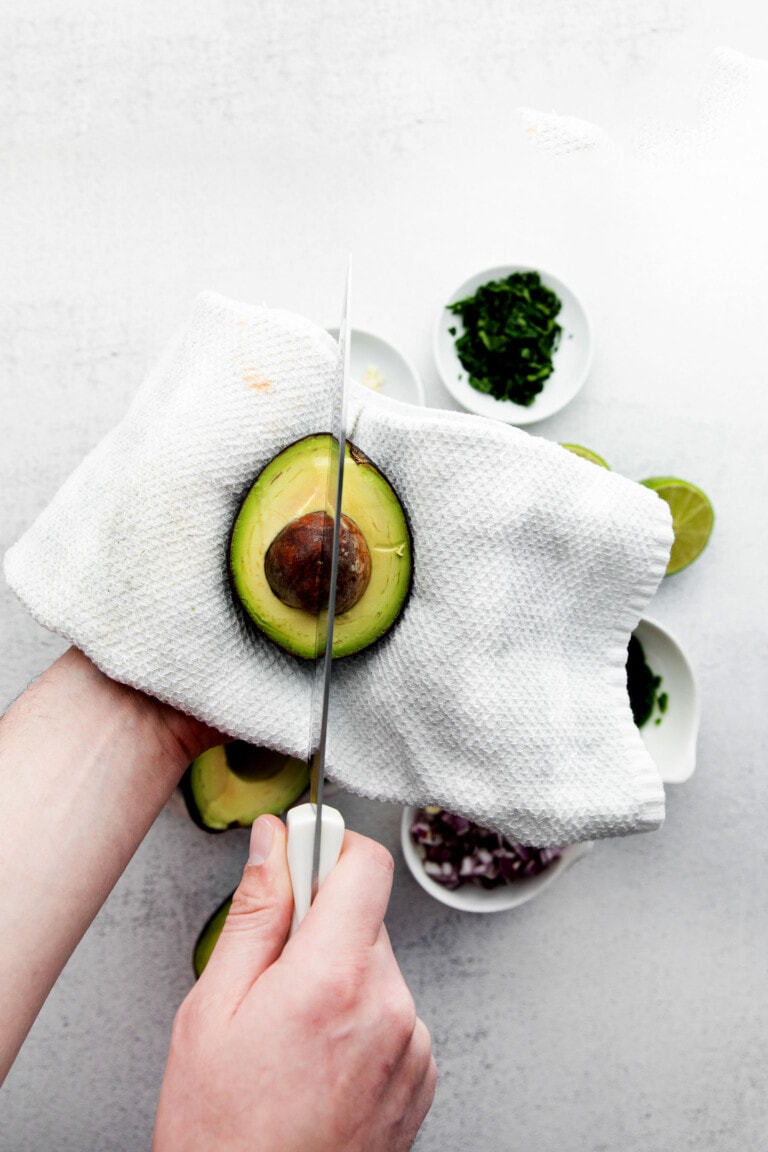 How do you know if your avocados are ripe?
The best way to figure out if your avocados are ripe is actually not by feeling, but by assessing how easily the stem at the top comes off. If you can easily remove it, then you know it's ripe!
If you want to go by feeling, you can do that too! If it's rock-hard, it's definitely not time to make guacamole. If it's mushy, then it's too late. But, if it's slightly soft and still holds its shape, then you know it's time!
How to Cut an Avocado for Guacamole
Before making a big batch of delicious homemade guac, you have to safely cut into the avocados to cut out the meat. Here is how we cut our avocados for guac:
Cut the avocado in half lengthwise.
Twist the avocado apart so that one half has the avocado pit and the other is empty.
Place a towel in your hand and then hold half of the avocado with the pit in the middle.
Use a knife and carefully (but firmly) press the knife into the pit of the avocado. Twist the pit and pull.
The avocado pit should easily come out of the avocado half.
Discard the avocado pit and use the pitted avocado for guacamole.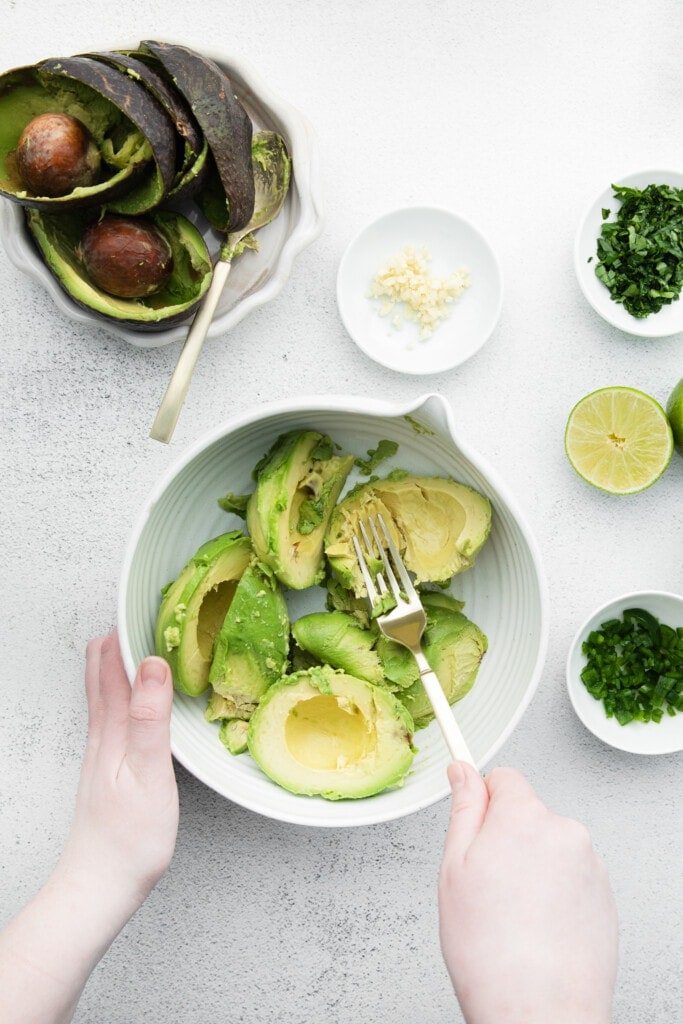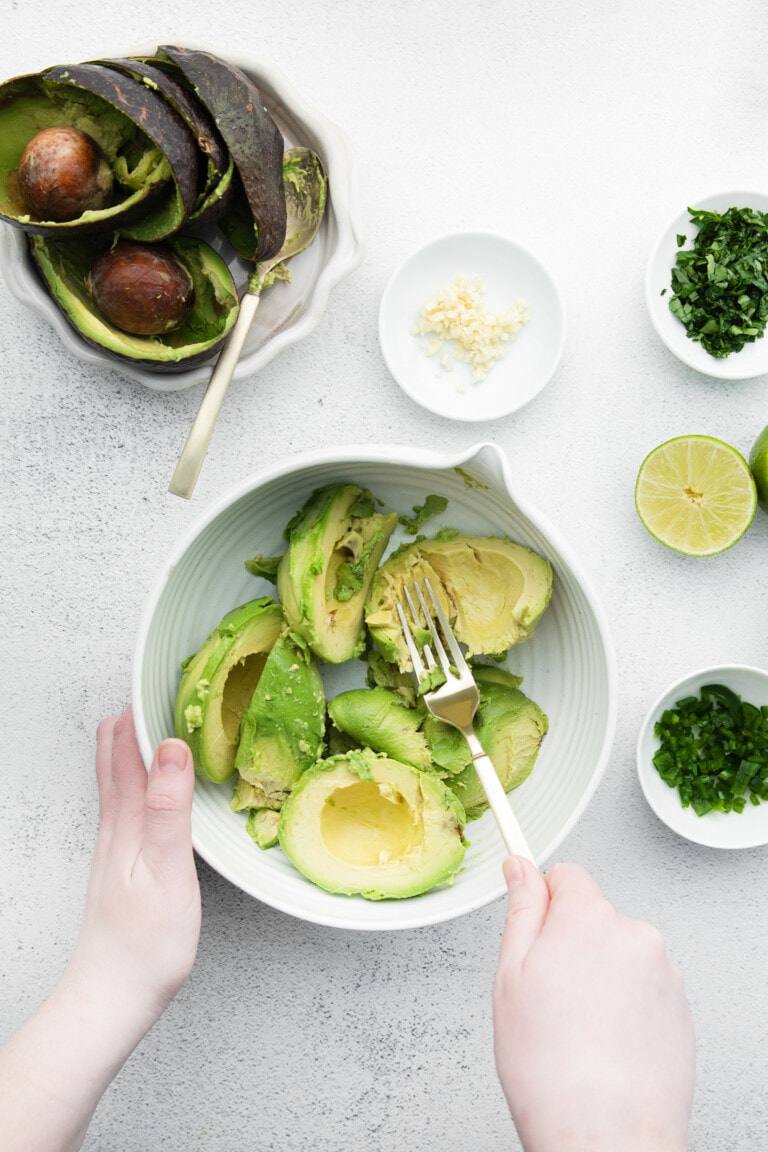 How to Make Guacamole
Once all of your ingredients are set out and ready to go all you need is a large bowl and you are ready to make homemade guacamole!
Prep avocados
Slice your avocados in half and use a knife to remove the pit. Then, use a spoon to scoop out the flesh. Transfer it to a bowl and mash the avocado with a fork.
Add Flavors
Next, add the fresh cilantro, minced garlic, minced red onion, lime juice, jalapeño, and sea salt to the mashed avocado. Mix everything together until combined.
don't forget to taste test!
Make sure to give your guacamole a taste test because this is where you'll add more lime juice and/or salt.
Remember, you can't take away these two ingredients, so it's best if you under season to begin with!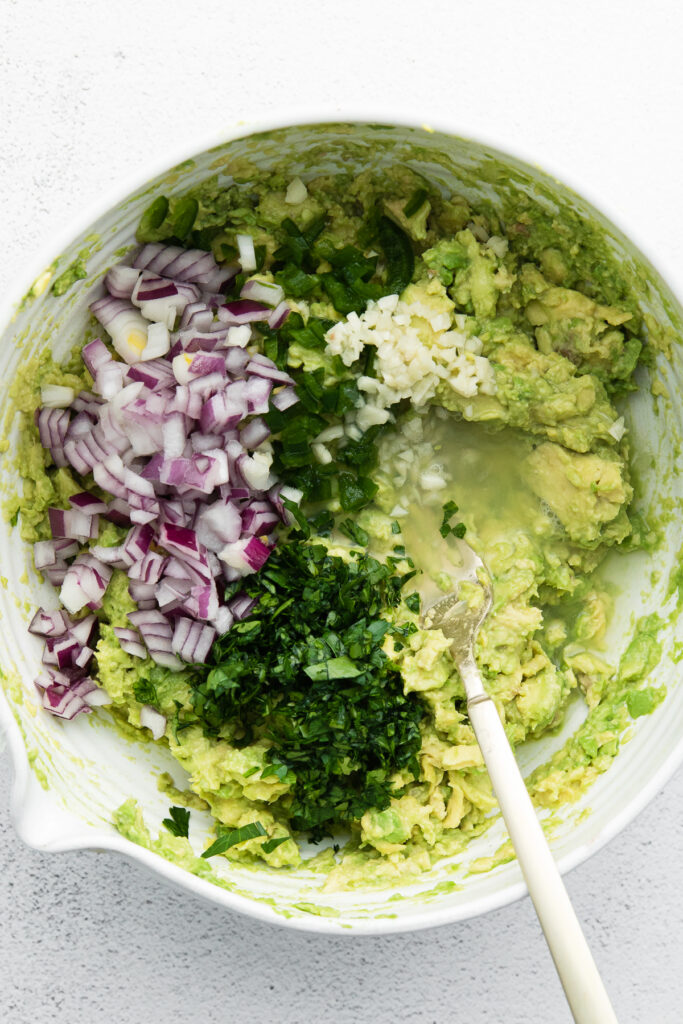 Guacamole Variations
Spicy: Add minced jalapeño or even a serrano pepper to give your guacamole some kick. We recommend starting slow with a 1/2 medium jalapeño and then adding more from there.
Mango Guacamole: jazz up your savory guacamole with something sweet! Add about 1/2 cup of diced fresh mango to your guacamole for a tropical flare.
Chunky Guacamole: if you're a lover of all things chunky, try adding some diced tomato to your guacamole and keeping the avocados a bit lumpier for a chunky-style guacamole.
Ways to prevent guacamole from turning brown
There are a variety of different ways you can help prevent your guac from changing brown!
Place the avocado pit into the guacamole before storing. This actually helps prevent the oxidation process of the guac.
Squeeze in a little extra lime juice. The citrus will help it from turning brown.
After placing the guacamole into a glass container, press a piece of plastic wrap into the guac. This will prevent any air from touching the guacamole and help it from turning brown.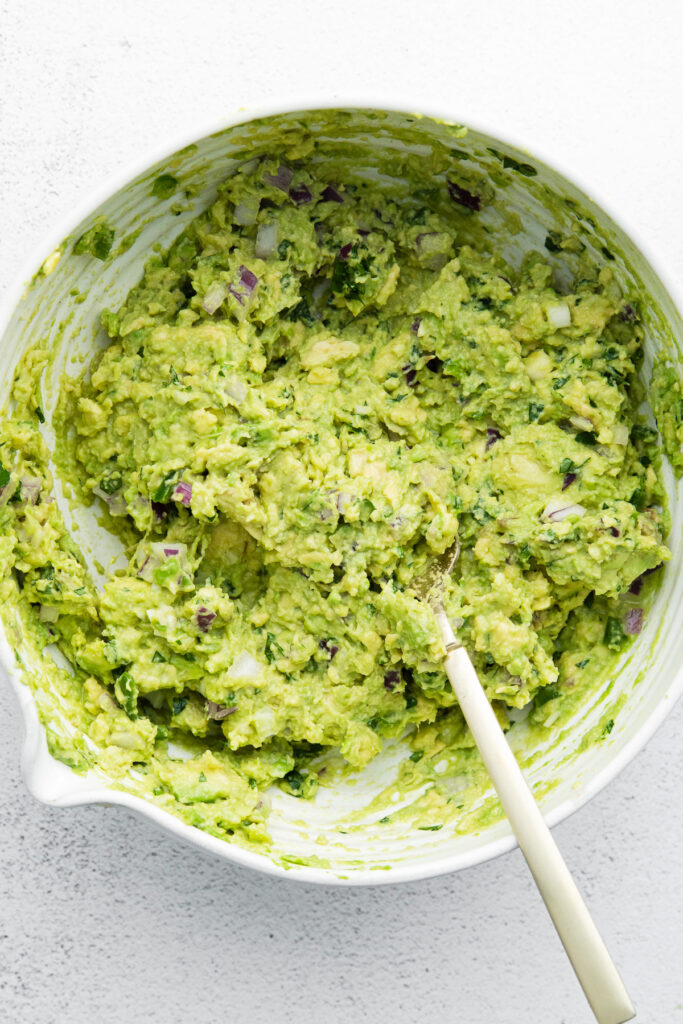 Homemade Guacamole FAQ
What do I serve with guacamole?

Guacamole is most commonly eaten with tortilla chips, but is often served with other Mexican-inspired dishes such as burritos, fajitas, and tacos.
How long does homemade guacamole last?

Homemade guacamole will last up to 3 days in the refrigerator if stored properly in an air-tight container.
How do you store guacamole?
Transfer guacamole into an airtight container. Then place the pit of an avocado in the center of the guac. Take a piece of plastic wrap and use your hands to press it into the guacamole so that no air gets in between it. Store in the fridge for up to 2 days.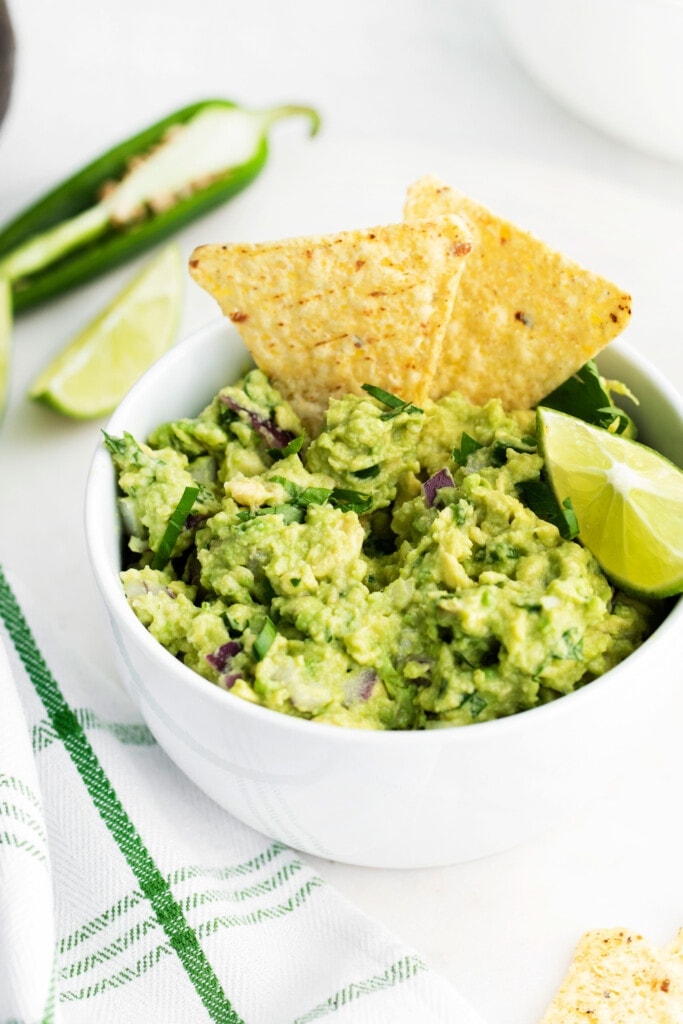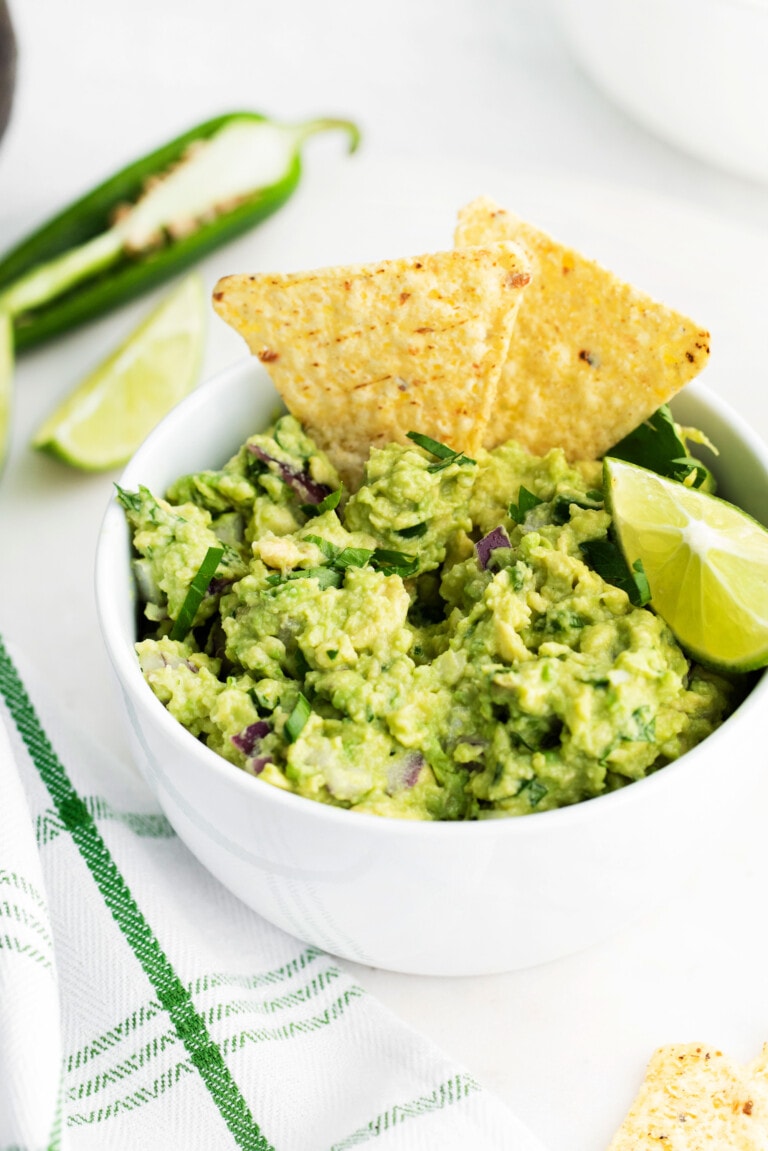 Serving Suggestions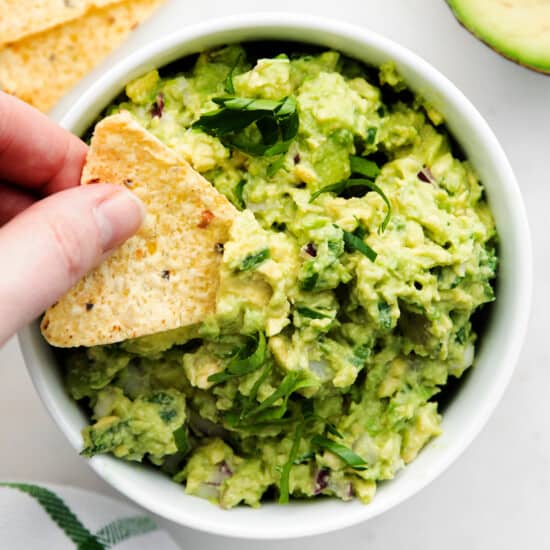 Homemade Guacamole Recipe
Homemade guacamole is ready in less than 10 minutes and made with ripe avocado, lime juice, onion, garlic, and fresh cilantro.
Ingredients
3

large avocados

ripe

3

cloves

garlic

smashed and minced (~1.5 tablespoons)

1/4

medium red onion

finely diced

1

medium lime

juiced (or more, to taste)

1/4

teaspoon

sea salt

or more, to taste

2

tablespoons

fresh cilantro

minced

optional: 1/2 large jalapeno

finely diced
Instructions
First, remove the pits from your avocados and then scoop out the flesh and transfer it into a medium-size bowl. Use a fork to mash avocado flesh until smooth. Alternatively, you can leave some chunks, if you prefer a more chunky guacamole.

Next, add in minced garlic, finely diced onion, lime juice, sea salt, and cilantro, and mix until combined.

Give guacamole a taste test and adjust the salt and lime juice depending on what it needs.

Serve with your favorite tortilla chips.
Tips & Notes
Storage: We recommend eating guacamole immediately after you make it. However, if you have leftovers, place guacamole into a medium bowl and squeeze on some lime juice. Then, cover it with a piece of plastic wrap and remove as much air as possible. Store in the fridge for 2-3 days.
Nutrition information does not include chips.
Nutrition facts
Calories:
182
kcal
Carbohydrates:
11
g
Protein:
5
g
Fat:
16
g
Fiber:
8
g
Sugar:
1
g