Make this Roasted Caramelized Onion Dip for your next get together or for a delicious game day appetizer! It is packed with amazing savory flavor and delicious when served with crusty bread, vegetables, or even slathered on a bagel!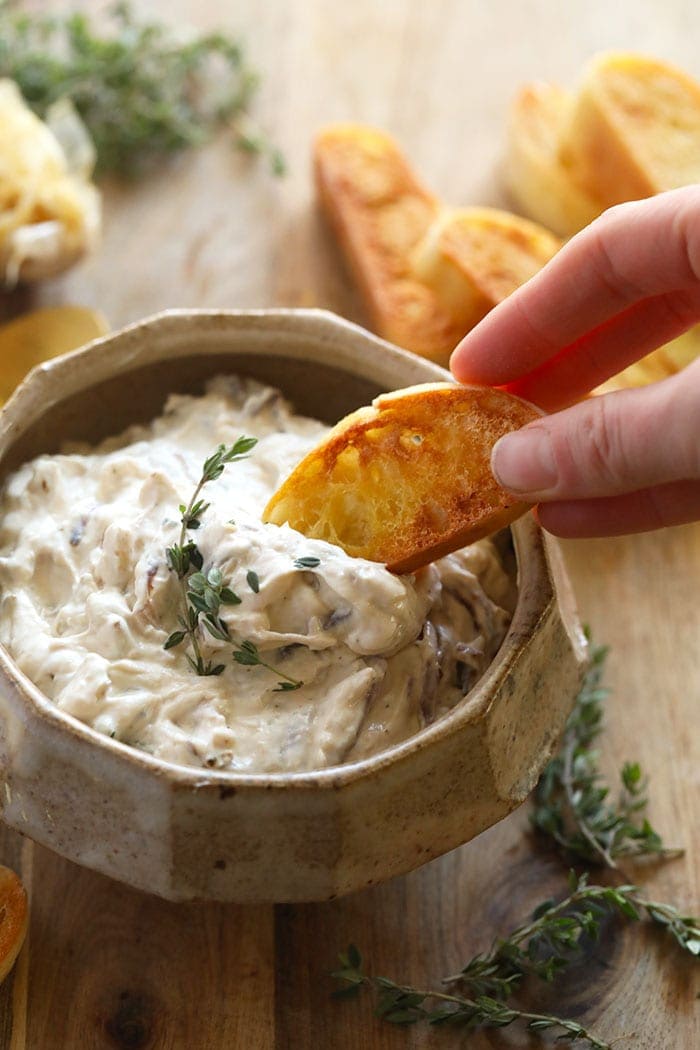 Simple + Delicious Appetizers
There is nothing better than attending a party with a fully stocked appetizer table. I love when there is an assortment of dips, chopped vegetables, cheese, baked brie, and more! Whether you are heading to a dinner party or a game-day remeber that if you are in charge of an appetizer, there are plenty of easy and delicious appetizer recipes to choose from!
This roasted garlic caramelized onion dip is seriously DELICIOUS and there are so many reasons you should add this to your must-make list! Just to name a few…
There are very few dishes and clean up required when you make this onion dip. A baking sheet, bowl and some utensils, and that's it!
This caramelized onion dip is delicious AND healthy! It is made with protein packed greek yogurt, (rather than mayonnaise like some other dips), onion, garlic, and spices. Very few ingredients and a ton of flavor!
It perfect for many occasions!
Don't think twice, head to the grocery store now and get everything you need to make this dip!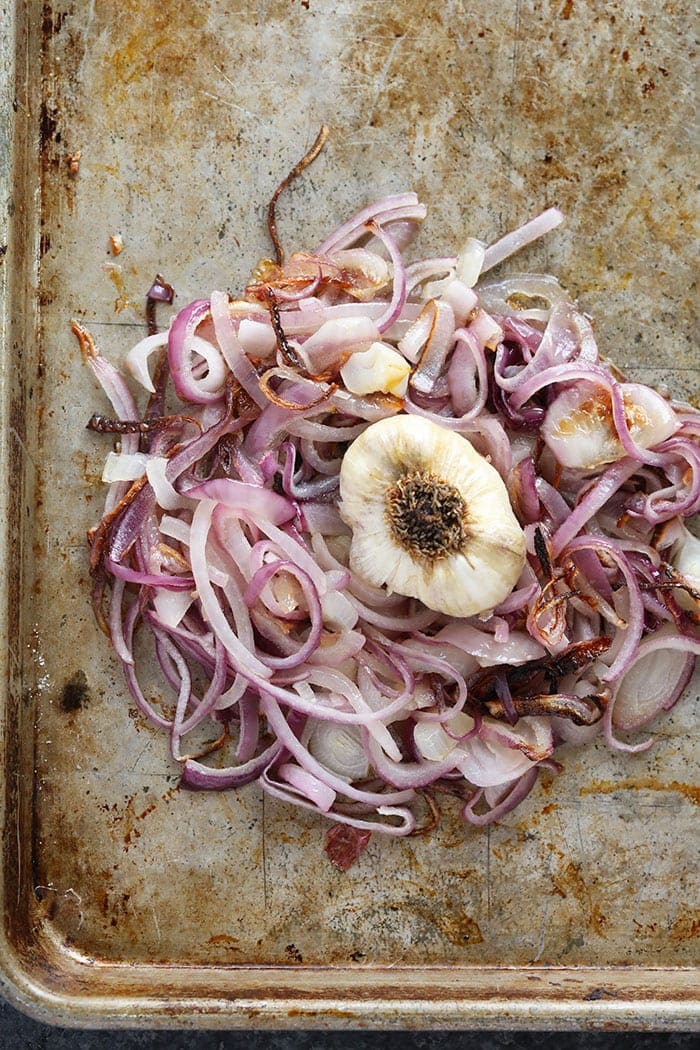 Tips & Tricks
This roasted garlic caramelized onion dip is so easy to make, but here are some tips and tricks to bring out the flavor and full potential of this delicious dip.
It's All About the Onions. It is obvious that onion is the star of this dip, but how you prepare an cook the onions is very important. Here are a couple things to keep in mind.
Do not slice the onions too thin. Keep the onions 1/4-1/2 of an inch thick.
Make sure all of the onions are covered in olive oil and the spices.
Most importantly, when roasting the onions, be sure they are all touching each other! If there are any outliers on the pan, they could burn!
Greek Yogurt Options. There are so many different options when you are in the greek yogurt isle and guess what, most of them will work for this dip! Most importantly, you want to make sure you buy a plain greek yogurt.
We love full buying full fat Greek yogurt, but any plain greek yogurt will do, as well as some plain vegan yogurts! Feel free to by 0%, 2%, or 5% plain greek yogurt.
Roasted Garlic Ins-and Outs. Wow, have you tried garlic that is roasted in a bulb with olive oil and salt? It is absolute heaven. If you don't have a full garlic bulb, that is ok, you can roast garlic cloves too! Just be sure you roast it in the oven with the onions for full flavor potential!
Add Fresh Herbs. After the dip is finished, be sure to sprinkle the dip with fresh herbs! It really does complete the dip. Our first choice is fresh thyme, but feel free to try fresh basil, fresh parsley, or even fresh tarragon for a fun twist!
How to Store Onion Dip. Store the onion dip in an airtight container in the refrigerator for up to 5 days.  

All the Ways to Use this Dip
As a Dip. This recipe is first and foremost a DIP!  Feel free to dip of your favorite vegetables into this dip! We also recommend dipping crostini and crackers into this delicious dip!
Spread it on a Sandwich. There is not doubt that this caramelized onion dip would be delicious on so many different sandwiches! Start with adding it to this breakfast sandwich or try it on your favorite deli sandwich!
In a Salad. This may sound crazy, but shred some chicken and toss in a 1/2 cup to 1 cup of this caramelized onion dip with the chicken and you've got one AMAZING chicken salad! I mean..mind blown.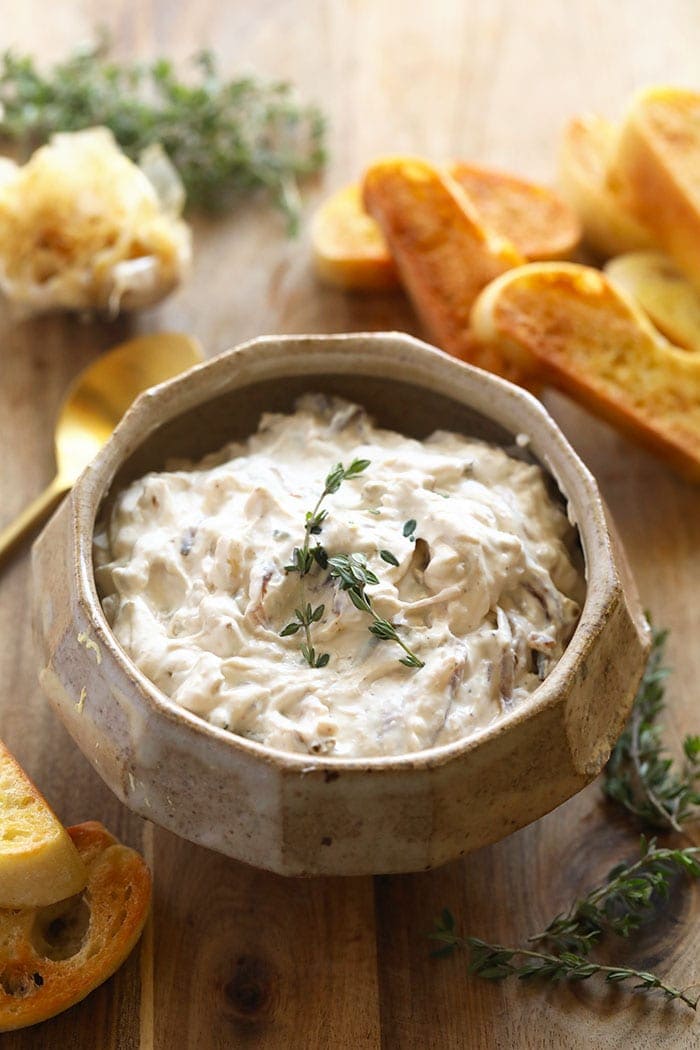 Healthy Dip Recipes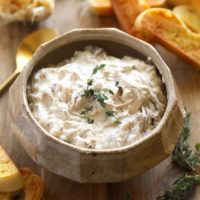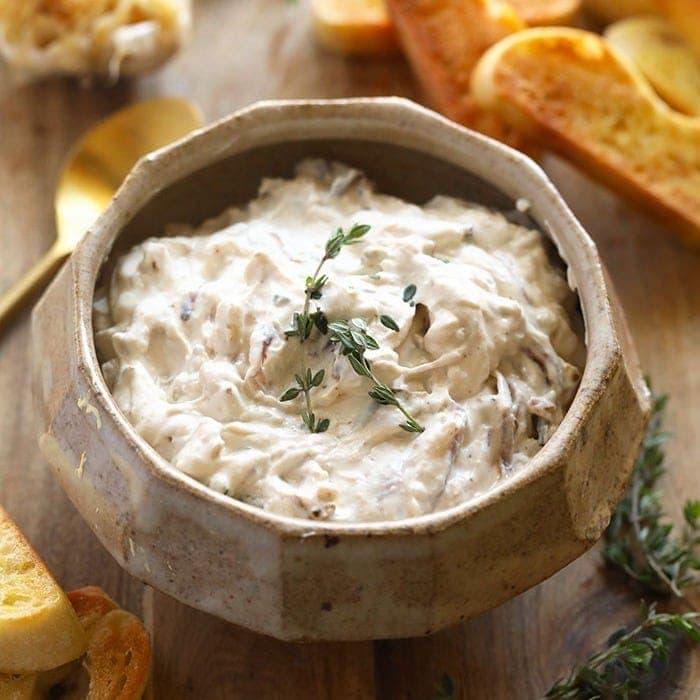 Roasted Garlic Caramelized Onion Dip
Make this Roasted Caramelized Onion Dip for your next get together or for a delicious game day appetizer! It is packed with amazing savory flavor and delicious when served with crusty bread, vegetables, or even slathered on a bagel!
Ingredients
Instructions
Preheat oven to 400ºF.

Then, prep veggies by thinly slicing the onion and cutting the pointy end of the garlic off.

Spread onions onto baking sheet and generously drizzle with olive oil and toss.

Add garlic head and drizzle with olive oil.

Season with sugar and salt and toss the onions again.

Roast at 400ºF for 15 minutes.

Remove from oven and toss onions. Make an onion pile by using a spatula to scoot all of the onions together. This is to prevent crunchy onions. Then, flip the head of garlic over.

Place back into the oven and bake at 400ºF for another 15 minutes. After 15 minutes, toss again. If your onions have reduced in size and turned a dark golden brown/dark purple color you know they are done. If your onions are still plump and light in color, they need to continue cooking.

Once onions have caramelized, remove baking sheet from oven and immediately remove onions and garlic from the baking sheet. Set aside to cool.

After the garlic head is cool enough to handle, use your hands to squeeze out the cloves into a large bowl. Then, use a fork to mash the roasted garlic into a paste.

Add Greek yogurt, sour cream, and Worchestershire sauce to the bowl and mix.

Before adding the onions to the bowl, use a pair of scissors to cut the onions into smaller, bite-sized pieces. Then, transfer caramelized onions into the bowl.

Mix onions with the rest of the dip and do a little taste test to see if any more salt and/or pepper needs to be added.

Serve with your favorite dipping vessel!
Tips & Notes
Servings: this recipe easily doubles or triples. So feel free to do so as needed!
Nutrition facts
Calories:
124
kcal
Protein:
5
g
Fat:
7
g
Fiber:
1
g
Sugar:
5
g