Homemade caramelized onion dip will quickly become your favorite party appetizer! It's packed with amazing savory flavor, oven roasted onions and garlic, and creamy Greek yogurt and sour cream.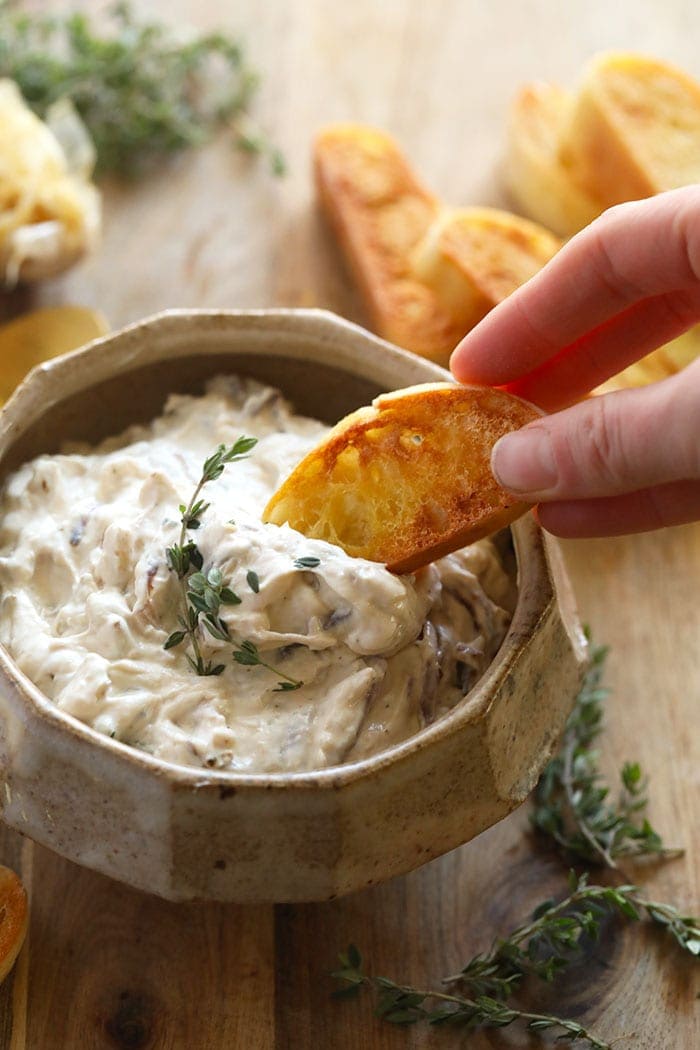 A little sweet, totally savory, and delightfully thick caramelized onion dip is our go-to party appetizer. It's always the first appetizer to disappear on game day, impresses a crowd, is made with wholesome ingredients, and comes together easily without many dishes to clean!
Roast the onions and garlic in the oven, then mix it all together with Greek yogurt, sour cream, and some spices for the ultimate app. It's totally versatile, tastes great with veggies, crackers, and more, and is packed with flavor. Make a double (or even triple!) batch. Trust us!
Featured Comment
"This recipe was so delicious and so easy to make!! Who knew you could caramelize onions in the oven!! We ate it with chips, crackers and veggies!" – Alex
What is in caramelized onion dip?
This creamy dip comes together with just a few simple ingredients. You'll need:
Red onions
Garlic
Olive oil
Sugar
Salt + pepper
Greek yogurt
Sour cream
Worcestershire sauce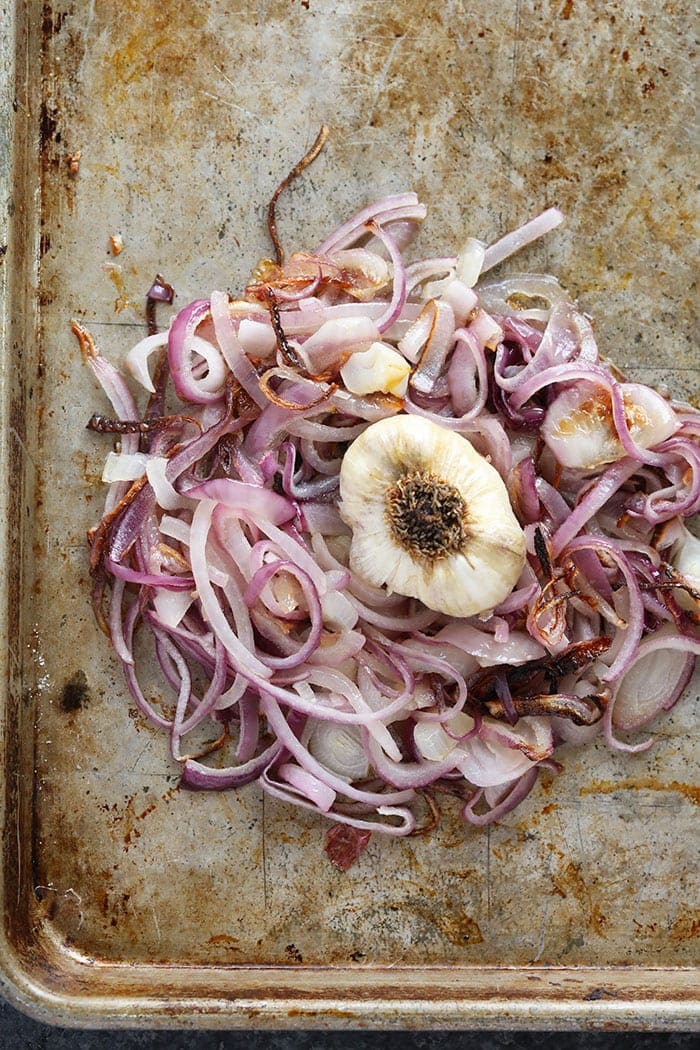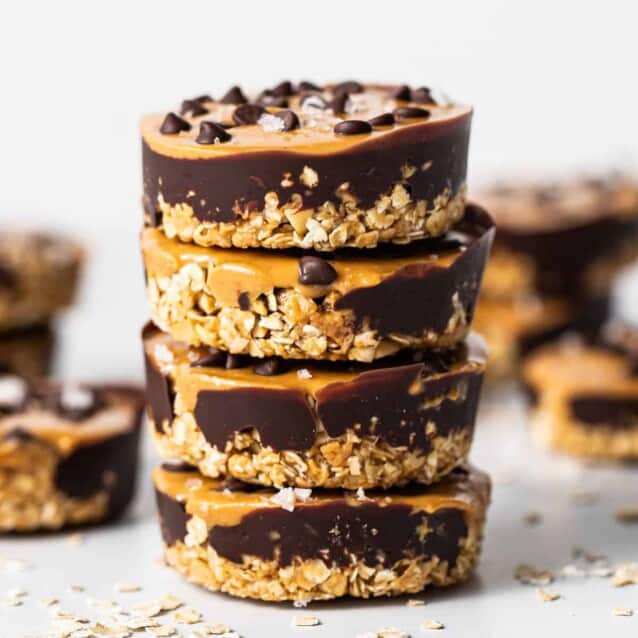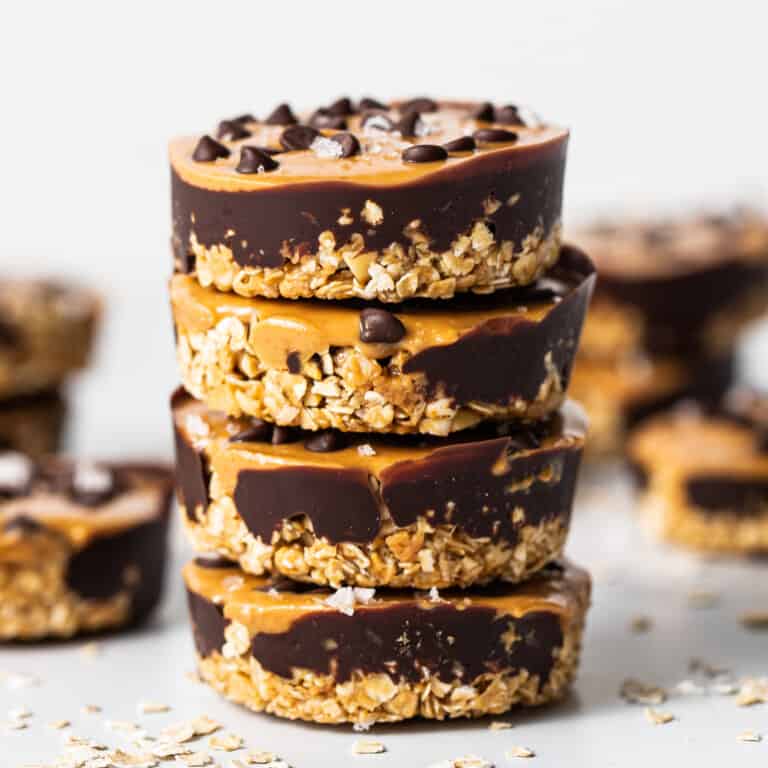 Get our Top 10 5-Star Recipes!
Join our email list for new recipes and BONUS: get our top 10 ⭐️⭐️⭐️⭐️⭐️ recipes e-book!
Substitutions for Caramelized Onion Dip
Customize this caramelized onion and garlic dip to your liking with any of these swaps and variations:
Garlic: If you don't have a full head of garlic, use 8-10 cloves of garlic instead. In step 7, transfer the garlic cloves to a large bowl.
Greek Yogurt: We love using full-fat Greek yogurt, but any plain Greek yogurt will do (even plain vegan yogurts!). Feel free to use 0%, 2%, or 5% plain Greek yogurt for this dip.
Sugar: 1 teaspoon of sugar goes a long way! Use granulated sugar, coconut sugar, or turbinado sugar (or omit completely for a less sweet dip).
Herbs: Once the dip is ready to serve, be sure to sprinkle it with fresh herbs. Our first choice is fresh thyme, but feel free to try fresh basil, fresh parsley, or even fresh tarragon for a fun twist!

FAQ
Can you make a larger batch of this dip?

Yes! This recipe easily doubles or triples. Feel free to make larger batches as needed!
How can you avoid burning the onions?

When roasting the onions, be sure they are all touching each other on the pan. If there are any outliers, they could burn.
Is this dip sweet?

Because caramelized onions are naturally a little sweet, this caramelized onion dip is mostly savory and a little sweet. For a less sweet dip, omit the sugar.
Storage
This dip disappears quickly so don't plan on having any leftover! If you do have leftover caramelized onion dip, store it in an airtight container in the refrigerator for up to 5 days.
We don't recommend freezing this dip to enjoy later – it's best fresh or as refrigerated leftovers.
Make Ahead Caramelized Onion Dip
There are a couple ways to make this dip ahead of time:
Slice the onions and prepare the head of garlic. Place in an airtight bag (get as much air out as possible) and refrigerate for up to 2 days before roasting. When ready to make the dip, follow the recipe as written.
Follow the recipe through step 6. Once the onions and garlic are completely cool, transfer to an airtight container and refrigerate for up to 2 days before continuing with the recipe.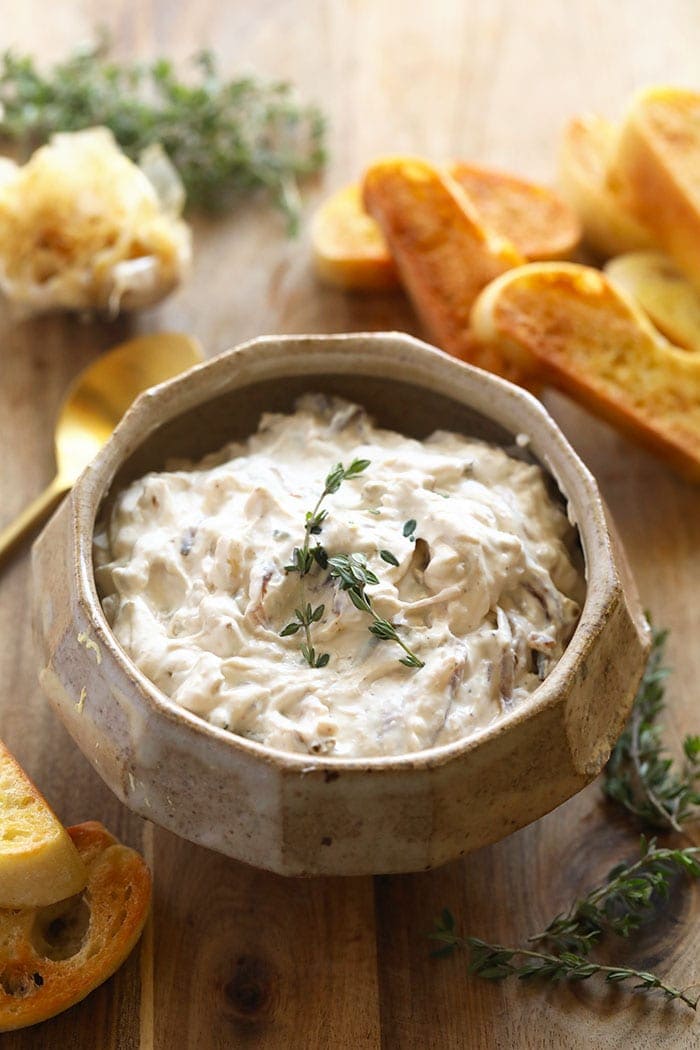 Serving Suggestions
As a dip. This recipe is first and foremost a creamy dip for fresh veggies, crackers, pretzels, crostini, crusty bread, and more.
Spread it on a sandwich. This caramelized onion dip would be a delicious addition to so many sandwiches! Add it to our breakfast sandwich or try it on your favorite deli sandwich.
In a salad. This may sound crazy, but shred some chicken and mix it with 1/2 cup to 1 cup of this caramelized onion dip for one AMAZING chicken salad. Mind blown!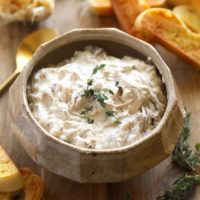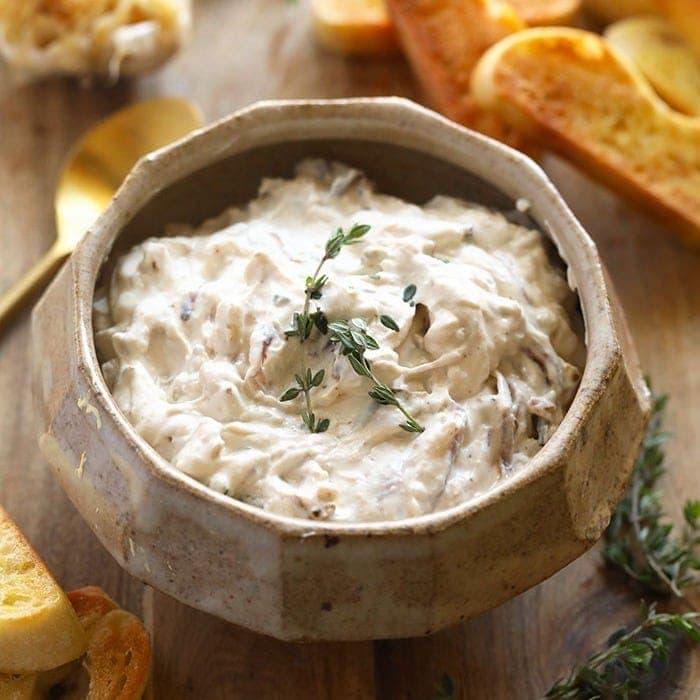 Caramelized Onion Dip
This simple and flavorful caramelized onion dip is a tasty appetizer everyone loves! Serve with crusty bread, fresh veggies, or even slathered on a bagel.
Ingredients
Instructions
Preheat the oven to 400ºF.

Spread the sliced onions onto baking sheet and place the head of garlic cut-side down onto the baking sheet. Drizzle with olive oil, season with sugar and salt, and toss to combine.

Remove the pan from the oven and use a spatula to make an onion pile (scoot all of the onions together). Flip over the head of garlic.

Place back into the oven and bake for another 15 minutes. After 15 minutes, toss again. If the onions have reduced in size and turned a dark golden brown/dark purple color, you know they are done. If the onions are still plump and light in color, they need to continue cooking.

Once the onions have caramelized, transfer the onions and head of garlic to a cool baking sheet or plate. Set aside to cool.

After the head of garlic is cool enough to handle, use your hands to squeeze out the cloves into a large bowl. Use a fork to mash the roasted garlic into a paste.

Add the Greek yogurt, sour cream, and Worcestershire sauce to the bowl. Mix well.

Use a pair of kitchen scissors to cut the caramelized onions into smaller, bite-sized pieces and transfer into the large bowl.

Mix the onions with the rest of the dip and taste test. Add additional salt/pepper if needed.

Garnish with fresh thyme and serve with your favorite crackers, pretzels, veggies, breads, bagels, and more!
Tips & Notes
Storage: Store caramelized onion dip in an airtight container in the refrigerator for up to 4 days.
Servings: This recipe easily doubles or triples. Feel free to make larger batches as needed!
Nutrition facts
Calories:
124
kcal
Protein:
5
g
Fat:
7
g
Fiber:
1
g
Sugar:
5
g