It's Mango Smoothie time! This 4-ingredient healthy smoothie is ready to enjoy in 5 minutes or less and makes the perfect breakfast or snack.
Calling all tropical smoothie lovers! We've got everything from this strawberry pineapple smoothie to this pina colada smoothie and don't forget this tropical spinach smoothie!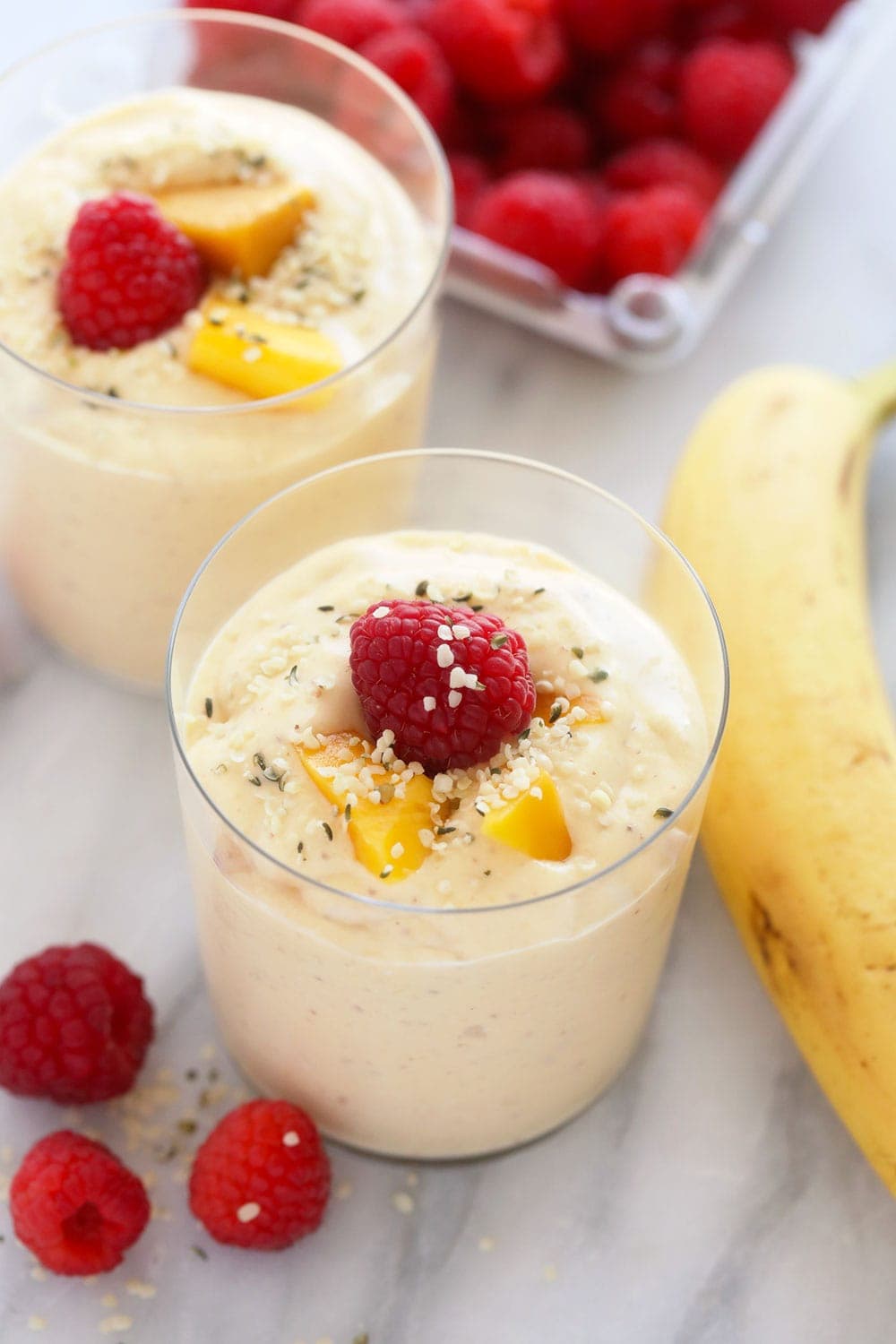 The Tropical Smoothie of your Dreams
This smoothie just tastes like sunshine and the beach — ya feel me?! The combination of mango and coconut milk flavors in this smoothie will leave you feeling like you're on spring break. Zero judgement if you top this smoothie with a cocktail umbrella 😀
We'll walk you through exactly how to make it (it's seriously only 4 ingredients), so great topping ideas as well as our pro tip list for thick and creamy smoothies. Lezz go!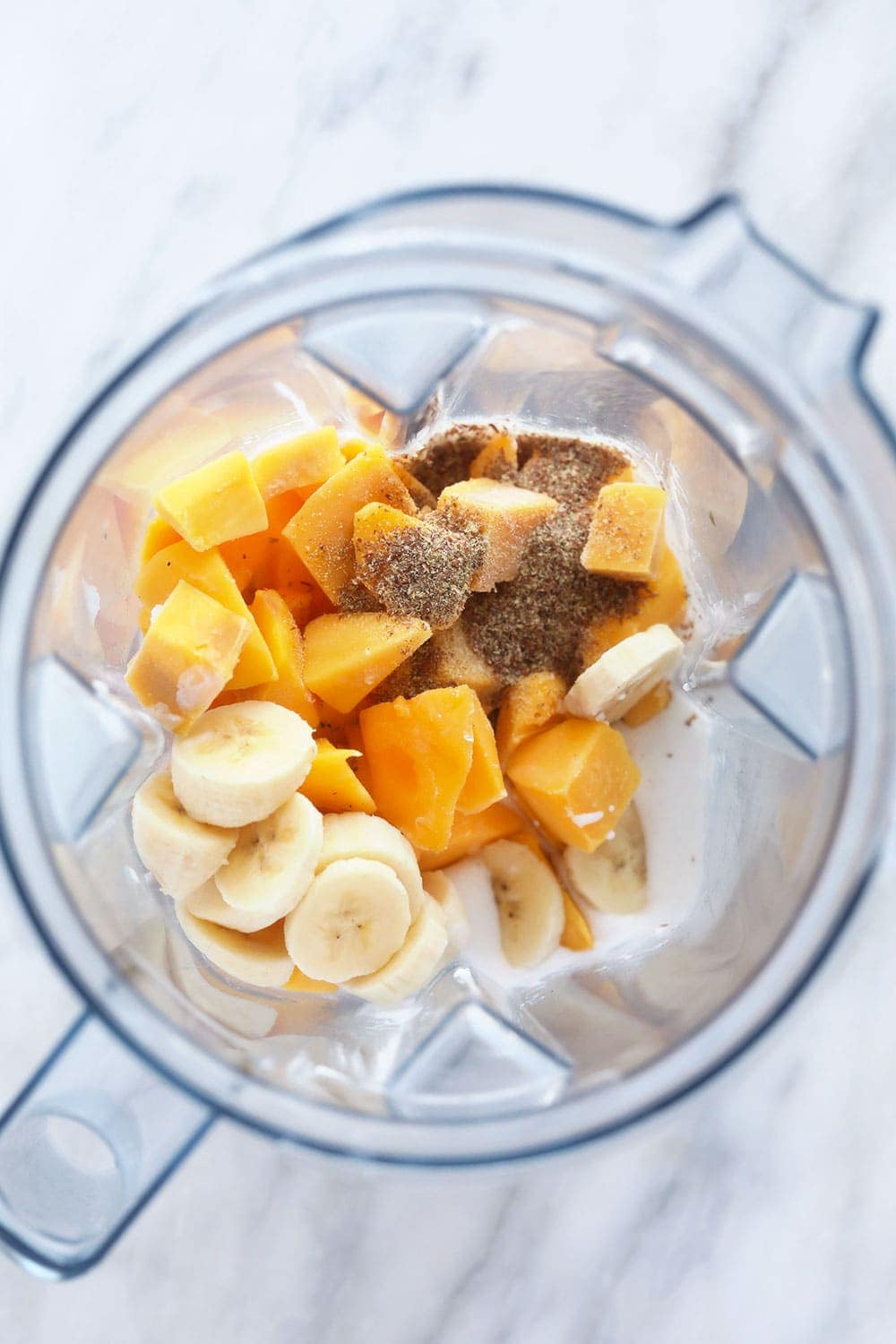 The 4 Ingredients You'll Need
Yep, you read that right — this is a 4-ingredient mango smoothie that still packs A TON of flavor. You'll need:
Sliced frozen mango (of course!)
Frozen banana
Light coconut milk*
Flaxseed meal
*While we LOVE this smoothie with full-fat coconut milk because it gives it such great flavor and a thick texture, it significantly increases the calorie count, which is why for this recipe we used low-fat coconut milk . If you're looking to reduce the calorie count even more, this smoothie will also work with 1.5 cups of Almond Breeze almond / coconut milk blend.
Healthy Toppings for a Mango Smoothie
This smoothie is oh so delicious on its own, but if you're in the mood to turn it into a smoothie bowl, or simply jazz it up with toppings, we recommend any (or a combo!) of the following:
Fresh berries
More sliced mango
Hemp hearts
Slivered almonds
Granola or museli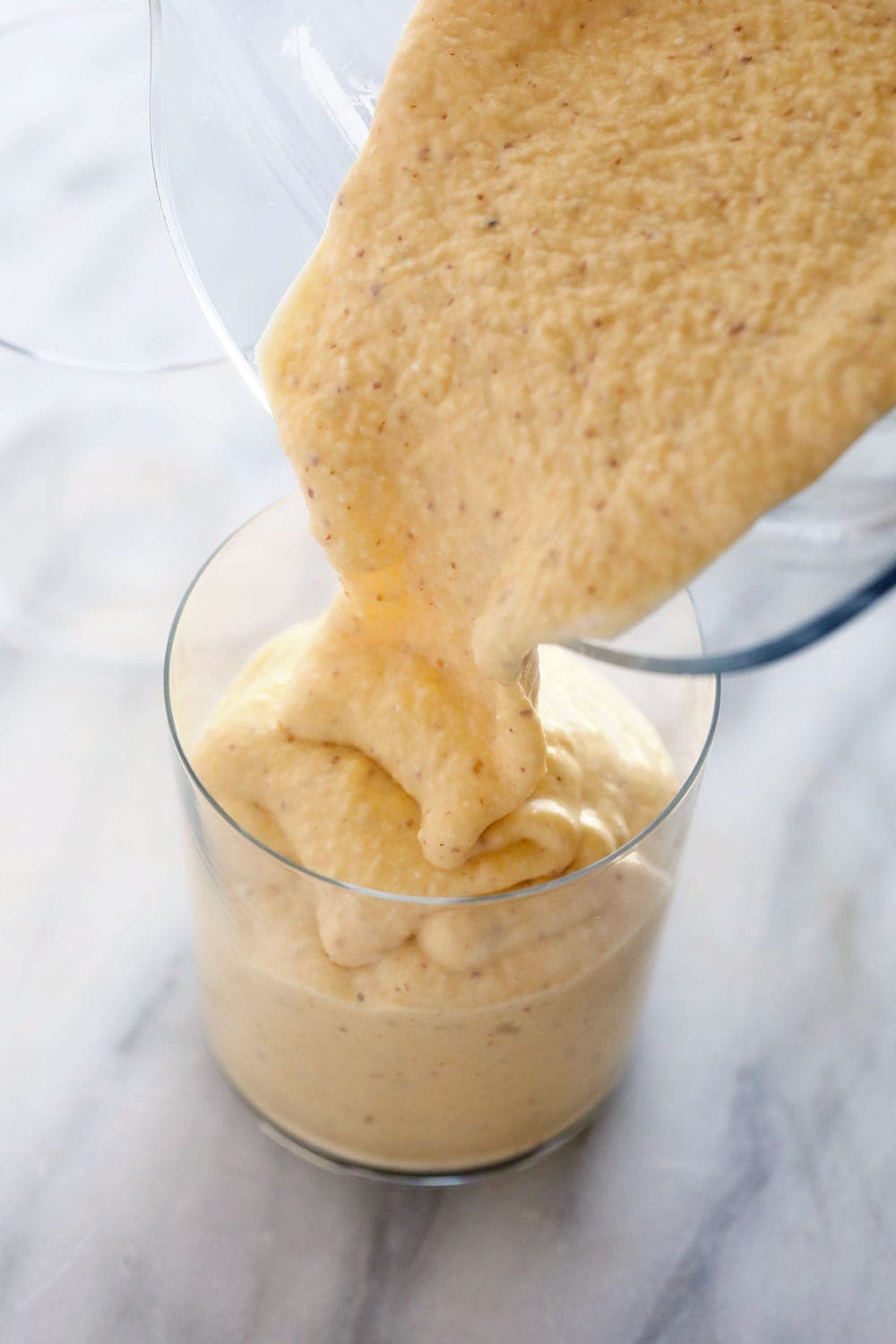 Pro Tips for Thick, Creamy Smoothies
Use Frozen Fruit, NOT Ice: We highly recommend using frozen fruit over fresh fruit or ice! Fresh fruit tends to omit more liquid than frozen fruit, making your smoothie more water-y.
We also HIGHLY recommend avoiding ice, if possible! Ice also tends to produce a more water-y smoothie, plus, if you can achieve that thick and chilled texture by using nutrient-dense ingredients instead of ice, why wouldn't you!?
Keep a stash of frozen fruit in you freezer at all times or freeze extra berries or fruit that you have at home for DIY frozen fruit. You only need to freeze your fruit for 30-60 minutes for it to be smoothie ready, so no need to worry if you're just popping your fruit into the freezer now! You'll be off and running with a delicious smoothie in no time 😀
Specifically, Frozen Bananas Can't be Beat: We are big fans of using frozen bananas as a base for many of our smoothie recipes. Not only are bananas cheap, and nutrient-dense, but when they are frozen and then blended, they are SO delicious and creamy!
Check out our post on how to freeze bananas for all of the best tips and tricks!
A Little Liquid at a Time, People: One of the main tips we give people when making a smoothie is add the recommended amount of liquid a little bit at a time until the smoothie reaches your desired consistency. Adding all of the liquid at once could leave you with a water-y smoothie! You can ALWAYS add more liquid, but can't take it out! Pro Tip: if your smoothie accidentally got too water-y, add protein powder a tablespoon at at time until you reach your desired consistency.
Not All Blenders are Created Equal: While not everyone has the same blender, we do recommend finding a high quality, high-speed blender if you plan on making smoothies frequently! The higher quality blender, the creamier your smoothie (and none of those unwanted chunks!) will be and the longer your blender will last.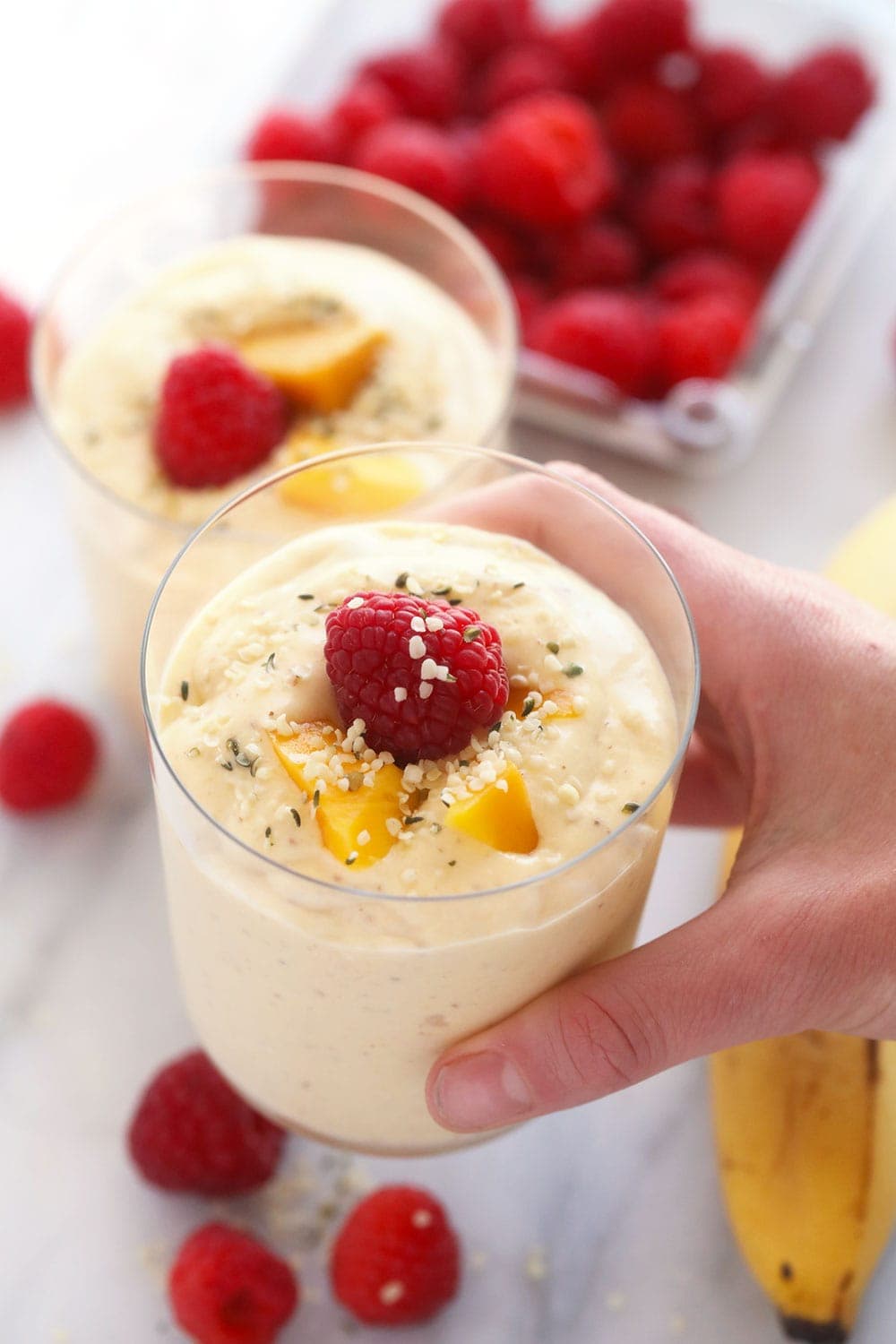 More Smoothie Recipes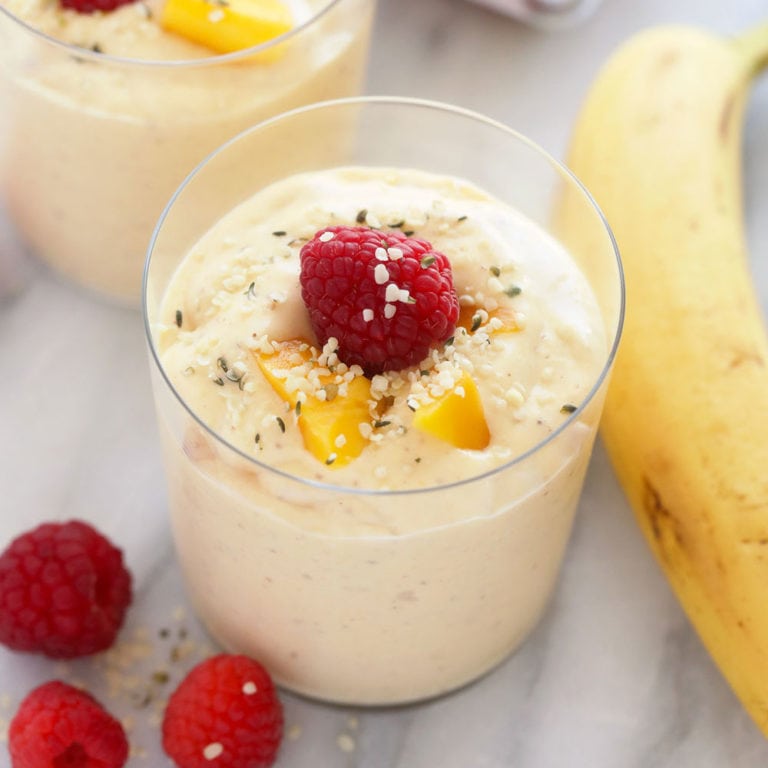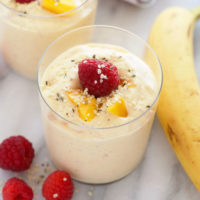 Mango Smoothie Recipe
It's Mango Smoothie time! This 4-ingredient healthy smoothie is ready to enjoy in 5 minutes or less and makes the perfect breakfast or snack.
Prep:
5 minutes
Cook:
0 minutes
Total:
5 minutes
Fat
17
Carbs
45
Protein
5
Ingredients
2 cups

frozen mango slices

1

15-oz. can light coconut milk

1/2 tablespoon

flaxseed meal

1

large frozen banana
Instructions
Place all of the ingredients into a high-speed blender.
Blend on high until smooth.
Eat immediately.
Nutrition Facts
Serving Size:
1/2 recipe
Calories:
330
Sugar:
33
Sodium:
2
Fat:
17
Carbohydrates:
45
Fiber:
5
Protein:
5
Cholesterol:
0
Category:
Smoothie
Method:
Blender
Cuisine:
American