This homemade granola recipe is such an easy, healthy breakfast to have on hand. It comes together with rolled oats, almonds, dried cranberries, and a little maple syrup.
Top your favorite breakfast smoothies, smoothie bowls, or chia seed pudding with this healthy granola.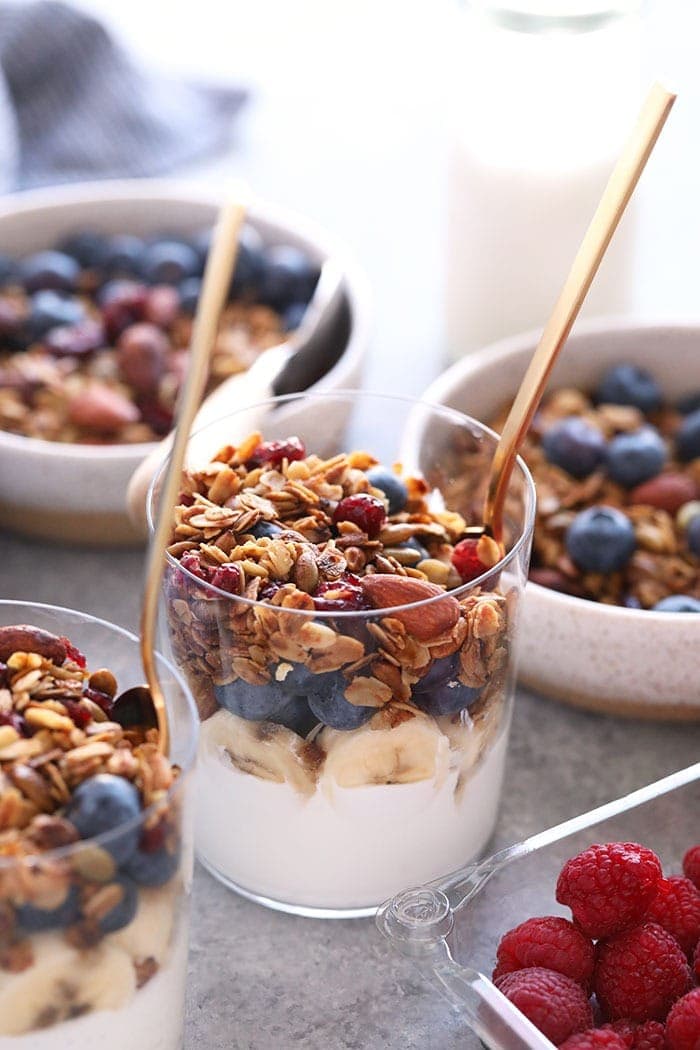 Best Homemade Granola Recipe
We're so excited to be sharing this easy homemade granola recipe with you today. It's perfectly sweetened with maple syrup, crunchy, and so easy to make!
Granola is an essential item for those of us that are crunch people. I love topping smoothies, oatmeal recipes, yogurt parfaits, and chia seed pudding with a big scoop of granola for a bit of crunch.
While store-bought granola is nice, there is something special about homemade granola. It's made with just a few ingredients and in less than an hour to make it a simple, nutritious homemade recipe.
It truly is the perfect breakfast or snack. Really, you can eat it at any time of day!
Why you'll love it!
Packed with Fiber: rolled oats are high fiber and this recipe is made with a base of old fashioned oats.
Meal Prep: this homemade granola recipe will last for 1-2 weeks stored in a cool, dark place.
Whole Grains: because granola is made with the base of rolled oatmeal, you're going to get a serving of whole grains,
Better than Store Bought: we might be biased, but homemade granola is for sure better than store-bought. It's better for you and it tastes better too.
All-Natural Sweetener: this recipe calls for maple syrup and no white sugar. You can use honey or maple syrup in this recipe, making it sweetened with just natural sugars.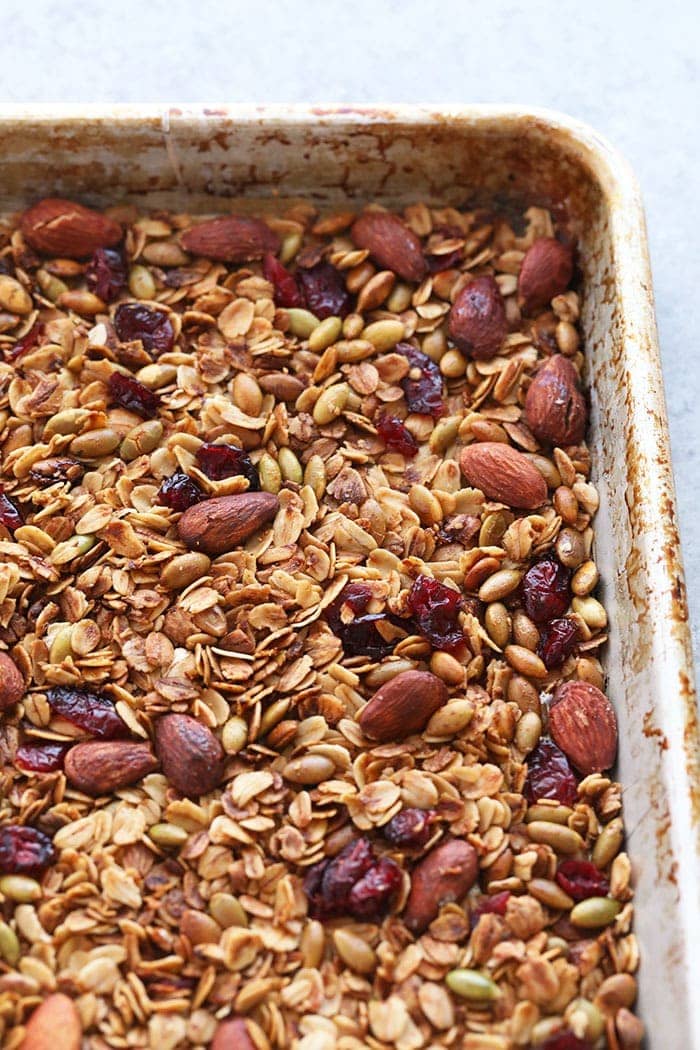 What You Need
This healthy granola recipe is how we like our granola- basic. It is also a simple guide for you to make homemade granola just the way you like it. Here's what you need for our recipe:
dried cranberries (dried fruit)
almonds and pepitas (nuts and seeds)
maple syrup (all-natural sweetener)
coconut oil
ground cinnamon (spices + extracts)
What we love about this granola recipe is that you can use it as a base and deviate from it by swapping out other ingredients.
How to Make Healthy Granola (Quick Guide)
Preheat: preheat oven to 350ºF and line a baking sheet with parchment paper.
Combine Ingredients: add rolled oats, almonds, and pepitas to the baking sheet and toss.
Toss with Oil and Maple: drizzle the mixture with coconut oil and maple syrup and season with cinnamon. Stir to combine to make sure everything is coated.
Bake & Toss: place the sheet pan in the bake at 350ºF for 20-25 minutes, tossing every 10 minutes.
Add Dried Fruit: once the granola is golden brown, remove it from the oven and add dried cranberries. Toss and let cool for 15 minutes.
quick tip!
Keep an eye on your granola! This granola recipe can go from almost cooked to brunt very quickly. So, make sure to toss every 10 minutes and once you hit 20 minutes, watch it like a hawk.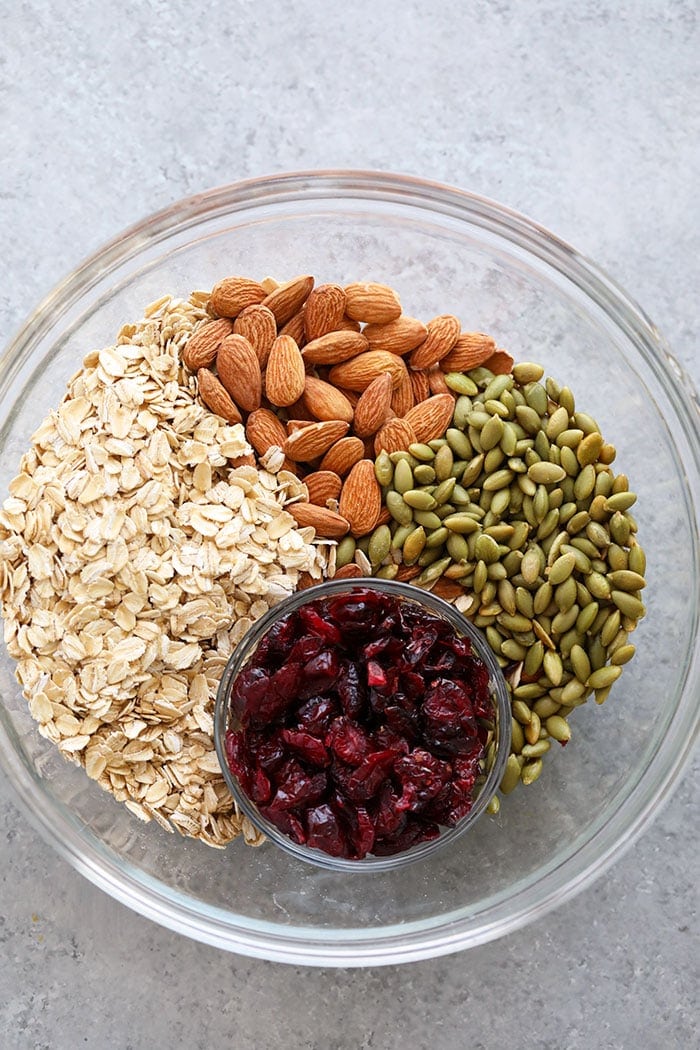 Homemade Granola Ingredient Swaps
Rolled Oats
Old fashioned oats are the most common grain used for granola. They toast wonderfully and have a delicious nutty flavor. Below you'll find some other swaps.
Quinoa flakes
Cooked quinoa
Coconut Flakes
Dried Fruit
We used dried cranberries in this healthy granola recipe. Dried fruit should be added after baking (or with a few minutes left) so that it doesn't burn or harden. Here are some other tasty dried fruit options.
Dried Apricots
Dried Cherries
Dried Dates
Dried Banans
Banana Chips
Dried Mangos
Dried Apples
Nuts + Seeds
Add a little protein and fiber to any granola recipe by adding nuts and seeds. Chop them up or leave them whole. We like to use 1/2 cup of each.
Almonds
Walnuts
Cashews
Pistachios
Pecans
Sesame Seeds
Pumpkin Seeds
Sunflower Seeds
Chia Seeds
Macadamia Nuts
Natural Sweeteners
As you guys know we are all about natural sweeteners (think honey or maple syrup) because the flavor is better and it's better for you. We used maple in this recipe to keep it vegan, but check out some other options below.
Maple Syrup
Honey
Agave Syrup
Monk Fruit syrup
Oil
Oil is important in any healthy granola recipe because it helps bind the granola together as well as crisp it up. There are so many options when it comes to oil so feel free to substitute your favorite.
Coconut Oil
Olive Oil
Grapeseed Oil
Avocado Oil
Macadamia Nut Oil
Walnut Oil
Extra-Virgin Olive Oil
Spices & Extracts
Flavor up your granola by adding your favorite dried spices and extracts. We kept it simple and just added cinnamon to this granola, but you could spice things up by using a couple of teaspoons of our DIY Chai Spices, too.
Ginger
Allspice
Nutmeg
Cardamom
Sea salt
Almond extract
Vanilla extract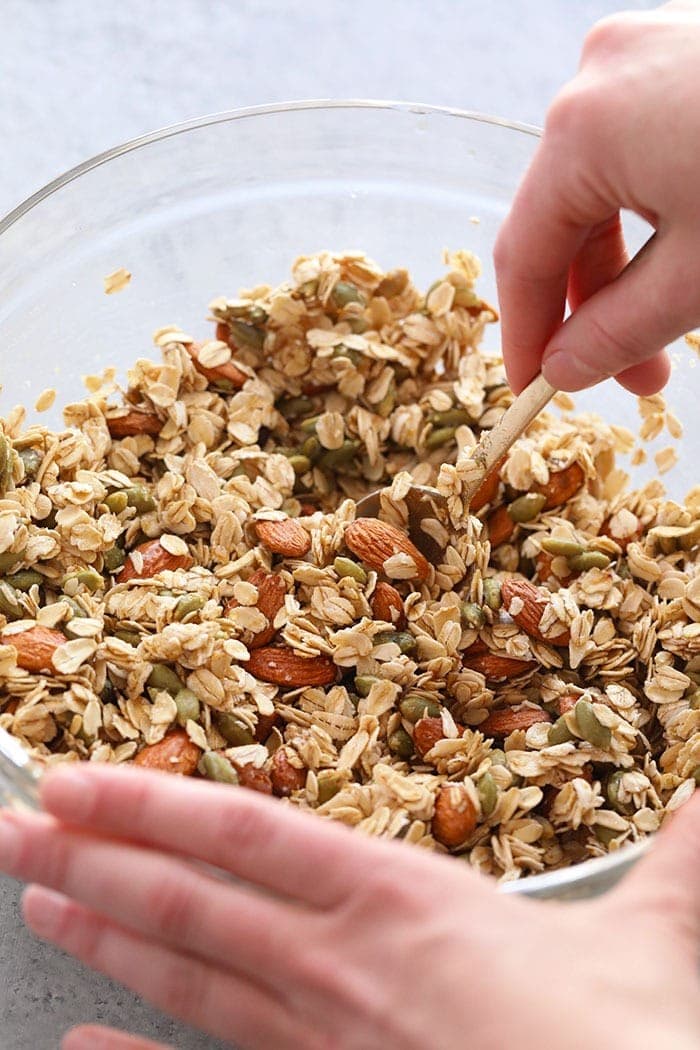 Healthy Granola Q&A
Why is granola so bad for you?

Store-bought granola is considered unhealthy because it's made with so much sugar. Homemade granola typically calls for less sugar and fat.
How do you make homemade granola?

To make homemade granola mix together all ingredients and then transfer it onto a baking sheet. Bake at 350ºF for 20-25 minutes, stirring every 10 minutes until golden brown.
Is it cheaper to make homemade granola?

Granola is made from a base of rolled oats, nuts, dried fruit, oil, and a sweetener such as maple syrup which are all inexpensive to buy on their own, making homemade granola cheaper than store-bought.
How long will homemade granola last?

homemade granola will last 1-2 weeks if stored in an airtight container in a cool, dark place.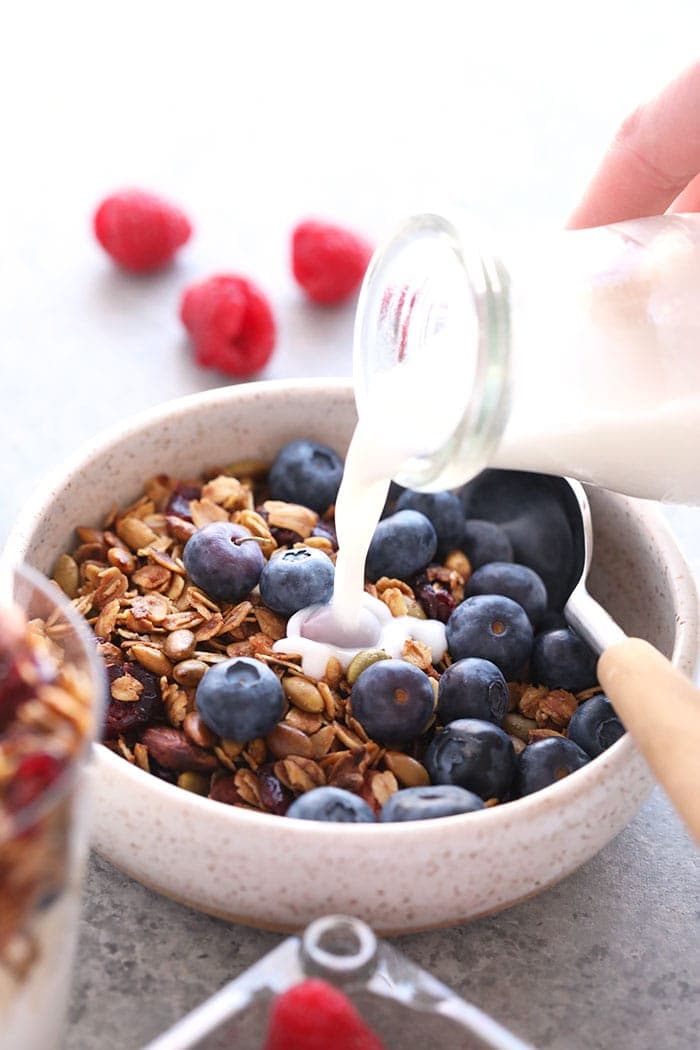 Favorite Store-Bought Granola
Not into making your own homemade granola? It's ok, we love trying new packaged granola, too! We do have our favorites, so when you're not feeling like whipping up a batch of our your own granola, try one of these:
Storage
Let your granola recipe cool completely on the baking sheet. Then, transfer it into an airtight container such as a glass container, jars, or a gallon size bag. Remove as much air as possible and store it in a cool, dark place for up to 2 weeks.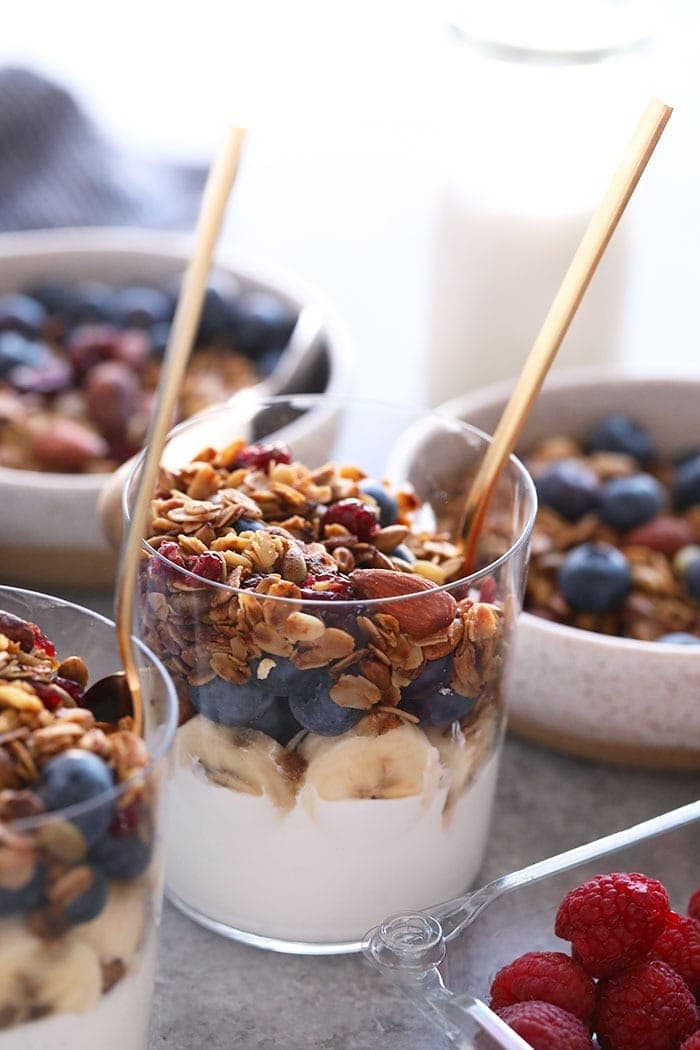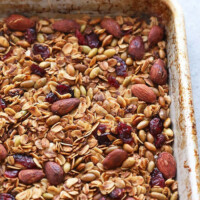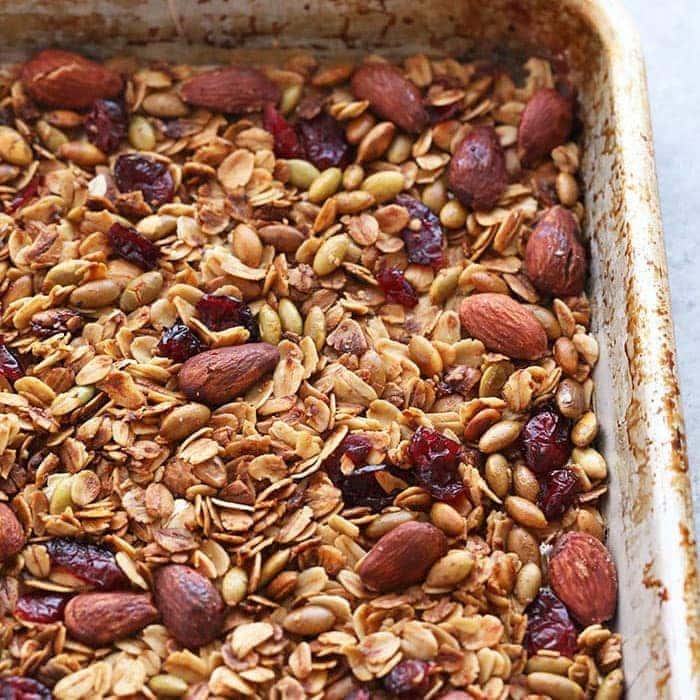 Homemade Granola Recipe
A seriously easy homemade granola recipe made with rolled oats, almonds, dried cranberries, and a little maple syrup.
Instructions
Preheat the oven to 350ºF and spray a baking sheet with nonstick cooking spray or line it with a piece of parchment paper.

Next, add rolled oats, almonds, and pepitas to the baking sheet and toss. Then, season with cinnamon and drizzle with maple syrup and melted coconut oil.

Toss everything together making sure all ingredients are combined and evenly coated with maple syrup and coconut oil. Spread the granola out on the baking sheet so that it's an even thickness.

Bake your granola recipe at 350ºF for 20-25 minutes, stirring every 10 minutes. Make sure to keep a close eye on your granola because it can burn easily. Bake until golden brown.

Remove granola from the oven and then add dried cranberries and toss. Let cool for at least 15 minutes before eating or storing.

Store in an airtight container in a cool, dark place for up to 2 weeks.
Tips & Notes
The serving is about 1/4 cup.
Nutrition facts
Calories:
231
kcal
Carbohydrates:
23
g
Protein:
6
g
Fat:
13
g
Fiber:
5
g
Sugar:
6
g