Homemade granola never tasted so good. Try this fall-inspired Apple Cinnamon Granola for a healthy homemade granola recipe that's vegan and gluten-free.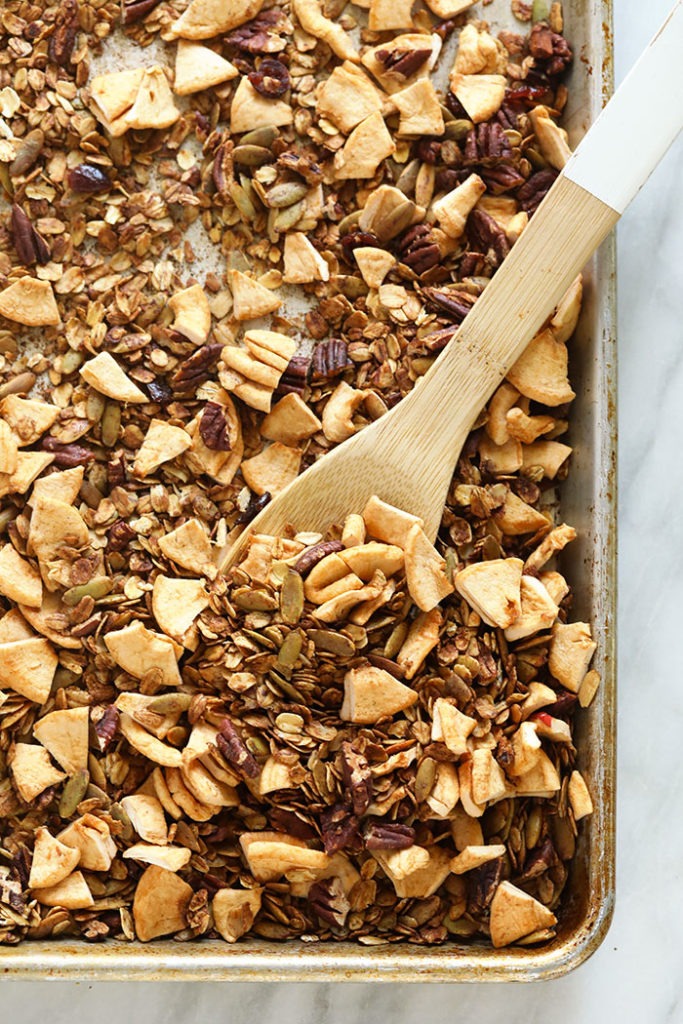 If you've ever made our homemade granola recipe, you know we've got it down! Or even our peanut butter cup granola — delish! Today we are sharing a sweet and spicy apple cinnamon granola that is perfect for fall.
What You Need for Apple Cinnamon Granola
We're calling this the best fall granola because it packs in the best of fall flavors and ingredients. Yes, it's an apple cinnamon granola, but it's got a lot of hearty add-ins to make it epically flavorful:
rolled oats
walnuts
pepitas
maple syrup
cinnamon
nutmeg
ginger
dried apples
dried cranberries or cherries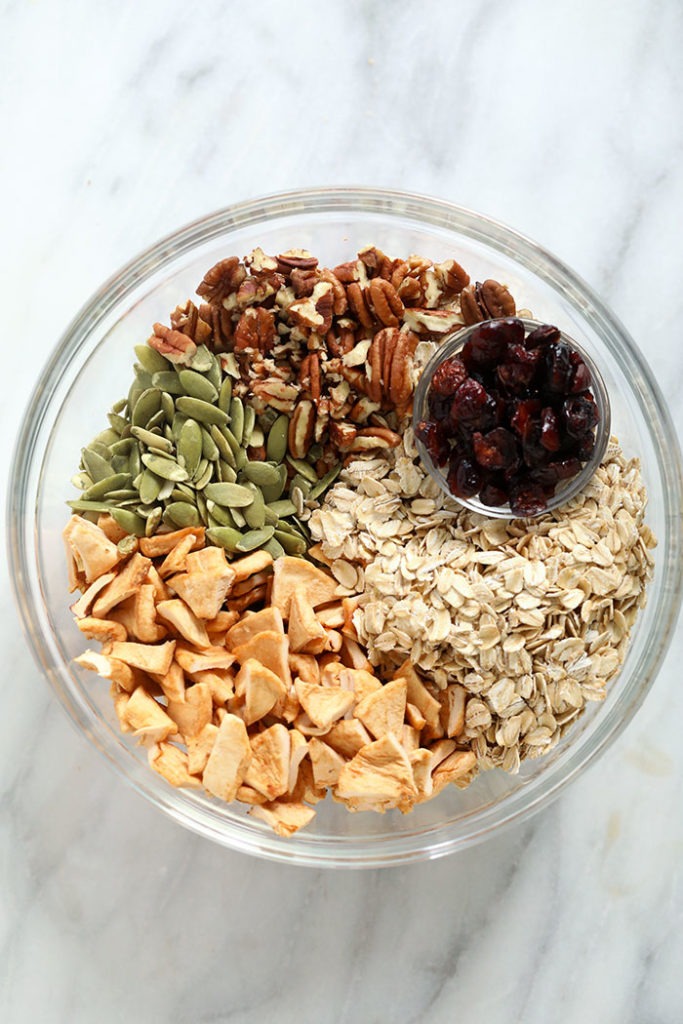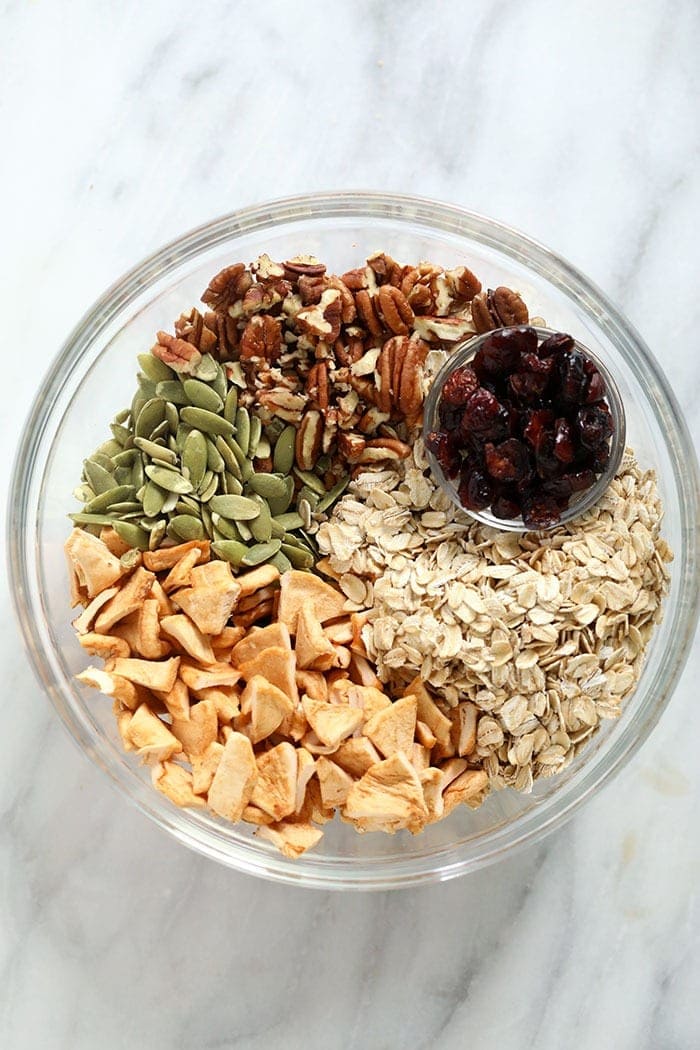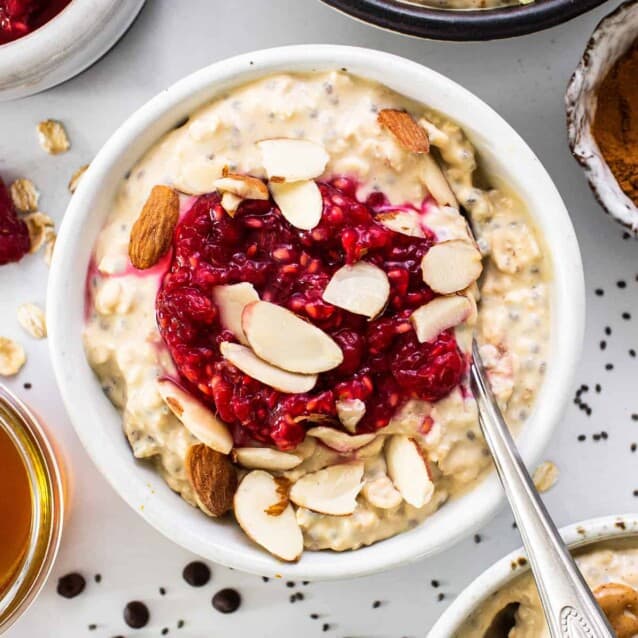 Need Breakfast Inspo?
Subscribe to our emails and get all of our best breakfast recipes straight to your inbox.
Easy Ingredient Swaps
Rolled Oats: Substitute with an equal amount of quick oats for a softer texture or steel-cut oats for a chewier texture.
Walnuts: Almonds, pecans, or cashews can easily replace walnuts. Adjust according to your preference.
Pepitas (Pumpkin Seeds): Sunflower seeds or chia seeds are suitable alternatives.
Coconut Oil: You can replace melted coconut oil with melted butter, ghee, or a neutral oil like canola or avocado oil.
Maple Syrup: Honey, agave nectar, or brown sugar can act as sweeteners in place of maple syrup.
Ground Cinnamon: While cinnamon is a primary flavor, if you're out, you can try allspice or increase the amount of nutmeg and ginger a bit for added warmth.
Ground Nutmeg & Ground Ginger: You can use allspice, cardamom, or increase the cinnamon if you don't have these spices on hand.
Dried Apples: Swap for dried pears, dried apricots, or another dried fruit you prefer.
Dried Cranberries: Raisins, sultanas, dried cherries, or dried blueberries are good alternatives.
Coconut Oil Cooking Spray: If you don't have this, you can line the baking sheet with parchment paper or a silicone baking mat. Alternatively, any neutral oil can be used to lightly grease the baking sheet.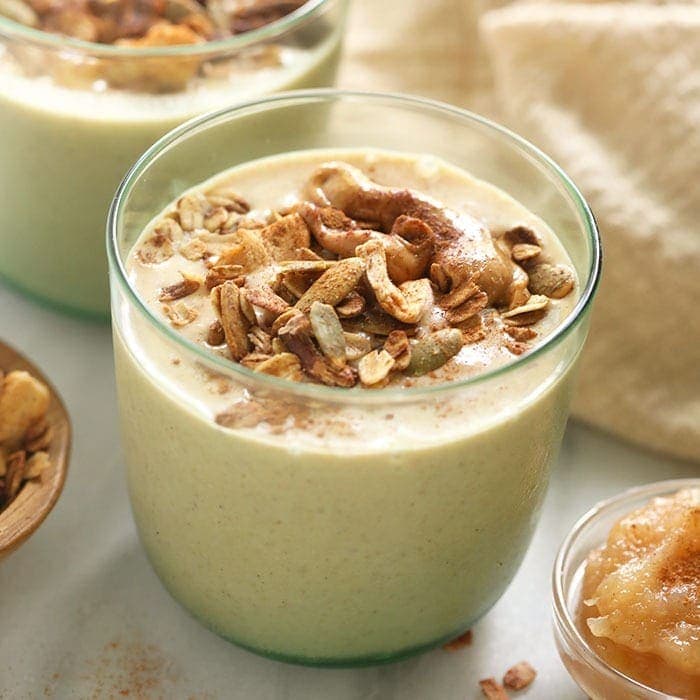 Easy
Apple Smoothie
Serve this homemade apple cinnamon granola on top of this apple smoothie. It doesn't get much better.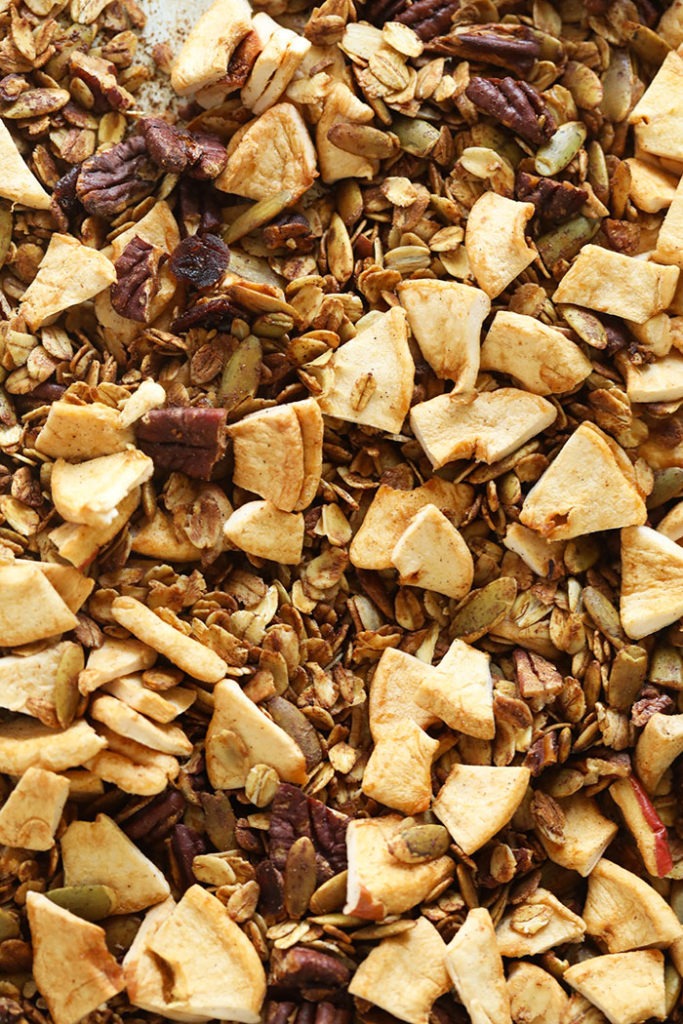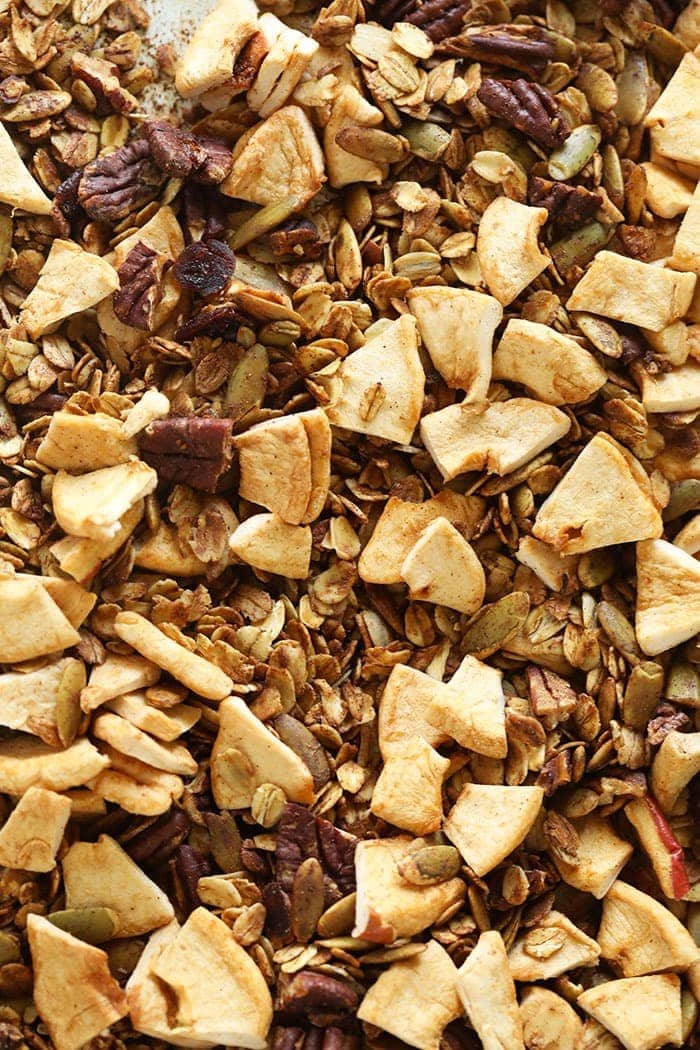 FAQs
How can I make my granola clumpier or chunkier?

To get clumpier granola, press the mixture down firmly onto the baking sheet before baking. Avoid stirring it too often while it bakes. You can also add a beaten egg white to the mix, which acts as a binder and helps in forming clusters.
Can I add fresh fruit to my granola?

While fresh fruit is delicious, it doesn't work well baked into granola due to its moisture content. However, after baking and cooling your granola, you can add fresh fruits when serving. If you want fruit baked into your granola, opt for dried or freeze-dried versions to maintain the crunchy texture.
How long does homemade granola keep?

Homemade granola, if stored correctly, can last for up to 2 weeks. It's best to keep it in an airtight container in a cool, dry place. Ensure the granola is completely cooled before storing to prevent moisture build-up and sogginess.
Storage
Store your granola in an airtight, glass container in a cool, dark place in your kitchen. Granola should last up to 2 weeks.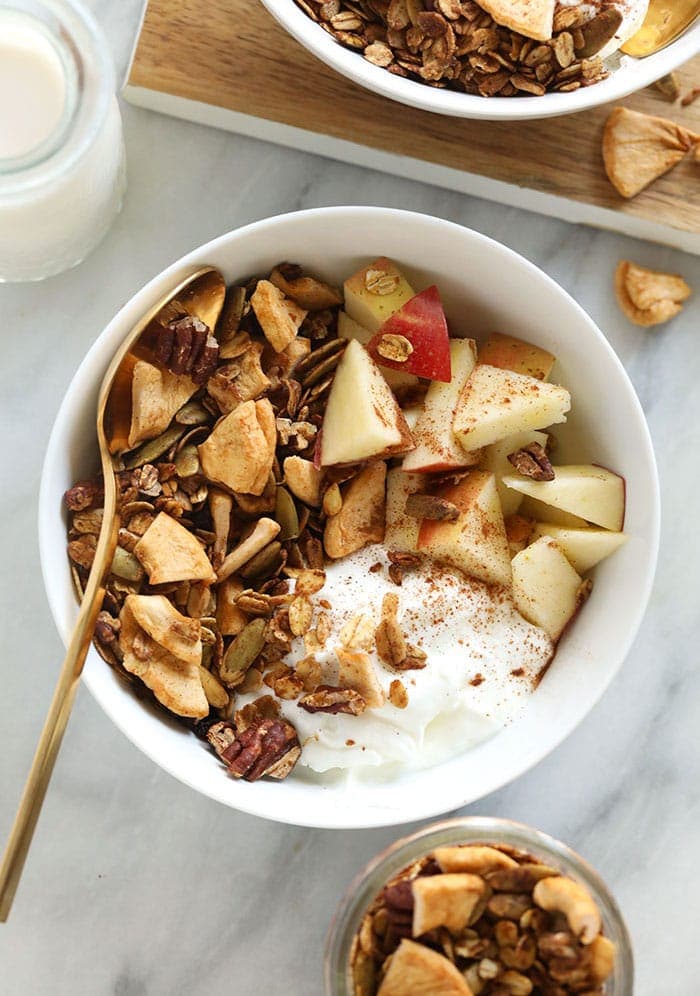 Serving Suggestions
You can always just eat your apple cinnamon granola with some almond milk, but if you're hoping to make this more of a meal, here are some serving suggestions: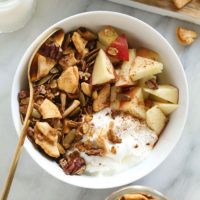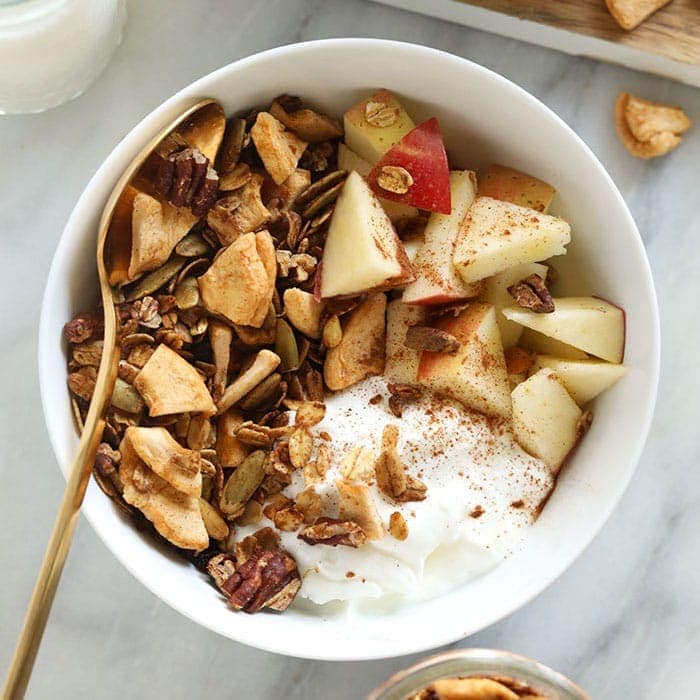 Homemade Apple Cinnamon Granola
This homemade apple cinnamon granola is make with dried apple, warm spices, and more. It is crunchy and the perfect topping for smoothies.
Instructions
Preheat oven to 350ºF and spray a baking sheet with coconut oil cooking spray or lay a piece of parchment paper down over the baking sheet.

Place rolled oats, walnuts, and pepitas onto the baking sheet and toss with your hands or a wooden spoon.

Then, drizzle on maple syrup and melted coconut oil and toss again with a wooden spoon.

Finally, season granola with cinnamon, nutmeg, ginger, and salt and toss one more time.

Place in the oven at 350ºF for 10 minutes. Remove and toss. Place back in for another 10-15 minutes.

Remove granola from the oven and let cool for 5 minutes. Add dried apples and cranberries and toss.
Nutrition facts
Calories:
294
kcal
Carbohydrates:
34
g
Protein:
6
g
Fat:
16
g
Fiber:
6
g
Sugar:
14
g