Not going to lie, dehydrating fruit can be a tad bit labor intensive. De-pitting a boat load of cherries is not as easy as it looks. But…well. worth. the elbow grease.
For this batch of dehydrated fruit I literally just sliced, pitted, and dried. I did't even dip them in lemon juice or add any additional sweetener. The color held and the flavor turned out as sweet as can be! Who needs store bought dried fruit? "Not I," said the pig.
These cherries took a little bit longer to dry out than my typical batch of apples. (they are composed of more water volume, which is why it takes longer) This is them after about 6 hours at 145F.
This is them an additional 2 hours later (8 hours total)…
For the last two hours, I cranked (and when I say cranked, I mean cranked 🙂 ) the temperature another 5 degrees. 10 hours later…here is the final product:
They looked a lot like raisins. I still can't believe how much fruit (in general) shrinks down when it's  dehydrated. A pound of cherries turned into a few handfuls of shriveled little nummys.
Although these cherries are perfectly scrumptious to eat solo, they are even better in a batch of homemade Pistachio Cherry Granola. 
Holy crunchy heaven. I adore pistachio nuts. I just wish they weren't so dang expensive. Thank goodness for Trader Joe's, right??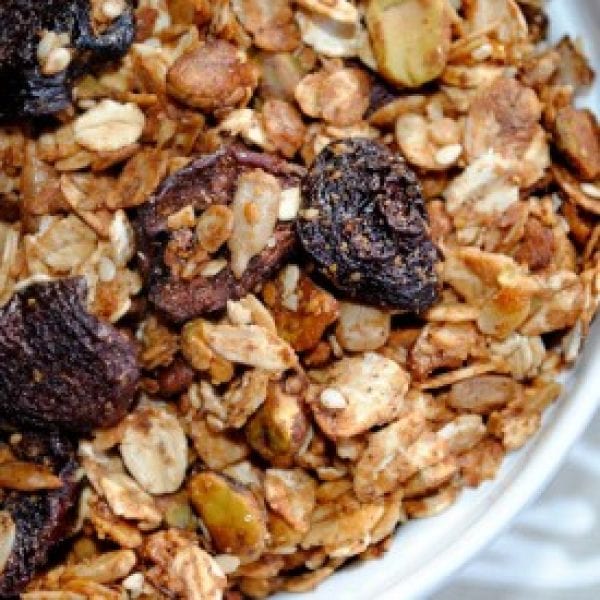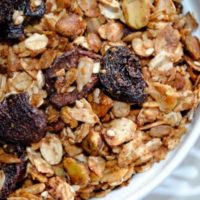 Pistachio Cherry Granola
Ingredients
2 cups

rolled oats

1/2 cup

sunflower seeds

1 cup

raw pistachio nuts

2 tablespoons

sesame seeds

1/2 teaspoon

sea salt

1 teaspoon

cinnamon

1/4 cup

olive oil

1/4 cup

maple syrup

1/2 cup

dried cherries
Instructions
First, preheat oven to 350ºF and spray a baking sheet with nonstick cooking spray. Option to also cover with parchment paper.
Next, place all of the dry ingredients (minus the dried cherries) into a large bowl and toss to combine.
Mix together olive oil and maple syrup in a medium bowl and then pour over dry ingredients and toss to combine.
Transfer granola onto the baking sheet and evenly spread out.
Bake at 350ºF for 10 minutes. Remove and toss. Bake for an additional 10 minutes and then remove and toss. Bake for another 5-10 minutes, or until golden brown.
Remove from oven and then add dried cherries. Toss to combine. Let cool for at least 20 minutes before eating.
My favorite ways to eat this granola are by itself with 1/2C almond/soy milk, in a greek yogurt parfait, or on top of my morning oats 🙂
What is your favorite kind of granola?