This chocolate peanut butter granola recipe is basically a peanut butter cup in granola form! Top your smoothie or yogurt with this peanut butter granola for the best breakfast ever.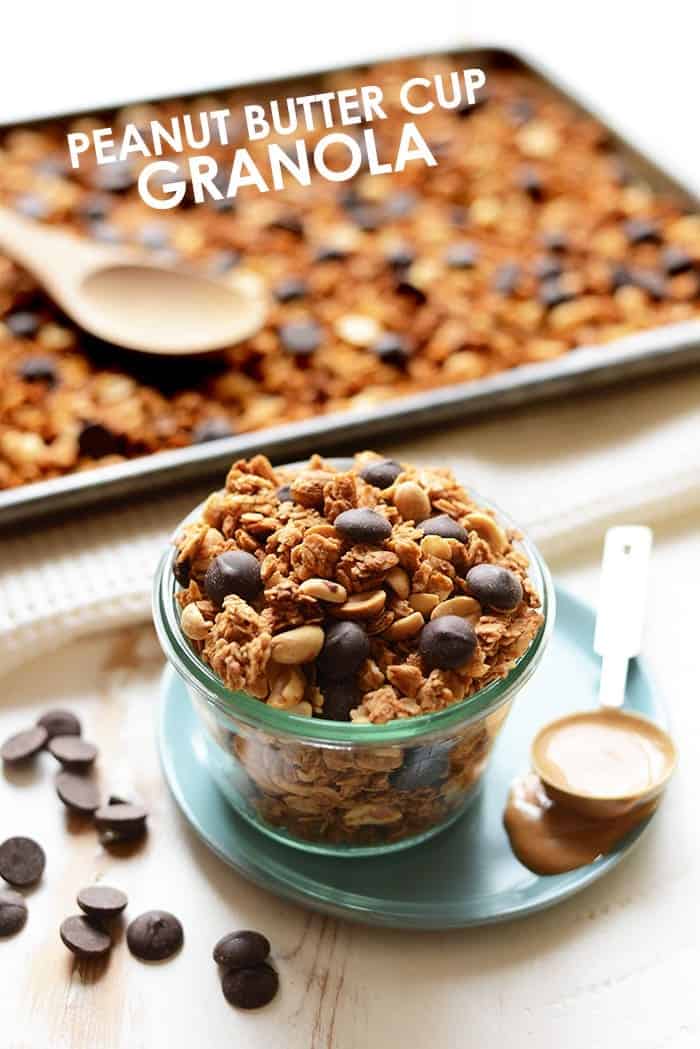 Delicious Chocolate Peanut Butter Granola
Heaven in a jar right here, ladies and gents. This peanut butter cup granola recipe is the perfect crunchy peanut-y goodness and is easy to make. Plus, this granola recipe only calls for a few ingredients that you most likely already have at home:
Granola Ingredients
All-natural peanut butter
Honey
Coconut oil
Sea salt
Vanilla extract
Peanuts
Head on over to your pantry and check out if you already have these ingredients on hand. If not, add the ingredients to your shopping list, and you'll be on your way in no time.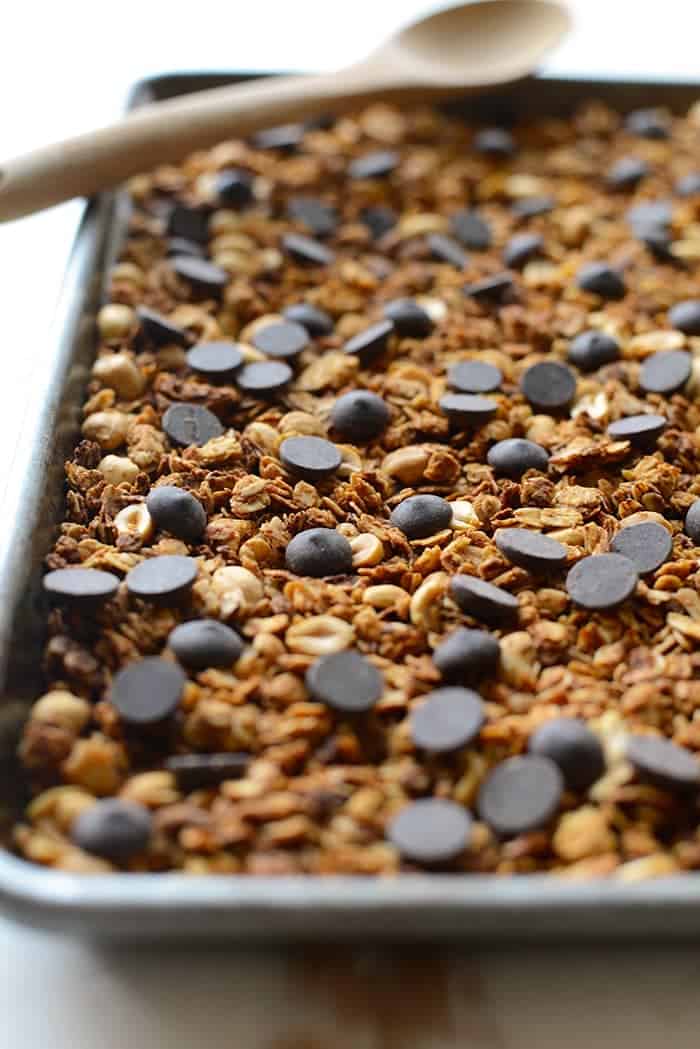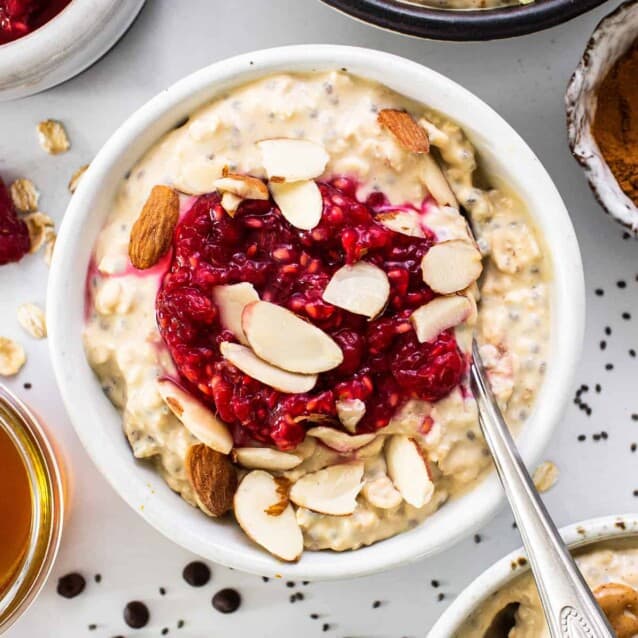 Need Breakfast Inspo?
Subscribe to our emails and get all of our best breakfast recipes straight to your inbox.
What Peanut Butter is Best for Granola?
Make sure you purchase an all-natural peanut butter for this granola recipe to help coat every morsel of this granola in that delicious peanut butter flavor.
We also prefer drippy peanut butter (where the oil separates from the butter) for this recipe because it mixes smoothly with coconut oil and honey. Some of our favorite all-natural peanut butter brands include:
Fresh Thyme
Kirkland's All-Natural Peanut Butter (from Costco)
Trader Joe's
How to Make Homemade Granola
There are a few rules of thumb that we like to follow when making homemade granola. Follow these tips and tricks and you'll never make a bad granola recipe again.
Cook Temperature: Make sure your oven is at a high enough temperature to crisp up your granola. This recipe calls for a 350ºF cook temperature, which perfectly crisps up the oats and peanuts when they're all evenly coated in your peanut butter, honey, coconut oil, and vanilla extract mixture. This gets us to our next tip…
Coating Granola: When you're folding your dry granola ingredients into your melted wet ingredients, it's crucial that you stir 'em up well! Make sure you fold the ingredients together until each rolled oat and peanut is completely covered in your peanut butter mixture. This will give you an evenly flavored peanut butter cup granola.
Storing Granola: If you're not serving a crowd (or if you don't end up eating this granola in one sitting — no judgment!), storing your granola in an air-tight container will ensure that it stays crunchy to the very last morsel. This granola will keep in an air-tight container for up to two weeks. Or, this granola recipe can be frozen and kept in the freezer for up to 3 months.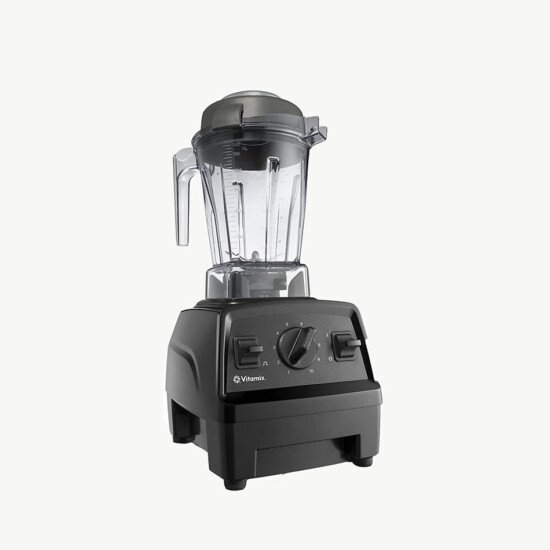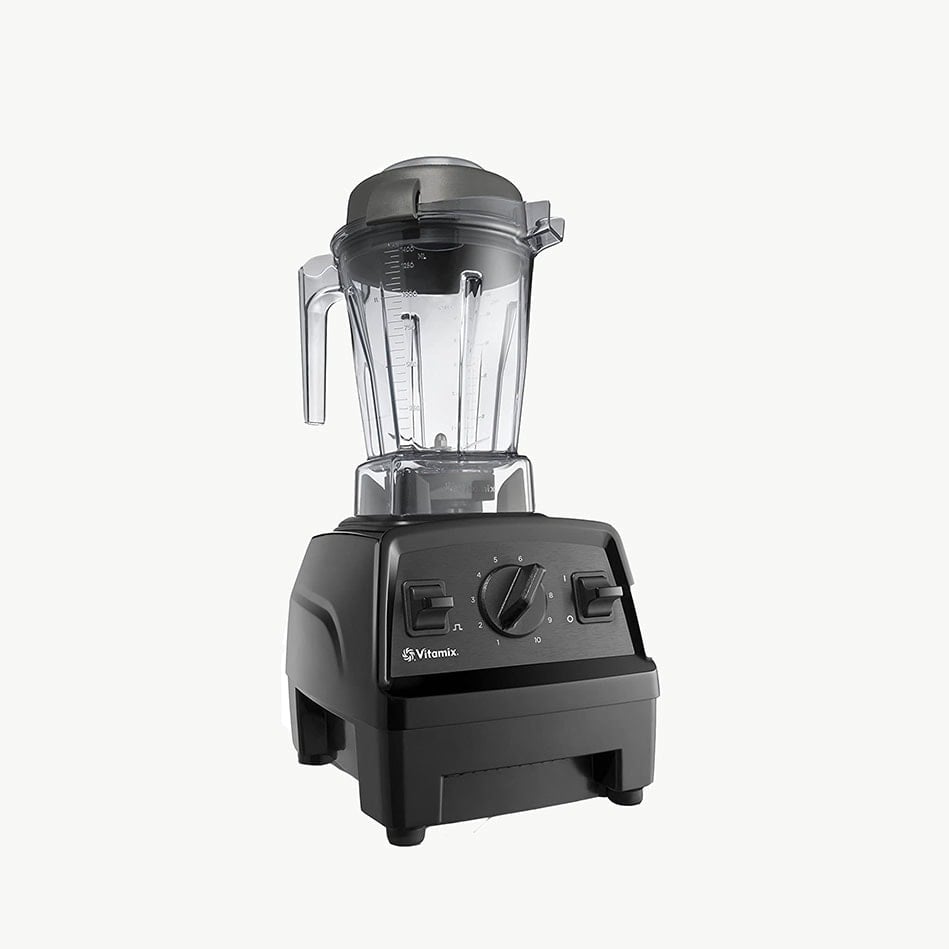 Our Favorite
Blender
Looking to upgrade your blender? Check out our favorite Vitamix Blender. It's our favorite high-speed blender perfect for making smoothies, soups, and nut butter.
Buy Now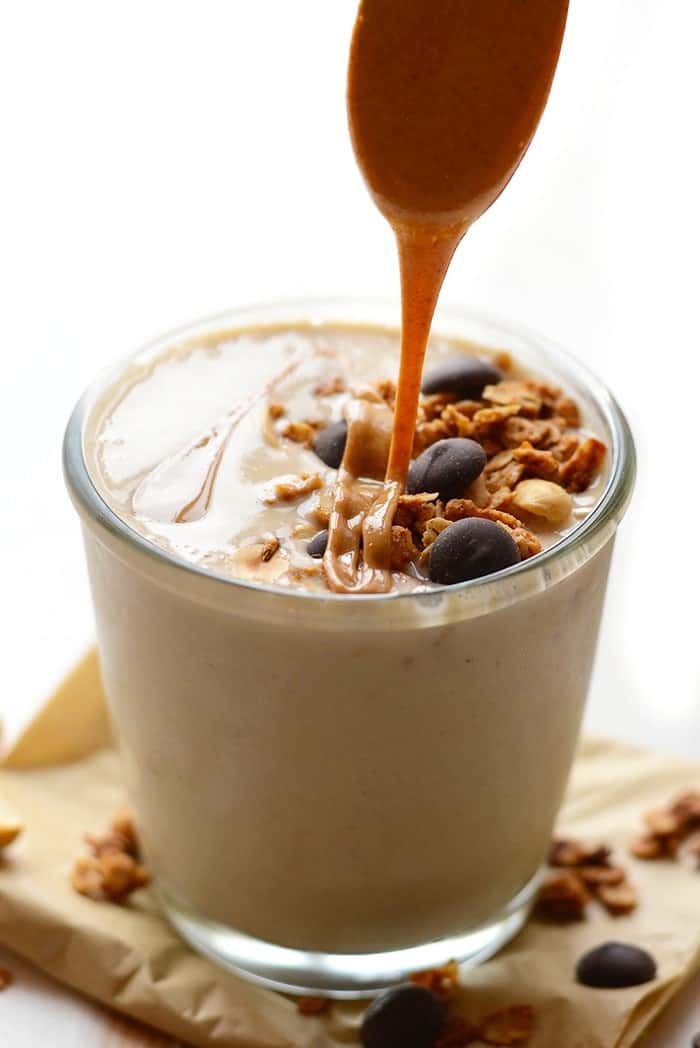 What to Serve with Peanut Butter Granola
Let's talk about one of our favorite pairings for granola. SMOOTHIES. If you're always looking to top your smoothies and smoothies bowls with a little (or alotta) crunch, WE HEAR YOU.
This chocolate peanut butter smoothie would be delicious on our Peanut Butter Banana Cold Brew Protein Smoothie, Banana Smoothie, or our Chocolate Peanut Butter Banana Smoothie.
Chocolate Peanut Butter Granola Q&A
Why is granola so bad for you?
Granola gets the bad rap of being "unhealthy". That's because store-bought granola tends to be loaded with sugar. Homemade granola typically calls for less sugar and fat.
How do you make homemade granola?
To make this peanut butter granola, mix together all ingredients and then transfer it onto a baking sheet. Bake at 350ºF for 20-25 minutes, stirring every 10 minutes until golden brown.
Is it cheaper to make homemade granola?
This peanut butter granola is easy to me and cheaper to make with the ingredients you have at home.
How long will homemade granola last?
This chocolate peanut butter granola will last 1-2 weeks if stored in an airtight container in a cool, dark place.
Storage
After the chocolate peanut butter granola has cooled completely, transfer it to an air-tight container and store it in a cool, dark, place.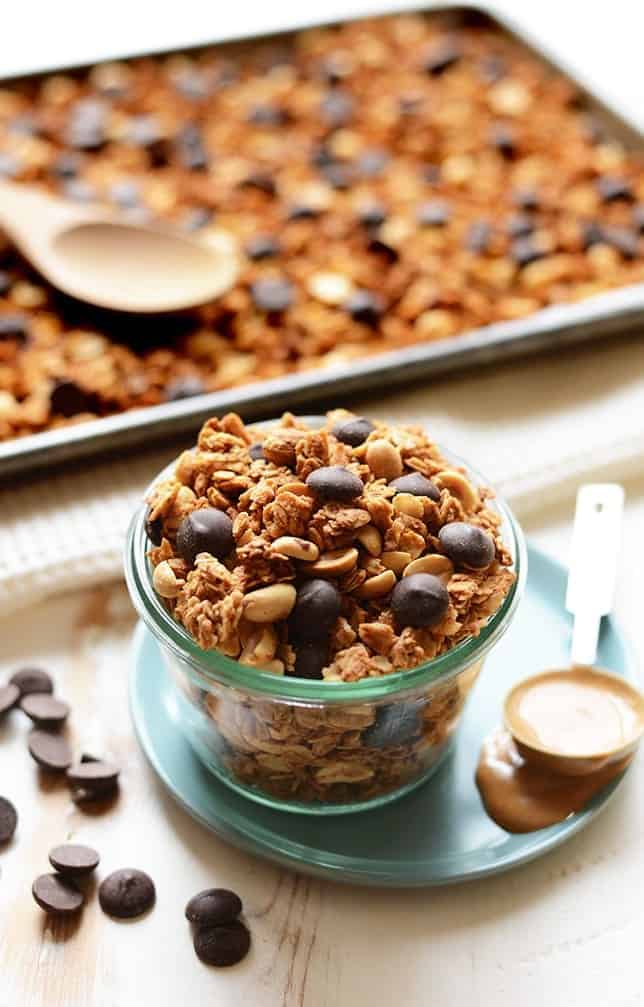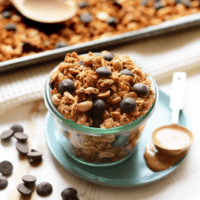 Peanut Butter Cup Granola
This granola recipe is a peanut butter cup in granola form! Crunchy, peanut-y and oh so delicious. Top your smoothie or yogurt with this peanut butter cup granola for the best breakfast ever.
Instructions
First, preheat oven to 350ºF and line a baking sheet with parchment paper.

Next, melt coconut oil and place in a medium-size bowl. Then, add in peanut butter, honey, and vanilla and mix until smooth.

Add rolled oats, peanuts, and salt and mix until everything is combined. Your mixture should be wet, but not cookie dough wet! So, if you need to add more oats, do so here!

Place mixture on baking sheet and spread out as evenly as possible.

Bake at 350ºF for 12 minutes. Remove baking sheet and toss granola. Then place back in oven and bake for an additional 10 minutes or until golden brown.

Remove and let cool for at leave 30 minutes before adding in the chocolate chips.
Tips & Notes
Storage: store in an air-tight container for up to 2 weeks.
Nutrition facts
Calories:
315
kcal
Carbohydrates:
36
g
Protein:
8
g
Fat:
17
g
Fiber:
5
g
Sugar:
14
g