Rise and shine with a delicious Smoothie Bowl recipe! Smoothie bowls are a great breakfast idea that pack in nutrients, fruit, and veggies.
In this post, we'll teach your how to make a smoothie bowl plus share our top 3 smoothie bowl recipes that you will love!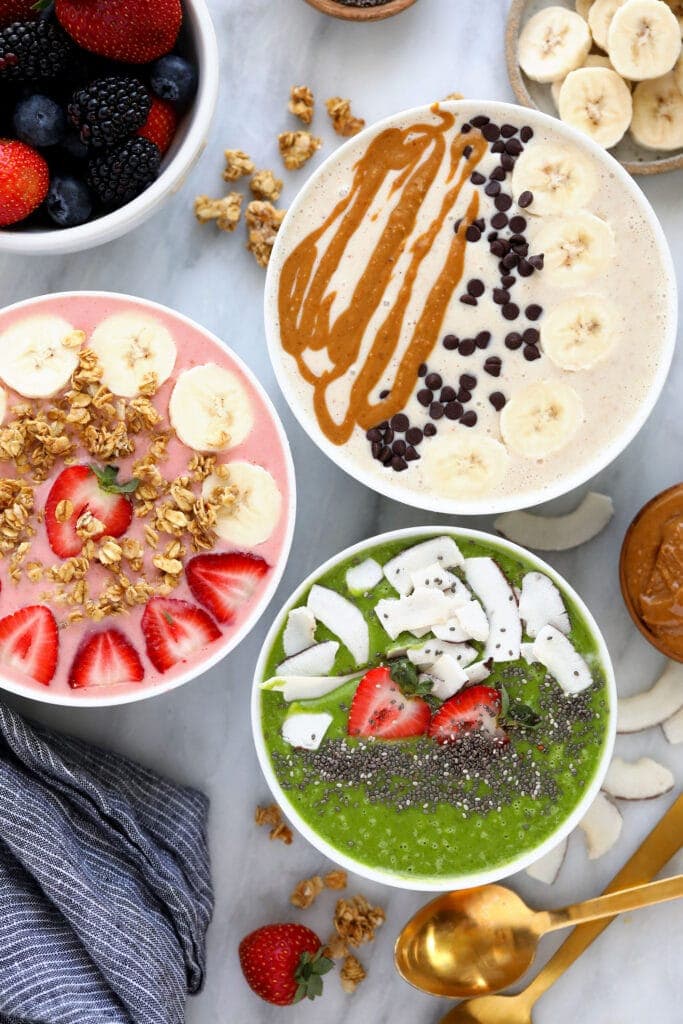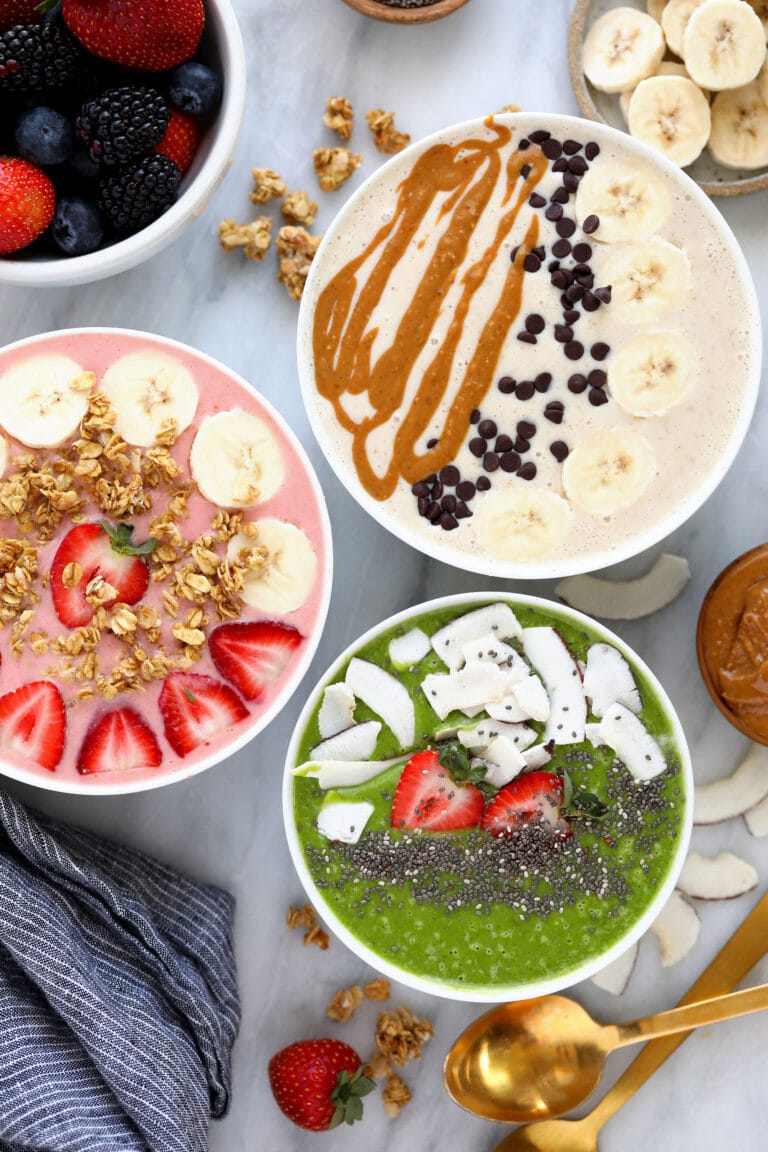 We are such big fans of both smoothies and smoothie bowls that we eat them year-round even when it's 0ºF and freezing during our Minnesota winters.
There's something about eating a thick smoothie with a spoon AND being able to call it a meal!
What is a smoothie bowl?
A smoothie bowl is a smoothie eaten from a bowl instead of consumed from a cup. The biggest difference between a smoothie and a smoothie bowl is that smoothie bowls have toppings such as granola, seeds, and dried fruit, whereas normal smoothies don't.
Did you know, that ANY smoothie recipe can be turned into a smoothie bowl? Check out our favorite green smoothie recipes and ALL of our smoothies HERE.
café smoothie bowl tip!
Beware that the kind of smoothie bowls you can buy in a cafe might come loaded with extra sugar because oftentimes they're made with pre-made, processed purees.
So just make sure to ask if the smoothie bowl you are buying is a "real fruit smoothie" or a smoothie bowl made with real frozen fruit.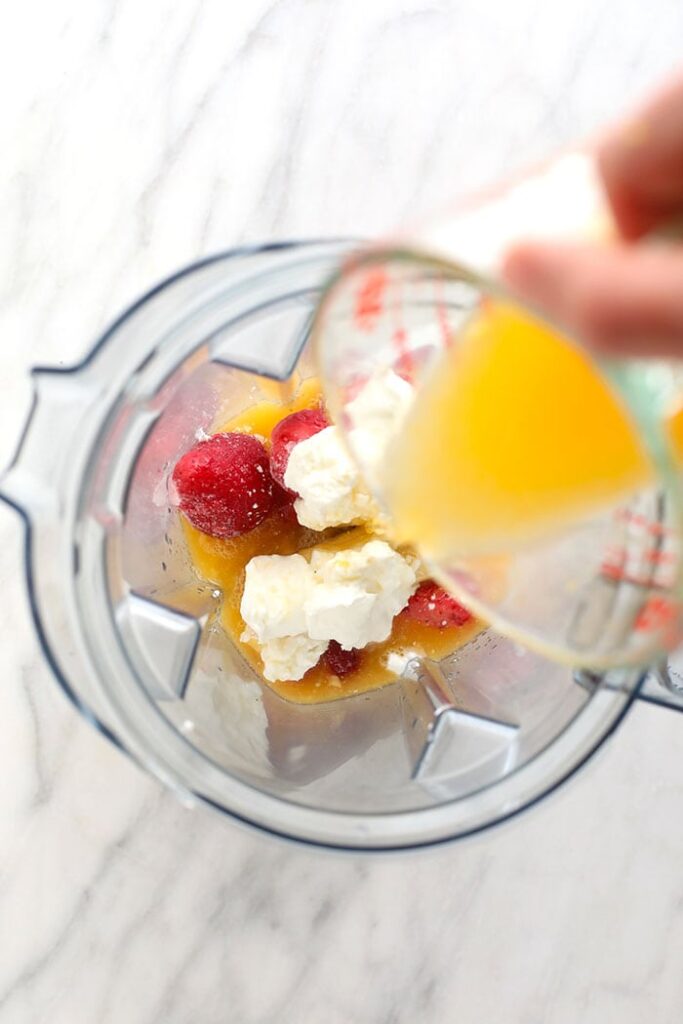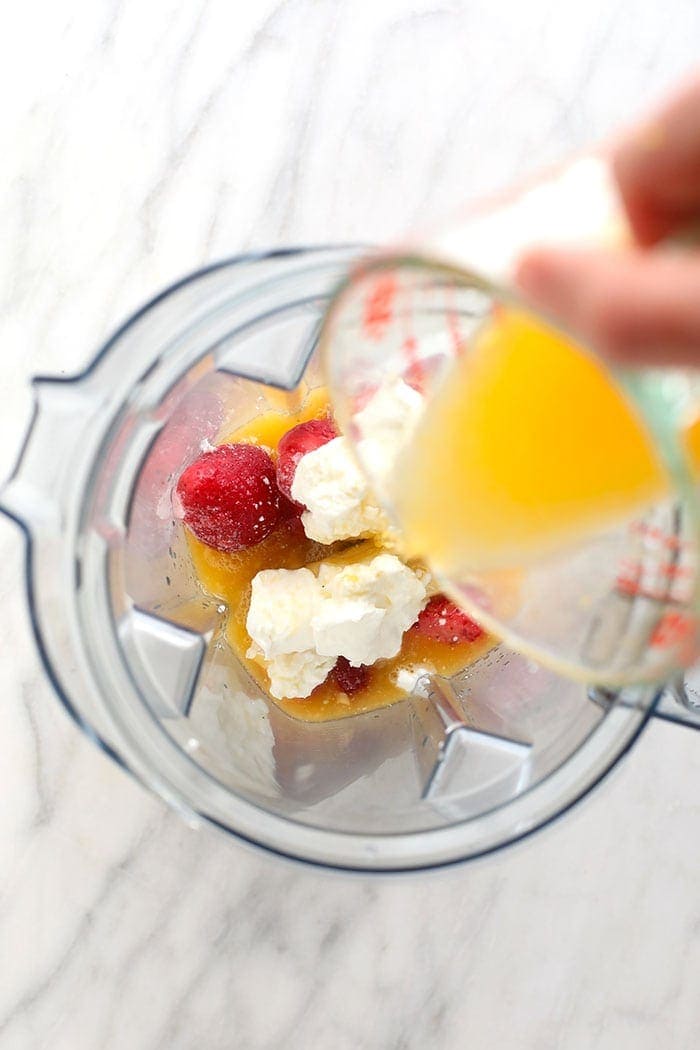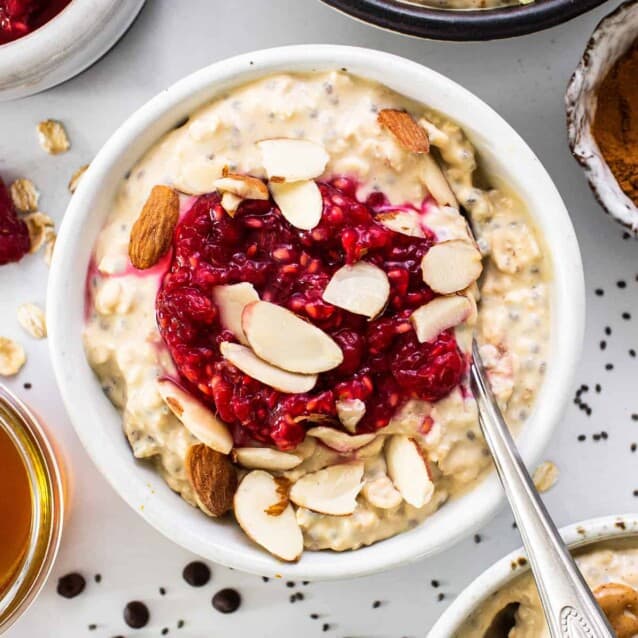 Need Breakfast Inspo?
Subscribe to our emails and get all of our best breakfast recipes straight to your inbox.
How to Make a Smoothie Bowl (in 3 steps)
I'm telling you, all the smoothie bowl recipes on Fit Foodie Finds can be put together in less than 10 minutes. Here's how to make a smoothie bowl in just 3 steps:
Assemble Smoothie Base:
Step 1 is to assemble the ingredients you want in your smoothie bowl. We recommend following any of our smoothie recipes, but you can also make your own. Here's a good rule of thumb when putting together your own smoothie:
2 cups frozen fruit (strawberries, bananas, avocado, mixed berries, mango)
1 cup liquid (milk or juice)
1 teaspoon seeds (chia or ground flax)
Obviously there are many other things you can add into your smoothie base such as nut butter, protein powder, dates, and greens, but the above recipe is a good starter for your base!
Blend Smoothie
Now it's time to blend your smoothie. Simply transfer all of your ingredients into a high-speed blender and blend on high until smooth.
You may need to stop and scrape the sides a few times to make sure everything gets blended properly.
Quick tip: your blender matters! No one likes large chunks of kale in their smoothie, so investing in a high-quality blender is always a good idea. Check our our favorite below!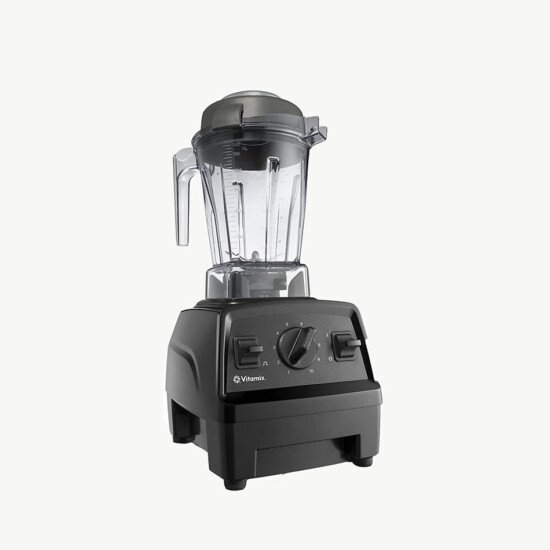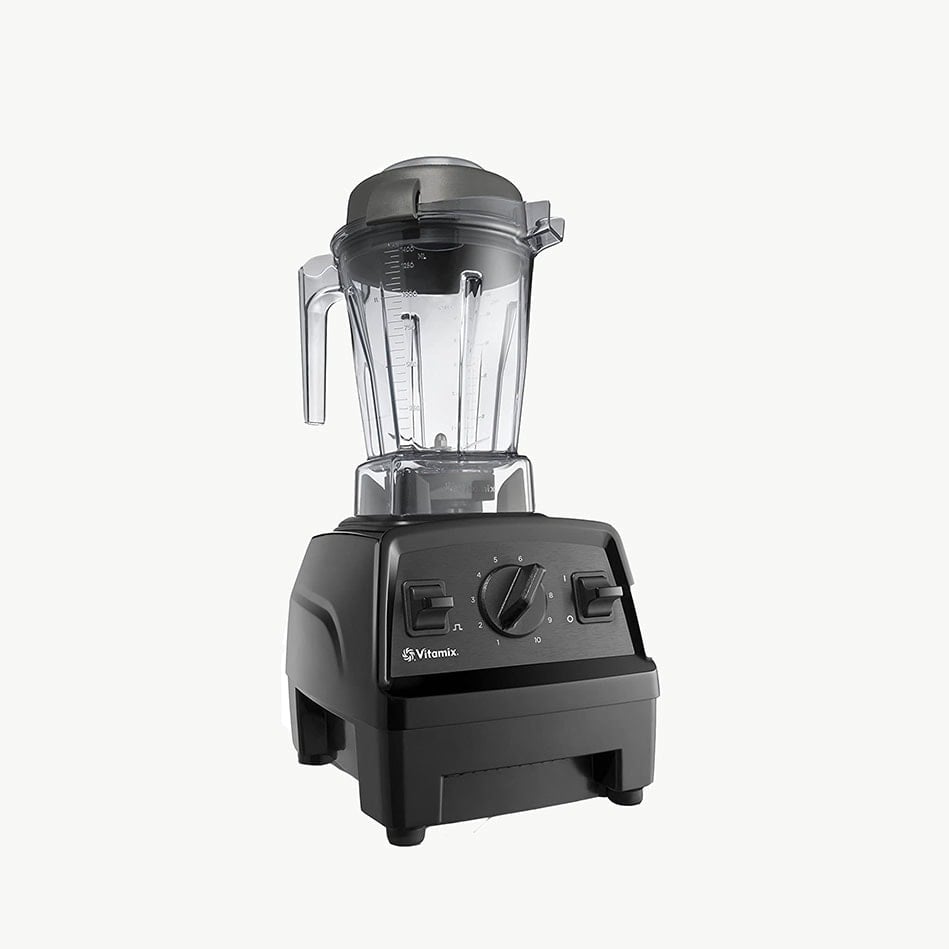 Our Favorite
Blender
Looking to upgrade your blender? Check out our favorite Vitamix Blender. It's our favorite high-speed blender perfect for making smoothies, soups, and nut butter.
Buy Now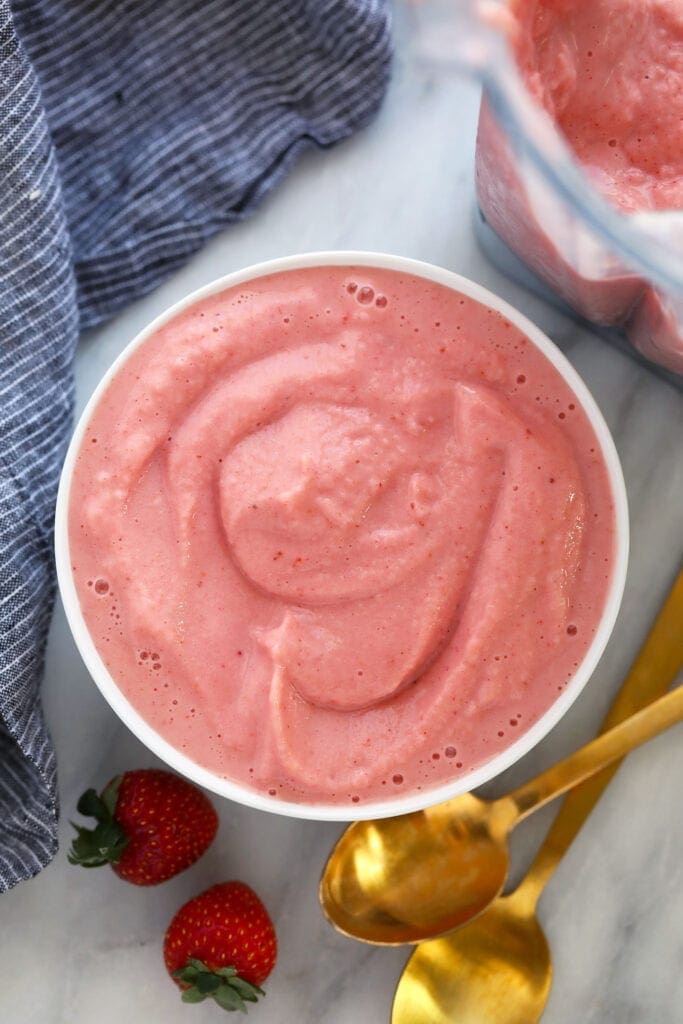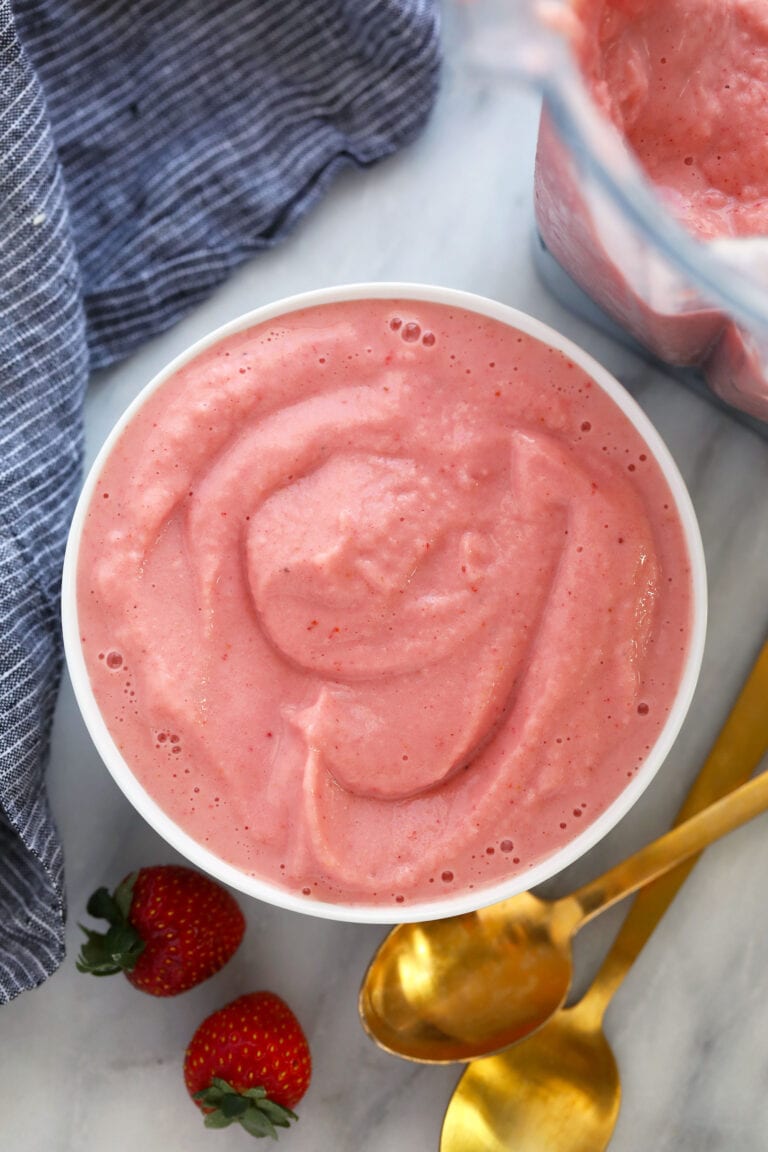 Smoothie Bowl Toppings
Once you've blended your smoothie, pour it into a bowl and now the fun part begins. TOPPINGS! You can pretty much top your smoothie bowl with anything and everything you have in your kitchen. Here are some ideas for smoothie bowl toppings:
granola/cereal
fresh fruit
nuts
seeds
nut butter
dried fruit
honey
How to thicken a smoothie bowl (2 options)
Accidentally make your smoothie base too thin? No fear! Here we're sharing our top 3 tips on how to thicken a smoothie bowl.
Add more frozen fruit – simply add more frozen fruit in 1/4 cup increments until thick.
Add protein powder – protein powder will definitely help you thicken your smoothie, and add protein too! We recommend around 2 tablespoons to 1/4 cup.
Ice –> last resort.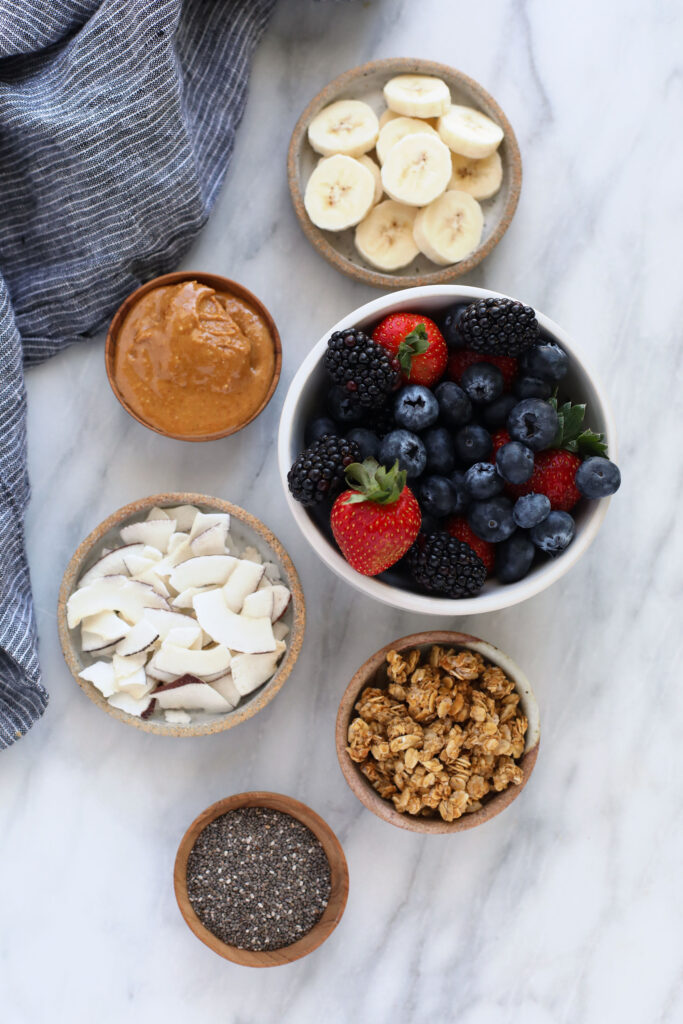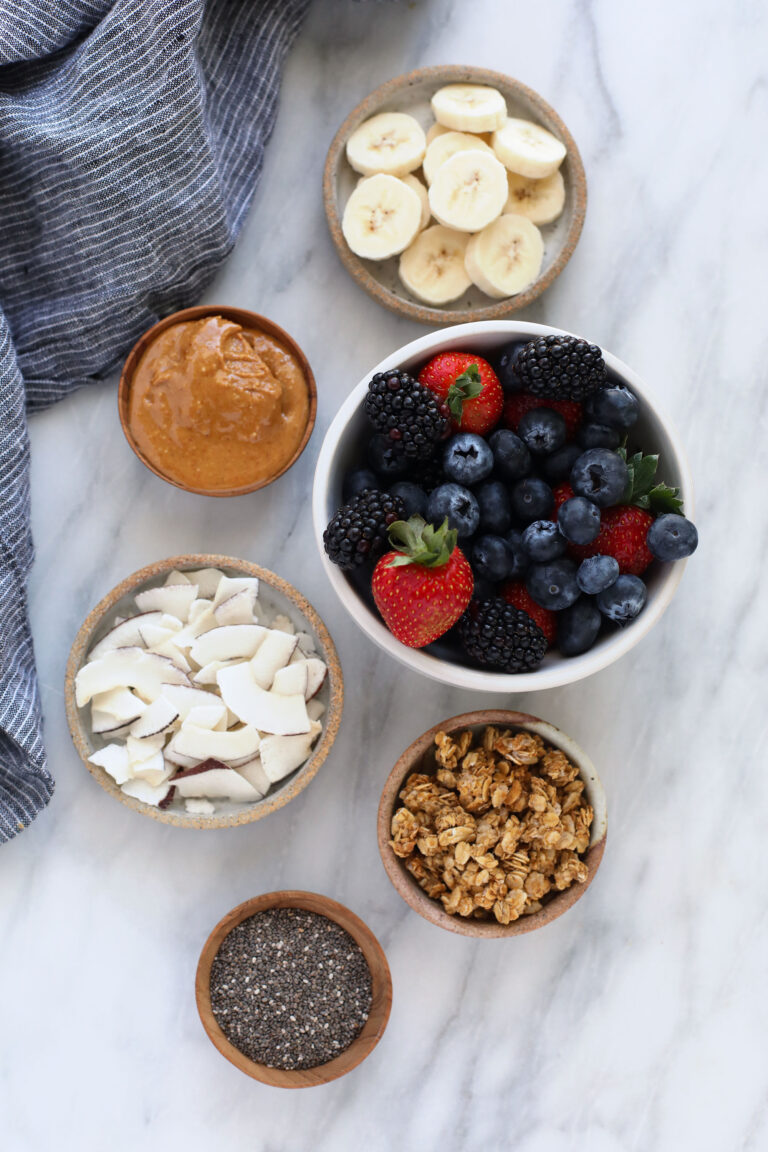 Green Smoothie Bowl
Green smoothie bowls are a great way to eat your breakfast and your greens too! This recipe is made with our favorite green smoothie recipe and sneaks in nutrient-dense foods like avocado, spinach, and cauliflower, but we promise you can't taste them.
ingredients
frozen avocado
spinach
frozen banana
flax
frozen cauliflower
Medjool dates
almond milk
Toppings: dried coconut, fresh strawberries, and chia seeds.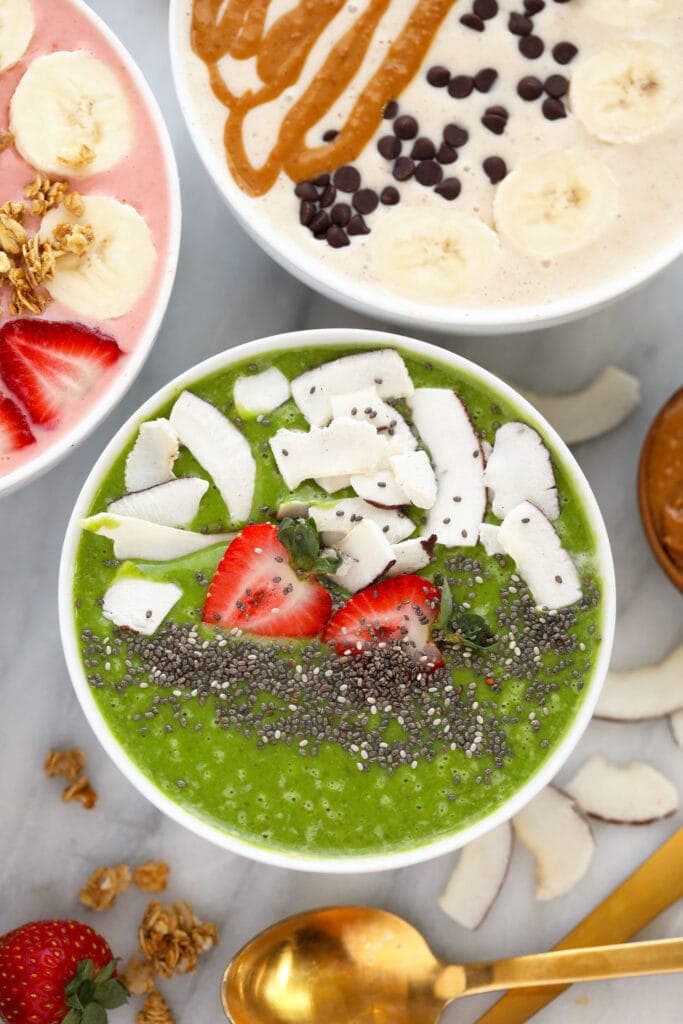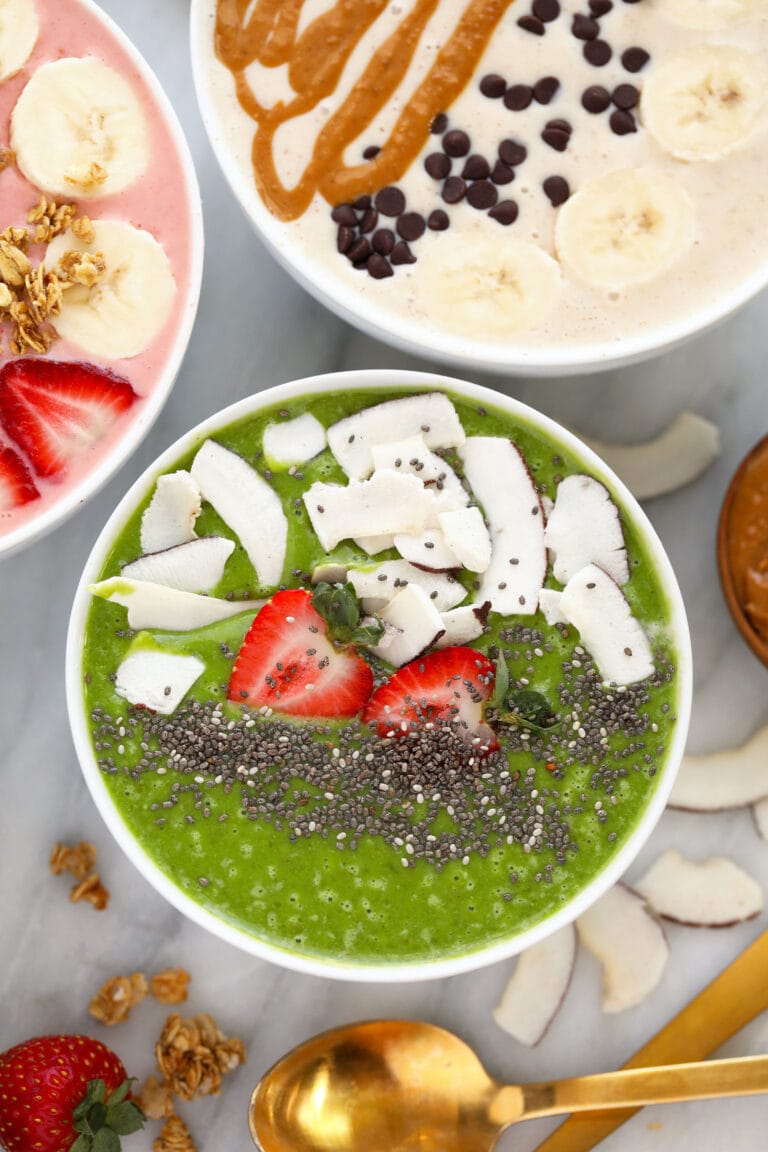 Peanut Butter Banana Smoothie Bowl
This Peanut Butter Smoothie Bowl is actually made from the base of our most famous smoothie recipe – Peanut Butter Banana Smoothie! The pb + banana combo is just the best. It's like you're drinking dessert!
ingredients
frozen banana
Greek yogurt
ground flax seeds
vanilla extract
all-natural peanut butter
almond milk
Toppings: sliced banana, mini chocolate chips, peanut butter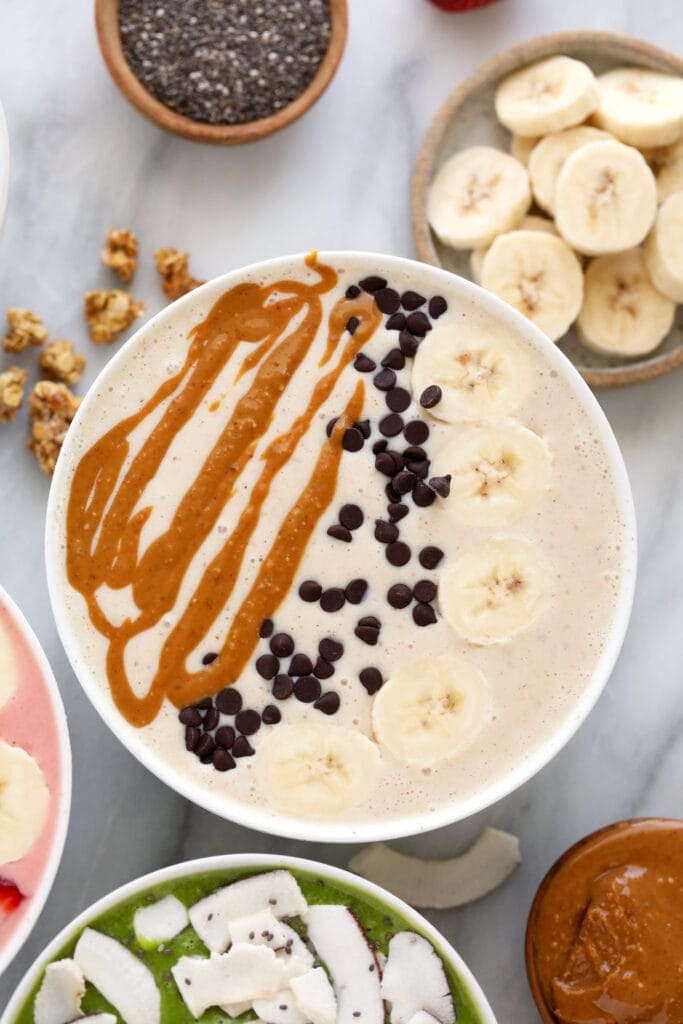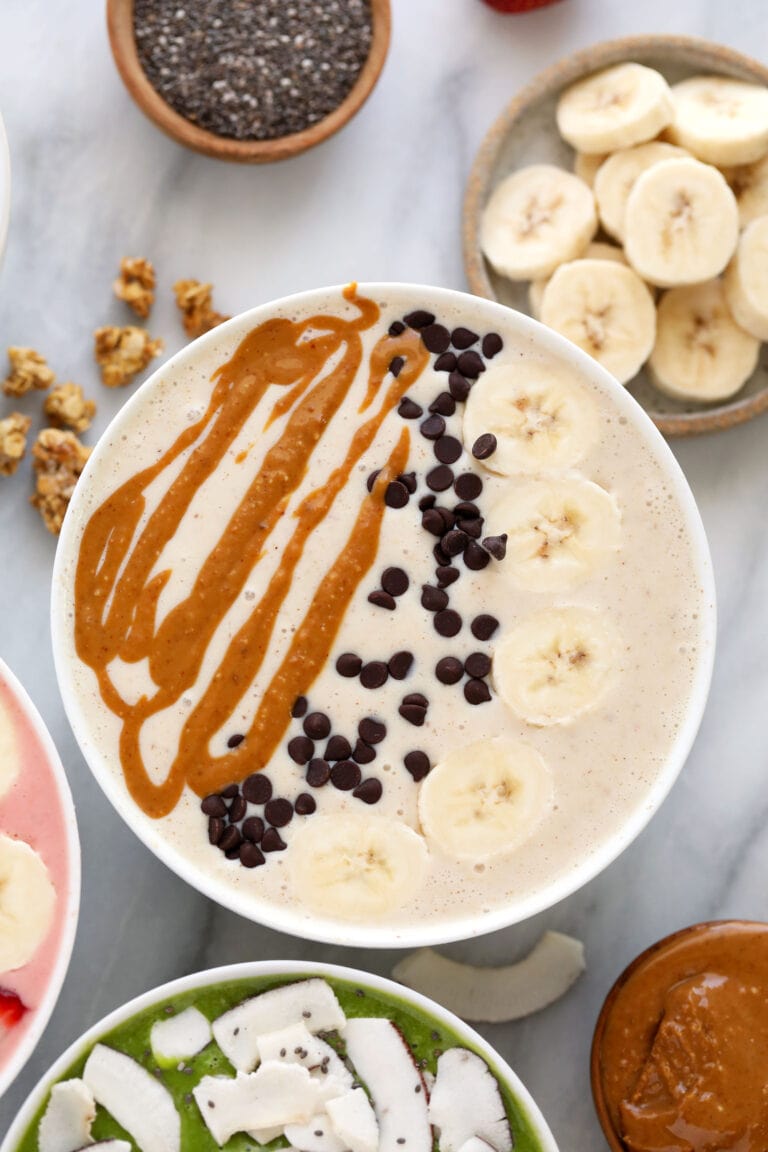 Strawberry Smoothie
This Strawberry Smoothie Bowl is made with our classic Strawberry Smoothie and I know you will just adore it. All you need are 5 ingredients and then delicious toppings such as granola, fresh strawberries, and bananas.
ingredients
frozen strawberries
banana
nonfat Greek yogurt
orange juice
Toppings: granola, sliced strawberries, sliced banana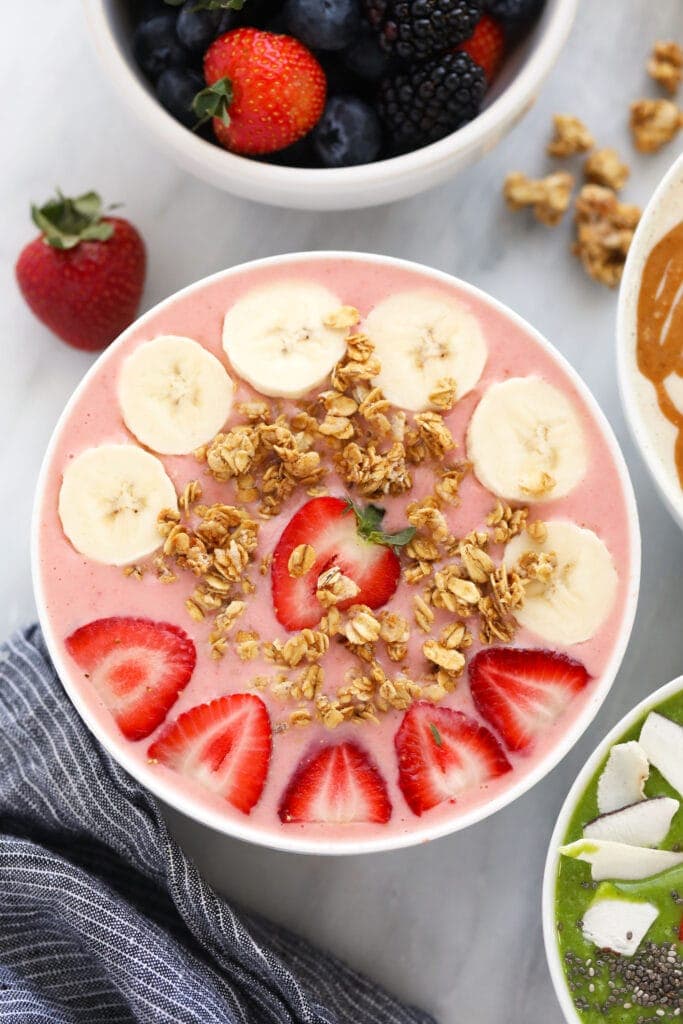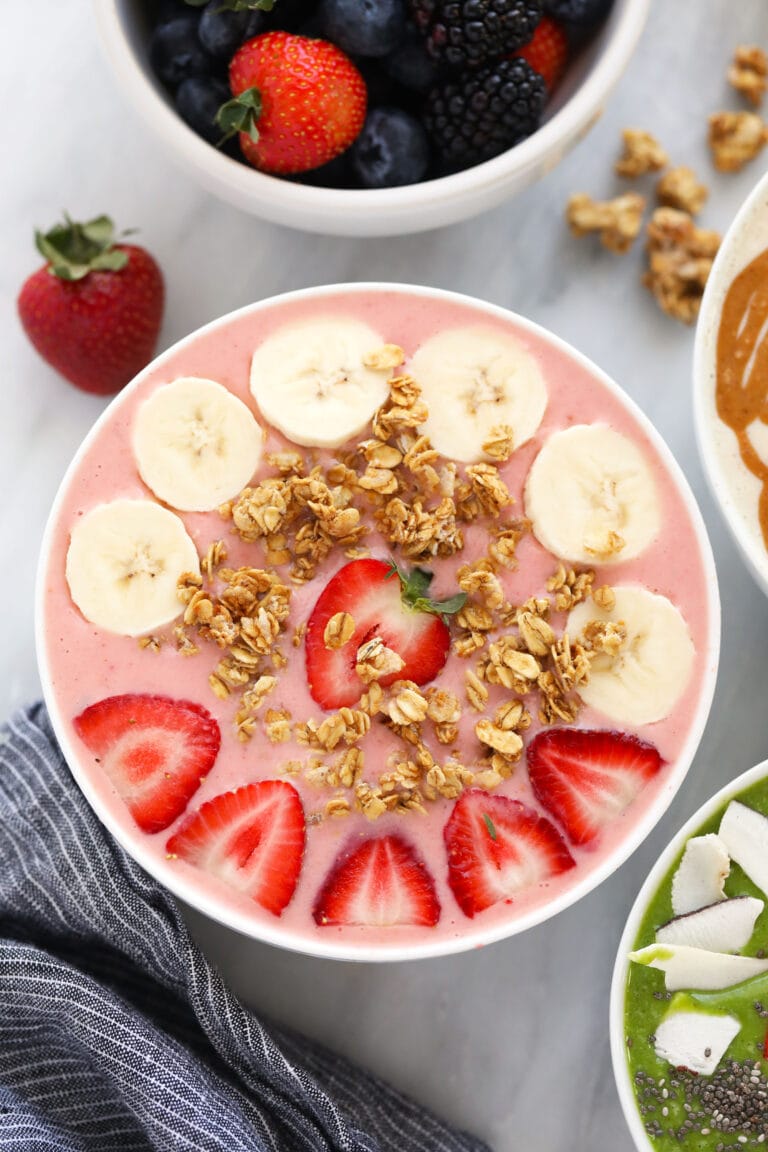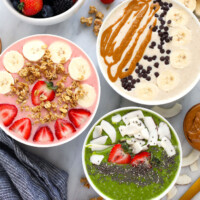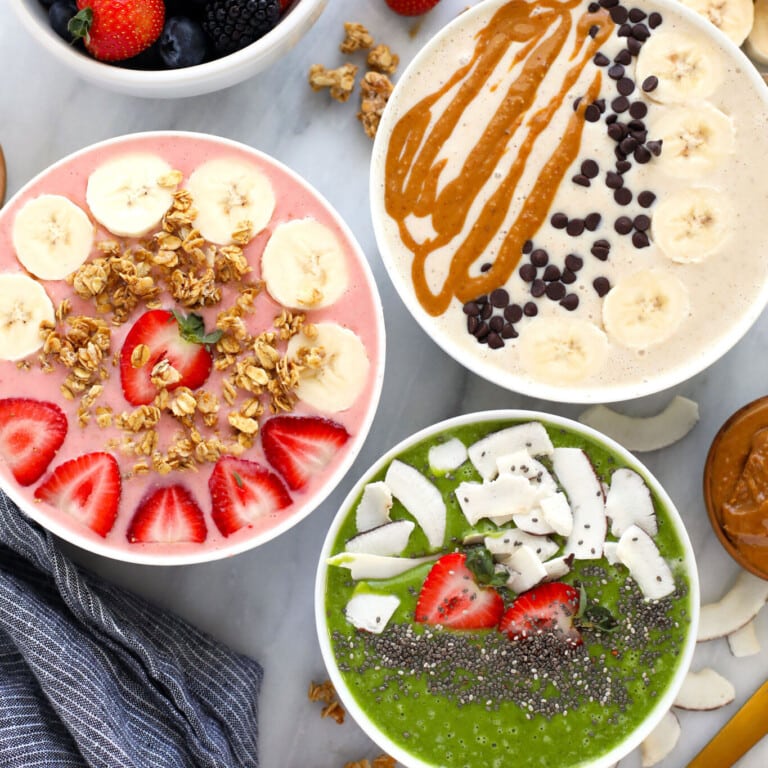 How to Make a Smoothie Bowl
3 easy smoothie bowl recipes that come together in less than 10 minutes. Choose from: strawberry smoothie bowl, green smoothie bowl, or peanut butter banana smoothie bowl.
Ingredients
Green Smoothie
1

medium frozen avocado

1

cup

packed spinach

1

cup

sliced frozen banana

~1 medium banana

1

tablespoon

ground flax

1/4

cup

frozen cauliflower florets

1.25

cups

unsweetened almond milk

or more, to taste

Toppings: 2 tablespoons dried coconut flakes

1/4 teaspoon, chia seeds, and 1/3 cup sliced strawberries
Strawberry Smoothie
1.5

cups

whole frozen strawberries

1/2

medium banana

1/2

cup

plain nonfat Greek yogurt

1

cup

100% orange juice

or more, to taste

Toppings: 1/4 cup granola

1/4 cup sliced strawberries, and 1/4 cup sliced banana
Peanut Butter Banana Smoothie
2

cups

frozen sliced bananas

~2 medium bananas

1/2

cup

nonfat Greek yogurt

1/2

tablespoon

ground flax seeds

1

teaspoon

vanilla extract

2

tablespoons

all-natural peanut butter

1

cup

unsweetened almond milk

or more, to taste

Toppings: 1/3 cup sliced banana

1 tablespoon mini chocolate chips, and 1 tablespoon peanut butter
Instructions
Place all ingredients for your chosen smoothie bowl flavor in a high-speed blender. Start with half the amount of liquid and go up from there depending on how thick you like your smoothies.

Blend on high for 1-2 minutes, stopping to scrape the sides as needed. Add more liquid to thin your smoothie bowl out.

Transfer smoothie into 2 bowls and top with favorite toppings.
Tips & Notes
Each smoothie above serves 2. The topping recommendation is per smoothie bowl.
Nutrition information was calculated using the strawberry smoothie Bowl.
Nutrition facts
Calories:
381
kcal
Carbohydrates:
77
g
Protein:
15
g
Fat:
3
g
Fiber:
13
g
Sugar:
43
g