Get fancy with your smoothie and make this delicious pomegranate green smoothie bowl topped with pomegranate arils, pistachios, hemp seeds, and dark chocolate!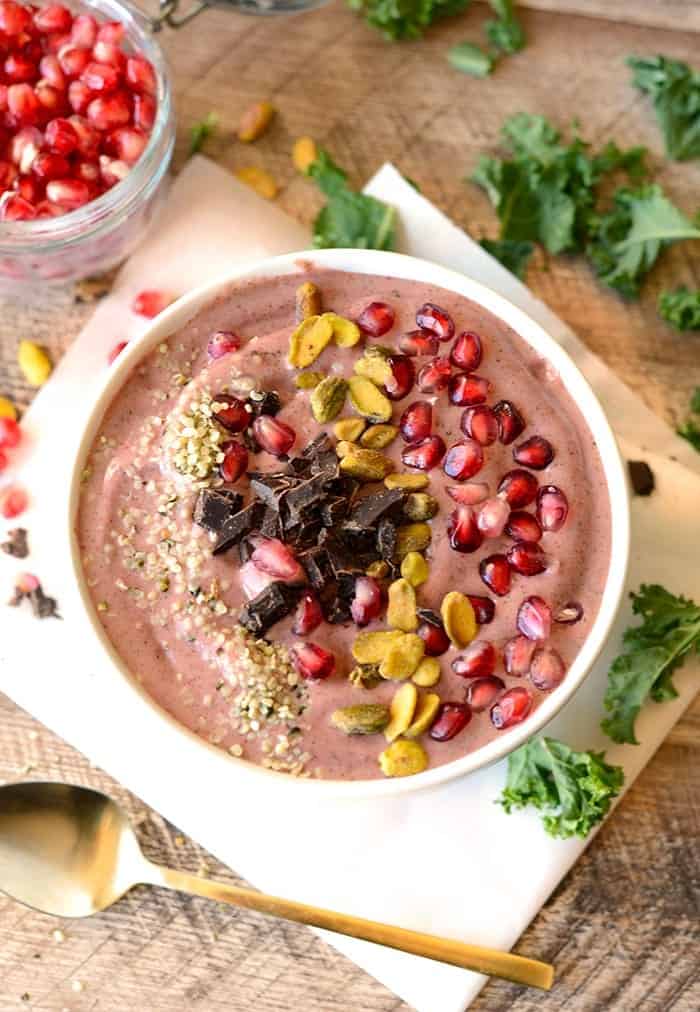 Is it really the Sunday before Thanksgiving right now? I know I say this time and time again, but where the hell has 2015 gone?! It feel like we were just celebrating Sister and Sister Boy's wedding and that was almost 4 months ago.
I've got a crazy 2 weeks of travel coming up, but I wouldn't have it any other way. On Tuesday, I'm off to Chicago to celebrate Thanksgiving with the family. Oh Thanksgiving, you are my favorite holiday. This year I am celebrating at my grandparent's house (mom's side). They live on the south side on the city. Friday will be spent with my dad's side, who is from the north side. WOOT!
The Saturday after Thanksgiving, I leave for Tulum, Mexico for Sam's wedding! This will mark the 3rd time in 2015 that I've gotten to see Sam. RECORD. I am super excited to celebrate with Sam and Jake in paradise. We are staying at the Grand Oasis, an all-inclusive in Tulum. The wedding is on Tuesday and why the hell not!? If I ever have a destination wedding, I'm totally doing a mid-week wedding. I am actually SUPER PUMPED for the wedding itself because it's black tie. Sam has always wanted to have an intimate wedding that's super classy and that's exactly what she did. I'm 1 of 24 invited. I can't wait to show you my dress; it's from Anthropologie 🙂
On Thursday of of that week I fly into Milwaukee to spend the weekend visiting friends from high school. Now that my parents no longer live in the town I grew up in, it's hard for me to get back there. Can't wait to see my people! I think this brings us to Sunday December 5th, which is why I return home to Minneapolis.
So the next 2 weeks. They're going to be cray.
I thought I would do a little digging and bring back all of the Thanksgiving posts I've ever written on FFF and then I realized I was too lazy to do recaps the past 2 years. I was however, able to scrounge 2012 and 2011 and 2010 <— OMG one of the first posts I ever wrote. LOLOLOL.
Hooolyyyy shit. This is FFF's 6th Thanksgiving. NUTS.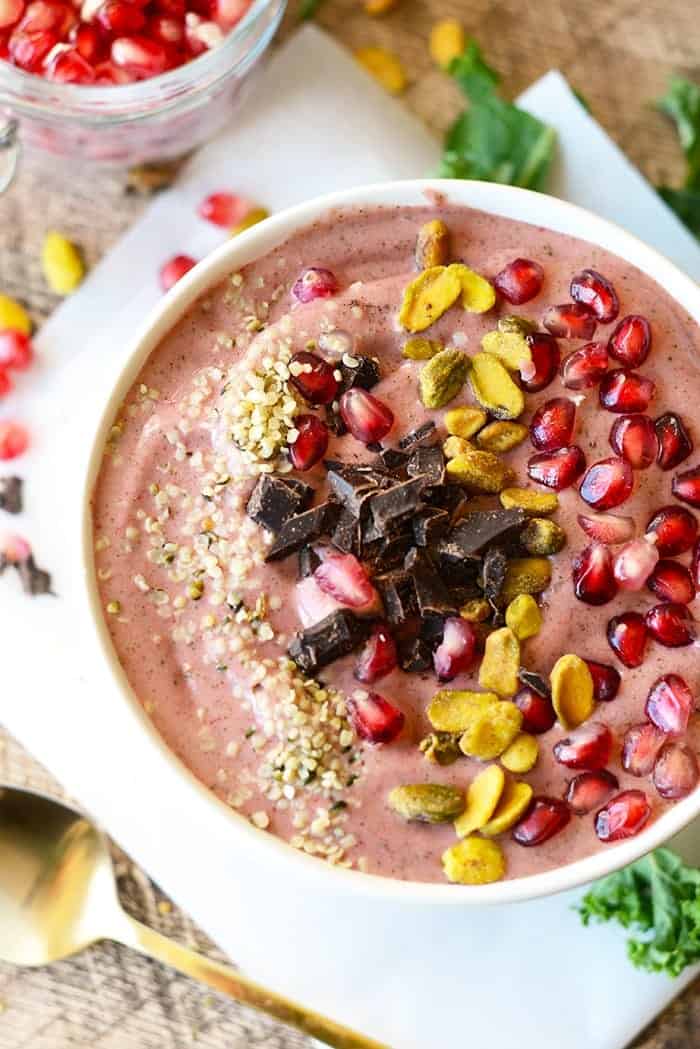 Nuff about that.
Time to talk smoothie bowl!
I LOVE POMEGRANATES. They make everything better…especially smoothie bowl photos. Who's with me? This smoothie bowl is made with tons of yummy ingredients: frozen fruit, kale, pomegranate juice, and protein powder.
If you ask me, the only that really matters about a smoothie bowl is what's on top. DO NOT SKIMP ON THE TOPPINGS.
pomegranate arils
hemp seeds
pistachio nuts
dark chocolate
love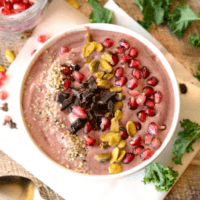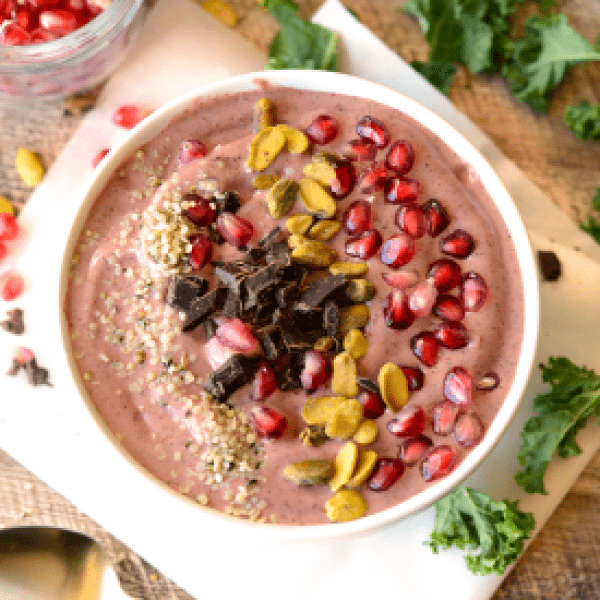 Pomegranate Green Smoothie
This yummy pomegranate green smoothie recipe is packed with nutrients, flavor, and protein! Enjoy it for breakfast or a post-workout snack.
Ingredients
1/2

cup

frozen strawberries

1

frozen banana

medium

1

cup

fresh kale

packed

1/2

cup

Greek yogurt

1/2

cup

pomegranate juice

1/2

cup

water

1

scoop vanilla protein powder

any kind!

toppings: hemp seeds

pomegranate arils, pistachio nuts, and dark chocolate
Instructions
Place all ingredients in a high speed food processor and mix until smooth. You may need to add a bit more pomegranate juice depending on how thick you like your smoothies.
Nutrition facts
Calories:
284
kcal
Carbohydrates:
55
g
Protein:
15
g
Fat:
2
g
Fiber:
7
g
Sugar:
37
g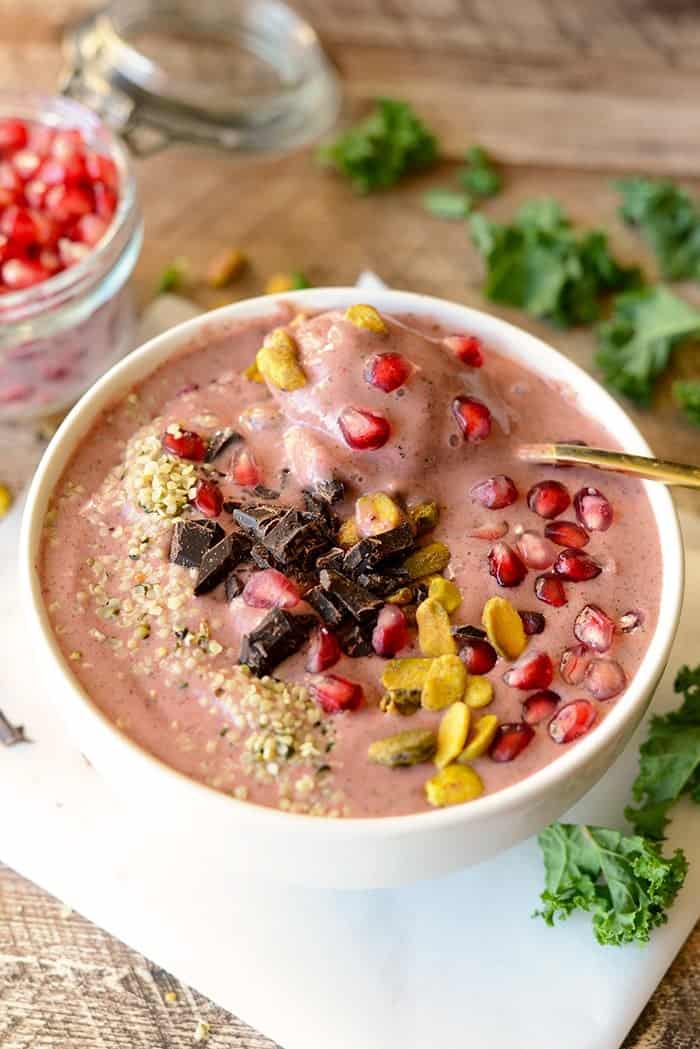 I realize that this smoothie isn't even green, but that's besides the point. THERE'S KALE IN THERE! Don't let the pinkness fool you.
I've got one more post this week scheduled (for tomorrow!) and then I'm taking the rest of the week off. PEACE!