Use up your left over canned pumpkin and make this Pumpkin Berry Cashew Butter Smoothie!  It combines delicious fall flavors making a yummy superfood-filled breakfast or snack!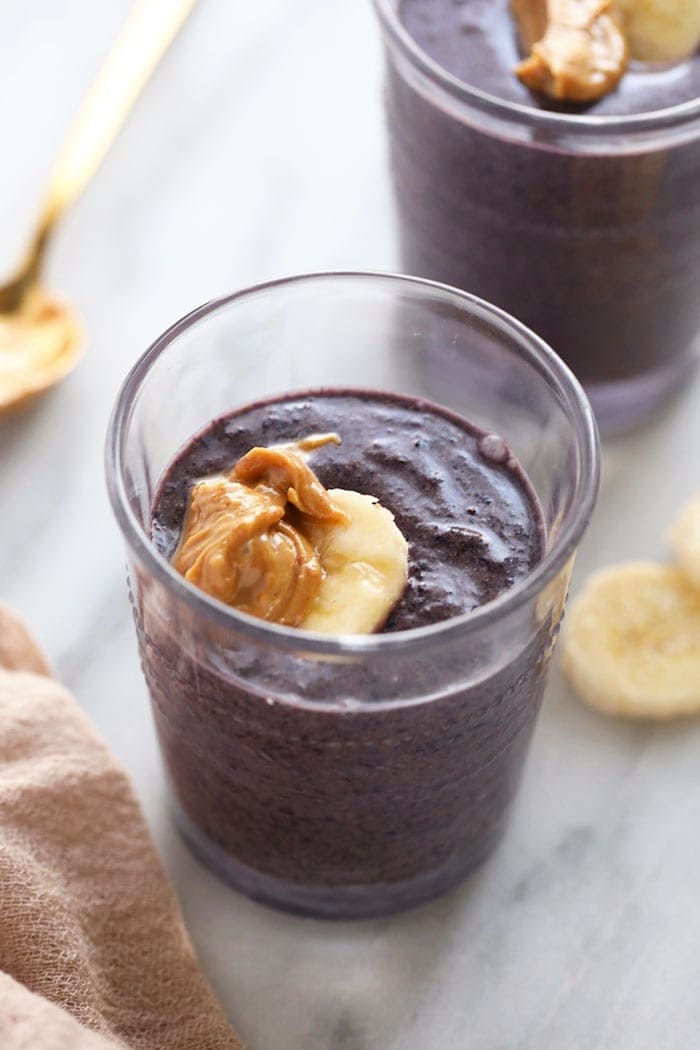 Smoothies All Year Round
There is a myth floating around that you can only make smoothies in the summer. I call B.S.! Smoothies are an all-year-round dish. We have so many healthy smoothie recipes on Fit Foodie Finds that make a great quick breakfast or post workout snack.
We have smoothies for every season that highlight seasonal fruits and flavors. We understand that you don't necessarily want a tropical piña colada smoothie in the middle of winter so we've worked hard to develop smoothie recipes for every season.
This pumpkin smoothie is a perfect smoothie recipe for fall. It incorporates all of your favorite fall flavors plus some smoothie staples you probably have in your freezer right now.
Use Up Your Canned Pumpkin
One reason we love this pumpkin berry smoothie recipe is because it gives us an excuse to use up the canned pumpkin in our refrigerator from all of our fall pumpkin recipes.
Who doesn't have canned pumpkin left over in the fridge? Add this pumpkin berry smoothie to your fall recipe list!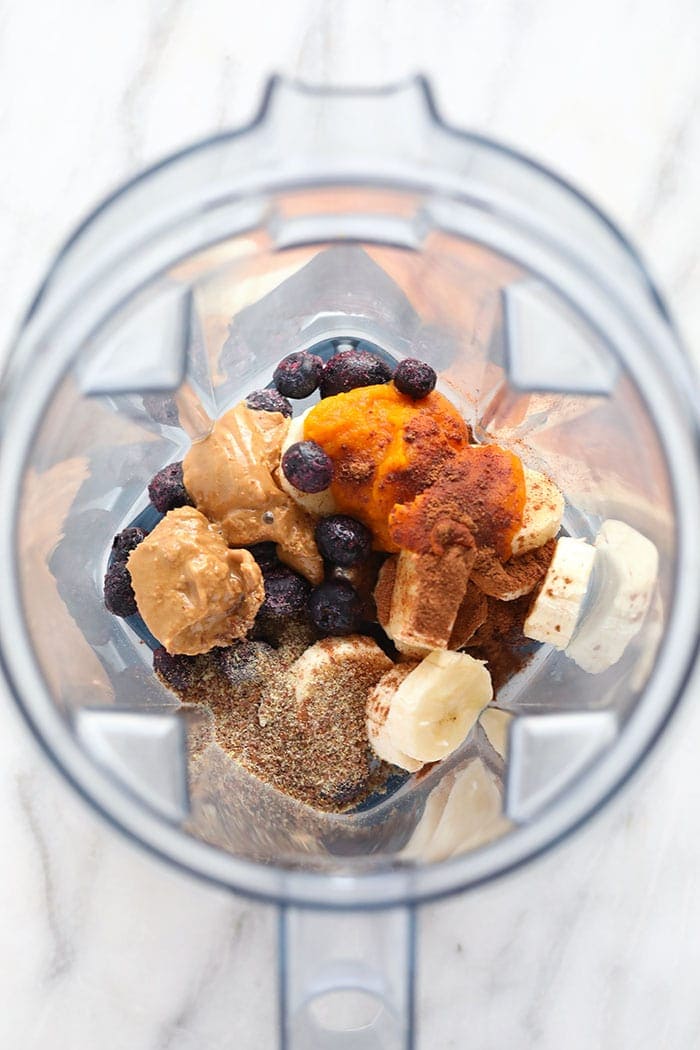 Everything You Need to Know
This smoothie recipe is easy to blend together if you have all of the ingredients ready to go! Let's chat more about what ingredients are in this pumpkin berry smoothie and why we used them. And? If you need to make some substitutions, we've got you covered there, too!
Pumpkin Smoothie Ingredients
Pumpkin Puree- What would a pumpkin smoothie be without actual pumpkin puree? Though this smoothie is still sweet, the pumpkin takes the sweetness down a notch and makes the smoothie more of a balanced sweet and savory smoothie.
Adding pumpkin puree to a smoothie also gives you a chance to sneak in extra vegetables throughout the day. Don't have pumpkin puree? Try sweet potato puree of butternut squash puree!
Frozen Blueberries- We decided to use blueberries in this pumpkin smoothie because they cut the savoriness of pumpkin and add the perfect amount of sweetness. The blueberries also make the smoothie a beautiful blue color.
Feel free to substitute blueberries for any other frozen berry you have in your freezer! Any berry will do the trick.
Frozen Banana- Frozen bananas are a must have at all times kind of a thing for us! We have frozen bananas in our freezer at all times because bananas make a great smoothie base for any smoothie.
Check out our post on how to freeze banana for smoothies here! 
Cashew Butter- Not only does the cashew butter add protein to this pumpkin smoothie, but it adds a creamy consistency that thickens this smoothie to a delicious rich texture!
Any nut butter will work as a substitution for cashew butter in this smoothie!
Unsweetened Almond Milk- We use unsweetened almond milk as the liquid in most of our smoothie recipes. The flavor isn't overpowering and it is a great source of protein! Any milk or milk substitute will work as a substitution for almond milk!
Pumpkin Pie Spice- Pumpkin pie spice adds a dynamic flavor to the smoothie for fall. Make our homemade pumpkin spice for easy access to pumpkin pie spice all season long!
Ground Flax- A little flaxseed adds a lot of fiber to this pumpkin berry smoothie recipe!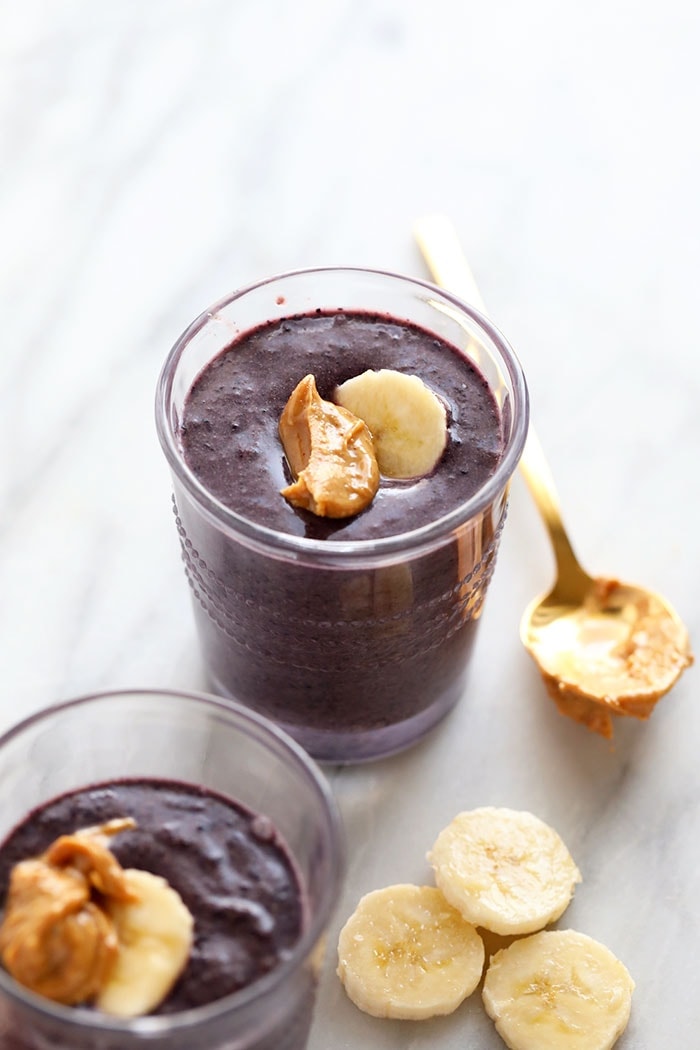 Healthy Smoothie Recipes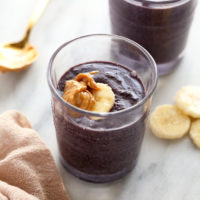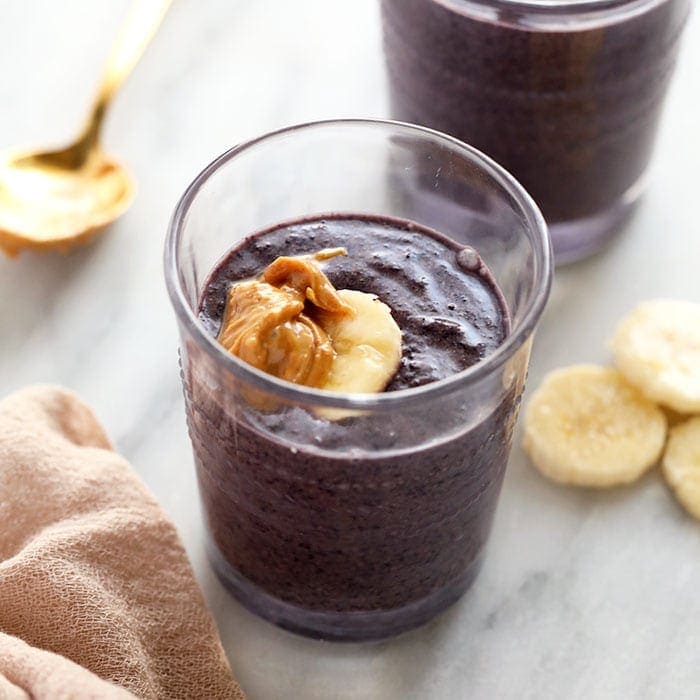 Pumpkin Smoothie with Cashew Butter
Use up your left over canned pumpkin and make this Pumpkin Berry Cashew Butter Smoothie!  It combines delicious fall flavors making a yummy superfood-filled breakfast or snack!
Ingredients
2

tablespoons

pumpkin puree

1

tablespoon

cashew butter

1

cup

frozen blueberries

1/2

frozen banana

1/2

tablespoon

flax seed meal

1/2

teaspoon

pumpkin pie spice

1

cup

almond milk

unsweetened
Instructions
Place all ingredients in a high speed blender and blend on high until smooth.

Scrape the sides of the blender and add additional almond milk (1 teaspoon at a time) if smoothie is too thick. Blend until smooth.

Serve with granola or fruit toppings and enjoy!
Nutrition facts
Calories:
287
kcal
Protein:
7
g
Fat:
12
g
Fiber:
9
g
Sugar:
23
g