We've been using this homemade pumpkin pie spice in fall dessert recipes for years. It's the perfect blend of cinnamon, ginger, nutmeg, and cloves.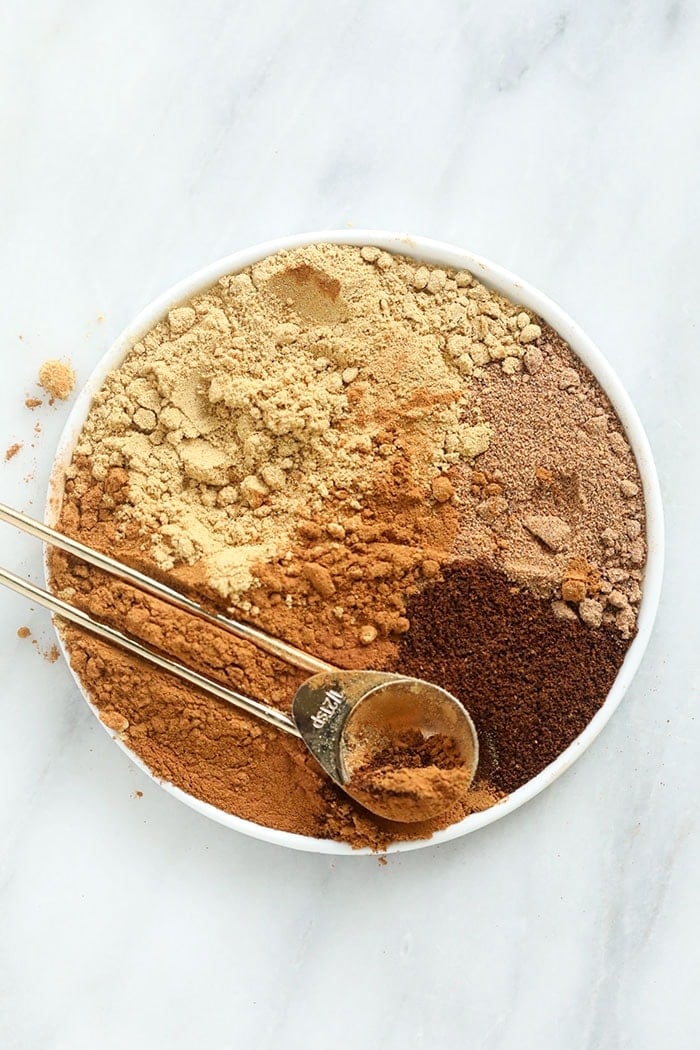 There is no real pumpkin involved in this pumpkin pie spice recipe!
What is in pumpkin pie spice?
Pumpkin pie spice is a spice mixture made up of warm baking spices that enhance the flavor of pumpkin puree. Here is what you need:
Cinnamon
Ginger
Nutmeg
Cloves
What does pumpkin pie spice taste like? Pumpkin pie spice is mostly made up of ground cinnamon and ginger. It has hints of nutmeg and cloves, but you can definitely taste the ginger and cinnamon.
You can find all of these spices at pretty much any grocery store. Make sure to purchase ground spices instead of the spices in their whole form.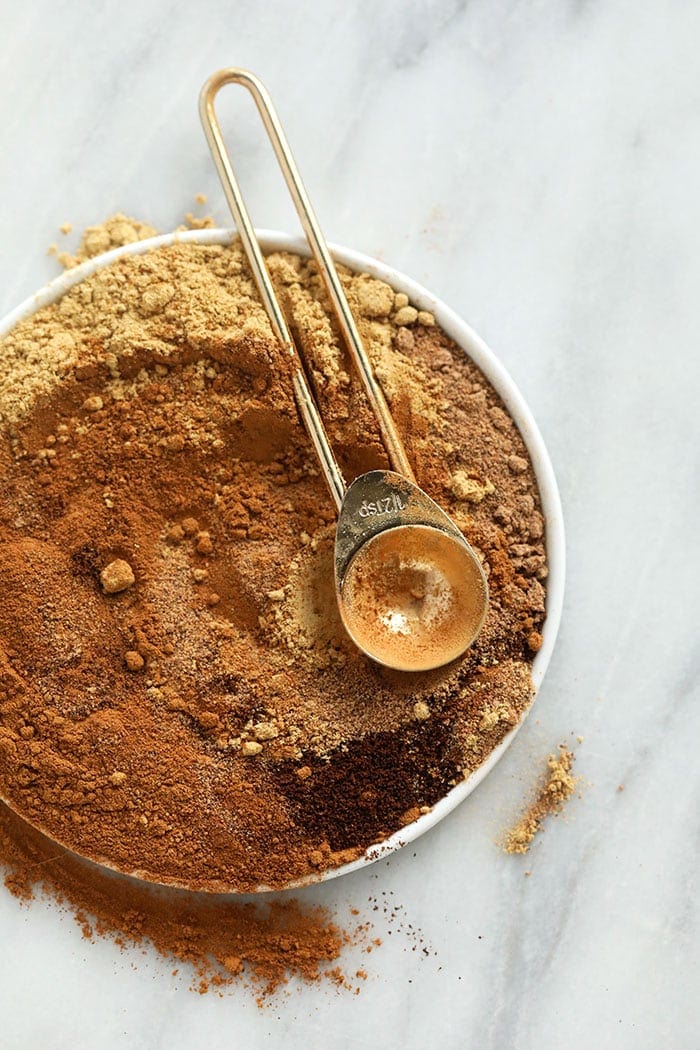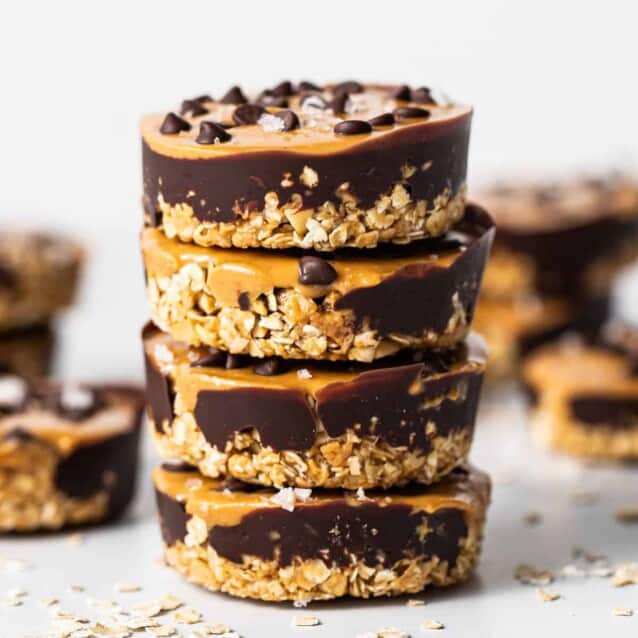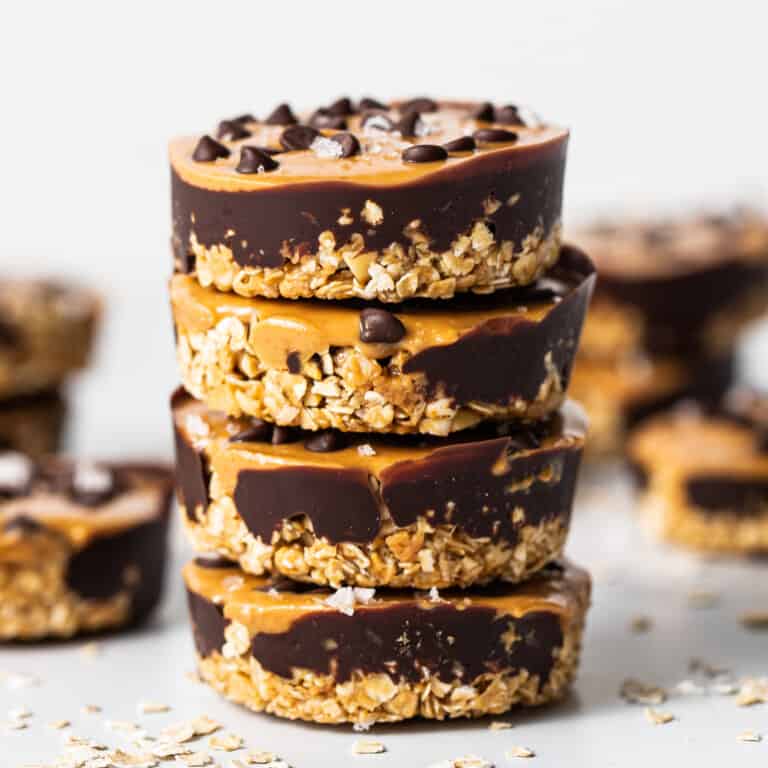 Get our Top 10 5-Star Recipes!
Join our email list for new recipes and BONUS: get our top 10 ⭐️⭐️⭐️⭐️⭐️ recipes e-book!
How to Make Pumpkin Pie Spice
Making your own homemade spice mixture at home is easy, simple, and cost-effective.
Place cinnamon, ginger, nutmeg, and cloves into a small bowl.
Mix everything together until combined.
Transfer your spice mixture into a spice jar using a funnel.
Seal and store in cool, dark place.
How much pumpkin pie spice should I use in a recipe?
How much pumpkin pie spice you use depends on what recipe you are using. Pumpkin pie spice is made up of many strong spices, so it is all about personal preference. Here are some suggestions:
muffins: 1 teaspoon
brownies: 1/2 teaspoon
oatmeal: 1/4 teaspoon
bread: 1.5 teaspoons
latte: 1/8 teaspoon
Swap the cinnamon
If you are adding pumpkin pie spice to a recipe that doesn't call for it, but does call for ground cinnamon, you can swap it 1 to 1.
Storage
Store pumpkin pie spice in an airtight container in a cool, dry space for up to 3 months.
Can I add other spices to pumpkin pie spice?
Yes, there are other spices that you can add to your pumpkin pie spice mix to give it a little flare! Below are some other options that would be delicious in a pumpkin pie spice.
Allspice
Anise
Dried orange peel
Cardamom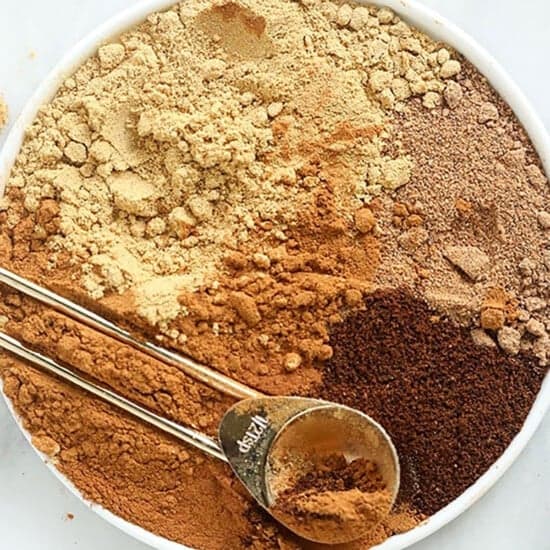 Homemade Pumpkin Pie Spice
We use this easy, 4-ingredient pumpkin pie spice recipe in all sorts of fall baking. You only need cinnamon, nutmeg, ginger, and cloves.
Instructions
Place all spices in a small jar and shake until combined.

Store in an airright container in a cool, dry place!
Tips & Notes
Serving size: ~1 tablespoon
Nutrition facts
Calories:
12
kcal
Carbohydrates:
3
g
Protein:
0
g
Fat:
0
g
Fiber:
2
g
Sugar:
0
g