Make your own all-purpose fajita seasoning at home with just 6 basic spices! You can use our homemade fajita seasoning recipe on chicken, steak, veggies, in soup and more.
It is so nice to have a variety of homemade spice mixes available at all times! Add our taco seasoning and chili seasoning to your pantry favorites!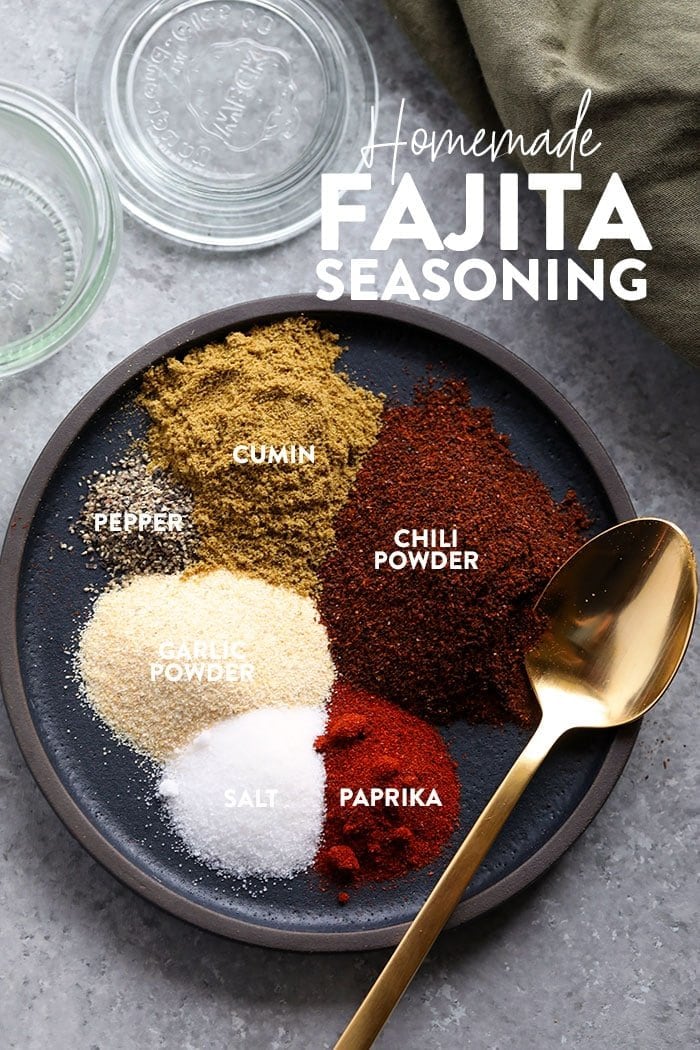 How to Make Fajita Seasoning
Ditch the store-bought fajita seasoning packet and make your own at home! I love making fajita anything in my kitchen! My favorite fajita recipes is our crockpot chicken fajitas!
When I am craving fajitas I always forget to pick up a fajita packet from the grocery store. Like, there is nothing worse when you're about to make some chicken fajitas and and you have no chicken fajita seasoning at home to use.
Have no fear, making your own fajita spice mix in your own kitchen is so simple! You need 6 basic spices, plus a cute little jar to house your spice mix.
Step 1: Collect Fajita Spices
Like I mentioned above, you only need 6 different spices to make a basic homemade fajita seasoning. Chances are, you already have these in your cabinet, too!
chili powder
ground cumin
garlic powder
paprika
salt
pepper
Step 2: Mix Seasoning
Mix your fajita seasoning together in a small bowl. This is the step when you can double or triple the recipe so that you can have more for later!
Spice Tip: I wanted to mention that this specific recipe isn't super spicy. If you like a lot of spice, you can up your paprika by 1/2 to 1 teaspoon or add a pinch or two of cayenne pepper!
Step 3: Transfer into Jar & Seal
I like to save old spice jars just in case I want to make my own mix like this one! If you don't have any spice jars laying around, you can always store your fajita seasoning in a plastic baggie!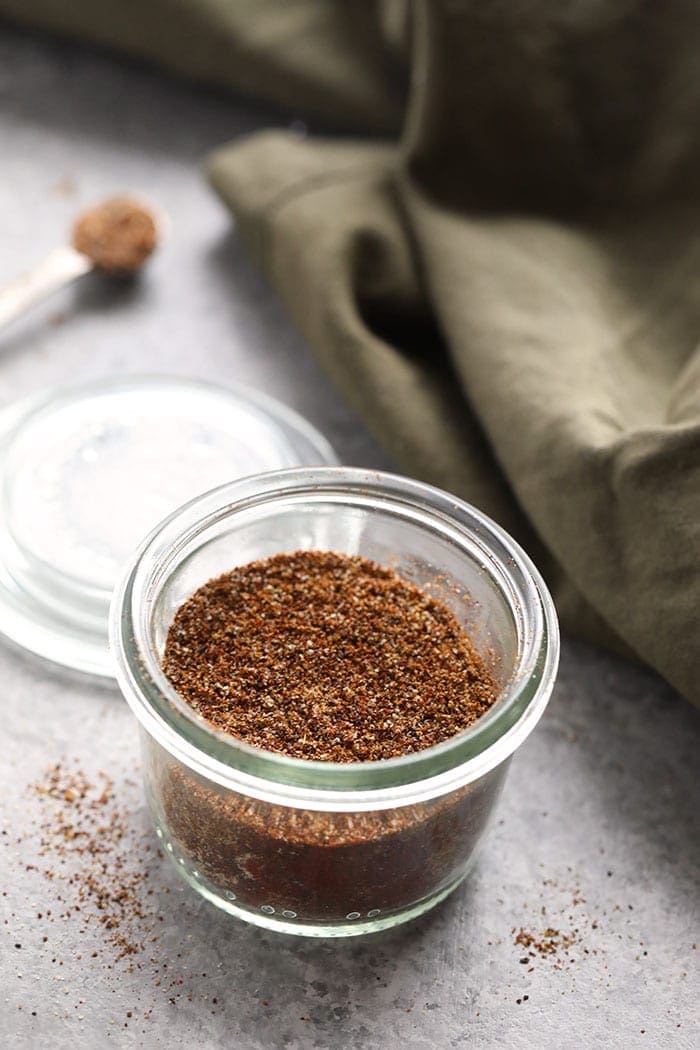 Fajita Seasoning Tips and Ideas
I thought I'd give a few helpful hints and tips when it comes to our homemade fajita seasoning! Why? Well, everyone has a slightly different palette and there are so many different ways you can use this delicious mix!
Add more heat! This fajita seasoning is a bit mild. No fear, this can easily be fixed! Add more paprika or even another hot spice such as cayenne pepper.
Flavor soup: use this seasoning to give your chili or taco soup some extra flavor!
Spice rub: you can use this fajita mix as a spice rub for any kind of meat such as chicken, beef, carnitas, or shrimp. Give your meat a nice pat down and let sit for about 20 minutes before cooking your preferred method.
DIY tortilla chips: ever made our own tortilla chips? This spice mix would be so yummy sprinkled on top of chips!
Roasted veggies: if you're a roasted veggie girl like me, you'd die with the flavor this seasoning gives your veggies. Follow our tutorial for how to roast sweet potatoes, but use this spice mix instead!
Spice Jars We Love
In case you're in the market for some cute spice jars for homemade spice mixes, check out some of my favorites below! They're super affordable and in the long run, you'll end up saving money especially if you start buying your basic spices in bulk!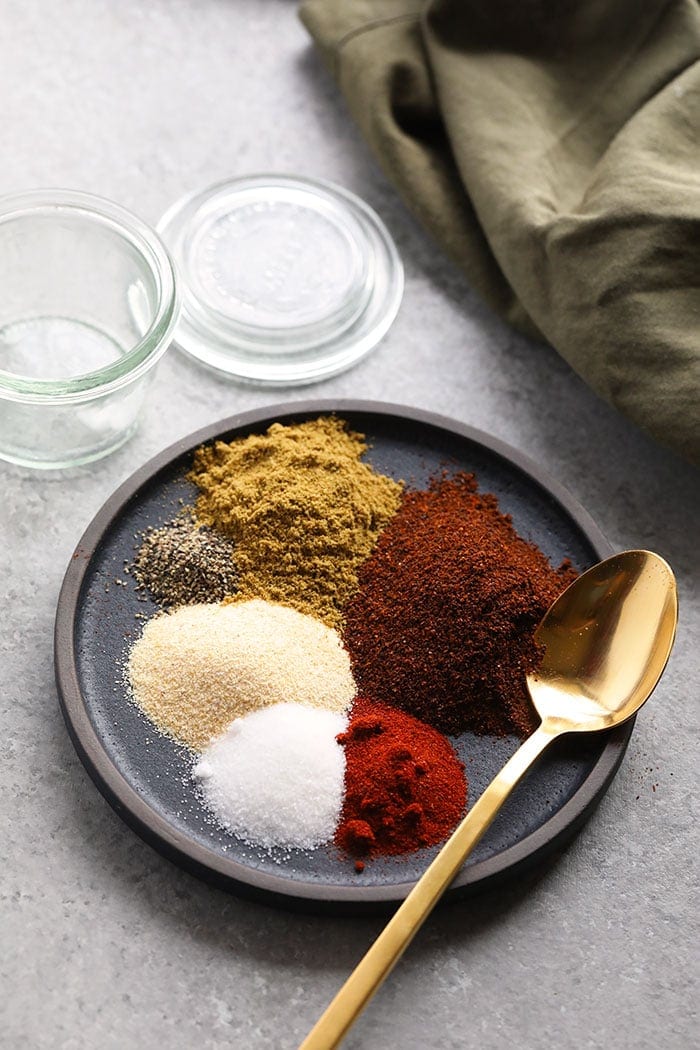 How to Use Fajita Seasoning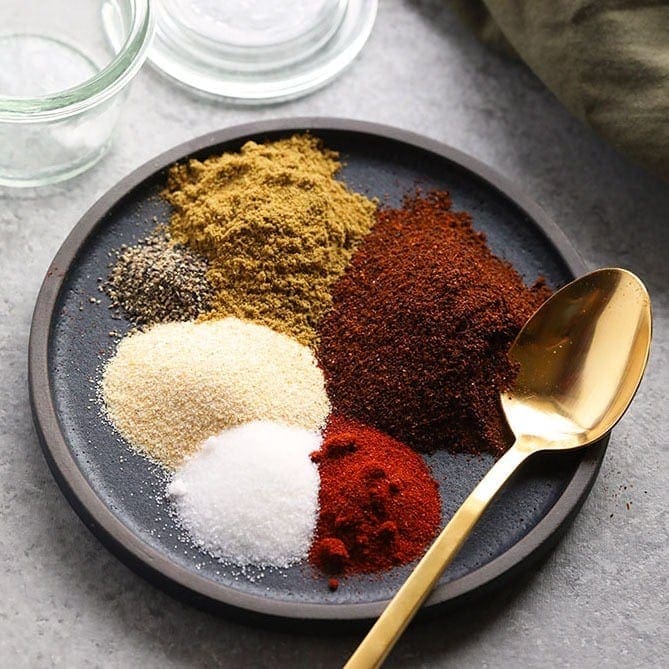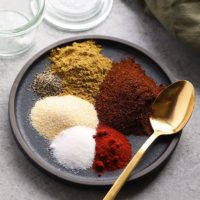 Homemade Fajita Seasoning
Make your own all-purpose fajita seasoning at home with just 6 basic spices! You can use our homemade fajita seasoning recipe on chicken, steak, veggies, in soup and more.
Prep:
5 minutes
Cook:
0 minutes
Total:
5 minutes
Ingredients
3 teaspoons

chili powder

2 teaspoons

ground cumin

1 teaspoon

paprika

2 teaspoons

garlic powder

1/2 teaspoons

salt*

1/2 teaspoon

ground pepper
Instructions
Place all ingredients in a small jar and mix.
Tips & Notes
Salt: add more salt as desired.
Feel free to double or triple this recipe!
This recipe is made with less salt than other fajita seasonings. Feel free to add more to taste!
Nutrition Facts
Serving Size:
2 teaspoons
Calories:
15 calories
Sugar:
2
Fat:
1
Carbohydrates:
3
Fiber:
1
Category:
Seasoning
Method:
No Bake
Cuisine:
Mexican
Keywords: fajita seasoning