In less than 5 minutes you can whip up a delicious steak fajita marinade that will infuse your steak with salsa verde, fajita spices and a hint of lime! It's the perfect start to steak fajitas.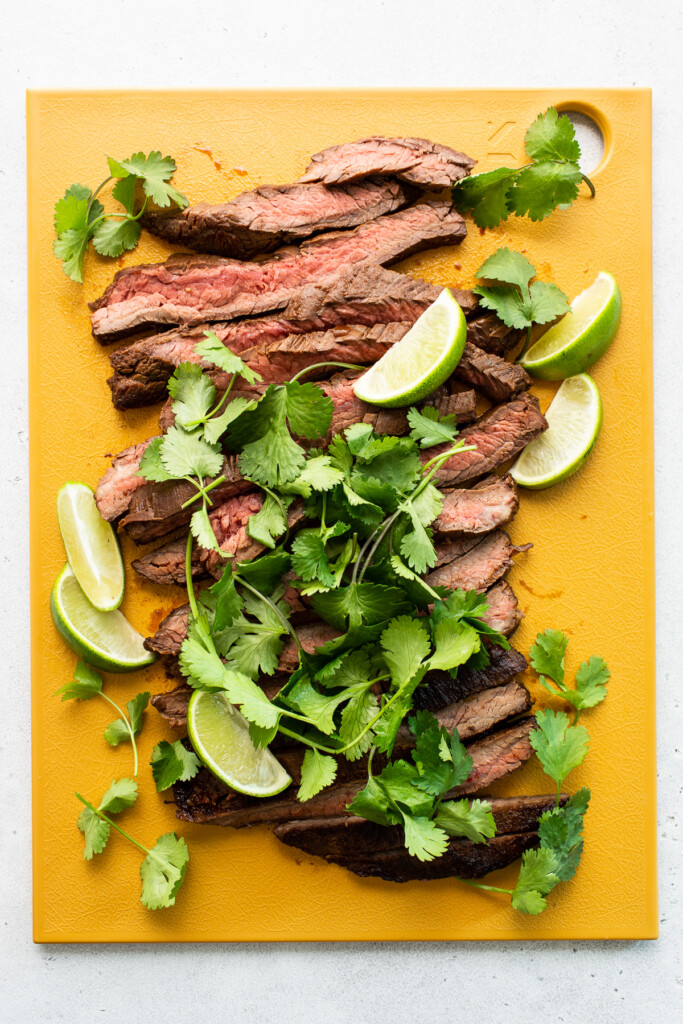 The Ultimate Steak Fajita Marinade
This steak fajita marinade packs all your favorite fajita flavors with a light and bright twist thanks to a dash of orange juice and lime zest. Use this steak fajita marinade on flank steak and whip up a batch of our steak fajita burritos today.
Why marinate your steak?
Tenderize: marinating your steaks in citrus and/or a vinegar-based product will help tenderize the meat. Perfect for fajitas!
Add flavor: this marinade will infuse your beef with tons of juicy flavors, complementing the steak's natural flavor.
Versatile: use this fajita steak marinade for a classic steak fajita night, or make them into our amazing steak burritos!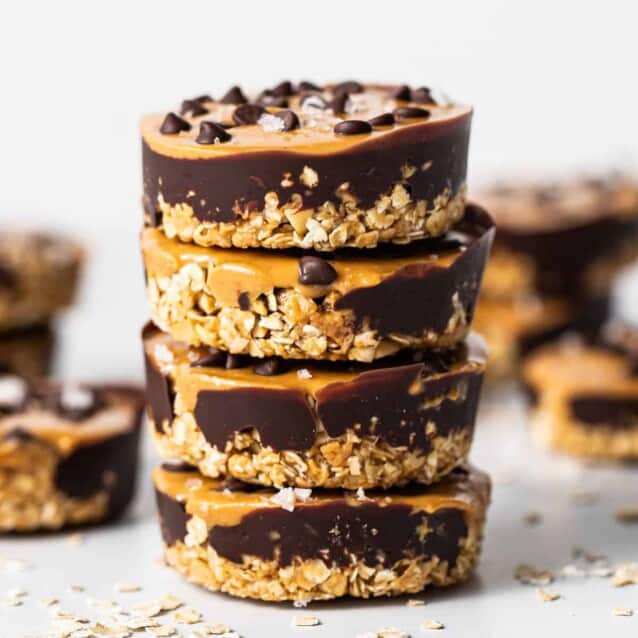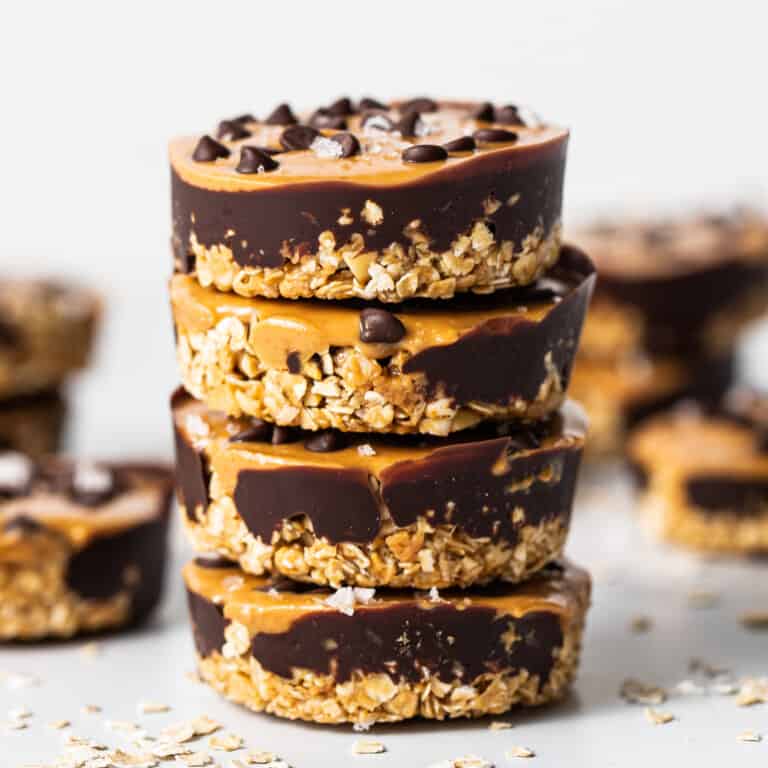 Get our Top 10 5-Star Recipes!
Join our email list for new recipes and BONUS: get our top 10 ⭐️⭐️⭐️⭐️⭐️ recipes e-book!
Steak Fajita Marinade Ingredients
What ingredients go in steak fajita marinade? There are some basic ingredients that are usually the base of a fajita marinade and we have added our own twist, too! Here is everything you need:
Salsa verde: we love the flavor salsa verde gives this marinade, but feel free to use any blended salsa of your choice.
Orange juice: a bit of orange juice lightens up this marinade and aids in tenderizing the steak before you cook it.
Worcestershire sauce: many steak marinades have Worcestershire in them and this steak fajita marinade is no exception. Because it is a vinegar-based sauce that has ingredients like anchovies, garlic and tamarind it makes for a salty sauce that goes perfectly with steak.
Lime zest: a freshly zested lime adds amazing tart and bright flavors to this marinade. Don't skip it!
Spices: we're using classic fajita spices including chili powder, paprika, ground cumin and garlic powder.
Olive oil: the olive oil binds all of the steak marinade ingredients together.
Coarse sea salt: salt helps tenderize the meat as it marinades 😀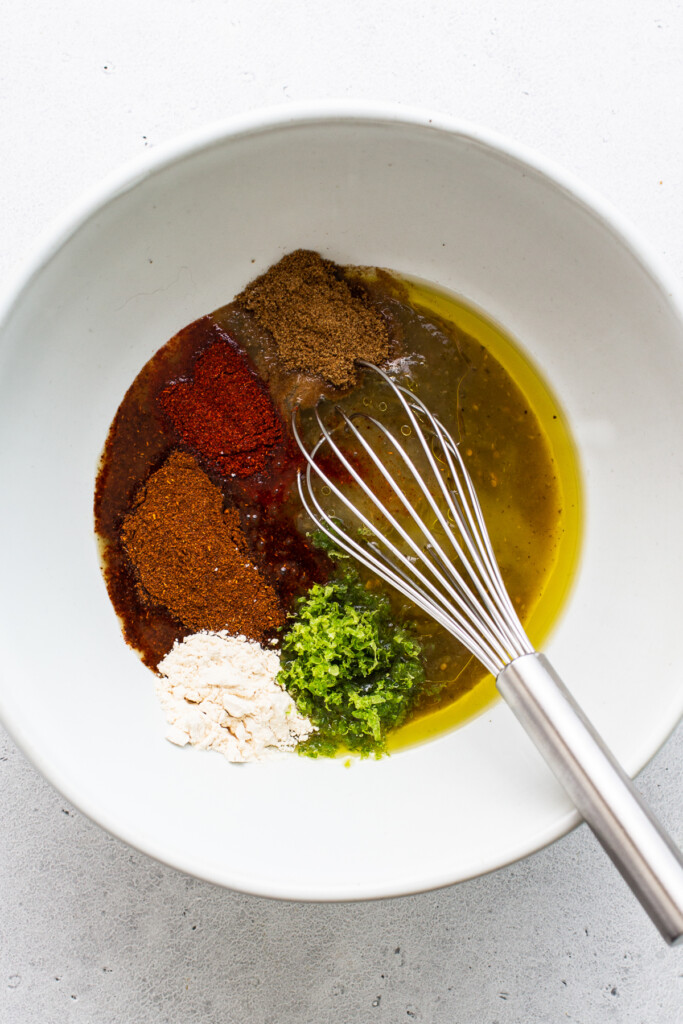 What kind of steak should I use for fajitas?
There are many different cuts of steak out there and you can marinate any cut of steak in this fajita marinade. We have personally used this steak fajita marinade with the following cuts of meat:
Other cuts of beef you can use for fajitas
Sirloin
Ribeye
Skirt steak
Porterhouse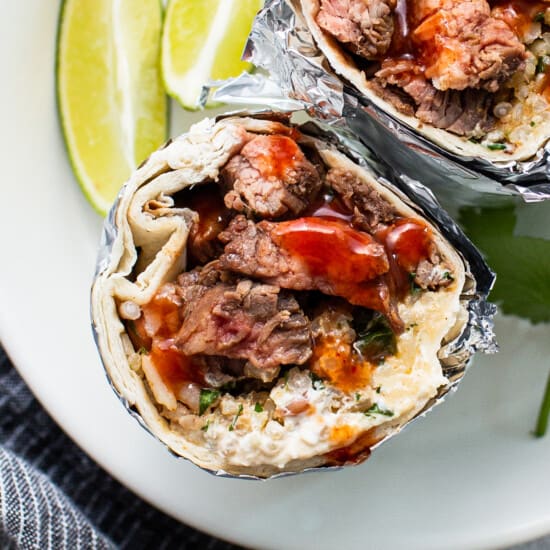 try it
Steak Fajita Burritos
Use this marinaded fajita steak to make our amazing steak burritos. You'll love them!
get recipe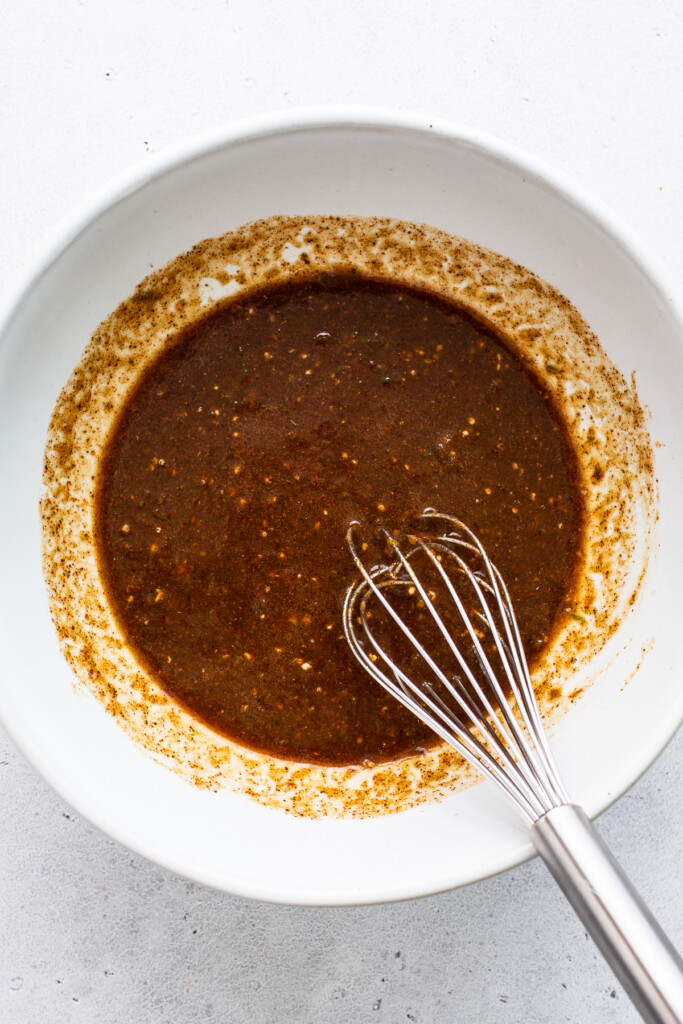 How long should steaks marinate?
We recommend marinating steak for at least 2 hours or as long as overnight. The longer you marinate steak the more tender your steak will be. Unlike salmon, you can marinate steak for a bit longer without orange juice cooking the steak.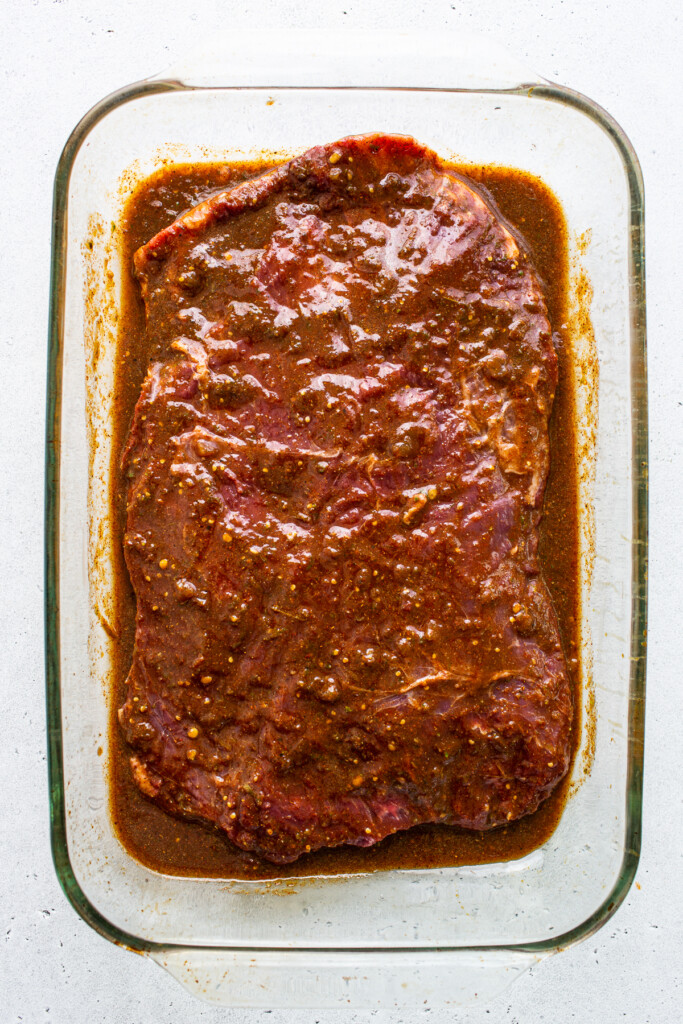 How to Marinate Steak for Fajitas (3 Steps)
Combine: simply combine all of the ingredients in a bowl or jar and mix to combine.
Marinate: Place your steak into a dish or large gallon-size bag and pour in the marinade. Make sure that all sides are nice and coated.
Let sit: Let steak marinate for at least 30 minutes or as long as overnight.
Steak Internal Temp
Everyone is different when it comes to how they like their steak. We are big fans of a medium-rare steak, but check the internal temperature of your steak when it's almost done.
Rare: 130ºF
Medium Rare: 140ºF
Medium: 155ºF
Well Done: 165ºF
Remember, as your steak rests after it's done cooking, the internal temperature will continue to raise around 5ºF.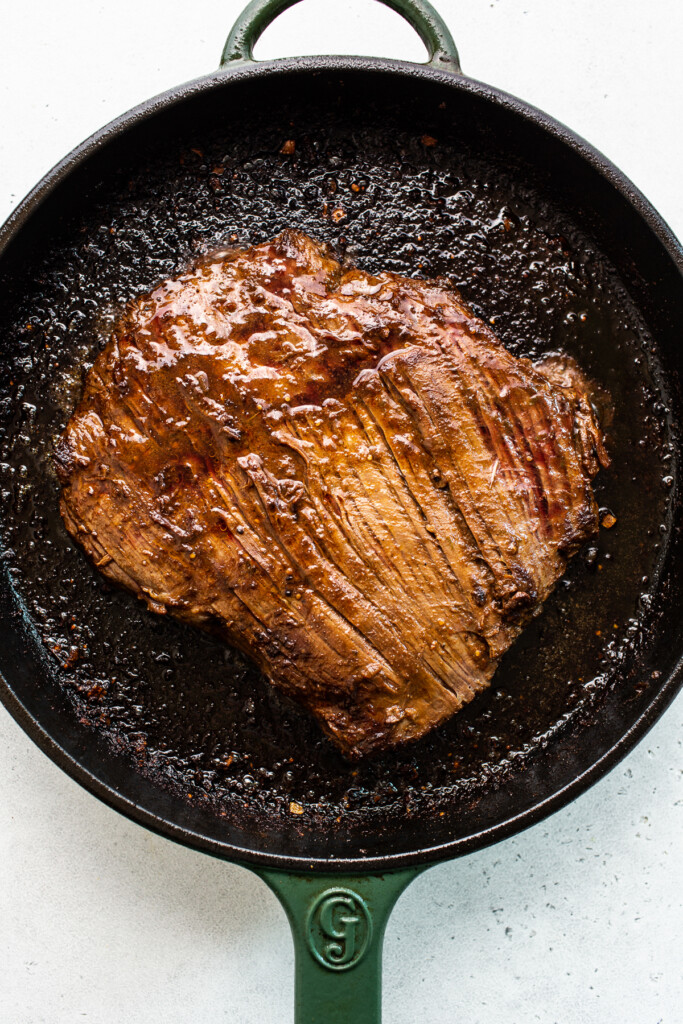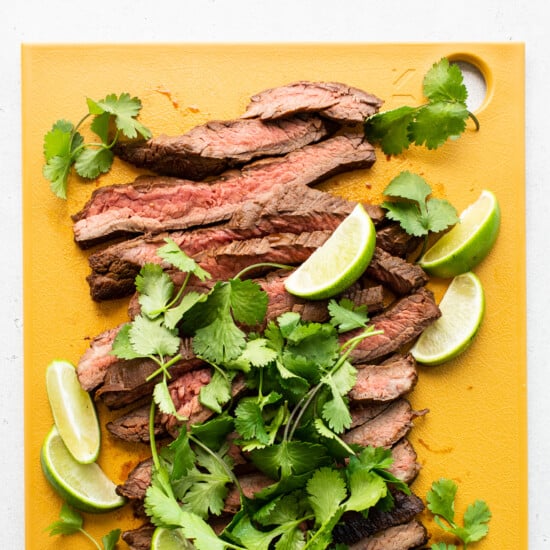 Steak Fajita Marinade
Whip up a delicious steak fajita marinade that will infuse your steak with salsa verde, fajita spices and a hint of lime in less than 5 minutes! Enjoy.
Instructions
Add all of the ingredients for the steak marinade to a mixing bowl. Whisk the ingredients together until combined. Set aside.

Next, place the flank steak onto a cutting board and season it with 1 teaspoon of kosher salt. Massage the salt into the steak. Cover it with a piece of parchment paper. Use a meat tenderizer to pound the flank steak so that it is an even thickness (~1.5-2 inches thick).

Transfer the steak to a baking dish or a quart-sized plastic bag. Pour the marinade over the steak and massage the marinade into the steak. Place in the refrigerator for at least 2 hours or overnight.

Remove the meat from the refrigerator and allow the steak to sit at room temperature for 20-30 minutes before searing.

Sear the steak. Heat the remaining olive oil in a large cast iron skillet. When the olive oil is hot, add the flank steak and sear for 3-4 minutes on each side or until the internal temperature is 135ºF for medium rare. Remove from the skillet and let the flank steak rest for 10 minutes before slicing.

Slice the flank steak against the grain of the meat with a sharp knife and then chop the meat into small bite-sized pieces or strips.
Tips & Notes
Nutrition information does not include flank steak.
Nutrition facts
Calories:
61
kcal
Carbohydrates:
3
g
Protein:
0.3
g
Fat:
5
g
Fiber:
0.3
g
Sugar:
2
g