This juicy shrimp marinade adds so much flavor to your shrimp with Worcestershire sauce, garlic, dijon mustard, fresh herbs, and a little citrus.
We love using this as a grilled shrimp marinade because the flavors from the marinade mixed with the charred flavor from the grill are incredible.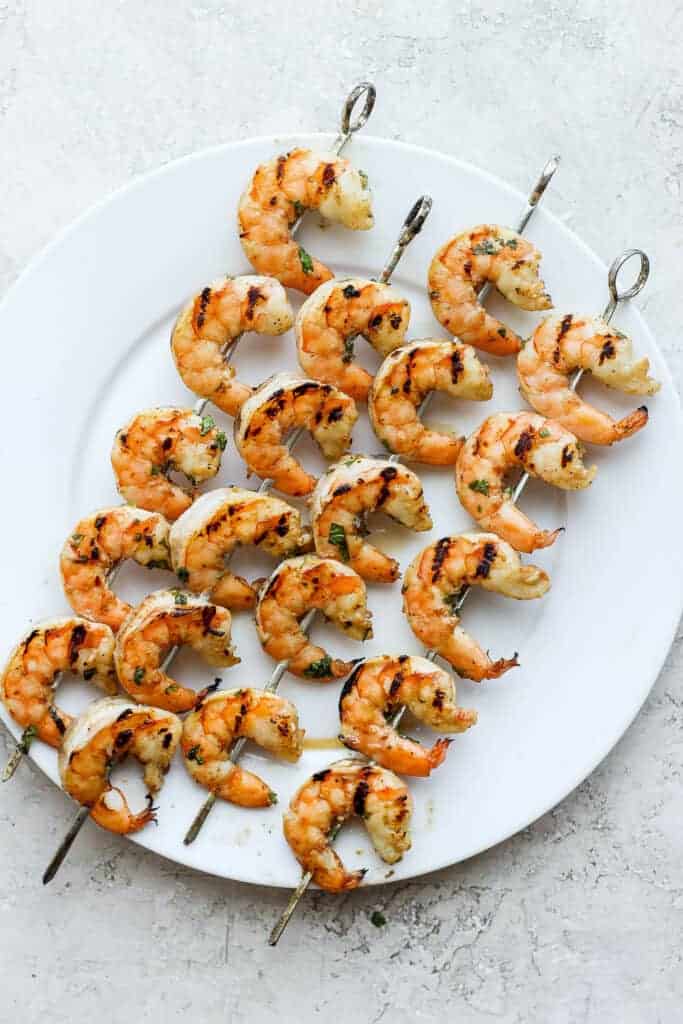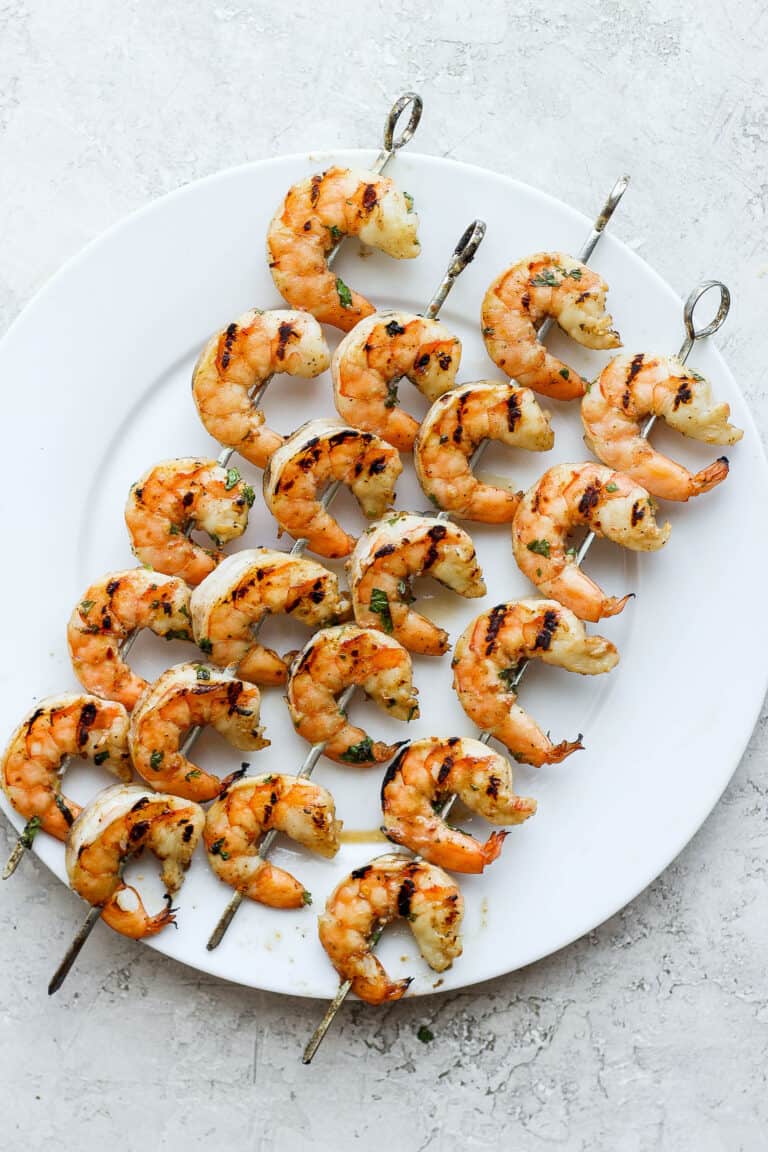 Seriously Delicious Shrimp Marinade
We love marinating our proteins (hello steak marinade and chicken marinades) because it infuses your meat or seafood with so much juicy flavor.
Marinated shrimp is pretty dang delicious however you want to cook it. We love it on the grill or sauteed in a pan. It pairs wonderfully with baked potatoes, quinoa salad, or roasted asparagus.
When it comes to creating the perfect shrimp marinade, we kept things simple with salt from Worcestershire, citrus from lemon, and tang from dijon mustard. Oh, and don't forget the fresh herbs from cilantro.
what does this shrimp marinade taste like?
This herby, citrusy shrimp marinade is savory with a hint of lemon and garlic. It a great all-purpose shrimp marinade for grilling, baking, or pan frying.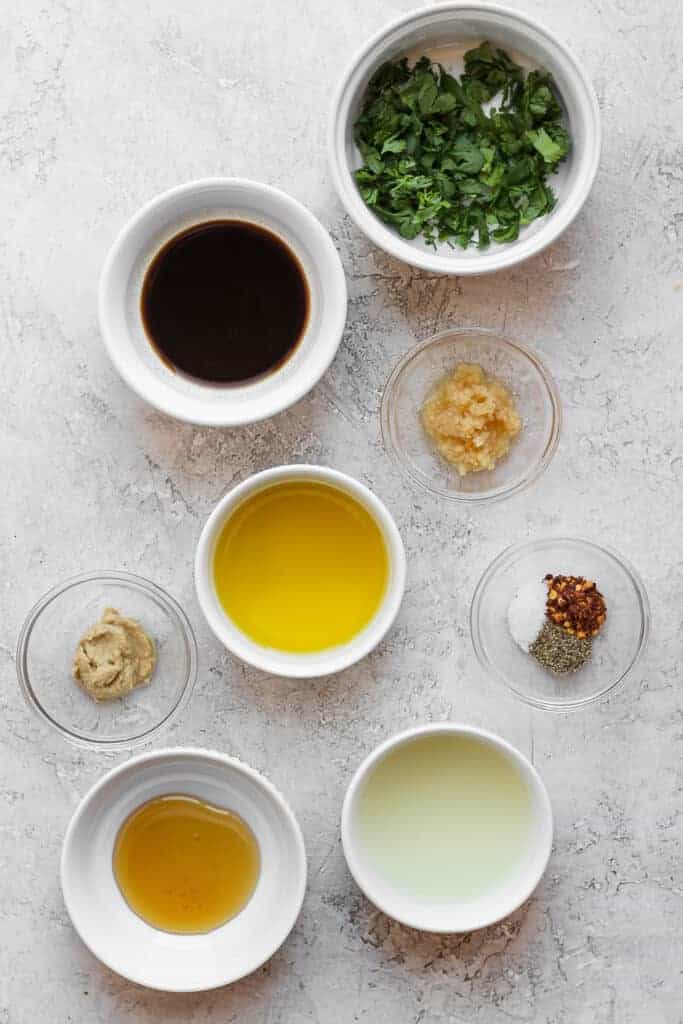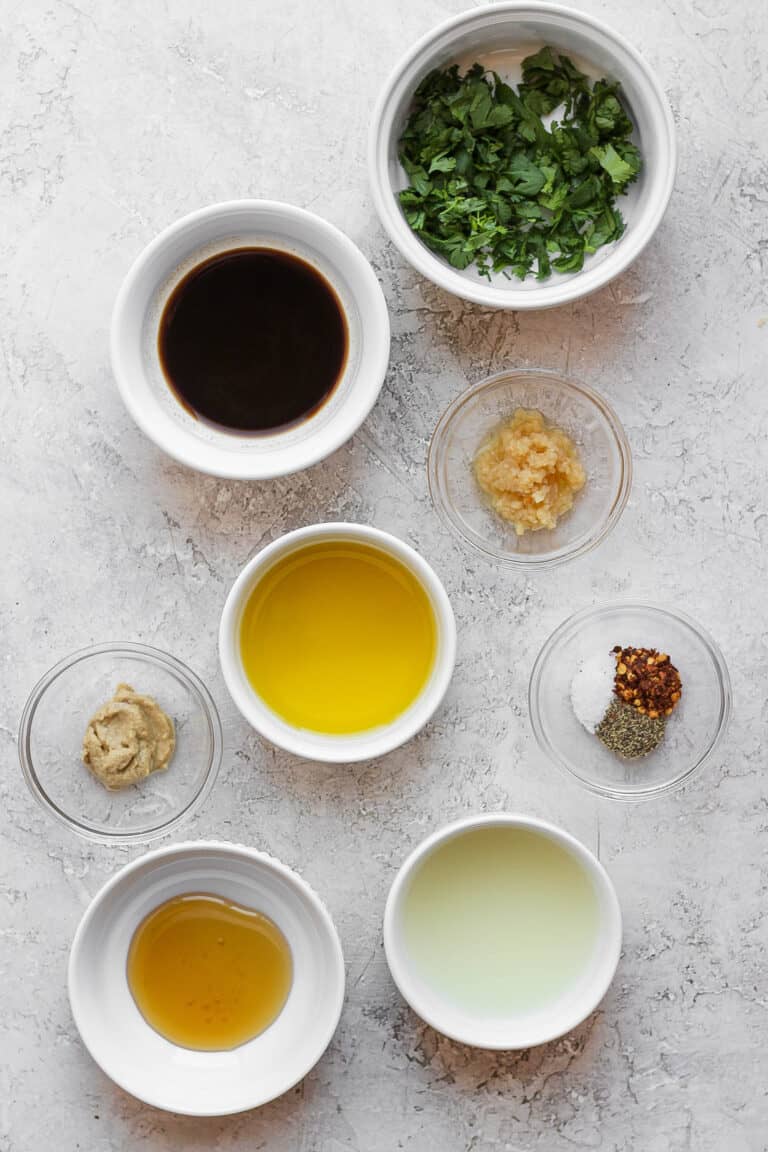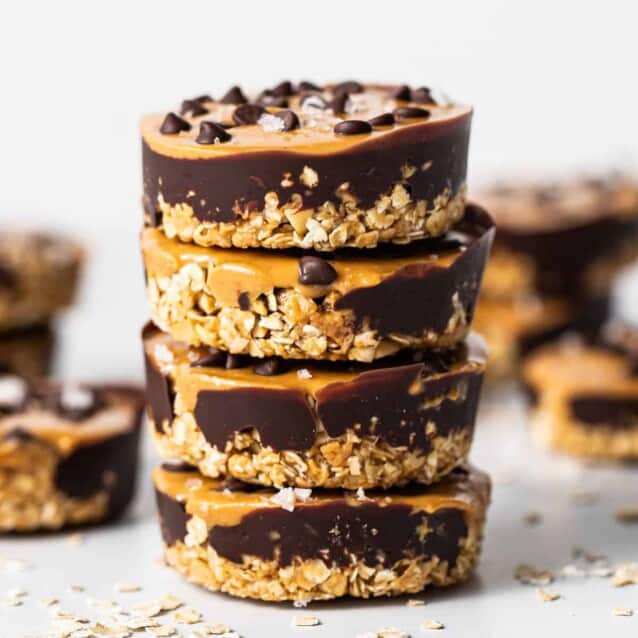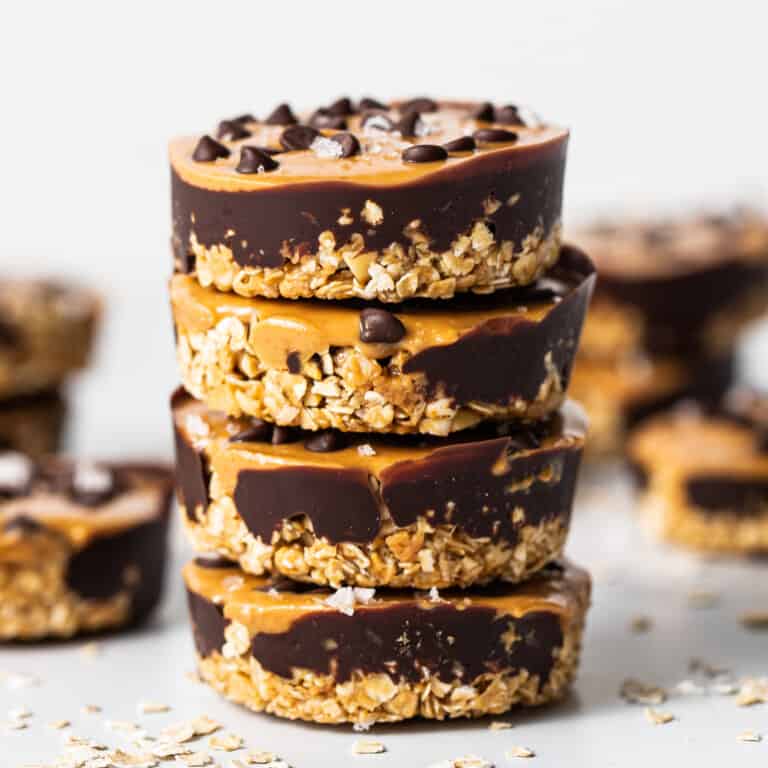 Get our Top 10 5-Star Recipes!
Join our email list for new recipes and BONUS: get our top 10 ⭐️⭐️⭐️⭐️⭐️ recipes e-book!
What You Need for an EPIC Shrimp Marinade
Before we jump into our recipe, I thought we'd go over what it takes to make an epic shrimp marinade.
Oil
Oil is essential to any marinade. Oil helps preserve the seafood and/or meat that is being marinated. Oil also helps whatever is marinating retain its moisture while it's being cooked. And? Nobody likes when their food sticks to the grill, so be sure to oil your meat/seafood AND the grill (or tin foil)
You just can't beat it. We prefer to use olive oil in our marinades and for cooking, but most oils would work!
Grapeseed oil
Avocado oil
Sesame oil
Citrus
Adding lime juice, lemon juice, or orange juice to any chicken or fish adds brightness and an amazing flavor to any marinade. Like other recipes, you need balance when it comes to this grill shrimp marinade recipe.
Balancing the olive oil with a little bit of citrus will take any recipe to the next level.
We also like to add citrus to marinade recipes because it is a great substitute. No, really! Replacing some salt with a little bit of citrus really helps!
Spices

and Herbs

Hop on the flavor train when you make any marinade. For this shrimp marinade, we used a combination of spices and fresh herbs. So simple, but the perfect flavor combination. Just think of your favorite flavor combinations in other dishes and try to make a marinade out of that!
Lemon + Ginger
Thai Chili (chili paste and soy sauce)
BBQ (yes, you can marinate things in bbq sauce!)
PS: check out our 6 chicken marinades here for more inspiration!
What kind of shrimp should I use?
Pretty much any uncooked shrimp works for this recipe –> small, medium, jumbo, etc. We recommend buying shrimp that's deveined and peeled so that you don't have to do it yourself. You can buy tail-on or off raw shrimp.
shrimp tip
The biggest recommendation we have is to purchase raw shrimp that is already deveined and peeled so that you don't have to do it yourself.
Can I use pre-cooked shrimp? You can use pre-cooked shrimp, but we don't recommend it because you'll likely overcook your shrimp when you go to grill or pan-fry it.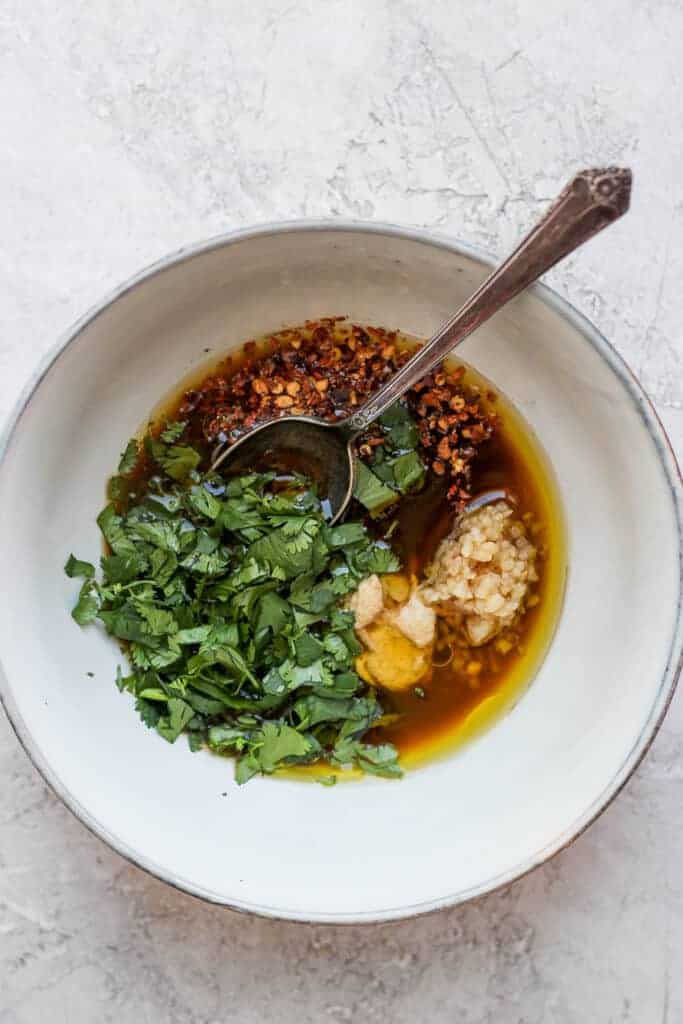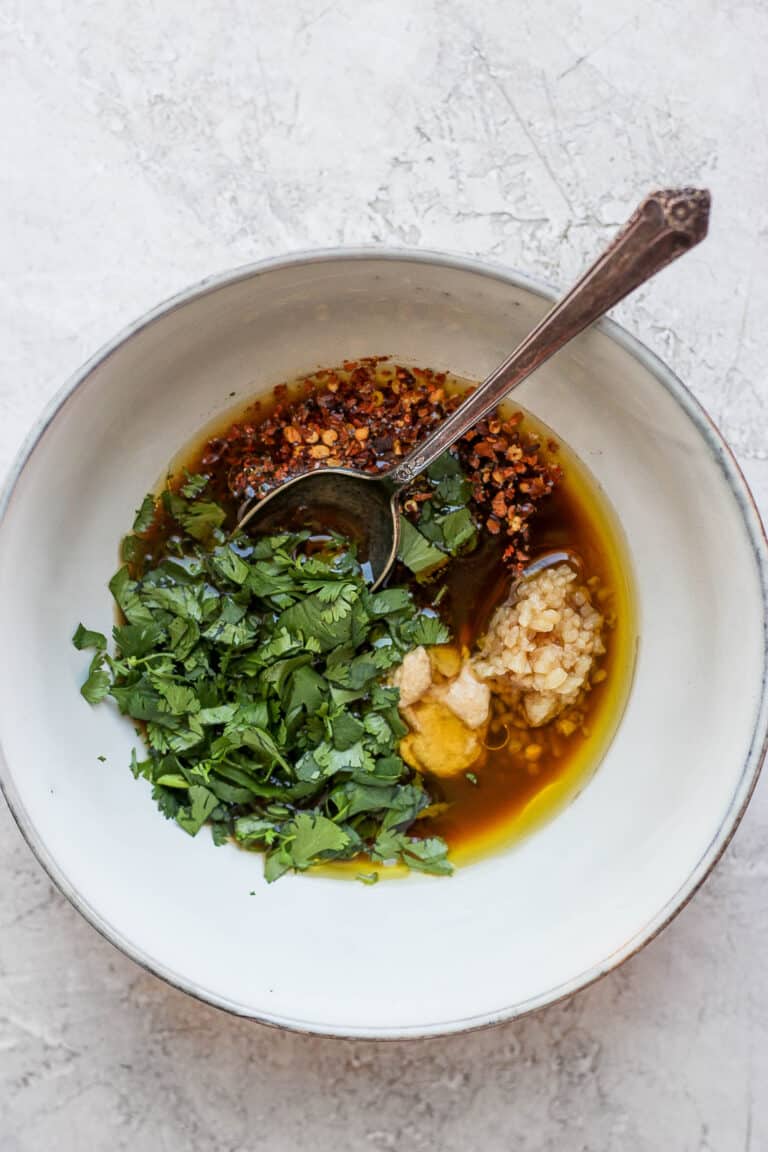 How to Marinate Shrimp
Combine ingredients: first, combine all of the ingredients for your shrimp marinade in a medium bowl. Whisk to combine.
Coat shrimp: transfer raw shrimp into a large bowl or gallon-size plastic bag and pour the marinade on top of it. Squish the marinade around so that the shrimp is fully coated in it.
Let sit: let the shrimp marinate in the fridge for around 30 minutes or up to 1 hour. Do not marinate for longer than 1 hour.
Cook: cook shrimp any way your heart desires. We prefer grilled shrimp or pan fried shrimp.
How long to marinate shrimp?
Marinate shrimp for around 30 minutes to 1 hour but no longer than 1 hour. If shrimp sits in citrus or vinegar for too long, it will start to cook and because extremely tough.
Ways to Cook Marinated Shrimp
Grilled Shrimp
What is the best way to grill shrimp? Shrimp grills so fast compared to things like burgers, chicken, or veggies. We like to put our shrimp on skewers so it's easy to flip the shrimp in large numbers, but feel free to grill the shrimp free of skewers, too.
Don't have skewers? You can always create a little tin foil boat that you plop right on the grill to cook your shrimp in. Or, you can even bring your cast iron pan out to the grill and cook them in there.
How long to grill shrimp? Grill your shrimp for about 2 minutes on each side making the total cook time just 4 minutes. You know your shrimp is done cooking when it firms up and turns pink on both sides.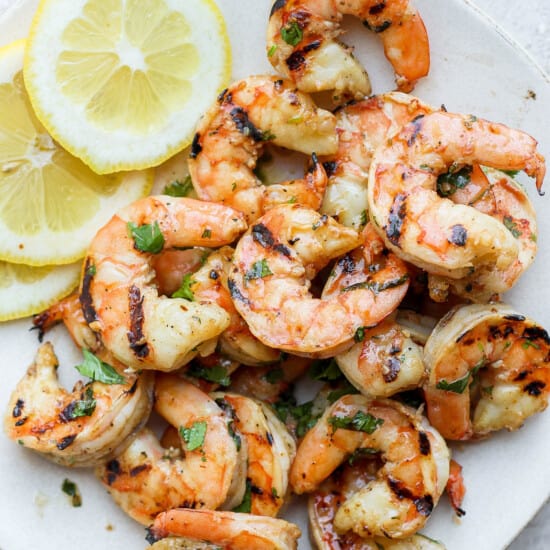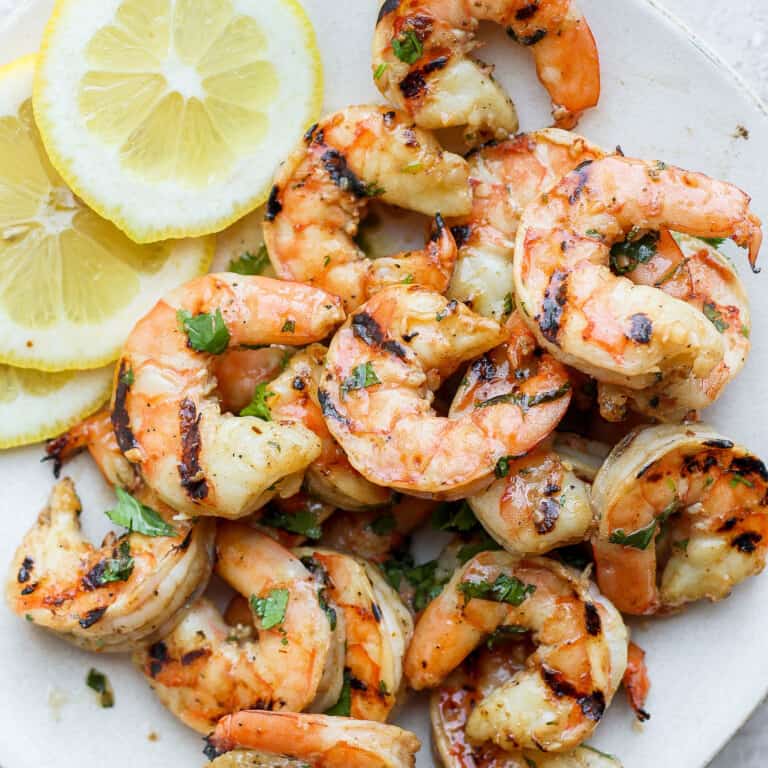 Easy
Grilled Shrimp
Get perfectly u003cstrongu003egrilled shrimpu003c/strongu003e every single time with this easy and fool-proof step-by-step tutorial on u003cstrongu003ehow to grill shrimpu003c/strongu003e!
Get Recipe
Pan-Fried Shrimp
Looking to keep things simple by pan-frying your shrimp? It's super simple!
Drizzle olive oil in a large frying pan and heat over medium/high heat.
When the olive oil is fragrant add the shrimp and any excess marinade into the pan.
Cook shrimp for around 2-3 minutes on each side or until they turn pink in color and are firm to touch.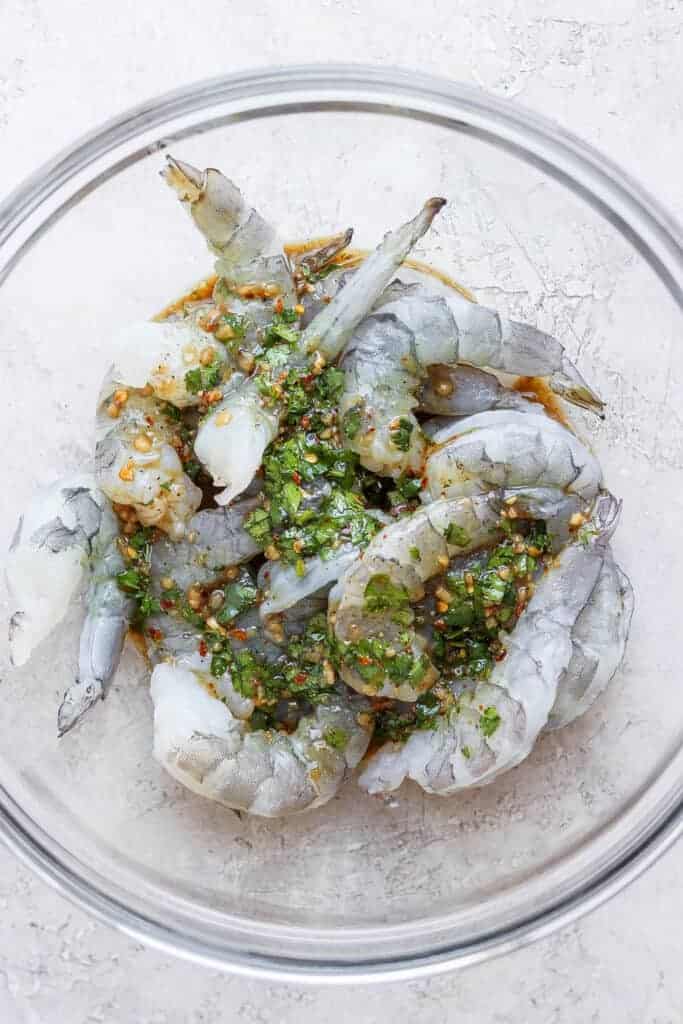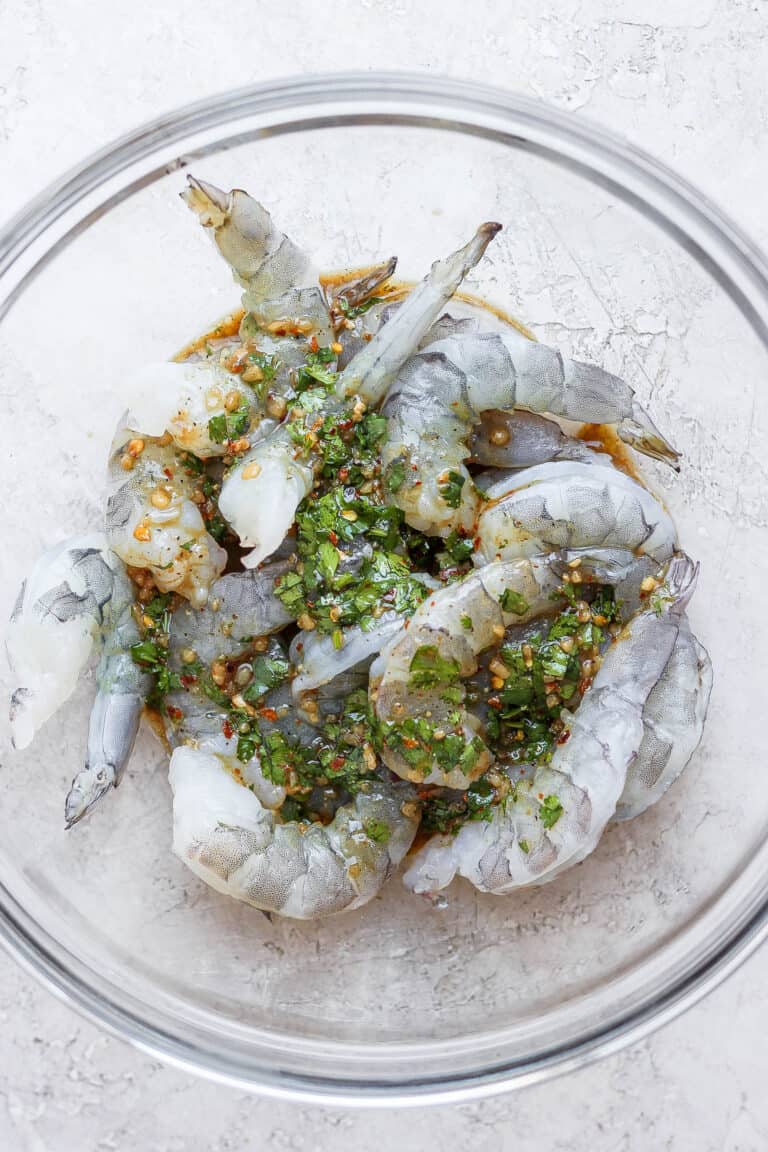 Top Tips for Marinating Shrimp
Keep it Fresh
The best shrimp is the freshest shrimp! Now, don't get me wrong you can buy raw, fresh shrimp. Just be sure that when you thaw the frozen shrimp to use it immediately.
Grey vs. Pink Shrimp
Remember, if the shrimp is grey it is uncooked and if the shrimp is pink, it's already cooked. I love buying fresh shrimp from the butcher. Just make sure to ask the butcher how old the shrimp is and when you should use it by!
Black line down the middle?
If you buy shrimp and it has a black line down its back, that is the shrimp's vein. Generally, shrimp comes peeled and deveined, but if not you'll have to do it yourself! Use your fingers or a spoon and gently drag the spoon across the vein until it is removed. #yougotthis
Let them Sit, but not too long
How long should you marinate shrimp?

You want the shrimp to absorb the flavor and the oil of the marinade, so we suggest letting raw shrimp for 30 minutes to 1 hour.
If you let your shrimp marinate for longer than 1 hour, it will likely come out tough and chewy because the acid will begin to cook the shrimp after a while.
Short Cook Time
Shrimp cooks extremely fast no matter how to plan to prepare it. If you're making grilled shrimp or shrimp in a frying pan, you only need to cook it for around 1-3 minutes on each side depending on how big your shrimp is.
How to know when shrimp is cooked?

The best way to know if your shrimp is fully cooked is with a meat thermometer. It should reach 145ºF internally. If you're going based on color and touch, it should turn pink in color and be firm to the touch.
Shrimp internal temperature
Cook your shrimp until it reaches 145ºF internally.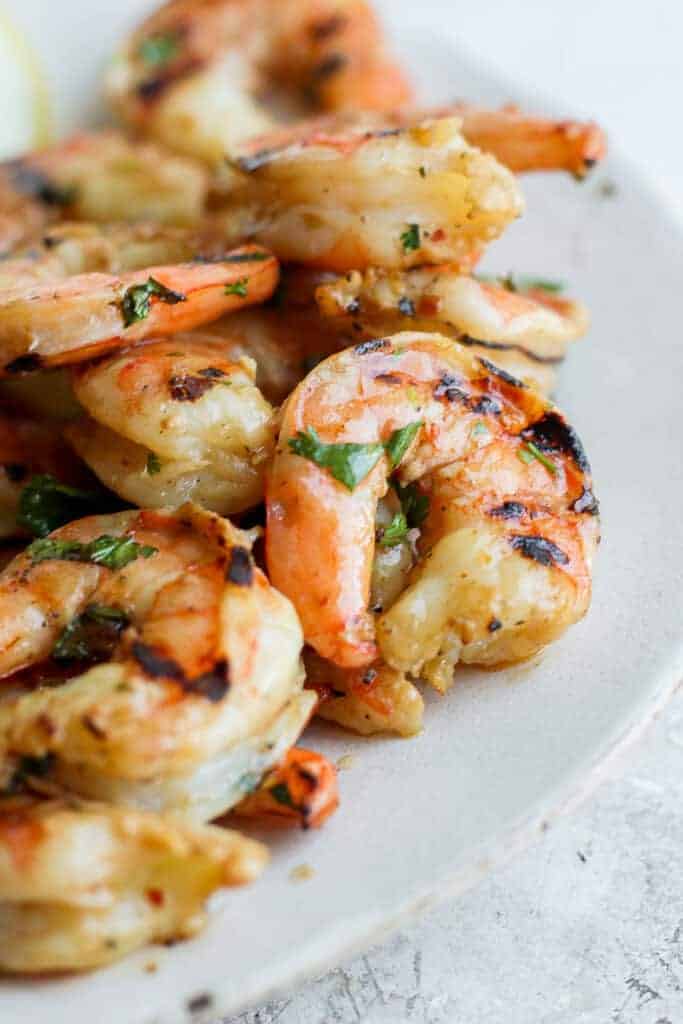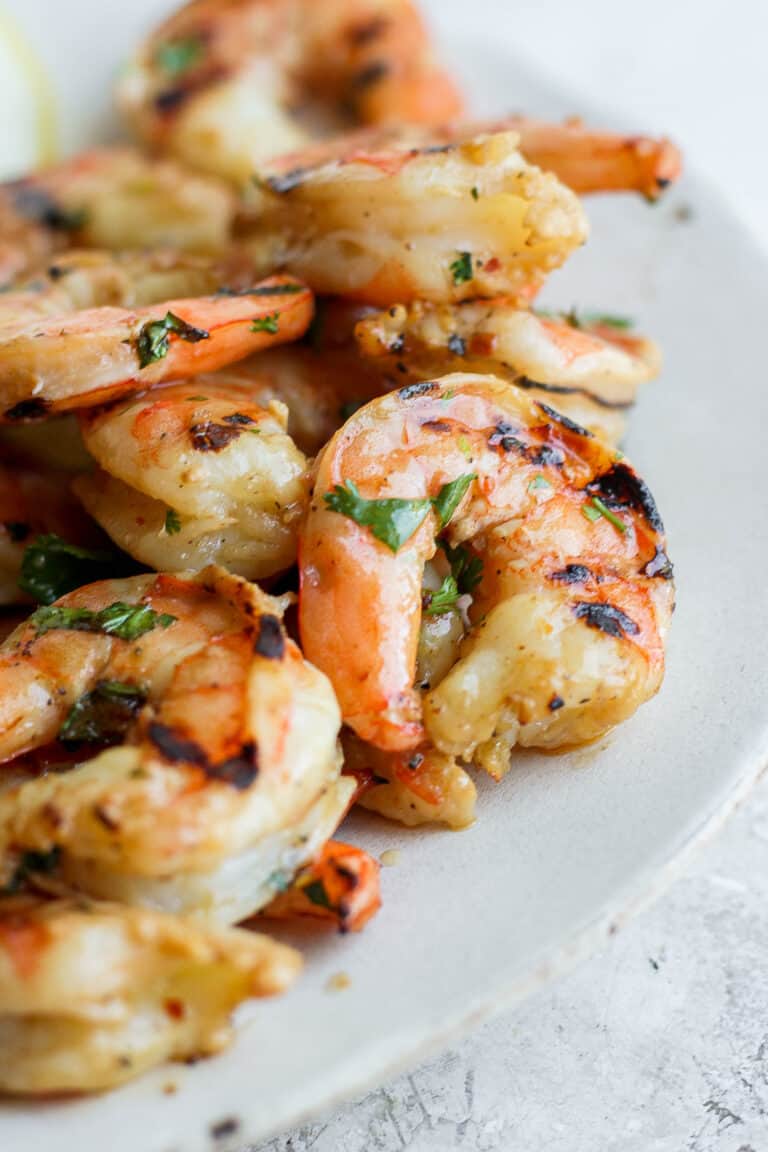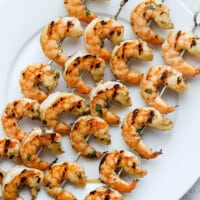 Simple Shrimp Marinade (Grilled Shrimp Marinade)
This simple, yet elevated shrimp marinade is garlicky, lemony, and savory all thanks to a few common ingredients! If you're looking to marinade shrimp for grilling, then this is your recipe!
Ingredients
1-1.5

lbs.

jumbo shrimp

peeled and deveined

2

tablespoons

lemon juice

+ more for squeezing on top

2

tablespoons

Worcestershire sauce

4

cloves

garlic

minced

1

teaspoon

dijon mustard

1/2

tablespoon

honey

1/4

teaspoon

salt

1/4

teaspoon

pepper

2

tablespoons

olive oil

¼

cup

chopped cilantro
Instructions
Begin by preparing the marinade. Add 2 tablespoons lemon juice, Worcestershire, garlic, dijon mustard, honey, salt, pepper, and red pepper flakes into a large bowl. Whisk the marinade together. 

Drizzle 2 tablespoons of olive oil into the marinade while whisking until all the ingredients are combined. 

Add the shrimp to the marinade and toss to coat the shrimp in the marinade. 

Place the shrimp into the refrigerator and let the shrimp sit for 30 minutes to 1 hour, but no longer. If the shrimp sits in the marinade for longer than 1 hour the shrimp may begin to cook in the lemon juice. 

Once your shrimp has marinated, cook in any way your heart desires. Here is an easy recipe for

grilled shrimp

you will love!
Tips & Notes
Any size of uncooked shrimp will work for this recipe. 
Nutrition information uses 1.5 lbs. shrimp.
This recipe was slightly updated on July 7, 2021.
Nutrition facts
Calories:
150
kcal
Carbohydrates:
7
g
Protein:
9
g
Fat:
10
g
Fiber:
0
g
Sugar:
2
g
Photography: photos taken in this post are by Erin from The Wooden Skillet.