It's time to learn how to make a perfect baked potato. These baked potatoes have perfectly crispy skin with a buttery smooth inside.
In this post, we'll teach you the easiest way to bake a potato + give you ideas on how to eat them.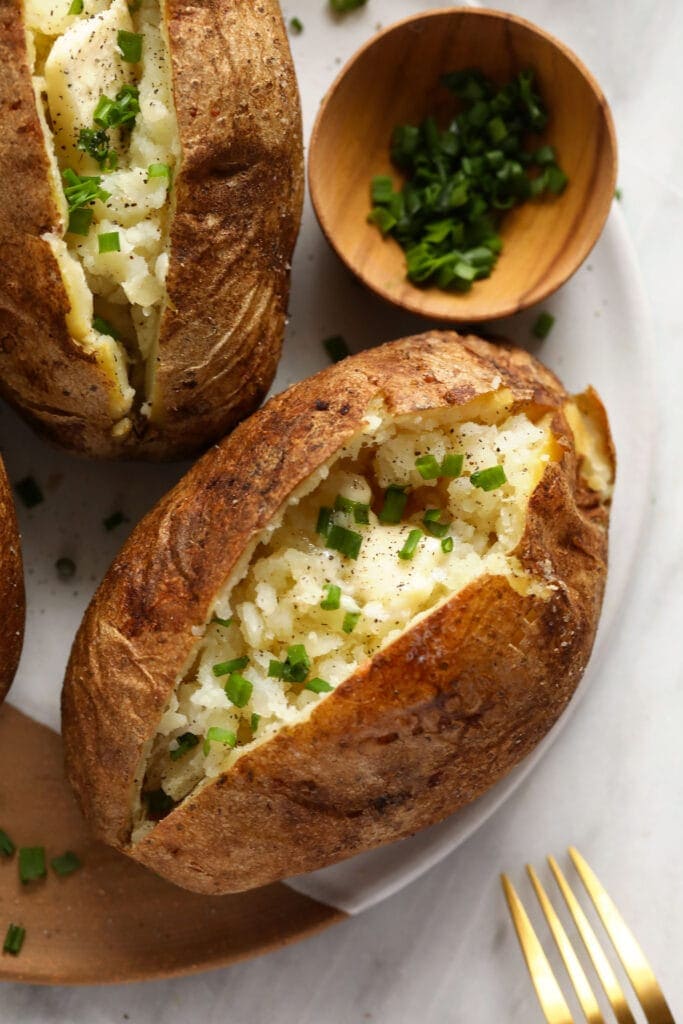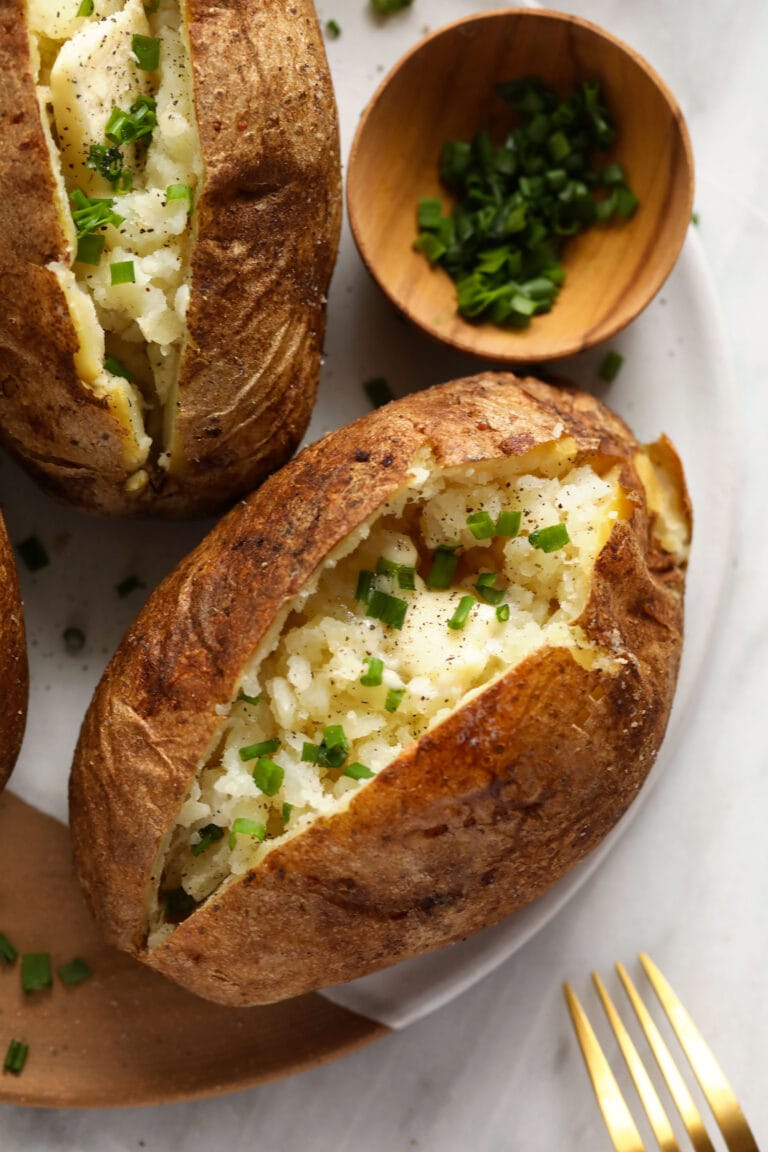 The Perfect Baked Potato
When we think about the perfect potato there are a few things that pop into our head.
A golden potato that has been baked to perfection. Its skin is shiny and crisp from oil.
When you cut the potato in half the middle is tender and easy to fluff with a fork.
The inside is warm enough to melt a pat of butter in seconds.
It's a potato that you can't stop eating after you've seasoned it perfectly with salt and pepper.
Is your mouth watering yet? We thought it might be. There are few different ways you can prepare a potato. In a slow cooker, on the grill in foil, or smashed. We've got all kinds of potato recipes right at your finger tips.
Today we are focusing on baked potatoes in oven!
Everything You Need to Bake a Potato
When it comes to how to bake the perfect potato in the oven you only need 4 ingredients.
Russet potatoes -We recommend using large russet potatoes, especially if they are the one of the main parts of your meal. If you have Idaho potatoes, those would work too. Time may vary depending on how large the potatoes are.
Olive oil- We recommend olive oil because we love the flavor. If you don't have olive oil, feel free to use avocado oil, vegetable oil, or butter. The oil is a must, it is the reason the potato skin crisps up and gets golden brown.
Salt- Don't skimp on the salt it brings adds terrific flavor to the potato skin.
Pepper – Fresh ground pepper is a great flavor add.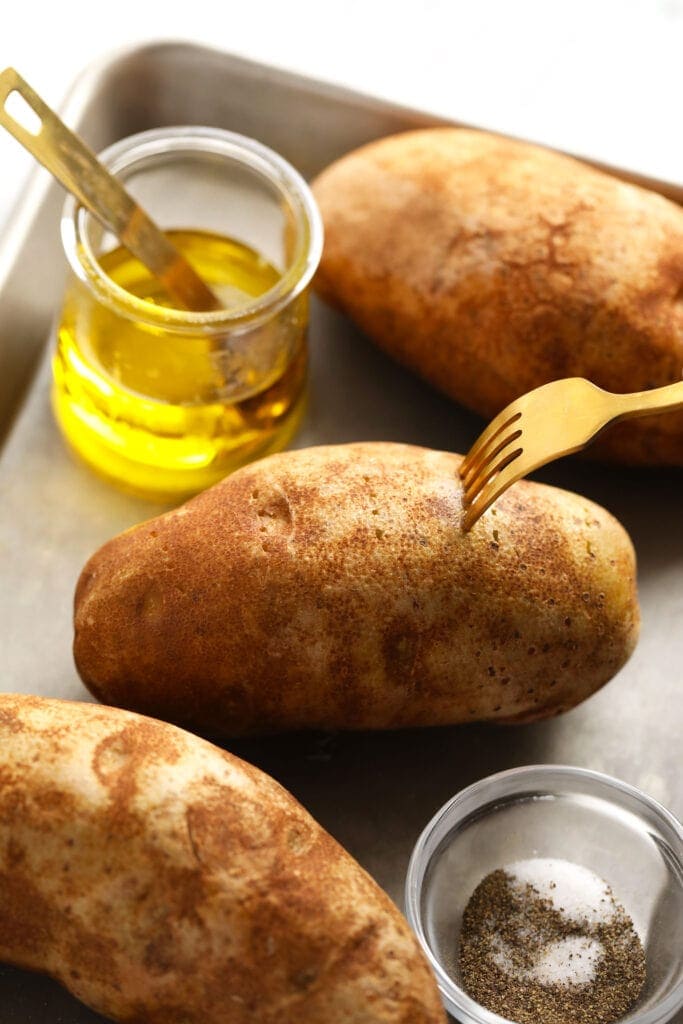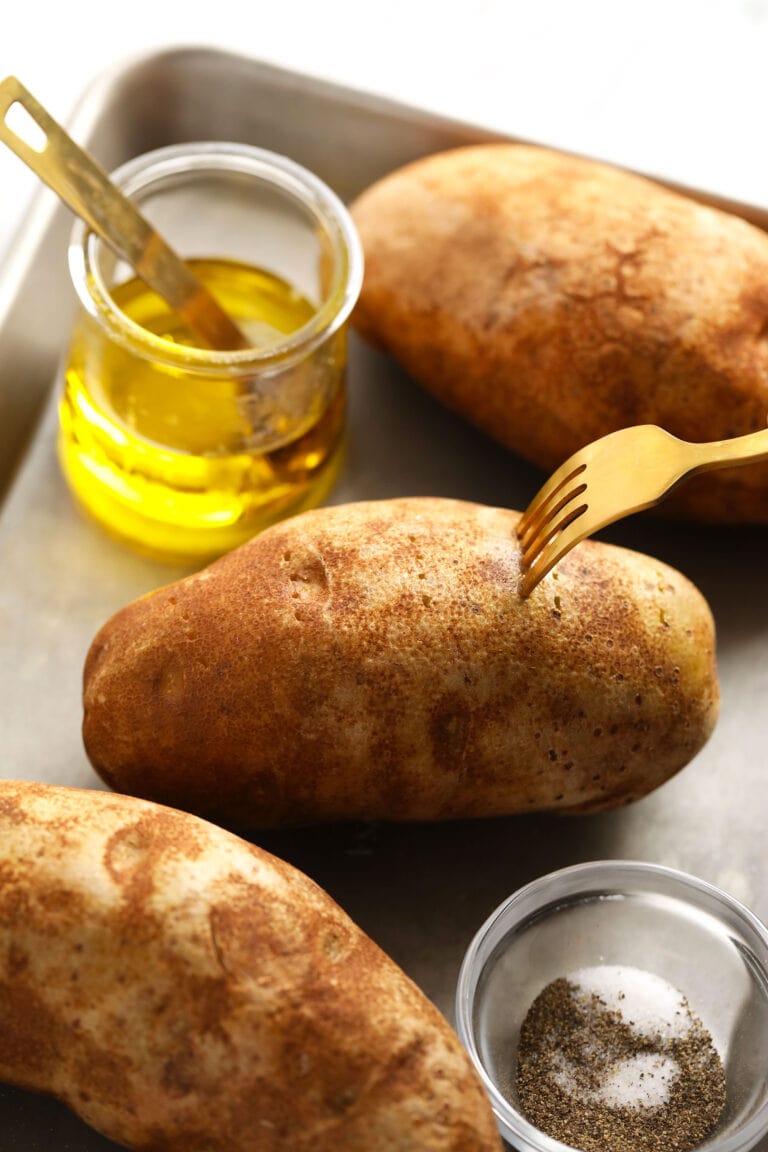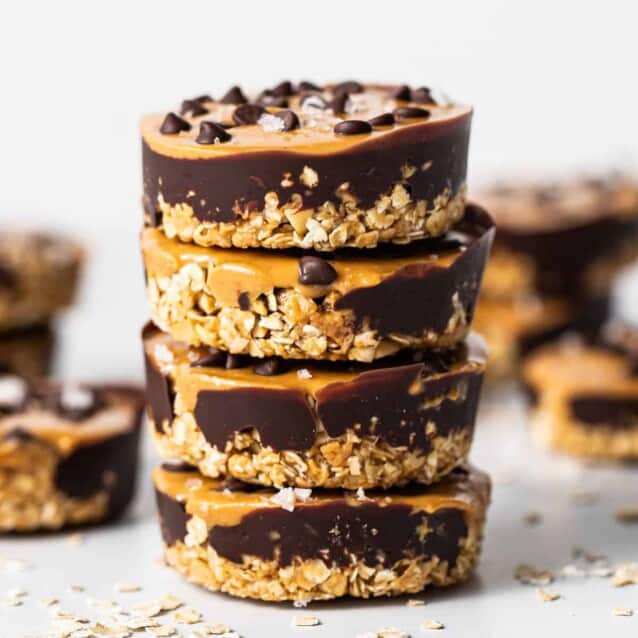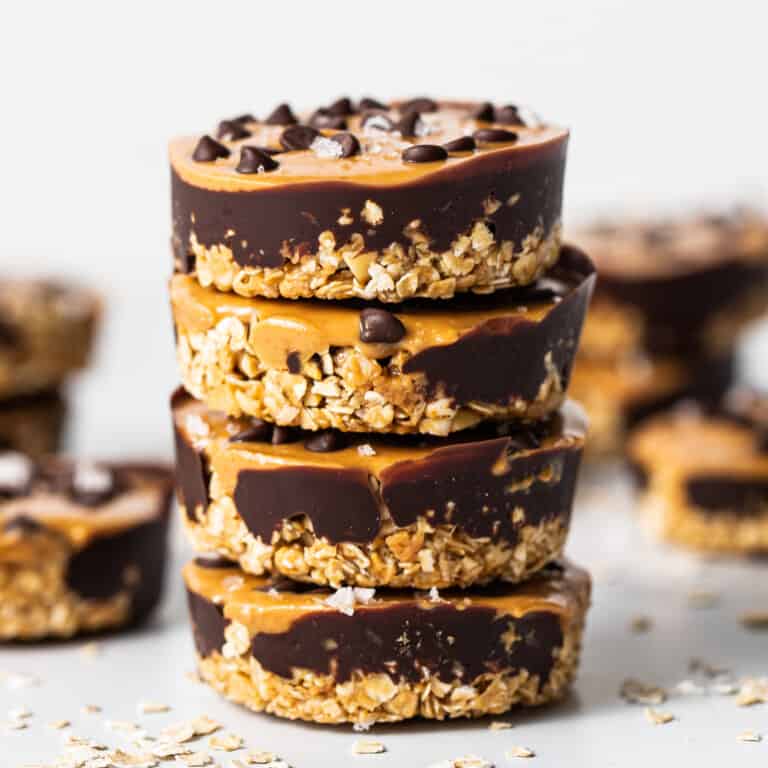 Get our Top 10 5-Star Recipes!
Join our email list for new recipes and BONUS: get our top 10 ⭐️⭐️⭐️⭐️⭐️ recipes e-book!
How to Bake a Potato
Preheat the oven to 425ºF and grease a baking sheet with olive oil. Why do we bake the potatoes at 425ºF? This heat bakes the inside of the potato perfectly while crisping up the skin on the outside.
Poke those holes. Potatoes are a dense vegetable that need a little help to bake evenly. To help a potato cook evenly all you have to do is poke the potato with a fork all the way around a potato. People also say this helps your potato from exploding in the oven, however, we've tested holes and no holes and have never had a potato explode on us.
Wipe the potatoes. After you've poked your potatoes, drizzle them with olive oil and use your hands to rub the oil into the skin of the potato.
Season the potatoes. Sprinkle each potato with salt and pepper.
Bake the potatoes. Place the potatoes on the greased baking sheet and place it in the oven and bake the potatoes for about 60 minutes, flipping the potatoes every 20 minutes.
The cooking time all depends on how big the potatoes are. So if you have smaller potatoes, the bake time will most likely be lower. When the potatoes are fork tender (the fork goes in easily) the potatoes are done.
Remove the potatoes from the oven and set them on a cooling rack for 5 minutes. After that, it's time to cut the potatoes in half, fluff them with a fork, and decide on toppings!
Top the Potatoes. Serve them with the toppings of your choice.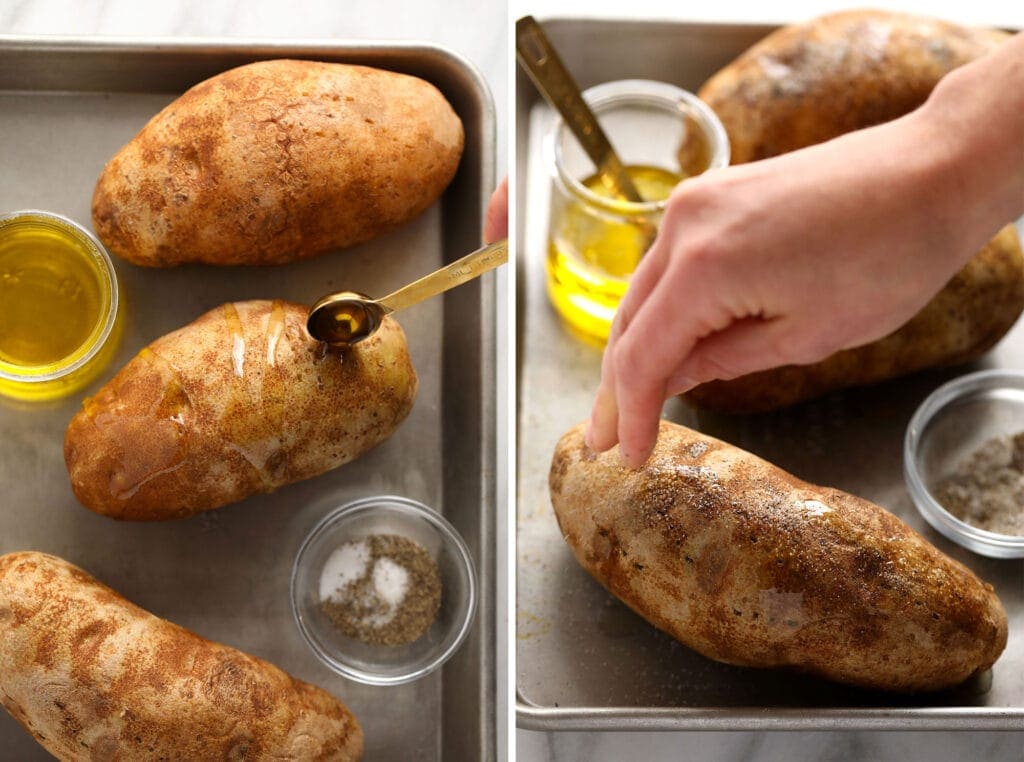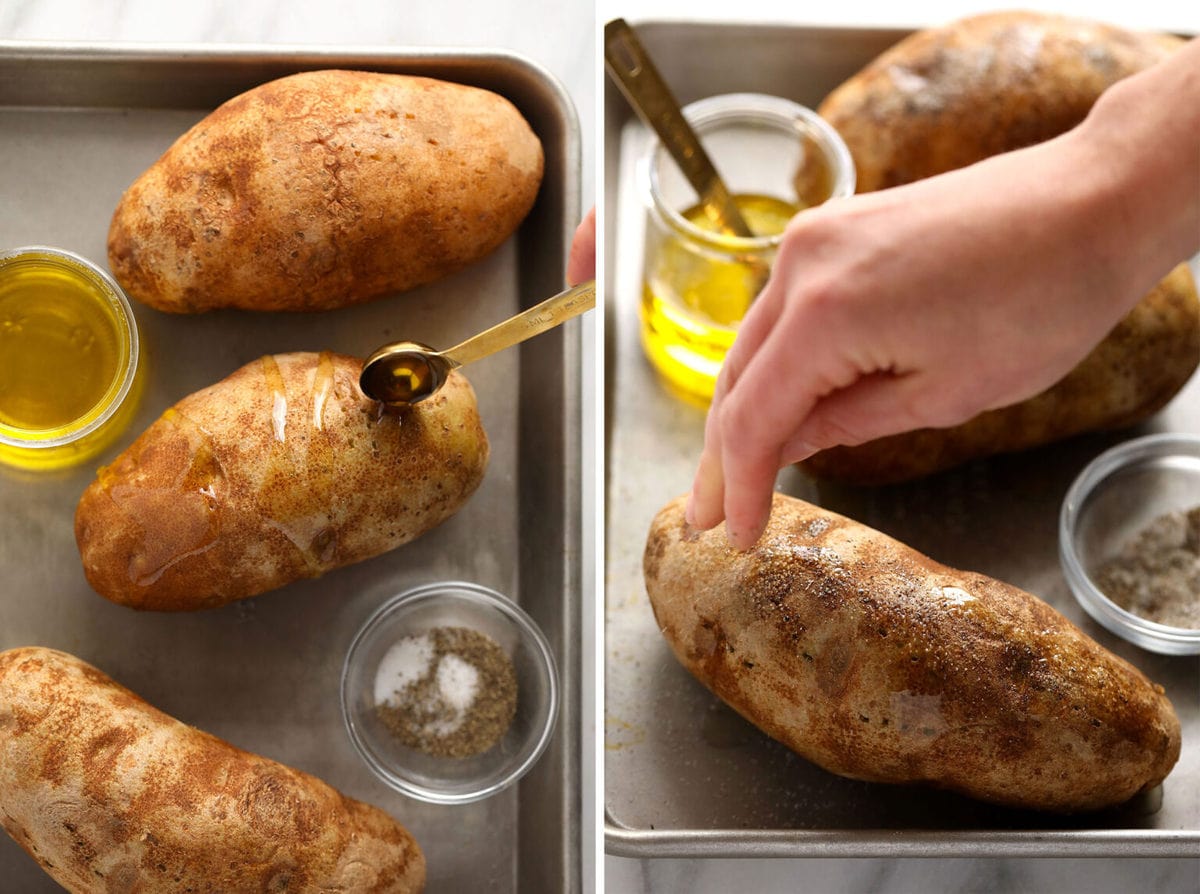 Baked Potatoes 101
What temperature should a baked potato be cooked at?

We bake these potatoes at 425ºF. We suggest always baking baked potatoes at a high temperature.
Should baked potatoes be wrapped in foil?

For this recipe you do not have to bake the potatoes in foil. The goal of this baked potato recipe is to bake and crisp of the skin of the potato and that happens by not wrapping the potato in foil.
Can I make baked potatoes vegan?

Yes, this potato recipe is vegan! Just be sure not to use butter.
Should I microwave potatoes first?

If you want to expedite the baking process you can cook the potatoes for 5-10 minutes after you poke holes in the potato. After you microwave the potato rub the potatoes with oil and sprinkle with salt and pepper.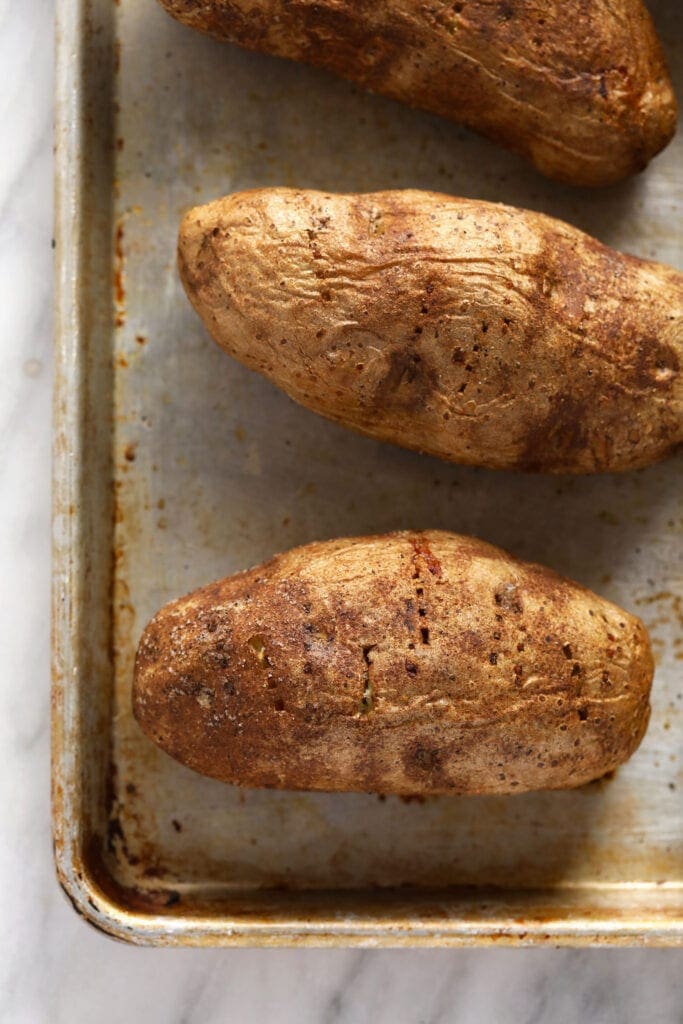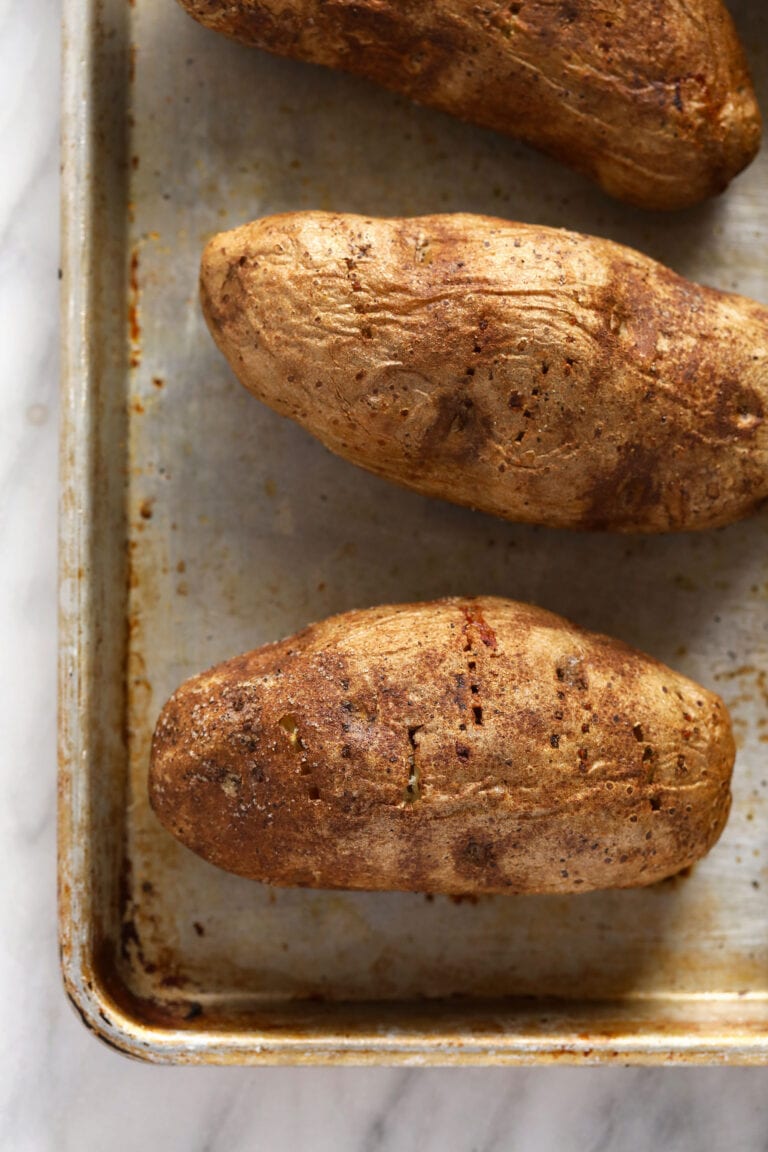 Easy Swaps
Russet potatoes –> Sweet potatoes: You can absolutely bake sweet potatoes instead of russets! For more detailed instructions check out our baked sweet potatoes post.
Serving Suggestions
Sometimes you serve baked potatoes as the main dish and sometimes you serve baked potatoes as a side to other delicious meals. Here are some of our favorite main dishes to serve with baked potatoes:
When You Have Leftover Baked Potatoes
Did you make too many baked potatoes? No problem! You can use baked potatoes and turn them into a totally different recipe! Here are some fun ideas for left over baked potatoes!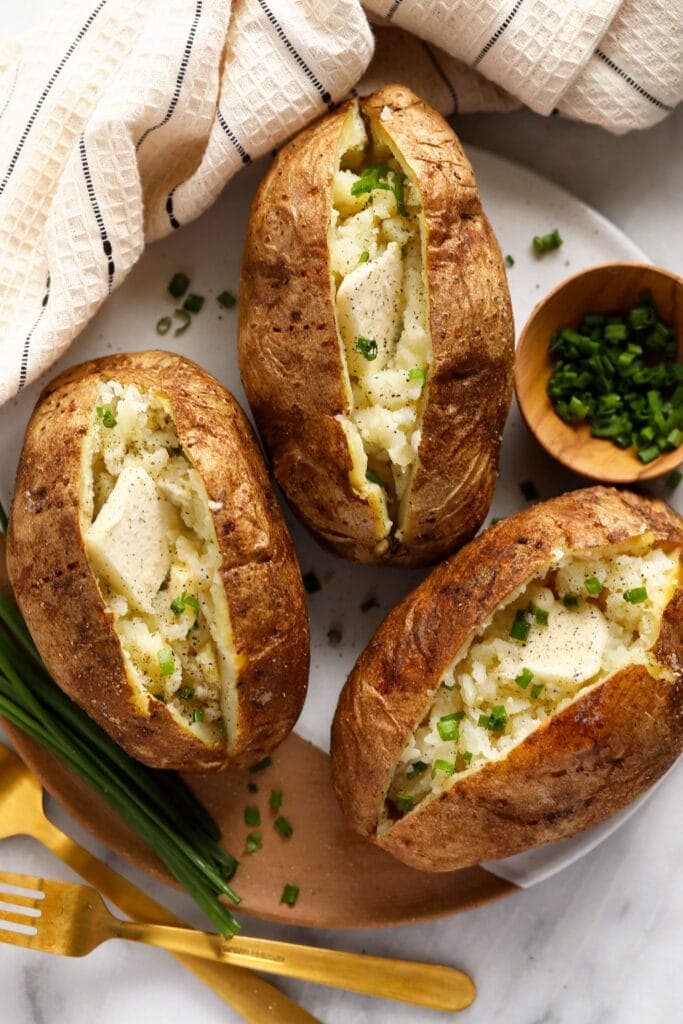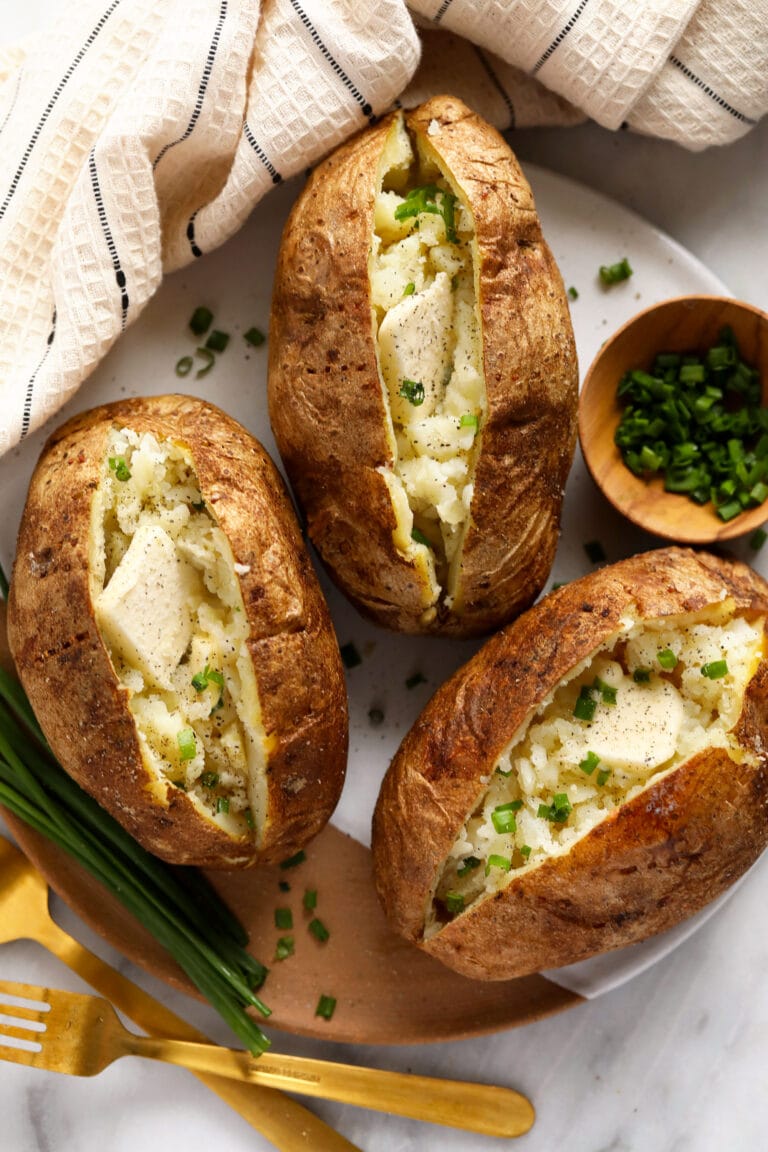 Baked Potato Topping Ideas
After your baked potatoes are ready, it's time to top those taters with all of your favorite fixings.
Simple Toppings
Butter + salt + pepper
Fresh chives + Greek yogurt or sour cream
Fresh avocado + lime juice
Broccoli florets + cheddar cheese
Loaded Baked Potatoes
Black Beans + Greek Yogurt + Red Onion + Cilantro
Chili + Shredded Cheddar Cheese
Bacon + Cheddar Cheese + Fried Egg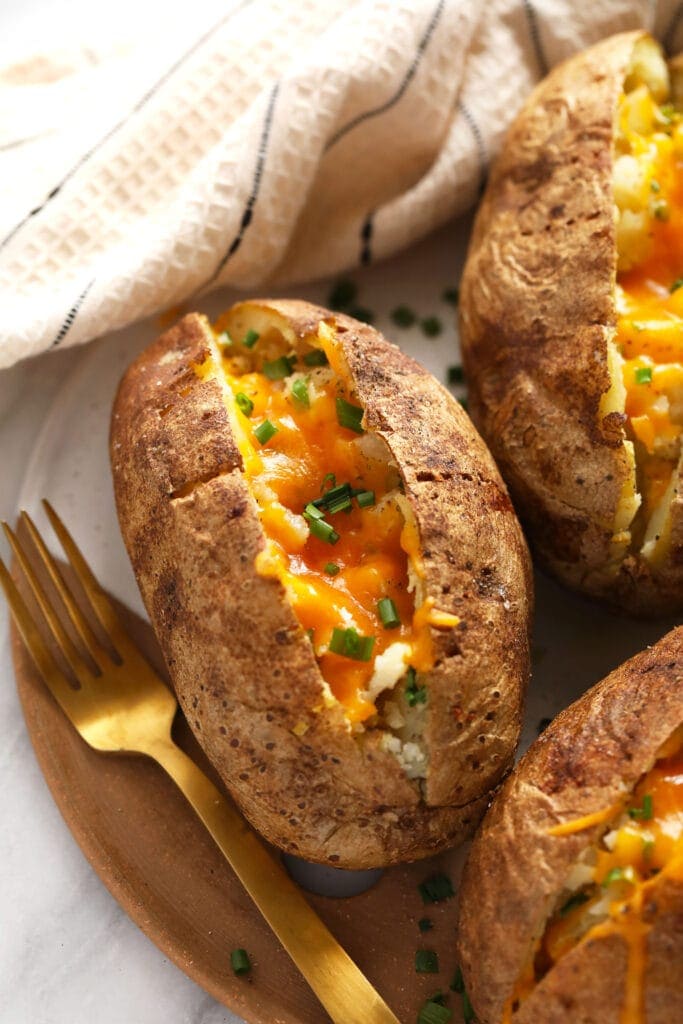 How do I store baked potatoes?
After the baked potatoes are cool completely you can place the baked potatoes in an air tight container and store them in the fridge for 5-7 days.
Sometimes it's helpful to drizzle a little olive oil on the potatoes before putting them in the refrigerator to help keep them moist.
Can I freeze baked potatoes?
We do not recommend freezing baked potatoes!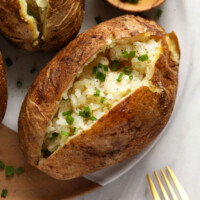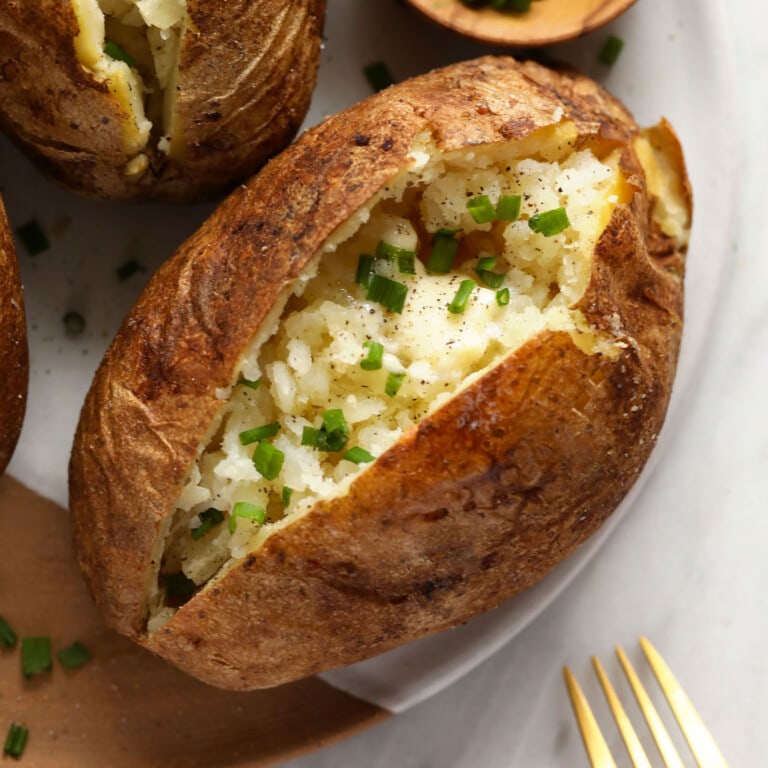 Seriously Tender Baked Potato (in oven)
It's time to learn how to make a perfect baked potato! These baked potatoes have perfectly crispy skin with buttery smooth insides. We are going to teach you how to bake a potato and you'll never make them another way again.
Ingredients
Instructions
First, preheat the oven to 425ºF and spray a baking sheet with nonstick cooking spray.

Then scrub potatoes under warm water and pat them dry. Use a fork to pierce each potato 8-10 times. This will help prevent them from exploding in the oven.

Next, rub each potato with olive oil and then generously season with salt and pepper.

Place potatoes on the baking sheet, making sure they are not touching. Roast at 425ºF for 45-60 minutes. Flip potatoes every 20 minutes. Time will vary depending on the size of the potato. You know your potatoes are done when you can easily pierce them with a fork.

Let the potatoes cool for around 10 minutes before slicing down the middle and using a fork to mash and fluff.

Serve baked potatoes with your favorite toppings such as butter, salt, pepper, and shredded cheese.
Tips & Notes
Cook time will vary depending on the size of your potatoes.
Nutrition facts
Calories:
312
kcal
Carbohydrates:
67
g
Protein:
8
g
Fat:
3
g
Fiber:
5
g
Sugar:
2
g