Creamy, cheesy, and savory twice baked potatoes are the ultimate game day or dinner idea. They feature perfectly crispy potato skins and the most delicious cheesy filling.
Pair this twice baked potato recipe with a sous vide steak, pork tenderloin, or our pan seared chicken.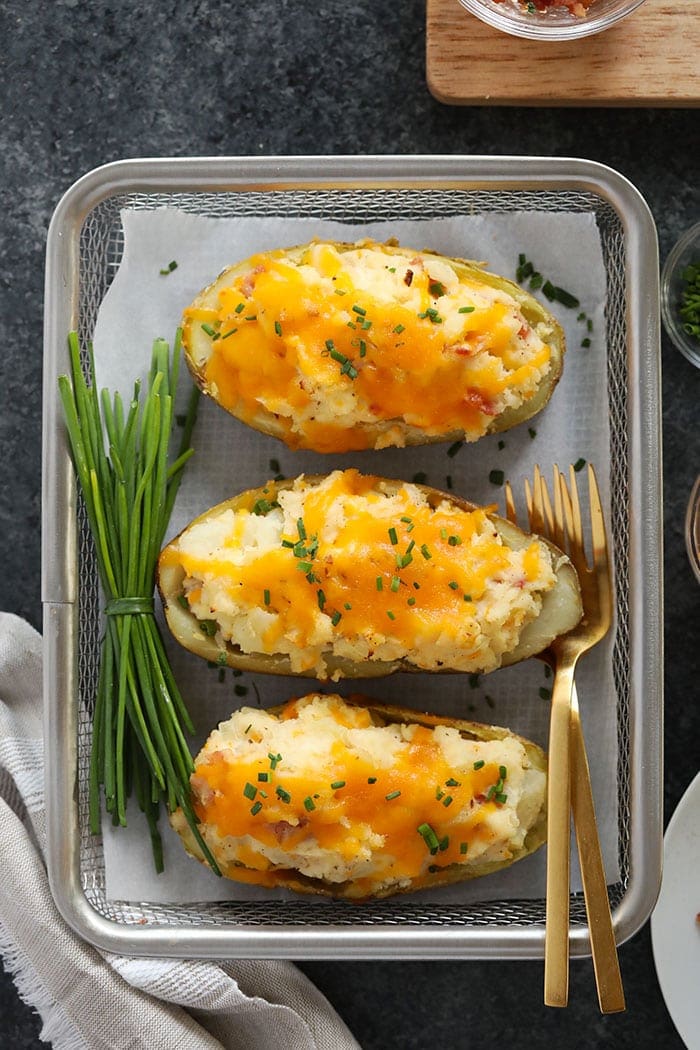 Twice baked potatoes are the perfect hearty side dish to accompany your dinner OR be your dinner (especially when topped with leftover chili)! Whether you're serving a crowd (this recipe serves 8) or meal prepping for the week (these are easy to reheat), these twice baked taters are calling your name.
Simply bake the potatoes in the oven, then scoop out the tender potato flesh and mix it with cheesy, creamy ingredients and cooked bacon pieces. Fill the potato skin boats with the creamy mashed potato mixture and bake again (aka twice baked!). You'll appreciate that most of this recipe is hands-off time!
We tested this recipe a few times and had best (and creamiest) success when the potatoes were super tender – they should be easily pierce-able with a fork.
What You Need for Twice Baked Potatoes
These twice baked potatoes are made with basic ingredients that come together to create a truly epic side dish! You'll need:
Russet potatoes
Olive oil
Salt + pepper
Onion + garlic
Thick-cut bacon
Greek yogurt + sour cream
Shredded cheddar cheese
Butter
Beef broth
Red pepper flakes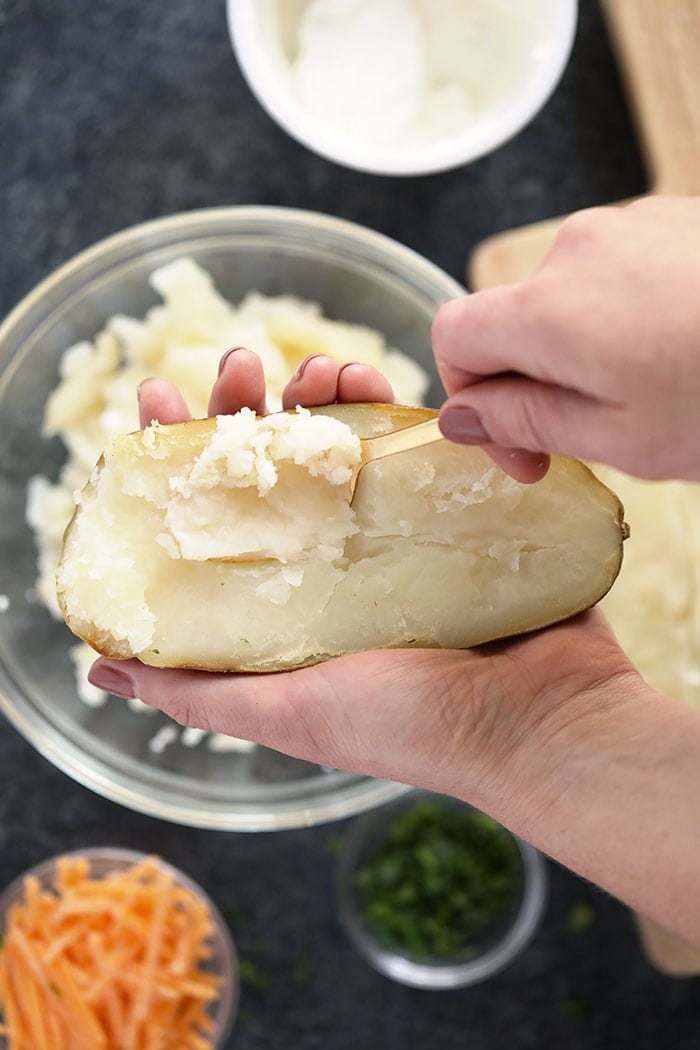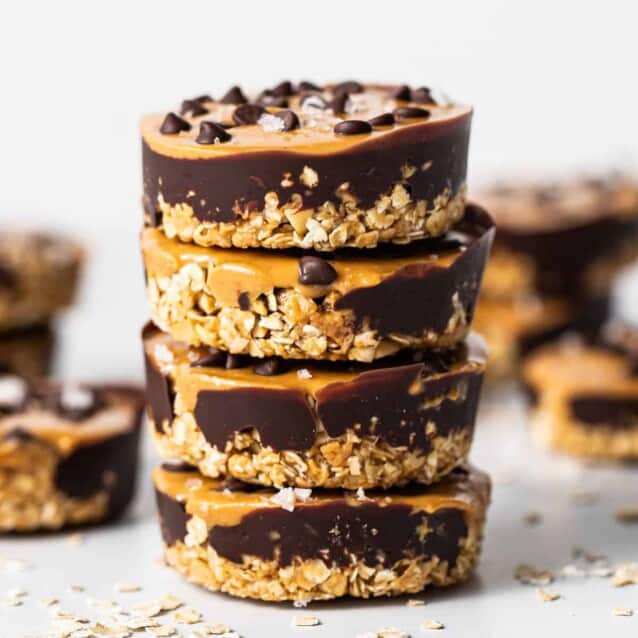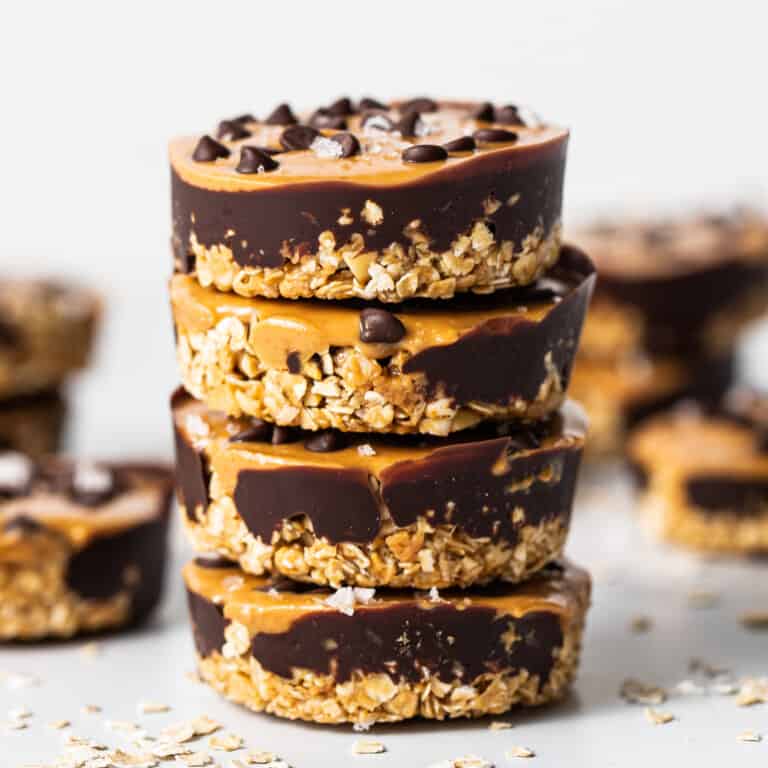 Get our Top 10 5-Star Recipes!
Join our email list for new recipes and BONUS: get our top 10 ⭐️⭐️⭐️⭐️⭐️ recipes e-book!
Twice Baked Potato Variations
Our favorite way to customize twice baked potatoes is by setting up a toppings bar and letting everyone top their own! Here are a few other swaps and substitutions to try:
Baked Potatoes: We have a variety of different baked potato recipes on Fit Foodie Finds and recommend using our baked potato in the oven method since you'll already be using your oven for the second part of this recipe. You could also make and use smoked baked potatoes or crock pot baked potatoes in this recipe.
Vegetarian: For vegetarian potatoes, omit the bacon and use vegetable broth.
Spices: Add a pinch of cayenne pepper for a little kick or mix in your favorite spices/seasonings (garlic powder, onion powder, or homemade Italian seasoning) in step 5.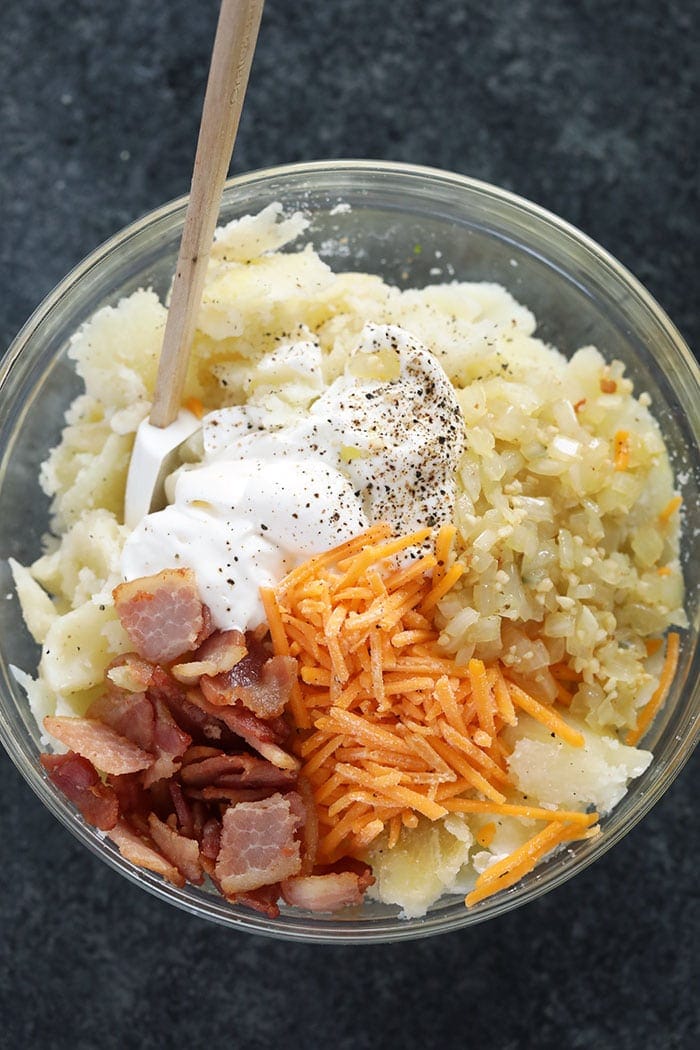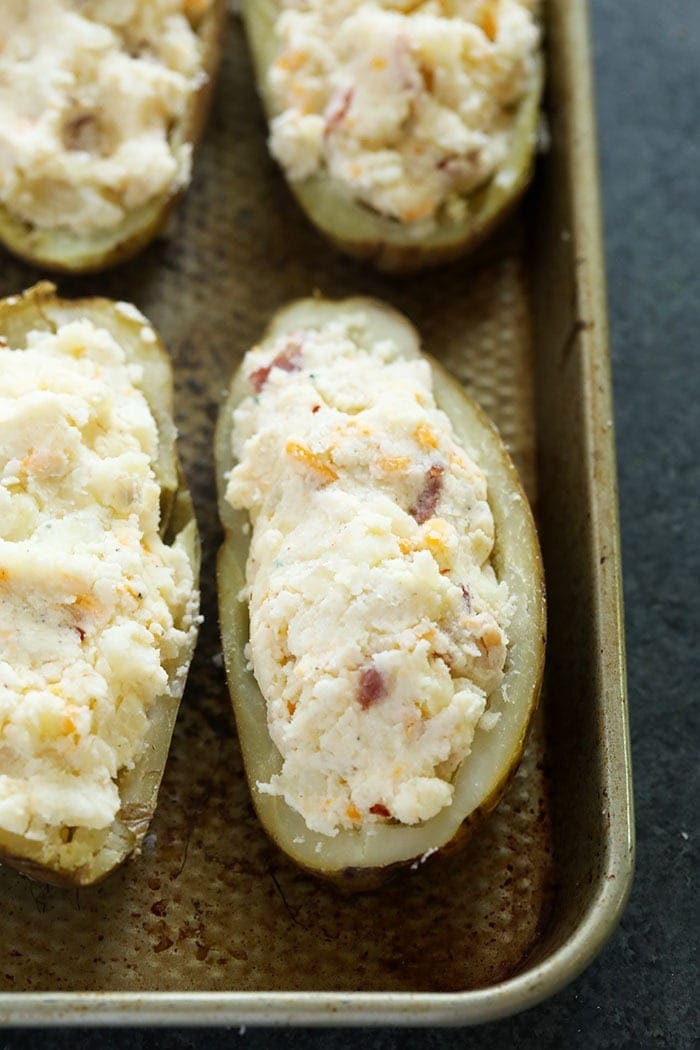 FAQ
What are twice baked potatoes?

A twice baked potato is when you bake a potato, scoop out the flesh, mix the potato flesh with butter, sour cream, and cheese, and fill the potato skins with that mixture. Then it's all baked again until the skins are crispy and perfect. They are called "twice baked" because the potato actually gets baked two different times. The first time is to bake the potato until the flesh is tender so you can mix it with the filling ingredients and the second is to bake the filled potatoes until they are warm and melty inside.
What kind of potato is best for twice baked potatoes?

Russet or Idaho potatoes are best for twice baked potatoes because they have a tougher potato skin that crisps up nicely in the oven.

Storage
Baked potatoes make great leftovers, especially on chilly days! Let the twice baked potatoes cool, transfer to an airtight container, and refrigerate for up to 5 days.
Reheating instructions
Oven: Preheat the oven to 400ºF. Place the potatoes in a casserole dish and cover with tin foil. Bake for 15-20 minutes, or until the potatoes are warm.
Microwave: Working one potato at a time, place the twice baked potato on a microwave-safe plate. Microwave on high until warm.
Freezing Twice Baked Potatoes
Let the twice baked potatoes cool completely. Once cool, tightly wrap each potato in a piece of foil. Place the wrapped potatoes in an airtight bag or container and freeze for up to 3 months.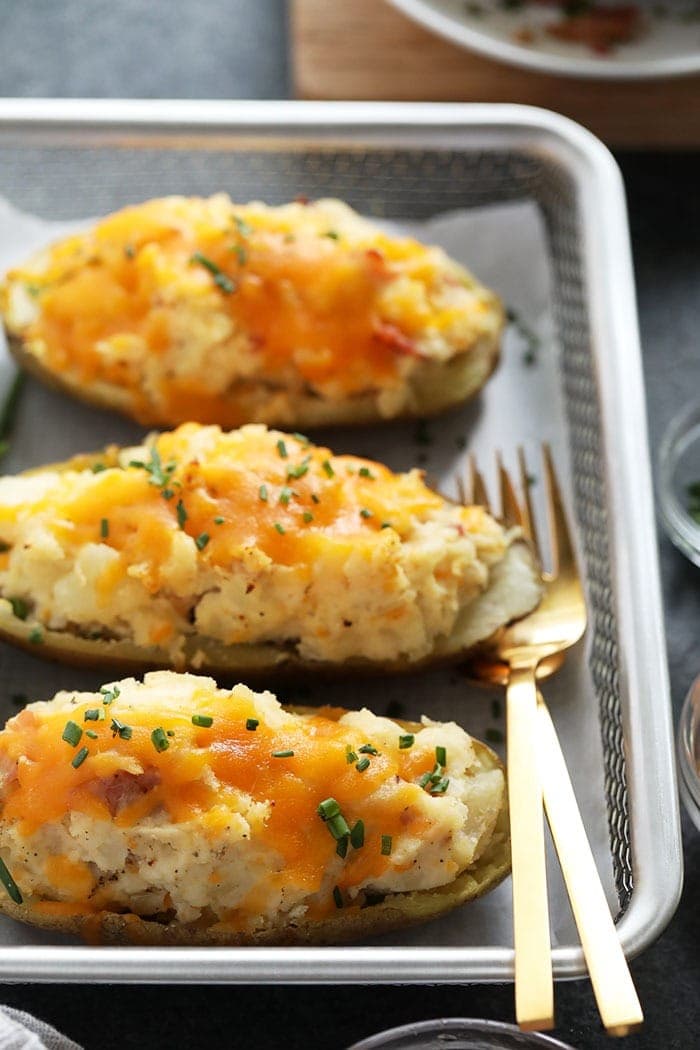 Serving Suggestions
It's always a good time for twice baked potatoes and the toppings are the best part! Serve them for game day, at a potluck, as a holiday side, or as part of a weeknight dinner alongside a protein and non-starchy vegetable. Some of our favorite twice baked potato pairings and toppings are:
Main Dish/Proteins:
Other Sides / Vegetables:
Toppings
More shredded cheese
A dollop of Greek yogurt or sour cream
Chopped chives or green onions
Bacon bits
BBQ sauce and cheddar cheese
Salsa
Leftover chili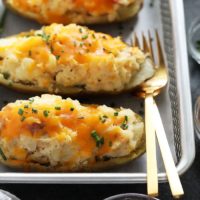 Twice Baked Potatoes
These twice baked potatoes are crispy on the outside and flavorful on the inside. They're a creamy, cheesy side dish everyone loves.
Ingredients
4

large russet potatoes

3

tablespoons

olive oil

divided

1/2

teaspoon

salt

divided

1/2

teaspoon

pepper

1/2

large yellow onion

minced

3

teaspoons

minced garlic

1/2

lb.

thick-cut bacon

cut into 1-inch pieces

3/4

cup

full-fat Greek yogurt

1/4

cup

sour cream

1

cup

shredded cheddar cheese

divided

2

tablespoons

melted butter

1/4

cup

beef broth*

1/4

teaspoon

red pepper flakes
Toppings
full-fat Greek yogurt

chives

shredded cheddar cheese

bacon bits
Instructions
First, bake the potatoes. Preheat the oven to 450ºF. Run the potatoes under cold water to remove any residue and pat them dry. Drizzle and season each potato with olive oil (about 1 teaspoon per potato) and 1/8 teaspoon of salt. Tightly wrap each potato with foil. Bake for about 50-60 minutes, until the potatoes are easily pierced with a fork.

While the potatoes are baking, heat the remaining 2 tablespoons of olive oil in a large skillet over medium/high heat. When the oil is fragrant, add the onion and garlic and sauté for 2-3 minutes. Remove from skillet and set aside.

To the same hot skillet, add the bacon pieces. Sauté until the bacon is fully cooked but not crispy, about 7-10 minutes. Use a paper towel to remove any excess bacon grease and set the bacon aside.

Once the potatoes are baked, unwrap the foil and let them cool for 10 minutes and reduce the oven temperature to 375ºF. Slice the warm potatoes in half (hotdog style) and carefully hollow out the insides with a tablespoon scoop. Place the potato flesh into a large bowl. Keep the skin of the potato intact with about 1/4-inch of flesh so they are sturdy enough to hold the mashed potato mixture. You should have 8 total potato skins.

To the large bowl with the potato flesh, add the butter, beef broth, and Greek yogurt. Mix to combine using a spoon, potato masher, or hand mixer (the mixture should be really mashed). Add the sour cream, 2/3 cup of cheddar cheese, sautéd onions and garlic, cooked bacon pieces, remaining salt, pepper, and red pepper flakes to the bowl and mix well.

Spoon the potato mixture evenly into the 8 potato skins.

Spray a baking sheet with nonstick cooking spray (or line a baking sheet with foil and spray the foil with nonstick cooking spray). Place all 8 of the filled potato skins onto the baking sheet.

Bake at 375ºF for 15 minutes.

Remove the potatoes from the oven, sprinkle with the remaining cheddar cheese, and bake for another 5 minutes to melt the cheese.

Let the potatoes cool for a few minutes, top with all of your favorite toppings, and enjoy!
Tips & Notes
Storage:Let the twice baked potatoes cool, transfer to an airtight container, and refrigerate for up to 5 days.
Reheating Instructions: Oven: Preheat the oven to 400ºF. Place the twice baked potatoes in a casserole dish and cover with tin foil. Bake for 15-20 minutes, or until the potatoes are warm. Microwave: Working one potato at a time, place the twice baked potato on a microwave-safe plate. Microwave on high until warm.
Freezing Instructions: Let the twice baked potatoes cool completely. Once cool, tightly wrap each potato in a piece of foil. Place the wrapped potatoes in an airtight bag or container and freeze for up to 3 months.
Potatoes: Make sure to use warm/hot baked potatoes. If you bake the potatoes ahead of time, warm them up before scooping out the flesh and continuing with the recipe.
Broth: Feel free to use whatever type of broth you would like. Beef broth adds amazing flavor, but any kind works. (Note that the beef broth does not appear in the video, but it is part of the recipe.)
Nutrition facts
Calories:
291
kcal
Carbohydrates:
15
g
Protein:
14
g
Fat:
19
g
Fiber:
1
g
Sugar:
2
g