Everyone loves a good creamy cheese sauce, amiright? This vegan cheese sauce tastes delicious on everything! Make yourself a batch of vegan mac and cheese or slather this sauce on a pan of nachos. The options are endless!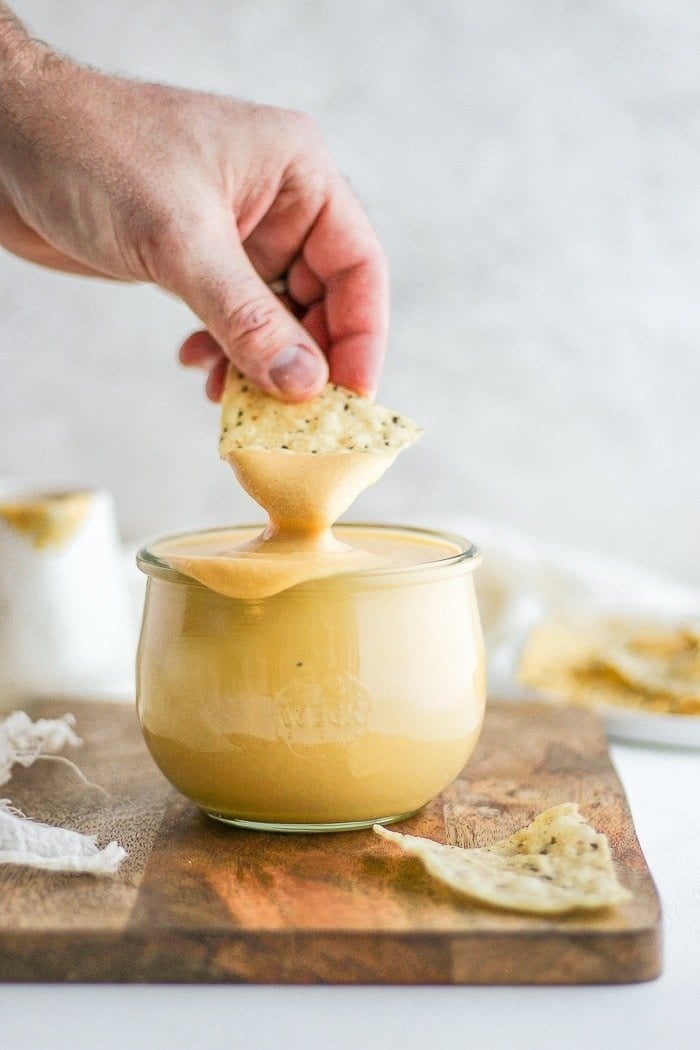 Who Doesn't Love Mac and Cheese?
If there was one thing I could eat every night it would be a big bowl of creamy mac and cheese. It has always been one of my favorite things to eat. It is one nostalgic dish for me.
Back in the day Velveeta was the go-to boxed mac and cheese. My middle school self would scarf down a box with my brother in no time. Kraft mac and cheese was always served at my grandma and grandpa's house for every holiday. It was always so much more creamy then when I would make it. I later learned it is because my grandpa would add an extra stick of butter and shredded cheese (talk about jam-packed).
Once I graduated from high school I was into every homemade mac and cheese recipe I could get my hands on. I would add crunchies on top, bake it, saucepan it, and everything in between. The only thing I really cared about was that it was creamy!
I have since graduated to Annies Mac and Cheese when I'm in a pinch. Yes, I know that powdered cheese isn't really cheese, but it's a treat and I love it. Annie's was my favorite until this vegan cheese sauce came into my life.
All About Vegan Cheese Sauce
I said goodbye to all those boxed mac and cheese when we developed this vegan cheese sauce. Whenever we make a batch it takes every bit of my being not to eat it by the spoonfuls. This vegan cheese sauce it good on everything! We love mixing it with pasta, having it with broccoli as an appetizer, or drizzling it over some vegan nachos.
A few months ago we posted this vegan queso recipe (we are also pretty obsessed). This vegan cheese sauce is a bit different. We use more veggies, like peppers, onions, and carrots. We wanted it to have that tex-mex flavor and it is amazing! After testing that recipe and loving it, we knew we had to develop a classic vegan cheese sauce.
One thing we learned was to not skimp on the nutritional yeast. The nutritional yeast gives the vegan cheese sauce that earthy taste like a normal cheese sauce would have.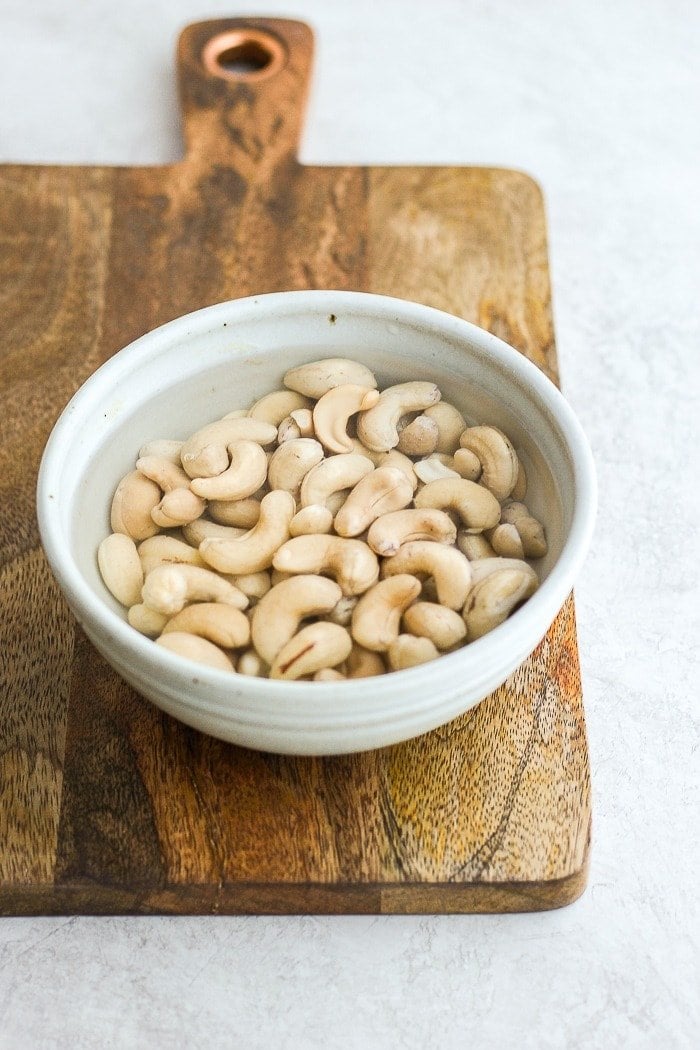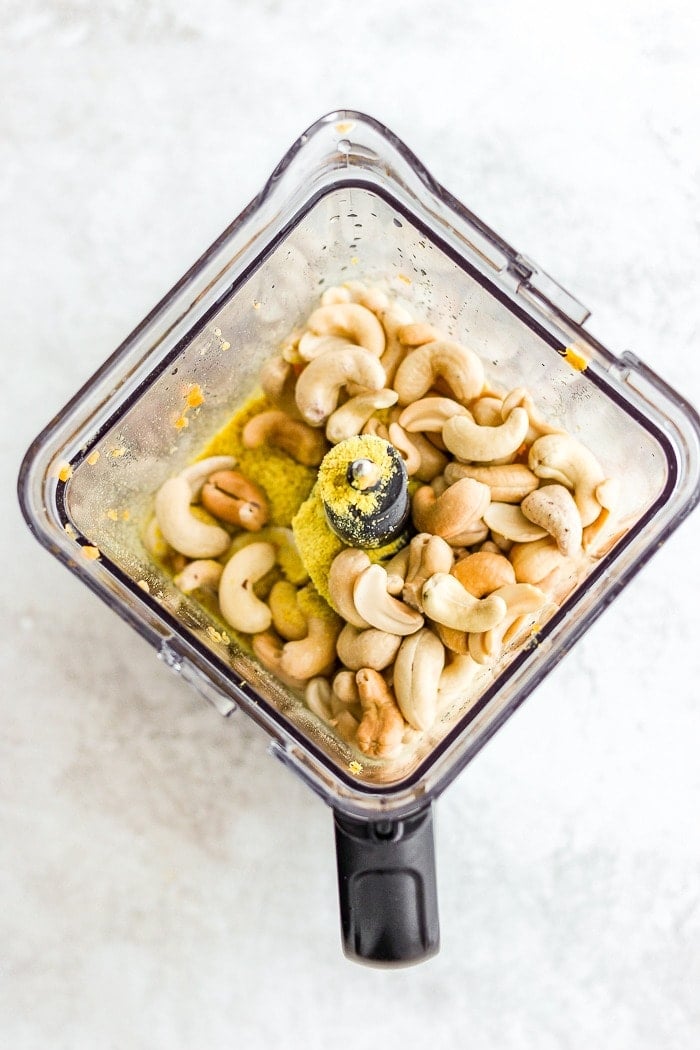 Things to Remember When Making Vegan Cheese Sauce
No, really. Soak Your Cashews Yes, you really have to soak your cashews! People ask if they can skip this step and the answer is no! Soaking the cashews breaks them down so the sauce is easier to digest AND it softens your cashews so your vegan cheese sauce is nice and creamy!
You can use whatever potato you want Though we prefer sweet potatoes for this recipe, any potato would do! You just want to make sure your potato is fully cooked. We like the little bit of sweetness that the sweet potato gives the cheese sauce!
Broth offers more flavor You will definitely need some kind of liquid when you make this vegan cheese sauce. We use vegetable broth because it gives the sauce another delicious layer of flavor. Feel free to use water instead!
Your food processor matters Feel free to use a blender or a food processor to mix up this cheese sauce. Just make sure that it is a high powered blender (we used a Vitamix) or food processor. It really does matter!
Make this vegan cheese sauce your own Listen, we tested this recipe multiple times and we think it is absolutely delicious. However, feel free to make it your own. If you would like to add some other roasted vegetables to your pureed sweet potatoes, go for it! If you want to add a little spice, do it! Just keep in mind every blender and potato are different, so you may have to add a little more or a little less liquid depending on your ingredients!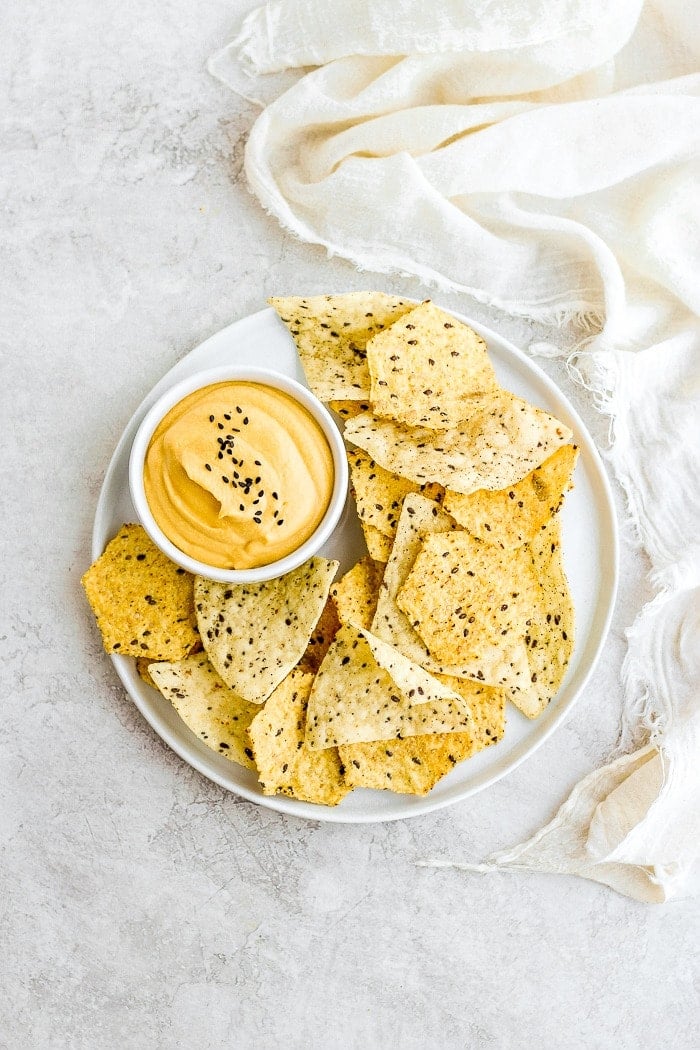 Use Your Vegan Cheese Sauce with These Recipes
Vegan Cheese Sauce Video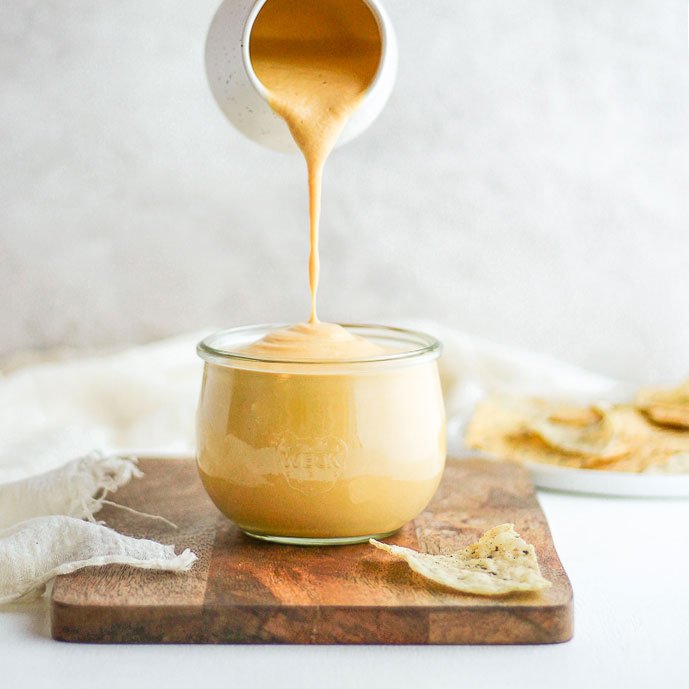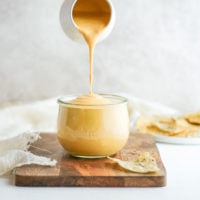 How to Make Vegan Cheese Sauce
Everyone loves a good creamy cheese sauce, amiright? This vegan cheese sauce tastes delicious on everything! Make yourself a batch of vegan mac and cheese or slather this sauce on a pan of nachos. The options are endless!
Prep:
30 minutes
Cook:
0 minutes
Total:
30 minutes
Yield
1.5 cups

cheese sauce

1

x
Ingredients
1 cup

soaked raw cashews*

1 cup

sweet potato puree

1/4 cup

nutritional yeast

1/2 teaspoon

salt

1/2 cup

vegetable broth** (or water)

1 teaspoon

apple cider vinegar
Instructions
Begin by submerging 1 cup of raw cashews in water. Let soak overnight or for at least 12 hours.
Once your cashews have softened, strain and rise and place into a high-speed blender.
Then, add sweet potato puree, nutritional yeast, salt, vegetable broth, and apple cider vinegar.
Blend on high until everything is pureed together and smooth. You may need to stop and scrape the sides. If your cheese is too thick, add a little bit more vegetable broth by the 1 tablespoon.
Enjoy over pasta, on broccoli, as a dip, on nachos, etc!
Tips & Notes
*Option to flash boil your cashews. Place your cashews on the bottom of a bowl and then pour 2 cups of boiling water on top of them. Let sit for 30 minutes.
**If your cheese sauce is too thick for you, add more vegetable broth by the tablespoon.
Serves 8
Nutrition Facts
Serving Size:
1/4 cup
Calories:
169
Sugar:
7
Fat:
8
Carbohydrates:
17
Fiber:
2
Protein:
7
Category:
Condiment
Method:
No Bake
Cuisine:
American
Keywords: vegan cheese sauce