If you're looking for a show-stopping vegan cheese sauce to put on everything, then you must try this incredibly silky smooth vegan cheese sauce.
Our recipe is made with cashews, nutritional yeast, tons of garlic, and spices. It's truly the best vegan cheese sauce recipe.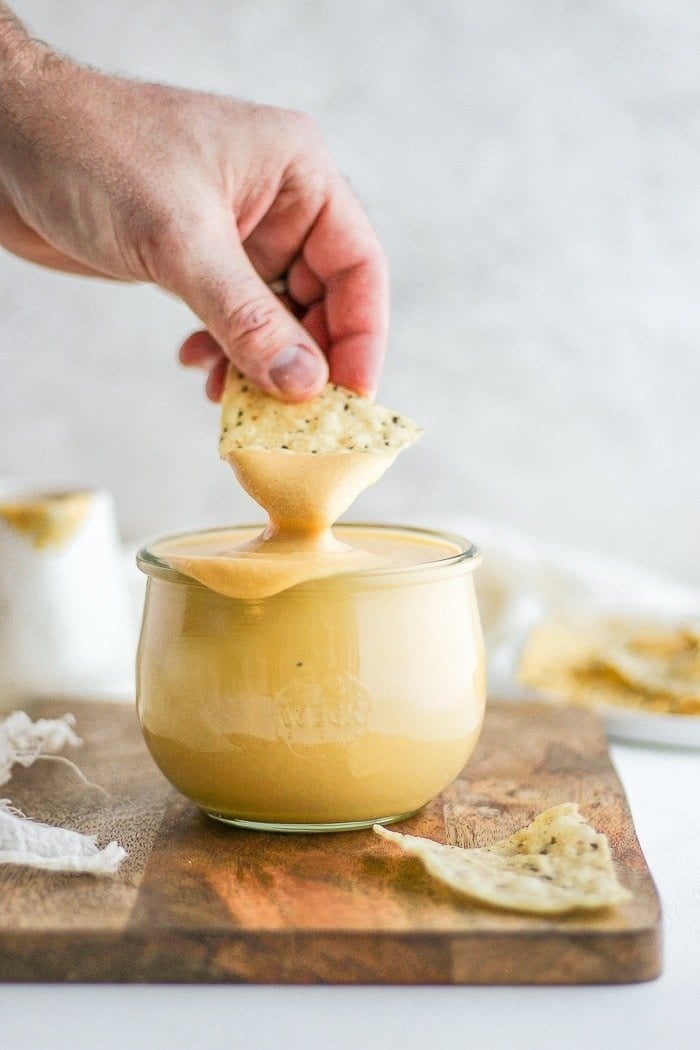 Best Vegan Cheese Sauce
Looking for an epic cheese sauce to top your noodles with or serve with chips, but looking to hold the dairy? Try this easy vegan cheese sauce recipe!
This is our basic vegan cheese sauce that's packed with nutrition and made with a base of cashews, sweet potato puree, and nutritional yeast.
We promise you that this cheese sauce made without any real dairy is delicious and a great supplement for those who don't eat animal products!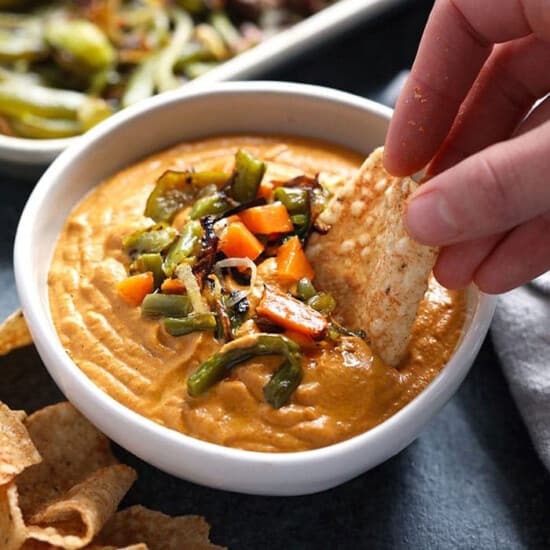 Try it!
Vegan Queso
This u003cstrongu003evegan queso recipe u003c/strongu003eis smokey, creamy, and tastes exactly like real queso. It's made from cashews, nutritional yeast, spices, secret roasted veggies, and hot sauce.
Get recipe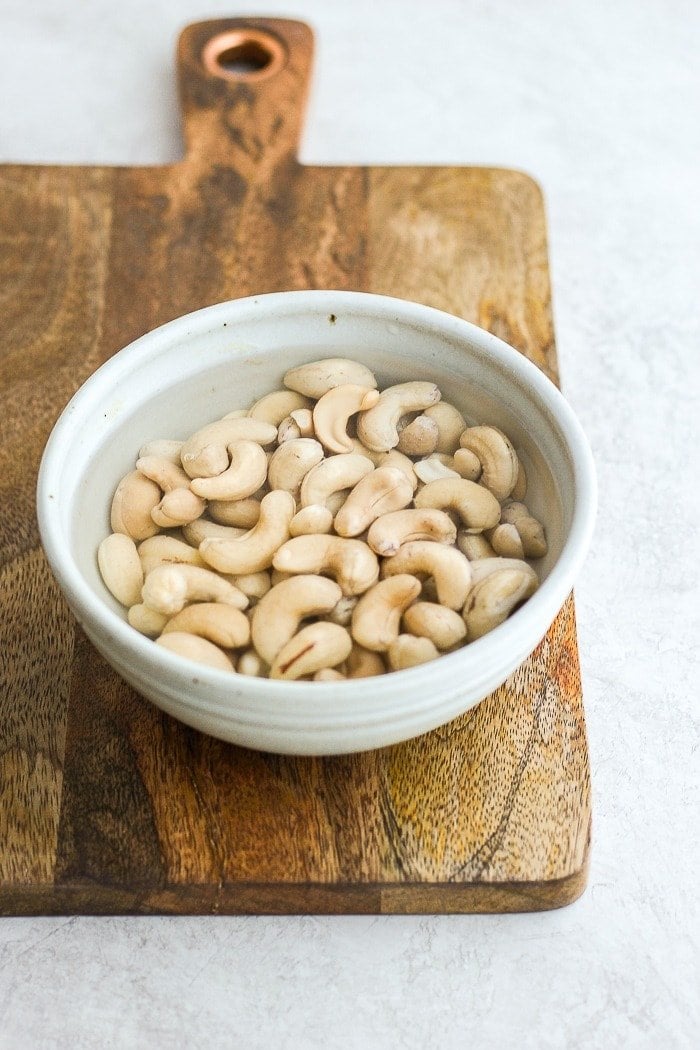 What You Need
Raw cashews: make sure to buy raw cashews as they soften much easier than roasted.
Sweet potato puree: sweet potato puree not only adds a cheesy color, but so much flavor and nutrition!
Nutritional yeast: nutritional yeast is what gives you that cheesy taste without the dairy. Our favorite brand is Bob's Red Mill.
Broth: broth adds flavor and salt. You can use any kind of broth for this recipe, but to keep it vegan, we're recommending veggie broth.
Apple cider vinegar: ACV adds a little tang and also balances out all of the flavors of this vegan cheese sauce.
Why raw cashews? When soaked, raw cashews become malleable and soft, making them super creamy when blended with liquid. The flavor is light and you can really make them taste however you want!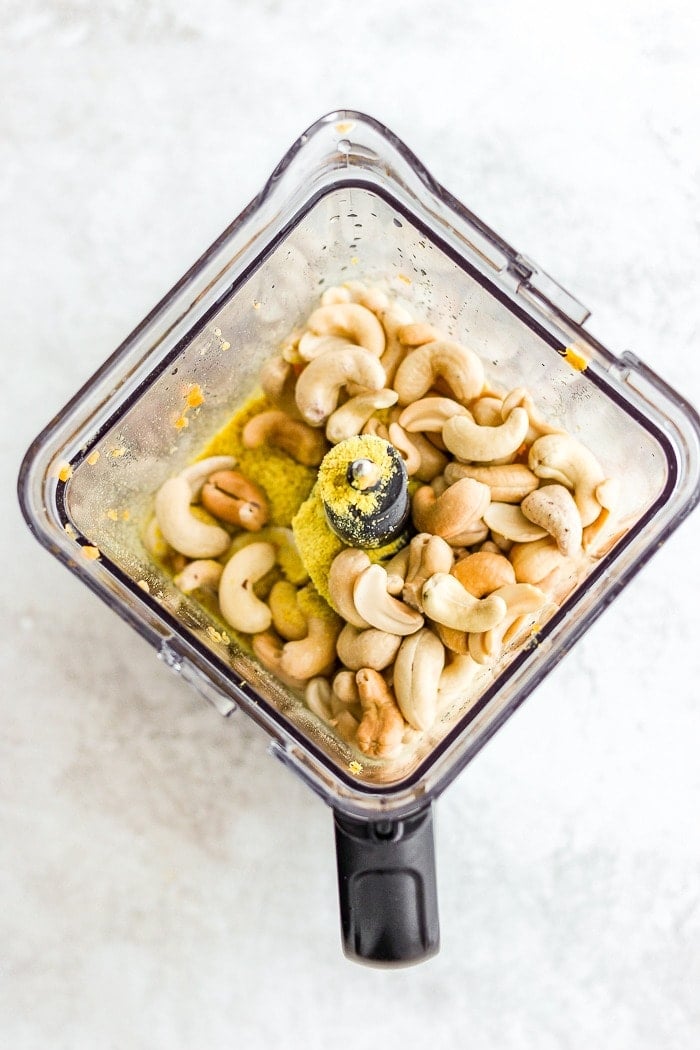 Top Tips
No, really — soak your cashews Yes, you really have to soak your cashews! People ask if they can skip this step and the answer is no! Soaking the cashews breaks them down so the sauce is easier to digest AND it softens your cashews so your vegan cheese sauce is nice and creamy!
You can use whatever potato you want Though we prefer sweet potatoes for this recipe, any potato would do! You just want to make sure your potato is fully cooked. We like the little bit of sweetness that the sweet potato gives the cheese sauce!
Broth offers more flavor You will definitely need some kind of liquid when you make this vegan cheese sauce. We use vegetable broth because it gives the sauce another delicious layer of flavor. Feel free to use water instead!
Your food processor matters Feel free to use a blender or a food processor to mix up this cheese sauce. Just make sure that it is a high-powered blender (we used a Vitamix) or food processor. It really does matter!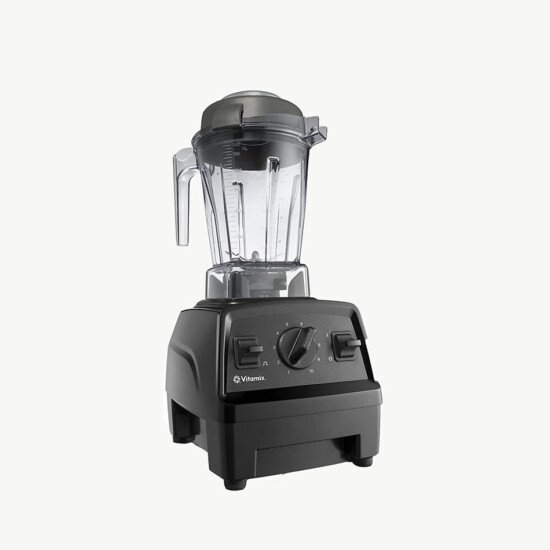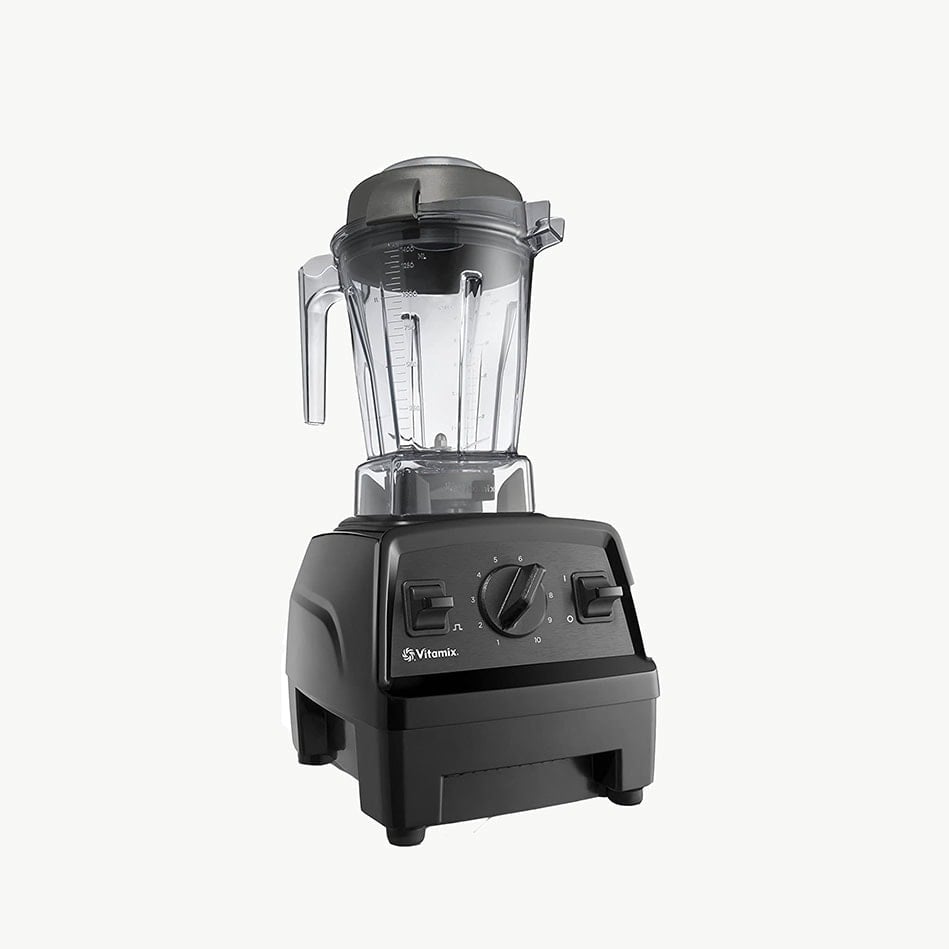 Our Favorite
Blender
Looking to upgrade your blender? Check out our favorite Vitamix Blender. It's our favorite high-speed blender perfect for making smoothies, soups, and nut butter.
Buy Now
Make this vegan cheese sauce your own Listen, we tested this recipe multiple times and we think it is absolutely delicious. However, feel free to make it your own. If you would like to add some other roasted vegetables to your pureed sweet potatoes, go for it.
If you want to add a little spice, do it! Just keep in mind every blender and potato are different, so you may have to add a little more or a little less liquid depending on your ingredients!
Serve it Hot or Cold!
Feel free to serve this vegan cheese sauce as is. Or, you can serve it hot too!
To serve hot: transfer the cheese sauce into a medium saucepan. Heat over medium/low heat until warm. You may need to add more broth if it thickens.
Serving Suggestions
Mix with noodles: cook up around 6-oz. of your favorite noodle and toss it with this epic vegan cheese sauce. PS: try our vegan mac and cheese!
Serve with steamed broccoli: serve your steamed broccoli (or any steamed veggie) with this yummy cheese sauce.
Use as a dip for chips or nachos: keep it simple and dip your favorite tortilla chips into this cheese sauce.
Drizzle on a baked potato: are you a cheesy baked potato lover? Whip up one of our easy baked potatoes and serve it with vegan butter and this vegan cheese sauce to keep it plant-based.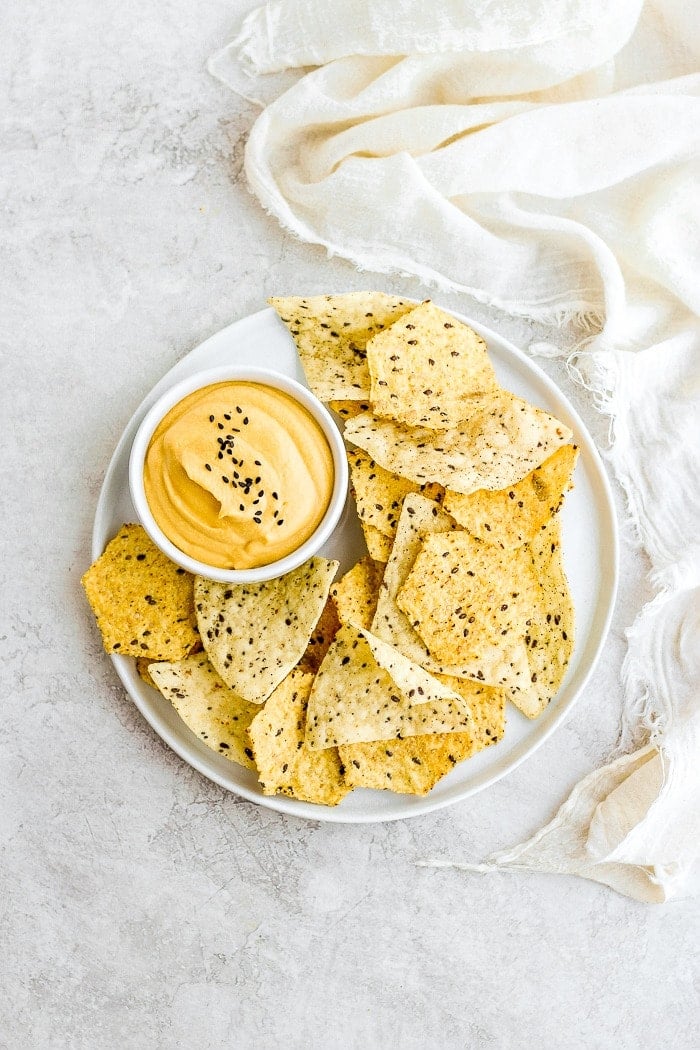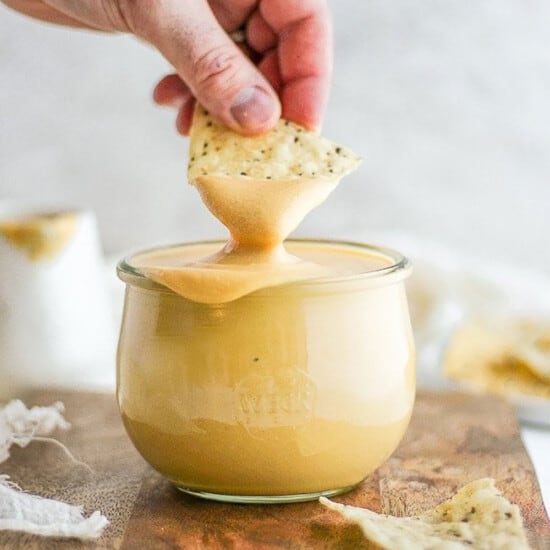 Vegan Cheese Sauce
This vegan cheese sauce is so flavorful, creamy, cheesy, AND you'd never know it was vegan! It's made with raw cashews sweet potato puree, nutritional yeast, and spices.
Instructions
Begin by submerging 1 cup of raw cashews in water. Let soak overnight or for at least 12 hours.

Once your cashews have softened, strain and rise and place into a high-speed blender.

Then, add sweet potato puree, nutritional yeast, salt, vegetable broth, and apple cider vinegar.

Blend on high until everything is pureed together and smooth. You may need to stop and scrape the sides. If your cheese is too thick, add a little bit more vegetable broth by the 1 tablespoon.

If you're looking to serve this hot, transfer it into a medium saucepan and heat over medium/low heat. Cook until hot. You may need to add more broth as it thickens.

Enjoy over pasta, on broccoli, as a dip, on nachos, etc!
Tips & Notes
*Option to flash boil your cashews. Place your cashews on the bottom of a bowl and then pour 2 cups of boiling water on top of them. Let sit for 30 minutes.
**If your cheese sauce is too thick for you, add more vegetable broth by the tablespoon.
This recipe yields 1.5 cups.
Nutrition facts
Calories:
169
kcal
Carbohydrates:
17
g
Protein:
7
g
Fat:
8
g
Fiber:
2
g
Sugar:
7
g